23 Ways to Be a More Eco-Conscious Cruiser Before, During + After a Cruise
The responsibility of sustainable cruising isn't simply on the part of cruise lines; being a more eco-conscious cruiser is also the responsibility of each guest.
There are plenty of ways you can ensure you're being a best friend to the environment before, during, and after your vacation when you cruise with these tips and ideas.
Disclosure: There are affiliate links in this post, which means we may earn a small commission if you click the link and proceed with a purchase, at no cost to you. We truly only recommend hotels, products, and services we personally use. As Amazon Associates, we earn from qualifying purchases.


How to Be a More Eco-Conscious Cruiser On Board
There are several ways to be friendlier to the environment and reduce, reuse and recycle on cruise ships regardless of what a cruise ship's policies are or what they provide.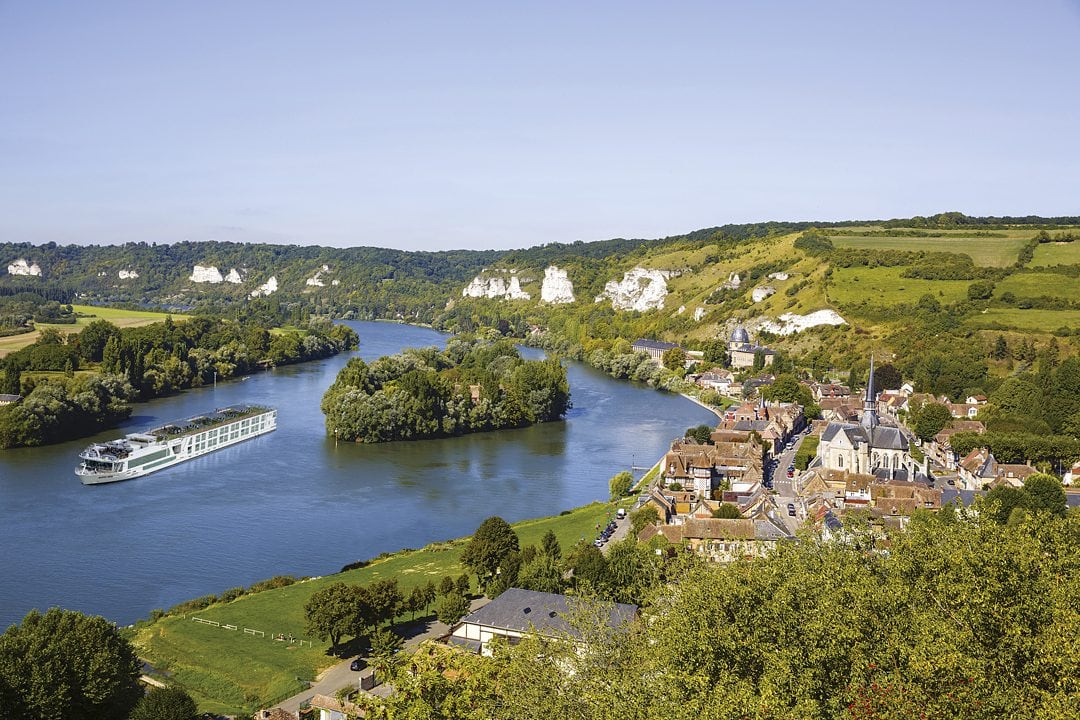 Bring your Own Coffee Cup
There are several benefits to bringing your own coffee cup on a cruise to use onboard. First, your coffee won't get cold as fast as it would in a regular mug if it's in an insulated mug. (We're obsessed with our MiiR insulated tumbler mugs, which you can order in various ounce sizes. The 12oz or 16oz is perfect to pack in your luggage for vacation. MiiR is a company that believes in sustainability and, as such, gives back to great causes with each product sold.)
Secondly, if you bring your own reusable coffee cup you're cutting down on waste, whether you're reducing the need for paper to-go cups or creating fewer dishes to run through a dishwasher machine.
Thirdly, if you like to have more than one cup of coffee in the morning and your to-go cup is bigger than the size of the mugs or cups your cruise ship provides, you'll have more coffee in your own cup than theirs!
You can always stuff socks inside the cup when you pack so it doesn't take up more room than it should in your luggage.
If you can't bring your own and have to choose between a single-use cup that gets thrown away or a ceramic mug, go with the mug.
Bring Your Own Reusable Water Bottle
We travel with reusable BPA-free water bottles everywhere we go. The two we love are MiiR wide-mouth bottles (because ice easily goes into the bottle) and Memo bottles, because they're flat and fit into a day bag or backpack nicely, like our CabinZero travel bags. (Don't forget to use code "SOMETIMESHOME" for 15% off your MiiR order!)
It's so easy to fill up a water bottle on a cruise ship and forego bottles of water. When we were on our Emerald Cruise in The Netherlands and Belgium, it was so great to be able to fill up a water bottle at their self-serve station before heading out for the day in port.
It makes us feel good to be a part of reducing the need for throw-away single-use cups or glasses that have to be washed over and over again when you bring a reusable water bottle for beverages. Or, even better, foregoing a plastic water bottle that will get thrown away hours later.
Travel with Your Own Reusable Straw
I enjoy using straws for my beverages so I also travel with a reusable straw that folds up into a key-chain-sized straw holder.
It's terrific to see many cruise lines and destinations reducing or banning single-use plastics these days (straws included) in line with cruise sustainability. Instead, they opt for compostable or paper straws. Yet reducing waste of any kind still makes you a more eco-conscious cruiser and a reusable straw helps you accomplish this. (Plus, I think everyone can agree it's unpleasant when a paper straw gets soggy. It's better to bring your own.)
Only Order One Entree, Not Two or Three
Cruises are infamous for being a land of gluttony, especially when it comes to meals. And we completely understand because "the food" is one reason we love cruising too. While it's true that you can order more than one entree or appetizer during your meal, consider only ordering one.
This will create less waste and fewer food supplies needed. Reducing what you order helps you be a more eco-conscious cruiser and the cruise lines be more sustainable.
Order Food Made with Local Ingredients
One of the reasons we love small ship cruises (like river cruises) is that they are more likely to (or more able to) order from locally sourced provisions companies, which in turn support the local economy. This could mean supporting local farms or fisheries.
You can always ask if the ingredients in your meal were responsibly harvested or if there's anything on the menu you can order that's local to anywhere you stopped during your cruise. Be sure to ask if it's local ingredients, not simply a locally inspired dish.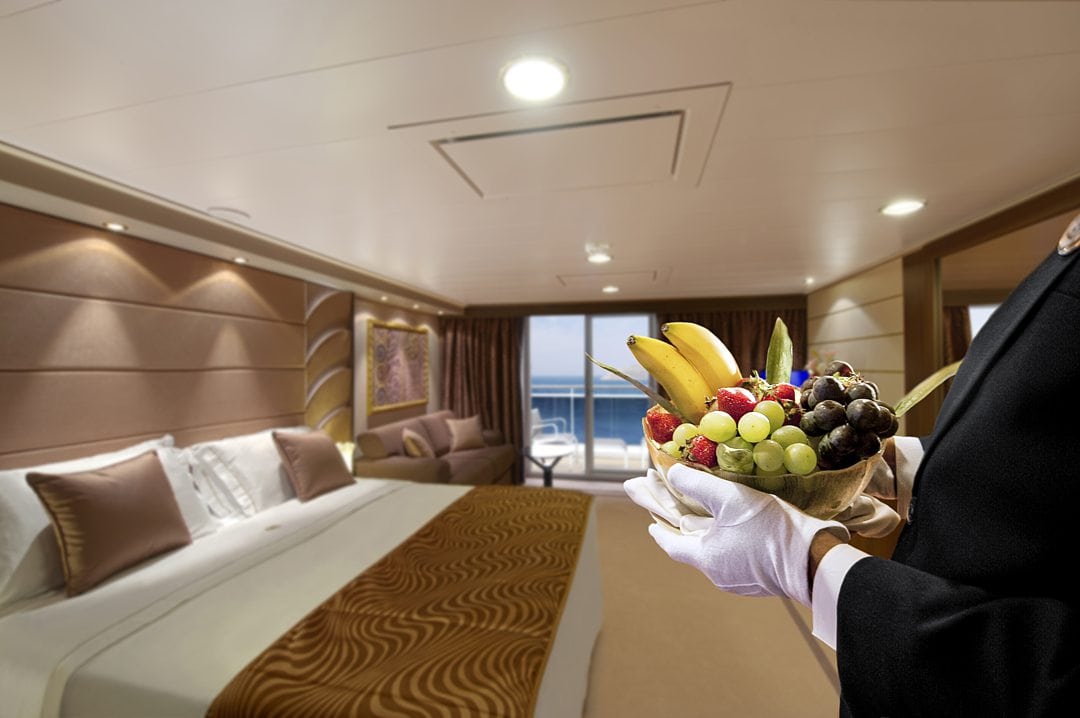 Ask if the Seafood is Sustainable
Sustainable seafood programs help save the earth and the water you're sailing on during a cruise. It's important to be eco-conscious when you consume seafood on a cruise and at home to maintain healthy oceans.
Ask your waitstaff if the seafood in an entree is sustainable or what sustainable seafood programs the cruise line supports.
Order Less Beef
Beef is a problem for the environment. While red meat isn't necessarily bad for your body, the methane emissions from cows are bad for our planet. It sounds funny, but it's true! Methane is a greenhouse gas that negatively affects climate change.
If you're an eco-conscious cruiser and citizen of the Earth, ordering less beef can be your small but significant way to help with this problem. Instead, order more chicken, pork, fish or vegetarian options whose environmental impact in its production is far less than that of beef.
It has been reported that if everyone cut down on beef just a little bit it could make a big difference, instead of completely eliminating it from our diets which likely won't happen for most people. A little goes a long way! This is a super simple way to help the environment from home too.
Reuse the Same Towels Every Day
It's unlikely you get new towels every day when you're at home. Like most people, you probably use the same towel for a week, then wash the towels with the next load of laundry.
Unless your towels are sandy or in need of swapping for another reason, consider using the same towels during your cruise if it's a short cruise. If you're on a longer cruise, swap your towels as needed once a week.
Go Paperless Whenever Possible
This is true before, during, and after your cruise. Choosing any paperless option helps cut down on waste.
If you're on a cruise and a paperless version of something is available (whether it is a schedule, an excursion sheet or your bill) choose the digital format.
Be Aware of Recycling On Board the Cruise Ship
Some large cruise ships have recycling facilities onboard that are better than what most cities have! If you're on a small cruise ship, then they may recycle when they reach ports if the ship is too small to have their own recycling facility onboard.
To be an eco-conscious cruiser, you should be aware of where you throw away disposable items if the ship has receptacles for recycled versus landfills. If you can recycle the item, place it in the appropriate bin. Sometimes if you leave any disposable glass out for your cabin stewards to clean they'll be able to properly recycle it. (Be sure to ask.)


Be More Environmentally Friendly in Ports
One of the ways you can be an eco-conscious traveler in ports is to be considerate of the local economy and land in the destinations you visit. It doesn't matter if the port is in the Caribbean, on the west coast of North America, in Europe, Asia, or beyond because your efforts should be the same.
Keep the environment top-of-mind with these tips.
Book a Tour with Local (and Native) Businesses
Help support the local economy and book directly with businesses in the port you're visiting. If you prefer to book through your cruise line, ask if the tour company is locally owned and operated.
We understand that sometimes you don't have that option for whatever reason. (An example is if you're on a Danube River cruise and you've pre-paid for tours that were included with your cruise. We understand if you want to go that route instead of booking on your own.) But no matter the cruise ship, you'll likely have free time to explore in the port during the day. And if you book an experience or excursion be mindful that it is with a local company, owned by locals.
This is important because it is more likely that supporting them will keep the money they earn within the local economy, which in return keeps that destination running on multiple levels.
Some cruises support ports that are completely run by natives, like Icy Strait Point. This Alaskan port is operated by Huna Totem Corporation, owned by Native Alaskans including indigenous Tlingit people.
Take Nothing but Photos and Memories
If you're doing a hike in a port or visiting a beach, do not take anything (like shells or rocks) from the destination. Imagine if everyone who visited took a shell or rock – there could be no more left!
It's different if there are souvenir shops or everyday shops you want to purchase something from. But if the only things to take as a souvenir are part of the natural ecosystem, take a photo to remember it.
Don't forget to bring a water-safe bag for your mobile phone if you're going on a water excursion and want to protect it.
Though it may have been tempting to take some gorgeous crushed blue and white shells from an island we stopped at during our Maine Windjammer cruise off the coast of the state, we left it and took a photo instead.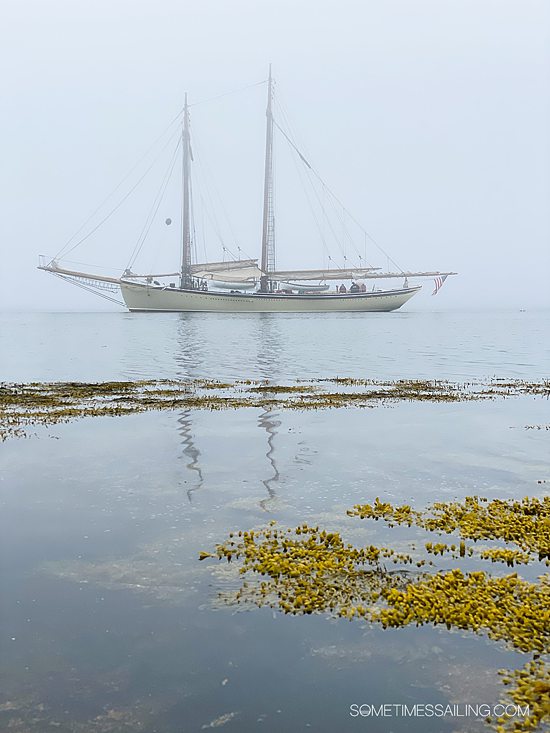 Wear Reef-Safe Sunscreen
You should always protect yourself from the sun when you travel, regardless of if you're snorkeling in the Caribbean or walking around Europe on a river cruise. The sun can get to you, even on a cloudy day.
When you're going to an area where you're going to be in the water, be sure to use and apply reef-safe sunscreen. (Heck, even if you aren't going to be in the water you may want to consider a reef-safe sunscreen with less harmful chemicals in it because it's likely better for your health too.)
These sunscreens are those without things like parabens or oxybenzone, which are harmful to the environment.
Some destinations are even starting to ban the sale of sunscreens that are not reef-safe in their area, including Hawaii, Aruba, and Bonaire.
Don't Litter
Even if you need to carry your trash for miles, please – for the love of Earth and being a respectable human being: do not litter. This includes properly disposing of cigarette butts if you're a smoker.
Respect Animals and Ocean Life
If you see animals local animals in the wild, respect them. Don't taunt them or disrupt their environment. Stay at a safe and respectful distance and do not mess with their ecosystem.
This is true of any animals, anywhere, however, we want to specifically mention turtles who may be nesting on the beach or not disrupting fish and coral if you dive or snorkel.


How to Be an Eco-Conscious Cruiser Before you Travel
Order Things for Your Packing List with Plenty of Time
We all use and support Amazon. We have been a member of Amazon Prime for years, enjoying free shipping on all our orders. (If you're not already a member, sign up for a 30-day free trial.) However, we're also conscientious of what shipping we choose during checkout.
There's nothing wrong with loving Amazon, however, there are two main things you can focus on to be more sustainability-focused when you place your order:
Get the products you order in fewer shipments, if it's an option.
Don't rush your shipment. Rushing a shipment could mean that your products need to fly to get to you and airplane emissions are worse than car emissions.
Don't forget to pack your reusable water bottle, coffee mug, reusable straw, and reef-safe sunscreen.
Book a Cruise with a Sustainability-Focused Cruise Company
All cruise lines have to abide by the laws and regulations of maritime law, in the United States and international waters. However, there are some cruise companies that have sustainability as one of their company's pillars and guiding principles.
To be a more eco-conscious cruiser, you can support one of these eco-conscious cruise lines by booking a cruise with them over cruise lines that are less eco-conscious.
How do you know if the cruise line is focused on sustainability? Usually, if they are they mention it on one of their website pages, which should be easy to find on their site's navigation bar if they truly value sustainability.
Pack in Eco-Friendly Luggage or Day Bags
We love our Sea Bags from Maine because it's made from reusable sails. How cool is that?
We have a tote that we absolutely love as a day bag on cruises. It fits our camera gear inside with a little camera insert we bought that holds our camera body and one or two lenses, depending on the lens. We have a Sea Bag tote that zips closed for extra protection. (Some close with a clip and others zip closed.) The outside of the bag is water-resistant.
We also use our CabinZero bags when we pack. They are an eco-conscious and socially responsible company that makes sure they use high European REACH standards (aimed at promoting human health) when they source materials and factories to make their products.
Eliminate Plastic Bags by Investing in Reusable Stasher Bags
If you're the kind of person who packs liquid toiletries in a bag that closes for extra protection (so nothing explodes on your luggage during transit) you need Stasher bags.
We love our Stasher bags! We use the half-gallon ones for small bottles of shampoo, conditioner, lotion, and makeup remover. The snack-size bag is perfect for snacks for our plane or car ride to the port embarkation area.
Stasher's Go Bag is the best bag to pack our Air Pods, hand sanitizer, reef-safe sunscreen, and lip balm with SPF in if we're going to the cruise pool. It keeps everything in a compact waterproof bag.
Buy Bathing Suits Made with Recyclabe Materials
Did you know that you can buy bathing suits created with recyclable materials? One great example of this is the company Change of Scenery. Their swimsuits are made from recycled materials and every apparel style (like their cover-ups) is crafted in 100% certified organic cotton.
Pack Reusable Shopping Bags
If you plan on going shopping in ports, bring your own reusable bags. We love Baggu bags because they fold up in easy-to-travel-with pouches.
Don't forget to pack them in your purse so you have them in ports and use them on the cruise ship if you go shopping onboard.
Pack your Reusable Water Bottle and Insulated Tumbler
Don't forget to pack your reusable beverage containers to use on board! We love our MiiR wide-mouth reusable water bottle and their insulated tumblers. The company is "Design Forward, Generosity Driven" and you can save 15% off your first order with code SOMETIMESHOME.


Continue to be an Environmentally Friendly Cruiser after Your Sailing
It's hard to imagine anyone going on a cruise and not having a better appreciation for the locations they visited, the environment and ecosystems there, and the people, no matter what they thought of the actual cruise line.
Hopefully, your experience will encourage you to spread the word to friends and family who just may book a trip because you inspired them.
Recommend a Cruise with a Focus on Sustainability to Others
If you recommend a cruise to family and friends, be sure to keep eco-conscious cruise options at the forefront of your mind and these eco-conscious cruise tips in mind too. Pass the information on.
Be Mindful of Purchasing Sustainably Farmed or Harvested Seafood
If you want to be a part of the solution to save the world's oceans and help maintain healthy ecosystems, educate yourself and others on sustainable seafood. It's vital for the health of our planet.
Book with a Cruise Line doing Good for the Earth
If you loved your cruise and thought they did some great things for the environment you can book again. If you didn't love the cruise or their sustainability policies, then you may want to consider another cruise line that supports local economies more, cuts down on waste, and has stronger programs connecting guests to the locations they visit.
Get Involved and Stay Educated
Seek out organizations that are doing good for the Earth, including the seas and our environment. It could mean signing up for newsletters, donating money, or listening to podcasts that talk about our planet.
We recommend checking out the North American Marine Environment Protection Association's website (NAMEPA). They provide free education for all ages (kids and adults) on their website. They share ocean clean-up tips, have an "adopt a ship" program, and other educational resources and series.
Little by little, we can all change the world and make a better tomorrow, together.


Going on a cruise? Read this next: