First Time Snorkeling Tips for Non Swimmers
After our first time snorkeling, Dan and I quickly realized that we could provide first time snorkeling tips for non swimmers to help calm any anxiety they may have. Ours certainly was shattered (in the best way possible) after our first time doing it.
Did other people have the same thoughts, concerns, and fears as us before the first time, trying to see and breathe underwater? Putting on all their gear and making sure their mask is air tight? (Now we'd consider bringing our own snorkeling gear, because it's so affordable and easy to pack.)
The thought of just hanging out in the water for any length of time longer than 10 minutes was daunting for us.
Do you know the feeling? I can swim and I can tread water…but am I a strong swimmer? No. I would actually consider myself a non-swimmer. Dan is a stronger swimmer than I am but he was slightly concerned too.
Having never been snorkeling, we saw it as a challenge that we wanted to face head-on. Dan and I heard Belize was one of the best places to snorkel because it's a barrier reef area in the Caribbean. So when we went there for vacation we knew it was an activity we definitely wanted to sign up for.
The thought of not attempting to snorkel during our vacation there was more troubling than conquering my fear. I wasn't going to let my inability to tread water and swim for 45 minutes without "land" or a boat break get in my way.
As soon as we arrived at our hotel on the coast of Belize in Hopkins (called Almond Beach Resort) we signed up for the next morning's snorkeling excursion.
Disclosure: There are affiliate links in this post, which means we may earn a small commission if you click the link and proceed with a purchase, at no cost to you. We truly only recommend hotels, products, and services we personally use. As Amazon Associates, we earn from qualifying purchases.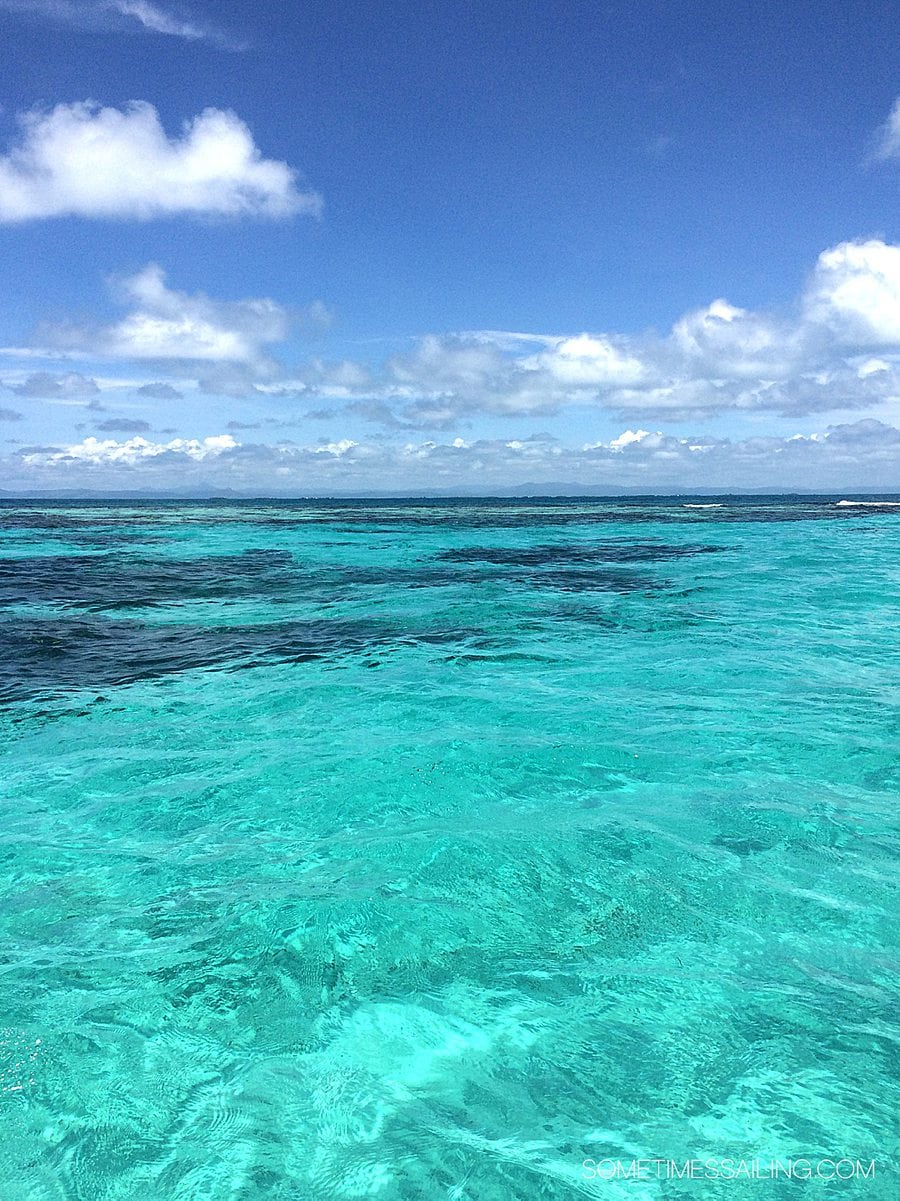 Morning Preparations
I was anxious for my first time snorkeling as we stood on the shore with the excursion group. I wore a swimsuit underneath a coverup for the boat ride, a hair-tie to keep my hair pulled off my face, and lots of reef-safe sunscreen.
We were fitted for our snorkeling gear on the shore: a mask (consisting of goggles and a mouthpiece) and flippers. I could feel the nerves surfacing as I generously applied sunscreen to my fair skin. (And yes, you can bring and wear your own snorkel gear if you like!)
First Time Snorkeling Tips Packing List
There are a few vital items you need for snorkeling along with some "nice to have" items (though not "need to have").
First Time Snorkeling Tips: Must Haves
Reef-safe sunblock is especially key! I cannot emphasize this enough: even if you tan nicely there's a real risk of getting burnt on the water with your back, necks and ears exposed to the sun for long periods of time.
You'll want to apply a minimum of 50 SPF and ensure it's waterproof and reef safe (you want to help preserve what you're diving to see, after all). Take this on the boat with you because you'll have to reapply after 60-80 minutes. (See instructions on the sunscreen container that you buy.)
Hair Ties
If you have long hair you need hair ties to hold it back. I advise against the rubbery plastic ties you can get 100 for at the dollar store. Those are great to tie small braids and such on land but they're not great in the water. This is because wet hair and those ties are not a good combination!
You need something that has a fabric-like coating so if you need to re-tie your wet hair you won't have a knot disaster. I suggest something like the Goody or Scunci ouchless bands. (People with long hair, especially, need to be mindful of good hair care while diving of any kind – including snorkeling – because the ocean can wreak havoc on long hair!)
First Time Snorkeling Tips: Nice-to-Haves
GoProA nice, fun-to-have item is a GoPro. I'm so grateful we got it for our second snorkeling trip having experienced serious photo-envy our first go around. A family on our Belize excursion took their GoPro underwater and were able to capture each other, the fish and coral. I knew I had to have it for our next trip so I bought one before we headed to Thailand.
I thought it was really cool a father/son team had brought a mask with them. If you're averse to biting and breathing through a snorkel mouth piece this item could make the experience even easier for you. (It's even more appealing to bring your own in a COVID, or post-COVID, world.)
I suppose ignorance is bliss and I assumed companies clean their snorkel masks when they reset for another day's tours but I couldn't be sure then and can't be sure now. Another reason to buy your own mask is if you're going to a resort where they have snorkeling but you have to rent gear. If you're going to snorkel a lot look into buying your own mask and flippers and packing them for your trip, regardless. You could save money with this option.
A rash guard or swim shirt
A rash guard or swim shirt are great for protecting your skin, as opposed to only wearing a bathing suit. You don't need to have this but it's a nice to have item.
Note this doesn't negate the need for sunscreen it simply further protects your body from the sun's harmful rays. Unless you're planning on pro-surfing, or snorkeling all the time, you can get a good shirt for minimal investment. If the thought of slipping a wet shirt off of you after swimming isn't appealing to you there make versions with a front zipper I think are pretty great. Try the ones I recommend in the item carousel below. (Click on the product for additional color options.)
Preparations and talk from our buide before boarding the boat
We got on the boat and our captain explained a bit about the morning: we would travel about 30-40 minutes on the water towards South Water Caye. Here, we would complete two 45-minute snorkel sessions with an island break, for snacks and water, in between.
Is it safe to go snorkeling for Non Swimmers? (Or do you have to know how to swim to snorkel?)
After our captain explained the morning's events he asked, "Who is not a strong swimmer?" I looked around – no one raised a hand. This was clearly a question aimed at snorkeling for nonswimmers.
But my safety in the ocean was more important than any pride. I shot up a hand and said, "Me!" What do you know, I wasn't the only one! The next words he spoke pleasantly shocked me:
He said we could use LIFEVESTS in the water.
My jaw-dropped. We could?! But how could we swim?!
He showed us instead of putting the life vest around our upper body we could clip it around our waists. Voila!
We'd be able to move our torso in and out of the water to snorkel and see the creatures below the surface! I was so relieved and felt my anxiety immediately float away for my first time snorkeling.
This made any snorkeling anxiety Dan and I were feeling float away with the Caribbean breeze!
We imagine you need to be comfortable in the water if you can't swim well, at the very least. And though Dan and I can swim, we consider ourselves somewhat of non-swimmers in the sense we'd never get in a pool and do laps. So yes, I would say it's safe for non-swimmers with LifeVests, especially.
And if you don't know how to swim, but you're comfortable in the water with a Lifevest, it's likely an a-okay activity for you too.
But aware of your comfort level when it comes to swimming for snorkeling excursions wherever you're going. We recommend speaking to the company hosting the experience to ensure your safety and their awareness of your skill level.
Snorkel vest for a non swimmer
In fact, it's so common to wear a vest of some sort while snorkeling for non-swimmers, there's a whole market for them. Snorkel "jackets" exist as do snorkel vests. You may want to invest in one if 1) you plan on snorkeling a lot on various vacations or 2) you don't want to wear someone else's snorkel vest, as is the case with excursion companies.
Snorkel Vests
A surprisingly easy, calm and enjoyable first time snorkeling experience
Two things squashed any intimidation or anxiety I may have had that morning:
The LifeVest revelation and ability to wear one in the water.
The comfort knowing our guides were incredibly experienced and were keeping an eye on us.
This made me free to enjoy the experience. I found I loved paddling over towards the guide, who was also in the water with us, as he pointed out some cool things beneath us.
These ocean dwellers included nurse sharks, string rays (HUGE ones!), Loggerhead sea turtles, parrotfish, sea cucumbers, and beautiful coral.
The rest of the morning was a breeze and a wonderful experience.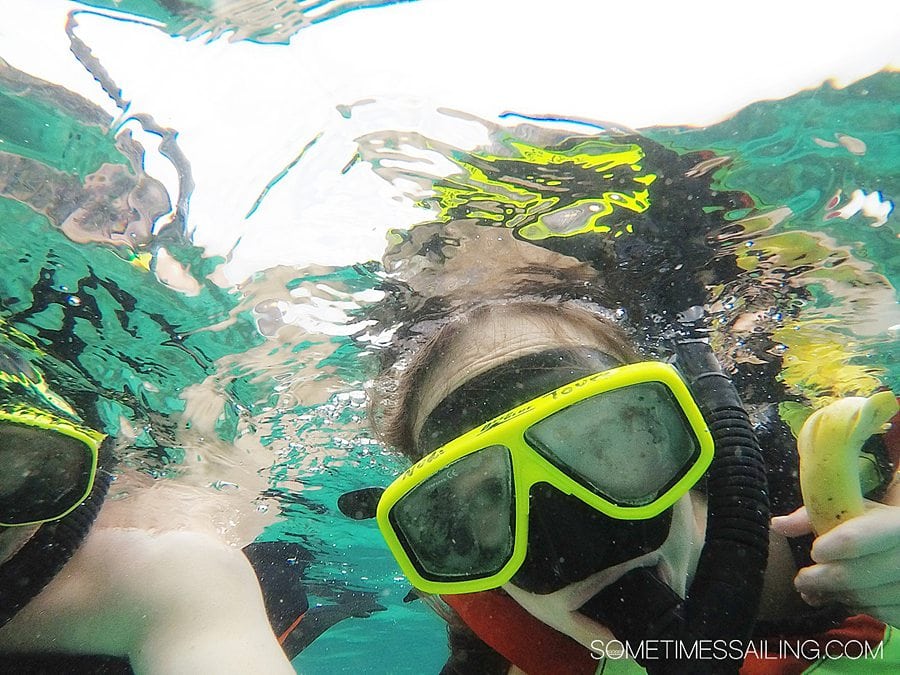 How Does Snorkeling Work
Essentially you're breathing in enough air to last under the water for as long as possible. Your eyes are shielded from the water (most typically it's saltwater if you're in an ocean) and you're able to get oxygen through the snorkel tube in the air above the water.
I've seen videos of people snorkeling underwater for very long periods of time, completely in water without access to the air. But these are VERY experienced swimmers and snorkelers.
Wearing flippers isn't necessary but it certainly helps you swim better (even if you're wearing a LifeVest). It's like getting webbed feet – like ducks and frogs – without actually turning into another animal.
Lessons we learned our first time snorkeling
Don't be afraid to be honest with yourself and the team trying to keep you safe. Pride should not stand in your way!
If you want to snorkel, you can – I would have been upset if we didn't go snorkeling. Not only does regret suck but I do my best to strike it from my vocabulary. Turns out, snorkeling was much easier than I thought and not very intimidating at all.
If you think you applied enough sunscreen, enough times, you're wrong. (See packing list above.) We applied 50 SPF twice in 4 hours and were still very burned afterwards; we didn't realize it was happening until it was too late. If you've never been snorkeling I cannot stress this enough: consider wearing a rash guard with your swimsuit to protect your skin and reapply sunscreen more than you think you have to. We had no idea the sun was so strong. As a result I had to deal with a significant sunburn for the next few days. (One night I actually felt sick from it and stayed in bed.)
Future snorkeling adventures 
We ended up loving it so much we jump at the chance to snorkel if we're in an area we're allowed to. We did it again in Thailand when we visited Phuket, for example.
Snorkeling is a fun activity that I associate with vacation and gets me excited for a trip by the ocean.
Snorkeling benefits
While we don't have scientific evidence behind this, we do think there are a few benefits of snorkeling from our own experience we want to mention.
Overcoming a fear: For us, overcoming a slight "fear" of being in the wa


Check out more great cruise content:
What's your best snorkeling tip?