Top Things to Do In Fort Lauderdale, Florida, near Port Everglades
If you're cruising from Port Everglades, you'll want to extend your vacation before or after to experience the top things to do in Fort Lauderdale, Florida. It's such a cool city with so much to do that you'll be grateful you extended your trip.
Whether you come in a few days before your cruise, or a night in advance, or stay for days afterward, there is plenty to do and sign up for, from sightseeing to dining and shopping to enjoying world-class beaches. We love extending our trip to any area filled with palm trees and sunshine!
This east coast destination has plenty of things to see and do whether you're starting or ending a cruise in South Florida or it's a port of call on your cruise vacation itinerary. It's a conveniently located cruise port in the middle of a lot of action.
Disclosure: This page has affiliate links, meaning we may earn a small commission if you click the link and proceed with a purchase at no cost to you. We recommend cruises, experiences, products, and services we personally use. As Amazon Associates, we earn from qualifying purchases.
🕐 Short on time? No Problem!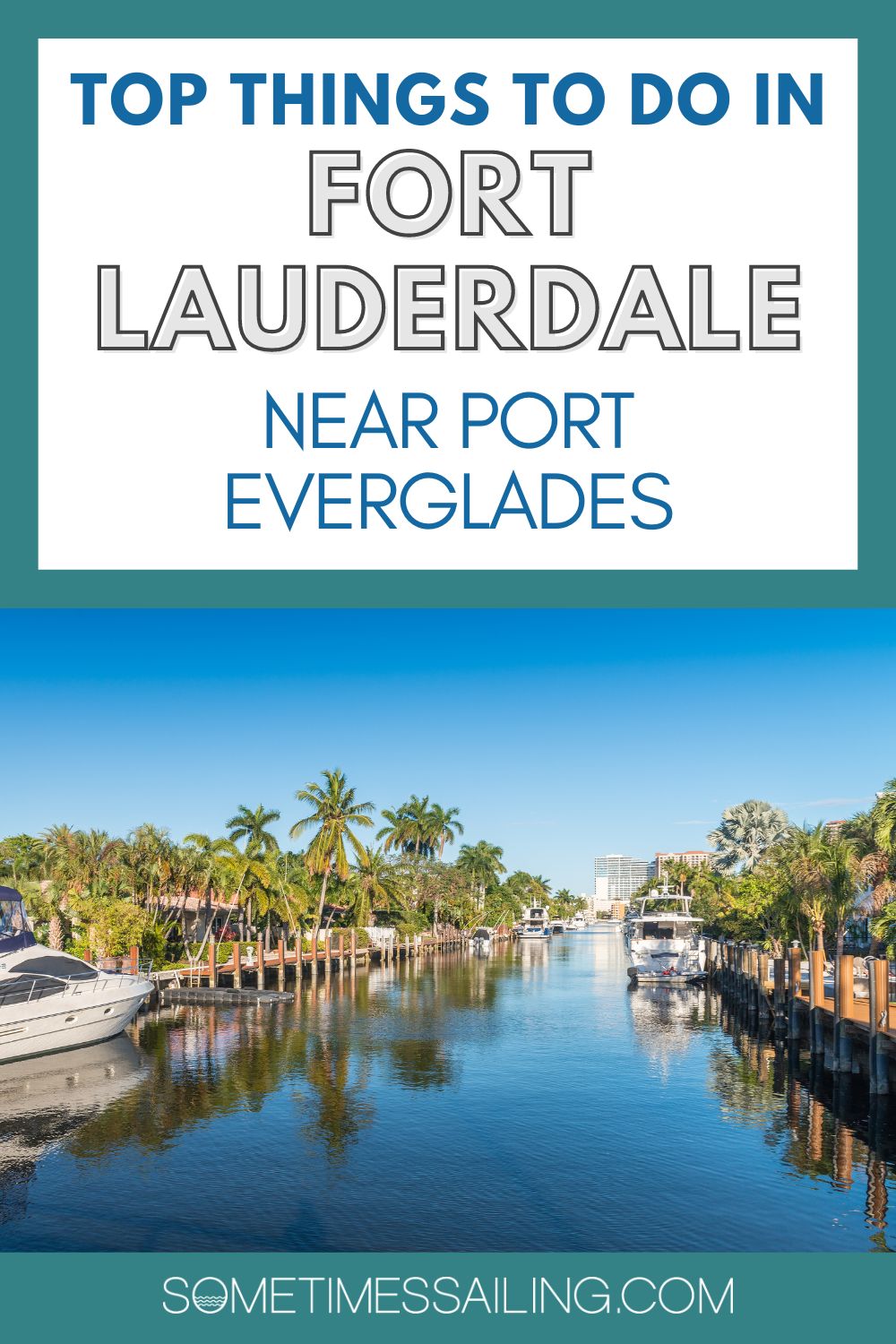 Overview of Things to Do in Fort Lauderdale Near Port Everglades
Fort Lauderdale is a happening Florida city! We lived there for a few months while Dan pursued a job opportunity, and we quickly realized there was so much to do there.
The official name of the cruise port is "Port Everglades," and the greater Fort Lauderdale area has a lot of neighborhoods to explore, including Hollywood and Dania Beach.
Miami is approximately an hour's drive south of the city, depending on where exactly you're going in the city.
Sun seekers and surfers like to soak up the Florida sun and sandy beaches and enjoy the Atlantic Ocean's waves. There is also the option of boating, deep-sea fishing, waterskiing, and snorkeling, while nearby Everglades National Park offers moderate hikes and wildlife watching.
There are many activities near the Fort Lauderdale Cruise Port. You may have heard the city referred to as "The Venice of America" because of the manmade canals that weave in and out of neighborhoods here along the water. Especially along Las Olas Boulevard, you'll find everything from canal gondola rides to shopping, restaurants, and historic areas to explore.
The city's restaurants serve some of the best seafood that South Florida has to offer. Additionally, Fort Lauderdale provides top-notch shopping opportunities. And there are plenty of sights to see as well!
Things to Do in Fort Lauderdale Near Port Everglades Cruise Port
Let's explore Fort Lauderdale's sightseeing opportunities, shopping, and nearby beaches.
Top Things to Do and Tours near the Fort Lauderdale Cruise Port
If you don't want the hassle of figuring out logistics, why not take a guided tour in Fort Lauderdale? Companies understand that you're there as part of a day in a cruise port and know the importance of timing to get you to the ship for your precise all-aboard time.
Don't hesitate to mention you're a cruise passenger when you sign up for any tour and remind the tour staff of your all-aboard time again that day, just in case!
✦ Sightseeing in Fort Lauderdale
Various sights await, encompassing historical and natural locales. Some activities are free, and all are easy to get to via public transport, rideshare, or if you rent a car. Uber and Lyft both work in Fort Lauderdale.
Don't Postone Renting a Car!
✧ Flamingo Gardens

This sanctuary is home to majestic flamingos and playful otters, alligators, panthers, bobcats, and a diverse range of bird species.
The site's historical significance is represented by the Wray Home, a well-preserved house dating back to 1933, providing an insightful glimpse into the region's past. This attraction offers guided tram tours to quickly get around and see the vibrant collection of tropical plants.
Flamingo Gardens Distance from Port Everglades: Approximately 15 miles
Open: Daily 9:30 am to 5:00 pm
Admission: Approximately $22. Sign up in advance and skip the line (especially when time is precious.)
✧ Fort Lauderdale Airboat Ride
One of the most popular things to do in the Fort Lauderdale area is go on an airboat ride. This unique experience allows visitors to see one of the most unique National Parks in the United States: Everglades National Park. It's one of the only places in the world where crocodiles and alligators co-exist.
We have been to Everglades National Park and gone on an airport ride and it's really a great place to visit if you love nature and the national parks. A tour is the best way to go from the port because you can find one that takes care of the transportation and the tour, which means you just show up at the meeting point and enjoy the day.
✧ Hollywood Beach Boardwalk and Charnow Park
Charnow Park and Hollywood Beach Boardwalk are well worth a trip. The boardwalk provides stunning views of the Atlantic Ocean and is bustling with activity, featuring many restaurants, cafes, and shops.
Charnow Park offers a tranquil haven to unwind and escape the seaside scene. The park's beautiful grounds, picnic sites, and proximity to the beach make it perfect for relaxing or sunbathing.
Distance from Port Everglades: Approximately 7.6 miles
Open: Daily 9:00 am to 6:00 pm
Admission: Free
✧ Jungle Queen Riverboat, Fort Lauderdale
Don't have much time but still want to see the sights? The Jungle Queen Riverboat takes you by places like the opulent residences along Millionaire's Row down Fort Lauderdale's New River. You'll also spot yachts ready to take Florida's elite boating.
Beyond the scenic allure, the Jungle Queen Riverboat offers engaging narration, providing insights into the area's history and culture.
Distance from Port Everglades: Approximately 5 miles
Open: Daily for one morning and one afternoon cruise lasting 90 minutes. Cruise times vary, but no matter the time, the company recommends arriving 45 minutes prior to the cruise start time because it leaves on time!
✧ Bonnet House Museum & Gardens
Exploring this historic estate allows you to step back in time and appreciate the fusion of art and architecture that defines the property.
The house itself, with its preserved interiors and original furnishings, provides an intimate look into the lives of its former inhabitants. Meanwhile, the lush and meticulously landscaped gardens offer a serene escape, showcasing a diverse array of plants and ecosystems.
To maximize your time, sign up for a two-hour tour of the Bonnet House Museum and kayaking in West Lake (museum and house access during the tour is a nominal upgrade).
Distance from Port Everglades: Approximately 7.2 miles
Closed Mondays. Tuesday to Friday, 11:00 am to 3:00 pm; Saturday to Sunday, 11:00 am to 4:00 pm
Admission: Starting at $25 (it's less money with the tour we mention, above)
✧ Historic Stranahan House Museum
If you love architecture, this is the destination for you.
Just off Fort Lauderdale's famous Las Olas Boulevard, the well-preserved house, with its original architecture and period furnishings, transports you back to a pivotal era in Fort Lauderdale's development. As you step inside, you can envision the lives of its former residents and gain a deeper understanding of the community's evolution.
If you visit Stranahan House Museum, we recommend going to Las Olas Boulevard for lunch.
Distance from Port Everglades: Approximately 4.1 miles
Open: Tuesday to Friday for tours at 1:00 pm, 2:00 pm, and 3:00 pm (Tours must be booked in advance.)
Admission: From $12
✧ Dr. Von D. Mizell-Eula Johnson State Park
Exploring this park allows you to discover diverse ecosystems, from pristine beaches and mangroves to coastal dunes. The park's well-maintained trails and boardwalks guide you through these enchanting landscapes. Other activities include cycling, fishing, snorkeling, scuba diving, shelling, boating, and picnicking.
If you're interested in scuba diving, consider the 1000 Mermaids Artificial Reef Site and the Dania Erojack Artificial Reef.
Bringing your own snorkel gear on vacation is an excellent idea, especially if you're embarking on a Caribbean cruise from Port Everglades. Consider purchasing and packing your own snorkel set, which will come in handy for your cruise too.
Distance from Port Everglades: Approximately 5.7 miles
Open: Daily 8:00 am to sunset
Admission: Free
✧ Museum of Discovery and Science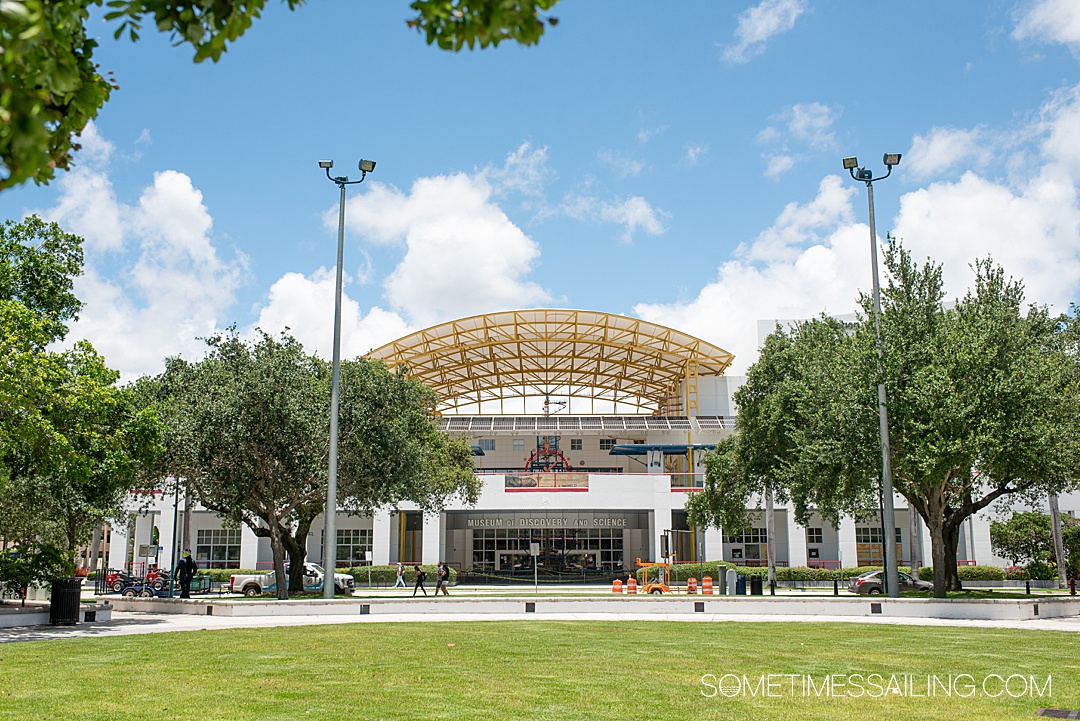 Whether you're a science enthusiast or seeking a day of fun and exploration, the Museum of Discovery and Science encourages creativity, critical thinking, and a deeper understanding of the world around us. Visiting this museum is an especially great thing to do near Port Everglades with kids!
You'll find interactive exhibits, hands-on activities, and scientific wonders as you explore this dynamic museum.
Distance from Port Everglades: Approximately 4.4 miles
Open: Monday to Saturday, 10:00 am to 5:00 pm, and Sunday 12:00 pm to 5:00 pm
Admission: $27 for adults and $22 per child.
✧ Hugh Taylor Birch State Park
This state park spans 180 acres and boasts a rich variety of ecosystems, including mangrove wetlands, coastal dunes, and a freshwater lagoon. It is a haven for birdwatchers and wildlife enthusiasts.
Visitors can explore scenic trails and engage in water activities like kayaking on the Intracoastal Waterway. You can also learn about the parks' history and conservation efforts at the Birch House Museum.
Distance from Port Everglades: Approximately 6.8 miles
Open: Daily, 8:00 am to sunset
Admission: $2 for pedestrians and bicyclists, $6 per vehicle up to eight people, $4 for motorcyclists and vehicles with one person
✦ Shopping in and Near Fort Lauderdale
✧ Las Olas Boulevard
There is no better place to shop than along Las Olas Boulevard. When we lived in Fort Lauderdale, this was one of our favorite places to visit on any given day. It is especially delightful on weekdays when it's slightly less busy than on weekends.
This iconic street has boutiques, galleries, and specialty stores offering everything from fashion to art, ice cream, cigars, wine, beer, cocktails, and more. It's also an excellent place for people-watching or finding some street art to get Instagram-worthy photos with.
You could spend the better part of a day on Las Olas Boulevard – it's really up to you. If you're there during a weekday starting at 4:00 pm, some places along the boulevard have happy hour specials in the bar area, like at El Camino.
Sign up for a limited-availability gondola ride to feel like you're in the Venice of Florida during your time in the city. Sure, it's a boat ride on the water, but it will feel distinct from your Port of Fort Lauderdale cruise ship experience at a completely different scale.
Distance from Port Everglades: Approximately 5.1 miles
Pro tip: Take a Taxi, Uber or Lyft here so you don't have to waste precious time or money finding parking, which can be a pain on Las Olas Boulevard.
Open: Daily — restaurant and shop hours vary
✧ Beach Place
Located along Las Olas Beach, Beach Place is the perfect place to grab a comfy pair of Crocs or get your mani and pedi done before or after your cruise. You can grab some ice cream or boutique chocolate and even enjoy a beachfront cigar by the sea. It's not the best destination for a lot of shopping, but it's close to the port and a fun area to explore if you're short on time.
Distance from Port Everglades: Approximately 5.5 miles
Closed Sundays. Open Monday to Thursday, 11:00 am to 10:00 pm; Friday to Saturday, 11:00 am to 1:00 am.
✧ Southport Shopping Center & South Harbor Plaza
Two of the closest shopping centers to Port Everglades are Southport and South Harbor. Stores here are low to mid-range in quality and price, including Target, Dollar Tree, and Trader Joe's – a small and incredibly popular grocery store in the United States.
Either shopping area is great for grabbing last-minute outfits, accessories, or a quick bite. If you can bring limited quantities of wine and beer on your ship, then Trader Joe's and Target are good options for grabbing such items before you get on your cruise ship.
Distance from Port Everglades: Approximately 2.8 miles
Southport Shopping Center Open: Monday to Friday, 11:00 am to 9:00 pm; Saturday to Sunday, 7:30 am to 10:30 pm
South Harbor Plaza Open: Daily from 9:00 am to 11:00 pm
✧ Harbor Shops
Offering 230,000 square feet of shopping and restaurant choices, Harbor Shops is a destination that brings together shopping, leisure, and a touch of coastal charm.
It offers a distinctive and vibrant shopping experience that stands out for its unique blend of retail, dining, and entertainment.
Distance from Port Everglades: Approximately 2.9 miles
Open: Daily 10:00 am to 9:00 pm
✧ The Galleria at Fort Lauderdale
One of the region's premier shopping destinations, you will find over 100 retailers, including Michael Kors, Pandora, Sephora, and Williams-Sonoma.
Located near Fort Lauderdale Beach, you can have dinner at places like The Capital Grille or Seasons 52. They also have a popular martini bar called Blue Martini (which was a personal favorite bar to go to when I lived in Orlando, Florida, years ago, where they had another location), with weekly happy hour specials.
Distance from Port Everglades: Approximately 6.6 miles
Opening hours: Monday to Saturday, 11:00 am to 8:00 pm; Sunday, 12:00 pm to 6:00 pm. Restaurant times vary from the Galleria's opening hours.
✧ Sawgrass Mills
If you came to Florida hoping to cash in on great shopping, Sawgrass Mills is where you want to be. This massive mall is one of the largest in the United States, featuring hundreds of stores, including designer outlets such as Armani, Burberry, and Jimmy Choo.
There are other brand-name retailers and various dining and entertainment options here. If you go here, you can spend at least half the day, if not more, shopping and dining, or even simply grabbing coffee while you shop.
It's our mall of choice when we're in Fort Lauderdale!
Distance from Port Everglades: Approximately 17.3 miles
Open: Monday to Saturday, 10:00 am – 9:00 pm, and Sunday, 11:00 am to 8:00 pm
✧ The Village At Gulfstream Park
Located in nearby Hallandale Beach, this outdoor shopping and entertainment complex features upscale boutiques, restaurants, and a casino. Cha-ching!
It's a beautiful place to walk around day or night, and the surroundings are lit up in the evening. There's lots of entertainment at Gulfstream Park, like Strike 10 bowling, private karaoke booths, a casino, sports bars, art galleries, and even live horse racing.
Distance from Port Everglades: Approximately 8.6 miles
Open: Monday to Friday, 10:00 am to 10:00 pm; Saturday to Sunday, 10:00 am to 12:00 am
✧ Morikami Museum and Japanese Gardens
When we were considering moving to Fort Lauderdale, Morikami was one of the places that Dan took me to because he knows how much I love Japan and Japanese gardens. It absolutely made my heart grow for the Fort Lauderdale area.
This destination is further away from Port Everglades than anything else on our list, with an address in Delray Beach. But it's still easily reachable and doable during a day in port in Fort Lauderdale or before or after your cruise. The drive from Port Everglades is 45 minutes to an hour, one way.
Morikami is genuinely a nice surprise and such a gem in South Florida.
If you love gardens — particularly Japanese gardens — it's absolutely worth going to see, especially on a beautiful day. Plan to eat lunch there because Cornell Cafe, which serves Japanese food, is open 11:00 am to 3:00 pm, whenever the gardens are open.
You can spend over an hour walking through the gardens and museum. There is also an art exhibit, and the gardens include a rock garden and a little bamboo garden.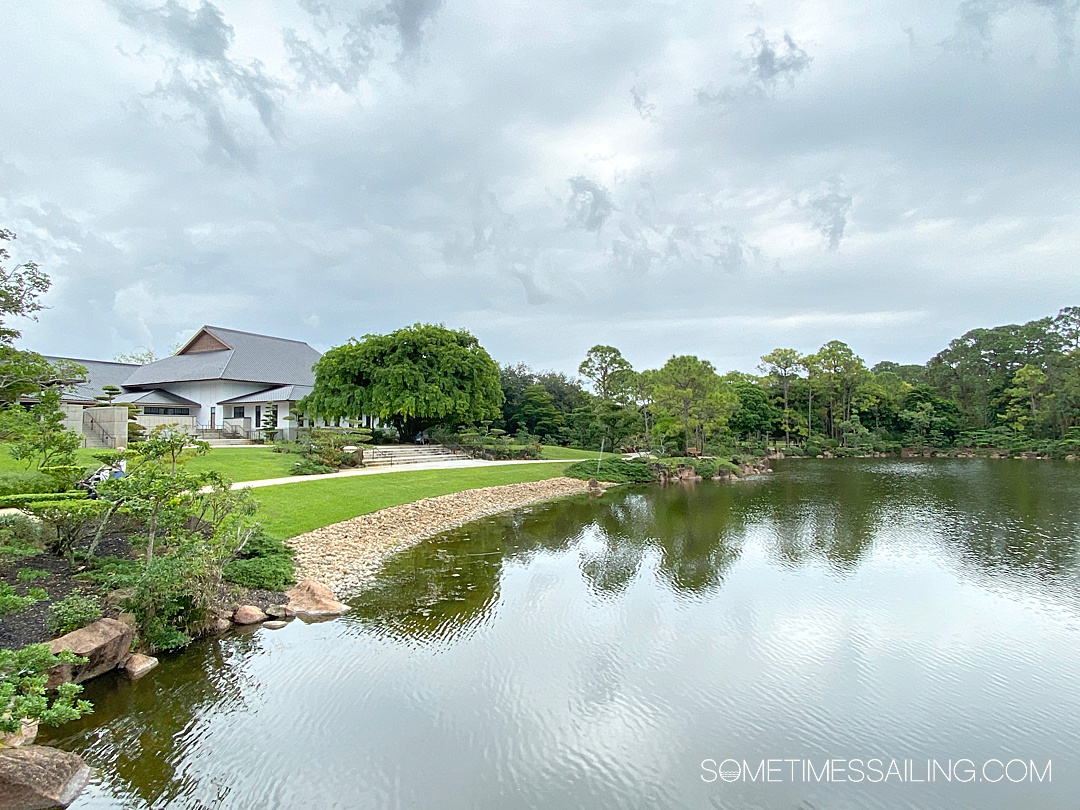 Distance from Port Everglades: Approximately 30 miles
Open: Tuesday through Sunday, 10:00 am to 5:00 pm. Closed Mondays and major holidays (Thanksgiving, Christmas Day, New Year's Day, Easter, and July 4th.)
✦ Fort Lauderdale Beaches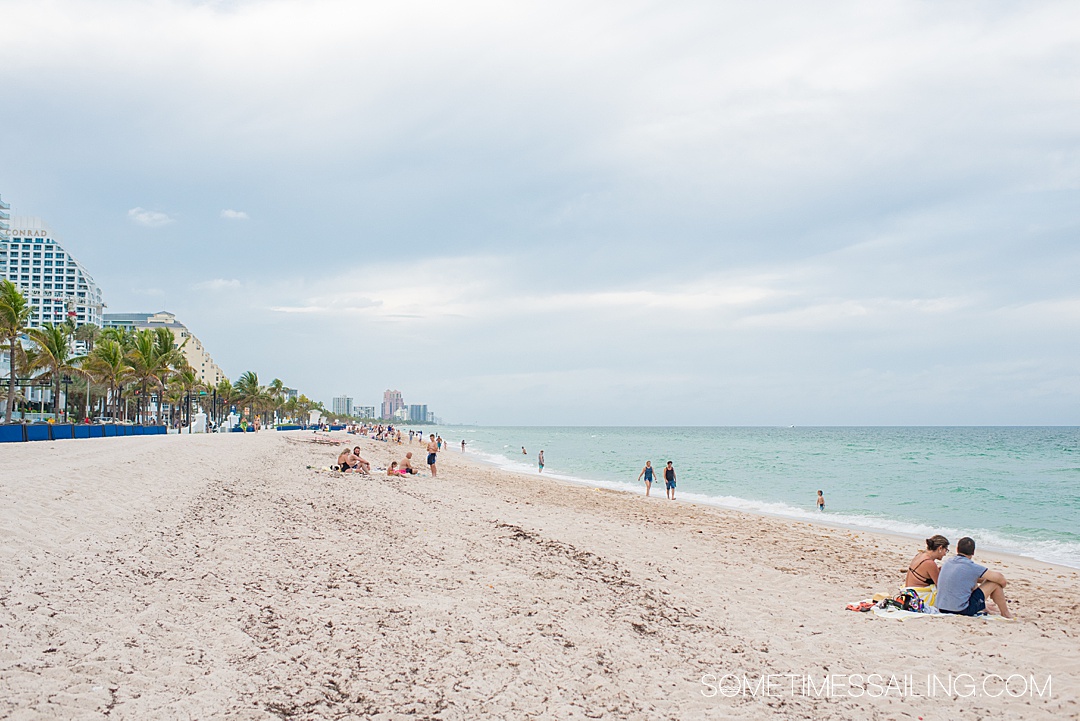 ✧ Las Olas Beach
This is the most accessible beach to Port Everglades. From dawn to dusk, Las Olas Beach captivates with its natural beauty and urban allure, promising an unforgettable fusion of relaxation and cultural discovery. It's a sun-soaked haven offering pristine sandy shores and crystal-clear waters.
It's right next to Las Olas Boulevard, which has a vibrant mix of boutiques, galleries, and eateries.
✧ Fort Lauderdale Beach
Fort Lauderdale Beach is North of Las Olas Beach. This beach touts itself as a "beachside oasis unlike any other," where you can enjoy sunbathing, beach games, and leisurely walks along the 3-mile shoreline.
The beachfront promenade offers a scenic pathway for jogging, cycling, and people-watching, while its waters are perfect for swimming and water sports. The nearby area boasts lively restaurants, cafes, and shops, making it easy to enjoy a delicious meal or indulge in some retail therapy after a day of sun-soaked adventure.
✧ Hollywood Beach & Boardwalk
Just south of Fort Lauderdale, in an area called "Hollywood," you'll find this namesake beach. Walking along the boardwalk or strolling through the white sand beach is delightful. People-watching is solid here, and there are plenty of food places to walk up to grab a bite to eat or a cool treat.
✦ Best Restaurants and Dining Near Port Everglades
Looking to get a hearty meal while you're waiting for your cruise? Or are you looking for a great place to eat in port or after disembarkation before heading to the airport? Though the options are truly endless, these are our food recommendations near the Fort Lauderdale cruise port.
✧ Beer, Buffalo Wings, and Pizza at 3 Sons Brewing ($$)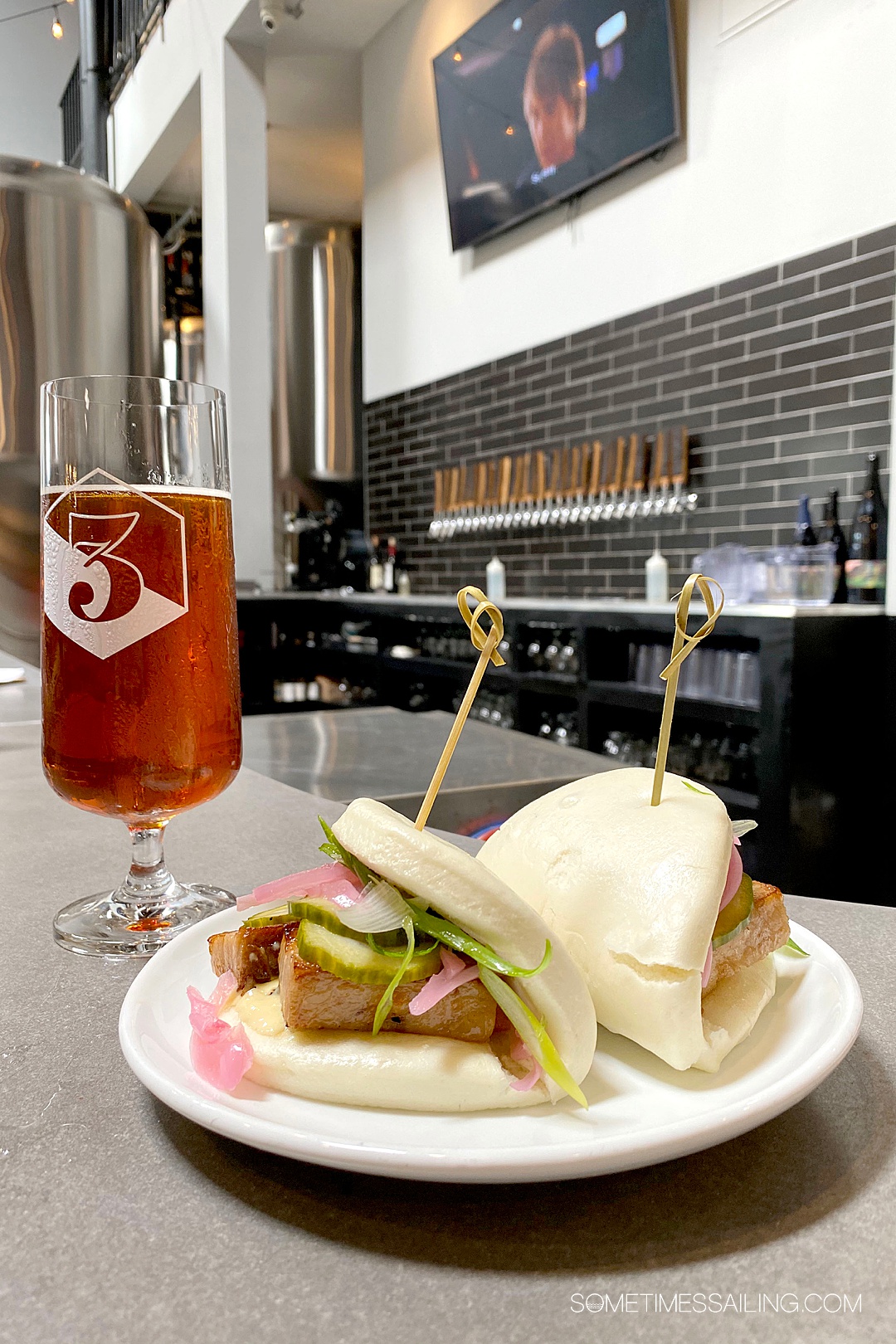 This is a personal favorite! We love going here and enjoying the sun-filled, casual atmosphere indoors and in a small area outside, which is also great for kids to run around. It's not a fancy destination – it's just a casual brewery with great beer on tap and great food.
We love their Buffalo wings and wood-fired pizzas.
Address: 236 N Federal Hwy #104, Dania Beach, FL 33004
✧ Pizza, Italian Dishes, and Dry-Rubbed Wings at Anthony's Coal-Fired Pizza ($$)
Years ago, a family member who lives in Florida, where Anthony's Coal-Fire Pizza restaurants are plentiful, turned me on to their layered Eggplant Marino dish; I've been addicted ever since. Regardless of your love for vegetables or not, there are plenty of other options here, including pizza, pasta, salads, and chicken wings.
They have several locations in Fort Lauderdale, but the closest restaurant near the Fort Lauderdale cruise port is only 1.5 miles away.
Address: 2203 Federal Hwy, Fort Lauderdale, FL 33316
✧ Continental Menu with a Wide Variety of Beer: Tap 42 Craft Kitchen and Bar ($$)
We enjoy Tap 42 for its menu, with many options no matter what you're in the mood for. There is also plenty of indoor and outdoor seating in this casual restaurant. It's just about 2 miles from the cruise port in Fort Lauderdale and only a 5-minute drive.
They accept reservations on Open Table so be sure to reserve a space even if it's the day you plan on going.
Address: 1411 S Andrews Ave, Fort Lauderdale, FL 33316
✧ German Food: Old Heidelberg Restaurant ($$)
For a hearty German meal, head to the Old Heidelberg Restaurant, which has a kitschy interior, good food, wonderful service, and great beers. We couldn't resist dining here once to experience a taste of Germany in South Florida. It's just 2 miles from Port Everglades.
Address: 900 W State Rd 84, Fort Lauderdale, FL 33315
✧ Seafood: Rustic Inn Crabhouse ($$$)
If you've got seafood in mind, check out the Rustic Inn Crabhouse. It's been a Fort Lauderdale favorite since 1955. They're known for their garlic crabs but serve things as interesting as fried alligator, conch, or frog's legs to steak, fries, salad, shrimp, chicken, fish, and oysters.
It's 5 miles from Port Everglades, which is approximately a 10-minute drive.
Address: 4331 Anglers Ave, Fort Lauderdale, FL 33312
✧ Japanese Food: TAKATO ($$$)
TAKATO is right off Fort Lauderdale Beach. It's known for its high-end Japanese food in a modern and refreshing setting. It's 6 miles from Port Everglades, but the drive can take anywhere from 15 minutes to 25, depending on the traffic to get over the water and reach the restaurant, which is off of A1A on the coast.
Address: 551 N Fort Lauderdale Beach Blvd, Fort Lauderdale, FL 33304
✧ Upscale Italian Food: Cafe Vico Restaurant ($$$)
For a home-cooked Italian meal, Cafe Vico Restaurant is close to the cruise port. We have read mixed reviews and have not been here ourselves, but if you're craving upscale Italian, the location is ideal for the cruise port.
It's just over 5 miles from Port Everglades, and Fort Lauderdale's historic Bonnett House Museum and Gardens is nearby if you want to combine a meal with sightseeing.
Address: 1125 N Federal Hwy, Fort Lauderdale, FL 33304
✧ Casual Beachfront Restaraunt: Quarterdeck Restaurants
If you have your heart set on a very casual, laid-back restaurant right next to the coast of Fort Lauderdale that will have you thinking you're in a Jimmy Buffett setting for a song or something close to it, this is the place to go.
It calls itself a "Neighborhood Grill and Seafood Bar," with everything from fish tacos to salads, sushi, pasta, lobster, and more on the menu.
It's 6 miles from the cruise port, a drive that will take about 15 minutes.
Address: 300 N Beach Rd, Dania Beach, FL 33004
✦ Getting to Fort Lauderdale
✧ Driving
Driving to Florida is easy; it simply takes a lot of hours to get to South Florida. We have done it over a dozen times because we often drive up and down the coast between the Tri-State Area, North Carolina, and Florida.
Luckily, the interstates in the United States make it possible. Fort Lauderdale is right off of I-95, I-75, and I-595.
Don't Postone Renting a Car!
✧ South Florida Airports
Fort Lauderdale is primarily serviced by the Fort Lauderdale Airport (code FLL). However, it's also possible to reach the city from these airports:
✧ By Train
The Brightline train is a solid option to arrive in Fort Lauderdale if you're traveling from within Florida.
Brightline tickets are as low as $10 each way for adults, depending on the route and day of the week.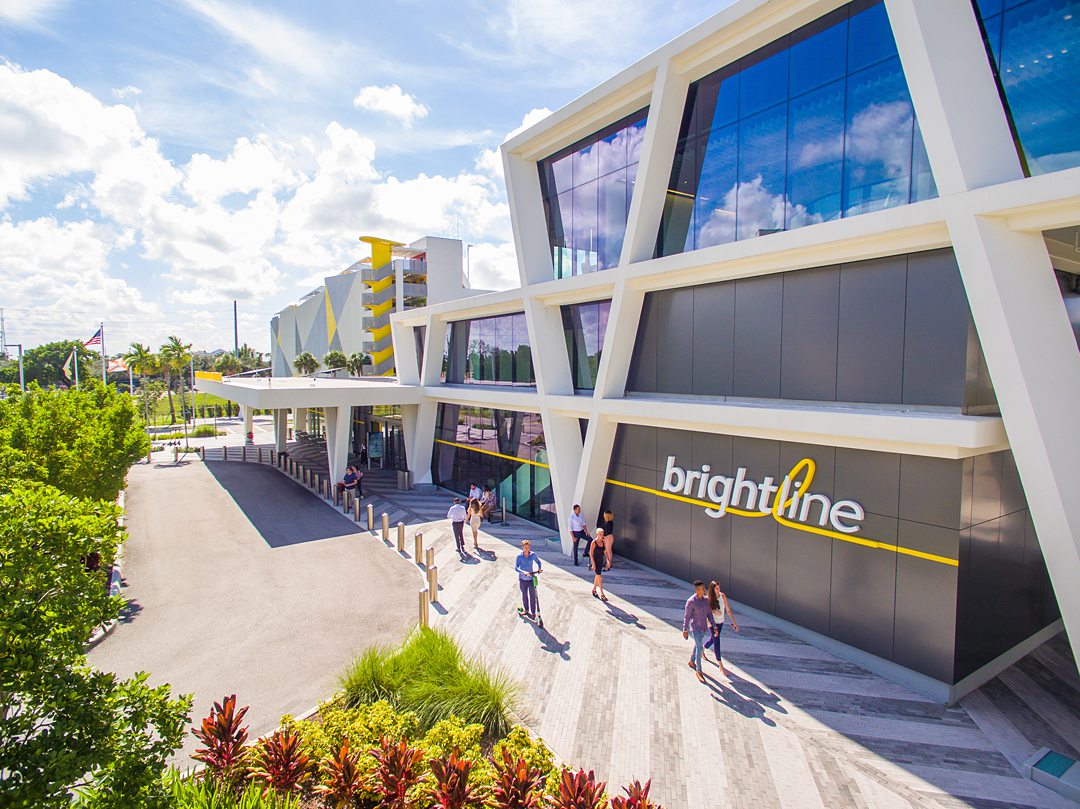 Where to Find Last Minute Cruise Deals from Fort Lauderdale
Who doesn't want a reason to visit Fort Lauderdale, especially to play in the area before or after a cruise? Hundreds of cruises leave from Fort Lauderdale a year.
Our favorite sites to find last-minute cruise deals are Cruise Direct and Cruise Critic.