Margaritaville Cruise: Jimmy Buffett's Margaritaville at Sea
Parrotheads and margarita lovers rejoice! Margaritaville, Jimmy Buffett's well-known brand (rest in peace, Jimmy!), is out to sea! Hop onboard a Margaritaville cruise for a quick yet rejuvenating trip to the Bahamas.
The new cruise line is helping answer the question, "Can a song about a lost shaker of salt impact an entire sea-filled ocean?" You bet it can because it's always 5 o'clock onboard Margaritaville at Sea Paradise, their new cruise ship.
We're sharing what other great things you can expect on board.
Disclosure: There are affiliate links in this post, which means we may earn a small commission if you click the link and proceed with a purchase at no cost to you. We truly only recommend cruises, experiences, products, and services we personally use. As Amazon Associates, we earn from qualifying purchases.
Carefree Island Vibe Aboard Margaritaville at Sea Paradise
Likened to the Margaritaville brand, the vibe of a Margaritaville cruise will be carefree, breezy, and tropical. Interior common spaces are decorated with bright colors and natural elements, like tropical foliage and nautical rope.
Staterooms are adorned in tan, white, and blue hues. Everywhere has a "leave your worries behind" atmosphere.
The ship's exterior has a famous Jimmy Buffett quote, "Changes in latitudes, changes in attitudes…" painted on its side and states this ship is, "Where it's always 5 o'clock." Now that's something we can toast to!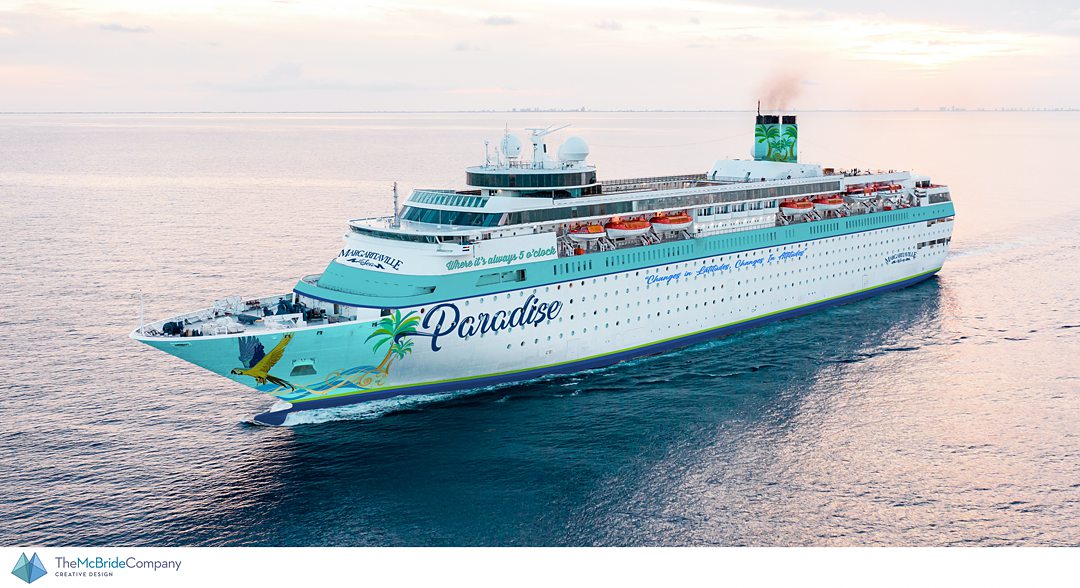 Margaritaville at Sea Paradise sets sail with short getaways from Palm Beach to Grand Bahama Island
Head to Florida's Port of Palm Beach to board the 10-deck ship Margaritaville at Sea Paradise. This 2-night, 3-day cruise sails between Palm Beach and Freeport, on Grand Bahama Island.
The Port of Palm Beach is only 20-minutes from the West Palm Beach airport (code PBI) and about an hour from Fort Lauderdale Airport (code FLL). Grand Bahama Island is the northernmost island in the Bahamas and is directly east of Palm Beach, Florida.
Three Day Itinerary for Margaritaville at Sea
Escape from land to the ocean, and Grand Bahama Island with the following schedule for a short but revitalizing cruise:
Day 1:
Check-in for your cruise at the Port of Palm Beach, Florida, beginning at 11:00am
Board starting at 12:00pm
All aboard time of 4:00pm
Depart from the Port of Palm Beach at 5:30pm
Day 2:
Arrive at Grand Bahama Island by 9:00am
Spend the day snorkeling, shopping, enjoying the beach, and more on guided excursions or on your own
All aboard at 4:30pm
Depart at 5:00pm
Day 3:
Arrive back at the Port of Palm Beach at 7:00am
Disembark between 8:00am and 10:30am
Rebrand for Bahamas Paradise Cruise Line to Margaritaville at Sea
Margaritaville at Sea is taking over the former Bahamas Paradise Cruise Line, which has completely rebranded. Their ship, Grand Classica, has been transformed into Margaritaville at Sea Paradise.
Millions of dollars were invested in the exciting refurbishment. Colors, patterns, and textures from the sand, sea, and sky influenced the interior design, which emulates the Margaritaville brand. You'll find parrot motifs, beach scenes, and palm trees not just at your cruise destination but also in the interior choices of common areas and staterooms on the ship.
Ship Upgrades (including Sustainability)
Though the ships may be a few years old and going through a complete renovation, something guests won't ever see are the fuel tanks onboard. They were scrubbed (literally by hand) so the most low-sulfur emitting fuel could be put into the ships to make them as sustainability-conscious as possible right now.
Margaritaville at Sea Paradise Dining and Entertainment
Myriad dining, bar, and entertainment options are on board for you to enjoy during your short but significant cruise. There are plenty of places to throw back a few drinks, whether coffee or cocktails, and be entertained.
The names of the common spaces onboard are playful and befitting of a Margaritaville cruise. Gourmet options include:
JWB Prime Steak & Seafood (that's James William Buffett for the non-parrotheads out there)
Frank and Lola's Pizzeria (Frank and Lola are the subjects of one of Jimmy Buffett's songs, of the same name)
Port of Indecision Buffet
LandShark Sports Bar (Landshark is Jimmy Buffett's brand beer, so this is of course appropriately named)
Margaritaville Coffee & Pastry Shop
Euphoria Lounge
Sunset Bar
5 o'Clock Somewhere Bar
We can only hope to find ourselves on board, sipping an ice-cold drink as we listen to a band play Jimmy Buffett's well-known hits, complete with the tropical sounds of steel drums and guitar strings.
Amenities include several restaurants and dining areas, pools, entertainment programming, retail stores, a St. Somewhere Spa, and Fins Up! Fitness Center.
Tales of Margaritaville, onboard Entertainment Show
Jimmy Buffett and famous producer, Frank Marshall, teamed up to write a brand new show for the ship, called Tales of Margaritaville. Of course, it features hits from his well-known catalog of songs!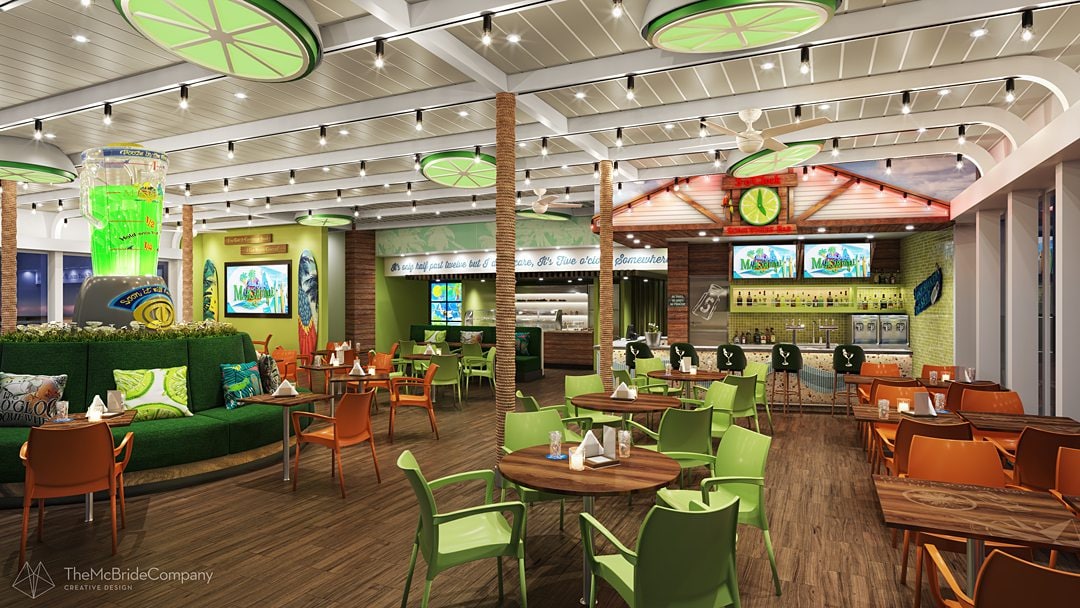 Price Point for Margaritaville at Sea
Starting pricing for a Margaritaville at Sea cruise is $169 to $189, per person, depending on the sailing date.
The affordable pricing is partially due to the cruise's short itinerary length (2-nights, 3-days). It's a great option for anyone who wants a quick getaway that disembarks and returns to an easy-to-get-to port.
Variety of Cruise Category Options
There are 658 cabins onboard, with a variety of cabin categories within the ship's 10 decks.
This includes Outside View staterooms with portholes, Interior cabins, and a limited number of Grand Terrace Suites with balconies. (The majority of the ship is either Outside View or Interior cabins.)
Square Footage of All Cabins
The 658 staterooms are broken down as follows, including how large the square footage is of each category:
10 Terrace Suites (505.9 sq. ft.)
2 Junior Suites (333.5 sq. ft.)
430 Ocean View (152 sq. ft.)
216 Inside (148 sq. ft.)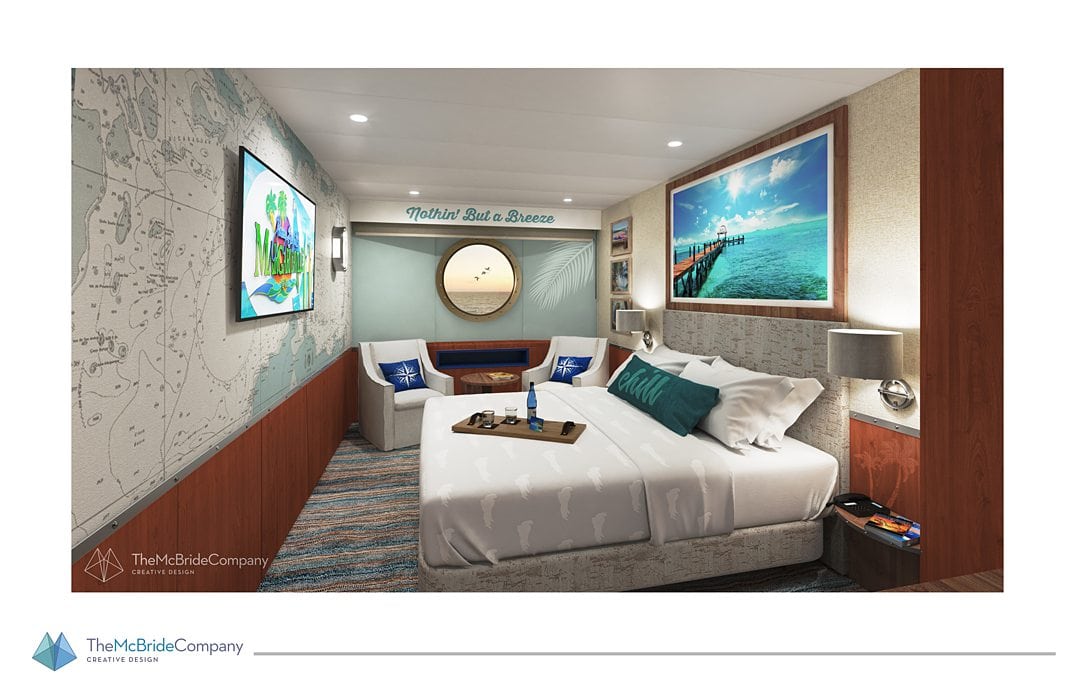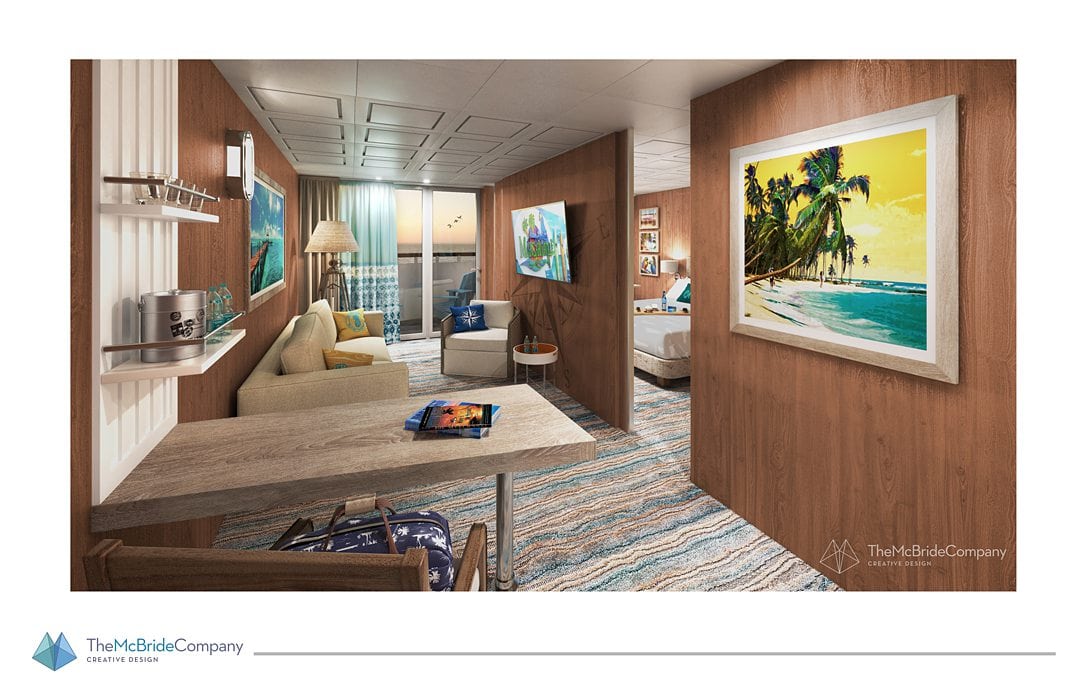 Margaritaville at Sea's current concierge offering, and the potential for a ship-within-a-ship cruise class
This Margaritaville cruise offers a concierge option, which includes:
Express check-in at the port
Express disembarkation at the port
Special stateroom welcome
Free internet
Booking assistance for shore excursions
Priority luggage delivery (pre-paid only)
Reserved seating in the theater
Elevated dining experiences, as concierge guests can enjoy special seating arrangements for two
Dinner for two in the specialty restaurant
Sparkling wine breakfast for two each morning
Wine tasting for two
Two individual massages at the spa
Steam bath for two
Though details have not been announced, we have confirmed that there is potential for a ship-within-a-ship class onboard Margaritaville at Sea Paradise.
Margaritaville at Sea is fun for all ages
Margaritaville is a very family-friendly brand. Infants 6 months or older, children, and adults will enjoy this cruise. If your family wants to escape with a Margaritaville at Sea vacation, consider booking a group package for your multi-generational traveling experience to paradise.
If you listen to Jimmy Buffett's music, you know if his songs are playing on board they are kid-friendly. The melodies are upbeat, fun, and relaxing. His lyrics are absent of curse words and he even imparts humor in some of his songs that children and adults alike enjoy.
Children's Programming on Board
A children's program is being developed. It will likely be based on one of Jimmy Buffet's children's books.
"Cruise and Stay" (Land/Cruise) opportunities pair Margaritaville at Sea with Resorts
If you find that a 2-night/3-day cruise isn't enough time to relax and soak up the sun, you can extend your stay with Margaritaville at Sea's option to stay a few nights at a resort on Grand Bahama Island.
Extend your Bahamas adventure for four or six nights at one of their participating beachfront properties: Grand Lucayan Bahamas or Viva Wyndham Fortuna Resort.
While the program continues to evolve and grow, it will likely take advantage of a golden opportunity that's presented itself with Margaritaville at Sea: the chance to capitalize on Margaritaville's reputable resort properties.
For the moment, you can only book Cruise and Stay packages by calling this number: 855-656-2451
Unique Incentives for Margaritaville at Sea and Ways to Experience Margaritaville at Home
The possibilities for Margaritaveill's land-based products to be coupled with this new venture to the sea are endless. There has been talk of a beach club, and also rolling out a perks program in conjunction with the resorts.
And don't forget about the Margaritaville products that you can buy online and in stores. They may eventually be incorporated into this new cruise line at sea!
How extending your vacation on Grand Bahama Island with the Cruise & Stay option works
You will board your Margaritaville at Sea cruise from the Port of Palm Beach on Day 1. Then on Day 2, when it arrives at Grand Bahama Island, you disembark with your luggage. After your stay at the resort on the island, you get back on the ship to sail back to the Port of Palm Beach.
For instance, if you sail on a May 2nd cruise, you would get off the ship in Freeport on May 3rd and you'd be transferred to your hotel in Grand Bahama Island. Then you stay there for 4 nights at one of the two properties.
To return to Florida, you then board the ship again at the port on Grand Bahama Island on May 7th and disembark when it docks back in Florida on May 8th.
Pre-Cruise COVID Testing is Not Required
As of July 23, 2022, Margaritaville at Sea removed its pre-cruise COVID testing requirement for vaccinated guests.
Unvaccinated guests are still required to provide proof of a negative antigen COVID-19 test taken no more than one day before the sailing.
Cruising soon? Check out: