Honest OMEGA Sailing Bracelet Review: Premium Accessory for Everyday Wear
The OMEGA Sailing Bracelet is a dream come true. I was in search of a bracelet that reminded me of the ocean and being on the sea, practical for everyday wear. OMEGA's accessory came across my radar during my and Dan's quest to find high-quality nautical-inspired bracelets.
It's a brand we know, love, and trust, and I jumped at the chance to sport this stylish creation. We've had a bracelet from OMEGA for years now, and the condition remains like new despite countless days of wear.
We'll take you through a thorough review, including how it's supposed to fit and how to clean it. Additionally, if you end up deciding you don't want an OMEGA Sailing Bracelet but like the thought of a nautical bracelet, we'll suggest some alternative options.
Disclosure: There are affiliate links in this post, which means we may earn a small commission if you click the link and proceed with a purchase, at no cost to you. We received some products in cooperation with the companies to review. We truly only recommend hotels, products, and services we personally use. As Amazon Associates, we earn from qualifying purchases.
OMEGA is a Timeless Brand, Synonymous with Quality
OMEGA came into our lives because of their watches. And though I had known about the brand for years, it wasn't until my and Dan's lives collided that I started to go into the OMEGA boutiques with Dan, to browse. (He has a passion for timepieces and is a proud owner of his own OMEGA watch.)
They make beautiful watches and accessories. They also create rings, bracelets, charms, pendants, and necklaces. Their watches, especially, are legendary.
Back in 2019, OMEGA recalled the 50th anniversary of Apollo 11's expedition to the moon, with their OMEGA Speedmaster. We made sure we stopped by a few OMEGA stores back then to admire any limited edition watches the boutiques had in stock for the event.
We loved browsing social media than to see all the OMEGA eye-candy people were posting, particularly on Instagram. And we love browsing the hashtag #OMEGAmychoice now.
OMEGA Swiss-made pieces withstand the test of time in quality and design.
Sailing Bracelet Options
As avid fans of the ocean and all things sailing – from sunset excursions to cruising the Danube during the holidays on a river cruise, to feeling the salty air hit the decks on the Disney Dream – we're always on the lookout for high-end products that remind us of being on the water. Even when we're on land.
It's surprisingly difficult to find luxury sailing bracelets. There are some options for sailing bracelets that are varying levels of quality and prices on Etsy. But nothing like Omega status.
We were thrilled when we discovered the OMEGA Sailing Bracelet, which Mikkel wears daily on cruises (especially on our Maine Windjammer Cruise, which was our first cruise back on the water after the pandemic).
About the OMEGA Sailing Bracelet
The OMEGA Sailing Bracelet is casual, yet can be dressed up or down. The hardware is beautiful, with a spring-lobster claw closure that attaches to an Omega-Greek-letter-shaped eye on the other side. We even love the little hexagon screw on the side of the eye.
You can get one to match your favorite color or wardrobe, whether you love navy, black, yellow, purple, blue, or grey.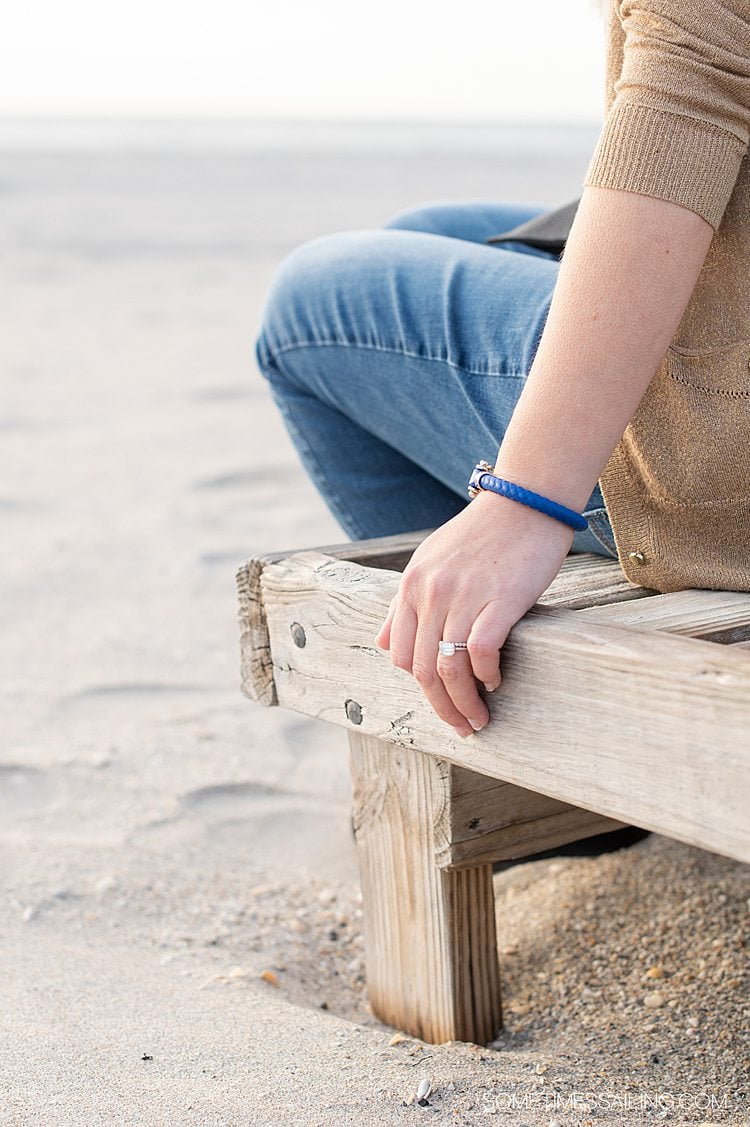 Specs and Materials
Most of the bracelet designs come in molded rubber and braided nylon. (Though there are limited outliers, like their natural cork bracelet.) The rubber is likened to what they use to create their watch straps of the same material. And the braided nylon is likened to what's used for their NATO watch straps.
The OMEGA Sailing Bracelet I have is rubber, so we're speaking of that model when we refer to it. Yet, we also want to bring the other options to your attention.
To be more specific, the sailing bracelet I have is stainless steel and blue rubber. (We would describe it as cobalt blue. Or, dare we say, close to an Yves Klein blue, if you are familiar with the artist! A personal favorite of mine.)
It is brilliant and eye-catching and matches mostly anything. Blue isn't "neutral" in the sense of colors like brown, black, or grey, but it is in the sense that it looks fabulous with most outfits. (Kind of like how denim blue jeans match anything.)
The stainless steel matches my platinum engagement ring and wedding band, which it sits next to. It's a nice perk when I don't want to mix metal colors.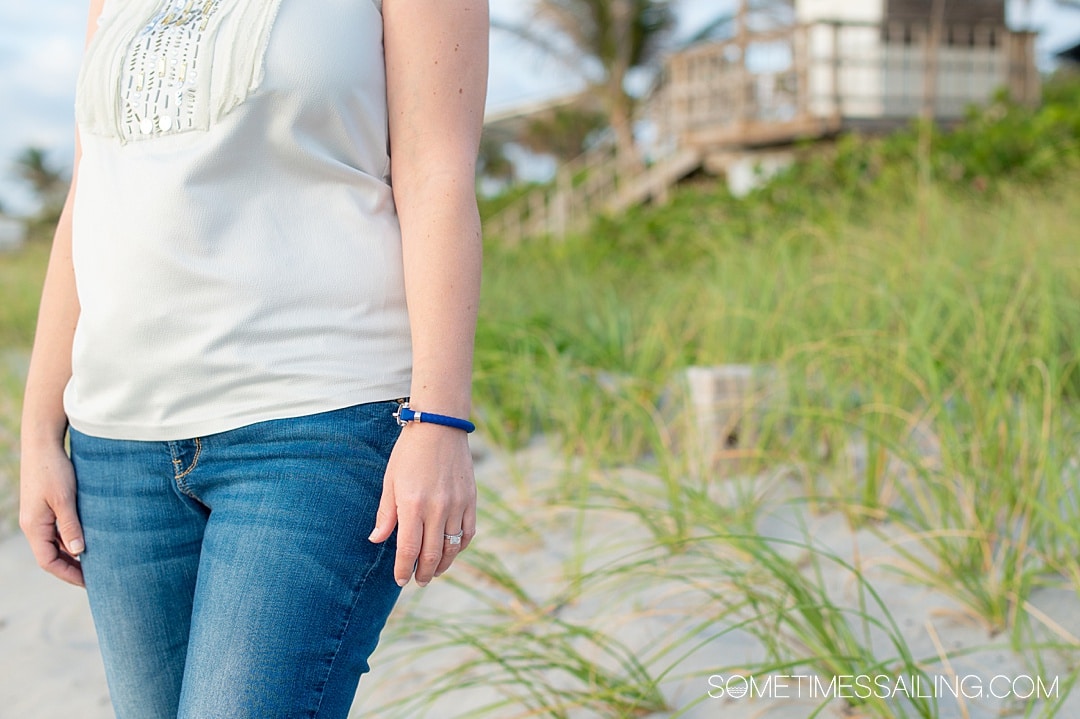 OMEGA Sailing Bracelet Options
There are currently 41 different variations of the bracelet. The combinations vary, including the material of the bracelet (whether rubber or braided nylon) and the material of the clasp (whether stainless steel in silver, DLC finish, or brushed titanium). There's also an option for one in black rubber with an 18K red gold clasp with a DLC finish.
Some of our favorite colors, besides the blue that I have, are the grey and greige rubber (which is an off-white), the khaki braided nylon, and the aqua nylon. (Images below are courtesy of OMEGA.)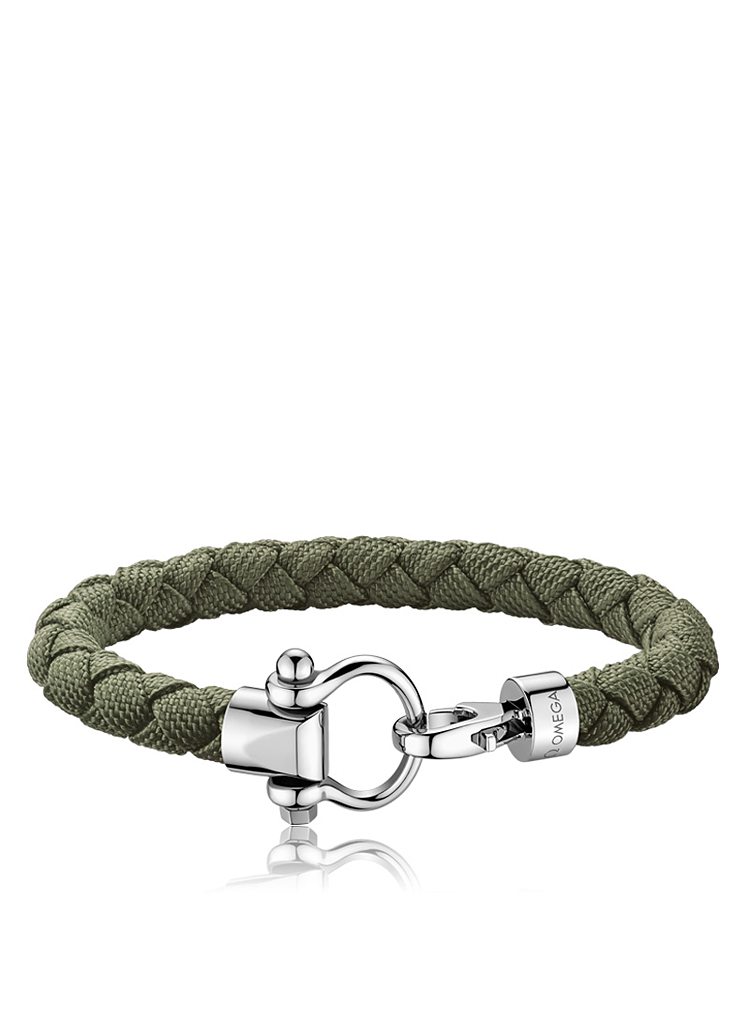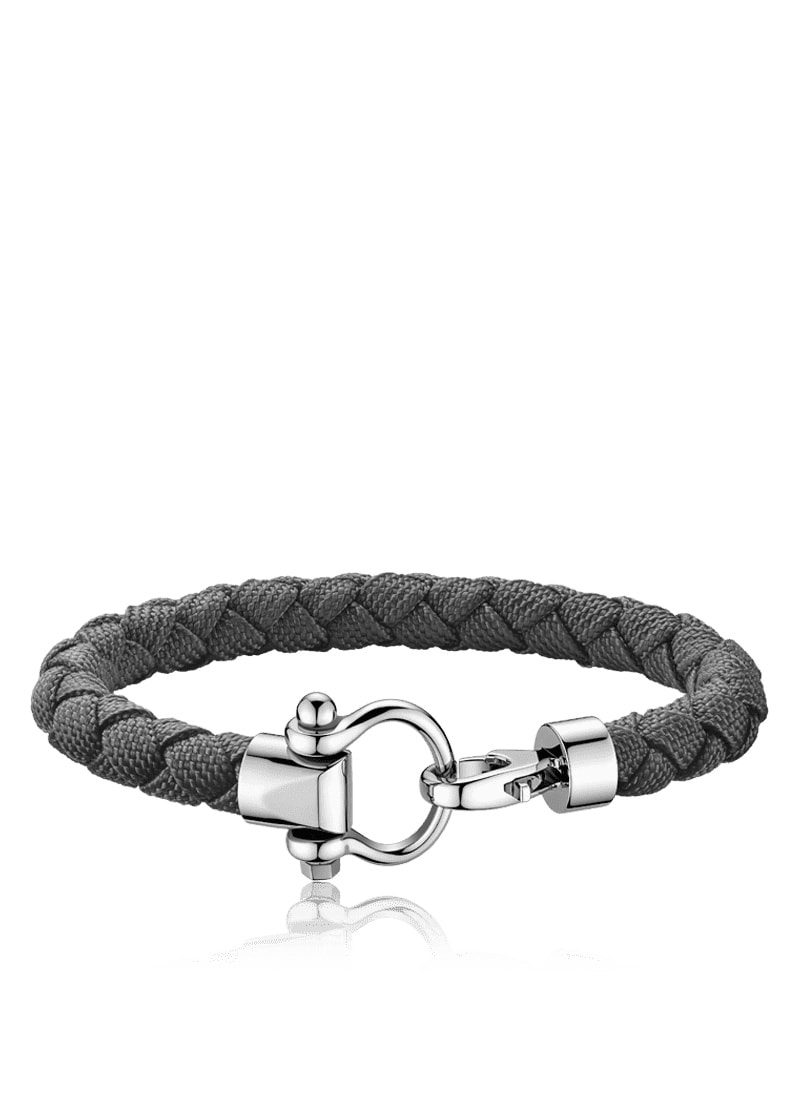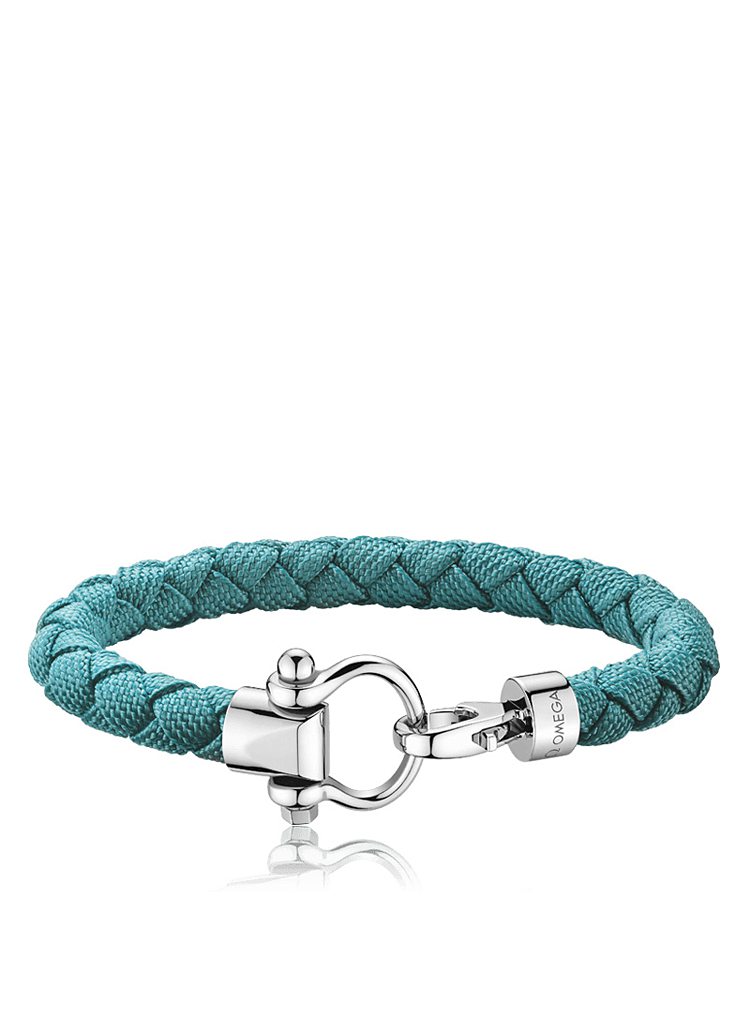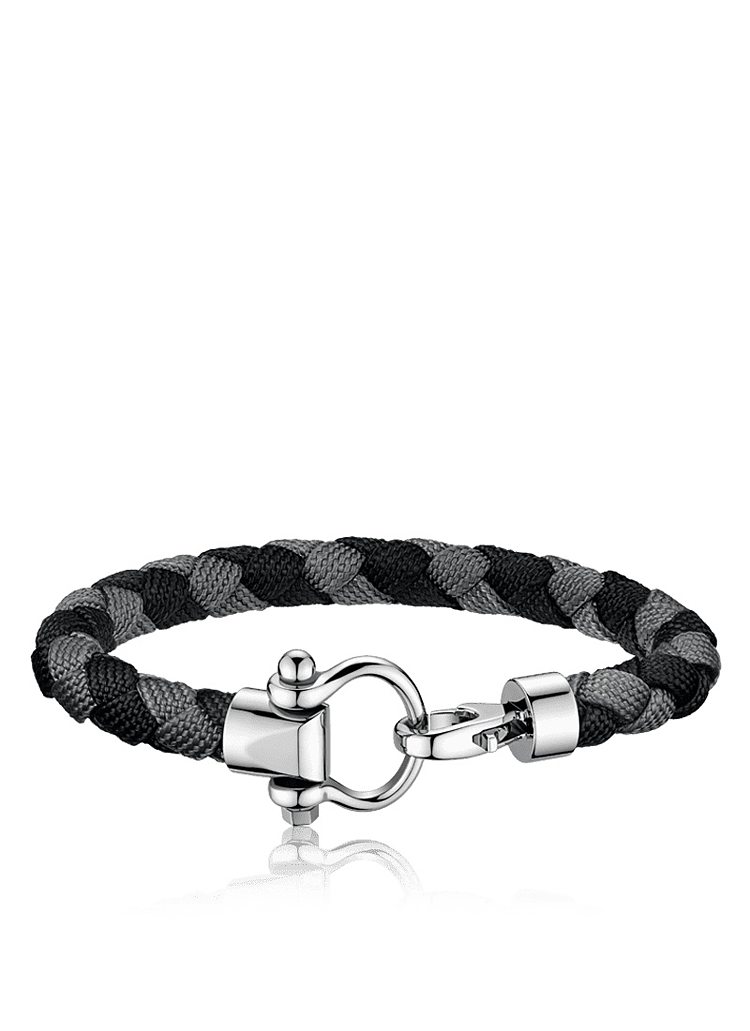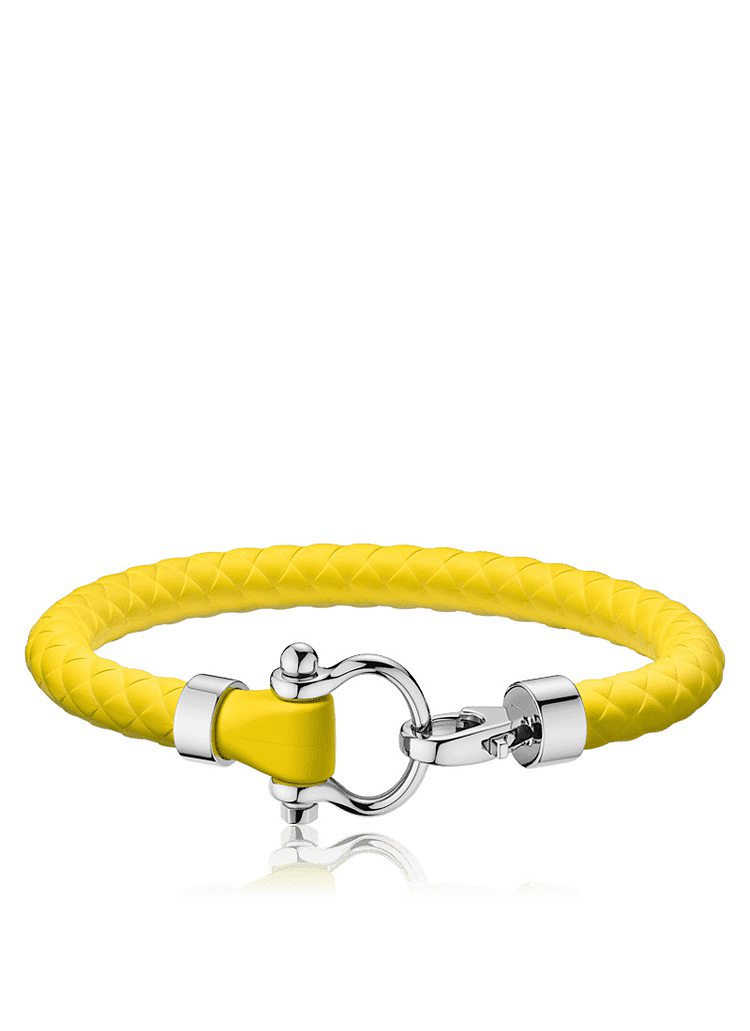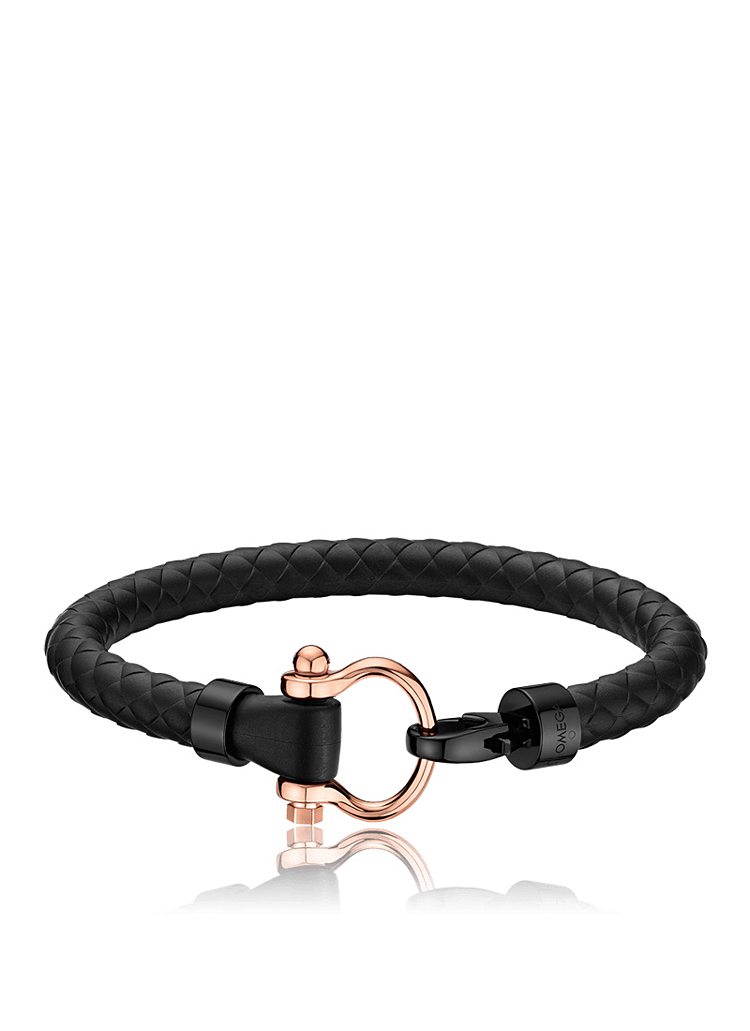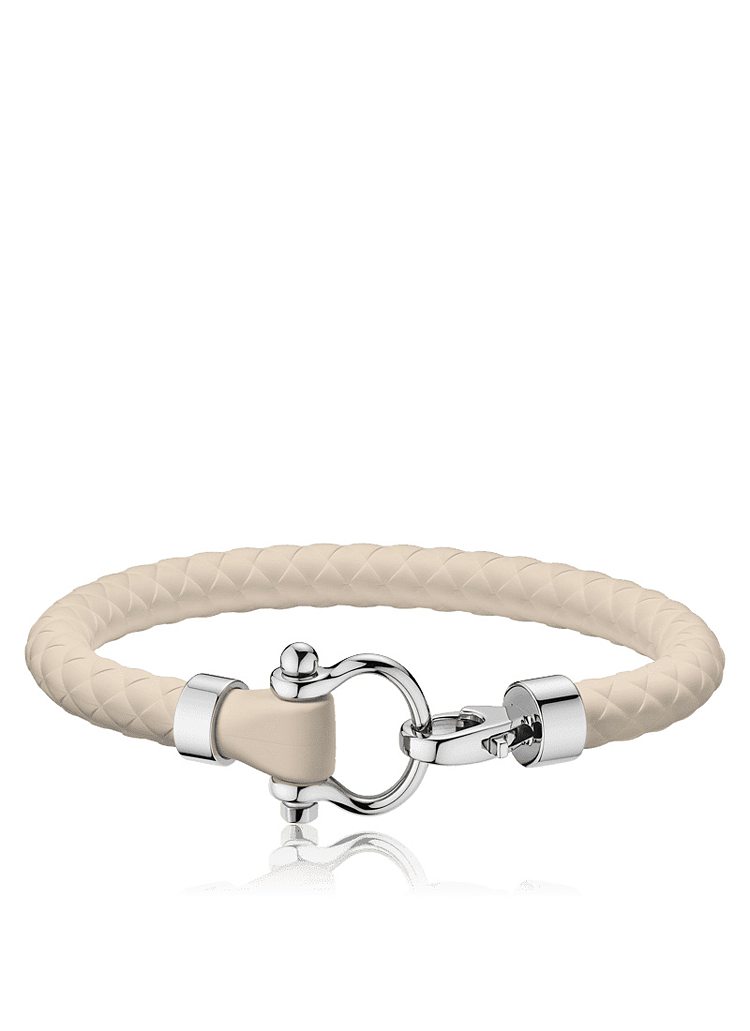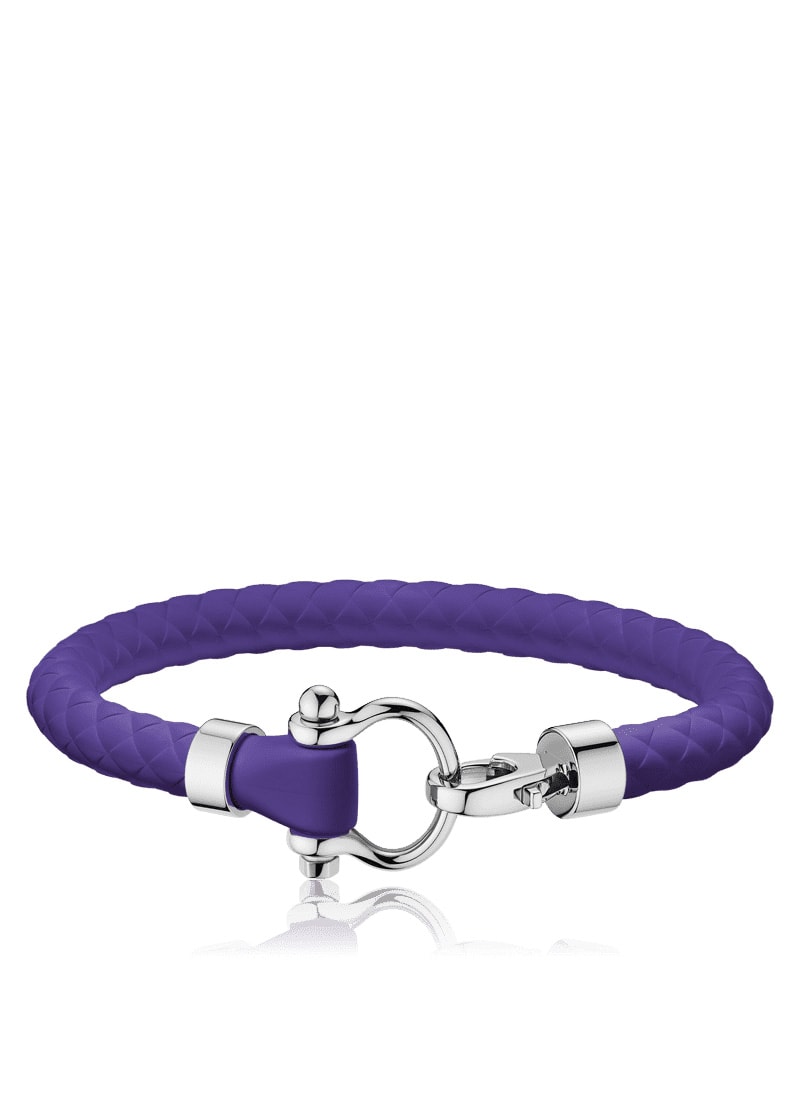 It's a very durable bracelet. I am confident that I can wear it with ease no matter the activity or outing. Another thing I love about it is that I can type on my laptop and not have it cause friction with my computer keyboard.
What do I mean by this? My first Macbook laptop had dents in the front of it I noticed over time. I realized it was from metal bracelets and my watchband hitting it while I typed.
Because of that, I'm careful to take off any jewelry when I work now. But I don't have to do that with my rubber sailing bracelet. The rubber doesn't affect the metal on my computer. (It's the little things, right?)
Diamond-Like Carbon Coating (DLC)
There's a black nylon bracelet with a gunmetal-like finish. The benefit of a finish like this is the hardness of the coating, which can help resist scratching over time. But it also may react differently to saltwater over time from how a stainless steel finish reacts.
You can't go wrong with either option of the clasp and metal hardware, though, and Dan and I quite liked the black rubber and DLC finish bracelet when we saw it in the store. (The coating costs a little more money. It's $390, compared to $300 for the rubber, nylon, and stainless steel sailing bracelet.)
Your Unique Bracelet
Every bracelet has its unique serial number and the size letter on the clasp. Mine is a size small, so there's an "S" on the clasp. Your bracelet information is written on the Certificate of Authenticity you receive with your bracelet purchase.
Available Sizes
Size options are S, M, L, or XL, which correspond to lengths 170 mm, 190 mm, 210 mm, and 230 mm, respectively. My wrist measures 152mm (or 6 inches) so I ordered a small.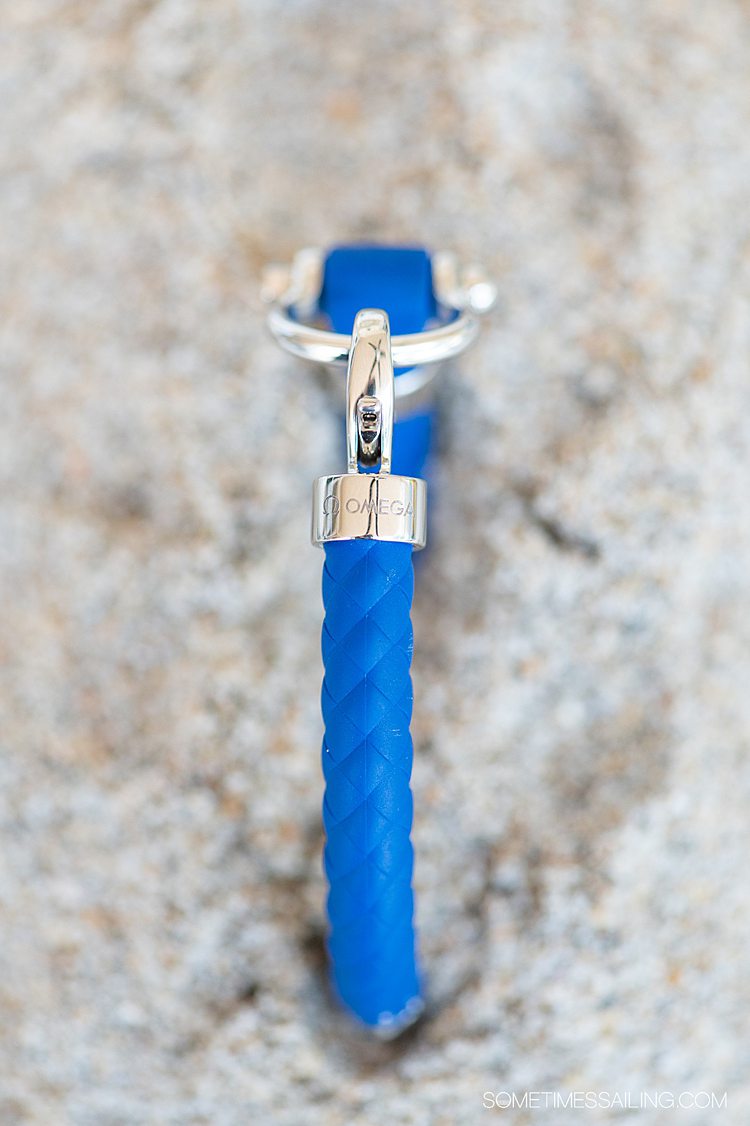 Fit of the OMEGA Sailing Bracelet
Dan and I were excited to receive the bracelet in the mail. I opened the beautiful packaging and red OMEGA ribbon with silver lettering, proud to soon be sporting an OMEGA product. The bracelet was in a black dustcover bag in the box. I took it out to see the bright blue bracelet clasped in a teardrop shape.
It was a little tighter than I expected when I put it on. But after calling an OMEGA boutique and speaking with a specialist (who was incredibly helpful), we learned it fit perfectly.
The fit was confirmed to be perfect after going to the store, in person, and talking to someone about the fit. (Because why not go into a boutique to shop for more OMEGA watches and accessories, especially after their release of the Seamaster 300?!)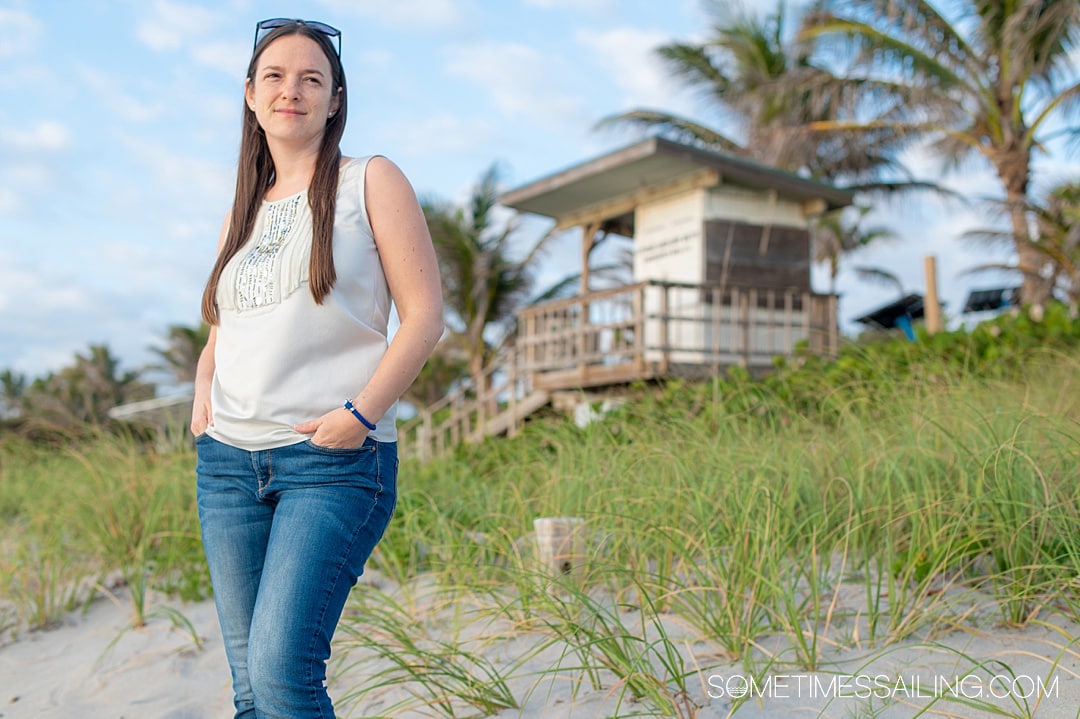 One of the reasons I was concerned it was too tight when I received it was because I couldn't comfortably twist the bracelet so the clasp was centered on top of my wrist. But if I twisted it so the clasp was on the side, it was comfortable.
After speaking with an OMEGA boutique employee, I learned that wearing it on the side is the way to go.
OMEGA shows some on-model images with the clasp centered on their website. But you may need to get a size up to have the bracelet lay this way. The braided nylon bracelet may lay differently than the rubber one; we're not sure.
In my experience, the rubber bracelet should fit snugly with the clasp on the side.
Stretch and Softness of The OMEGA Sailing Bracelet
The bracelet will not stretch because of the way it is constructed. It may soften over time, but it won't stretch, meaning it won't get longer over time.
The team member at the OMEGA boutique informed us that this is because of a piece of metal inside the rubber that goes from one side of the bracelet to the other, held in place by the stainless steel clasp on either end. This is great news because your bracelet will be like new, even years from now.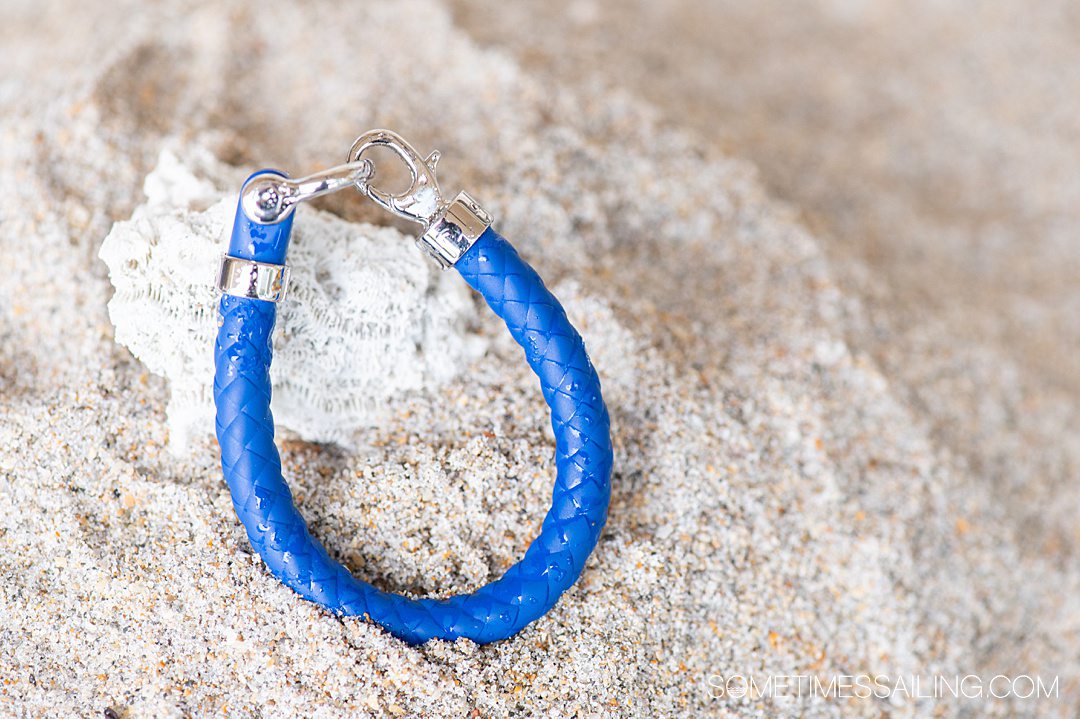 Jewelry Care on the Go
Don't forget to get all your jewelry care essentials for when you travel and you're on the go. Especially jewelry cleaner for your sparkly items!
Travel Options
Love Omega Watches? Check discounted watch prices on Jomashop
Little side note here: If you love Omega products – including watches – and you're in the market to buy one (or perhaps just look) we can't recommend Jomashop enough.
We have purchased two authentic watches on Jomashop (one was an Omega) for hundreds of dollars off what we would have paid on cruises and on land. (Sometimes, they are running sales and offers that equate to over $1,000 off a watch or more.)
They're 100% authentic and returnable within 30 days, unworn. And Jomashop has an extended warranty as well. Check it out.
If you're skeptical, call their customer service line to express your concerns. I did this before I bought Dan a 40th birthday Hamilton watch a few years ago and they squashed any skepticism I had, making me uber-confident in buying from Jomashop. (If only they sold the Omega Sailing Bracelet there! Alas, they do not.)
Sailing Bracelet Care
This bracelet is truly one for everyday wear. Its quality and materials make it incredibly easy to keep on your wrist in the shower or if you're swimming in saltwater, which is great! You should be able to wear a sailing bracelet into seawater, on a cruise ship, or on the beach.
It was especially great to wear it on our Maine Windjammer cruise. Knowing I didn't have to take it off to shower or go in the water was great. (A bonus, because I didn't want to forget it on the ship or the shore if I took it off for either.)
You don't have to do much to maintain its shine and color. The OMEGA Sailing Bracelet care is pretty simple. The only thing you need to make sure you do is to rinse it off with tap water after you get out of the ocean. To clean it further, simply wash it with warm water and soap. The same cleaning method applies to the braided nylon strap OMEGA Sailing Bracelets.
If your OMEGA Sailing Bracelet Needs a Repair
If you ever have a problem with your bracelet, all you have to do is contact OMEGA. Have your authenticity card that it comes with handy for service. You can mail your bracelet in for service or visit an OMEGA boutique in person.
(If you've ever purchased a luxury product, whether a watch or purse, you know a Certificate of Authenticity of some kind is included to prove it's authentic and genuine. It doesn't hurt to keep the card and your purchase receipt together. Keep the card in a safe place where you won't forget it, for as long as you own the product.)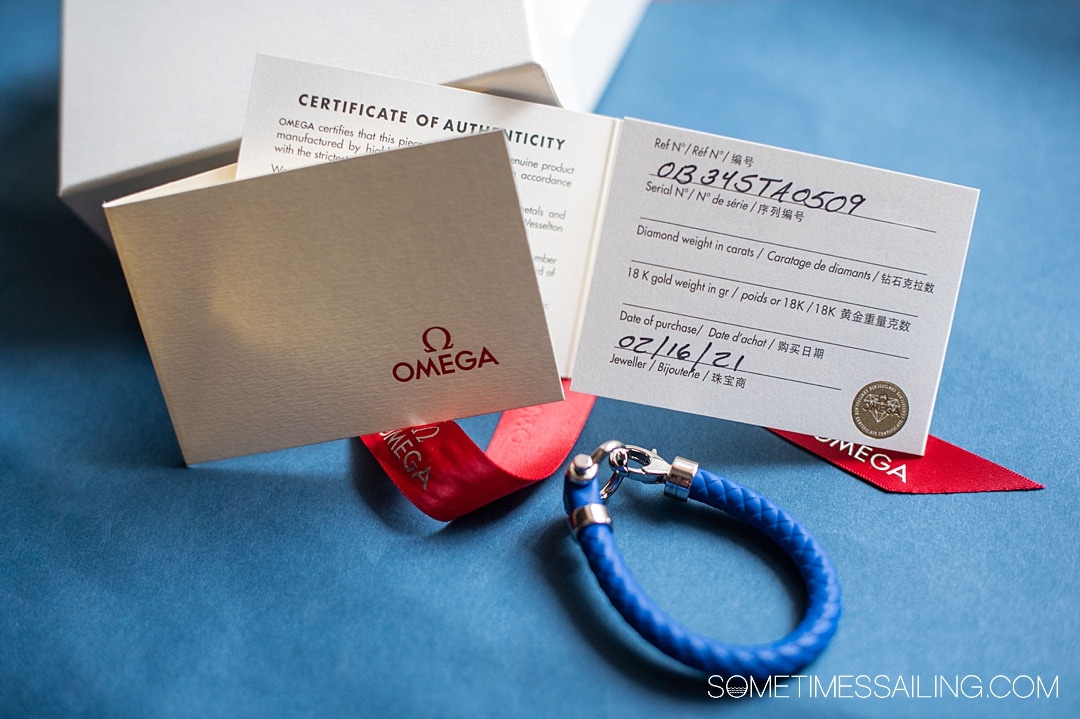 Update After a Year and a Half after Ownership
The bracelet is nearly in brand-new condition after a year and a half of owning it and taking it on trips. It's one of my favorite bracelets to pack because it will inevitably match something I wear during any vacation and is durable.
While I don't wear it daily, it's truly in like-new condition.
The only place it has shown signs of wear is where I've accidentally hit the metal against something (like a lounge chair or a doorknob) because I'm clumsy. Even then, it's something that only I can see, so to speak, when I look at the bracelet up close. It's not something anyone else would notice.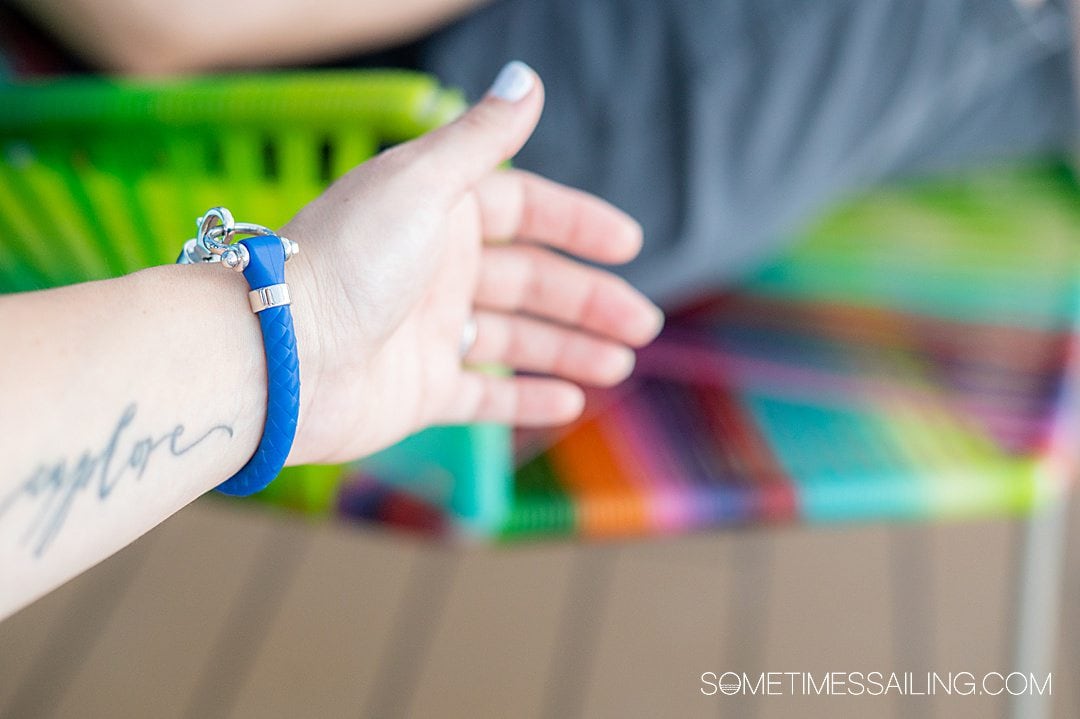 Pairing the OMEGA Sailing Bracelet
You can pair your OMEGA bracelet in several ways, such as a "his and hers," complementary colors, or matching the same bracelet with your partner (whether you're both male or both female as is the case with some couples).
Dan and I don't love to match, but it'd be cute to complement one another. If he were going to get one, he'd surely go for the black rubber with either DLC coating to keep it all black or the stainless steel finish to compliment his OMEGA Speedmaster.
Another idea is to pair it with your OMEGA watch. If you have a watch with silver metal, then get the stainless steel finish. Or if you have a dark grey ceramic OMEGA watch, consider the titanium sailing bracelet.
It's not an accident that you can get a braided nylon bracelet, which would pair perfectly with a watch on a NATO strap. Or match the rubber with a watch's rubber strap.
Don't be afraid to pair the OMEGA Sailing Bracelet with itself too! If you like one, get two or three that match well and stack them on your arm. You'll want to be mindful of the fit and how they stack like puzzle pieces, especially if you wear the clasp on the side of your wrist.
We recommend getting one and seeing how you feel and adding to it in the future.
OMEGA Sailing Bracelet Alternatives
If an OMEGA Sailing Bracelet isn't for you, or the price is not what you want to spend, there are great nautical bracelets out there.
We haven't found anything quite like the OMEGA Sailing Bracelet in design and quality. However, we like the nautical spin Etsy artists have created with their jewelry designs.
Allison Cole Jewelry bracelets are a favorite feminine style, but there are dozens more designs and options to fit any style.
Paracord Bracelet Alternative to OMEGA Sailing Bracelet
A favorite OMEGA Sailing Bracelet alternative that Dan has taken quite a liking to is a nautical-looking bracelet from Etsy seller KnotFinds. It's made from paracord and is very comfortable on the wrist.
We love the multitude of color options and combinations this Etsy artisan offers, who handmakes each bracelet. They're so incredibly well-made you would think a machine crafted it! Message him for custom colors if you are looking for something not already in his shop.
What's more is when you support Alen, the owner of KnotFinds, who creates these awesome bracelets as a hobby, you're supporting a Ukrainian refugee currently living with his family in Slovakia.
The carabiner clasp is a nice finishing touch to the bracelet. It maneuvers easily, even though removing the bracelet with someone's assistance is easiest. It's easy to layer with additional bracelets, as seen in the picture of Dan's wrist below. The bracelet dries quickly (within minutes), so you can shower and swim with it on.
The parachute cord bracelets are all under $25 each, making them an affordable Omega Sailing Bracelet alternative you don't have to think twice about buying.
To find your bracelet size, you measure your wrist in centimeters or the wrist of the person receiving the bracelet. Then find the corresponding size in the drop-down menu when you go to order the bracelet on Etsy.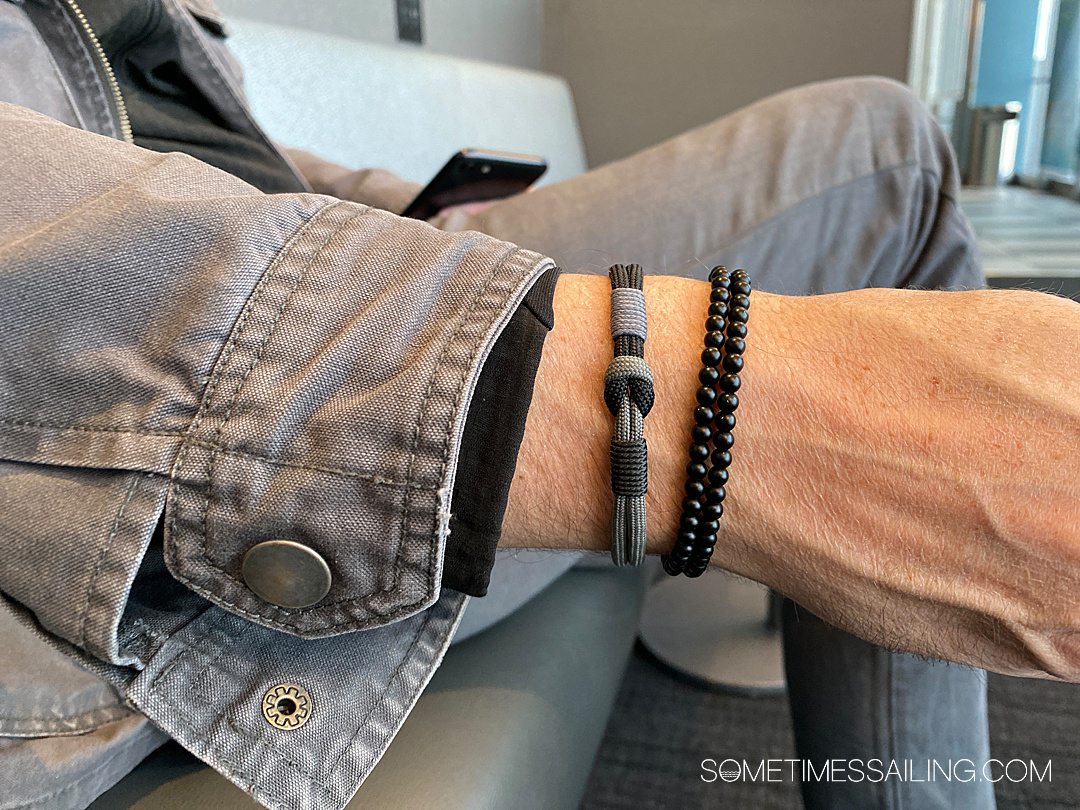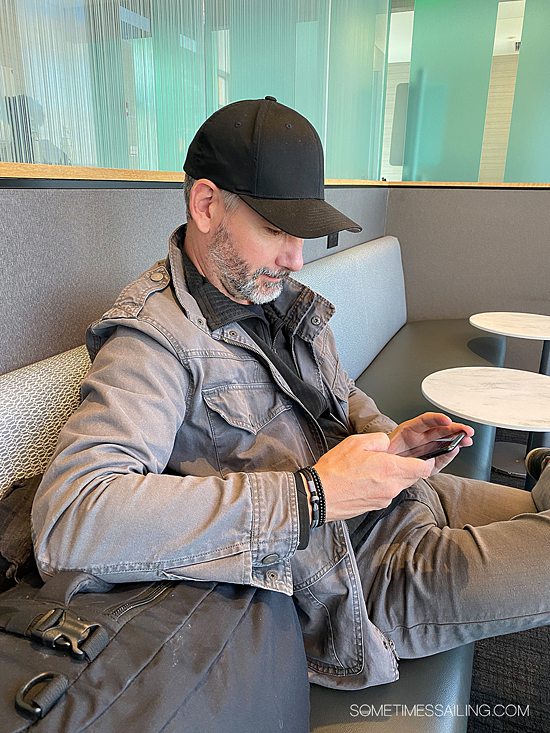 Fan of the ocean, sailing or cruises? Also check out: