Printable Maine Windjammer Packing List for a Sailboat Cruise
We have been on cruises in the Caribbean and Europe, to name a few, but had never sailed Maine's coast prior to our summer sailing experience. Now, we know what we wish we would have put on our Maine Windjammer Cruise packing list, despite our research beforehand and suggestions from their staff.
Our research was a great starting point, and the list directly from the ship was incredibly helpful. But there are definitely some really useful items we would pack for next time around, armed with the knowledge of what the cruise is like, after our trip.


Complete Printable Maine Windjammer Packing List
Be sure to sign up for our packing list below. You'll receive it via email and be able to print it out and check off items as you pack them, if you like. We've also left a few lines for you to fill in the blank, if you have to add miscellaneous personal items to your own customized Maine Windjammer Cruise packing list.
Overview of our Packing List for our Maine Windjammer Cruise Aboard American Eagle
We generally felt well prepared and informed ahead of our trip. We followed the instructions to pack light and decided we'd simply do laundry somewhere after the sailing to prepare for the rest of our Maine trip, which included a seven day coastal road trip.
The one thing that sticks out in our minds, though, is how cold it is on the water. "Pack warm clothes," sticks out in our minds. Especially after the trip if we were going to give anyone advice about what to include on their Maine Windjammer packing list.
Our downloadable Maine Windjammer packing list contains the following headings, with items under each category:
Clothing
Outerwear + Shoes
Toiletries + Medication
Camera Gear
Additional Items
Paperwork + Documents
Things to Leave Home
We'll go into detail about some of the categories, below, but be sure to access the downloadable PDF for a printable list for exactly what items were recommend.


Clothing for Your Maine Windjammer Cruise
Sweatshirts, Jackets, Scarves and Gloves
The trip we took was from Sunday night, when we boarded the boat, to Thursday morning, when we disembarked. That's essentially three and a half days, and four nights, because we boarded after 6:00pm and got off the boat before 11:00am.
Dan and I look like we're wearing the same thing, everyday. And that's pretty much because we did. But no one cares if you do because chances are, they are too.
If there's one takeaway from our Maine Windjammer packing list, it's that it is COLD on the ship, even during summer.
I wish I had packed a really thin, lightweight fall coat. Not a long, heavy winter coat – simply one that is for in between seasons when the warmth of summer gives way to the cold breezes of fall.
It was truly that windy out at sea and chilly, even sailing close to the coast and in and out of harbors in June. We were told that's pretty typical of a Maine Windjammer Cruise from the crew and some passengers who had previously been guests a few times.
Dan and I agreed we would have been happy to have gloves as well and maybe even a heavier scarf. (We both packed light summer scarves.)
Dan was glad he brought a warm hat but we both wanted gloves at various points of the sailing. (His warmer hat was a knit beanie that was snug on his head. The wind kept blowing a baseball camp right off his noggin, but a lot of the guests onboard had them. I brought a baseball cap and put it on for about thirty minutes before decided I was not going to wear it again after on the trip. It was very annoying to constantly make sure it didn't blow overboard, even with a string attached to it that the crew tied on to everyone's hats.)
Footwear for your Maine Windjammer Cruise
We packed a pair of flip flops/sandals and also a pair of sneakers. Lo and behold, we pretty much only wore our socks and sneakers. If you wore sandals, your feet were just too cold.
If you are packing solely for your sailing trip, you can leave flip flops at home. You'll likely wear sneakers your whole voyage.
Hair Accessories (which are very important if you have long hair!)
If you have short hair trimmed close to your head, skip to the next paragraph! (But if you have no hair take a hat, as we recommended above, to keep your head warm.)
If you have longer hair, whether down to your chin or butt, you want to take hair ties AND a headband. I so wished I had a headband everyday of our sailing to keep all those wisps of hair from blowing all over the place. My hair loved covering my eyes and knotting up with the wind as we sailed.
The best thing I could do was keep my hair in a braid or bun, everyday. But there was no way to keep the little pieces back. Alternatively, you can pack Bobby pins or hair clips o keep those pieces back as you sail.


Camera Gear to Pack for your Maine Windjammer Cruise
There was no way we were going on a Maine Windjammer cruise, complete with sailing a gorgeous coast of the United States, without ample camera gear.
We've included a section for camera gear in our packing list.
It was safest in our cabin, even if I was looking to switch between lenses. This was because when we sailed and the boat would lean one way or another and things could move around, especially on the top deck. So I tucked the gear snuggly into a space in our cabin, (which I mention in our trip report). All my gear was in my SeaBag, within a camera holder.
We also decided to rent a 200-500mm lens from Borrow Lenses. The lens was great (and incredibly affordable) for getting close up on the coast and to photograph lighthouses. It was especially wonderful when we did a road trip around Maine afterwards and we took a few boating excursions, including a whale watching tour.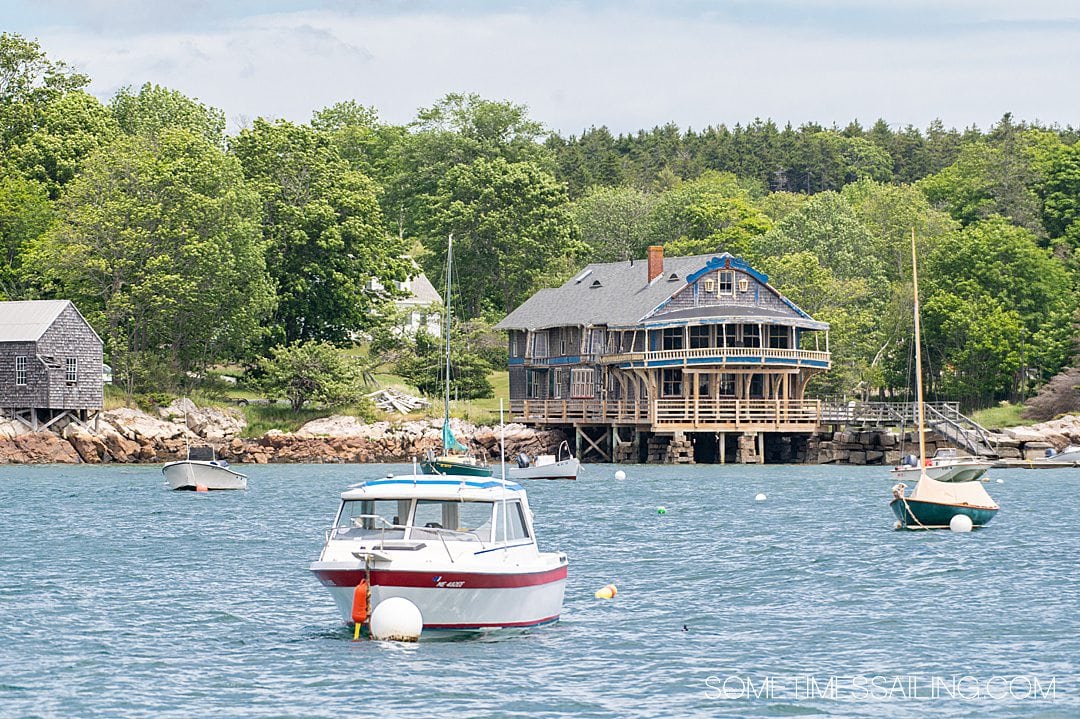 Additional Maine Windjammer Packing List Items, including Toiletries and Miscellaneous Items
Wind and sun protection: sunscreen, sunglasses and lip balm
Any Maine Windjammer Cruise packing list should include those three things.
You have to protect your skin and eyes from the sun. It may be foggy everyday on your trip but it's better to be prepared. Chances are it will be sunny at some point (even if it's sunny and cool, or sunny and warm).
Chapstick with SPF in it was great to protect our lips from the wind and sun.
We were pleasantly surprised that American Eagle had a little basket of sunscreen on deck for anyone to use. You may want to ask your trip coordinator who emails you in advance of your sailing if there will be sunscreen onboard. That way, you'll know if you have to pack it or not.
We didn't pack any expensive jewelry but I did love wearing my Omega Sailing Bracelet, which can you can wear in the ocean and the shower, and never have to take off.
Do you need seat cushions or handheld fans for your Maine Windjammer cruise?
We saw a couple of posts saying to bring a stadium cushion for your butt if you wanted some comfort on deck. We wouldn't generally need cushions any other time in our life so we didn't buy any. We're glad we didn't because we would have been fine without them for a few days, however our ship, the American Eagle, had some onboard for guests to use.
If you think you'll want a cushion for comfort or medical reasons, ask your ship if they have them first, then decide if you need to add it to your packing list.
And if you want a small handheld fan, check out this compact one or this small fan, that can stand on its own too.


Maine Windjammer Packing List FAQs
Will my things get wet on a Maine Windjammer Cruise?
We were freaked out by some packing lists we saw that said our stuff would always be a little damp. We had to bring our computers with us because we had a road trip afterwards and at some point had to do some work. So we bought air tight bags to keep our laptops in, worried the moisture over the course of 4.5 days would get to our electronics.
But nothing got wet in our cabin. Not even a little bit. It wasn't really even that humid during our summer trip to Maine in June.
Can I charge my phone on a Maine Windjammer Cruise?
Maine Windjammer cruises are an opportunity to relax, unplug and unwind. You're encouraged to get off your phone and be present in the moment. You don't get great cell service on the water anyway!
However, you may need to charge electronics (maybe a Kindle, or if your phone doubles as your music box or for audio books) and you'd be surprised to know that the ships don't have outlets like you're find at home or on most cruise ships. Instead, they have a 12-volt outlet. Or keep in touch with loved ones at home in case of emergency. (There is also an emergency number they provide in case your family needs to get in touch with you and you're not within cell service range.)
We happened to have our own USB adapter plug that fits into a 12-volt plug so we brought one. On the American Eagle, some were available to borrow.
In the images below, you'll see an iPhone charging cord coming from the 12-volt plug adapter we brought. (The photo to the right is simply showing some pegs on the wall where we were able to hang some of our things, including a rain jacket.)
If your boat uses 12-volt plugs and you want to bring your own adapter, here is one just like ours that works with any USB plug.
What kind of drinks are onboard?
We didn't pack drinks for our plane ride but we did buy some drinks when we landed in Portland and drove to Rockland because the ship is BYOB. Whether you want seltzer, or soda, beer or wine you can purchase some and bring it onboard for responsible consumption.
There was an ice box on the American Eagle that kept our drinks cold and tasty!
Should I pack snacks for a Maine Windjammer sailboat cruise?
I love food! And I do not like being hungry. I was worried there wouldn't be enough snack options or anything on the Maine Windjammer schooner and I'd have to bring snacks, just in case. I even took a pack of Goldfish crackers from the airplane ride onto the boat "just in case." But I never ate them.
We had plenty of food during each meal and snacks between meals, including fruit, cookies and bread.
In our opinion, we were well fed. So we recommend not packing snacks for your trip. Leave the luggage space for other more important times.
Do I need to pack money to tip the crew?
Somehow, we totally forgot to bring tip money. Probably because no one carries that much cash nowadays. But the crew certainly deserved their hard earned tip money.
Luckily, we were able to Venmo money to the lead deckhand, who divided up all the collect tip money amongst the crew after the trip was over.
Tip between 5% to 10% of the total trip cost per person, to each crew member. So, for example, if the trip was $900 you would tip between $45 to $90 per crew member. If there were 5 crew members and you tipped each $60, you'd want to budget $300 for tips, per person. (So if you're two people, potentially $600.)
Tipping is up to you. Whatever you feel is appropriate is likely appreciated by the crew, no matter the number. But be sure to budget for it so it's not a total shocker because it is not included in your sailing like a lot of all inclusive cruise bookings do. (And luckily, we were able to Venmo the lead deckhand during our sailing aboard American Eagle because we didn't have that much cash on us.)
Disclosure: We thank Maine Windjammer Association for generously hosting us. We also may make a small commission from affiliate links in this post (at no cost to you) but all opinions are ours and we bring you genuine content with real facts, photos, thoughts and recommendations. Always.
Going sailing? Also check out these posts: