Star Clippers Packing List (and Dress Code) with Printable
While some cruises may require fancy attire, your Star Clippers packing list calls for much less formal clothing in its dress code. But what exactly should you bring and leave at home?
We'll dive into what you need to be sure to pack and what's available on the ship, so all you have to worry about is getting onboard and having a good time. And don't worry about the dress code because it's casual except for one situation we mention below.
You'll likely be cruising somewhere it's warm, so no matter if you're cruising in Central America, like we did, in the Caribbean or the Mediterranean, your packing list will be very similar to ours.
Disclosure: We thank Star Clippers for generously hosting us. We also may make a small commission from affiliate links in this post (at no cost to you), but all opinions are ours, and we bring you genuine content with real facts, photos, thoughts, and recommendations. As Amazon Associates, we earn from qualifying purchases.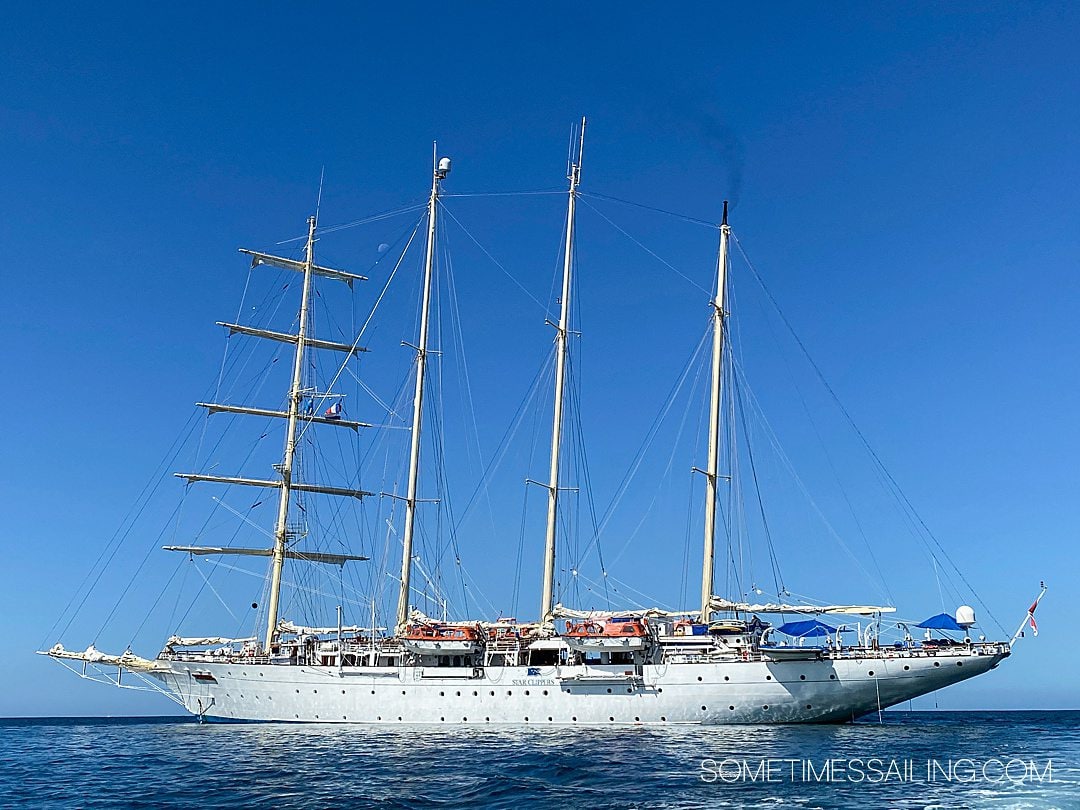 Star Clippers Dress Code
The entire cruise is casual. Most days, we wore a t-shirt and jeans, t-shirts and shorts, or I wore a comfy casual dress.
The only "rule" per se is that men must wear pants to dinner. No shorts are allowed.
We mention some of the "specialty attire" nights later in the post – like a pirate night and white night – but you only have to abide by the attire those nights if you want to participate. It's completely optional.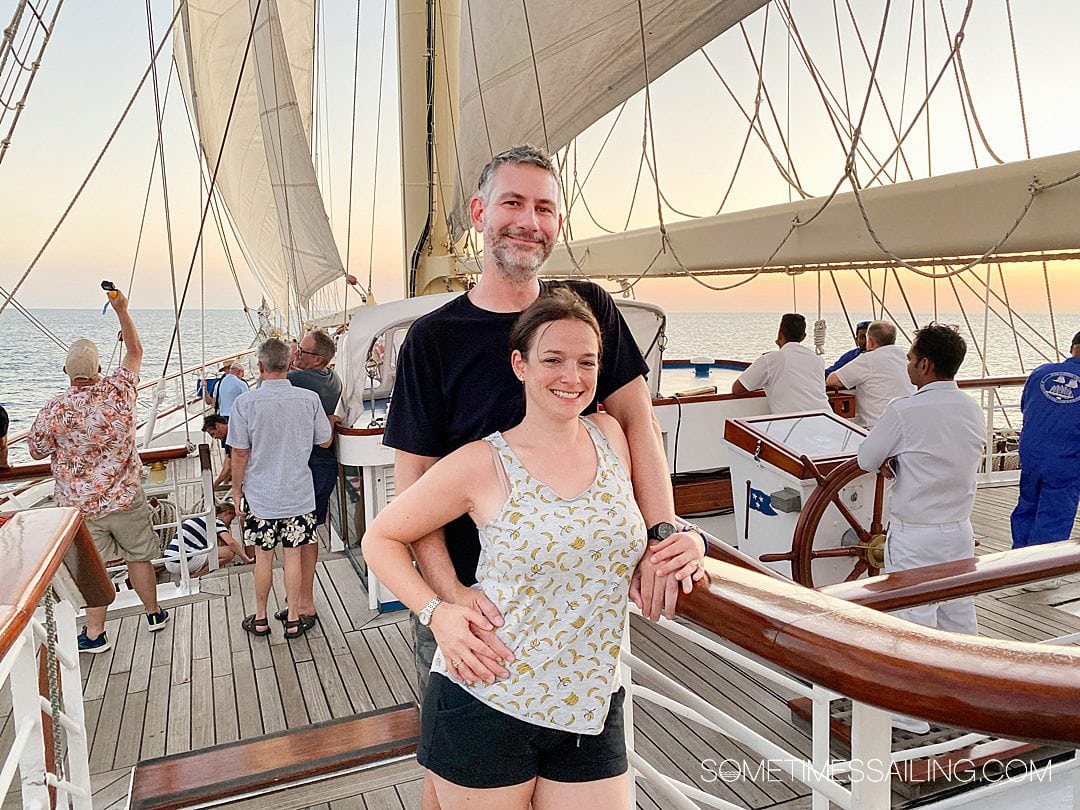 Star Clippers "Must Pack" List
The things that we were really glad we brought were the following:
Anti-nausea medication
Sunscreen
Travel Insurance
Bathing suit
Conditioner
Step-in or fastening sandals (but not flip-flops)
Pants
Short sleeve shirts
Hair ties/clips (if you have longer hair)
Passport and credit cards
Small daypack bag/backpack
Let's dive into the objects above, below.
Anti-Nausea Medication
We're glad we packed our Blisslets, Dramamine, motion sickness patches, and Bonine. Yes, we truly packed it all!
We were pleasantly surprised that the motion of the ship was minimal. However, there's no denying you're on a sailboat that sways.
If you're prone to motion sickness or think there may be a chance that the motion of the ocean — and ship — will affect you, do not travel without these sea sickness medication options and remedies.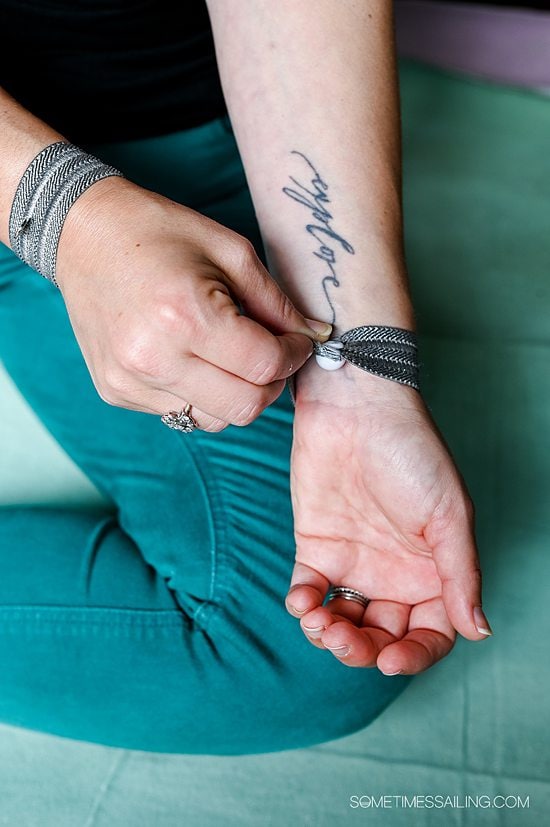 Bathing Suit
A bathing suit was a must for several reasons. Firstly because there are swimming pools onboard, filled with salt water. You'll likely want to dip in the pool at some point, particularly on your day at sea.
Secondly, you can often go in the ocean off the side or back of the ship to enjoy the ship's water toys, like paddleboards and kayaks. They even have rental snorkel gear available.
Lastly, stopping at beach towns and ports calls for a swimsuit.
I love my Change of Scenery swimwear and cover-up because it's made from sustainable materials, and the company is female-founded. Dan is sure to bring his favorite fast-drying swimsuit too.
Reef-Safe Sunscreen
Sunscreen is a must because you're exposed to the sun most of the day on deck unless you stay in your cabin the whole trip, which won't happen!
Not only is reef-safe sunscreen better for you, but it's better for the environment too. Reef-safe is a necessity when you're going in the ocean. Who wouldn't want to help keep the oceans safe and healthy?
Hair Conditioner
Conditioner was a must for us. Funny enough, they provided shampoo, shower gel, soap bars, and body lotion in the bathrooms. But not conditioner! We checked with other passengers; this was ship-wide, not a mistake in our cabin. Thus, we're glad we brought conditioner.
We use refillable containers that are TSA-size approved (less than 4 oz.) to bring our favorite at-home products and cut down on plastic waste.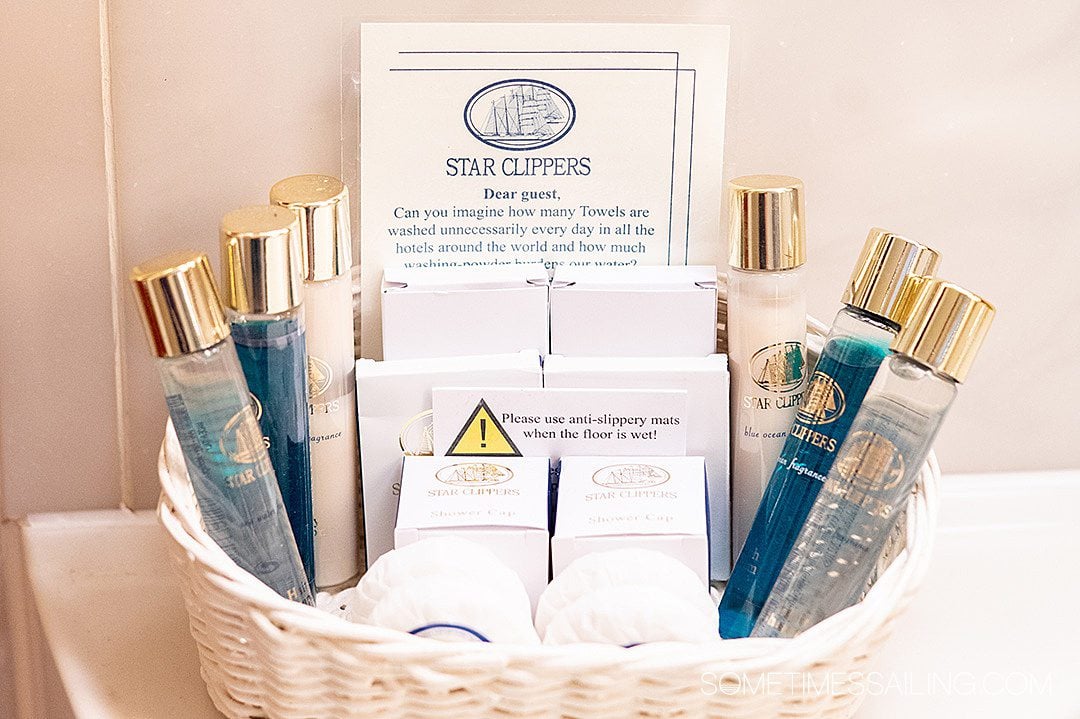 Sandals
It was imperative we had some sort of non-flip-flop sandals. We wore this 98% of the time on board. Sandals that can be dressed up or down are best.
The reason it's not a great idea to wear flip-flops is that there are a lot of steps on Star Clippers ships. Not only steps you walk up and down to get between decks, but also steps to get into another corridor, or a slight step up or down for one reason or another. They're everywhere on board.
So to ensure your safety and lessen the risk of tripping, you will want to wear sandals or step-in boat shoes.
I packed my Jambu sandals, and Dan wore his canvas Crocs.
Pants
While you'll likely wear shorts most days, you'll want to pack pants to wear to dinner. Shorts are not allowed in the dining room for dinner, though they are permitted for breakfast and lunch.
Dan packed jeans and a pair of dark grey slacks, and I packed a pair of jeans and a pair of black linen pants.
Short Sleeve Shirts
Another thing we wore every day was a short sleeve shirt. We recommend packing shirts you can dress up or down and wear day-to-night.
We made sure we packed fast-drying shirts because we knew we would handwash some of our clothes during our time in Costa Rica.
Hair Ties/Clips
If you have hair of any length more than a few inches, you'll want to pack hair ties, clips, or even headbands. This is because it is windy on the top deck when you sail. And you'll most certainly want to be on the top deck at some point to admire the ship's beautiful sails and masts.
Additionally, it gets windy in the tender boats, when you're traveling from the moored ship in the ocean to the port.
Passport and Credit Cards
You'll need your passport for your Star Clippers cruise, and you'll need a credit card. The currency onboard is Euros, but you don't need to bring cash; they accept all major credit cards (including American Express).
They collect all passports as soon as you board and return them to you at the end of the sailing.
It's nice that you don't have to worry about where your passport is for the entirety of your cruise; they have it safely locked away.
Small Daypack or Backpack
You are definitely going to want to pack a smaller bag than what you pack the bulk of your things in. Something other than your luggage.
We packed our CabinZero backpacks as our main bags (we always carry them onto the plane) then we packed our personal bags: a small backpack for Dan and a purse for me that had my camera gear in it.
These smaller bags became our day packs when we were in ports and for excursions.
Electrical Needs
European Outlet Converter
While we didn't need a converter on Star Clipper, the Royal Clipper and Star Flyer may need outlet converters from European to US plugs. Be sure to check before you leave home so you can charge your cell phone and camera gear.
Outlet Expander
There are very limited outlets in Star Clipper cabins. In fact, ours only had two plugs and then another that was part of the hair dryer in the bathroom that was labeled as an outlet for "shavers."
We realized that a great thing to pack would have been an outlet expander. Even an expander that allowed us to plug our USB chords for our phones directly into it would have been great.
We're not saying to overload the circuit with a ton of electronics. However, it would have been nice to have another outlet or two to charge more devices and batteries simultaneously.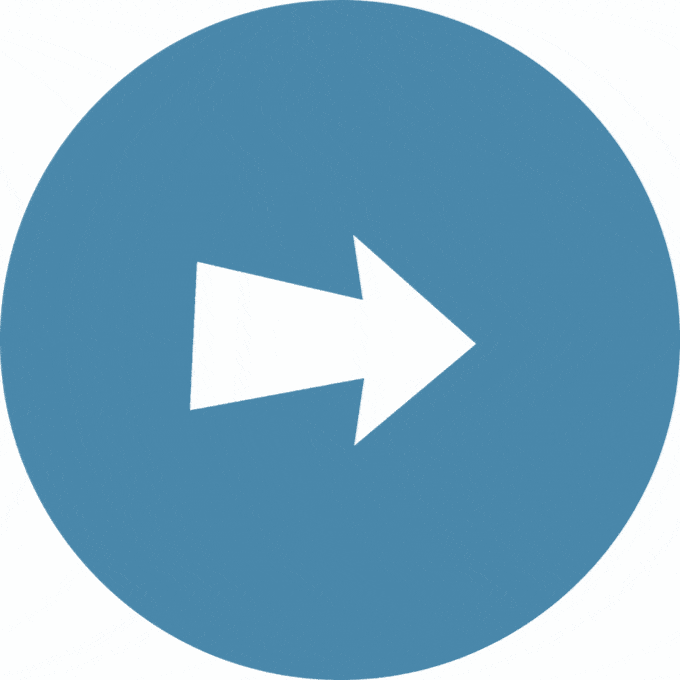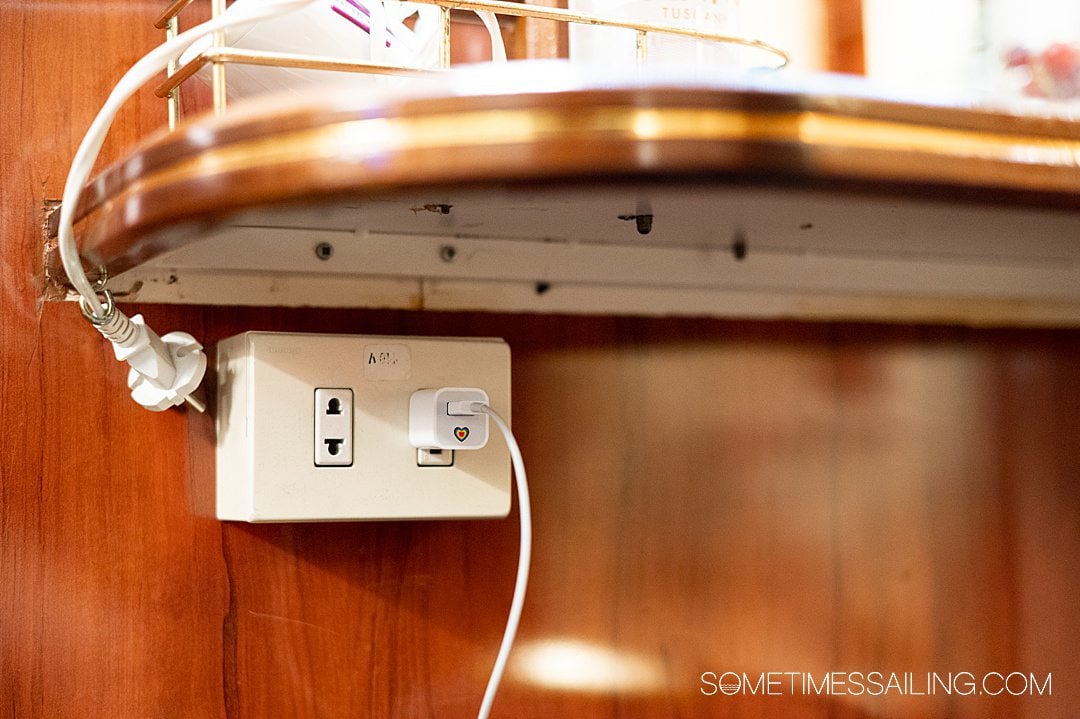 Star Clippers Packing List Suggestions
What follows is our list of additional items we packed that we were glad we brought. You'll decide what you want to bring and leave home depending on the length of your stay and your exact Star Clippers itinerary.
Special Attire
While the themed evenings on the cruise may change over time, here are two themed evenings we wish we had known about ahead of time so we could have packed for them.
It's not required you dress in any themed outfits, of course. It's simply for fun and completely optional.
White Night
An evening of white attire was the same night as the Sails Light Show, which followed dinner.
While Dan's wardrobe is all denim with black and grey tops, mine has very, very little white. While we likely wouldn't have purchased separate dedicated clothing for this even if we knew about it ahead of time, we know some other passengers did.
Regardless of what you wear during the white night, you'll have a great time dancing on the top deck during the Sails Light Show that night!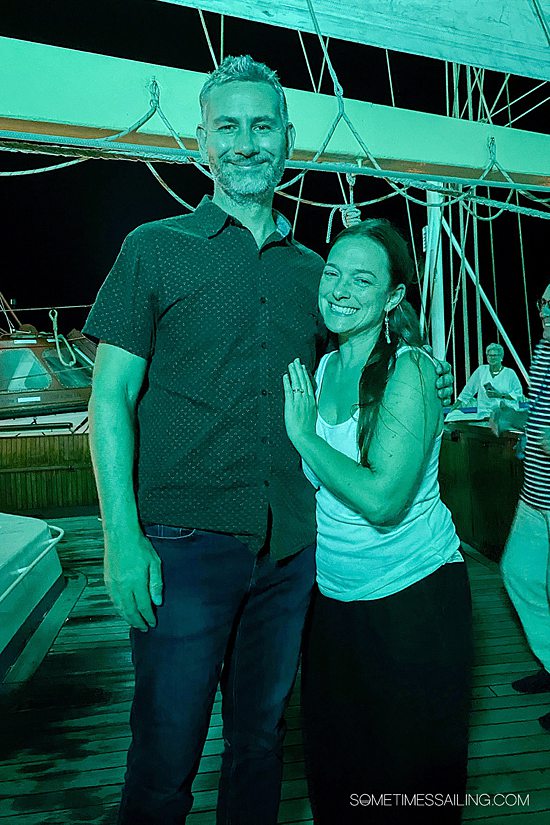 Pirate Night
Star Clippers has an onboard Pirate Night. The crew dresses in fun pirate garb, along with any guests who have packed pirate attire for the night.
Skyroam/Solis Wifi Hotspot
We were grateful we packed our Solis Skyroam travel wifi hotspot. You can purchase wifi on the ship (it's approximately €60 for 4 hours and you can start/stop the running timeclock on it when you aren't on your mobile device), but we had our hotspot so we didn't need that.
Don't expect to be online a lot, even if you have a hotspot or buy wifi. The wifi on the ship was very unreliable. The hotspot was more predictable for us: when we were in a port in Costa Rica or near land, it worked.
When we were at sea, where it couldn't connect to a local cell phone tower (which is how the hotspot works), it didn't work.
We simply got online in ports or when we were near them. And the great thing about a hotspot is that we could take it with us during our excursions to access wifi, while if you rely on the ship's internet only, you're beholden to using it while onboard when it works.
Purchase your Wifi Hotspot
Purchase a Solis Skyroam travel pocket-sized hotspot once and use it for all your vacations, with additional day passes and data. We LOVE ours and take it with us on every trip.
Use code "SOMETIMESSAILING" for 10% off your order.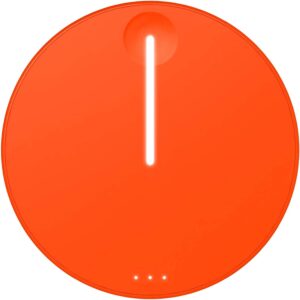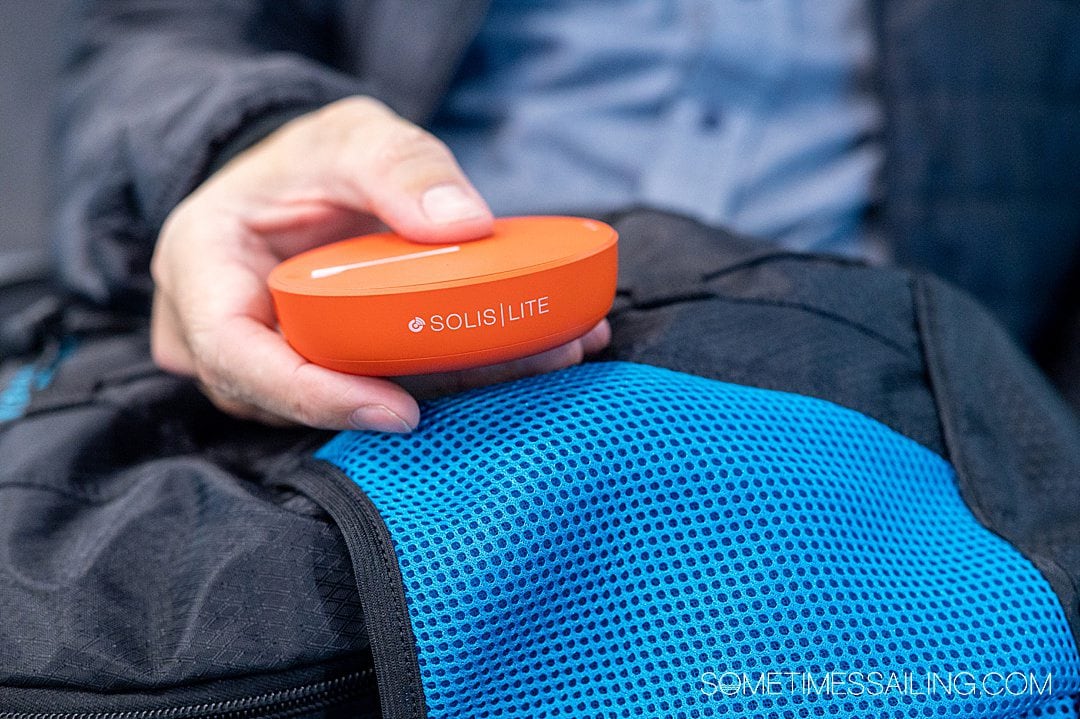 Sneakers
We packed a comfy pair of walking shoes for excursions and hikes.
Band-Aids
We packed Band-Aids just in case we got any unexpected blisters! We have a fun Welly travel tin of bandages we throw in our luggage.
Water Shoes
Depending on where you go, you may want to consider packing water shoes. They were great for us in Costa Rica, where we visited many beaches and thermal hot springs.
Refillable Water Bottle
There is a water filling station on board. Bring a reusable water bottle and help save the Earth from unnecessary plastic!
There are two water bottles we love and recommend:
Memo bottle: We love it because it's flat, so it fits in a pocket, on the side of a backpack, in a purse, etc. very easily and comfortably.
MiiR bottles: They're insulated and keep the liquid at the temperature you added it to the bottle in for HOURS and hours. They rock. We also love that the wide-mouthed bottles are easy to get ice cubes into. Use code "SOMETIMESHOME" for 15% off your order.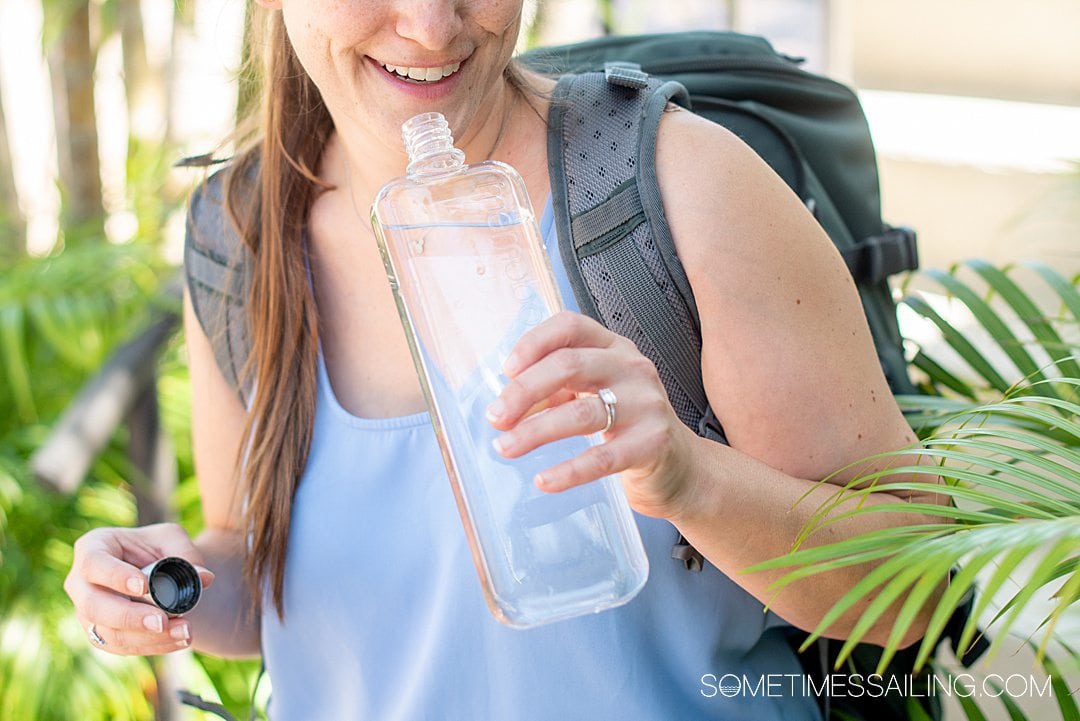 Reusable Straw
On that note, if you like a straw in your drink or cocktail, bring your own reusable one.
They use plastic straws on board (which was a little surprising to us since so many cruise lines are eliminating plastic straws to be more sustainable), so I'm glad I brought my reusable silicone straw to cut down on plastic waste and be an eco-conscious cruiser.
Deodorant
Need we say more?
Shampoo and Conditioner
For some reason that we cannot quite explain, Star Clippers doesn't provide conditioner. They provide shampoo but not conditioner.
We always find bringing our own of both, regardless of what the ship provides, is favorable because our hair is used to what we use at home. What we pack is always better quality, no matter how luxurious your cruise and its amenities are.
Handheld Fan
We can't live without this fan now! Every time we use it when we're walking around a cruise ship or a port city, people ask where we got it. They're jealous we have one…with good reason! Buy one, bring it, and be the envy of all the other passengers.
Compression Packing Cubes
The secret to finding the best packing cubes is getting compression packing cubes! We have Nomatic brand compression packing cubes, and we love them.
Each cube is part mesh to let air in and out, and has a handle on one side so it's easy to hold. They are also machine washable.
Eye Care
Don't forget your glasses, contact lenses, lens solution, and the like if you need them.
Carabiners
We have purchased a couple of packs of carabiners from Amazon over the years because we keep them in every bag. We're always thankful we have them, whether to clip up our toiletry bags on a hook or towel rod in the bathroom or clip wet shoes to the exterior of a backpack.
Buy some, throw them in your travel bags, and you'll be grateful you have them.
Stasher Bags
We have Stasher bags with us when we travel. Two always on us are the "Go" bag, which has a carabiner clip, and the half-gallon bag, with our liquids inside just in case they leak.
The Stasher "Go" bag is the perfect thing to make your mobile phone water-resistant (not waterproof, but resistant) for boat rides to get to shore.
I also have an empty half-gallon bag with me in case I need to bring a wet bathing suit back to the boat or fly home with it if we go in the pool at our hotel after the cruise, before we fly home.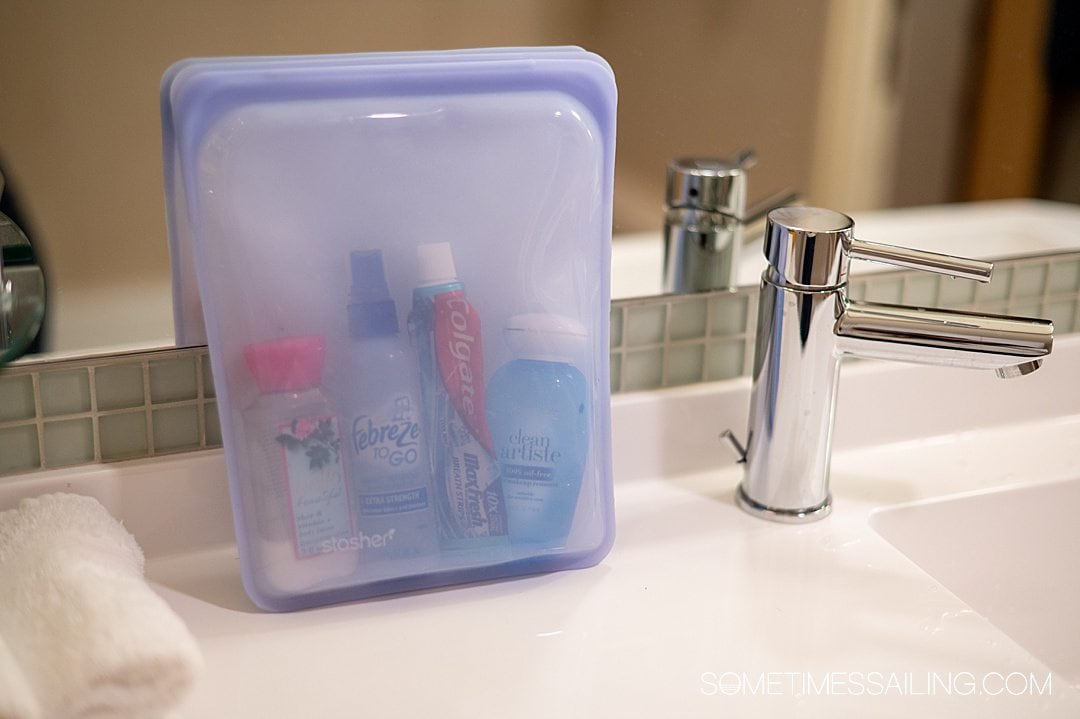 Entertainment
If you have to download any digital entertainment, make sure you pre-load it before you embark.
Better yet, our recommendation for our Star Clippers packing list is to load your devices with digital entertainment when you are home before you leave for your cruise vacation.
Kindles, E-Readers, Podcasts, and AudioBooks
Be sure to pre-loading Kindle books, Audible audiobooks, and Podcast episodes. If you want to try any of these out, now is the perfect time.
If you're an avid reader, join Kindle unlimited before the cruise.
iPad or Computer with Shows and Movies Pre-Downloaded
One of the interesting facts about Star Clippers is that there are TVs in the cabins, yet we could only get two channels to work. And those channels didn't have anything we wanted to watch.
The only channel we had was a video of Star Clippers on repeat in French – which we don't speak.
There are also DVD players in the cabins, and the Sloop Shop has movies to rent. But we preferred watching the Netflix shows we had pre-loaded on our iPad. There was time to watch plenty of shows after the sunset after we got back from port excursions but before dinner started.
Netflix tip: Make sure your downloads haven't expired before leaving your hotel or home with reliable wifi!
Playing Cards
If you enjoy playing cards on vacation, don't forget to pack some!
We love our waterproof deck, so we can play poolside and even bring them in the pool if we want. They're also a bit heavier than regular playing cards so that they won't blow away easily.
Headphones
Don't forget your headphones, whether to use on the cruise ship or the airport and airplane.
Big Bite Thing
You'll likely be somewhere tropical on your Star Clipper cruise. Being in a warm climate on the water along the coast could very well mean you'll be near mosquitoes and other biting bugs.
We don't travel to any such climate without one of our Bug Bite Things. It's the only tool that takes care of bug bite itch and eliminates the cause of the problem, as opposed to topical anti-inch creams that only provide temporary relief.
Do NOT buy an imitation brand. One of our family members did that once, accidentally, and the tool didn't work. Only buy the brand name tool, by Bug Bite Thing.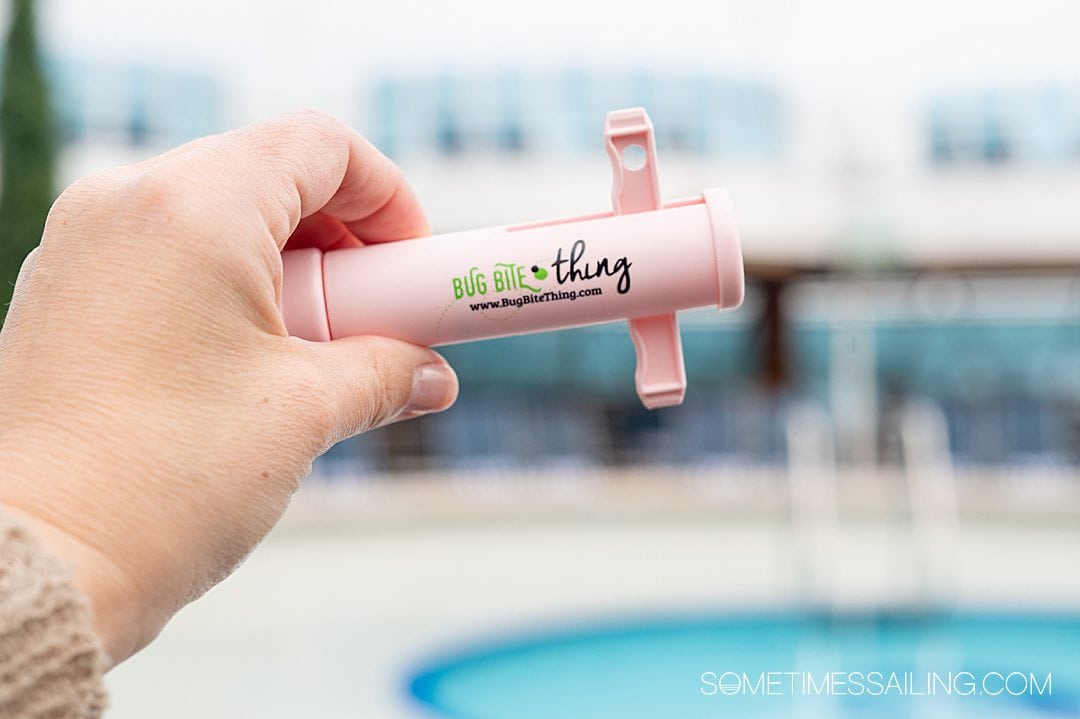 Apple AirTags
We tested out Apple AirTags by buying a 4 pack, split amongst the two of us. We loved the way it informed us if the bags left our area (or if we left where the bags were and we had our iPhones on us).
It gave us such peace of mind to know that we had Apple AirTags in the bags with our valuables. Because of that, we decided to buy another 4-pack. We now have AirTags in our carry-on bags, our computer bags, and in our personal bags (a camera bag/purse for me and a small backpack for Dan) that we travel with.
If you have an iPhone, we cannot recommend these enough. Apple AirTags are the diameter of a quarter, weigh about the same, and are slightly thicker. They work out of the package when you receive them, you simply pull a plastic tab for the battery inside to start working.
We put ours in waterproof cases — we bought a 4-pack of those to fit the AirTags. Then we clip them inside our bags (make sure they're hidden inside your bags), sync them with our iPhones (which Apple made incredibly easy), and voila. We can track our bags.
It was especially fun to see where our luggage was once the Star Clipper crew took it from us at the port. We could see the Apple AirTags update as the bags traveled down the dock to the ship!
The alternative to Apple AirTags is Tile Bluetooth trackers, however, we cannot speak from firsthand experience with Tiles.
STNKY Bag
Another thing we don't travel anywhere without is our STNKY Bags. These awesome, washable laundry bags lock in odors until you can do a wash.
This means that any odor from clothes worn on hot days stays locked in the laundry bag and doesn't "contaminate" your clean clothes. It's a beautiful thing.
Dan has the XL bag and I have the standard STNKY bag.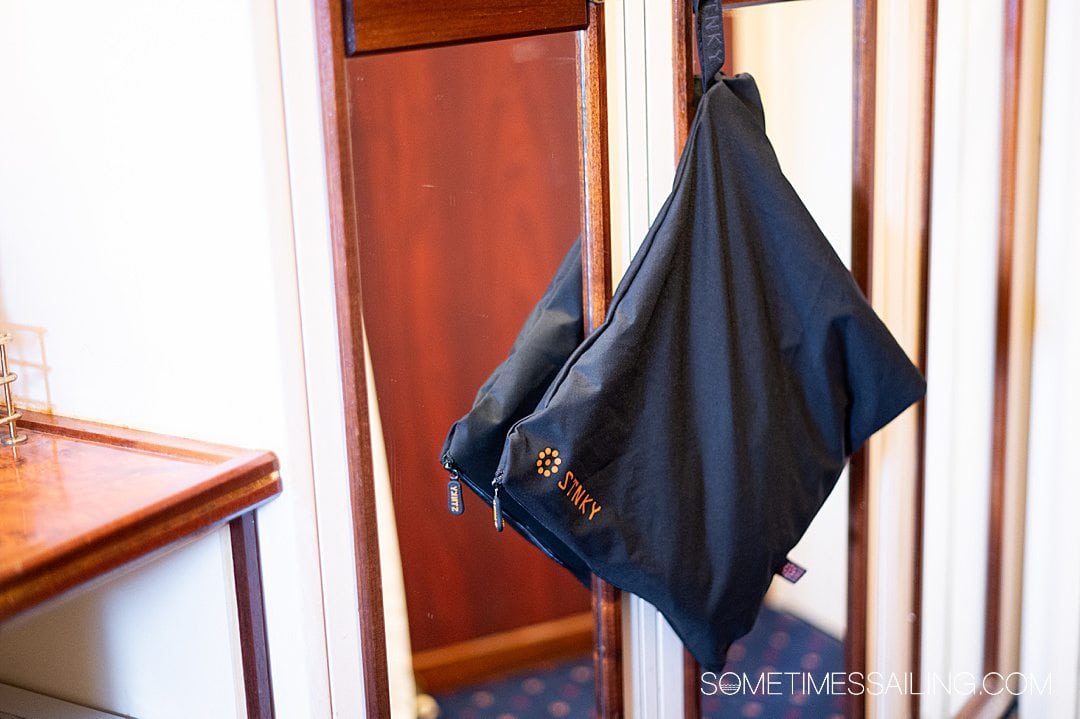 Tide Laundry Detergent Packs
These little laundry detergent packs are lifesavers! There is onboard laundry if you want to send it off and pay per piece. However, we only had a handful of pieces we needed to wash.
For example, we had a couple of pairs of socks, underwear, and t-shirts that we could handwash in the sink and hang to dry. We tried to simply wash them with soap and water, but to be honest, they still smelled a bit afterward.
Then we remembered we had our Tide Packs with us and tried them. We immediately smelled the difference. The laundry detergent in the sink was refreshing, just like the glorious smell of clean laundry at home.
We washed the pieces of laundry and let them soak for a little in the sink, rinsed each piece, squeezed the water out as much as possible, rolled them in a clean towel to absorb more excess water, then hung them up to dry.
Our laundry was dry within 24 hours of hanging up the pieces in our cabin.
Our special HEGS Clothespins were a godsend for extra hanging, but there is a line in the bathroom to hang clothes and bathing suits as well.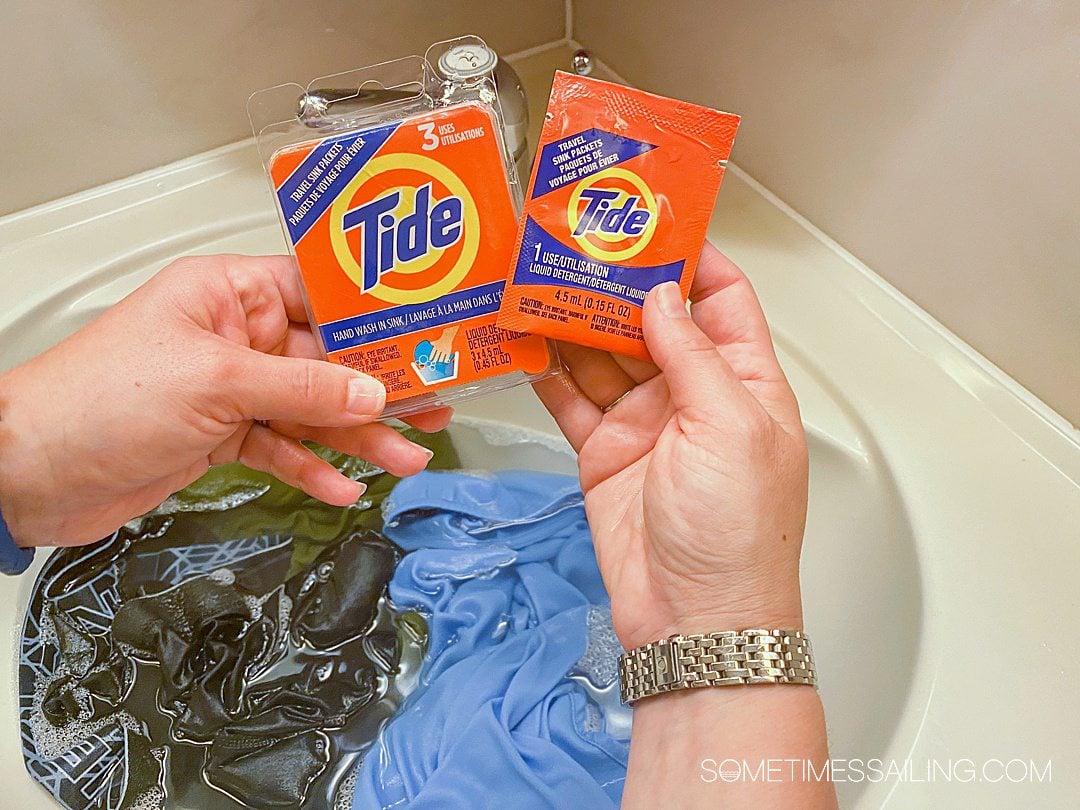 Bare Necessities
Don't forget to pack the obvious, like underwear, socks, bras, etc.


Star Clippers Packing List: What to Leave at Home (What's Already On Board)
Hair Dryers
Our room had two hair dryers — one was permanently on the bathroom wall, and the other was on our vanity shelf.
Alcohol
You cannot bring outside alcohol on board Star Clippers ships. There is plenty of alcohol sold on board for an affordable price. For example, a vodka martini is only €6, and a beer is between €3 to €4.
Formal Shoes, Jewelry, and Attire
While it's nice to get slightly more dressed up for dinner on Star Clipper than for breakfast and lunch, leave any incredibly fancy or formal dresses, suits, ties, and the like at home.


Star Clippers Packing List Conclusion
Packing will be a breeze with this incredibly helpful list of what to pack for your cruise vacation with Star Clippers. Whether on Star Clipper, Star Flyer, or Royal Clipper, you'll be prepared for the loveliest, most enjoyable sailing vacation with our tips and in-the-know list.
Don't forget to download the printable to check off your packed items in real time.