Cruise Sustainability: Who Leads the Way to a Better Future in Travel?
Cruise sustainability is of the utmost importance in travel. Is it not just the responsibility of cruise lines but also its guests to be better friends to our environment, and stewards of the Earth when we travel?
We can all work together to build a better future for the planet and (believe it or not) the cruise industry helps lead the way.
Disclosure: There are affiliate links in this post, which means we may earn a small commission if you click the link and proceed with a purchase, at no cost to you. We truly only recommend hotels, products, and services we personally use. As Amazon Associates, we earn from qualifying purchases.


Cruise Sustainability is Two-Fold
There are cruise companies that focus on sustainability when thinking of their ships' designs, their impact on the Earth's waterways, and their guest programming. In fact, you'd probably be hard-pressed to find one that doesn't focus on this in the 21st century. This is one piece of sustainable cruising.
The other is passengers. We can all do more to be eco-conscious travelers and guests of cruises.
What can guests do to make cruising more environmentally friendly?
Anyone who lives on the planet (and that's all of us) should want to take an active role in taking care of it. The onus isn't 100% on the cruise lines when these ships and experiences are created for the enjoyment of their passengers.
As such, travelers can be environmental advocates on board and at home.
Keeping sustainability in mind on cruise ships may mean that you don't ask for new towels every day because of the energy it takes to provide new ones and wash the old ones more often than necessary.
Bringing your own reusable water bottle or reusable straw helps cut down on waste. You can also support local economies in your cruise choices by booking through one of the cruise companies that are sustainability-focused. In fact, we mention some below.) Or book an itinerary that stops at a port that supports locals, like at native-Alaskan-owned Icy Strait Point.
Everything on the Earth is connected. If you recycle at home, for instance, you're likely helping reduce plastics from entering the ocean.
Something as simple as using Nespresso's recyclable coffee pods instead of Keurig's mostly non-recyclable coffee pods helps. (Nespresso even provides free bags to ship the pods back to them to properly recycle.) Or you can shut off the water when you brush your teeth to conserve it.
It's simple to invest in a reusable water bottle from home and stop purchasing bottled single-use plastic bottles in bulk. (We love our MiiR bottles that give back to the Earth when you make a purchase. Use code SOMETIMESHOME for a 15% discount.) These are only a few ideas of many to help save the planet from home.
There are many more ways to aid in sustainability when you sail.
What can cruise lines do to be more sustainable?
Sustainability initiatives for cruise lines are multi-tiered:
Are the cruise ships fuel-efficient, with low emissions?
Do they use the latest technology in their engines, propellers, and the like?
Do they have recycle programs and proper waste-management onboard? How are they helping to reduce pollution?
Are they eco-conscious when it comes to material items for guests? This can include anything from linens made from sustainable materials, produced in humane factories, to locally made bath products in cabins.
Do they care about the environment (including all its creatures) in the ports they visit and their local economy?
Are their excursion options environmentally responsible?
Do they have a sustainable food program on board or source local ingredients?
Do they donate to charitable causes or foundations?
These are just some of the considerations that make a cruise sustainable or not. Many cruise lines also have sustainability statements, which is something to look for when considering booking a cruise. (Unfortunately, they're not always easy to find and not every cruise line has one.)
We go into detail about some of the cruise lines leading the way in cruise sustainability below.


Are cruises safe for the Earth?
The earth is our precious planet. Just as we only have one life to live, we only have one planet and we need to protect it.
Sustainability is always at the forefront of our minds as we live each day whether or home or while we travel. We are always asking ourselves, "How can we reduce, reuse and recycle?" And when we write about cruises this concept and question remain of the utmost importance.
Can an eco-conscious traveler love cruising and find eco-friendly cruise lines? The answer is yes.
Why it's Important for Cruise Ships to Sail our Oceans, Rivers, and Lakes
People often cannot grasp the importance of a destination, or concept, until they have experienced it themselves.
On a simple level, one cannot understand the majesty of a giraffe, for example, until he or she has seen one in person. And the truth is, most people will never have the privilege of traveling to Africa to see one. Yet, many people have seen a giraffe in person because they have visited an accredited zoo, such as the San Diego Zoo, or Animal Kingdom at Walt Disney World.
A real-life experience has given this person an appreciation for (and hopefully respect for) this animal. As such, people gain a greater understanding and respect for our oceans when they travel on them to remote places where cruise ships take passengers.
Real-World Experiences Help People Respect the Earth
Watching an educational television program is one thing. But a human connection and bond is solidified and taken to new heights when people experience something for themselves, in person.
An example is traveling to the Galapagos Islands. Cruise ships take passengers to the Galapagos, where they learn about Blue-Footed Booby birds, or Galapagos Land Iguanas. Their firsthand experience gives them a love and passion for this wildlife. In turn, they are more inclined to protect it.
Perhaps these people simply tell their friends about it, then their friends are intrigued to learn more. As a result, those friends travel to the Galapagos Islands and are inspired to donate money to help protect the Galapagos Marine Reserve after their experience. Perhaps this family traveled with their college-aged student who changes her major to Marine Biology after her trip, in hopes of getting a job when she graduates working in marine conservation.
None of that would have happened if cruise ships didn't carry passengers to these magnificent regions of the Earth. How else would the average person be able to reach a location such as the Galapagos Islands?
Be a Part of the Change
Therefore, the answer isn't stopping cruise ship travel, just like we won't stop air travel because plane emissions are bad for the environment.
Instead, we need to be a part of positive change in cruise sustainability. Responsible travelers can seek out responsible cruise lines doing good for the Earth and book them over a cruise line that isn't focused on sustainability. (Money talks.)
Cruise Lines have a Bad Environmental Reputation
We are shedding light on wonderful small cruise options that are trailblazers in cruise sustainability.
Cruises may have a bad reputation but let us, for a moment, compare them to other modes of transportation with emissions, like airplanes and cars. Whereas the automobile industry has made strides to move towards electric power, for example, so has the cruise industry. Heck, even the boating industry should be examined more than the cruise industry. Many boaters simply throw waste overboard, shameful as it may be.
Several cruise lines are paving the way for sustainability and have a more neutral environmental impact than ever before.
Impact of Mega Cruise Ships and Small Cruises on Environmental Change
We'd be remiss not to touch on the difference between large ships and small ones.
We primarily prefer small ships like river cruises, yacht cruises, and expedition cruises, which usually tend to have a smaller environmental footprint due to the number of passengers on board (crew and guests) and size of the vessel. Thus, they produce less waste.
While some smaller cruise lines have pioneered what it means to cruise a sustainable vessel with sustainable programming (such as Maple Leaf Adventures, who has always had sustainability as a guiding light in their company values), large cruise lines have followed suit.
We were thrilled to learn that Royal Caribbean has a Chief ESG Officer (Environmental, Social, and Governance), helping to keep cruise sustainability at the helm of the company's initiatives. MSC even has a Director of Sustainability.
What does cruise sustainability mean?
To us, sustainability is a verb. It is conservation in action. It can manifest itself in a myriad of ways, from responsible tourism and caring for ports cruise lines travel to, to passenger education about the environment onboard and off, to donating to good causes and programs.


Hurtigruten Expeditions: Battery-Hybrid Powered Cruise Ship
Hurtigruten uses the UN Sustainable Development Goals as its framework for sustainability. Back in 2012, incoming Hurtigruten Group CEO Daniel Skjeldam (who is CEO today) put an end to the use of heavy fuel oil in the Hurtigruten fleet. Aban on single-use plastic followed. A focus on sustainability continued to be a pillar of Hurtigruten cruises; they remain a leader in cruise sustainability.
Battery-Hybrid Powered Cruise Ships in the Hurtigruten Fleet
MS Roald Amundsen – a battery-hybrid-powered expedition cruise ship- was introduced by Hurtigruten in 2019. An identical expedition sister-ship called MS Fridtjof Nansen followed a year later. Its cutting-edge technology made it possible for a 20% reduction in the ship's fuel consumption and CO2 emissions.
In the fall of 2021, MS Fridtjof Nansen was named the safest and most sustainable cruise ship in the world by Scope ESG Analysis, in partnership with Stern current affairs magazine. The accolade followed Scope's study of 400 cruise ships' safety and sustainability. The evaluation examined things like waste disposal, emission and water purification systems, and limitations on operations.
MS Fridtjof Nansen and MS Roald Amundsen are equipped with battery packs that enable electrical hybrid propulsion, shore power connection (which eliminates emissions in ports), and revolutionary green technology.
Hurtigruten introduced a third battery-hybrid ship in 2021: MS Otto Sverdrup.
These small expedition ships (with a capacity of between 500-530 guests depending on the destination) were designed to sail our planet's spectacular waters to reach destinations on many people's bucket lists, such as Antarctica, Alaska, the Arctic, and the Norwegian coast.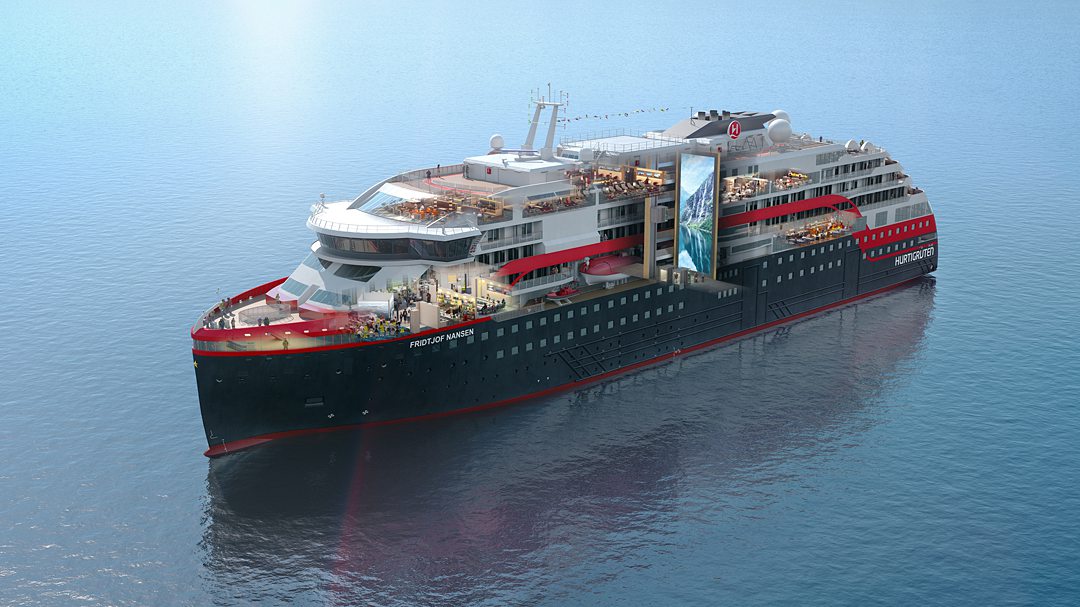 Hurtigruten Leads the Way in Sustainable Cruising
Hurtigruten's cruise ship fleet continues to grow. In addition to its battery-hybrid powered ships, they are focusing on upgrading ships that have been in operation for years.
Three of their Norwegian Coastal Express ships will receive battery pack upgrades beginning in 2022 with completion in 2023: MS Nordnorge, MS Nordkapp, and MS Polarlys. (MS Vesterålen was upgraded in 2019.) Certified biofuel will be used to further reduce CO2 emissions.
These upgrades will reduce NOx (nitric oxide) emissions by a whopping 80%, and CO2 (carbon dioxide) emissions by 25%. When that is done, Hurtigruten's seven coastal express ships will all have emissions equivalent to Tier III, which is the strictest international standard for NOx emissions.
In addition to this, as if it wasn't already a huge (yet important) undertaking to upgrade these ships, they will receive additional upgrades. This includes new propeller blades, hull optimization, a new bulbous bow, new gears, generators, and new control systems.
(For any engineering or ship-building nerds out there, Kongsberg Maritime will be working on the upgrades and is responsible for the design work. Myklebust Yard – a Norwegian shipyard – will do the upgrades of the first two ships.)
Additionally, Hurtigruten Svalbard launched a series of initiatives including partnering with Volvo Penta to run a hybrid day cruiser for guests in Norway.
More Good from Hurtigruten
Another thing we love about this cruise company is its Hurtigruten Foundation.
The foundation's three main goals guide their efforts:
Preserving endangered wildlife.
Battling plastic waste and marine litter.
Supporting local and global projects in the areas where they operate.
As such, they donate resources (including money) to projects like the Galápagos Conservancy to save Petrels birds from extinction, the Association of Greenlandic Children to help build a better future, and South Georgia Heritage Trust to help save rare species of birds.


Aurora Expeditions: 100% Carbon Neutral
The founder of this Australian-based cruise company, Greg Mortimor, is an adventure-driven explorer with a passion for the environment. As such, the first ship was named after him.
Subsequently, the company has made a commitment to naming its ships after living people who have made a positive impact in science and in the environment. The second ship was named after legendary ocean conservationist, Dr. Syliva Earle. She's been quoted on the ocean countless times and her studies and work led to Time Magazine voting her as their first-ever "Hero of the Planet: in 1998.
She was also the first female chief scientist at the National Oceanic and Atmospheric Administration (NOAA) and led the first all-female aquanaut research team. Needless to say, she is certainly worthy of an Aurora Expeditions ship being named after her!
This cruise line even buys eco-friendly supplies for their head office in Australia, where cruise sustainability is a pillar of their focus as they look towards 2022 initiatives. This includes working on a sustainable food program and continuing on the path to being a Certified B Corporation.
Aurora Expeditions Ships
Aurora Expeditions does more for cruise sustainability than simply choosing thoughtful names for their ships. For instance, many of their itineraries will travel to Mission Blue spots. The main goal of Mission Blue is to regenerate oceans and their delicate ecosystems, which are vital to the oceans' health. In 2023, Dr. Sylvia Earle is leading guests on an Antarctic Climate Expedition aboard the 100% carbon neutral cruise ship named after her.
Guests will enjoy entertaining lectures from remote area specialists during every journey, which will expand their knowledge of where they are visiting. Passengers who want to dig deeper into science during their vacation can visit the onboard Citizen Science Centre.
Aurora Expeditions ships focus on low energy consumption, high fuel efficiency, and low vibrations in the water, which minimizes a ship's impact on sea life. Another really cool thing on their ships is a desalination plant, which converts seawater to freshwater.
Aurora Expeditions' "Travel for Good" video is very moving:


Maple Leaf Adventures: Pioneer in Cruise Sustainability
This Canadian-based small ship cruise company is truly a leader in sustainability, which was one of its founding principles. They always lead their trips with an eco-tourism foot forward, respecting nature and the environment.
Maple Leaf Adventures has won countless awards, including Canada's Best Eco-Adventure Tours, Best Boutique Cruise Line, and Business of the Year from Greater Victoria.
The footprint of this small company remains at a minimum. They pay all applicable fees to access parks they visit and obtain permits as needed, and also work in collaboration with the First Nations of the area. Additionally, they donate to charitable causes that help the environment.
Small Company that Gives Big
When Maple Leaf Adventures donates money, they go beyond simply writing checks. Their team members also contribute their time and energy to various associations that are responsibly improving our impact on the planet, like the Wilderness Tourism Association. They are co-founders of the Commercial Bear Viewing Association and Gwaii Haanas Tour Operators Association. They're also are certified GOLD (top-level) by Green Tourism Canada.
They were the first cruise line to be a part of 1% for the Planet, a collection of businesses, individuals, and organization that helps combat environmental issues. (Stasher Bags, our favorite alternative to Ziploc bags and other single-use plastic bags, that have many uses on a cruise, also gives to 1% for the Planet.)
Check out Maple Leaf Adventures' video, pledging to donate $100,000 to the conservation of the Great Bear Rainforest over 10 years:
Maple Leaf Adventures' Small and Sustainable Ships
They have three small ships for guests to choose from Maple Leaf (sailing ship), Swell (tugboat), and Cascadia (catamaran). They accommodate 8, 12, and 24 guests, respectively. Maple Leaf and Swell were built in the early 1900s and Maple Leaf Aventures maintains them as Canadian artifacts, educating their guests and the public on their history.
Maple Leaf Adventures sails along the coast of Canada and Alaska, bringing guests into remote and stunning locations bigger ships simply can't reach. They do so while paying the utmost respect to the landscapes and organisms that live there, big and small.
This is the cruise line for you if you want to stay within North America, getting up close and personal with nature (while keeping a respectable distance from the wildlife, of course). You'll find their unique itineraries explore Canadian regions you've probably never heard of but whose beauty will blow your mind nonetheless.


Kontiki Expeditions: Responsibly Cruising the Ecuadorian Coast
This yacht cruise company is a newcomer to the cruise world. They sail in Ecuador, a country famous in part for the Galapagos Islands. However, they're doing things differently, starting with sailing the coast of this beautiful South American country's mainland. They believe actions – big and small – can positively impact and preserve our environment, and they actively participate in such. Including connecting their cruisers with a stay in a sustainable boutique hotel pre or post-cruise in Quito.
Sustainability is a defining value for Kontiki Expeditions. Environmental policies, gender equality, and fair wages are things they keep top of mind, along with serving Ecuadorian communities. They have partnered with Fundación Real Madrid in coastal Ecuador for years to help improve education and opportunities for children.
Furthermore, they are working with three local communities to help provide schools and education for adults. They assist in teaching managerial skills, connect them with businesses to sell handcrafted products, provide technical support, teach English so they can communicate with visitors, and guide them in entrepreneurship.
Kontiki Expeditions is on the path to becoming a Certified B Corporation by October 2022 and is proud to be a business doing good for the planet. They are also in the process of becoming certified for Green Project Management for cruise sustainability.
As members of the Mingas Por El Mar Foundation, they help clean up Ecuador's beaches and educate the community about the benefits of reducing, reusing, and recycling. They couple this with teaching people ways to minimize our environmental impact along the coast which in turn helps our oceans.
Sustainability On Board Konitiki Expeditions' Yachts
Kontiki Expeditions' yacht ships are low impact, accommodating only 18 passengers per sailing in nine cabins.
They thoughtfully place sustainable decor into each cabin. Handknitted PET silk rugs adorn the floors, created from recycled bottles. Sheets that are on their beds are created from certified sustainably sourced cotton. Even the snacks in guest cabins are organically sourced.
In common areas of their ships, they encourage refilling a reusable water bottle. If you don't travel with your own reusable straw, they have biodegradable straws onboard.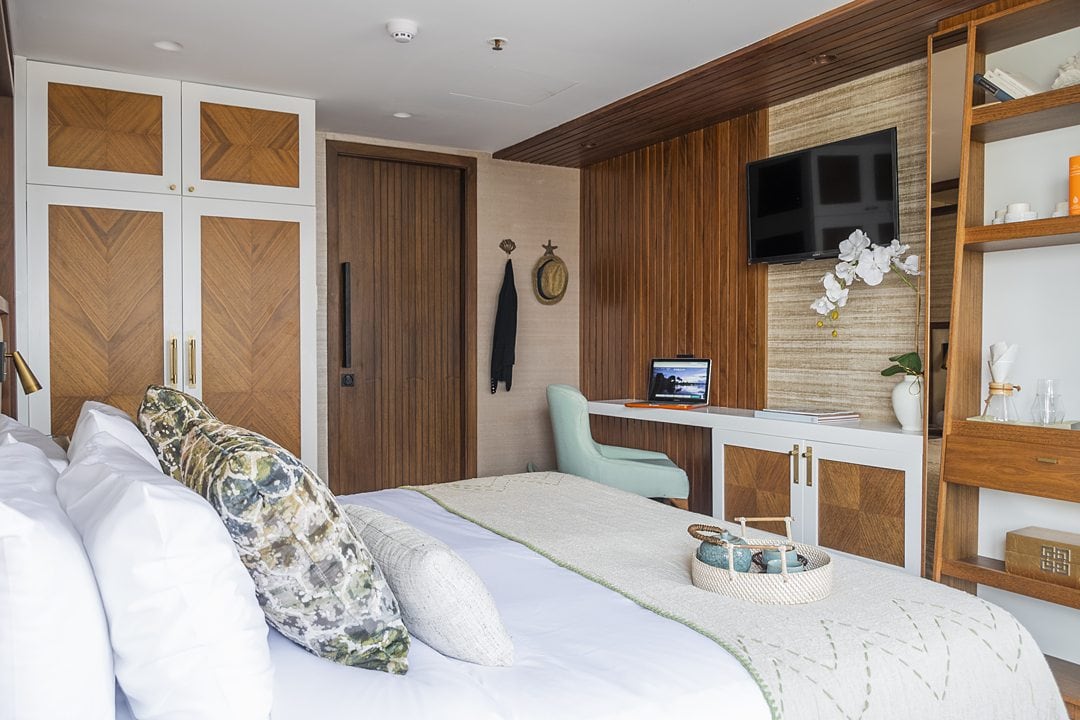 Kontiki Expeditions Excursions Educate and Connect
Their excursions bring guests up close and personal with locals and nature. For example, a stop to speak with and learn from local fishermen at Monpiche Reserve reveals how Ecuadorian people respect the mangroves and can responsibly farm local shellfish for sustainable "Ceviche de Concha" onboard.
Imagine meeting local craftspeople in Pacoche Wildlife Refuge, who show you how they create famous Toquilla hats from plant fibers. Such a tour supports keeping this historic craft alive, which has been added to UNESCO's Intangible Culture Heritage list.
We recommend booking an Ecuador Kontiki Expeditions cruise if you're interested in exploring South America by sea. Guests will enjoy their yacht cruise ships' way of exploration, an amazing crew-to-passenger ratio, and desire to support the local economy, including Ecuador's national parks and reserves.


Viking: Leader in Cruising Making Strides towards a Sustainable Future
Viking, a well-known name in cruising and industry leader, focuses on sustainability. In particular, they have a notable new ship making impressive advancements in this arena.
The Viking Octantis is an expedition ship with cruise sustainability as a main focus of its design. It will sail in the Arctic and Antarctic.
The ship features things passengers would never even dream of considering! And luckily, they don't have to as vacationing guests. Yet nonetheless, it's great for everyone (passengers and crew) to be aware of these things when choosing a cruise line to support.
Such things include:
State-of-the-art multibeam sonar systems help the ships scan the seabed. This assists in better understanding the science of the places they visit.
Whale-safe speeds, so the ship does not disrupt these incredible creatures.
Renewing energy onboard, so not even the heat emitted from their engines goes wasted.
Enhanced bow thrusters, stabilizers, and pods, which allow them to cut down on fuel consumption.
Certified low noise emissions, so they do not disrupt the whales' ecosystem.


Mega-Ships Focus on Sustainability
We mention smaller ships in detail because we're small cruise focused at Sometimes Sailing. However, we cannot ignore the efforts of cruise industry giants, whose mere organizational size and budgets you cannot ignore, especially when it comes to cruise sustainability initiatives.
As such, we want to mention a few notable cruise lines and their research, donations, and systems that have helped cruise sustainability advance in considerable ways.
Celebrity Cruises: Healthy Oceans Benefit Everyone
Healthy oceans benefit their business, from guest enjoyment to places they can visit and beyond. But healthy oceans really benefit us all. When you sail with Celebrity Cruises, you may not realize the things onboard their ships that contribute to cruise sustainability and a healthier planet, but they're hidden in plain sight.
Some of these things include LED lights that last longer than halogen bulbs and give off less heat, energy-efficient appliances from coffee makers to ice makers, and energy-efficient windows that help air conditioning run more efficiently throughout their ships.
They have water-reduction technology installed everywhere from showerheads and cabin sinks to dishwashers and laundry machines. They have been free of plastic straws since 2019.
The outside of their ships is coated in silicone paint that is safe for the environment, which allows the boats to glide more smoothly. This reduces the amount of energy needed for a ship to sail. Their Solstice ships are outfitted with solar panels to help with renewable energy onboard.
They contribute to the World Wildlife Fund (WWF) in multiple ways, including select merchandise purchases onboard going towards the foundation to Celebrity Visa Signature cardholders being able to donate points toward WWF.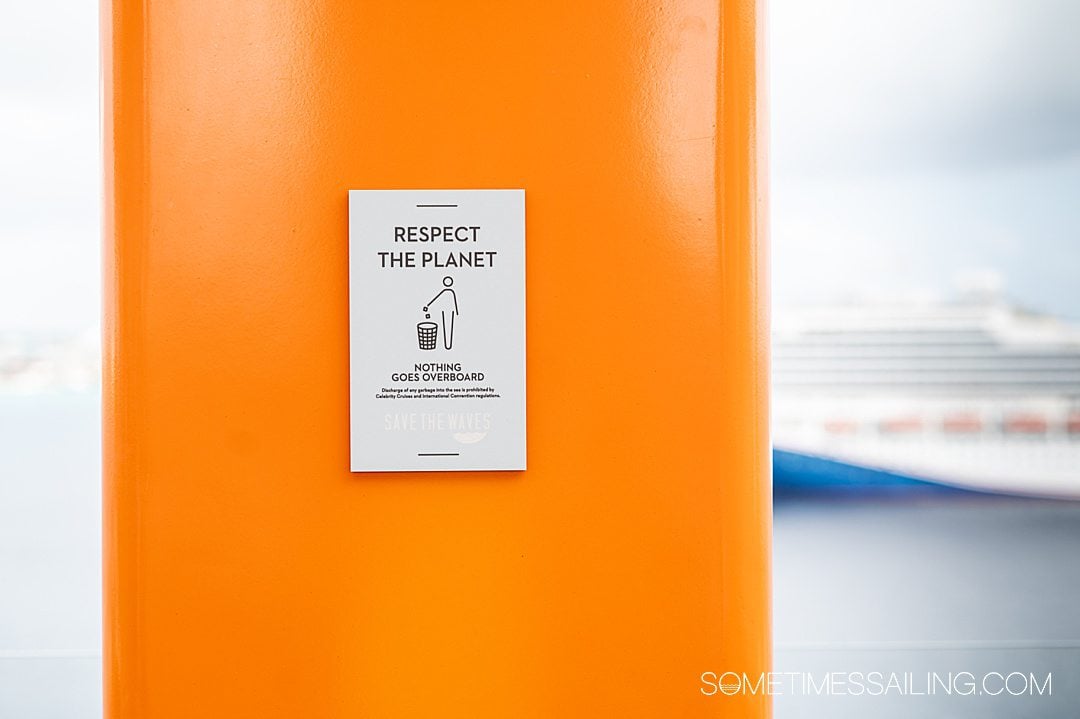 Norwegian Cruise Line: PortMiami Design
Norwegian Cruise Line's terminal at PortMiami, which opened in 2021, was the first to achieve Leadership in Energy and Environmental Design (LEED) Gold New Construction v4.0 certification.
NCL has a Sail & Sustain program that outlines its ESG goals. Five principles include:
Reducing environmental impact (including increasing their sustainable sourcing, minimizing landfill waste, and combating climate change with new technologies and innovations)
Sailing safely
Empowering people
Strengthening our communities
Operating with integrity and accountability
All Norwegian Cruise Line sailings also have an Environmental Officer on board who is available to answer guest questions and ensure the ship (and its procedures) remain in environmental compliance. Each NCL crew member goes through Environmental Familiarization Training as well.
Royal Caribbean: Pledge to Save the Waves
Royal Caribbean's conservation efforts are admirable. What started in 1992 as a Save the Waves program has evolved into a company-wide philosophy. They implement "reduce, reuse, and recycle" in creative ways, like a donation program so their sheets, mattresses, towels, furniture, and clothing are reused instead of discarded during upgrades and remodels.
Aside from a sustainable seafood program that is mindful of our consumption from the sea, they installed Hydrothermal Oxidation Technology on Celebrity Apex to ensure food waste isn't discharged into the ocean.
In addition to this, they lead the way in a variety of onboard efficiencies and programs that guide cruise sustainability. It's typical for them to focus on 30 years into the future, not just tomorrow, next year, or five years from now.
Their ships can hold thousands of passengers and crew (Wonder of the Seas can accommodate close to 7,000 guests), which is why it's impressive that 100% of their ships are equipped to be landfill-free. In just two years, they reduced their single-use plastics on board by 60%. The glass used in their ship's design is energy-efficient and LED lights to help reduce energy consumption.
Over 2,000 tours offered across the Royal Caribbean fleet are in line with the Global Sustainable Tourism Council guidelines for certified sustainable excursions. They also chart the most efficient course to reach each port as they optimize cruising speeds to reduce the fuel needed to get there.
If you love the environment like us and love to geek out on as much information as possible pertaining to cruise sustainability, check out more information about Royal Caribbean Group's "Seastainability" programs.


Interested in cruising? Read this next: