Cruise Ship Terminals Around the World for Avid Cruisers
Goodbye land, hello sea! Various world cruise ship terminals are where the trip of a lifetime begins for many travelers. It's true the cruise terminal isn't the destination (nor the ports on a cruise itinerary) but the terminal and the city it's in could set the stage for the vacation.
The beauty of cruise terminals around the world varies greatly from location to location. Some are way more appealing than others, which could simply serve a purpose as the start or terminus of your vacation and way to board the ship. For better or worse, attractive or with room for improvements, we have the low down on cruise terminals around the world.
Disclosure: This page has affiliate links, meaning we may earn a small commission if you click the link and proceed with a purchase at no cost to you. We recommend cruises, experiences, products, and services we personally use. As Amazon Associates, we earn from qualifying purchases.


Cruise Ship Terminals around the World in the United States
We mention a few cruise terminals – where sailings begin and end – here. But we have a more extensive United States Cruise Ports map and post for you if you're interested in USA cruise ports, specifically.
Tampa, Florida: Tampa Cruise Terminal
If you're taking a cruise from Tampa Cruise Terminal, chances are you are either flying into Tampa International Airport or driving in. Either way, it's super easy to access the Tampa Cruise Terminal!
For those who will be driving, there are some LARGE parking garages in the area that at all seem to charge an average of about $15 per day. You also may find some hotels in the area running specials to stay and park, where if you book a certain number of nights before your cruise they will let you park your car there for free.
We are lucky enough to live in the greater Tampa area and were able to easily get an Uber to the terminal on the morning of our departure. This is not a bad idea if you're coming from the Airport. Though be aware, that streets are narrow near the water and it can take some time to get close to the terminal.
The area outside the cruise terminal is packed with things to do, places to eat, and hotels. You could easily be entertained for a day or two before your cruise vacation. You could even catch a Tampa Bay Lightning hockey game if you're here in the right season!
The terminal itself is pretty nice, all indoor with air conditioning. (You need it in Florida!) We were able to check our bags, go through security, and check-in to get our ship card very quickly. There are lots of decently comfortable seats and nice, clean restrooms available while you wait to board your cruise ship.
Jessica of Wine Dine and Roam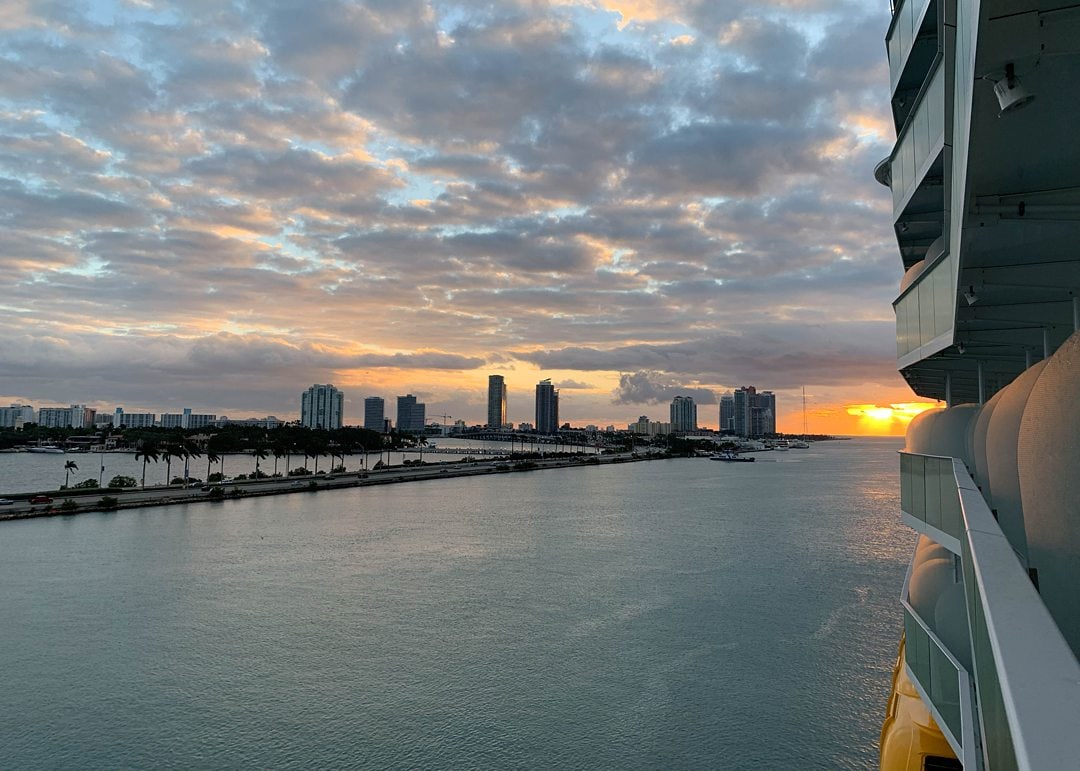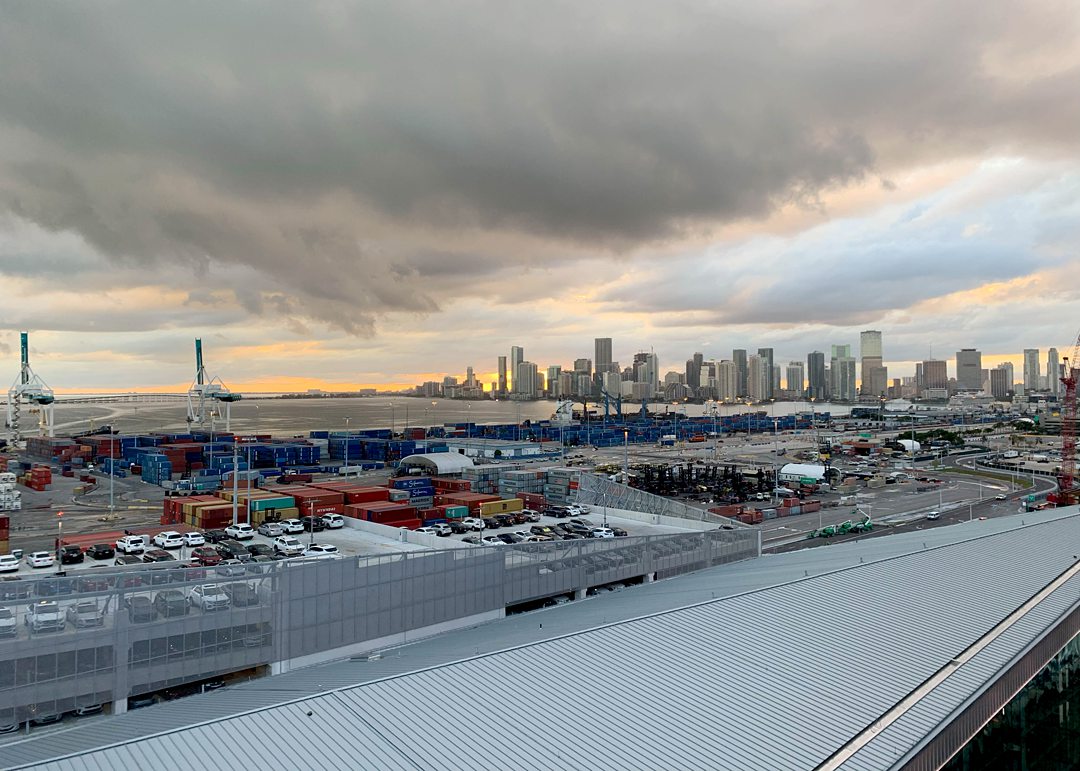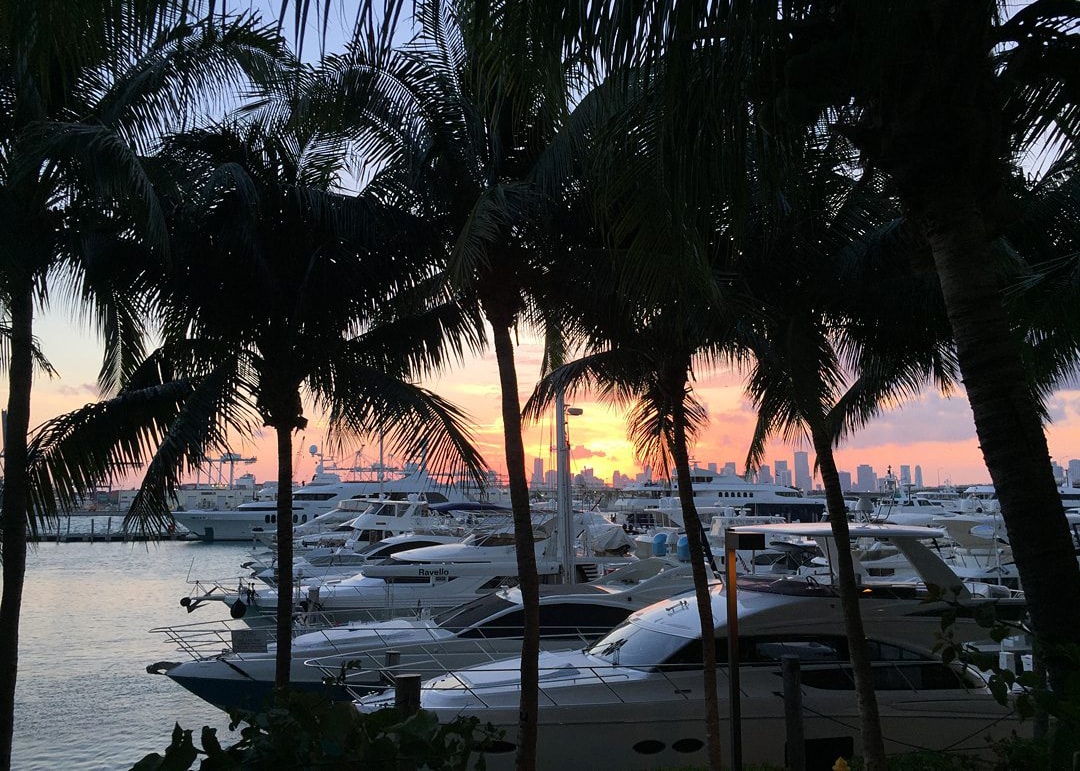 Port Canaveral, Florida: Disney Cruise Line Terminal
It's been said that Walt Disney World is the Happiest Place on Earth. If that's so, then Disney Cruise Line is the Happiest Ship on the Sea. And for many Disney lovers, a trip aboard Disney Cruise Line begins at their very own dedicated terminal at Port Canaveral.
There's nothing quite like driving along A1A highway, over that second bridge to reach Port Canaveral, and seeing your Disney cruise ship in dock, with its classic cruise stacks proudly stretching from the top deck with the famous Mickey Mouse head silhouette on its side. And in true Disney fashion, the terminal is where the experience begins.
The terminal itself is just about a 45-minute to an hour drive from Lake Buena Vista, where Walt Disney World is, next to Orlando, Florida. There's plenty to do there, of course, and a few things to do in Port Canaveral as well, including Kennedy Space Center and options to eat at great restaurants with seafood as featured menu items.
The terminal is very attractive, always freshly painted and properly landscaped with plenty of air conditioning and bathrooms inside. Disney has its own terminal parking lot and you pay to park there as you enter the lot as your trip begins, not as you leave. Inside, you'll find things incredibly organized and well run and even guests of honor available to take photos with. Mickey and Minnie are always a hit and dressed in their cruise attire!
Mikkel + Dan of Sometimes Home and Sometimes Sailing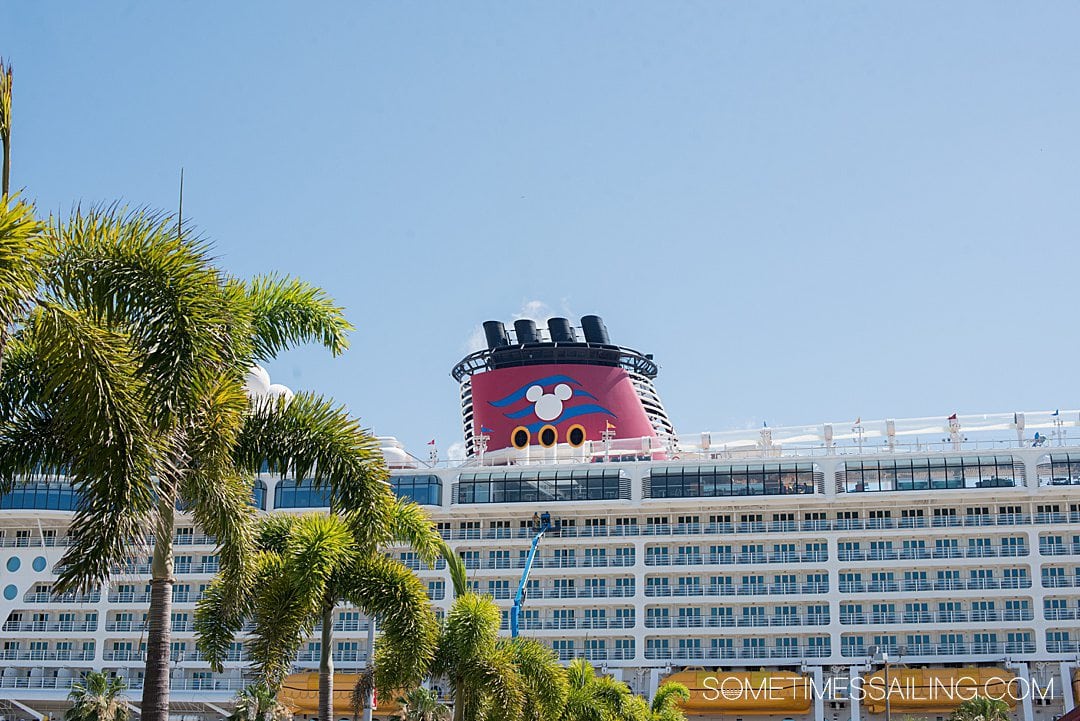 Long Beach, California: Long Beach Cruise Terminal
Long Beach Cruise Terminal is Southern California's access to the ocean. Cruises leave from here to head down to Mexico or up the coast to San Francisco. (Mikkel and Dan took their Princess Cruise from this terminal!)
The terminal is located right next to the Queen Mary in Long Beach Harbor. That historic ship offers ghost tours, elegant overnight stays, and the best Sunday brunch in Long Beach. A free shuttle takes you to the main Long Beach Waterfront, or you can take the AquaBus for only $1. Once you arrive at the waterfront, you can explore the massive Aquarium of the Pacific or walk around Shoreline Aquatic Park.
Flights into Long Beach Airport and John Wayne Airport are typically harder to find than LAX, but the transportation from Long Beach Airport to the cruise terminal will be a little easier. Still, it's only 30 minutes south of LAX (with the standard Los Angeles disclaimer about bad traffic), and you can get an Uber or shared-ride shuttle for about $30.
These options are better than renting a car because you don't have to drive in Los Angeles or pay the $ 17-a-day parking charge at the Long Beach Cruise Terminal. (If you're a first-time cruiser, we have some tips for you!)
Jenn and Ed of Coleman Concierge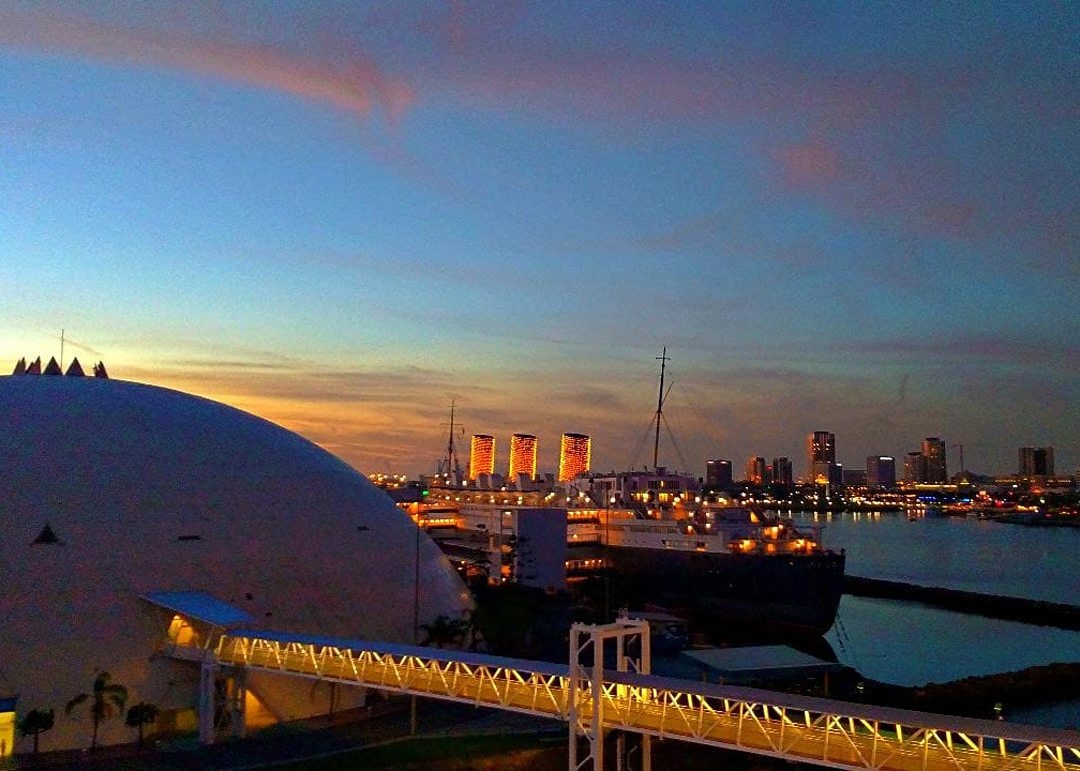 Bayonne, New Jersey: Cape Liberty
Cape Liberty in Bayonne, New Jersey, is the cruise port most commonly used by Celebrity Cruises and Royal Caribbean cruises to Bermuda, the Caribbean, and Canada/New England itineraries.
The closest airport is Newark Liberty International. If you fly in a day before your cruise, which is always suggested, hotels can be found nearby the cruise port that offers a shuttle to the terminal. Cape Liberty has a parking garage and lot onsite for those driving in. We usually drive to the port – the cost of parking per night for a recent cruise on the Celebrity Summit was $22.
One of the best things about cruising out of Cape Liberty is its proximity to New York City. A nice area to stay is Meadowlands, Secaucus if you want to visit the city and stay more affordably outside the NYC center. Meadowlands is very conveniently located about halfway between the port and NYC.
You'll find a good choice of hotels, as well as casual restaurants and shopping areas. There's a Walmart as well as a Marshalls within the area if you need to pick up some essentials before your cruise. There are shuttle services at many hotels that take visitors right into NYC, as well as direct public transit buses. Times Square, the Garment District, Soho, Central Park, and the 911 memorial are all worthy of a visit.
At the cruise port itself, you can expect simple but modern facilities, ample seating, and an overall efficient check-in. Something to note: look to the right when boarding your cruise ship at Cape Liberty. You can see the Tear Drop Memorial, located in a park right next to the ship. It's visible from both the promenade deck as well as inside the ship if you don't have the chance to get to the park.
Follow Ilana of Life Well Cruise on Facebook
Boston, Massachusetts: CruisePort Boston
Even though Boston is the biggest city in New England, it's very compact and easy to navigate without a car. This enables you to see and do a lot during a short amount of time. CruisePort Boston is located in the city's Seaport District, a quick cab ride from Boston International Airport. (There are long-term parking garages there if you're driving.)
The neighborhood is packed with restaurants and hotels within walking distance of the terminal thanks to extensive development over the past 10 years. Boston also has numerous historic and cultural attractions that are easy to reach from there including the Institute of Contemporary Art, which is right in the Seaport, Faneuil Hall, and Quincy Market, where you can find numerous food stalls and souvenir shops, and Copley Square, which is home to architectural gems like Boston Public Library and Trinity Church.
A few good tour options include Old Town Trolley Tours (a hop-on, hop-off trolley), Duck Tours, and Boston Harbor Cruises. And of course, if you're a baseball fan, check to see if the Red Sox are playing at Fenway Park. It's the oldest ballpark in the United States, so it's worth a visit.
Follow Brianne of A Traveling Life on Instagram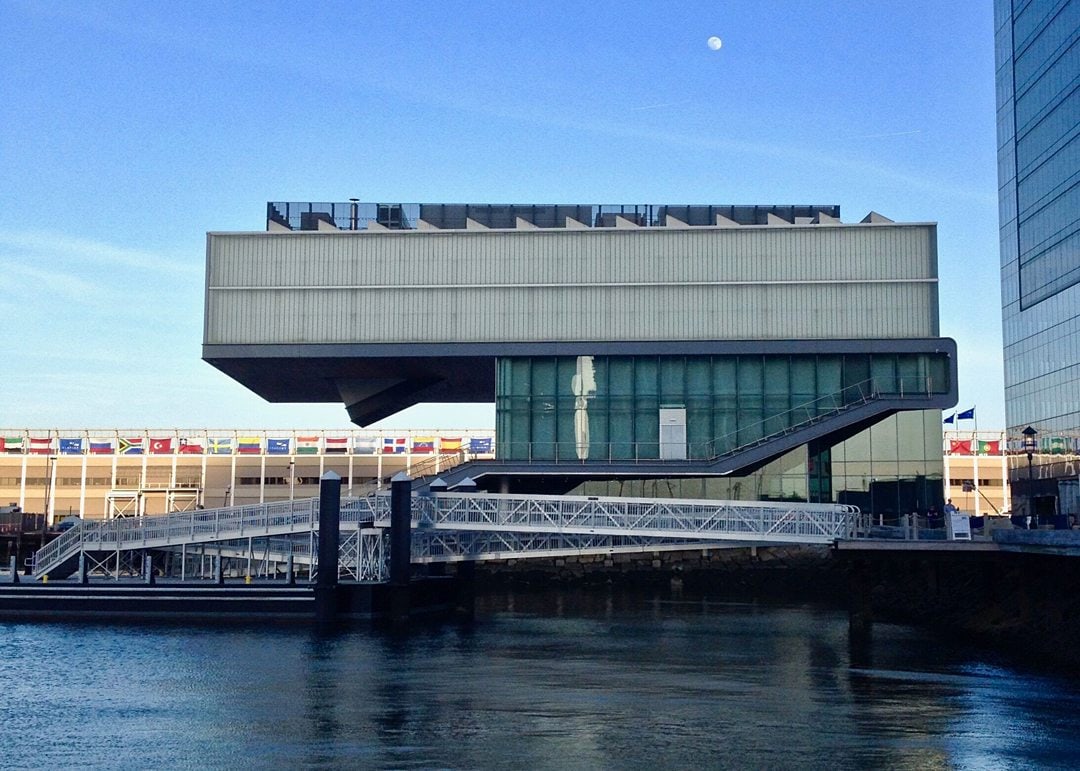 San Diego, California: Port of San Diego
San Diego Cruise port may not be the largest or the fanciest of cruise ports, but for many cruisers, it is certainly one of the best. It is located right in the heart of downtown San Diego and you really cannot have a more convenient starting point for your cruise.
It's just a short distance from the Mexican border and the Port of San Diego is the ideal gateway to cruise to the Mexican Riviera, Baja, the Pacific Coast, Hawaii, and the Panama Canal. An increasing number of different cruise lines have started to sail out of San Diego each year, including Carnival, Celebrity, Princess, and Disney Cruise Line. The Port of San Diego is one of the most easily accessible cruise ports in the United States.
The Amtrak station is conveniently located a few minute's walking distance away. Hop in an Uber or taxi at San Diego International Airport and you will be at the cruise port in minutes. It's one of the easier cruise ports to connect with.
The cruise Port of San Diego is relatively small. While it may not have the facilities of other cruise terminals it is very efficient at processing passengers boarding a cruise. It has a relatively smooth disembarkation process too. Even when there are two ships in port sailing out the same day there's adequate seating and a comfortable place to wait.
If you are arriving by car there are plenty of reasonably priced parking options. If you have a little more time I highly recommend a Cruise and Stay package at one of the many downtown San Diego hotels that offer this option. There are so many places to explore including Little Italy, The Gaslamp Quarter, Sea World, and Mission Bay.
You can even take a train from downtown to Old Town San Diego and explore the historic Mexican roots of this beautiful city. You can easily explore the San Diego Embarcadero if you are sailing from this beautiful port. The USS Midway Museum is located right next to the cruise port. This fascinating aircraft carrier was part of the US Navy for 40 years. All members of the family, whatever their age, will find something interesting to discover on the Midway.
Just a pleasant ten-minute stroll from San Diego cruise port is Seaport Village. The views of San Diego Bay from here are breathtaking.
You can spend a very happy couple of hours browsing the specialist stores and enjoying a bite to eat. Explore Balboa Park if you have a little more time. This famous park area is easily accessible from downtown San Diego and has a multitude of museums to explore. Amongst the 17 museums at Balboa Park, you can choose from the Fleet Science Center, The Museum of Man, and the beautiful Japanese Friendship Gardens.
San Diego is a fabulous city to visit. If you have any time either before or after your cruise it is well worth setting aside at least a couple of days to enjoy what it has to offer.
Follow Alison of EverythingMouse on Facebook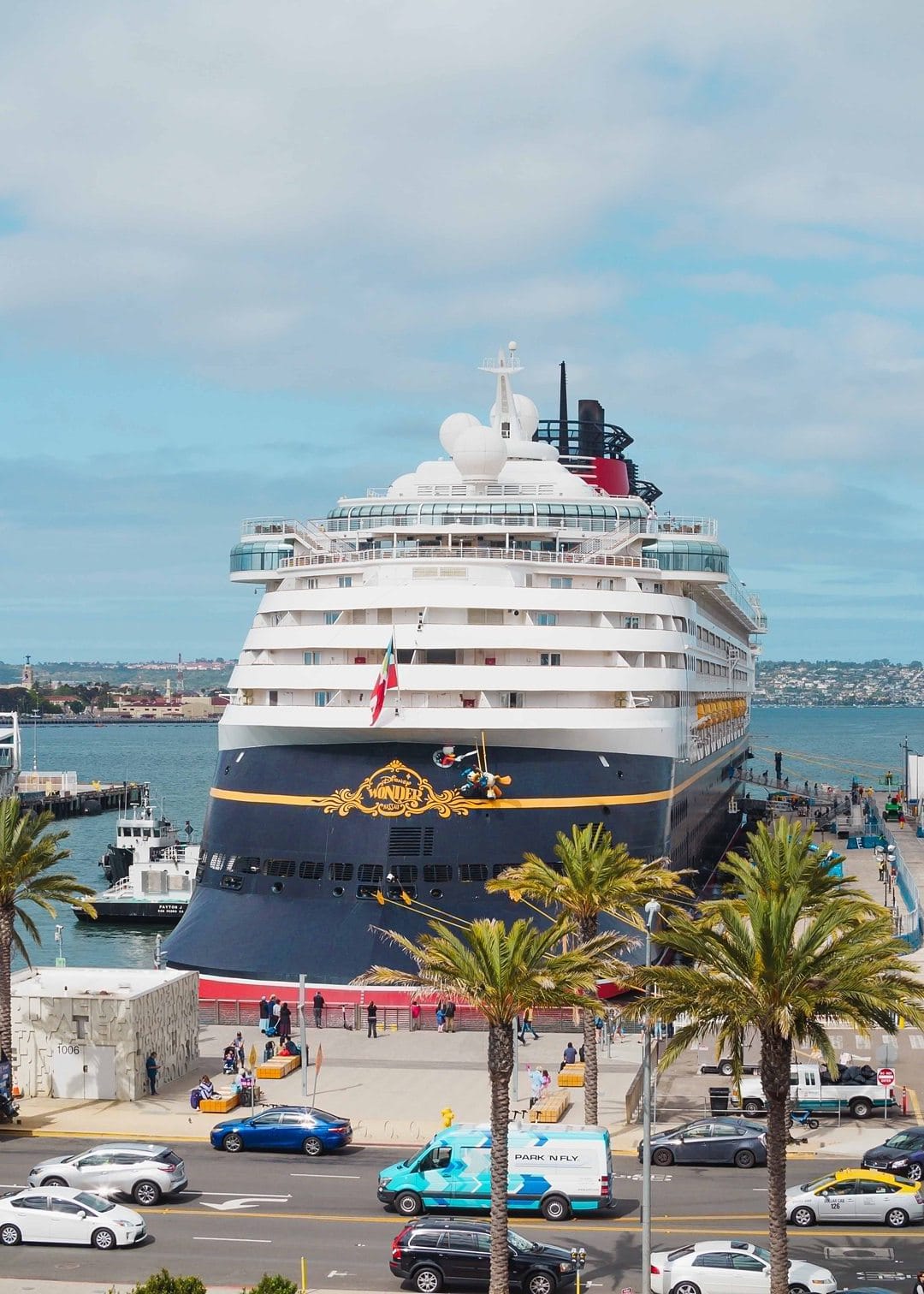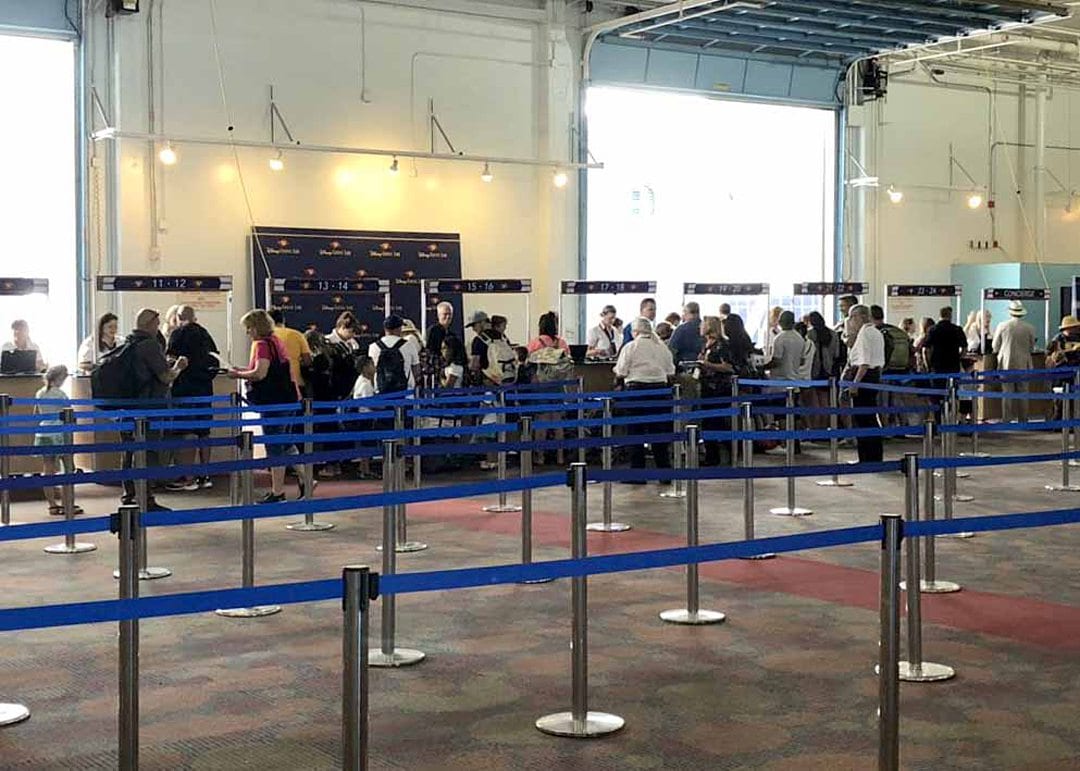 Cruise ship terminals around the world in Australia
Auckland, New Zealand: Princes Wharf and Queens Wharf
The location of the Auckland cruise port terminals at Princes Wharf or Queens Wharf are amongst the best in the world. They are situated close to each other, just across the water, in the heart of the downtown Auckland area. They are within a few minutes' walking distance to the public trains, bus, and ferry transport systems, downtown city shopping, the Hop-On Hop-Off sightseeing bus, and a couple of great restaurant precincts.
The terminals themselves are fairly modern and have all the amenities you may require. You will want to fly into Auckland International Airport, about 28 km and an approximately 35 to 50 minutes drive to the wharf. There are plenty of transport options: Taxis ($60-$90), Uber ($40-$50), shuttle buses ($17-$34), and the Sky Bus ($18). There are excellent apartment accommodations right on Princes Wharf, at the Auckland Waterfront Serviced Apartments.
Or the Hilton hotel. M Social Millennium Hotel and Sebel Auckland Apartments are across the road. There is luggage storage at The Luggage Hotel on Princes Wharf and the Ferry Building. You have a great choice of things to do and places to go depending on how much time you have before or after your cruise. You can take a quick 20-minute ride across the harbor from the ferry terminal to the quaint historic village of Devonport.
Or take a day trip from Auckland to the very popular Waiheke Island, with its beautiful beaches and vineyards. Another option is to take a 30-minute bus ride along the waterfront drive to St Heliers Beach and walk back towards the city past the beaches and cafes as far as you wish. Then you can hop on the bus again into the city. Kelly Tarlton's Sea Life Aquarium is on the waterfront drive, about halfway back to the city.
Check out the view from Sky Tower, about a 15-minute walk from the wharves. The Britomart area, Viaduct Harbour, Wynyard Quarter and even Princes Wharf itself are great restaurant hubs where you will be spoiled for choices! If you're planning on staying in Auckland for three or four days before or after your cruise, you might also want to take day tours to Rotorua, Waitomo Caves, Hobbiton, or the Bay of Islands.
The Auckland wild rugged black sand beaches at Muriwai and Piha are also worth a day trip. There's a great sail away through the Auckland Harbour past the stunning volcanic Rangitoto Island as well. Check out a review of a New Zealand cruise. Bon Voyage!
Follow Maureen of So Many Places! So Little Time! on Facebook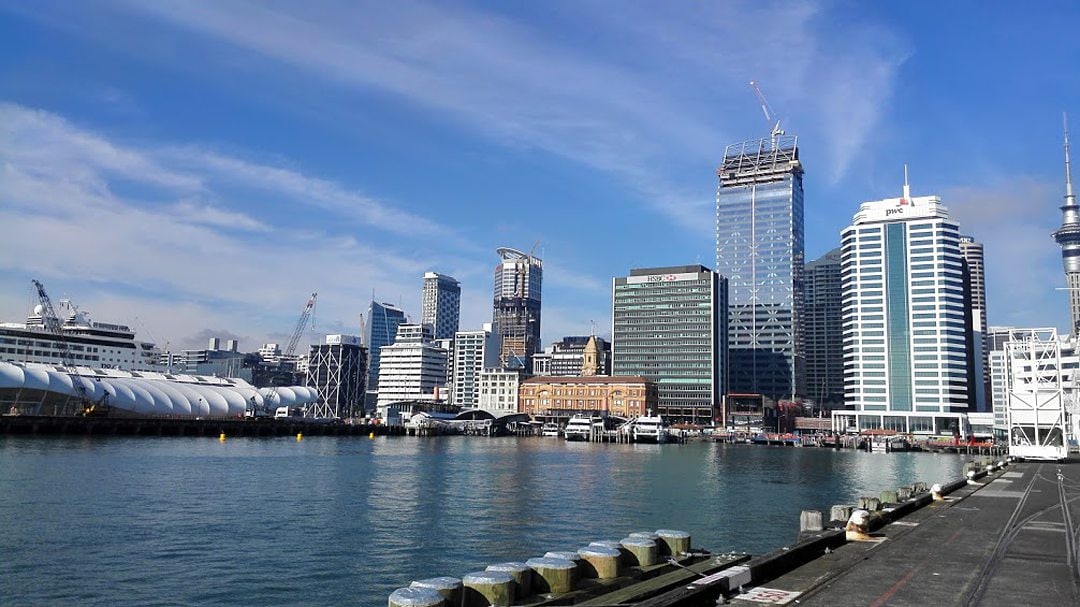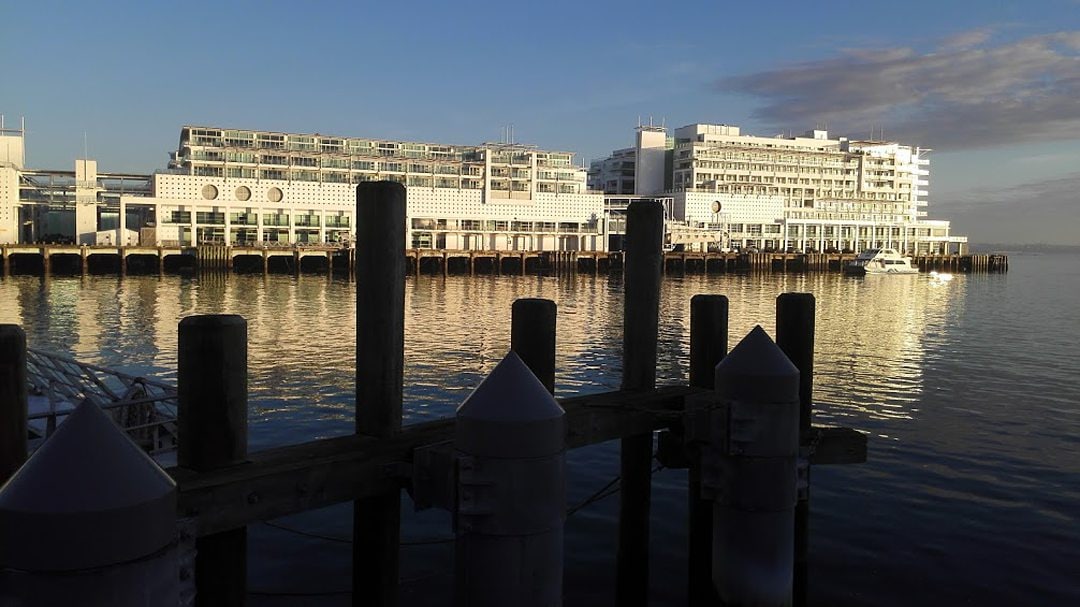 Sydney, Australia: Circular Quay
Sydney is, without a doubt, my favorite cruise terminal to depart from. The Circular Quay is one of the two main transport hubs of the city and is centrally located, making it easy to travel to for embarkation. (There is a second terminal in the city, which has the same sail away but doesn't dock in the city center.) The terminal offers one of the best sail aways in the world due to the stunning views it passes.
Ships dock under the famous Sydney Harbour Bridge, and as you leave the city you will see great panoramic views of the bridge, the beautiful Sydney botanic gardens, and of course the iconic Sydney Opera House. In fact, the sail away offered some of the most unique views of the city skyline I saw during our five-day stay in Sydney!
Pro Tip: try to get a cabin on the starboard side of the ship to get the best sail away views!
Leona of Wandermust Family Travel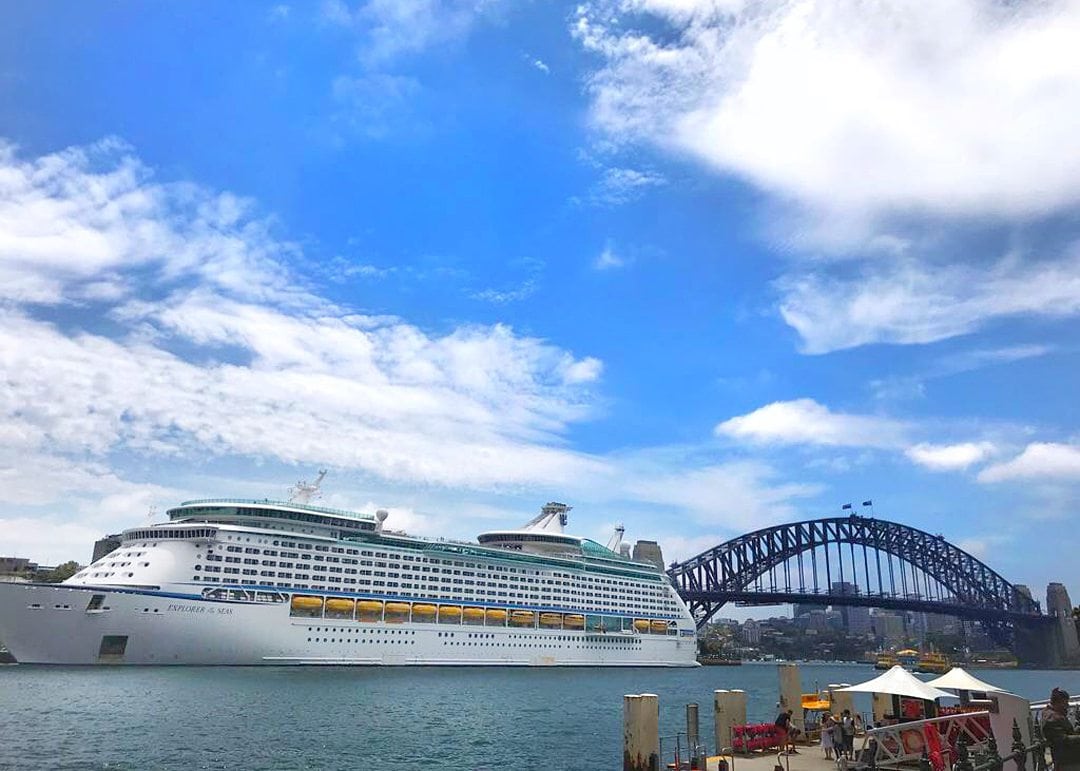 Cruise ship terminals around the world in South America
Ushuaia, Argentina: Most Southern Cruise Terminal
Ushuaia is the southern-most city in the world, located at the southern tip of the Patagonia region in Argentina. Naturally, the town has transformed itself into a cruise terminal for passenger ships sailing to some of the most remote parts of the world including the Shetland Islands and the Antarctica Peninsula. (Be sure to prepare for your Antarctica cruise properly with this clothing list for an Antarctica cruise.)
Ushuaia itself is a charming little town and has become one of the most visited places in the country. Many visitors from all around the world come here; you can even get an unofficial passport stamp from the Tourist Information Center.
For many visitors, Ushuaia is the last stop on a land journey before their cruise to Antarctica begins (or their exciting journey to the 7th continent for a marathon, believe it or not). Here, they wander the town to get their last-minute supplies and Antarctica travel gear for the 10+ days journey to the Last Continent.
Most of the warm clothes and supplies they need can be found in the city. A popular day trip from Ushuaia is to the famous Tierra del Fuego National Park, which you can easily arrange in town.
Even better, you can sometimes find a last-minute Antarctica cruise deal in Ushuaia. Check with some of the tourist agents there and perhaps score a deal at a fraction of what you would have paid for a regular cruise.
Halef of The Round the World Guys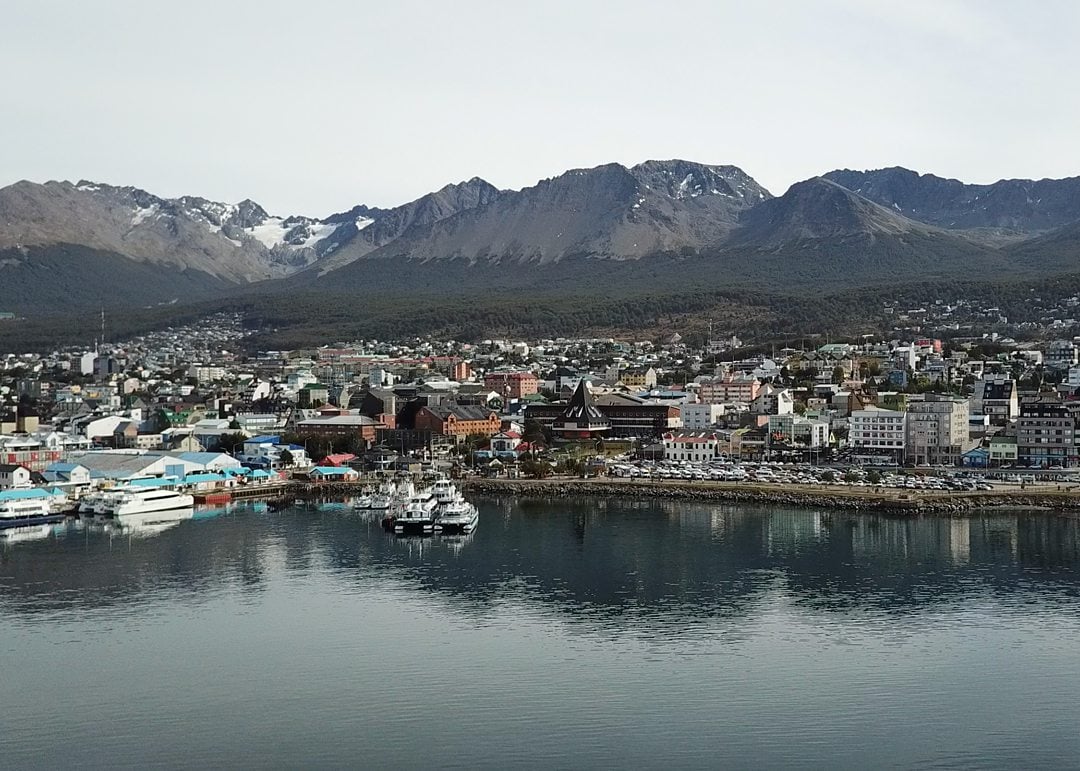 Cruise ship terminals around the world in Asia
Adamans, India: Port Blair
Port Blair harbor serves as the entry point for visiting the Andaman and Nicobar islands of India. The ship docks at the Chattam Jetty, which is about 1.9 miles (or 3km) from the town center. It would cost around $10 to hire a taxi. You can either fly to Port Blair Veer Savarkar Airport or avail ships from Chennai, Kolkata, and Vizag to reach Port Blair terminal. (The latter would take around three days.)
You can visit all other islands like Neil, Ross and the famous Havelock Islands for its white sand, from Port Blair terminal as well. The light and sound show of Cellular Jail should not be missed. Many taxis will be available from the terminal but make sure to agree on a price beforehand to avoid getting cheated. It's necessary to keep cash in hand as most drivers don't have online payment methods.
(It is hard to find ATMs around the city so it's better to carry cash you get ahead of time or from the ATM at the terminal itself.)
There are many shops within the terminal where you can buy local arts and handicrafts. There are also many restaurants within the terminal's vicinity. The light and sound show of Cellular Jail should not be missed, which is approximately 1.25 miles (or 2km) from the terminal and can be reached by taxis available outside the terminal.
Shalini of Eager2Travel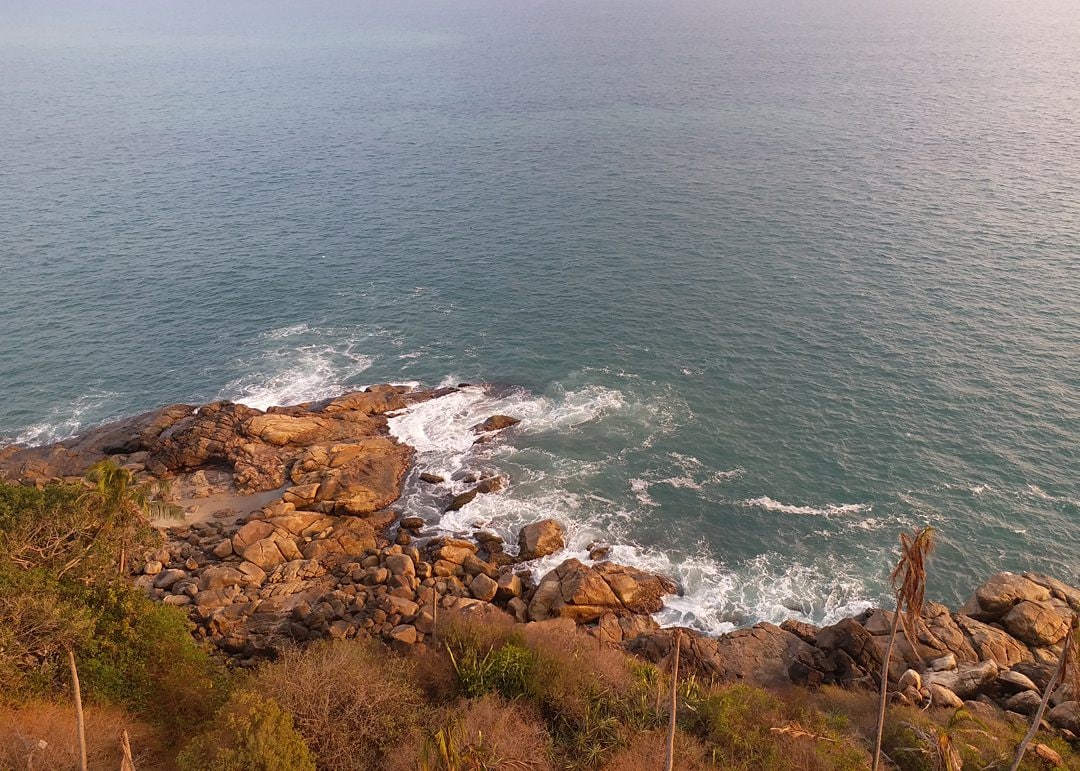 Cruise Ship Terminals Around the World in Europe
Amsterdam, The Netherlands: River Cruise Terminal
The river cruise boat terminal in Amsterdam isn't your typical terminal. There's no building to walk through or a huge parking deck for the cars of guests. In fact, it's very much like simply walking up to a marina and boat slip to board a rather large boat.
Checking into river cruises is less fuss than huge ocean cruises. You walk up to the boat you're boarding and simply check-in at the front desk!
There may be luggage on the sidewalks leading up to the river cruise ships when you board in Amsterdam for guests either coming or going on the many ships.
Whereas a river cruise port in a small European city, for example, may have the ships aligned several in a row, requiring guests to walk through other ships' lobbies or top decks to get to the destination's land, the Amsterdam terminal area has a dock for each. This provides for a better boarding experience per ship.
There is plenty to do in the city and surrounding area in The Netherlands. We highly recommend scheduling a few days before or after your cruise to explore the country, with several day trips and/or overnights from Amsterdam.
The Amsterdam river cruise area is just about 15 to 30 minutes from the airport by car (traffic dependent) and about 30 to 45 minutes by train. The main train station in Amsterdam, Central Station, is simply a five to ten-minute walk from the cruise terminal. Be sure to look into river cruises during peak tulip season, when a trip to Keukenhof Gardens is on several cruise itineraries, including select Emerald Cruises options.
Follow Mikkel + Dan of Sometimes Sailing on Instagram
Stockholm, Sweden: Five Terminals in Sweden's Capital City
Stockholm, the capital of Sweden, is a major cruise port and terminal in northern Europe. Many Baltic Sea and Northern Europe cruises start or end in Stockholm. This is perfect because there are so many fabulous things to do in Stockholm on a pre-cruise or post-cruise stay!
Stockholm's beautifully-preserved Old Town, called Gamla Stan, is very close to the cruise terminal. Here you will find pretty old facades and lively squares, museums, galleries, shops, and restaurants.
The Royal Palace and Stockholm Cathedral are within walking distance from Gamla Stan. And the Vasa Museum, Stockholm's most famous museum, is just a short bus or ferry ride away. If you stay in Stockholm for a couple of days, on day two you can do a day trip to Drottningholm Palace, a UNESCO World Heritage site just a few miles from the city center.
Stockholm's Arlanda Airport is located outside the city. You can fly into Arlanda from many international cities and take a train or fixed-rate taxi into the city center.
Stockholm's cruise port is close to the Old Town. There are five terminals, with the Frihamnen quay being the most popular. You should be able to find a taxi to your accommodation, or walk to a bus stop or nearest subway stop if you do not have a lot of baggage when you emerge from the terminal. Frihamnen quay has a cafe and offers wifi. From the Stadsgarden terminal, you can walk to the end of the pier and take a ferry boat into the city center.
Dhara of It's Not About the Miles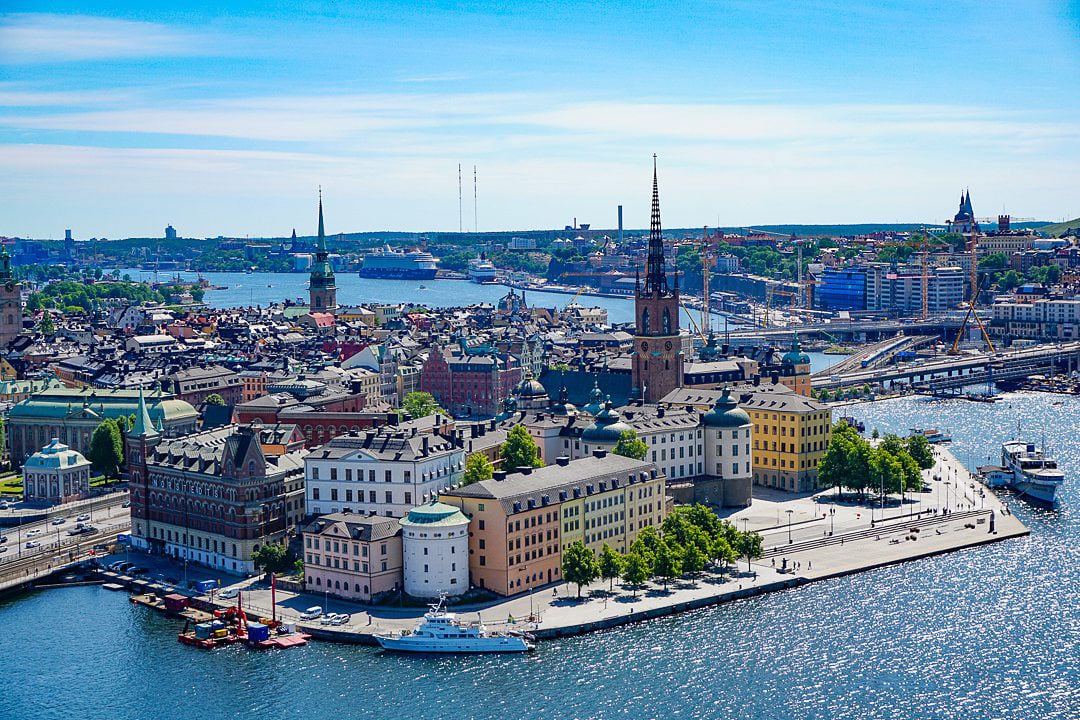 Svalbad, Norway: Port of Spitsbergen
Got your heart set on seeing the Arctic circle? It's cold up there, so pack for Svalbard carefully. You'll no doubt begin your cruise from the small island of Spitsbergen, which is part of the Svalbard archipelago.
Flying in is usually only possible via Oslo, which has excellent connections across Europe. The final flight from Oslo to Svalbard is around 2 hours. Shuttle buses from the airport will take you to the main town and hotels.
Luckily, the port is the hub of all that's going on in the town and it's right by a line of shops and restaurants. All the tourists will be there. If you're visiting during winter, you'll want to shop for high-quality winter gear around the port and maybe try a reindeer burger. During summer, there are a local museum and artisan workshops you can visit.
The port itself is just an embarkation point and doesn't have any toilets or special facilities etc, but it's well placed and easy to reach from the important points on the island. There is usually space for only one massive liner ship to pull up; you'll board via a small zodiac boat off the end of the jetty if you're on the second ship in port.
Danielle of Live in 10 Countries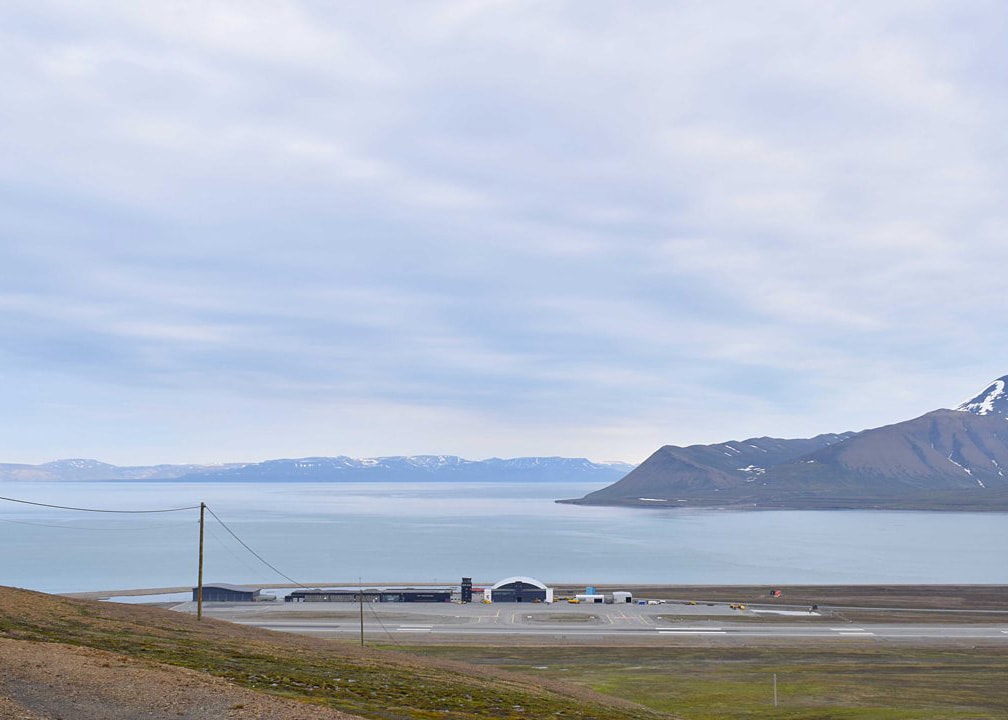 Southampton, England: United Kingdom's Best Cruise Terminal
Southampton is the UK's leading cruise port. It is a pleasant city on the south coast of England with a busy freight and cruise terminal. Over two million cruise passengers pass through the three large terminals each year.
The city has a surfeit of shops, restaurants, and pubs (West Quay shopping center) and also has some beautiful parks and a huge variety of museums and attractions. The City Cruise terminal is not far from the city center.
But it is best to take a short taxi ride to the city center (five to ten minutes, costing around £5), and return the same way if you are arriving on a cruise ship because of the busy roads. The City Cruise terminal is the largest berth and hosts most of the largest ships. The terminal is modern, well set out with large parking lots and garages and a large area to host arriving and departing passengers.
There are refreshment concessions at the terminal serving light drinks and snacks. There is also always lots of staff – either cruise line staff, terminal staff, or Southampton city volunteers – to answer passengers' inquiries or point them in the right direction.
In addition to City Cruise Terminal in Southampton, there are the Ocean Cruise and Mayflower Cruise terminals.
Southampton is well worth a visit. It is home to the Sea-City Museum, which has an interactive model of the Titanic, the infamous ship that sailed from Southampton in 1912.
The City Art Gallery focuses on the modern British art scene. Solent Sky Museum features vintage aircrafts such as the iconic Spitfire (the Supermarine Spitfire was designed and developed in Southampton) and the famous Imperial Airways flying boats (their homeport was Southampton). There is also the Tudor House, Mottisfont Abbey, and "God's House" to visit, a museum located in a tower of the city's medieval wall.
In Southampton, there is history, lovely green spaces, and fabulous eateries, from authentic curries to churros. Make sure you factor in time to explore 'Soton' before or after your cruise.
Tracey of Pack the PJs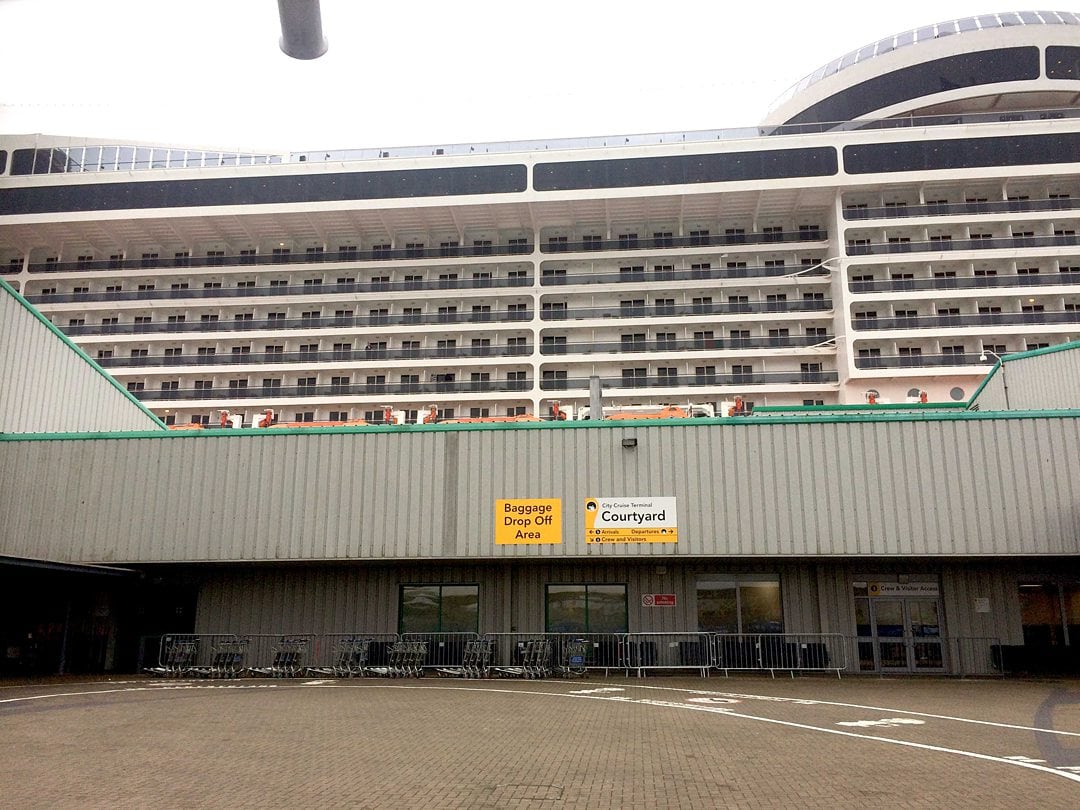 St. Petersburg, Russia: Baltic Sea's Premiere Cruise Terminal
St. Petersburg is considered the cultural capital of Russia and has a long history, dating back to the early 1700s. It has gained a multitude of architectural treasures since the 18th century, so much so it would take you at least a week to get through all the things to do in Saint Petersburg.
The cruise terminal is the largest transport center of Russia and one of the more popular cruise destinations in the Baltic region. Larger ships dock at Marine Facade on Vasilyevsky Island, located three miles north of the city center. Construction of this port began in 2005, offering new facilities including souvenir shops, duty-free shops, cafes, and restaurants.
There are ATM machines but no wifi in the port. Smaller cruise ships sail up the Neva river and dock at either English or Lieutenant Schmidt Embankment, much closer to the city center. To reach the center you have to take a metro from Primorskaya to Gostiny Dvor or Nevsky Prospect.
There's a bus from Marine Facade to the nearest metro station. Taxis are also available. Most cruise ships allow sufficient time to explore the main highlights in St. Petersburg, but not enough time to see everything making a return trip almost a given.
Raihaan of A Rai of Light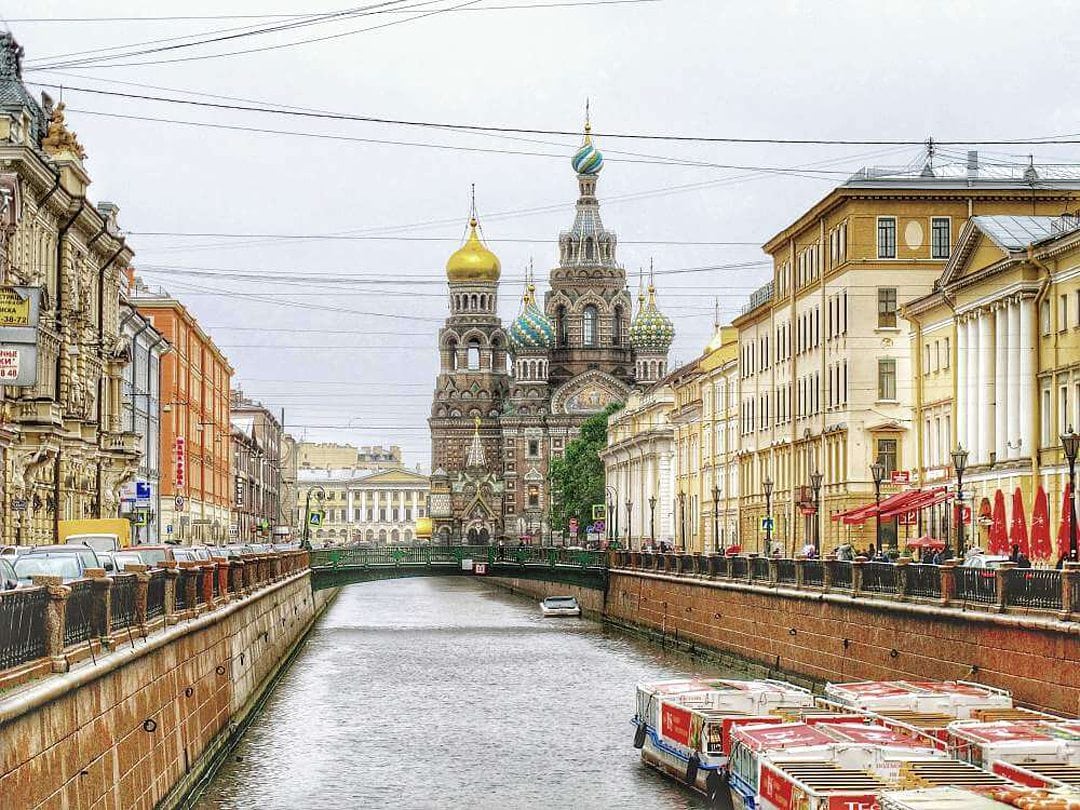 Barcelona, Spain: Terminal on the Mediterranean
Barcelona, Spain is one of the best cruise ports in the Mediterranean, if not the whole world. It's the perfect city to start and end your cruise since there is so much to do and see. You wouldn't want to be restricted to only spending a morning or afternoon there! The cruise terminals in Barcelona are pretty central.
The exact terminal you will be docked at depends on what cruise company you are traveling with but all of them are a short distance away from the famous La Rambla, the main shopping and street performer avenue in Barcelona.
You can take a 15-minute taxi or bus to La Rambla from the cruise terminal and easily venture out to explore the Gothic Quarter and other areas of Barcelona from there. Some of the most famous sights include Gaudì's artworks: Sagrada Familia basilica, Park Guell, and Casa Battlò. You can arrive in Barcelona a bit before your cruise or stay longer once it ends to enjoy everything this beautiful city has to offer.
Greta of Greta's Travels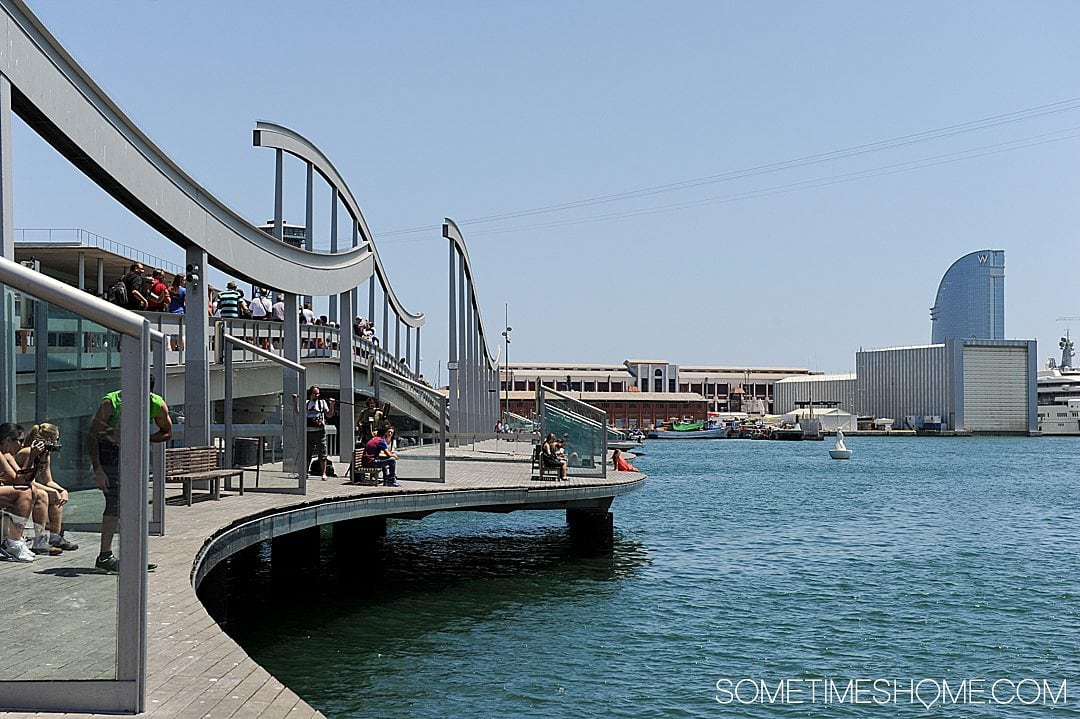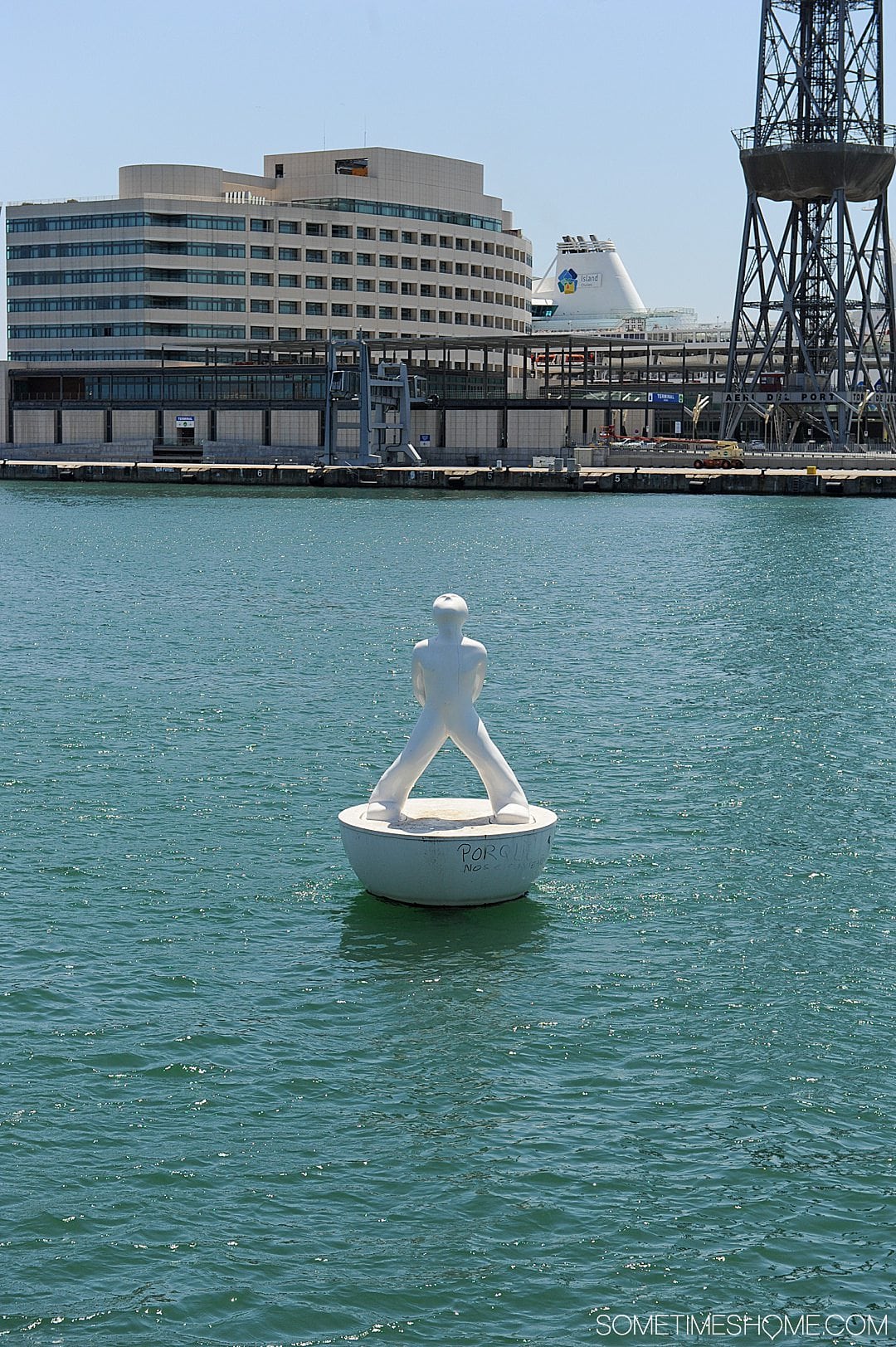 Hamburg, Germany: Three Cruise Terminals in One City
Flying into Hamburg airport is easy from other European cities and flights are plentiful. The three cruise terminals in Hamburg are all within easy access of the airport or city center by taxi. There is so much to see and do in Hamburg if you are lucky enough to have some free time in.
Pick up a Hamburg Card, which will give you free travel on the buses, S-Bahn, and ferries as well as discounted entrance to many of the museums and attractions.
Take a trip to the Maritime Museum and look at nautical travel through the ages on 10 floors, travel the world in miniature at the Miniatur Wunderland, the world´s largest model railway museum, or wander around the Speicherstadt, one of three UNESCO heritage sites in Hamburg.
Experience the views over the Elbe and the harbor from the Elbphilharmonie Plaza. If you want to see how the Hamburg docks work, visit the new Discovery Docks for an immersive interactive experience and maybe sit with the Virtual Reality headset on and move containers around the docks.
At night explore the Reeperbahn with its bars, live music, and other live entertainment! Follow the Beatles tour of the bars they played in before they became famous.
On Sunday mornings visit the famous St Paulii Fischmarkt from 5:00am in summer or 7:00am in winter for beer, a fish breakfast, some live music, and of course the market! Hamburg is a vibrant city with many things to do either before or after your cruise, so try to take the time to visit it.
Larch of The Silver Nomad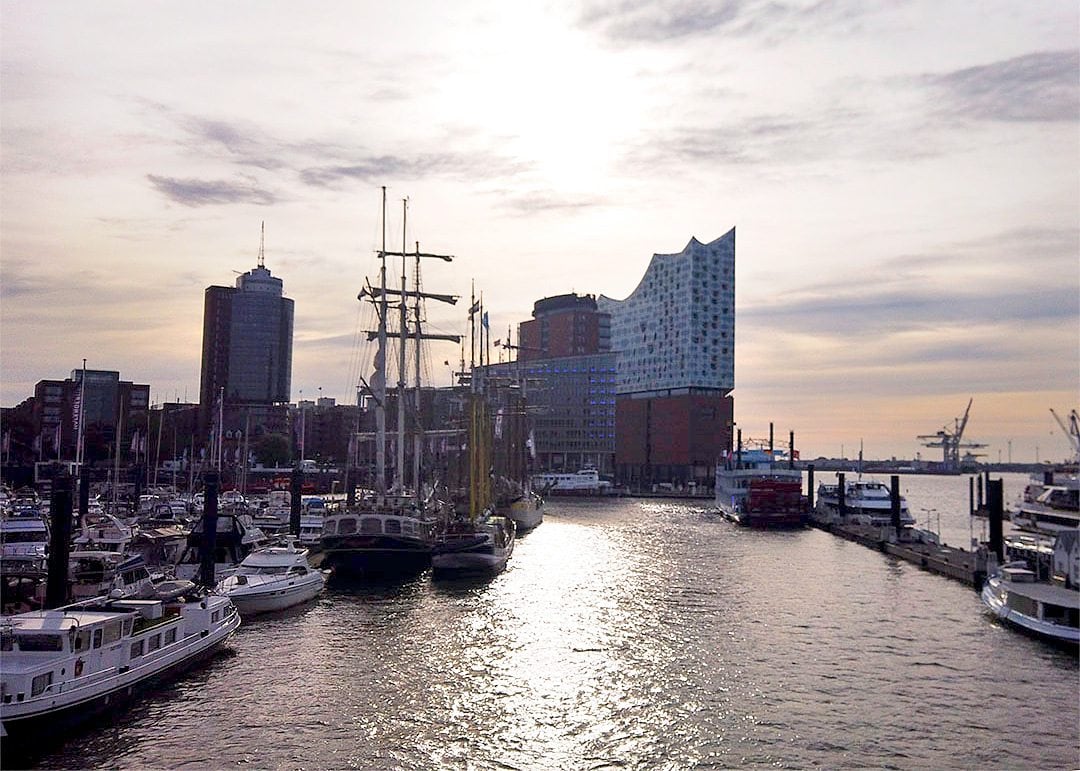 Cruising soon? Also check out: