Helpful Info about Luminae in The Retreat on Celebrity Cruises
Being a part of The Retreat on Celebrity Cruises Edge series ships certainly has its perks. Amongst them is one major dining perk: access to Luminae, a restaurant exclusively for Retreat guests.
Is this dining experience worth the upgrade or is it overhyped and not enough to sway someone into this suite class? After you find out our verdict below, we'll go into detail about what Luminae offers its guests.
Disclosure: There may be affiliate links in this post, which means we may earn a small commission if you click the link and proceed with a purchase at no cost to you. We were hosted by Celebrity Cruises. We truly only recommend cruises, experiences, products, and services we personally use and enjoy. As Amazon Associates, we earn from qualifying purchases.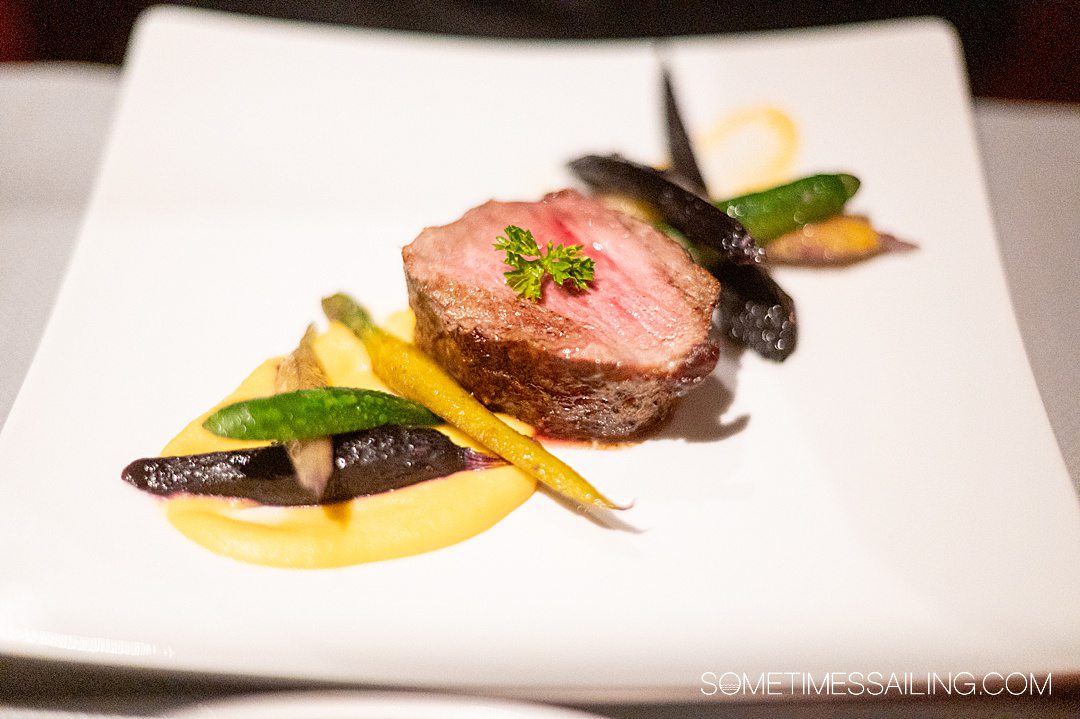 The Verdict (Spoiler Alert)
We wouldn't say that Luminae alone is worth the upgrade to a suite in The Retreat. However, it's a wonderful perk we thoroughly enjoyed, and it certainly strengthens The Retreat's offerings. It's hard to separate its restaurant from the rest of its perks since it's integral to the program.
If you're floundering about whether or not to book The Retreat, this would certainly put us over the edge into the "yes" column.
To be clear, you cannot upgrade to The Retreat while you're on the cruise. The Retreat is something you book ahead of time; it's a specific class of cruise suites you choose from when you secure your booking before sailing.
Cost for The Retreat varies based on many factors, including availability when you book your cruise, when your sailing is, if there are any promotions at the time, and the like.
Luminae made us feel like we had a "home" restaurant on a mega-ship. It gave us the small ship vibe that we crave when cruising (for example, river cruise ships often just have one restaurant).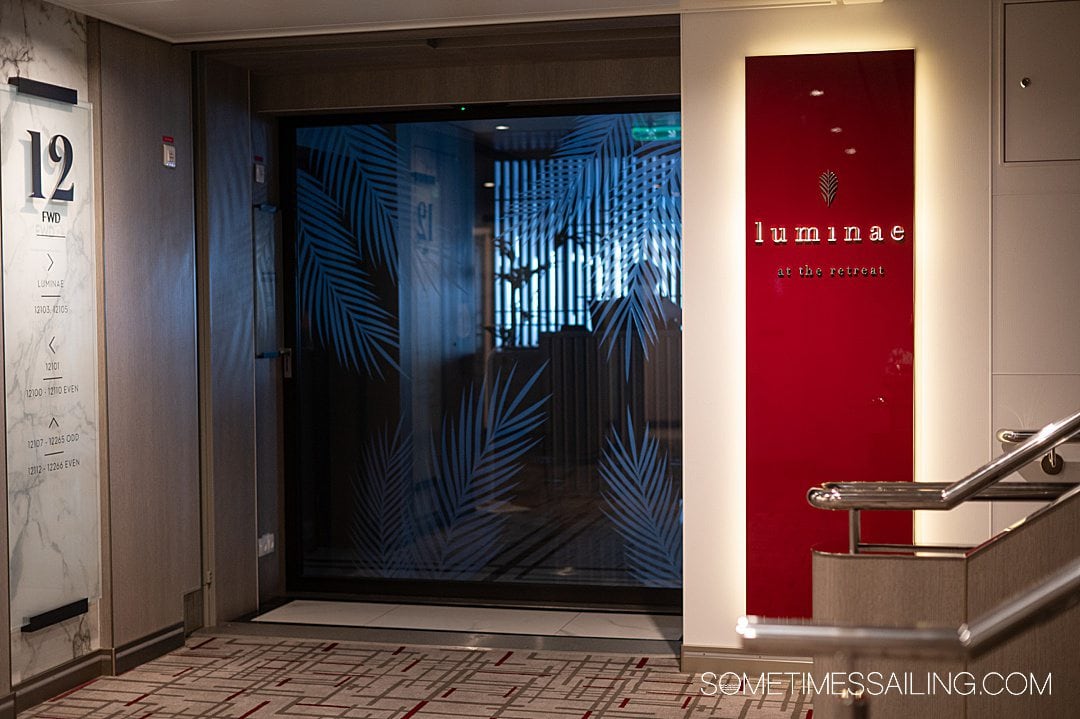 The design of Luminae was beautiful, the crew there was wonderful, and we felt more special being able to go there.
If that feeling and the perks are worth it to you, then access to Luminae helps provide a great argument for booking The Retreat on Celebrity Cruises ships. This is along with The Retreat's other perks, such as access to a private pool and bar, a dedicated top deck lounge area, and an indoor lounge with included premium non-alcoholic and alcoholic beverages.
Luminae: Practical Information
Luminae Hours
Luminae is open for breakfast and dinner every day and is also open for lunch while at sea. If you're docked at a port you have to check the daily schedule to see if it's open for lunch. This private restaurant is not open all the time.
It was open for lunch the day we embarked on our Celebrity Apex cruise out of the Port of Fort Lauderdale. It was our first meal on the ship, and we were certainly impressed.
Luminae Dress Code
Luminae is fairly casual. We dressed up a bit for dinner in the evenings not because it was required but because we were on a nice cruise, and it's fun to dress up. Jackets were not required for men. Celebrity describes their suggested evening dress code as "evening chic."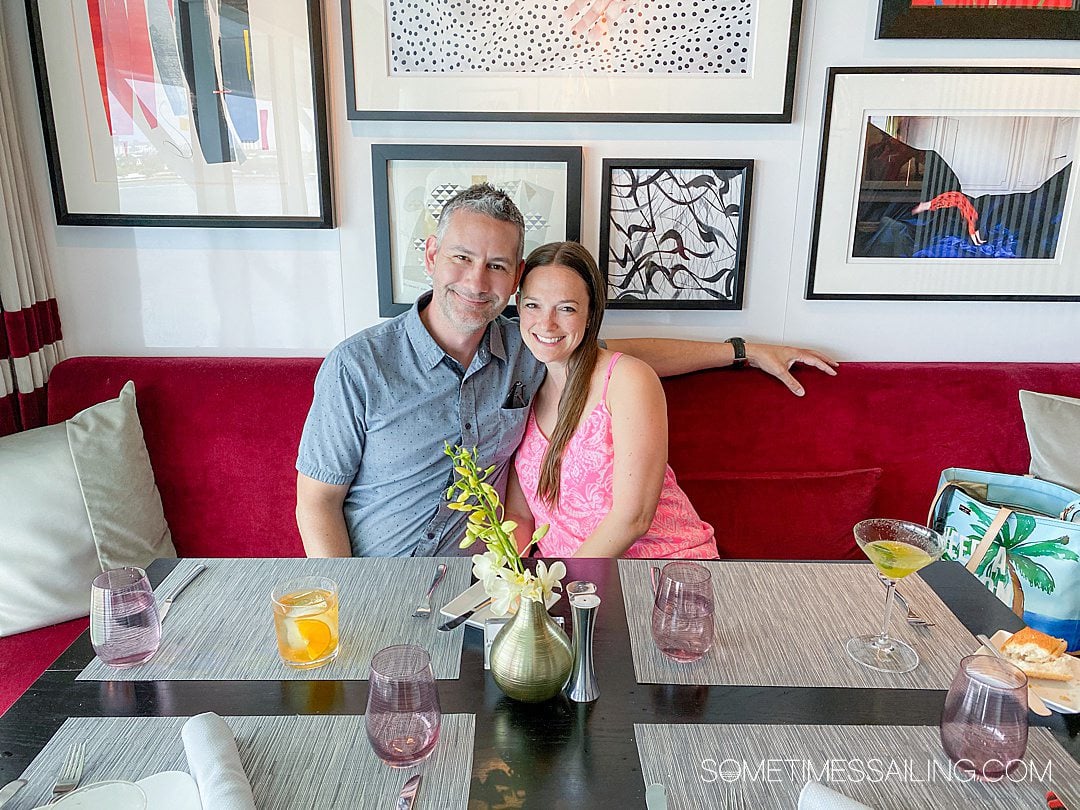 Cost of Luminae
If you are part of The Retreat, Luminae is included with your cruise. Generally speaking, you cannot go to Luminae if you are not part of The Retreat.
How does the Luminae crew know? When you meet the host/hostess, you simply state your room number, and he/she records it in their system, makes sure you're on the list, and then seats you.
After you've been to Luminae two or three times, they know who you are when you walk in. They're great like that!
Reservations for Luminae
Reservations are not required, at any time, for guests of Luminae. There may be a 5-minute wait for a table during peak times, but we never had to wait more than a few minutes to be seated.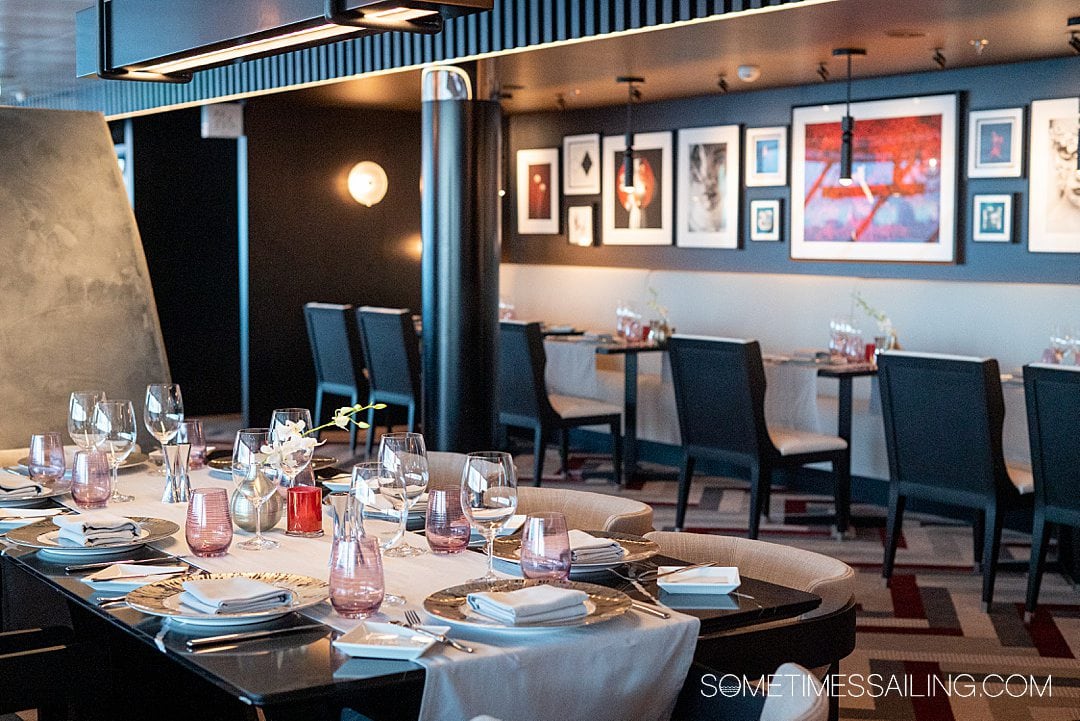 Children in Luminae
Luminae is open to children who are guests of The Retreat. It is not an adults-only restaurant.
Dining at Luminae if you Aren't Part of The Retreat
If you are in The Retreat and want to invite family and friends who are not part of The Retreat to dine at Luminae, you may do so for an upcharge based on availability.
Luminae's Interior Design on Celebrity Apex
Luminae's interior design may vary from ship to ship on Celebrity Cruises, but we can describe what it looked like on Apex.
It had a black, gray, white, and red color palette with pops of pink, which is naturally why Dan and I both loved it. (Our house is pretty much black, gray, and white with pops of color.) It felt very cosmopolitan (urban, even) and cool.
The spiky light fixtures added a bit of edgy texture to the ceiling that drew your eyes upward. The striped black and white ceiling was also a nice detail; it made your eyes run the room length as if you were following fingers playing piano keys.
Water glasses were stemless wine cups in pale purple, and silver vases with white orchids were placed on each table.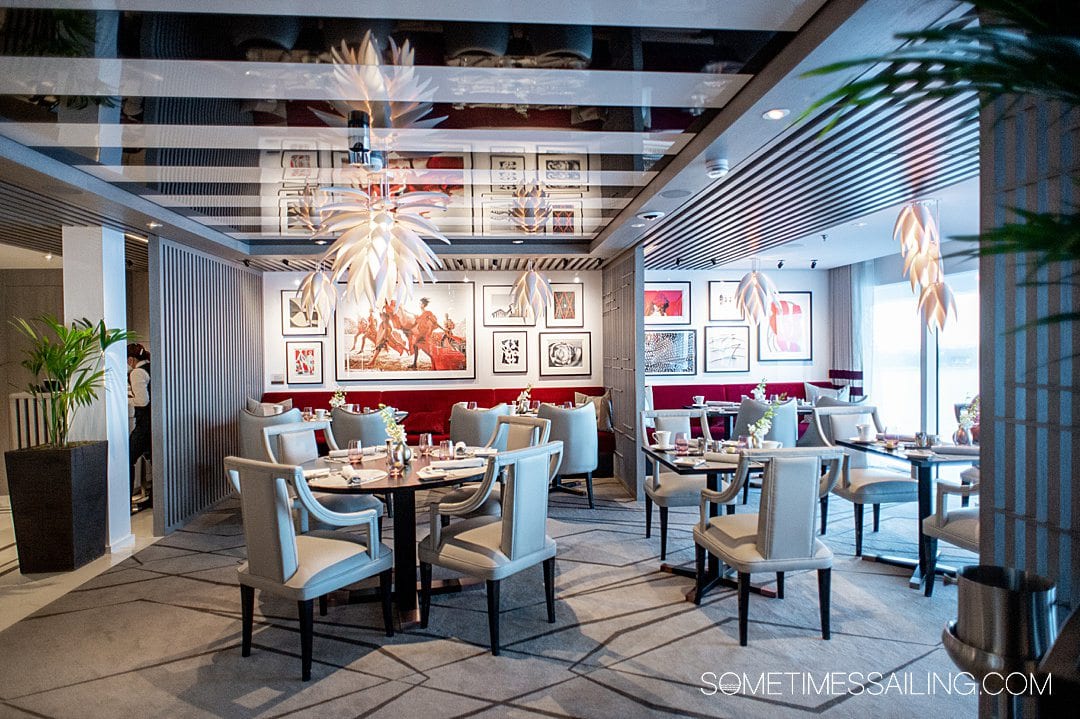 Carefully selected geometric paintings and photographs of interesting subjects filled the walls in black frames with white mats, staying true to the restaurant's specific color palette.
Luminae has mostly tables with chairs for seating, but there was some booth seating along the perimeter of the restaurant finished in a reddish hot pink velvet. All of the seating was very comfortable, and the restaurant is accessible, as are all the restaurants onboard. (We saw a wheelchair user dining in Luminae several times.)
There were two conjoined rooms in Luminae onboard Apex; we were always seated in the smaller room so we asked the hostess if we could sit in the bigger room one evening for a change.
We regretted it because the acoustics in the smaller room was much quieter. We enjoyed the cozier feeling in the smaller room too so we never sat in the bigger room again!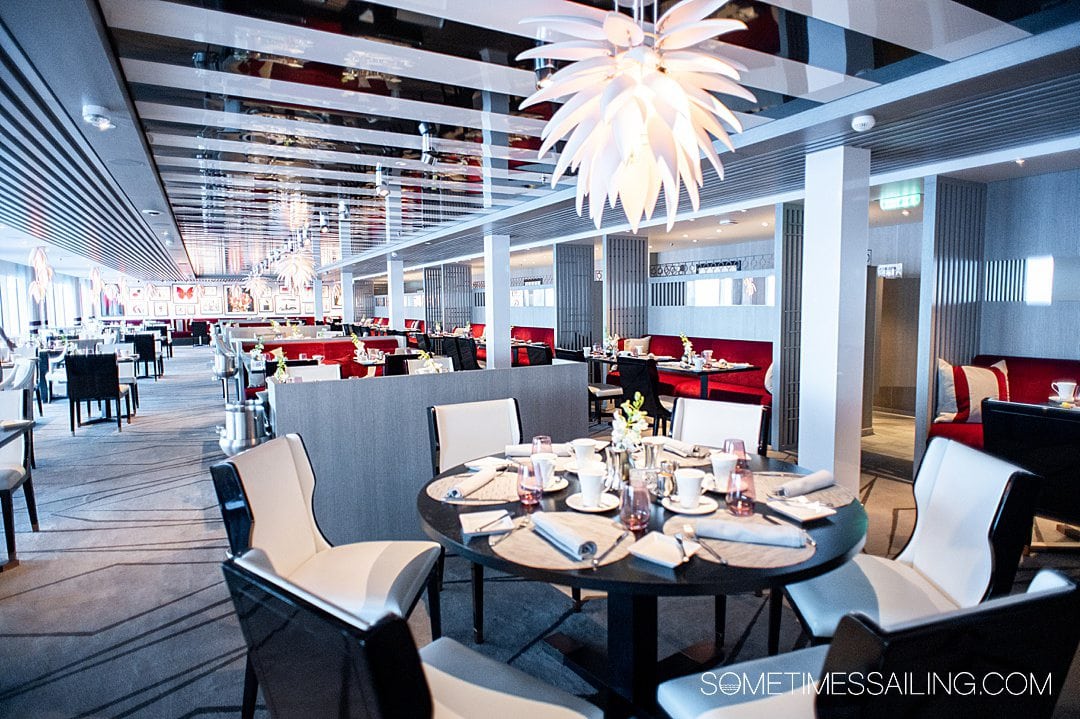 Luminae Menus
The elevated menu at Luminae has dishes with flavors from many areas of the world. It's not hard to find something to enjoy on the menu.
World renown, Michelin-starred chef Daniel Boulud designed the restaurant's signature dishes. These options are marked on each menu with a palm frond icon, which is the symbol of The Retreat.
Breakfast
We loved having a sit-down meal in the morning instead of dealing with crowds getting food a buffet. The breakfast presentation at Luminae, as expected, was great. It was a lovely way to start our mornings.
Continental options are available for breakfast if you like something on the lighter side, like yogurt, cereal, or fruit. The waitstaff also walks around with a pastry tray offering croissants and danishes.
Or, if you like something a little more filling, you can order off the Griddle or Eggs menu, which includes things like:
Eggs Benedict
Smoked salmon platter (I added a toasted bagel in the image below)
Omelet of your choice
Huevos Rancheros
French Toast
Buttermilk Pancakes
Belgium Waffle
Side options were plentiful too; we enjoyed the sauteed mushrooms, grilled tomatoes, potatoes, and buttermilk biscuits covered in sausage gravy during our cruise.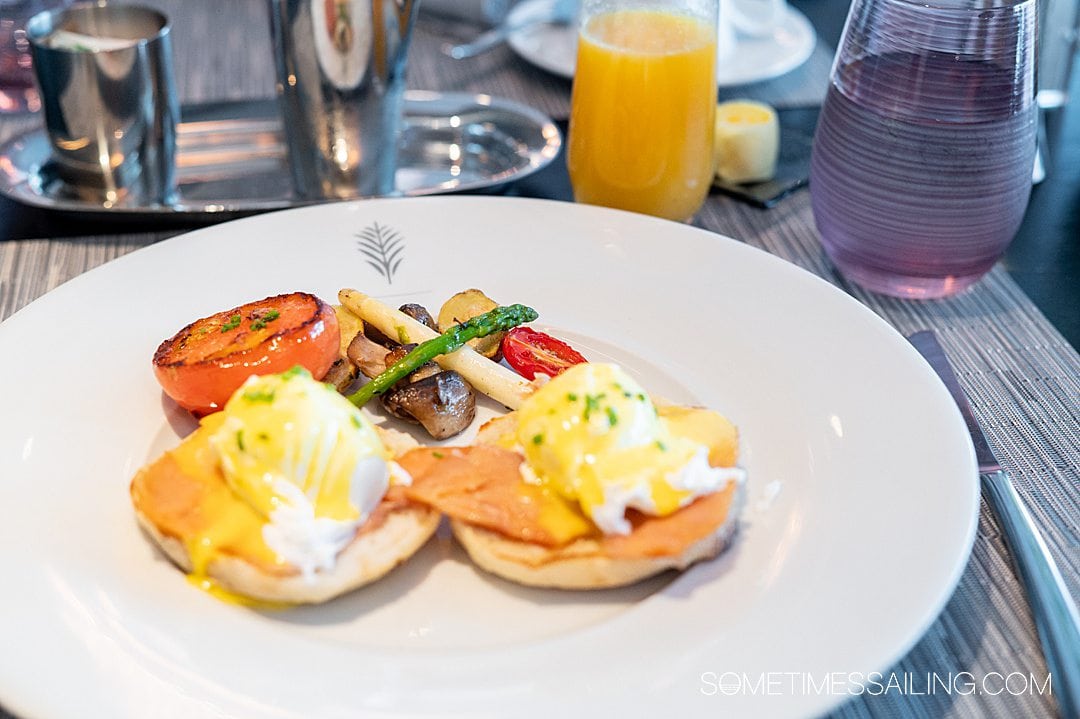 Lunch
Expect the following entrees on the lunch menu:
Creamy Lobster Roll
Grilled New York Steak Frites
Seared Bronzino
Butternut Squash Farfalle
Signature Burger
In addition to these items, there were typically additional things to order each day like a special starter or entree.
We also tried the English Pea Soup and Prawn Ceviche appetizers. The ceviche was particularly excellent! The burger was juicy and delicious, and they even split it for us and then served it on separate plates upon request. (We weren't too hungry that afternoon. Besides, you cannot go hungry on a cruise ship like Celebrity Apex! A dining venue is always open.)
The Bronzino entree was another winner, which is a personal favorite delicate white fish in our house.
Our raw tuna appetizer one day during lunch was also great: the fish was fresh, and the flavors were refreshing. (The green drink in the background of the images below is the Fresh from Tokyo cocktail, with vodka and basil. It was awesome.)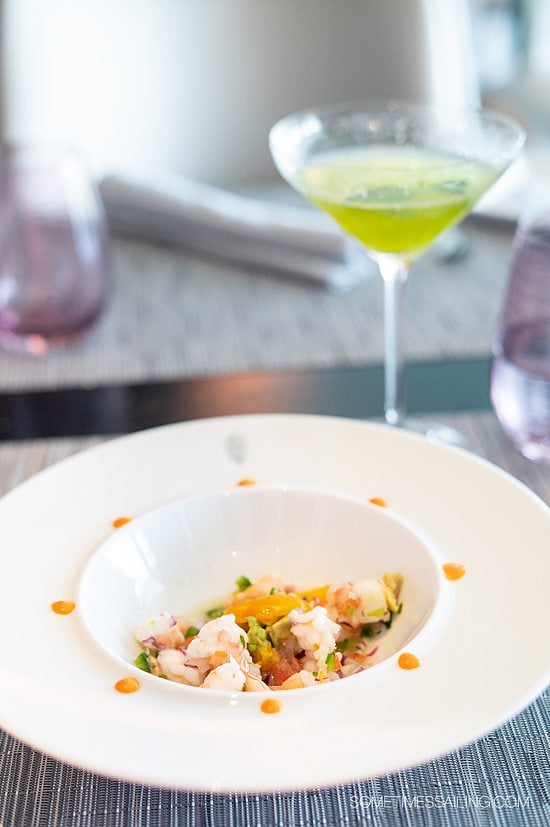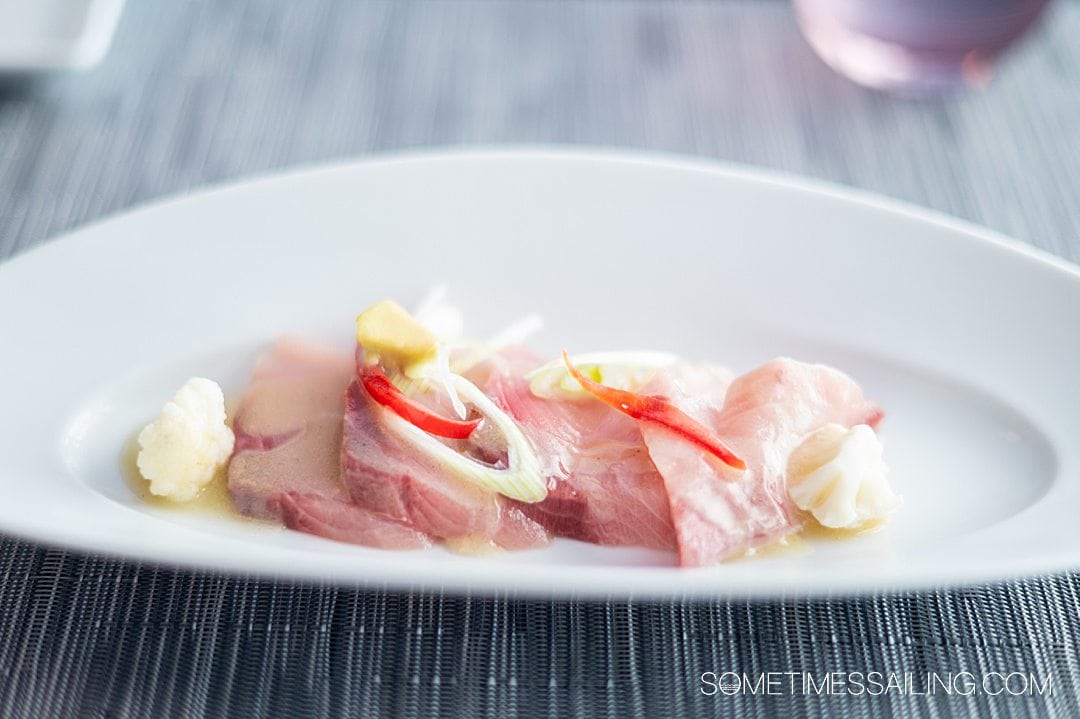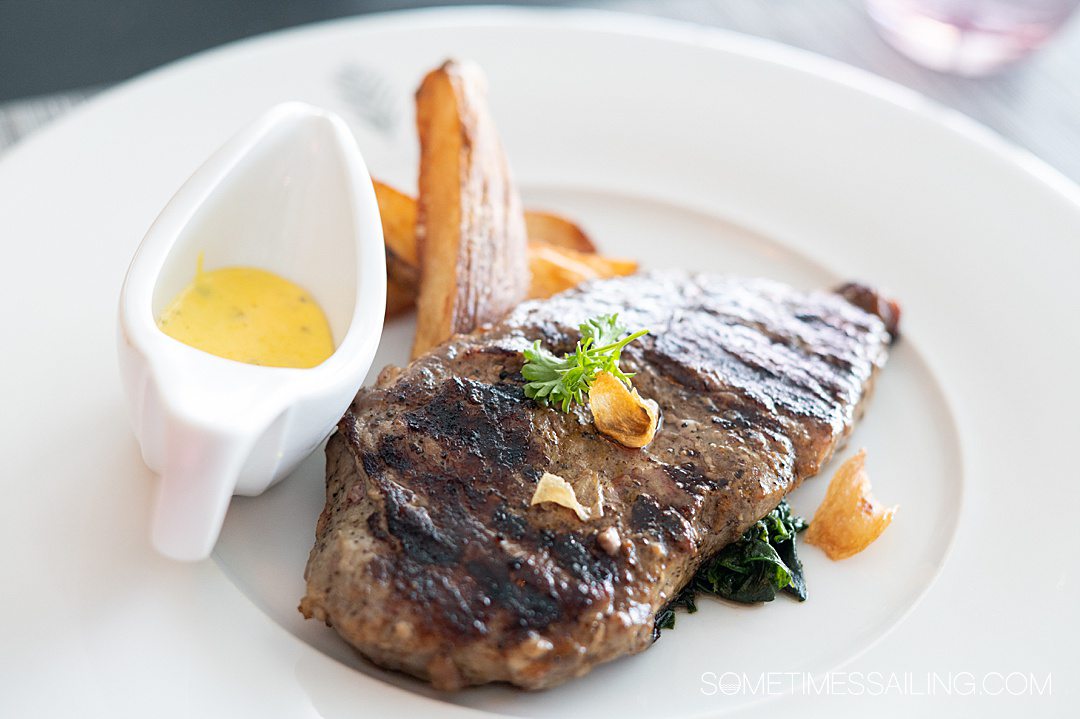 Dinner
Our dinners were elegant and tasty. The presentation was on par with every other meal at Luminae, and we especially liked the addition of an amuse-bouche with each dinner served. (Who doesn't want to start dinner with an amuse-bouche to awaken the palate?)
We loved the lobster appetizer, the beef tartare was packed with umami, and the meat dishes we had (like a pistachio-dusted lamb loin) were tender and delectable.
Here is a look at some of the Luminae dinner menu options:
Grilled Filet Mignon
Roasted Duck Breast
Roasted Turbot
Morrocan Chicken Tagine with Saffron Couscous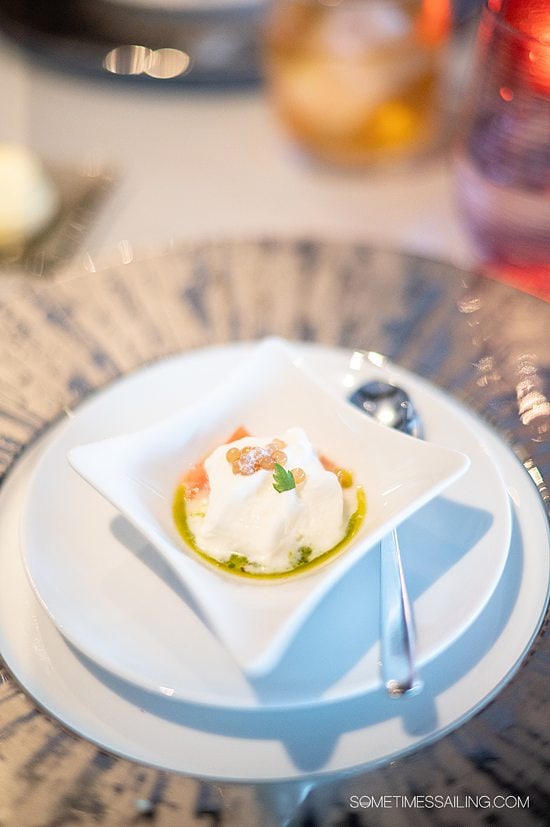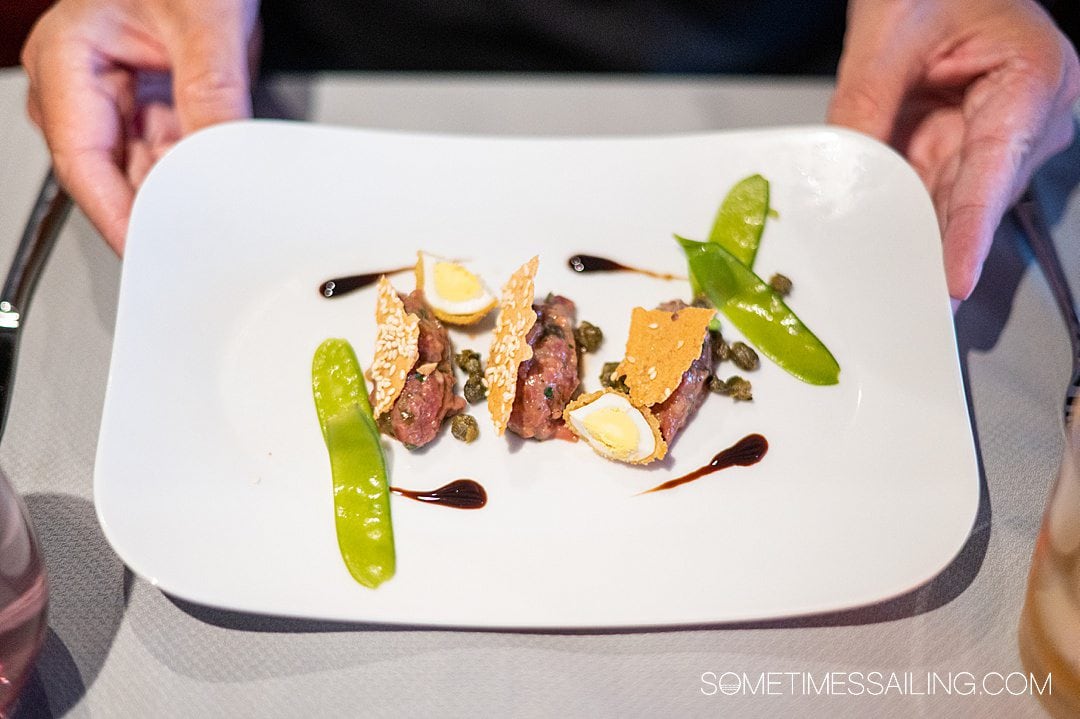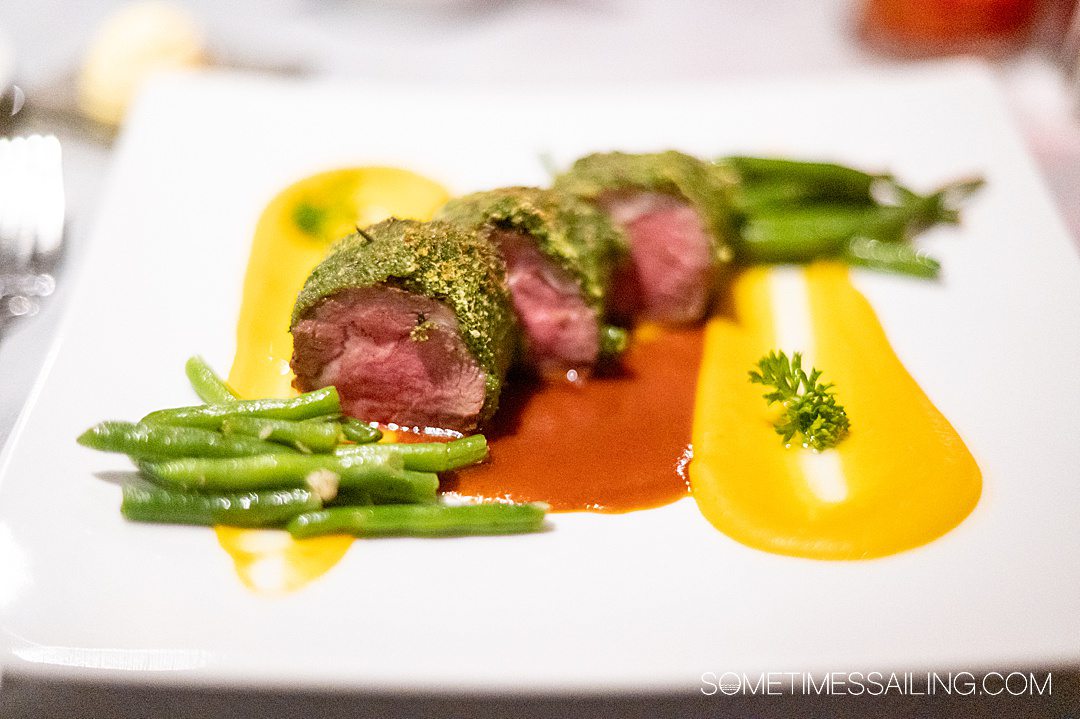 Drinks at Luminae
This was a highlight. The menu blew me away as someone a bit picky with her cocktails, preferring mostly gin and vodka in mixed drinks. There were several drinks I wanted to try.
Though not a big drinker and knowing there were many other bars on the ship, I had two types of cocktails at Luminae (we typically had wine with dinner). I admit I went for repeat cocktails and had two per meal once or twice.
If there were a bar in Luminae that I could have gotten cocktails at to walk around with on the ship, I would have. But there is no stand-alone bar in Luminae – they simply serve tableside cocktails they create in the back. Dan enjoyed their cocktails as well.
The drinks are balanced, not leaning towards being too sweet or savory. Dan enjoyed a rye drink while I sipped my vodka martini.
Dan had the Wandering Scotsman (Bulleit Rye, Demerara, Scotch Rinse)
I tried Fresh from Tokyo (Grey Goose Vodka, Simple, Yuzu, Cucumber, Basil) and Spicy Passion (Ketel One Vodka, Passion Fruit, Lime, Jalapeño, Mint)
While drinks in The Retreat Lounge are included in your cruise fare if you're in The Retreat class, drinks at Luminae are not unless you have a drinks package that includes it.
While you may see a dollar amount next to drinks on the menu, that fee will not be charged to guests of The Retreat, because a drinks Premium Package is already included in the cruise class. Non-Retreat guests (for example, family and friends of a guest in The Retreat who pay a fee for them to dine at Luminae) will incur a drink cost if they order cocktails/wine and do not have a drink package.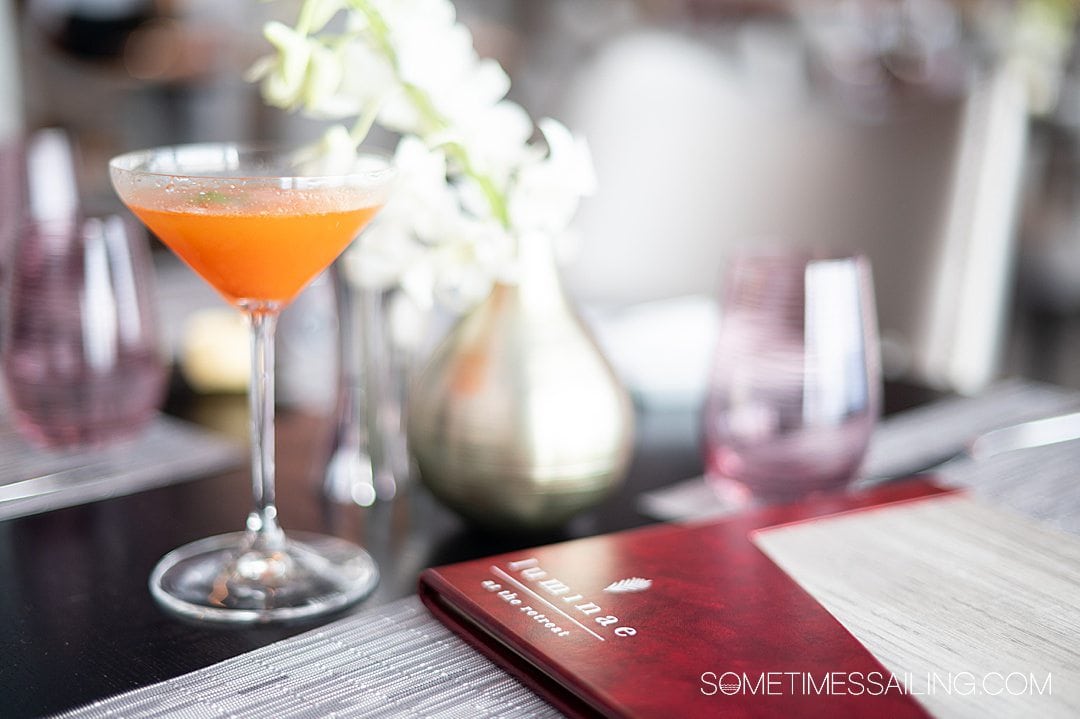 Luminae vs. Blu
There's no contest here – hands down, Luminae outshines Blu. The food was far better at Luminae. (FAR better!) The decor inside Blu is beautiful, but we preferred Luminae. For us, it was sexier and more cosmopolitan than Blu; it's a personal preference.
You need to either be in AquaClass to have meals at Blu (which is different from The Retreat) or in an Aqua SkySuite. An Aqua SkySuite gives guests the benefits of AquaClass and The Retreat.
We had breakfast and dinner there and regretted eating dinner at Blu instead of Luminae that evening. The taste of the food just missed the mark.
Blu's Menu Focus and Offerings
The concept of Blu is different not only in its design but also in its menu ingredients. The goal here is healthy ingredients sustainably sourced, and we suppose, theoretically, lower calorie ingredients.
For example, Dan ordered a Ceasar salad as an appetizer, and instead of croutons on the salad, it had cubed tofu. Tofu is a healthier option than croutons, but having silken tofu instead of crunchy carbs wasn't the same.
I ordered pasta and opted not to eat it after two bites. (That may be harsh to reveal here, but unfortunately, it was true. And we're always honest! We went to the buffet afterward so I could get something else to eat.) Maybe we ordered the wrong things, but sadly, this was our experience.
We had breakfast at Blu one morning to try it. While we appreciated the smoothie menu Blu has that Luminae does not, we still preferred Luminae to Blu.
When we were on Celebrity Beyond, we gave Blu a try for dinner once again, and we liked it a little more, but we still weren't that impressed.
For example, the tuna tataki I had with mango slaw was good. But the scallops I ordered came unexpectedly fried, which simply confused us about the restaurant's concept because fried is not what one considers "healthy."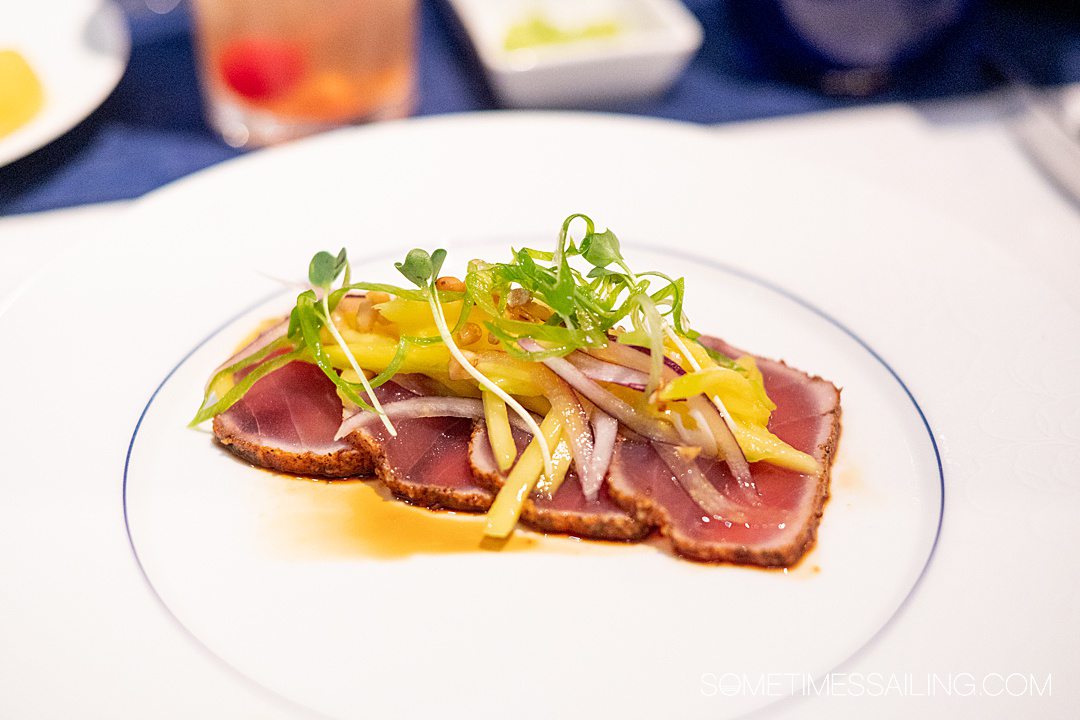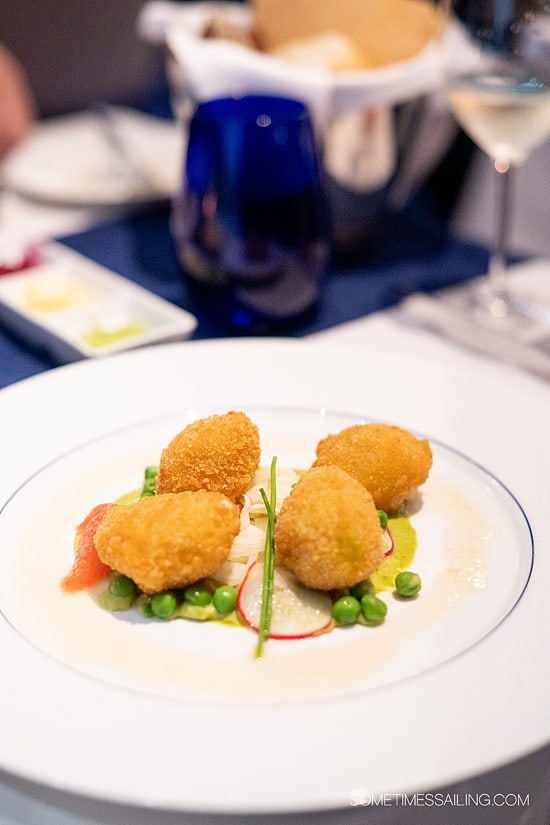 Interior Design of Blu vs. Luminae
Aesthetically, Blu is gorgeous. It's filled with beautiful blue and white elements. The tile when you walk in is gorgeous, and the chandeliers are impressive. The upholstery even caught our eyes. The glass rosettes on the walls are intriguing. The blue water glasses pop.
I couldn't stop taking photos of it. Even the plates, with their rose motifs, went noticed.
Luminae is also beautiful. We loved the color palette, the gallery walls with framed photography and art, and funky light fixtures. It feels vivacious in a way. Spunky, like us.
Even if you don't eat at Blu, go see it. It's very pretty.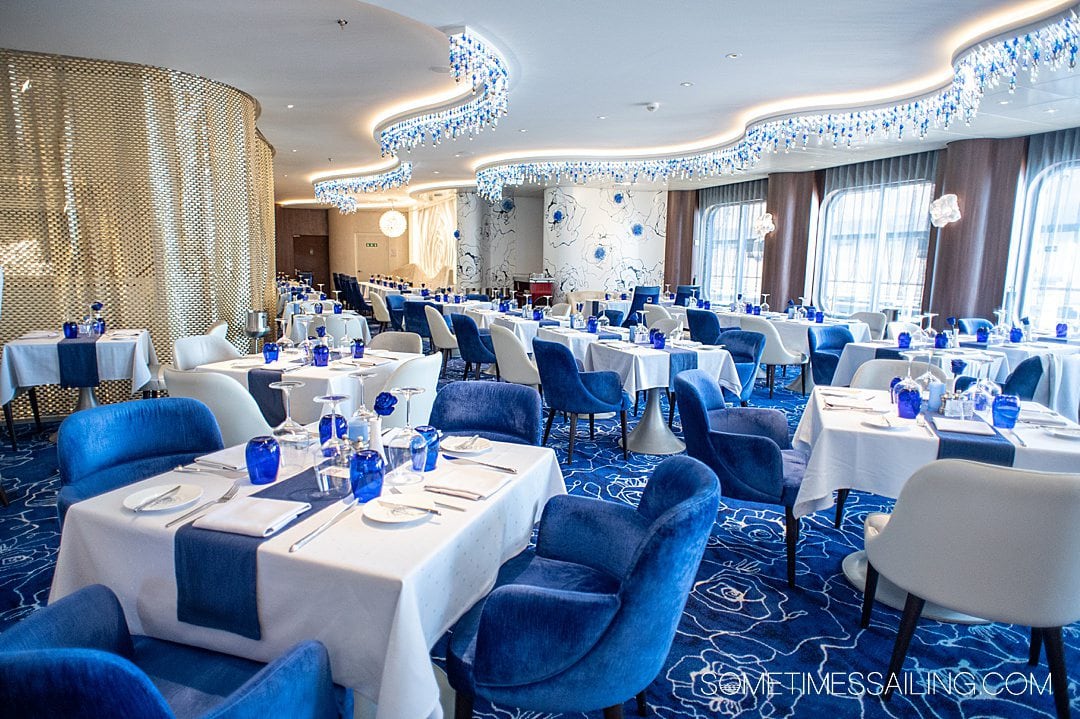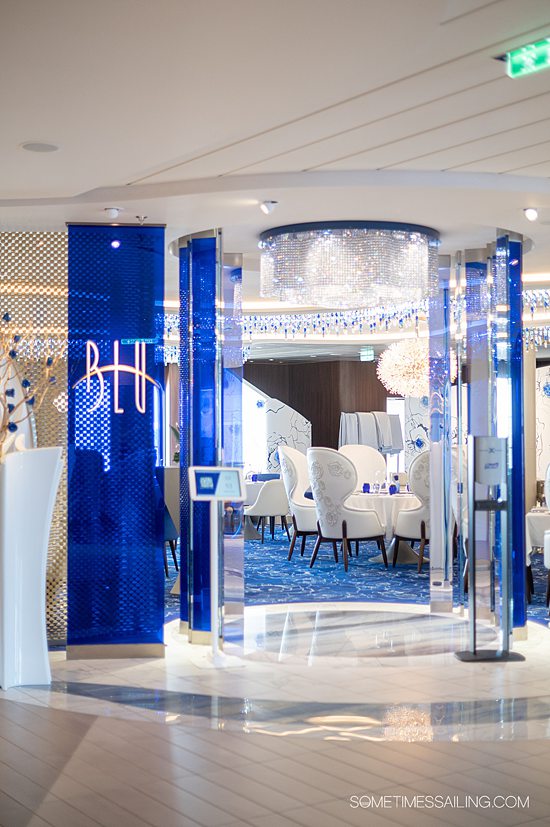 Other Restaurant Options on the Celebrity Cruises Ship
If you're a part of The Retreat, you don't have to eat at Luminae. It's simply one option of many restaurants on the ship.
You can also make reservations (or walk up to) any other dining experiences, including four main dining restaurants and seven specialty restaurants on Edge class ships. There is also some additional complimentary dining, like a quick-service option near Eden (called Eden Café) that is open on select days.
Main dining is included in the cruise cost, and specialty restaurants have an additional fee. Cost varies depending on the restaurant. The exception to this is the following suites that are part of The Retreat, which include Signature Dining:
Iconic Suite
Edge Villa
Reflection Suite
Penthouse Suite
Royal Suite
Signature Suite
We ate at the main dining restaurants, Normandie (French), and Cypress (Mediterranean). The food at Normandie was particularly memorable.
We also ate at two specialty restaurants during our one-week sailing: Le Petit Chef and Eden. They were outstanding, and we're glad we made reservations for both.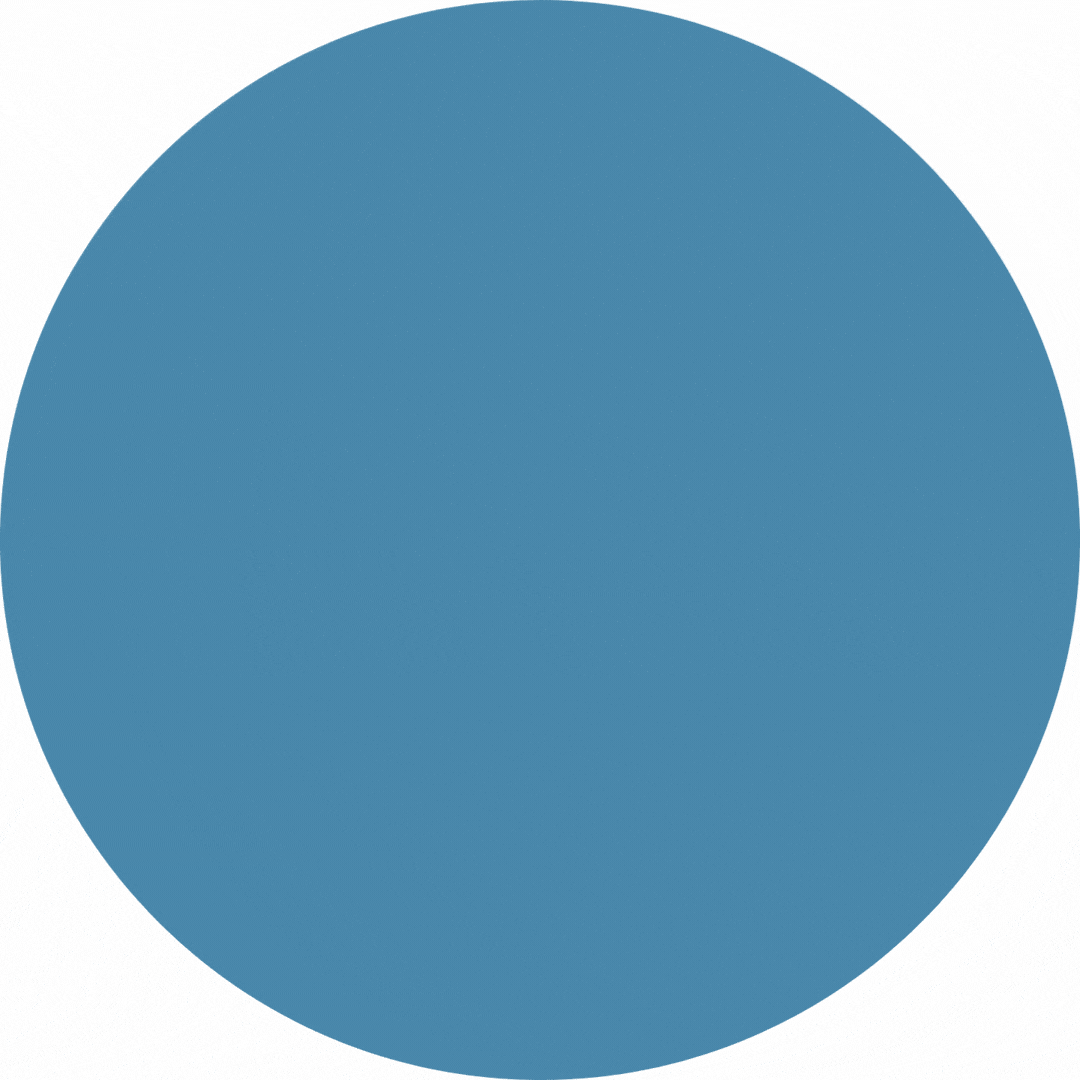 Ready to Book Your Cruise or INquire?
Use our preferred travel advisors, Bolds Travel, Because…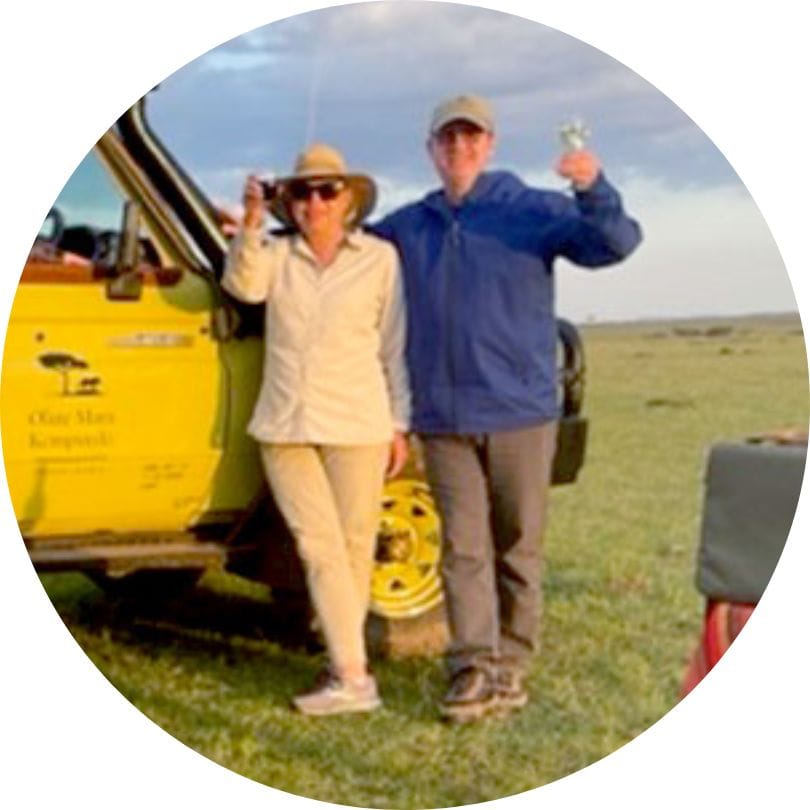 Eden Restaurant on Celebrity Apex
We had a very special evening in Eden. It is a pretty restaurant at the aft of the ship.
During the day, it's nice to grab a drink and sit in Eden's light-filled area (there's seating on the second level, above the restaurant, accessible by steps next to Eden's bar). Here, you can watch the wake peacefully drift behind the ship.
At night from within the restaurant, you can only see the white reflection of the water dancing in the ocean. (You'll be so focused on the food it won't matter! There may also be live music when you're eating dinner at Eden, which you can enjoy from your table.)
We happened to have been there for my birthday, and they made it extra special with a dessert that said, "Happy Birthday," topped with a candle.
But the meal that preceded dessert was great. Each dish was full of flavor, and the presentation was beautiful. The ceviche and crab cake appetizers were standouts. Dan's beef duo – a small filet and a mini Beef Wellington – were also wonderful. It was definitely worth the upgrade for this experience.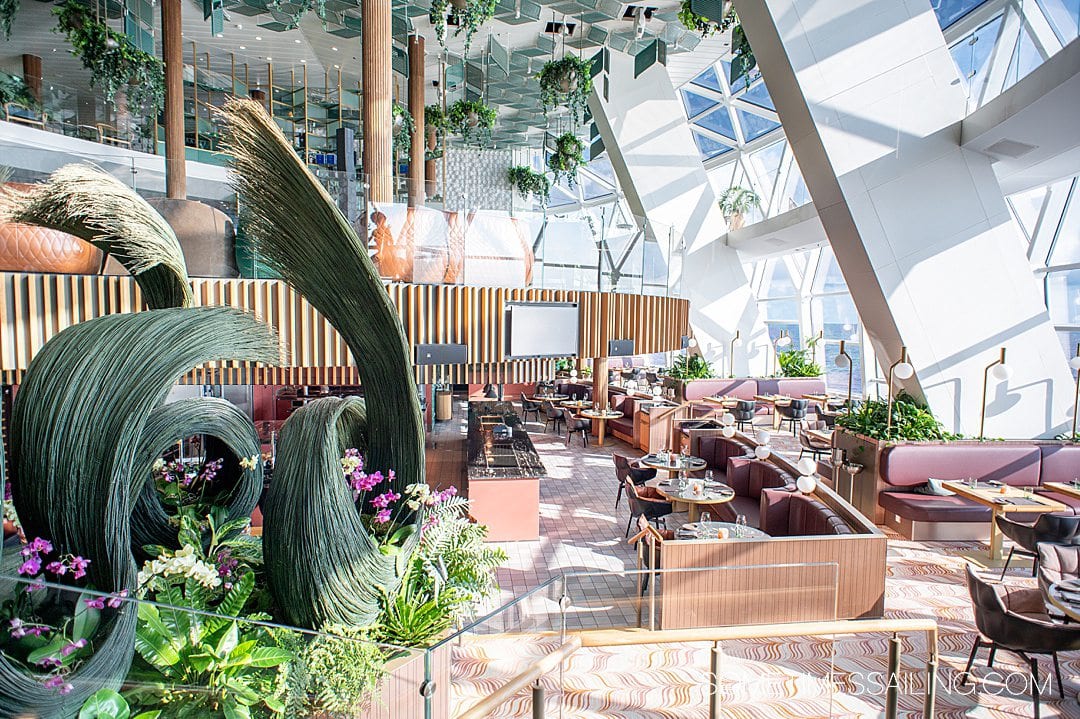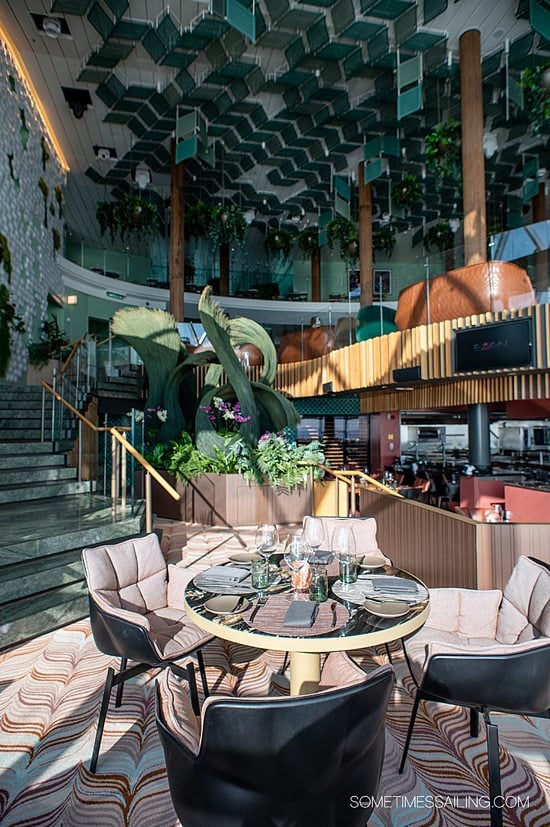 Le Petit Chef Dining Experience on Celebrity Cruises
This restaurant was so packed with entertainment that I'm surprised Disney Cruise Line didn't think of it first. Alas, they did not!
As soon as we knew we would be cruising on Celebrity Apex, we knew we had to book reservations at Le Petit Chef.
The restaurant, which transforms from Le Grand Bistrot by day to the projection-animation experience Le Petit Chef by night, is a feast for the senses. Guests enjoy a meal over an hour and a half to two hours that takes you through a menu based on four seasons.
Corresponding to the menu, spring flowers transform into the summer sun, fall leaves lead to winter snow, and all the while, the waitstaff is placing perfectly timed plates at your seat. Each season has a complementary dish. The farfalle pasta with crab was a favorite.
You also follow the love story of a woman and a chef from when they meet and enjoy a picnic together where they fall in love, to the time they've grown older and have kids. (We suppose that in this case, the four seasons you go through during dinner span decades!)
The white tables, plates, and bowls are the canvas upon which the show takes place. It looks great from all seats at the table. The animation and sounds keep you entertained and drawn in, as the meal is timed to the storyline.
It's truly a phenomenal unique experience that we highly recommend making reservations for (and paying the extra cost). Essentially, you're experiencing dinner and a show!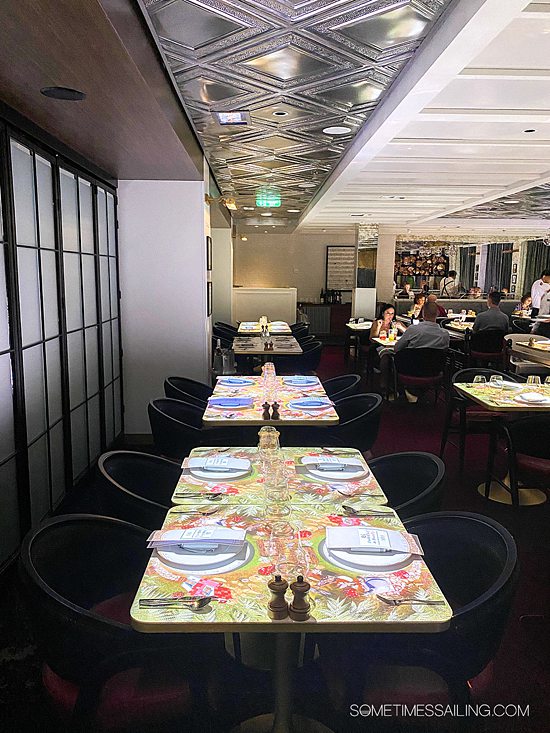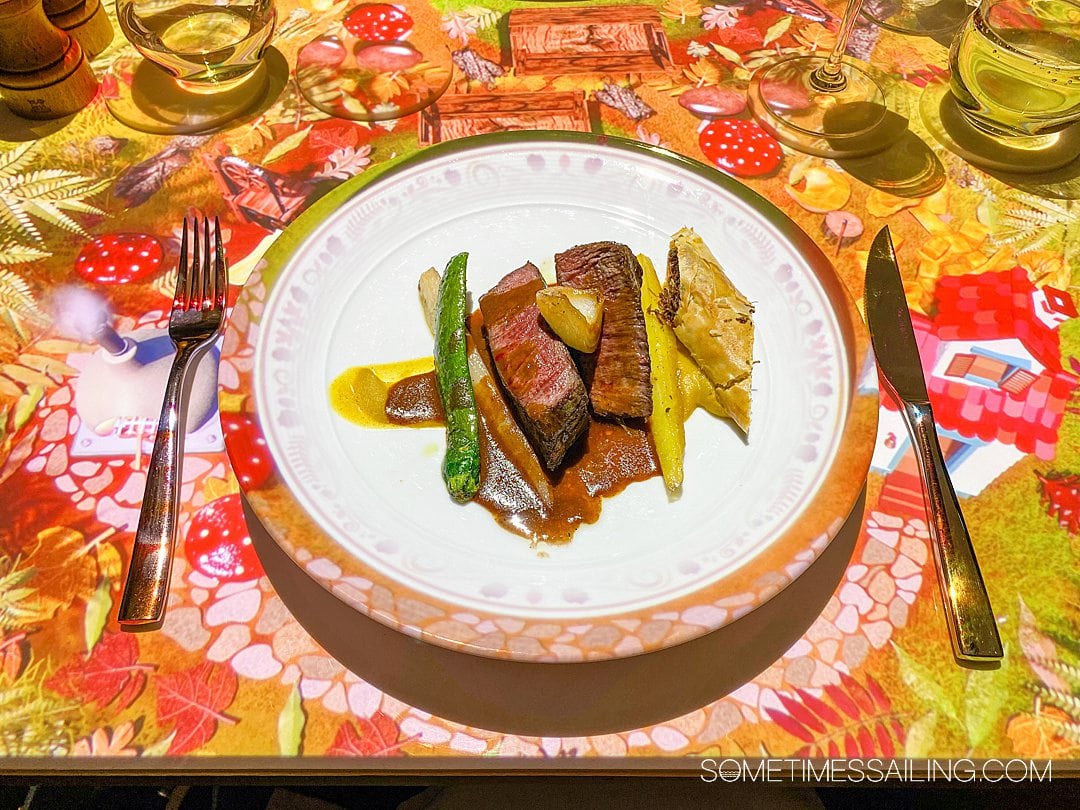 Conclusion for Luminae Restaurant, Part of The Retreat
Though there are great dining options aboard Celebrity Cruises Edge Class ships, including main and signature dining options, we believe that Luminae was remarkable in its decor, quality, and presentation of food and cocktails.
Access to Luminae is a fantastic perk of being in The Retreat class that we recommend to any cruiser who enjoys an elevated experience and treatment when they travel.
Check prices on Celebrity Cruises' website and book your next cruise vacation now!