Top Amazon Cruise Essentials for Your Packing List (2023-2024)
Are you the kind of shopper who likes to order things from Amazon as you prepare for your vacation? Us too! That's why we know what to recommend when it comes to packing for a cruise and shopping on Amazon. From packing must-have items to things that will make your cabin comfier, we have the Amazon Essentials you need.
Disclosure: There are affiliate links in this post, which means we may earn a small commission if you click the link and proceed with a purchase, at no cost to you. We truly only recommend hotels, products, and services we personally use. As Amazon Associates, we earn from qualifying purchases.
🕐 Short on time? No Problem!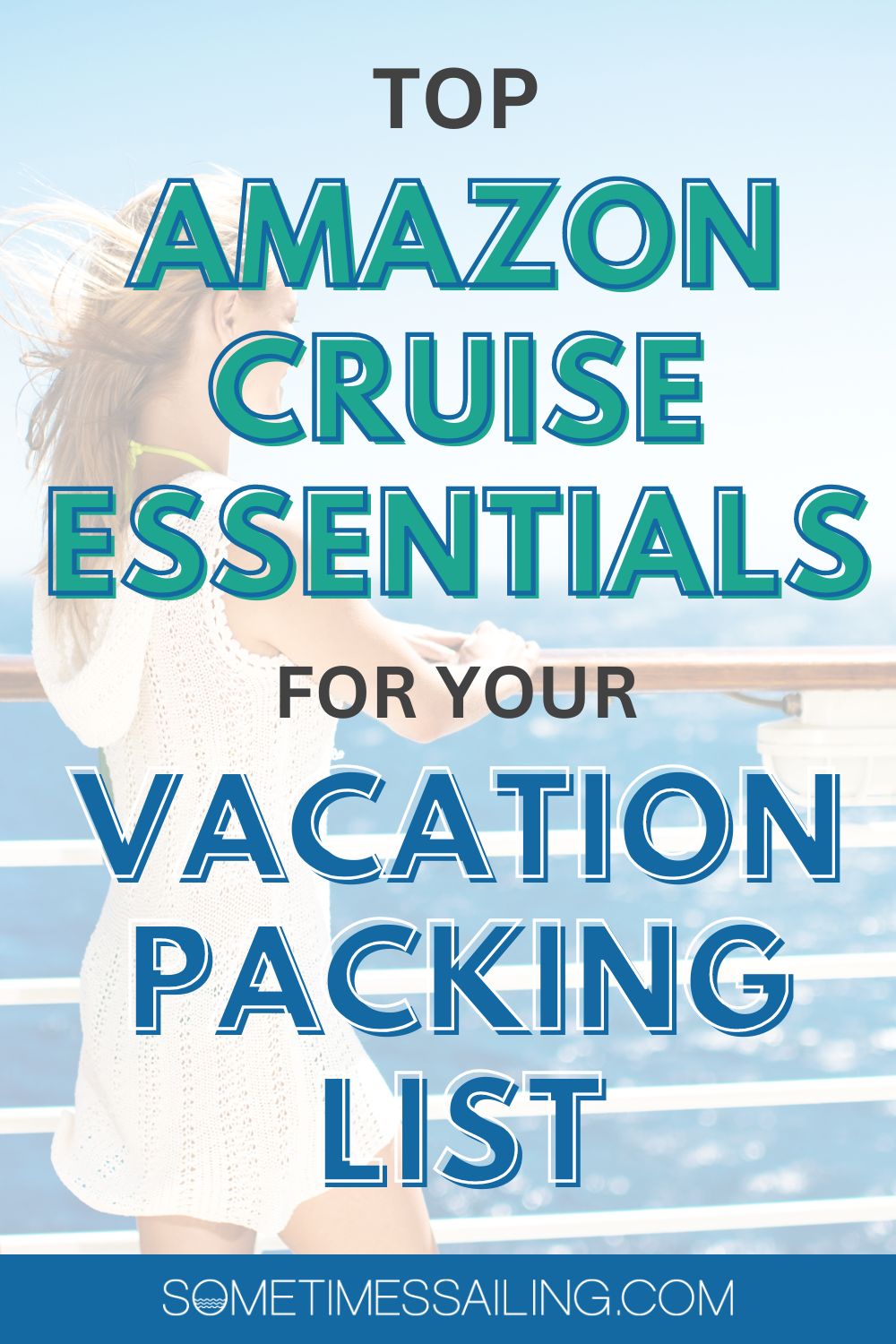 Our Top 5 Choices for Amazon Cruise Essentials
Amazon Cruise Essentials By Category
Want to skip ahead to the category you need? Here's what we will cover:
If you're not already a member of Amazon Prime, we highly recommend it! Here's a link for a FREE 30-day Amazon Prime trial, where you can enjoy free two-day shipping, free Kindle books, special discounts on products, and more.
Our Amazon Essentials are from Personal Experience
Having been on many cruises, we know the essentials you need to make your vacation a success and a breeze! Whether you're going on a big or small ship cruise), this Amazon cruise essentials list was created from our own experience and insight. Some things are nice-to-have, not need-to-have; others are essentials.
Cruise Luggage Amazon Essentials
Apple AirTags
Apple AirTags are life savers. We wouldn't be surprised if you have heard a story or two about an airline losing someone's luggage, that the customer was able to track down because there was an AirTag in it.
We have them in every bag we travel with whether it's our main luggage, daypacks, o my handbag. No matter if we carry-on our bags or check them.
We have puchased several 4-packs of AirTags. The investment is worth it because it can save you so much time and money if your luggage is lost, misplaced, or a bag is stolen.
We keep our AirTags in waterproof cases we purchased on Amazon to protect the device.
Luggage Organization and Storage
Packing Cubes
All the rage, packing cubes not only organize your suitcase, but allow you to pack so much more. We know that the secret isn't just any packing cube — it's COMPRESSION packing cubes!
Our absolute favorite high-quality compression packing cubes that we use for every trip are Nomatic brand. We each have a few in the small and medium sizes.
Reusable Silicone Bags
We use Stasher bags for everything from snacks for the flight or drive to a port, to toiletry holders so liquids don't leak, to organize day pack items. In fact, we suggest 16 ways to use them for a cruise. Help cut down on waste and have a sturdy storage option for your cruise.
Shoe Bags
Are you a person who cleans your shoes every Sunday or irks at the thought of dirty shoes in your suitcase? Shoe bags are your savior.
You can buy a sturdy zippable shoe storage option for travel like this bag that holds up to three pairs of shoes in each bag, plus socks, depending on the type and size of your shoes. It will fit nicely in your suitcase and goes well with the Nomatic Compression Cubes.
For a more casual option, buy the pack of flexible drawstring shoe bags. That pack is exactly what we bought and it's what we use.
Laundry Bag
The BEST travel laundry bag is a STNKY bag. It's an odor-eliminating bag and we take it on every trip. We hang it from a hanger in the closet or a magnetic hooks on a wall if the stateroom has magnetic walls.
It helps us keep dirty clothes separate when we pack to go home or need to do laundry during a cruise.
Cruise Essentials for your Paperwork: Passport, Visas, Vaccination Card, and Cruise Docs
Passport Holder
🚨 Did you know that if the last page of your passport, with all the important info on it, gets damaged you could be denied at Customs? That's why we make sure that our passports are in a holder so they don't get accidentally crushed or ruined in our backpacks when we travel.
There are two great options we recommend depending on what will give you peace of mind and keep your passport safe. No matter if you're going on a closed-loop cruise or embark on an overseas cruise, you'll find a passport holder handy.
The first one is a holder that goes around your neck and has zippered pockets. It can double as a money holder during day trips. This passport holder comes with a wearable strap and has storage space. It holds your passport, money, cards, and other goodies. The two zippered pockets will keep your things safe and secure.
Another option is a simple holder that has pockets and a strap to hold it closed. We have these to protect our passports and keep things like vaccination cards, business cards, and credit cards in the card pockets. (We keep minor credit cards in here we don't usually use and keep the major ones in our wallets.)
We LOVE that this passport cover has an RFID blocker, and the strap to keep it closed is essential so it remains intact in our bags and backpacks. It comes in multiple colors.
Vaccination Card Holder
The pandemic days when you had to show your vaccination card everywhere may have passed, but some places and nations still require proof of vaccination to enter. This may apply to cruises, too, especially if you disembark the ship. Why not be prepared for it? This is a "nice to have" not a "need to have," but we have our cards in protectors like this, which is why we recommend it.
Keep your vaccination card safe and easy to see in this clear, high-quality nylon holder. This card holder comes with two 4 x 3 waterproof cardholders with a secure zip seal. A detachable lanyard is also included.
Folder That Securely Closes for Cruise Documents (including Travel Insurance Docs)
This zippered document folder is fireproof, waterproof, and is built for durability. What's great is the inner folders are color-coded and labeled for easy organization.
So what do you put in it? Anything that you'll print or receive in the mail because it's true that a lot of cruise lines still snail mail physical documents and papers! You can also include your own itinerary documents (like anything from your travel advisor), travel insurance documents, and cruise materials all in one place.
Best of all, nothing will get crumpled, ripped, or wet, and you'll know where to find all important docs aside from your passport (which is in its own protector) in one place!
Essential Footwear on a Cruise
Shoes with Non-Slip Soles
In general, cruise staff do a wonderful job of preventing slips and falls by being on top of spills and messes. But non-slip shoes can make you feel more secure around the pool area and off-ship. This was especially true when we were on sailing ships like our Maine Windjammer cruise or Star Clipper sailing.
These casual non-slip walking shoes by Itazero for men are breathable, comfortable and have that perfect cruise look. For women, these STQ Air non-slip sneakers come in nine different colors so you could buy more than one pair for a different look.
I love Skechers non-slip shoes. I always have a black pair because they match everything. My pair has a loop on the back so I can carabiner them to my bag if needed for a day trip or when we carry-on luggage, which we do 99% of the time instead of check bags.
They have great options for men and women, and they are very comfortable. I speak from personal experience! And I tried on a lot of sneakers, including big brands like Nike and Adidas, before buying my Sketchers. A perk is that many of their shoes are washable; simply read the description of the pair you're interested in buying.
Dan likes his New Balance shoes in black because they match everything, and he likes their styles a bit more than Skechers options.
You can't go wrong with either brand. Just make sure it says non-slip or slip-resistant in the description.
If we're doing an excursion that requires a lot of walking, like hiking to a great viewpoint during a river cruise in the Danube River area and Bordeaux, we need to make sure we can comfortably walk for hours.
Our non-slip shoes double as very supportive shoes that we can do easy to moderate hiking in.
Casual Supportive Footwear
Some of us need that extra support to keep our backs intact at a certain age, don't we? With each passing year, we find that supportive footwear is increasingly important when traveling.
You'll need supportive casual shoes to walk around the ship even if you don't go on hikes. This is especially true if you're going on an ocean cruise because the ships are very large, and you'll clock a lot of steps throughout the day, even if you never get off the ship.
When you're going to be on your feet a lot, get supportive insoles.
Whether you have plantar fasciitis, a bad back, or a high arch in your foot, these insoles could be the difference in your happiness on a cruise.
We know. The reason we started paying more attention to things like this for our cruise packing list was that our backs started to hurt more frequently and quicker on trips without them.
We very much trust Sof Sole brand. Dan used to work for Implus, the company that owns the brand, and we have many insoles by them.
Dress Shoes
Have you booked your reserved upscale dinner(s) yet? When we sail on Disney Cruise Line, we like to book a dinner at Palo or Enchante, which is dressier than the included dining. It gives us a reason to get dressed up! This night to look forward to means we need to pack proper dressy shoes.
Don't forget about your dressier shoes so you can look your best from head to toe.
Here are four recommendations for you depending on your style:
Pool Shoes or Flip Flops
Hanging around the pool? You'll definitely want easy-on and easy-off footwear. I don't go on any cruise without a pair of my Reef sandals. I have purchased the same pair of Reef Women's Ginger Sandals multiple times over the years, but they're so durable one pair lasts me over 5 years. The men's options from Reef are fantastic too.
If you want another option, try the Oncai flip-flops. They are "are said to be "yoga mat comfy," non-slip, and stylish too! They also come in a dozen colors.
Adidas is another brand that has slip-on pool sandals for men that will last for years. They are made out of rubber, so you'll be slipping these bad boys on and off easily and comfortably – but not slipping on the pool deck. They are available in multiple colors.
Camera Gear And Cruise Essential Optics (Binoculars)
Binoculars
When we know we are going on a cruise where there will be wildlife watching of any kind, whether on a hike in a port or on a cruise like in Alaska, we travel with binoculars.
We got Leupold binoculars this year and now it's the only binoculars we recommend…because they were AMAZING!
We have the Alpine HD Binoculars and the McKenzie HD ones too. There is not a huge difference between the two each at 10x42mm optics, but if we had to pick one of the two, we would go with the Alpine.
Mobile Phone as Your Camera
Smartphones nowadays sometimes have better cameras than most separate cameras. We always travel with our Nikon cameras and several lenses, but we switch between that and our iPhone simply because…#convenience.
360 Degree Camera
Have you seen these tiny cameras? They're all the rage! So many cruisers use these fun cameras for unique vacation shots. Make sure you get one with image stabilization if you invest in one for your next trip.
Lenses
For those serious about photography or taking a cruise as an opportunity to get into photography, you'll definitely want a camera lens to get all those incredible far-away and close-up shots.
Sigma is a fantastic brand for people who don't have or want to spring for the price of a Nikon, Sony, or Canon brand-name lens. We bought this Sigma 150-600 mm lens for our Alaska cruise this year after renting a Nikon version for Antarctica from KEH camera (a fantastic rental place to test out lenses, by the way), and we like our Sigma version much better.
The other lenses I recommend are:
50mm lens that's a great all-purpose lens. I ALWAYS travel with this lens.
20mm lens for wide shots. This is my go-to lens for getting cruise stateroom shots and sweeping landscapes.
24-70mm or something similar if you want one lens that covers a wide range.
GoPros (and GoPro accessories)
GoPros remains a go-to tool for capturing action. They are especially popular amongst cruisers for capturing snorkeling and scuba diving adventures. Nowadays, you can get a plethora of GoPro accessories, too, to help you be a real pro. Especially accessories to help capture selfies underwater.
These tiny cameras — that capture video and stills — a very affordable underwater camera options for less than $400, compared to underwater housing for a DSLR camera that can cost thousands of dollars.
Electronic Cruise Essentials
You may already have a lot of the items below. But just in case you need a new charging cord or battery pack before you leave for your cruise, which are very much Amazon cruise essentials these days, we have the perfect list for you below.
Portable Battery Pack Chargers
You will definitely want to get a portable charger/battery pack if you think you'll drain your phone during an excursion or hanging out on the beach all day. Don't forget to pack any cords or wires you'll need in your daypack.
For a solar battery pack that recharges itself in the sun, and then of course you can use that pack to charge your electronics, try the Hiluckey charger.
This portable charger with built-in cables is a non-solar panel battery pack Amazon cruise essential option. We appreciate that to recharge the battery pack itself, you just plug it into a two-prong outlet.
Make sure that you understand the cords that can be plugged into the portable battery pack before you add it to your shopping cart.
Charging Cords
Cord Organizer
This brings up a valid point: be sure to get a case to keep your cords organized. We love how many compartments are in the BAGSMART Travel Case and it comes in a few color options.
Kindle Charging Cord
The worst thing would be to have your Kindle's battery give out just as you reach the best part of your book. Ensure you have your charging cord to plug it into a wall outlet (or a battery pack listed above) for Kindle Fire.
Ensure the cord is compatible with your Kindle version before you add it to your shopping cart.
iPhone or Android Charging Cords
Avoid a headache and pack two phone chargers. Buying a replacement cord on the cruise is going to cost you way more money than simply packing extras. We always pack three: Dan has one, I have one, then one of us brings a third.
You also never know if you may accidentally leave one somewhere on the ship or on the beach or bus during an excursion.
Grab an iPhone charger if you're an iPhone user. For Android, make sure you have the right USB cord — either a Micro USB, or USB C for newer Android devices.
Please ensure any cord you're going to purchase is compatible with your phone version before you buy.
Camera Battery Charger
Do not forget a camera battery charger if you're bringing a camera! We always travel with a battery charger and at least two batteries. We also recommend always buying the brand name battery that matches the brand of your camera.
With that in mind, you should also buy the camera brand-name charger that goes with your camera battery. Simply search Amazon for the camera name + battery charger. I would search "Nikon battery charger" then look for my battery type and check off the brand name in the Amazon column options on the left side of the screen.
Kindle (or Digital Reader)
Packaging an e-reader for a cruise is easier than multiple books or even one book, especially if you're an avid reader going on a long cruise vacation.
The Kindle Paperwhite remains the best e-reader out there..and it's waterproof! Perfect for a cruise. It's also compact and lightweight, and a single charge can last for weeks. (We always bring a charge cord on the cruise with us though, just in case.)
It's also glare-free, which means you won't suffer the effects of glare on the Lido deck! Don't forget a Kindle case; I've always had a case on mine.
Tablet and Keyboard
We do work when we travel for better or worse. But working hard and traveling hard is a lifestyle we love, so we don't mind an email here or there as needed or a writing assignment on the go.
This means we either need to take our computers on cruises (which is not our preference) or our iPads with a keyboard. The latter option works very well for us.
Travel Keyboard
Buying a travel keyboard is your best option if you want to travel light but still want a keyboard to be efficient with getting work done during your cruise. We also use this travel hack during flights to or from the cruise ports.
There are so many fantastic foldable Bluetooth keyboard options available on Amazon.
This stylish white foldable mouse and keyboard combo comes with its own case. It works with Apple and Android devices. Another option is a black foldable keyboard with a trackpad.
Or keep it simple like I did. Get this keyboard with a special magnetic case for the keyboard to stay safely attached to the iPad case. It all fits together so nicely!
Make sure that the version you like works with your tablet and/or mobile phone before purchasing.
Tablet
Sometimes it's nice to have a screen larger than your phone to work on. It's not always necessary to invest a lot of money in a tablet if you're only using it for simple tasks, making the Samsung Galaxy Tab with a stylus a good choice. It's known for its long-lasting battery power and comes in multiple colors.
Of course, there's the trusted iPad for Apple lovers too, which is what we have. Dan and I like that all our Notes and calendars sync between all our Apple devices, including our iPhones and computers.
Outlet Converters
When traveling internationally, check to see what electrical voltage converter you may need. Often times your cruise may be equipped with American and/or European outlets. However, the hotel you're staying in before or after your cruise may require a converter for your electronics to work.
This was certainly the case during our Emerald Cruise on Emerald Azzurra on the Mediterranean. We needed an electrical converter at our pre-cruise hotel in Athens, but the yacht cruise ship had American standard outlets in every stateroom.
Thus, we travel with our converters. Our favorite brand is Tessan. See why we love it in this video we created.
Outlet Splitters (Must be Non-Surge for Approved Cruise Usage)
With numerous devices, you'll want to ensure you're able to plug in and be charged up and ready to go for a day exploring a port. That's why you should consider an outlet splitter.
This is not an Amazon cruise essential. Because truth be told, a cruise ship will often not allow them. Check with your cruise line and be sure that it says "cruise approved" on Amazon if you buy one for better odds, it won't be confiscated at your port of embarkation.
You'll want an outlet splitter with multiple outlets and USB ports. Both of our suggestions are non-surge and cruise-approved. This one is a creative cube shape, while this power strip might be easier to pack because it's flatter. Both of these suggestions have "Cruise On" labeled on the actual electronic.
Amazon Essential Cruise Hacks
To us, a lot of these things are essentials, starting with carabiners. But other things are not essential (like hooks – they're just great to have on cruises sometimes).
Carabiners
Carabiners are great. They make it easy to carry extra items with you or around you. For instance, if you're carrying multiple bags, you can join them all together with a carabiner or use carabiners to easily hang items from a bag, which we do all the time.
Sometimes we'll clip another pair of shoes to our bag, like if we need to wear sneakers for an excursion but we're stopping by the beach before going back to the ship. In that case, I'll clip my flip flops onto my backpack. You'll often find either one of our bags with a reusable water bottle carabinered onto it.
Our favorite carabiners on Amazon are:
Hooks
There are never enough hooks in the cabin are there? Thankfully you can bring your own and take them home with you.
These reusable hooks are perfect to suction to the door or wall in the bathroom. We like the black ones because they are unlikely to blend into the bathroom wall, which means you won't forget them when you pack to go home.
We have these magnetic hooks that are made to hold up to 100 pounds per hook. They're very strong. As long as a wall or a door of your cruise cabin is magnetic these will work. We use them for anything from hanging a jacket, handbag, or our laundry bag on them.
Over-the-Door Shoe Bag
Check to make sure your cruise line allows this before you bring one. Some cruises forbid this item nowadays. But if you can bring one and you think it will be useful, buy one to bring.
Hang a shoe bag over the back of a door in the statroom, and suddenly, you'll find you have much more organized storage space. This over-the-door shoe bag has extra large pockets that are see-through so you can store more and find things easily. Good for shoes, laundry, sock and electronics storage, you may find you need two!
Closet Organizer
Keep your cruise stateroom closet extra organized with a collapsible closet organizer.
You'll likely need to hang it where hanging clothing would go like dresses and pants, which is why we don't persoally think you need to bring one if there is ample shelving in the closests on your cruise. If there isn't though, you may want to conisder it.
This organizer comes with six separate shelf compartments and is available in multiple colors. To attach it, simply use the strong velcro wrap around mount and voila!
Clothespins
It's nice to have an option to hang things or keep things in place. It can get pretty windy at times on deck and you can use clothespins to hold your sarong or towels in place so they don't blow away. We have used them to hold bathing suits to chairs on the balcony too or hold socks to the shower clothesline after we handwash them.
HEGS clothespins are our favorite. Just when you think that a clothespin couldn't be revolutionized, the inventors of this clothespin wowed us. The pins have the main clip for clothes but additional side pins to hold more clothes. They're the best — we love them!
Noise-Canceling Headphones and Ear Plugs
Sometimes we just don't want to hear anything else but our tunes or favorite podcast. Depending on the cruise, we have been able to hear through the walls to the cabin next door, or the night club under our stateroom playing music until after midnight.
Drown out the world with noise-canceling headphones or ear plugs and get some peace and quiet when you want it but some guests on the ship have other ideas.
I have these Loop Experience Ear Plugs and they're very small and dare I say – stylish! And as far as headphones go, it's widely known that Beats are the best in the business.
Wrinkle Release Spray
Ugh, wrinkly clothes. Not many people I know enjoy ironing on a cruise, even if there is a laundry room with an iron available for guest use. And many cruises don't even allow them because it's a fire hazard.
That's why you need to pack anti wrinkle spray for your cruise. Bounty travel size spray not only helps reduce the wrinkles in your clothes but it also acts as an odor eliminator and static remover.
Reusable Silicone Straws
Most cruise ships only have paper straws available onboard for sustainability reasons these days. A lot of ships don't have straws.
Even so, I like a good straw and always bring a reusable silicone with me wherever I travel.
I have several of these GIR (Get It Right brand) silicone straws. They come with a carrying case and a squeegee you keep inside the straw until you are ready to use it. Then take the squeegee out and put it back in the case. Use the straw then use the squeegee to clean it when you're done and back in your stateroom.
Highlighter
Sometimes it's so much easier to plan on paper. What attractions, events, excursions, or dinners will you go to from your daily cruise navigator? Having a highlighter handy will make it easier to find information and make plans.
Sharpie Clear View Highlighters allow you to view what you're highlighting as you run the marker over the text. How cool is that?
Thank You Notes for the Crew
Appreciation goes a long way. Of course, a tip is valued but adding a personalized touch to those you meet along the way that make your cruise memorable is something to cherish.
Nautical-themed thank you cards are the perfect way to acknowledge hard work and care. Beautiful floral-themed thank you cards are timeless.
Cruise Lanyard
Want to always know where your cruise keycard is? Wear it around your neck! This trick works for Princess Medallions too.
Lanyards are a great solution for easily carrying identification and other necessary cards around. If they're retractable like this one, even better. You won't even need to take it off to use access cards.