Going to the Antarctic is an exciting prospect. And when a dream to reach this "7th continent" becomes a reality, the next thing you should think about is clothing for Antarctica, and what else you should pack for a trip to the Antarctic. It's definitely not about fashion; rather, it's about being prepared for cold temperatures!
If you're used to packing for the slopes, if you're a skier or snowboarder, it's not too dissimilar. And if you're like us, visuals for this packing list help so we have two important things for you in this post:
A printable packing list
Our Amazon Antarctica packing list that linsk you up to the items for easy add-to-cart access.
Disclosure: There are affiliate links in this post, which means we may earn a small commission if you click the link and proceed with a purchase, at no cost to you. We truly only recommend hotels, products, and services we personally use. As Amazon Associates, we earn from qualifying purchases.


Printable Packing List for Antarctica
If you're like us, you like to check things off as you pack them. This is why we're so glad we can offer you this free printable 3-page PDF to help you do just that! Print it, and check off the items as you add them to your luggage or carry-on bag.
Everything in this blog post (and then some, like everyday socks and underwear) is included in the list.
SIGN UP FOR OUR PACKING LIST PRINTABLE here or in the box below:
You will receive an email from us with a link to the packing list shortly after you sign up. Check your "promotions" folder just in case you use Gmail, and be sure to move us to your primary inbox!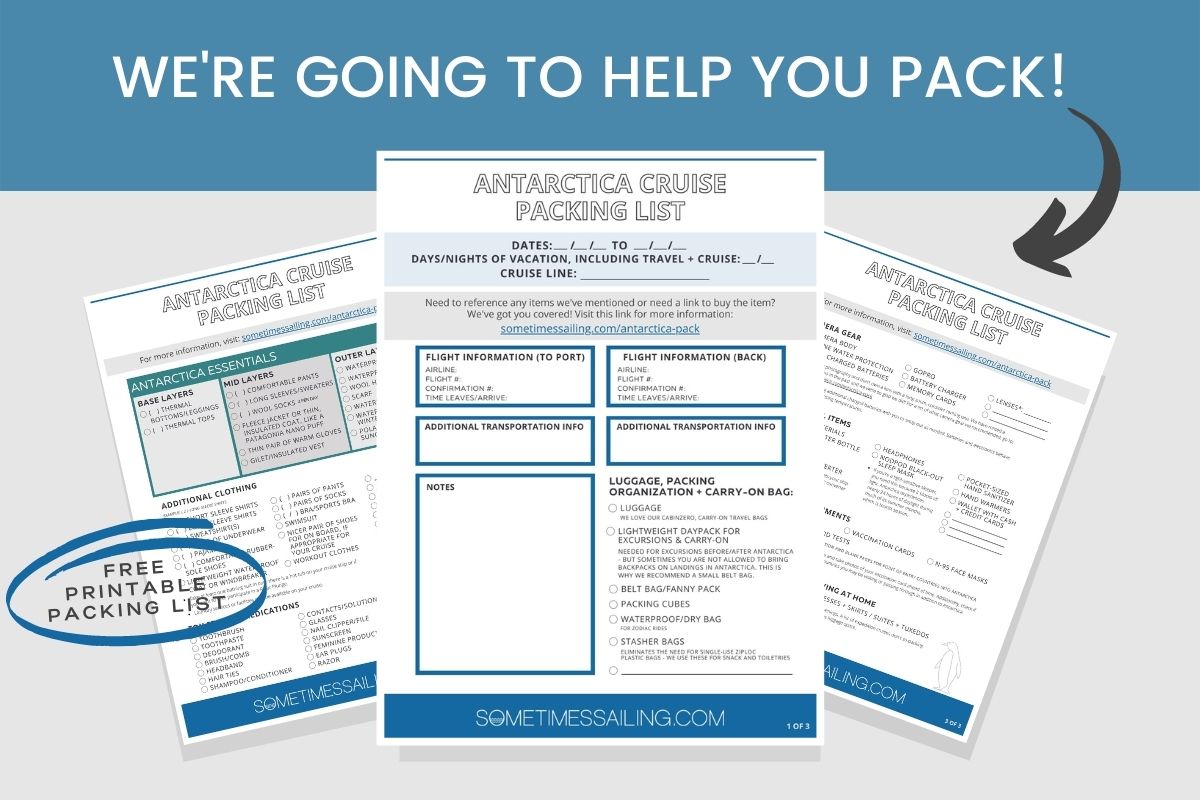 Key clothing for Antarctica: Dress in layers
You'll pack for Antarctica with layers in mind, starting with a base, mid-layers, and outer layers.
This is essential for keeping warm – and dry – in snowy, windy Antarctica.
Base layers for Your Antarctica packing list
Thermal bottoms
Thermal tops
Thermal underwear/leggings
You want quality thermal underwear (whether that be leggings or Long Johns).
Long sleeve shirts
If you can get heat-tech long sleeve shirts of any kind (ultra-insulating and warm) that's what you want to purchase. This will be a fantastic warm layer closest to your body as you layer on top of it.
Our favorite go-to store for thermal base layers is UNIQLO. Their HEATTECH items are not only warm and easy to wash but they are well priced too. Check out their HEATTECH items for him and her.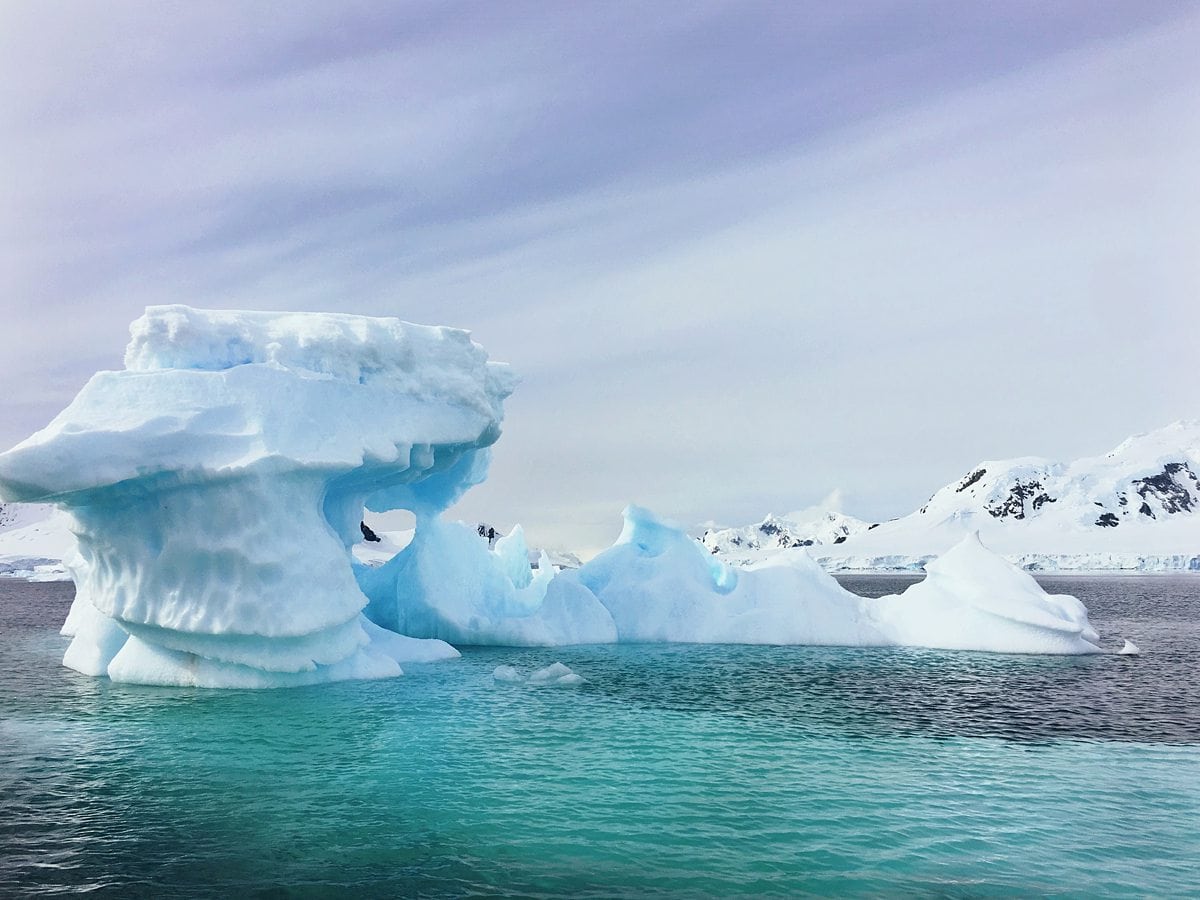 Mid layers to pack for Antarctica
Comfortable pants
Sweaters and sweatshirts
Wool socks
Thin mid-layer jacket or fleece
Thin pair of warm gloves
Gilet/insulted vest
Comfortable pants
This is your in-between layer. So keep in mind they'll be over your thermal pants but under something like waterproof pants (like snow pants). You need this layer to be flexible (like if you're considering wearing jeans for this layer) so you're able to get in and out of a Zodiac boat, for example.
Sweaters/sweatshirts
For on-land and on the cruise when you're just hanging out on the ship. Wool sweaters will keep you extra warm. Make sure whatever you pack for this layer is able to fit over your thermal base layer.
Wool Socks for Antarctica
You want to buy multiple pairs of solid, quality socks to wear in Antarctica. Stay away from socks made from blends and synthetic materials. They won't keep your feet as warm as wool socks will. Wool is an amazing material that will insulate your body heat, thus keeping those tootsies warmer than something like a cotton blend sock.
Sometimes, it may be so cold you'll want to double up on your socks. If your boots fit right and they're not hug-your-toes snug, you'll be able to double up on wool socks, especially if you have lace-up boots.
You need at least 2 pairs per day (and 3 or 4, in total, if you double up once or twice a day). Yes, that means that socks will take up a good amount of room in your luggage. But seriously – don't skimp on this. Heat escapes through your toes and feet and if your feet are warm, you'll feel warmer when you're exploring Antarctica, overall.
Thin Pair of Warm Gloves
Just like you're layering your pants and tops, you want to layer your gloves as well. Purchase something like these Smartwool gloves as your base.
Fleece Jacket or Thin Insulated Coat (like a Patagonia Nano Puff)
We absolutely love our Patagonia Nano Puff coats. They're incredibly thin and are a great in-between layer to go over thermal tops and bottoms but under your winter coat. It also rolls up to be incredibly compact, so it's great for traveling.
Gilet/Insulated Vest
Because it will be a nice option for an extra layer under your parka and it's great to wear around the ship. It's unlikely you'd wear a vest and a mid-layer jacket but options are nice to swap them out.
Outerwear for Antarctica
Waterproof Pants
Waterproof Gloves
Wool Hat
Scarf
Waterproof Boots
Waterproof Winter Coat
Polarized Sunglasses
You want to make sure the outerwear you pack is quality. You don't want to skimp out on clothing that doesn't have great insulation or that uses low-quality fabrics. That means the cost may be high for some items, but if you don't have something we suggest and you buy it, know you'll wear it again if you go to the arctic too!
That's why we have a lot of the gear already – we went to Norway to see the Northern Lights a couple of years before our Antarctica trip. And because we bought really quality items, we've had them ever since.
Your ship may provide you with some outerwear. When you sail with Atlas Ocean Voyages, as we are, for example, they provide you with several items in their "mudroom" before heading to land. These items include a life preserver for the Zodiac ride to the shore from the cruise ship, waterproof knee boots, and a parka. You return everything but the complimentary parka to them.
Check with your particular cruise to see if they provide any of these items.
Waterproof Gloves
Whether you get gloves or mittens, you want to make sure that they're waterproof, like Gortex gloves. Additionally, it's handy if they have a clip on them to stick to attach to your jacket. It's not necessary – it's simply handy!
Wool Hat
A wool hat or beanie will assure your head is super warm, which will help keep your entire body warm. Heat escape through your head, toes, and fingers so this is an essential part of that equation.
When considering clothing for Antarctica, you may even want to pack something like a fleece face mask in addition to a hat (mentioned above) and a scarf. This will help protect you from the wind. Antarctica is actually a desert and it gets very windy there sometimes. And if it isn't windy on land when you visit, it will be windy and wet as you navigate the waters of the Southern Ocean on a Zodiac.
Scarf
Another layer couldn't hurt! You may not use a scarf with your winter coat, however, perhaps you wear it in combination with your vest or a thin insulated coat. It's a great (and necessary) layer to pack. Wool will keep you warmest while synthetic materials may be the least heat effective.
Waterproof Boots
While your cruise may offer your boots for a wet landing while you're in Antarctica, you're going to want your own pair of waterproof boots that you chose and own for wearing around the ship and other destinations your cruise visits, like The Falklands or Patagonia.
Waterproof Winter Coat
Regardless of what your cruise is providing (some cruises provide a jacket), you'll need a coat for the time before you get to the ship. Besides, you may end up preferring your own coat you picked out, regardless. Make sure it's waterproof or, at the very least, water-resistant.
Waterproof Pants
Though Antarctica is a dry area (it's a "white desert") it does snow there and you need to make wet landings often (that's going between the Zodiacs in the water and the land). Because of that, you'll want your outer layer to be waterproof. Therefore, you'll need waterproof pants for your Antarctica trip.
I got these Columbia snow pants so I was sure to have a warm, waterproof option.
Polarized Sunglasses
Don't let the snow and cold weather fool you: the can be sunny in Antarctica. And if you're ever been out in the snow on a sunny day, especially skiing, you know that the white snow reflects the sun hard and harshly.
Pack one or two pairs in case you lose one. Having a pair of polarized sunglasses (which means they have a special light-reducing coating on the lenses) will help reduce sun flare and further protect your eyes.


Why the month and time of year you are packing for Antarctica matters
We quickly want to note that when you visit Antarctica matters. It'll likely be during their summer between October through March.
The continent is located in the Southern Hemisphere, which means they experience opposite seasons from North America, like where we live in North Carolina. Our summer is their winter, and vice versa.
It's highly unlikely you'll visit Antarctica during its winter. While it's easier to survive there during summer, brutal temperatures and wind take over during winter. Even scientists avoid winter visits.
But even during summer, the temperatures are between 30 to 40 degrees Fahrenheit. As the "white desert," Antarctica experiences a lot of windy dry days. Beware and be prepared! We've considered these factors when we created this clothing for Antarctica packing list post. (We've got you covered!)
We also want to note that because it's at a pole (the South Pole in this case) it experiences many hours of daylight. Your cruise line's cabins may have great blackout curtains but they may not. Why risk it?
Because of this, we recommend packing a Nodpod for your trip. What's a nodpod, you ask? It is the BEST blackout weighted sleep mask on the market! It's truly amazing and we cannot recommend it enough. So be sure to purchase one with coupon code "SOMETIMESHOME" for 15% off your order, and thank us later!


Additional Antarctica gear and clothing to consider
Now that we have the essential layers down for a trip to the Antarctic, here is some additional Antarctica gear you may need:
Bathing suit
Handwarmers
Lightweight coat or windbreaker
Additional clothing for around the ship and everyday undergarments (all added to our printable packing list, in depth), including workout clothes
Bathing suit
We recommend bringing one bathing suit just in case you want to take the "polar plunge" or there's a hot tub on board.
Handwarmers
Because we like warmth and we're sure you do too! Why not, right? We packed some of these for our trip to Norway and we were so grateful we had them! Especially during our polar arctic cruise in Tromso! The Hothands Hand Warmers are our favorite.
We have gotten the toe warmers in the past but if a toe warmer you put into your shoes doesn't work it ends up being a nuisance because you feel it in your sock while you're walking around and can't take your shoes off to get it out (because then your feet would freeze and maybe even get wet with the snow on the ground.)
Lightweight Coat or Windbreaker
It's likely you'll be in other locations before or after you reach Antarctica. For example, a Hurtigruten Antarctica cruise may go to Patagonia first in Argentina and Chile, or you may be on a journey that takes you to South Georgia Island, like some Abercrombie & Kent cruise itineraries.
In these instances, it may be a bit warmer north of Antarctica but still windy on the water. This is the perfect situation where you'll be grateful you have a windbreaker.
Additional Clothing for around the ship, including workout clothes
You'll have plenty of time at sea during an Antarctica cruise, particularly if you're sailing to Antarctica (as opposed to flying there and meeting your cruise ship on the seventh continent). If you like working out during your vacations or days at sea, you'll want to bring workout clothes so you're prepared to do so.
Don't forget to check if your cruise ship has laundry services or facilities onboard so you can re-wear dirty workout clothes and other garments throughout your Antarctica cruise.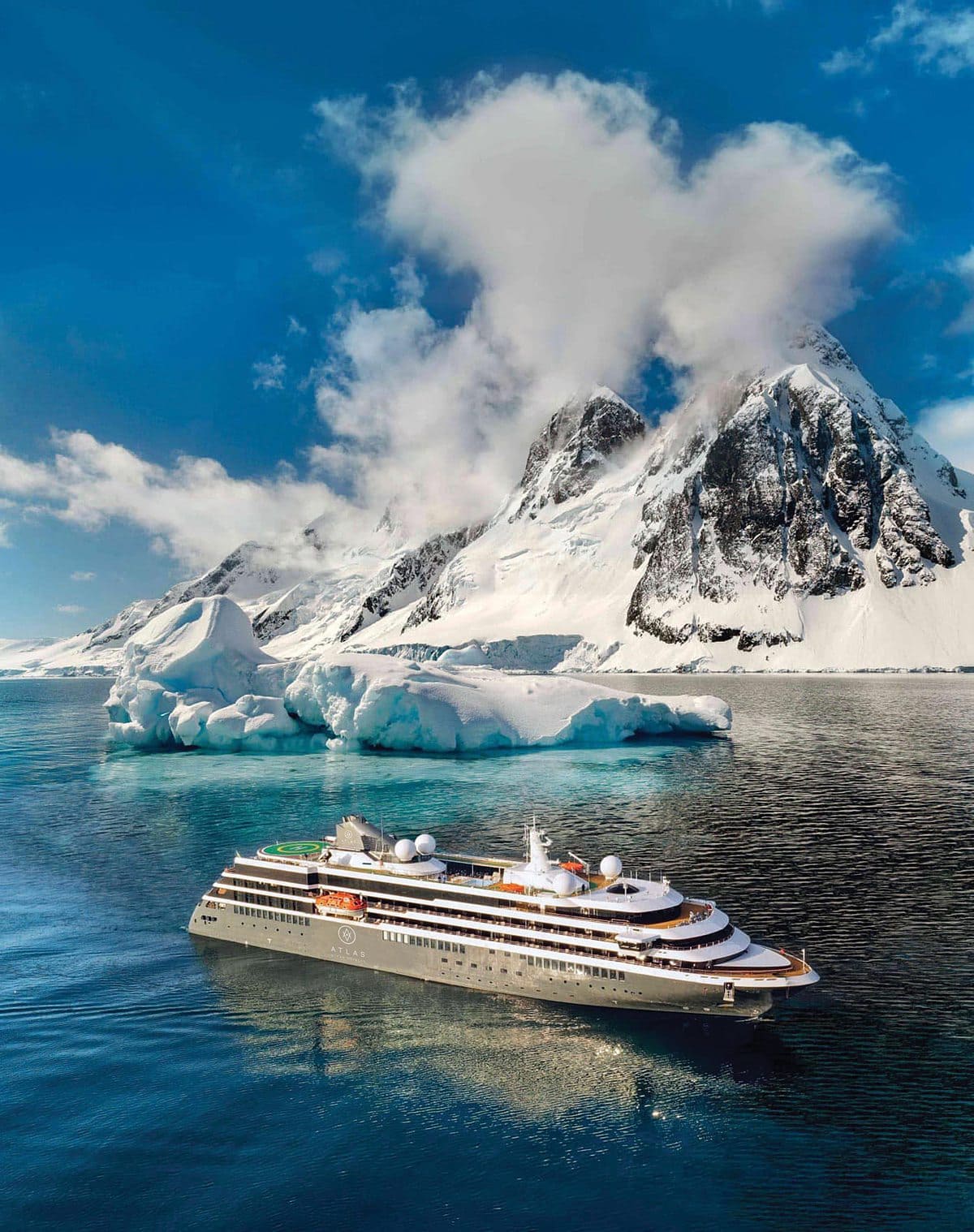 Toiletries and Medication for your Antarctica Cruise
This is just a sampling of the more complete list we have on our downloadable, printable packing list for Antarctica:
Toothbrush with Toothpaste
Shampoo and Conditioner
Moisturizing Cream
Lip balm with SPF protection
Sunscreen
Motion sickness medication
Toothbrush
with Toothpaste
This is a good thing to bring in your carry on because of the long flight to your point of departure. You'll likely want to brush your teeth at some point.
Shampoo and Conditioner
These toiletry items are up to your personal preference. We like to bring them because we like a higher quality shampoo and conditioner than any cruise ship or hotel provides. Or, you may have a prescription shampoo, for exmaple.
We just like what we're used to at home. But if you're not particular you can use what the cruise ship provides.
Moisturizing Cream
This is an essential we can't travel without, especially to a cold region. A cream is preferred over lotion because it will last longer and do a better job of repairing any dry or cracked skin. Dan and I have sensitive skin, and though we know there may be lotion provided by the cruise line we bring our own cream because the difference is always staggering.
We recommend travel sizes of CeraVe or Aquaphor, which are incredibly moisturizing, restorative creams.
Lip balm with SPF
Because it's windy, dry, and sunny in Antarctica. We recommend a reputable brand, like Aquaphor, Sun Bum, or Banana Boat.
Sunscreen
Don't let the cold atmosphere fool you: the sun can be brutal in Antarctica, especially as it reflects off the white snow. Protect yourself and pack (and use) sunscreen, everyday!
Motion sickness medicine
If you think there's even a chance you may get seasick, you want to pack motion sickness medicine. Especially if you're sailing through the infamous Drake Passage during your cruise to Antarctica, which sometimes has swells of over 30 feet! (Other times it's calm and they call it the "Drake Lake," but why not be prepared for the worst and hope for the best?)
What to Pack your Liquids in for your Antarctica trip
We put our liquids in a reusable Stasher Bag. This includes our favorite shampoo, conditioner, and moisturizing cream. They help reduce single-use plastic and we just love how secure our liquids are in them.
Finding out a tube of shampoo exploded in your bag from the pressure of a flight or because the cap was loose is never fun, so we make sure that we pack our liquids in the same half-gallon reusable, environmentally-friendly Stasher bag when we pack.


What else to pack for your cruise to Antarctica
Passport (and visa if needed)
Reading material, like magazines or a Kindle
Headphones
Downloaded music/podcasts
Motion sickness medicine
Lip balm with SPF
Journal
Passport/visa
Do not forget your passport! You won't need it in Antarctica – it's not like there's a custom border there. But you will need it at your point of entry country, where you board your cruise ship. For example Ushuaia, Argentina, or Cape Horn, Chile. Also, depending on what country you're traveling from, you may need a visa.
Reading material
We love our waterproof Kindles because they're small, lightweight, and have multiple books on them. And if one of us is trying to sleep and the other person is trying to read, the backlight on our Kindles is adjustable and great to read in the dark.
Don't forget to buy a Kindle case and load books onto the device if you're new to the Kindle world. (If you are…welcome to a fantastic world of endless reading possibilites!)
Headphones
This is mostly for the plane ride, or any vehicle rides on land before the cruise. There are also days you'll be at sea and if you're like us, you may want to listen to some audiobooks, podcasts, or music during the cruise.
Music/podcasts/audiobooks
Speaking of headphones, if you want to listen to something that has to be downloaded, download it before your Antarctica cruise. It's likely that there's wifi on your cruise, but it's also likely that no matter how strong the cruise line claims it is, it won't be strong enough to download files. And if you're home packing for Antarctica anyway, why not just do it where you know you have reliable internet?
If you don't have an Audible subscription, now is the time to test out a free trial for Audible Premium Plus. Same goes for Amazon Prime Music: sign up for a free trial.
Journal
if you're a person who enjoys journaling during a vacation, pack a journal. We love some of the custom journal options Etsy has, but if you are a dedicated Amazon shopper they have good options as well.
Don't forget to make a quality photo book of your Antarctica cruise adventures after your trip!
What NOT to pack for Antarctica
Dressy clothes
Open toed shoes
Expensive jewelry
Dressy clothes
You don't need to pack fancy clothes like gowns or a tuxedo for a cruise to Antarctica. Though your cruise may get a little more dressy, expedition cruises are primarily about the expedition attire and not formal nights. A formal night likely doesn't exist on your cruise. If you want to be on the safe side, pack a pair of nice slacks and a collared shirt, or a nice blouse and pants.
Open-toed shoes
It's likely you can skip any open-toed shoes for your Antarctica cruise.
If there is a spa, inquire to see if you can wear slippers they provide to the spa. If there's a pool or hot tub on the top deck you may want to throw a pair of slippers or easy flip-flops if your cruise line allows them and they don't take up too much space in your luggage. Otherwise, you probably won't need any open-toe shoes. However, if you want to bring a fancy pair for dinners, that's up to you.
Expensive jewelry
A river cruise or luxury sailing may be a great place for you to consider packing your pearls, nice cufflinks, or diamond earrings. But when you pack for an Antarctica cruise, you can leave those things at home.
Dan will have a nice watch with him on the less-expensive side because he wears them every day, and I will wear my Omega sailing bracelet because it's casual and I technically never have to take it off.
When we travel on these kinds of trips, I usually leave my engagement ring at home, especially because I worry the prong will get caught on the fabric of my gloves when I take them on and off several times a day.
Camera gear and lenses for Antarctica
There are hundreds of cameras on the market by various camera companies. We'll speak to the lenses that will be useful in Antarctica and link you to the Nikon, Canon, and Sony equivalents (or as close as possible).
If you want to capture an ultra-wide shot, you want something like a 20mm lens or a 35mm lens. An 18-70 lens is also good if you like a zoom lens rather than a prime one (one that doesn't zoom). We don't personally find there to be too much of a difference between a 50mm and a 35mm in our style of photography, so we usually pack our 20mm when we want to capture a vast landscape of amazing scenery in front of us.
We have rented from Borrow Lenses in the past and we can't recommend them enough. Just make sure you're able to rent for the length of your cruise. We recommend opting to add on the highest insurance option because it gives you more coverage than the base insurance does with Borrow Lenses.
It is likely that if you sign up for their newsletter, they will offer you a promotion for 20% off your first rental.
Going on a cruise? Also check out: