European Waterways Review: 20 Surprising Things About our Barge Cruise
Our first European Waterways barge cruise did not disappoint! In fact, while there were things we expected, we were surprised by many other elements of the cruise. This included things like the cuisine, the dress code, and crew to unexpected afternoons simply sailing.
Read on for our European Waterways review and gain insight into our delights and shocks when we sailed on Anjodi in Southern France.
Disclosure: This post has affiliate links, meaning we may earn a small commission if you click the link and proceed with a purchase at no cost to you. We thank European Waterways for hosting us. We truly only recommend cruises, hotels, products, and services we personally use. As Amazon Associates, we earn from qualifying purchases.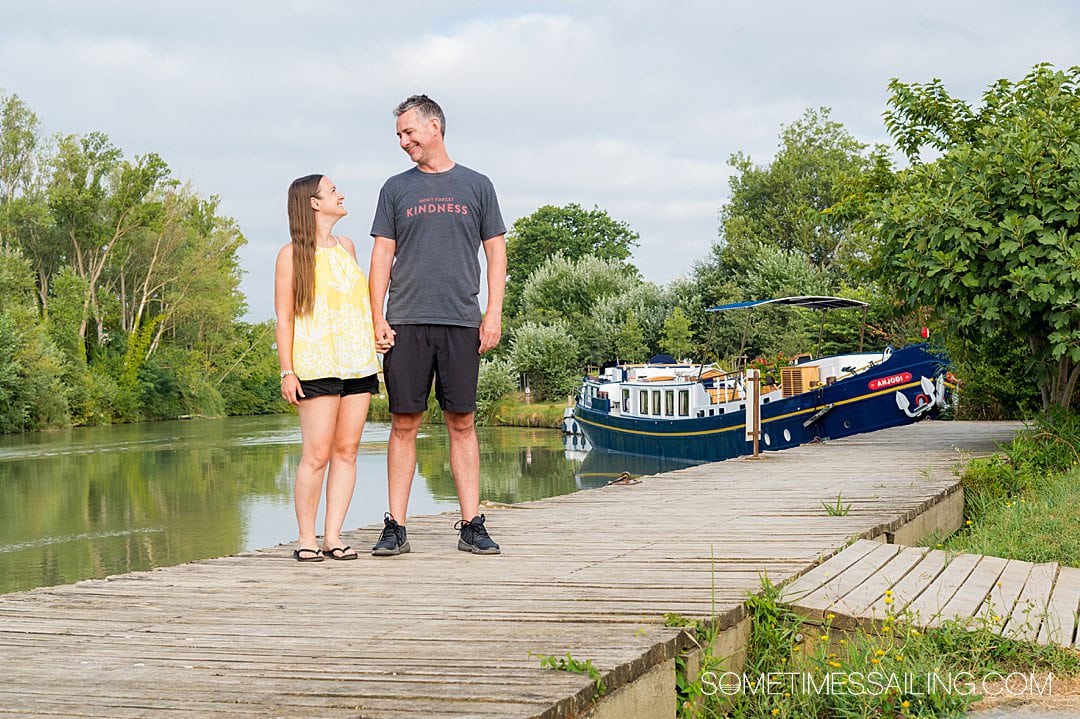 1. The Dress Code was Casual and Informal
We knew there weren't any formal nights, per se, but we did bring something a little dressier for the Captain's dinner the last night of the barge cruise.
What we didn't expect, however, was how informal the entire trip would be. You need to pack light because though the cabin was larger than we expected, the storage space (though ample) was tight. So you don't have room for an entire wardrobe with loads of options (including formal attire) anyway.
The weather was hot, hot, hot during our summer cruise on Anjodi with European Waterways in the South of France from late July to early August. This meant packing shorts, t-shirts, a swimsuit for the onboard spa pool, and dresses for me. Dan packed two lightweight, short-sleeve collared shirts for a dressier option.
You do not need to pack these things for a summer cruise: more than one pair of jeans, long sleeve shirts, jackets, and the like. I packed a very lightweight cardigan but only wore it once indoors when the air conditioning at dinner was a little cool. (Our trip to Europe included some time before and after in Lyon, France, and Geneva, Switzerland, with our barge cruise sandwiched in between, so I wanted a lightweight cardigan for the trip overall.)
But we agree with European Waterway's recommendation: your canal barge cruise packing list should be light and done in a soft bag, like a duffel bag or backpack.
In the photo below, you can see how casually we are dressed. And the photo of us on the left is the "dressiest" we got for the restaurant dinner on land one evening, which was fairly casual. We wore something similar for the captain's dinner the last night – the captain wore slacks and a collared lightweight shirt too.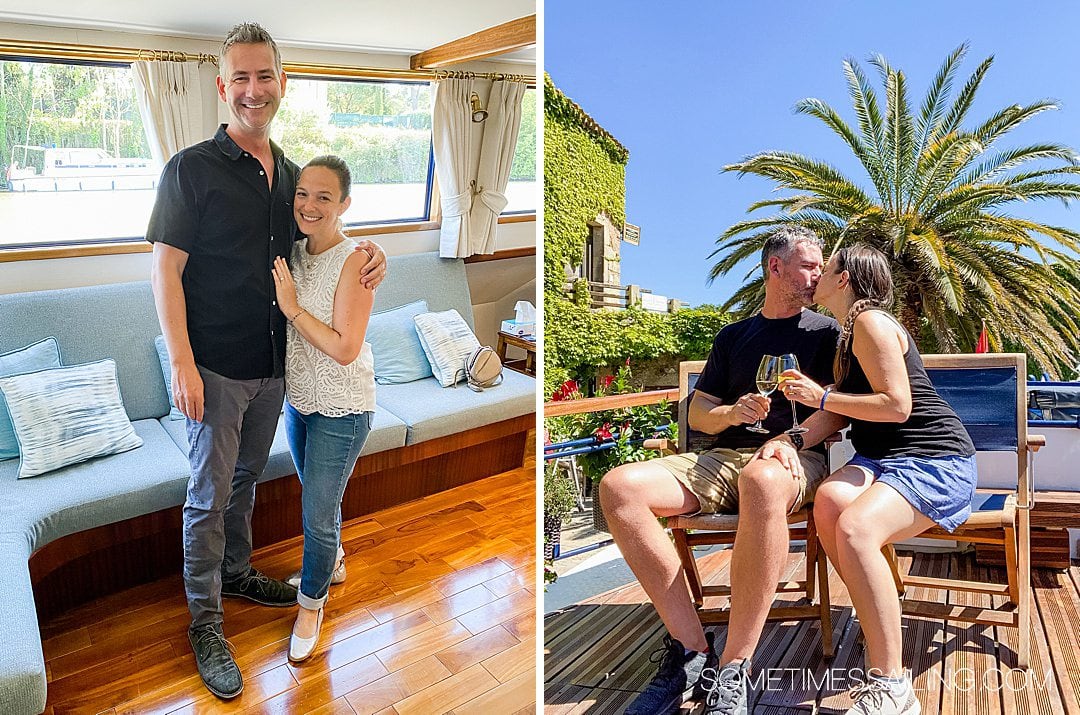 2. Our Cozy Cabin had Enough Storage
Our cabin (or stateroom) was perfect. We were in the "Thym" room on Anjodi, which was 91 sq. feet. (Each cabin has a name; you know which you're in when you book.)
European Waterways recommends you pack light and pack in a soft piece of luggage. This is because there is no room for a hard shell carry-on or hard shell luggage (especially larger bags) anywhere in the room.
Whereas you may have storage under your bed on an ocean cruise where you can stow your bags, you do not have that space on Anjodi.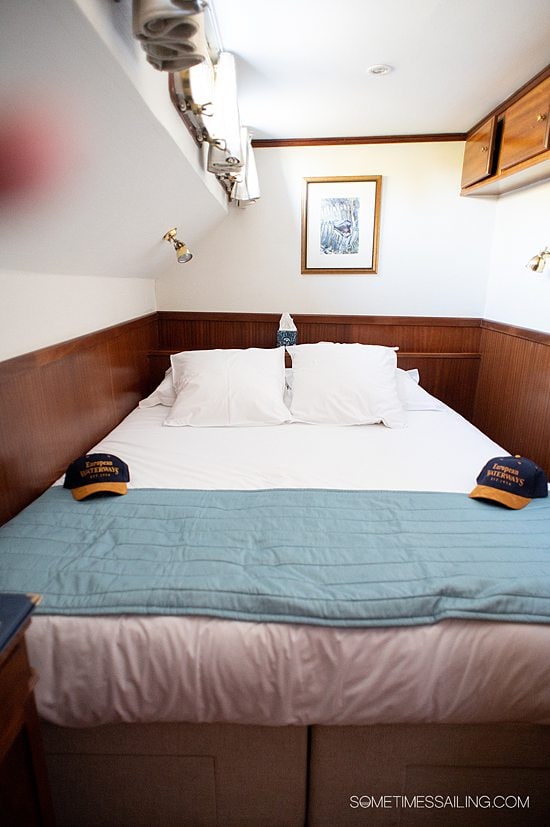 At first glance, when we saw there was a small closet, two drawers under the bed, some small shelves inside a nightstand at the foot of the bed, and an overhead storage cabinet with three small cubbies, we thought, "Where are all our clothing and toiletries going to fit?"
However, when we unpacked, not only did it all fit, but we had extra storage space!
We recommend bringing some carabiners so you can clip your toiletry bag onto the porthole in the bathroom. We clipped ours onto a metal porthole window loop which worked perfectly for us. (Carabiners are a cruise essential for us – we always travel with them.)
➜ Travel Smartly: get your cruise-essential carabiners on Amazon


3. We Could be Barefoot Most of the Time
Speaking of casual and informal attire for the whole trip: most people were shoeless when we were onboard, whether in their cabin, on deck, or in the common dining area where there is also a couch.
Guests were barefoot, even for dinner, which was fine with the crew and other guests. Everyone's feet were on the carpet, underneath the table as if we were all at home. The onboard atmosphere is casual and relaxing!


4. It was Very Relaxing to Have a Daily Afternoon Sail on the Itinerary
We were on the ship for six days, sailing through the South of France on the historic Canal du Midi. Most days, the itinerary was breakfast, a guided tour in a nearby town, lunch, sailing on the canal for the afternoon, and dinner.
We were surprised at just how enjoyable we found slow cruising to be each day. But that's a major part of what canal barge cruises are all about.
There's something about the ship only going 4 mph (6 kph), to be exact (which is the max speed the boat can go on the canal), that causes your whole mind and body to adjust to the calming, decelerated version of this wonderful barge cruise you're on.
It was as if the world insisted we slow down to fully appreciate our vacation during our afternoon sails. We obliged.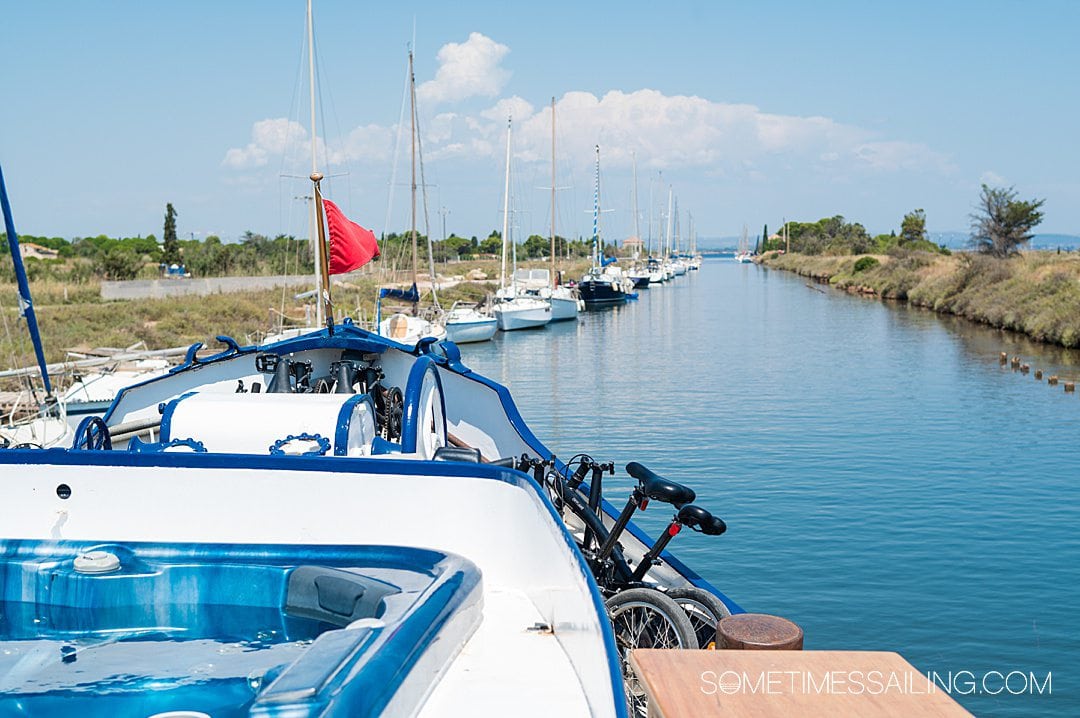 5. The Spa was Very Refreshing
We were delighted to learn that there was a hot tub (or "spa") onboard after we booked the cruise. We've had pools onboard small cruise ships in the past, like on Emerald river cruise ships; we really missed having a pool onboard during our Viking River cruise just weeks before our barge cruise.
We packed swimsuits, prepared to enjoy the spa towards the bow of the small ship. And boy did we ever! Before we got on the ship, we were curious about how enjoyable a "hot tub" would be in the heat of August in the South of France.
But our captain, Laurent, an expert on canal barge cruising through and through, told us he keeps the temperature at 34 degrees Celsius, which is a few degrees lower than body temperature. (That's just under 94 degrees Fahrenheit.)
Because of this, the spa is quite refreshing. In fact, it often felt cooler in the spa water than it felt standing outside on deck. There was also a cool view of the canal from the hot tub.
We highly recommend the onboard spa. Don't fret about the temperature: it will not be hot, like the summer weather! In fact, it's the opposite: refreshing and cooler than the air and sun surrounding you.
14 of the 17 barges in the European Waterways fleet have spa pools.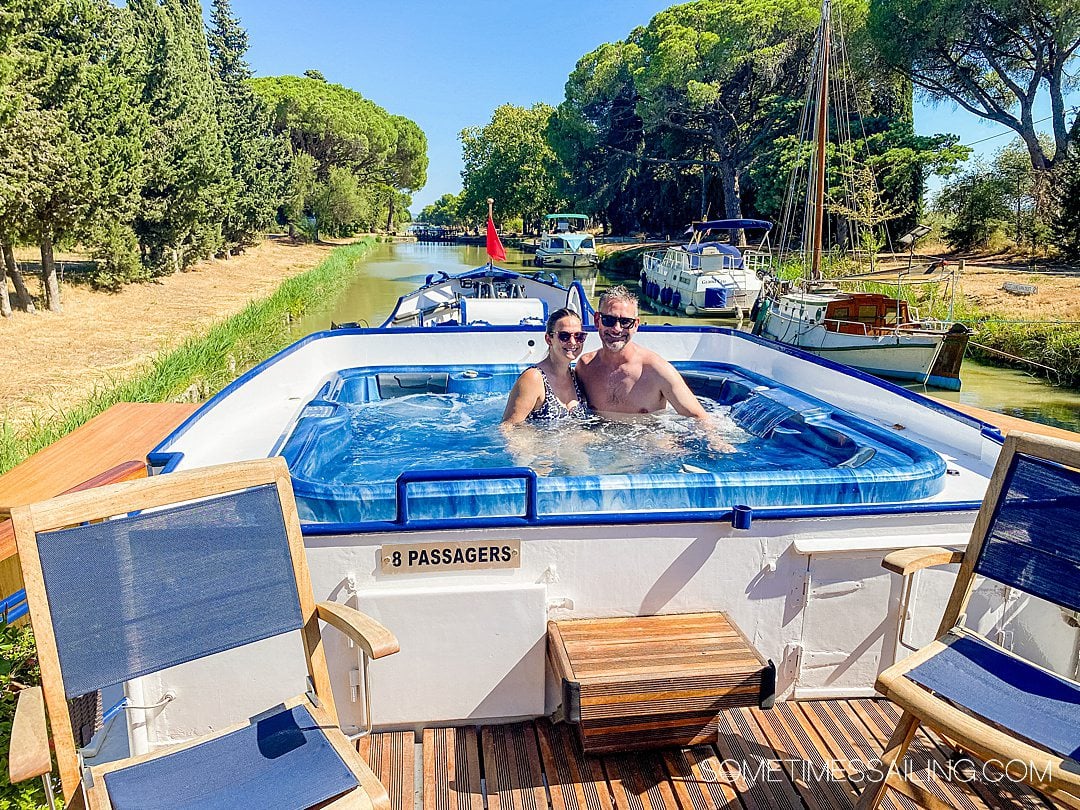 6. A Crew of Four People Accomplished so Much
Eight was the maximum amount of passengers on our ship. And we actually only had five people on our barge cruise trip, including us. As such, because the boat is small and there are only so many guests, there is only a small crew to accommodate the passengers' (and boat's) needs. There is only room for so many crew onboard anyway!
There was a:
Captain (who we quickly realized acted as an engineer and a deckhand as well)
Host who was in charge of the rooms and serving meals. She was also a bartender of sorts.
Guide who was sort of like an activities manager and also our driver to get to/from the ship to land destinations
Chef, in charge of all our meals (who was incredibly talented)
They worked together to make the trip a success.
If the captain had to open the spa, for example, our host was right by his side to take the helm for a few minutes. If our host had the night off (the crew rotates nights off), our chef offered us cocktails after dinner.
It was a beautiful team effort. Though they were only four crew members, they accomplished so much. (And earned every bit of tip that the guests gave them at the end of the cruise!)


7. Clearance Under Bridges was Exceptionally Low
We know that ships often have low clearance under bridges. For example, the clearance of Majestic Princess seemed close when we passed under the Golden Gate Bridge in San Francisco.
And once in a while, a river cruise ship seems close to the bottom of a bridge it passes under as well.
But the proximity of barge cruise vessels to the bottom of small, tiny stone bridges they pass under is a jaw-dropper in most areas!
The captain always makes sure that everyone on the top deck is sitting down during these times as he lowers the shade over the main table as well to allow clearance.
It's all a part of the fun and experience of canal barge cruising.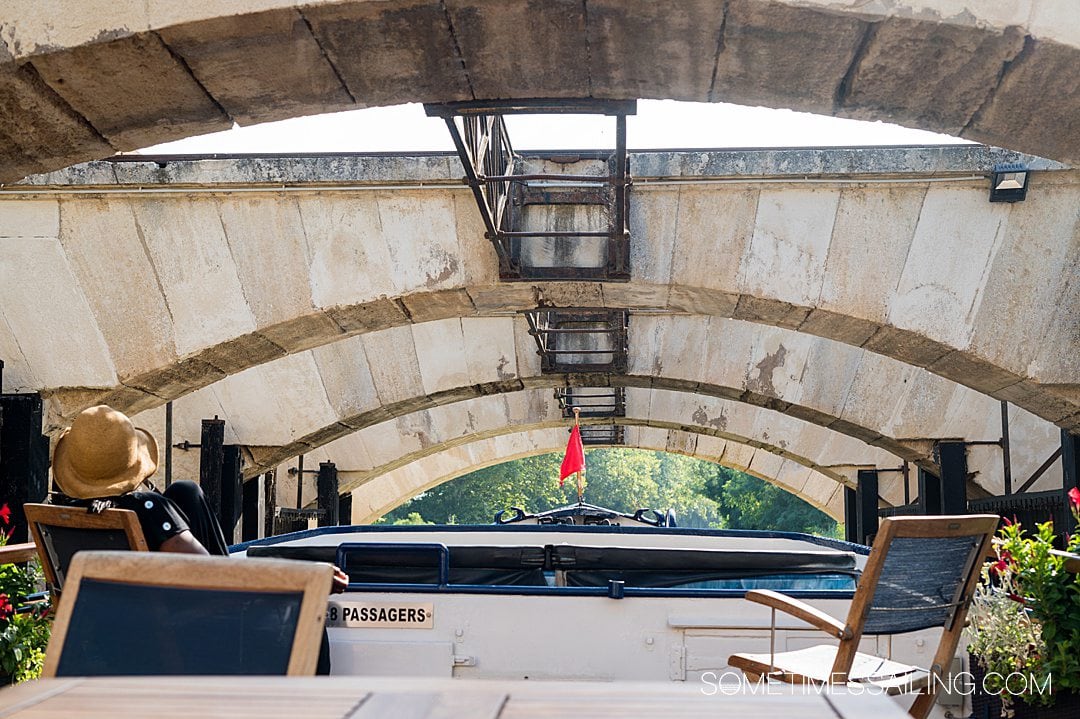 8. We Got a Feel for the Local Culture in Small Ports
We were on our barge cruise during summer, and it was great to understand how many Europeans traveled to the South of France during July and August. It's truly a part of their culture. But no matter the season, you'll get a feel for what the locals do when you sail and walk around the towns you visit.
Even seeing how many rental boats were on the canal (they're easy to spot because they all say "La Boat," which is a popular rental company in the area) showed us a part of the summer culture of the area.
You gain a deeper understanding of the culture when you get away from major tourist cities, such as Paris and Nice, and explore hidden gems, like Sallèles-d'Aude and La Somail.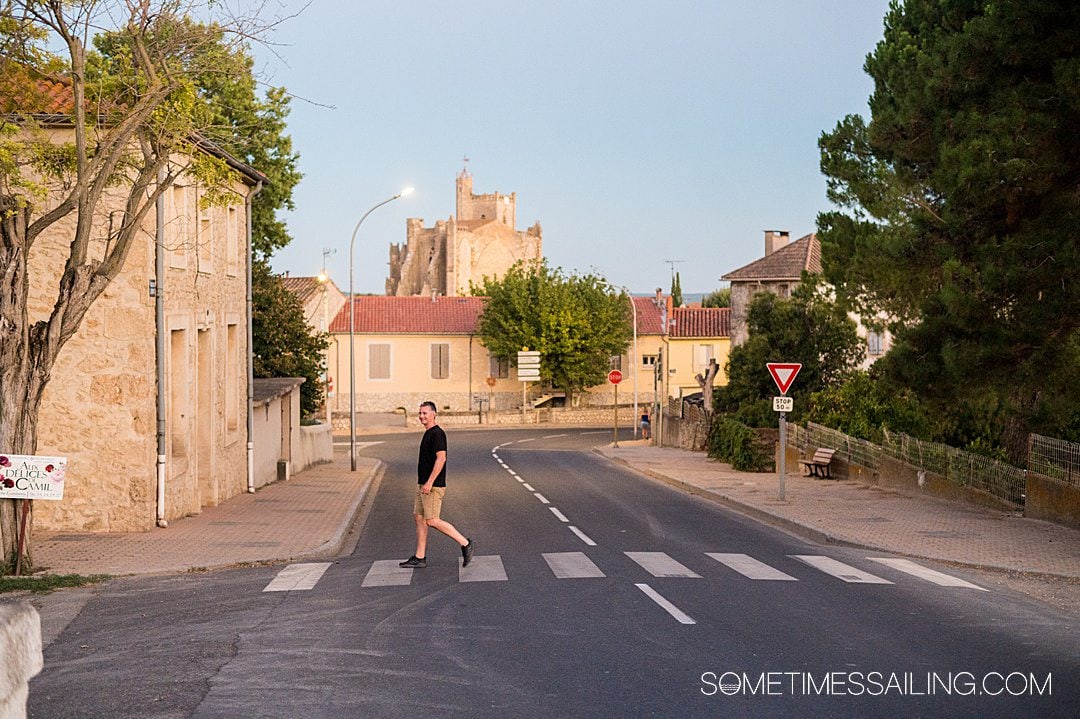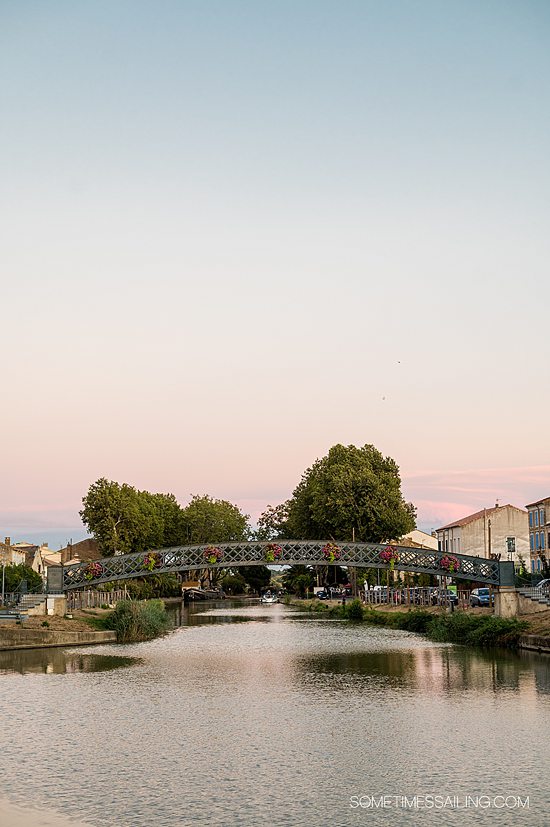 9. There were Premium Quality Bath Products in Each Cabin
We were loving the L'Occitane bath products in our cabin. No matter how luxurious a hotel is, the bath products are usually a lower quality grade than what you buy for your home. But on Anjodi, the bath products European Waterways invest in are equal to what you have at home.
In particular, they had a big bottle of the following L'Occitane products in each cabin:
Shampoo
Conditioner
Shower Gel
Lotion
Every European Waterways vessel has L'Occitane products onboard.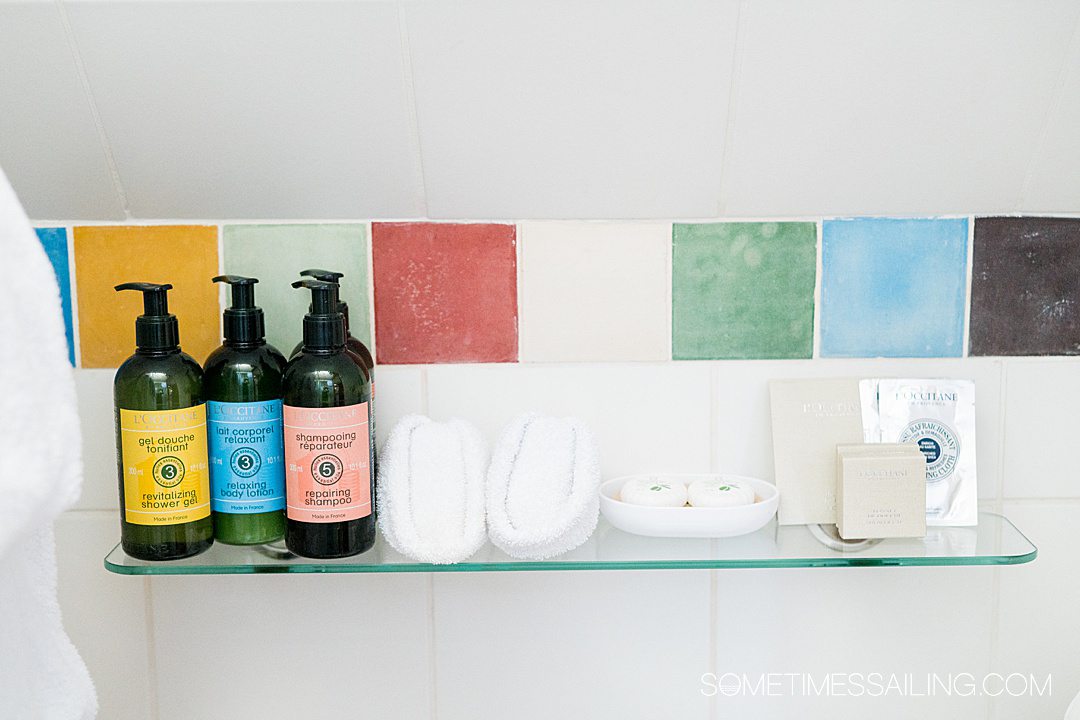 10. There was a Little Garden On Board with Potted Flowering Plants
Seeing as we were on a small boat, we didn't expect there to be a garden onboard. But the planters at the front of the boat were really lovely, filled with vines that sprouted beautiful red flowers and succulents with little coral flowers.
They added something special to the boat and softened up its hard materials.
There was also a little herb garden towards the aft of the boat, on the upper deck near the kitchen. This was the crew-only area, which made sense because the chef used some fresh herbs in his cooking.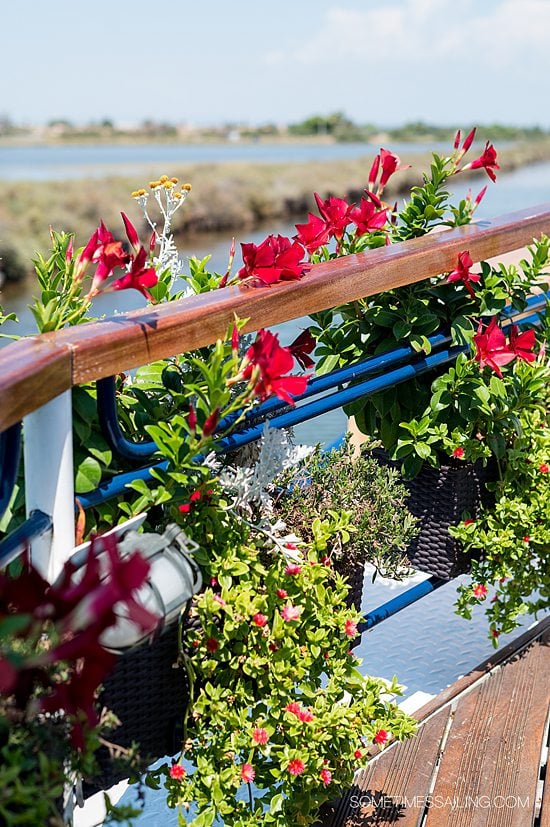 The Food Surprised Us
The food surprised us by being the best food we've ever had on a cruise ship. (And we've been on a lot of cruises.) While we've had great meals here and there, depending on the cruise line or the venue onboard a ship, this food was consistently gourmet and expertly executed.
One of the befits of a barge cruise is that the chef is preparing food for a much smaller group, whereas a larger ship has "mass production" working against it.
Perhaps because of this, the food quality is better and more local, the care taken with each plate more precise, and the flavors more mouthwatering. We're sure it has something to do with the expert chefs they hire too.
So, onto things that surprised us about our European Waterways cruise, regarding the food…
11. The Gourmet Meals were Amazing
Small ships may have a small galley but don't let that fool you. The food we had aboard European Waterways from Chef Toby was the best food we've ever had on any cruise.
Day after day, lunch after dinner, back to lunch, and dinner again, each dish was delectable, gourmet, and memorable.
Even after the first day on our barge cruise, Dan and I discussed that the food was divine, kicking our Maine Windjammer food experience out of first place into second.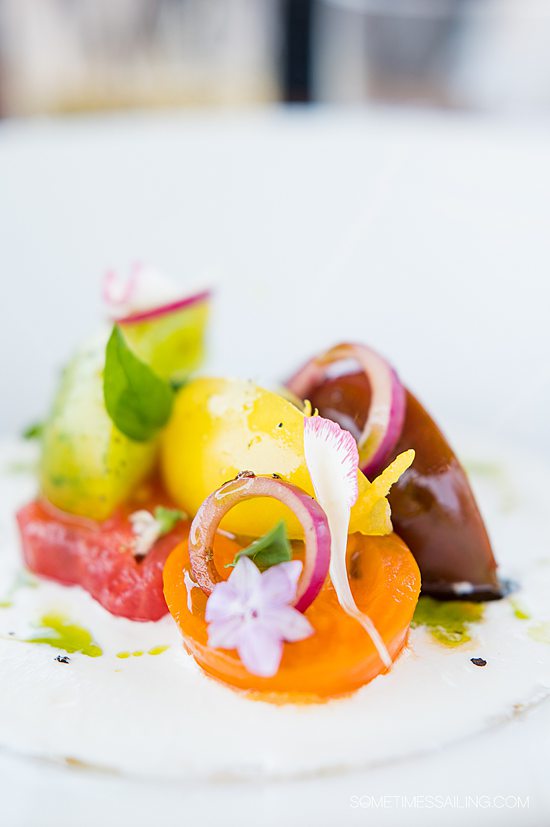 12. Breakfast Didn't Include a Hot Option
For breakfast each morning at 8:00am, there was the following spread on the dining room table:
Basket of pastries and fresh bread
Fresh fruit
Plate of sliced Swiss cheese and cheddar cheese, along with some ham
Cereal
Milk
Hot water for tea
Hot coffee
Butter and jam
There was no hot option served except the last morning before we disembarked when the chef asked if anyone wanted eggs.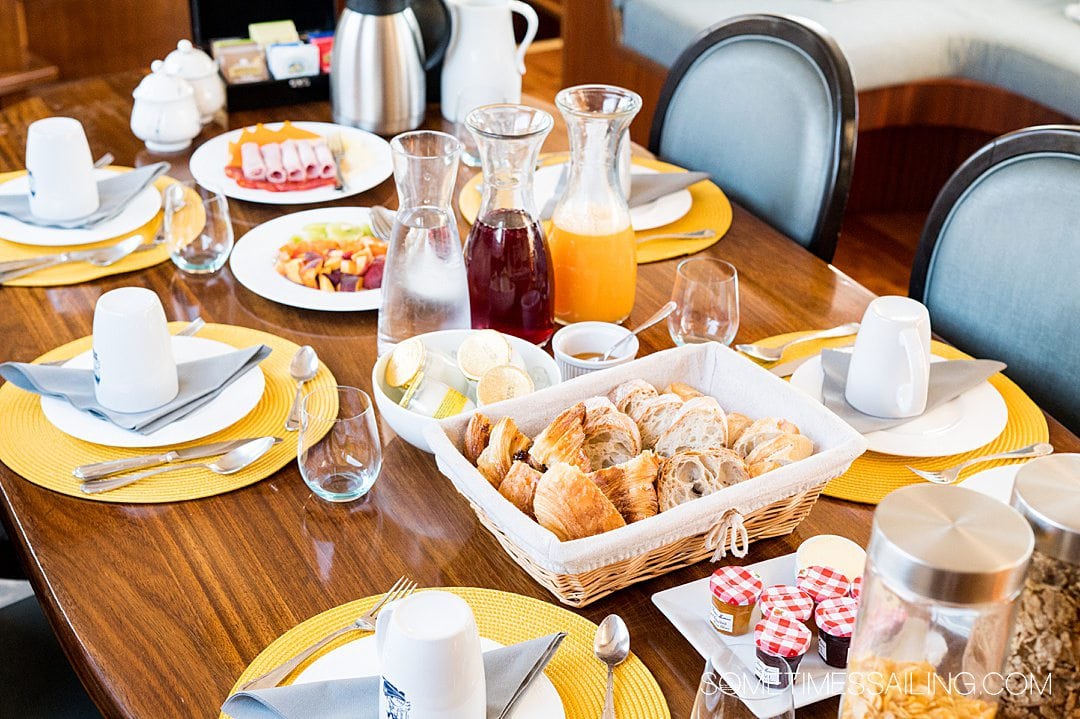 13. The Set Menu Encouraged Us to Try New Things
I was shocked at how much varied food Dan tried on this cruise that Chef Toby made that he would never order at a restaurant. When you have the options of an entire menu in front of you, you may order what you know or what you'd normally gravitate towards in everyday life.
The food is a set menu each day on a barge cruise but is gourmet and delightful. We had everything from a tomato and creamy burrata salad starter, to onion bhaji with cashew curry cream appetizer, to mushroom risotto, duck breast, and lamb filet entrees.
Even another passenger, who never eats raw fish, including tuna, remarked at how amazing the tuna tartare dish that the chef created for lunch one day was.
When you have a set menu, you stretch your palate. And you never know: you may even expand it.
Do not fear that they will make things you do not like or cannot eat. One of the things you let the European Waterways team know ahead of time is your dietary restrictions.
For example, if you can't have beets, you simply add them to your preference sheet. (I love beets but they don't love me, so they were on my dietary restrictions list.)
Dan cannot have raw onions, so we noted that too. A couple of the dishes Chef Toby created had raw onions, and we were so impressed that despite never having a conversation with him about it, he always made a plate with the raw onions omitted specifically for Dan.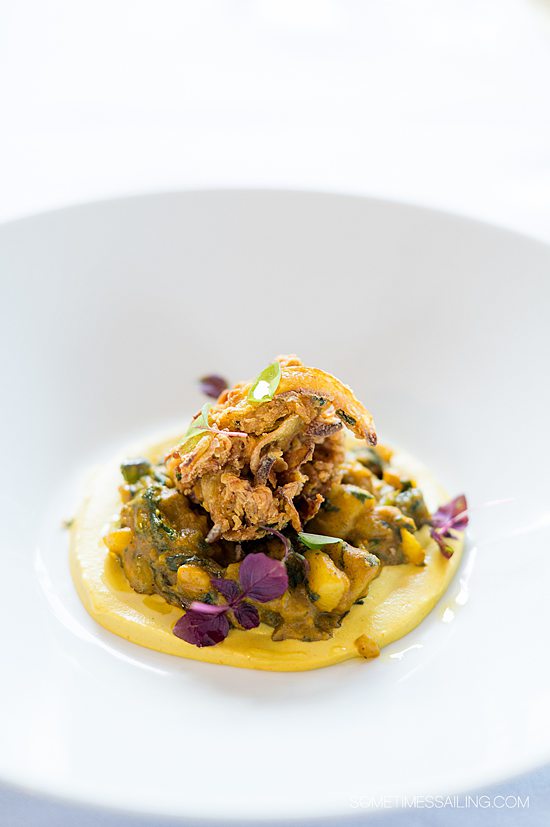 14. They Served Us a Lot of Cheese
There was a cheese course with just about every lunch and dinner on the barge cruise. We like cheese – maybe even love it – but even we have to admit it was a LOT of cheese.
The good news is that just because they put it in front of you doesn't mean you have to eat it.
Some days some people skipped the cheese course, and some days they went full force. Other nights they went in for a small sliver of cheese just to try it, which is what I started to do, particularly towards the end of our week on the cruise.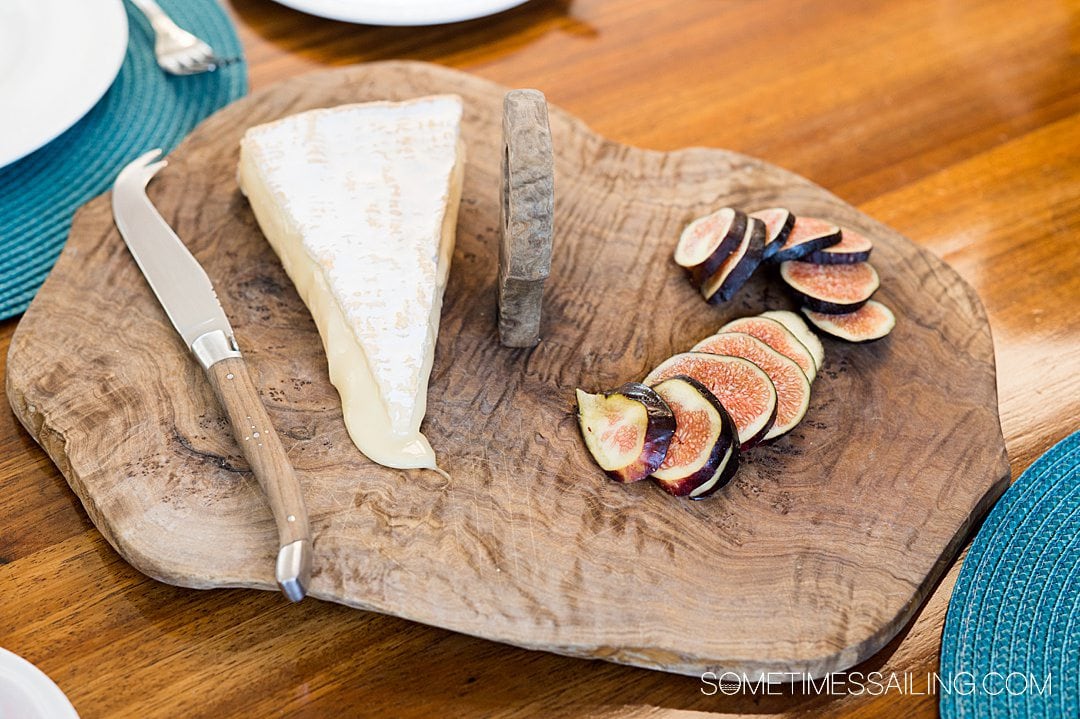 15. Drink Options are Plentiful yet Somewhat Limited
There were plenty of drink options to choose from, including alcoholic and non-alcoholic. In this European Waterways review, we give the drink selection two thumbs up. The only thing I found myself craving sometimes was iced tea, which they didn't have onboard but I was able to get at grocery stores on land during the trip.
Non-alcoholic drinks onboard included:
Coffee/Espresso
Tea
Orangina
Tomato juice
Orange juice
Cranberry juice
Tonic
Sprite
Coke
Coke Zero
Sparkling water (Pellegrino)
Still water (Evian)
Alcohol options included:
Heineken
Kronenbourg 1664
Jameson
Jim Bean
Glenfiddich
Glenlivet
Southern Comfort
Kahlua
Campari
Baileys
Pimm's
Disaronno
Cointreau
Hennessy
Vermouth
Johnny Walker: Red Label
Woodford Reserve
Absolut
Bombay Sapphire
Tanqueray
Staples like gin, vodka, and bourbon or whiskey are available on all vessels, though the brand may vary slightly depending on the region. One example of that is in Scotland, where they have Loch Ness gin onboard and many options for Scottish whiskey.
Another example is local beer; they will have it onboard if they can get some local brews, like in Alsace, France.
If you have a special request for your trip, let the European Waterways team know before you sail or the crew know early on during your trip. They will do their best to source it.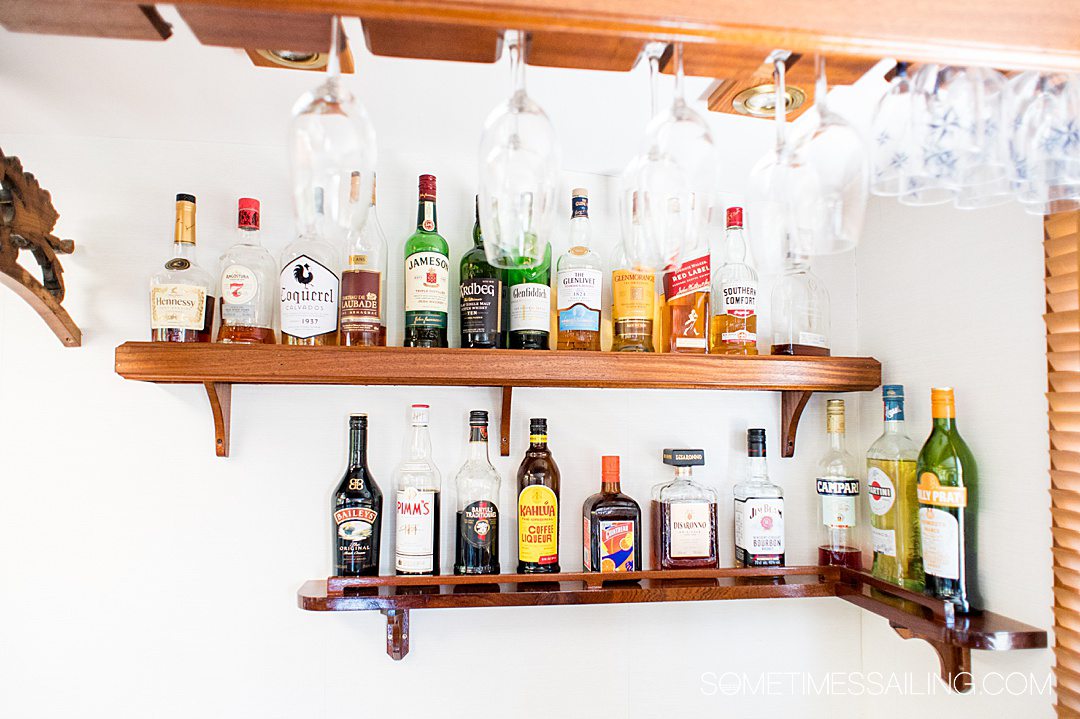 16. There Weren't a Lot of Snacks Between Meals
Most days, we had breakfast at 8:00am, lunch at 12:30pm, and dinner at 7:30pm with no snacks in between. There is a platter of fruit in the corner of the common area for guests to grab a banana or orange if they like at any time during the day or night, but our advice is not to rely on snacks between meals.
Our host put out some delicious olives one day, which was a nice treat and a great healthy option to tide us over until dinner. Another afternoon I asked for olives (knowing they had some leftover from the day before) and was surprised the host brought up olives and chips!
The last evening, just before dinner, the chef surprised us with a lovely plate of canapés during our champagne toast at 7:00pm, before our Captain's Dinner at 7:30pm.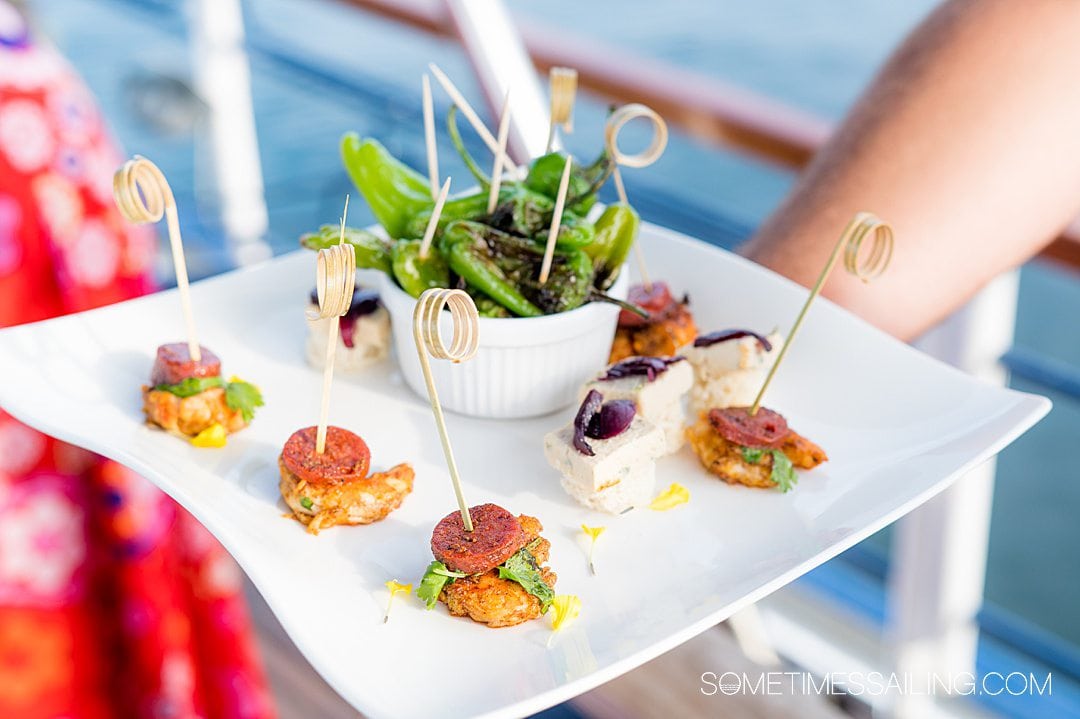 I found we were noshy now and again a lot of the afternoons and wished there was a daily "snack" at around 3:30/4:00pm. But alas, there was not. It's not like a river cruise ship where there are cookies by the coffee machine or snacks galore (and meals between meals like at the pool grill) on ocean ships.
If you like to snack between meals, we recommend buying some snack food in town during one of your excursions or while you're in port, and you can walk to a store from the boat.
For example, we boarded the ship from nearby Narbonne and arrived at the Narbonne train station, where there is a small grocery shop across the street. (It's called "Carrefour," which a chain in France.) That's the perfect place to pick up some snacks.
But remember – there is not a mini-refrigerator in your room, so don't buy anything that has to be refrigerated.
17. We Enjoyed a Wonderful Meal on Land One Night (at a Top Beziers Restaurant)
Included in the barge cruise price was something surprising: dinner on land at an amazing restaurant in Beziers, called L'Ambassade. This was the night we were docked nearby.
Our guide drove us to the destination, which was only 10 minutes away. He joined us for dinner; getting to know him better was great. (We were told that the captain and the guide rotate who joins the guests for dinner each week.)
The restaurant was a premium choice that was pre-selected for us. Our table was ready for us when we arrived. They had a special printed menu at each place setting for our group with some pre-set items (like the amuse-bouches) along with some choices for us.
For example, we could choose between a shrimp or foie gras appetizer or select fish or steak as our main entree. We also had a choice between two desserts. The wine was pre-selected for the group.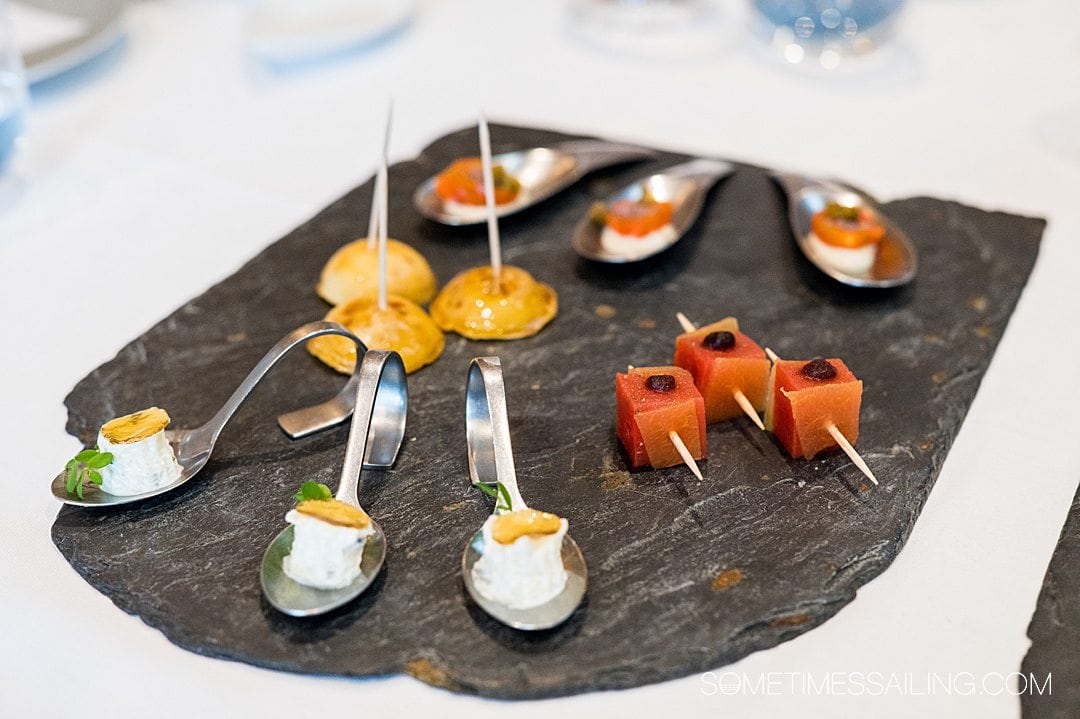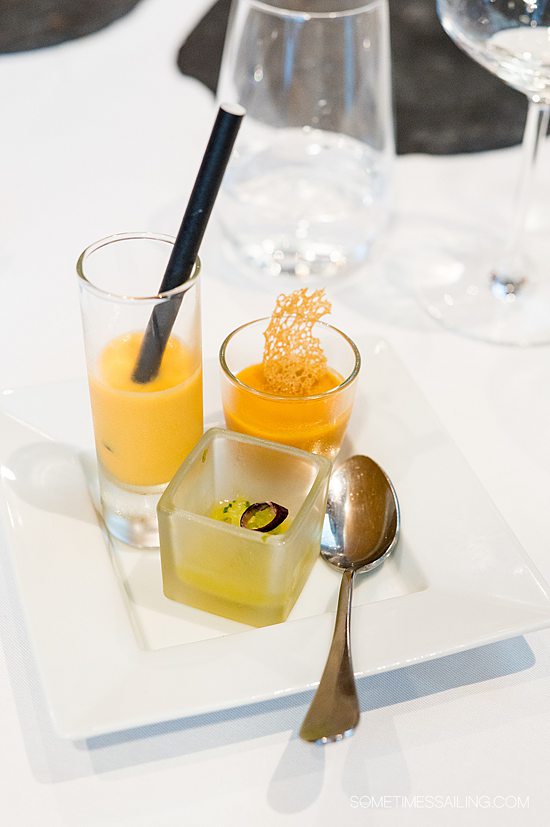 18. We Were more into the Locks than We Thought We'd Be
We've been through locks on river cruise ships, so we never thought we'd be as fascinated with them on a barge cruise as we were. But there's something about being on such a small vessel and so incredibly close to the lock walls and the lock operators that was fascinating.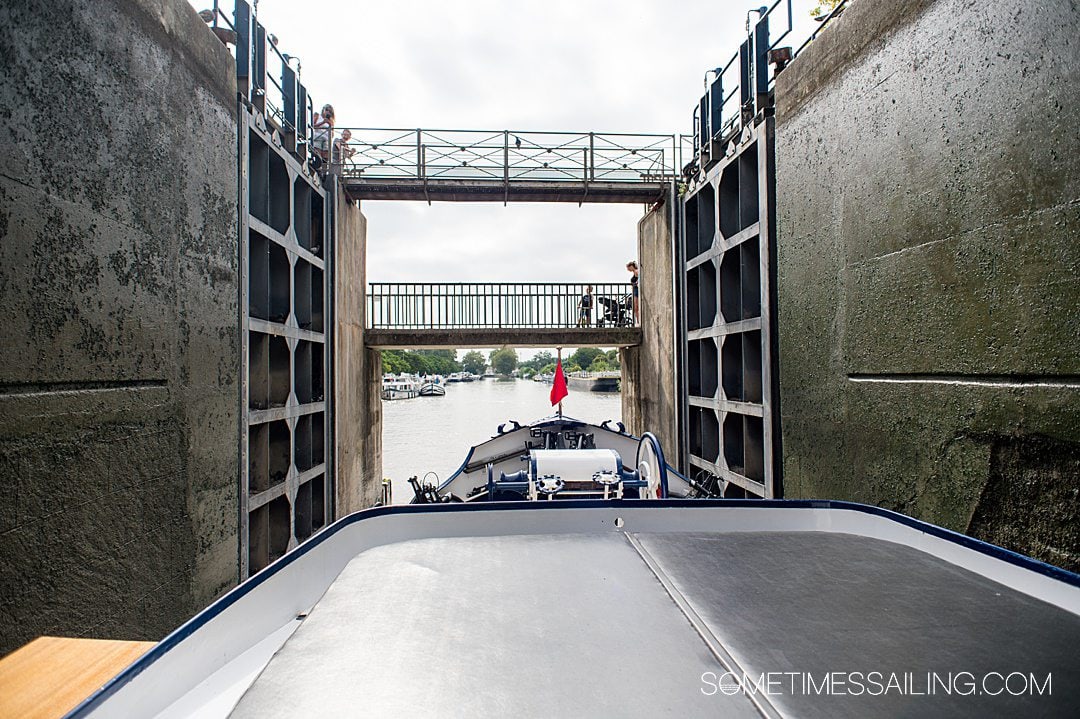 Locks are such amazing engineering marvels. They enable boats to easily pass along a canal or river, despite height differences along the journey.
An unforgettable experience on the Canal du Midi was when we went through the famous 9 Fonseranes Locks in Beziers. Our captain, our tour guide (who was also a deckhand of sorts), and the lock operator maneuvered as a team to get our vessel through each lock. It was awesome!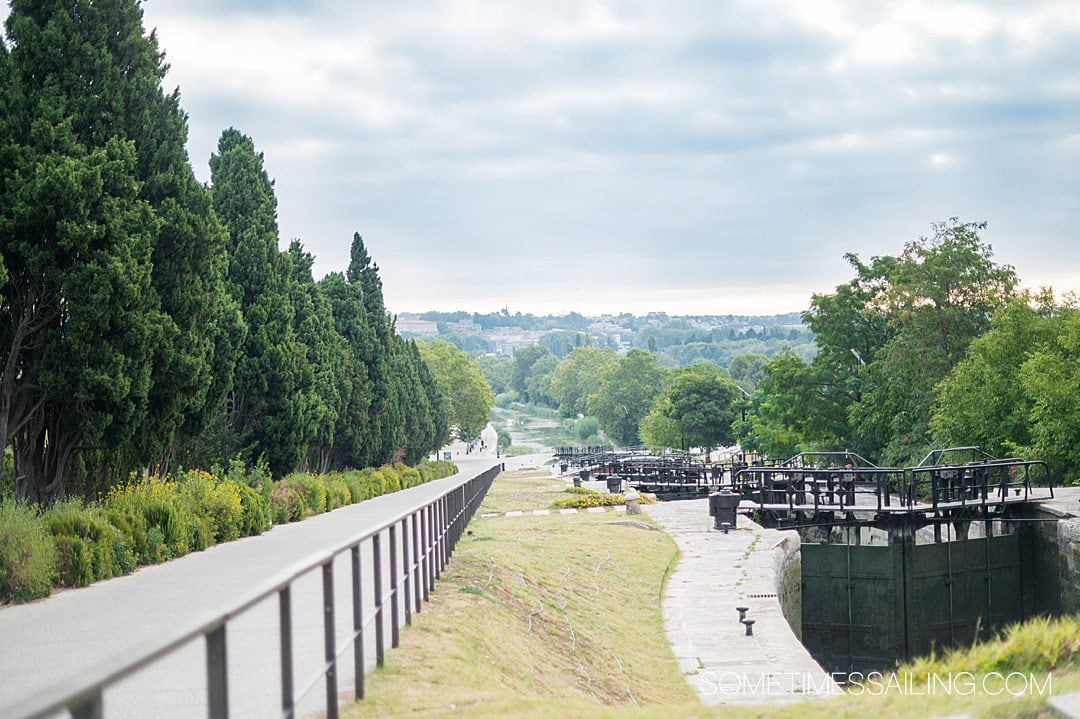 19. We Always Felt Safe
Not only did we not need any keycards or metal keys to get on and off the ship, but we never noticed if our bedroom doors had locks because we never needed them. We felt entirely safe the entire time and our privacy respected, which is funny for two often-skeptical native NYers!
They leave the ramp or stairs on the side of the ship when it is moored next to land overnight so if anyone onboard wants to get off, they can.
But you never feel like strangers were going to roam onboard or anything. It feels totally safe. In fact, I often left my handbag full of valuables – including my camera and my wallet – on the top deck, out in the open when other guests were up there, while I went down to our cabin for a minute or two.
Mutual trust is quickly established amongst the crew and passengers.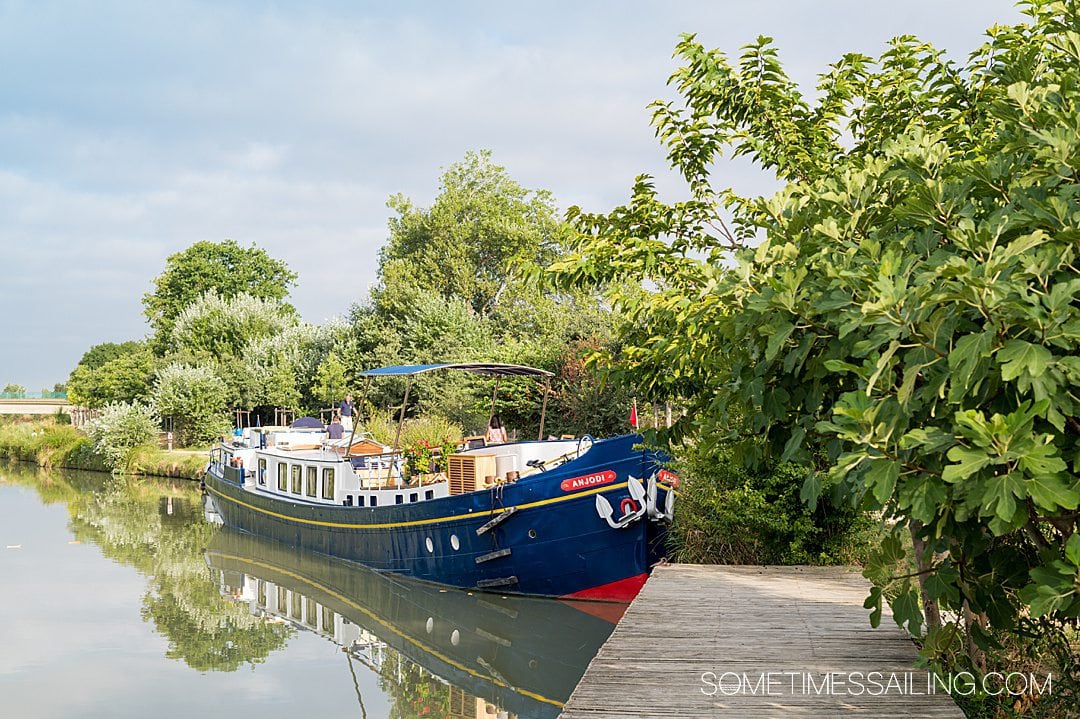 20. People Along the Canal were Very Friendly
We expected the crew and other guests on board to be friendly. But what surprised us was just how friendly every other person we passed on the canal was!
We were constantly saying, "Bonjour!" as we waved to other boats and their passengers floating by, whether they were on their own personal boats, commercial boats that were touring the canal (there was just a handful that we saw over the course of the week), or even cyclists who stopped for a rest on the canal towpath who were watching our boat pass by.
Cyclists who are biking along the canal, by the way, are only yards away from the boat. The canal is narrow! Even the operators of the locks were friendly and said hello to us.
It was a delightful little boating community, proving how friendly French people are in the South of France. You really feel like a part of a larger community when you participate in barge cruising, which was an unexpected treat!


Conclusion
Barge cruising is a wonderfully relaxing, enjoyable way to cruise. The slow travel style will delight and amaze you; you'll complete your vacation reminiscing about the glorious holiday experience you had and all the new things you experienced, whether you're a cruise novice or a pro.