A Chesapeake Bay sailing is a lovely activity if you're in the Virginia, Maryland or Washington, DC area. The bay is usually calm and an excursion on the water can help you "stop and smell the roses," so to speak, even if only for a few hours.
We were in the Williamsburg, Virginia area for a weekend trip and ending our three-day vacation with an afternoon sail was the perfect way to close it out.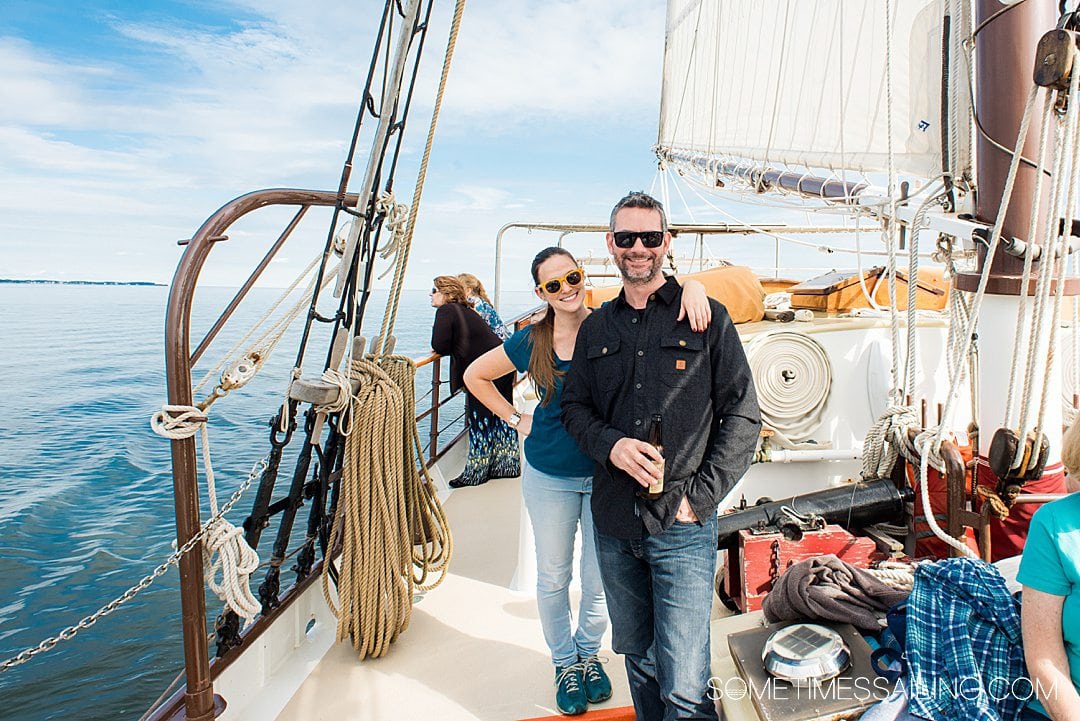 Driving to Yorktown from Williamsburg
Yorktown lovely area on the York River is called Riverwalk Landing. This is where the sailing excursions heads out to the Chesapeake Bay from, shortly after leaving harbor and heading south.
We left about 30 to 45 minutes time to arrive to the harbor, find parking and check in from brunch at Williamsburg Winery that morning.
Parking in the area is easy, thanks to a parking garage. However, it can get very congested with traffic even on a random weekend in October, when we were there. So just have some patience and leave yourself time so you don't have to rush, just in case.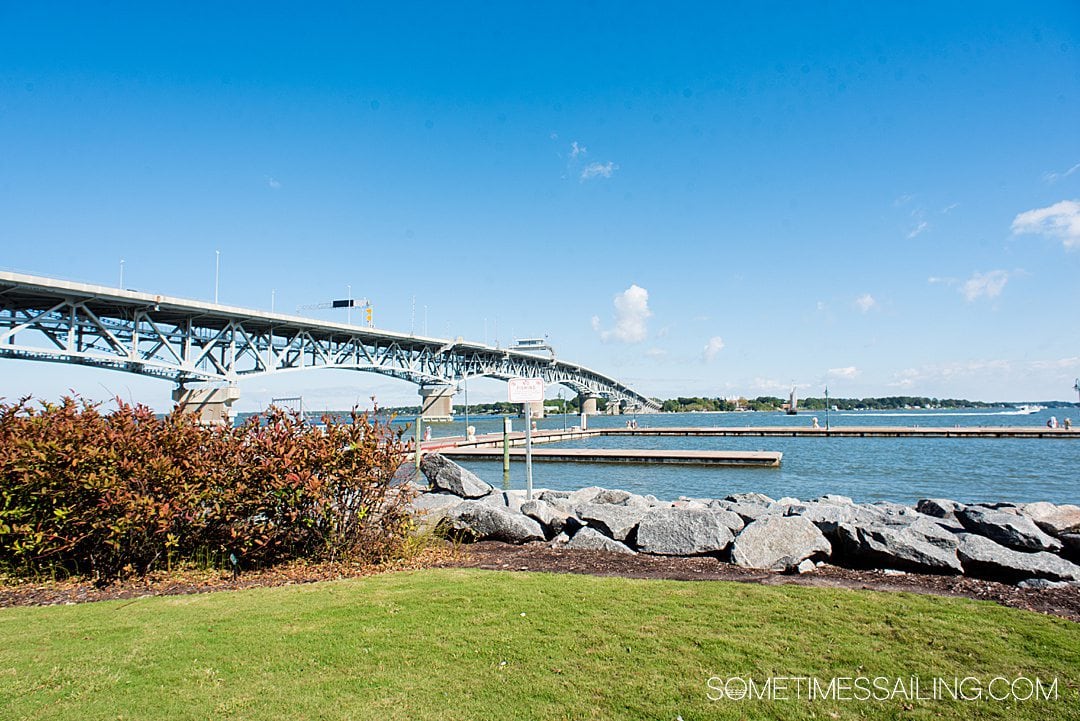 Riverwalk Landing is a fun place to explore too. It's not too big but has a few places to get ice cream, drinks, restaurants, and some shops. They often have events on the lawn as well, like a farmers market.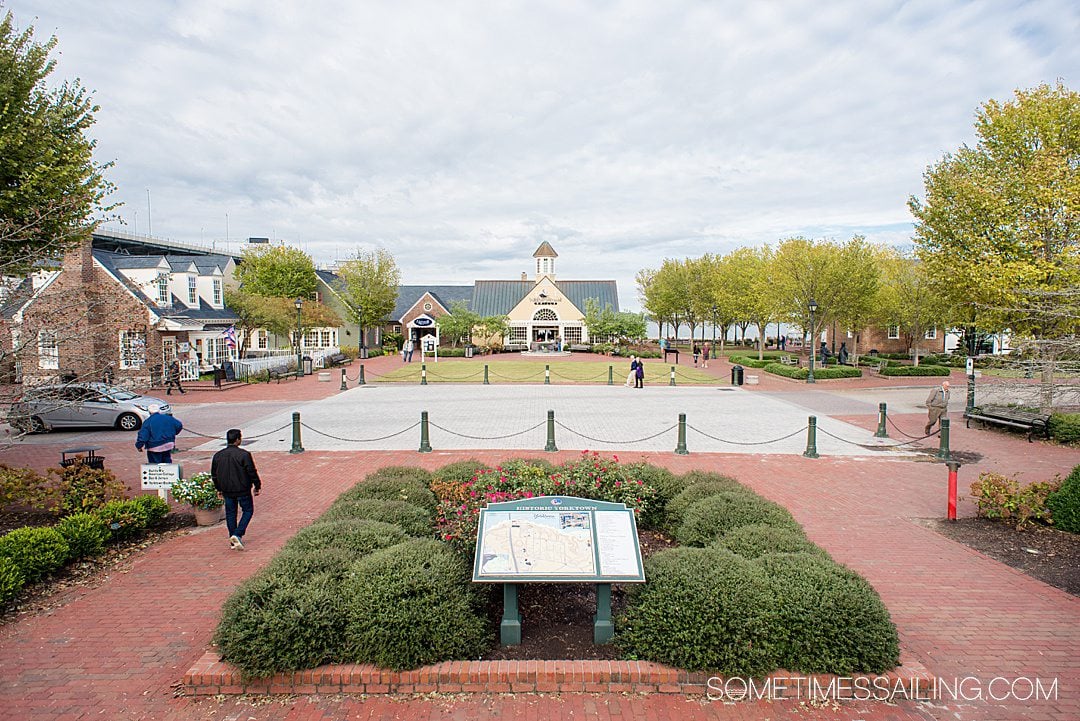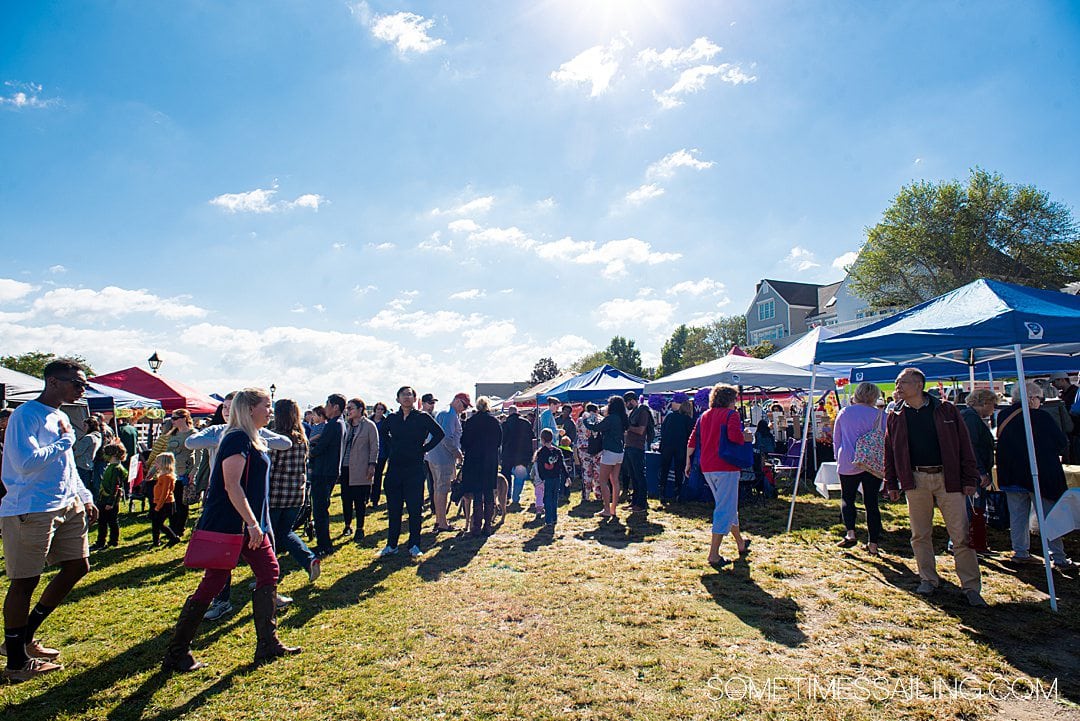 Yorktown Chesapeake Bay Sailing
One of the cool things about the area is how historic it is. European settlers came over from the other side of the Atlantic in boats. And hundreds of years later we're still able to enjoy those same waters to sail around the coast. Amazing!
Thankfully, Yorktown Sailing Charters makes that possible.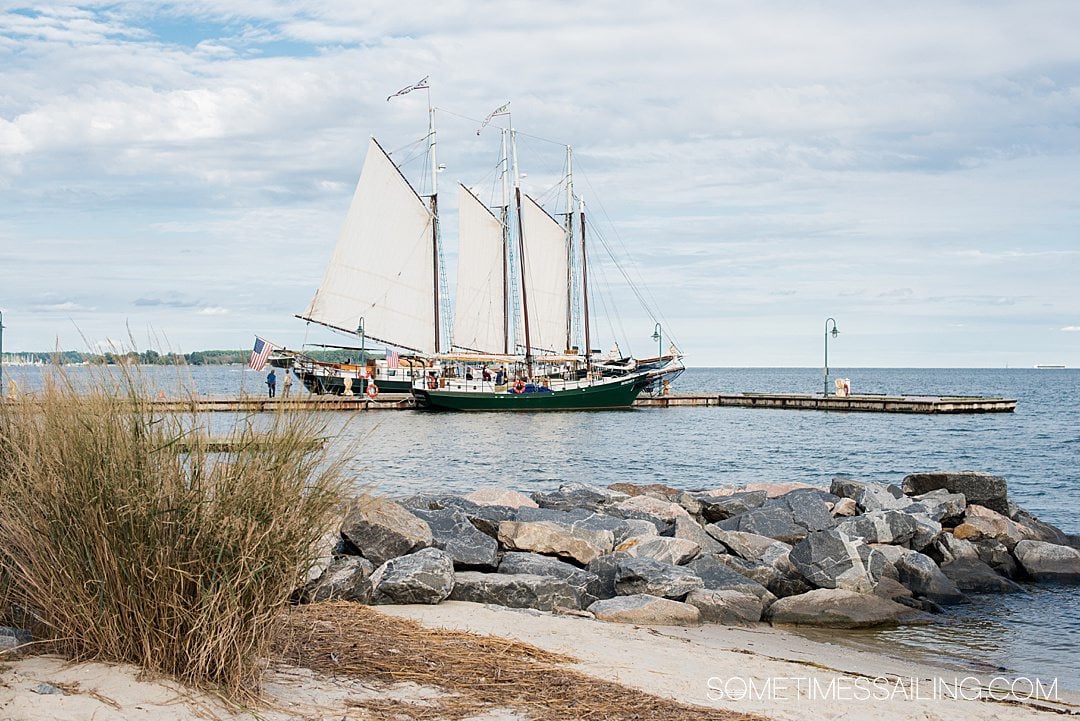 Yorktown Sailing Charters and the Schooner Alliance
This beautiful ship does three distinct sailing excursions in Virginia. No matter the sailing you choose, you may see dolphins and osprey and even have the opportunity to help with the sails and steering.
1. Yorktown Sightseeing Day Sail
We did this excursion and it was fabulous. It's about 1.75 hours and leaves during the day. (Our sailing was at 2:00pm.)
2. Yorktown Scenic Sunset Sail
Sail the Chesapeake Bay up to 2 hours and see the sun set from a unique vantage point: on the water. Time is dependent upon the setting sun, of course, but expect to leave the pier at 5:00pm or 5:30pm, depending on the day you book.
3. Pirate Adventure Sail Yorktown
1.5 hours (great for children): Memorial Day through Labor Day (end of May through beginning of September) at 10:30am.
Learn to tie knots, steer the ship, and fire the canon. Pirate tattoos are available for children too. (And hopefully, kids of all ages if the adults want some.)
All of these sailings are incredibly affordable at under $40 per person.
There's a maximum of 30 people on the ship during "normal" times. (They're limiting that during COVID.)
The ship is available for private charters as well, for special birthday celebrations and events, like if you want to get married on the ship. (And we know a great wedding photographer…Mikkel!)
Learning about the History of Yorktown as you Sail around the Chesapeake Bay
The staff on the ship are very knowledgable about the area and coastline. They narrate the trip and you're able to listen (if you like) or tune it out and escape to your own little world, feeling the breeze on you and enjoying the fresh air.
The scenery won't blow your mind but it is quite lovely and calming. Sailing in a bay isn't often about the scenery but the journey and experience.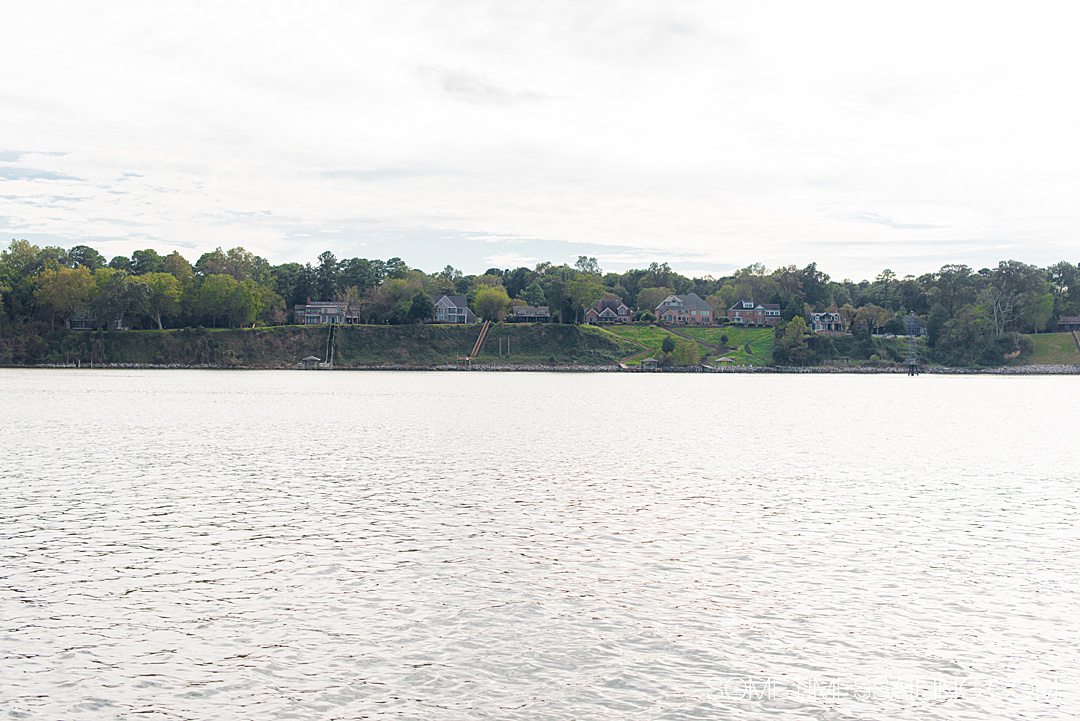 The Chesapeake Bay Sailing Experience
Being aboard the ship is a real treat. Its owners, Greg and Laura Lohse, captain the ship. They're friendly and welcoming and have been sailing together for over 30 years.
When you're aboard the schooner you have the option to help out or simply sit back and relax. Dan and I loved helping with the sails and being of service! And otherwise, we enjoyed life together aboard the ship and some beer that was available for purchase.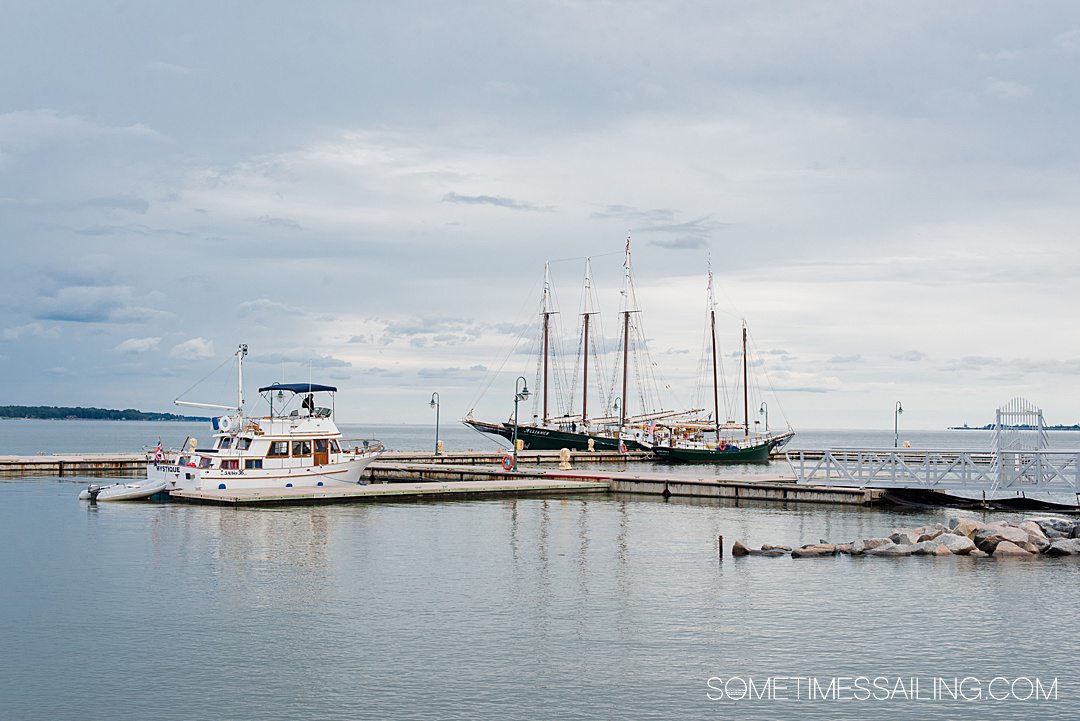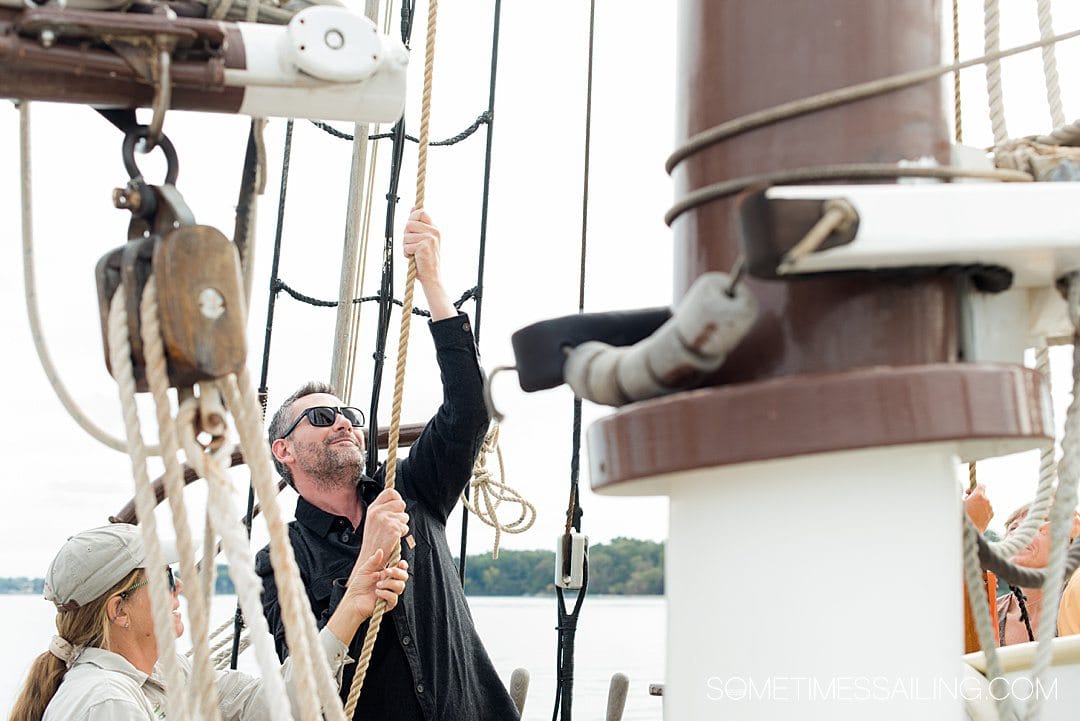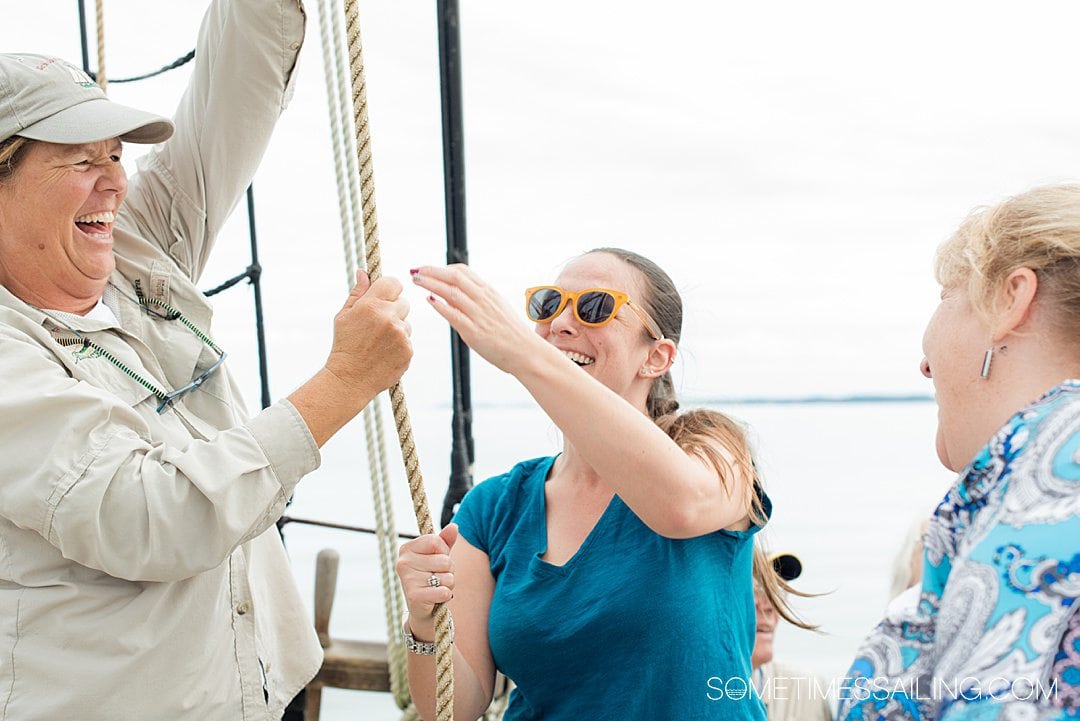 About the Schooner Alliance
We LOVED the name that was chosen by the ship's owners, Greg and Laura, and the meaning behind it.
The schooner Alliance, was named for the pivotal relationship between the French and Americans that allowed the United States to win its independence in the American Revolutionary War in the 1780s.
There's also an alliance between Greg and Laura, married and sailing partners. Such a cute double entendre!
The Alliance hull was built in 1995 in Palm Coast, Florida, and she was outfitted in Maine in 1996. Her deck length is 80 feet and overall length is 105 feet. A "schooner" is a type of sailboat that denotes the types of sails on the ship.
She used to sail the Maine coast as a member of the Maine Windjammer fleet. (The ship can actually fit 12 passengers overnight.)
Her former name was the "Kathyrn B." during her life in New England. Greg and Laura purchased her in 2005.
Even then and now, the Alliance remains in Caribbean waters during winter. (Shouldn't we all, really?)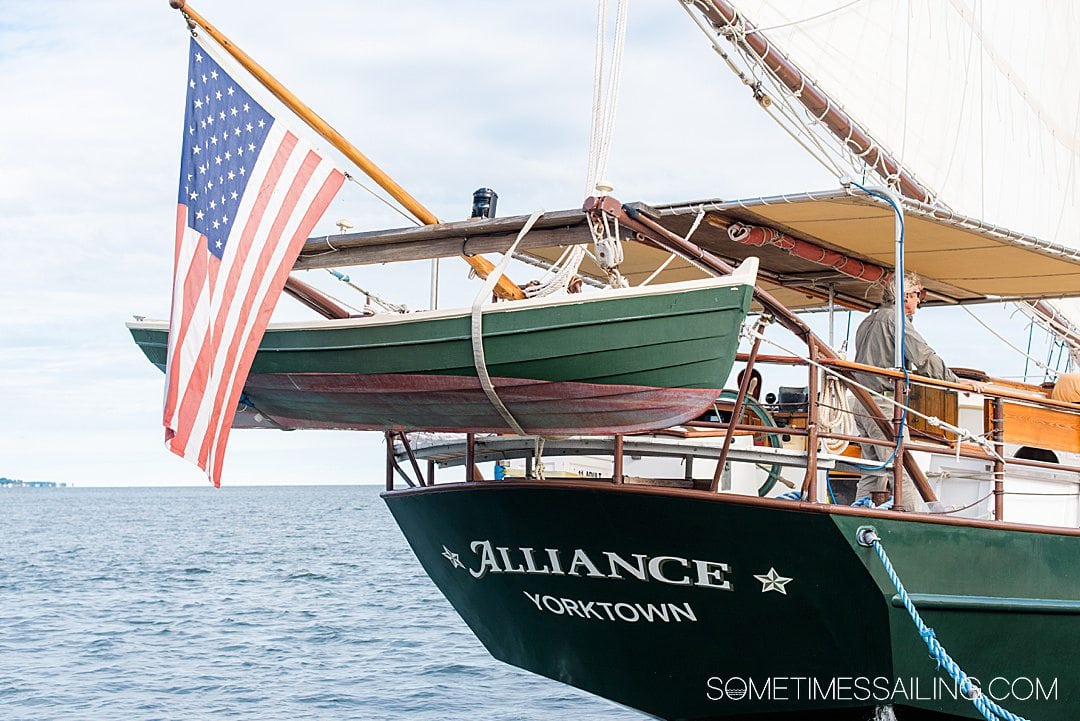 Practical Information
A few things to note to make your sailing experience extra smooth.
There is a restroom onboard but they're asking guests to refrain from using it and use the facilities at Riverwalk Landing before boarding, due to COVID safety measures.
Bring cash: you can buy beverages onboard and it's nice to

tip the crew

.
Sunglasses and sunscreen are a must!
Wear comfortable clothes. This isn't a fancy boat – it's joyfully low key, comfy and fun. (NO platform or heeled shoes!)
Bring a lightweight cardigan or jacket if you like – it may get windy.
COVID Precautions
During COVID, they are limited capacity and being careful about COVID precautions. You must wear a mask onboard, use hand sanitizer they provide before boarding and practice social distancing.
Their crew has temperature checks before boarding the ship everyday. Instead of allowing guests inside the ship, as they previously did before COVID, they are not allowing that right now.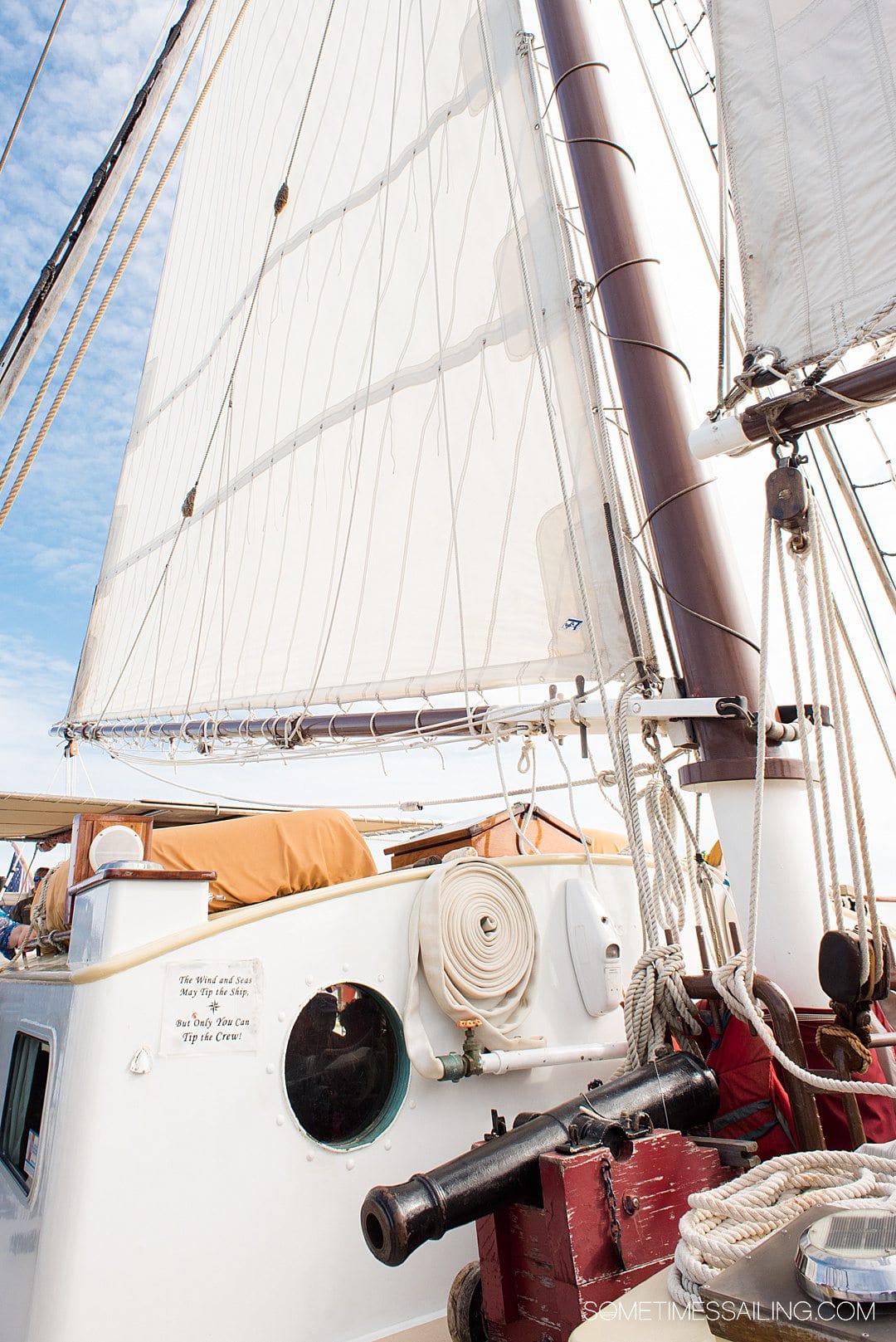 Love sailing the United States? Check out why we're considering a river cruise in the USA for 2021 and beyond.