Coastal Maine Windjammer Cruises: Overnight Schooner Sailing Vacations
Maine Windjammer cruises will connect you with nature as you adventure along the coast of Maine. These overnight schooner sailing vacations are unique due to their small size and big adventure.
Taking a cruise on any one of the nine ships in the Maine Windjammer Association fleet is a wonderful experience. It's a time to unwind and unplug as you become part of a unique family of crew and passengers, sailing Maine's beautiful New England coastline in the northern United States.
Who is a Maine Windjammer Cruise For?
We think this experience is great for:
A history buff.
Anyone who wants a unique adventure on the ocean.
A person who is craving a break from technology and devices and wants an "unplugged," all inclusive experience.
Someone interested in being closer to nature than on a typical cruise ship (even a small cruise ship).
A person wanting a unique way to see Maine's Coast for more than a few hours.
Someone who wants to understand sailing life a little better.
Anyone who wishes they could own a sailboat but can't, for whatever reason. This is a great way to get your sailboat fix!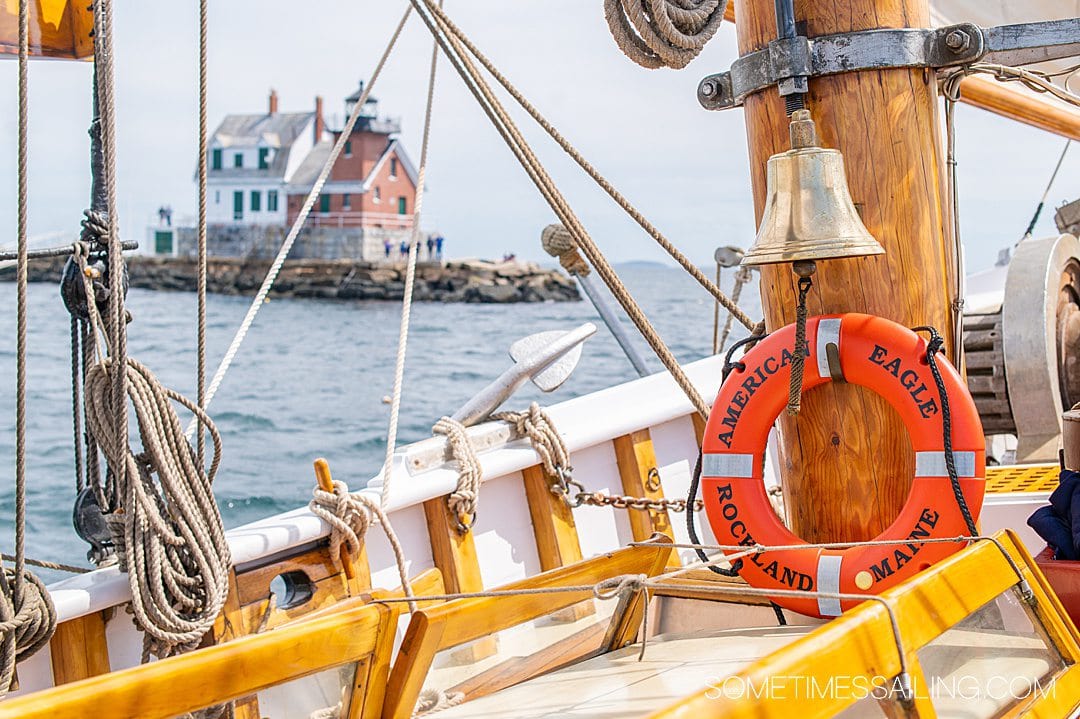 The History of Maine Windjammer Association
Our captain shared with us that Maine Windjammer Association (MWA) was formed in the 1970s. A few captains of several ships back then came together to be able to afford advertising in the New York Times and a paper in Portland, Maine. Their advertisements looked a little like a divided quilt, with a silhouette or drawing of the ship on it.
Though the ads and form of advertising have changed from paper and print to websites and social media, the camaraderie and strength of like-minded captains has persisted well into the 21st century. The ships are individually owned and operated, but they can attract more guests when they band together.


The Maine Windjammer Association Fleet
Nine ships make up the fleet of the association. Each ship's character differs from the others in terms of its finishes, sails, and vibe, depending on its captain.
Each vessel offers a lobster bake on a coastal Maine island. (If the weather is inclement, the lobster bake may be on your ship, like it was for us. It was still fantastic!)
Ships that leave from Rockland and the Ship's Captain(s) and Owners
American Eagle: Captain Tyler King
Heritage: Captains Sean Grimes and Ben Welzenbach
J. & E. Riggin: Captains Justin Schaefer and Jocelyn Schmidt
Stephen Taber: Jane Barnes and Captain Noah Barnes
Ladona: Jane Barnes and Captains Noah Barnes and J.R. Braugh
Grace Bailey: Captain Sam Sikkema
Ships that leave from Camden and the Ship's Captain(s) and Owners
Lewis R. French: Captain Becky Wright
Angelique: Captain Dennis Gallant and Candace Kuchinski
Mary Day: Captains Barry King & Jen Martin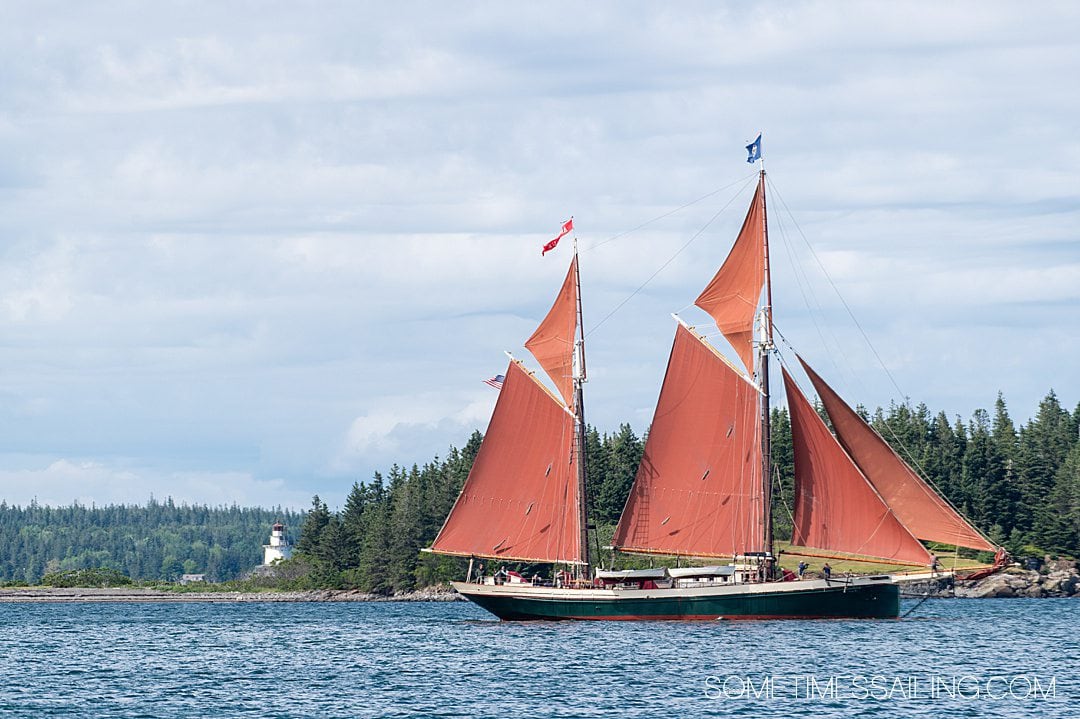 Age of the Maine Windjammer Cruises Ships
The ships were built within just over a century of each other. The two oldest were built in 1871. That includes the Stephen Taber and Lewis R. French. Grace Bailey was built in 1882. The Heritage was built in 1983. American Eagle, which we sailed on, was built in 1930. All of the ships have been through various refreshes and modernizations over the years, including maintenance (as any boat owner knows is never-ending)
Note that this is not the date that the ship became a passenger-bearing vessel. It's simply when it was built. For example, American Eagle didn't start to take on passengers until 1986, when Captain John Foss, the previous ship owner, remodeled it.
Size of the Schooners: Length and Guest Cap
The ships range in length from 64 feet (Lewis R. French) to 132 feet (Victory Chimes). The American Eagle is 92 feet and felt plenty big yet also intimate.
The number of guests that can sleep on the ship vary as well. While Ladona can sleep the least, at 16 passengers, Victory Chimes can host the most at 40. However, most of the ships fall in the 20 to 30 range, with American Eagle capping out at 26 guests. This does not include the crew. (On American Eagle, we had 6 crew members, including Captain John Foss, who has since retired.)
Maine Windjammer Cruises: Amount of Days
All the ships sail various cruise lengths, from three to six days. Some of the ships can do one or two-day sailings (Lewis R. French, Mary Day, and J. & E. Riggin). Ladona has overnight sailing cruise options that are seven days, and American Eagle has cruises that are eight or nine days as well.
We recommend a minimum of three nights. Our sailing was four days and four nights, and it was wonderful for our introduction to this type of cruising, but not too much, just in case we were iffy about it. (We loved it – next time, we'd spring for a five day! We recount each day in our trip report.)
Ports of Departure and Getting to Coastal Maine
You have to get to Maine to embark on your Maine Windjammer Association adventure, sailing Maine's cost.
People either fly to Portland, where Maine's main airport is, and drive to the port from there or fly to Boston and do the same. (The drive from Boston, which is further south along the coast, is just a little longer.)
If you don't want to rent a car, a number of car services will take you to coastal Maine along with a coach bus option, through Concord Coach Lines. But expect to pay a few hundred dollars, depending on what airport you arrive to and its distance to your port of departure.
Not all of the Maine Windjammer Association cruises leave from the same port – there are two port locations, one in Rockland and one in Camden. The towns are very close to each other, however you'll only need to go to one of the two for your trip.
You can expect for your Maine Windjammer cruise to be closed-loop, meaning it starts and ends in the same port.
One of the main considerations in budgeting for our sailing trip was what it was going to cost us to get to Maine before even getting on the ship. And, candidly, it cost us about the same amount to get to Maine and rent a car as it does to go on Maine Windjammer cruises for a few days. (We rented a car to continue on a 7-day road trip of Maine's coastal towns immediately following our four-day schooner cruise.)
Cost to Sail Maine's Coast with Maine Windjammer Cruises
The length of the cruise and what ship you're going on are the two factors that most affect the cost of sailing with Maine Windjammer Cruises.
Cruises with Maine Windjammer Association vary from $885 to $3,188.
When you are budgeting for your trip, aside from budgeting for transportation to get to the port, you should also allot for tip money. Tips are between 8% to 10% per crew member, per passenger. This adds a few hundred dollars to your trip.
We discuss that a bit more in our Maine Windjammer Cruise packing list post.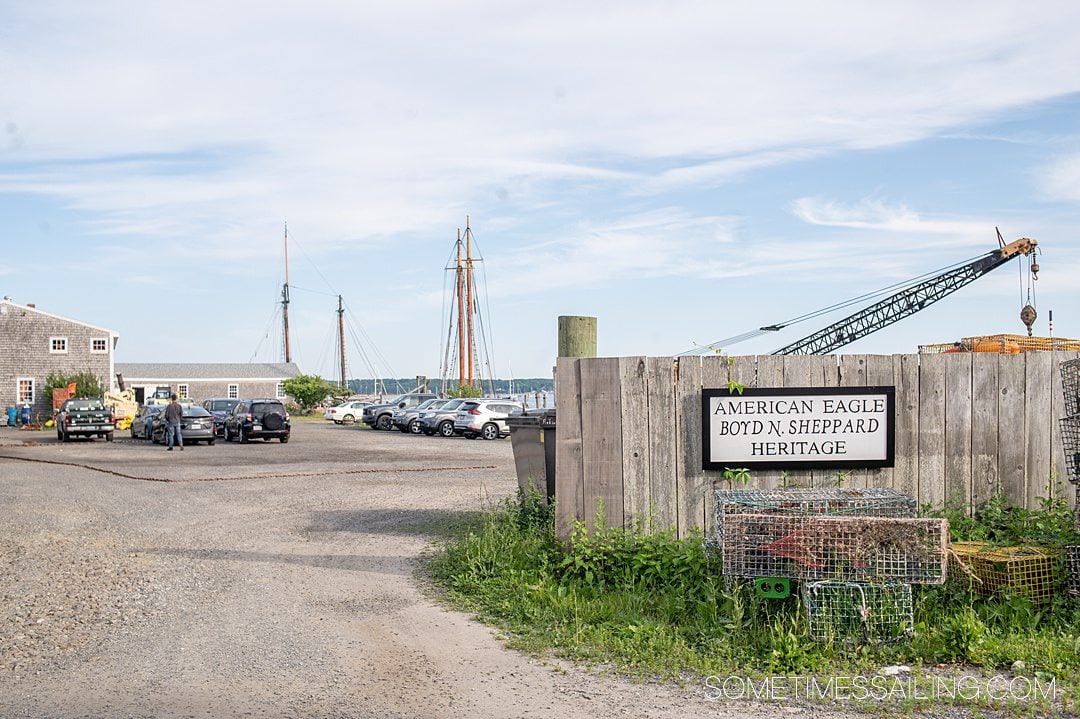 Accessibility on the Maine Windjammer Association Ships
Due to the age of the ships, and way you need to climb up and down steep steps (nearly ladders) to get from one deck to another, we do not recommend this type of cruise for anyone with mobility concerns. You simply cannot avoid the steps to get between the decks.
Additionally, if you want to go ashore near ports, you have to tender to land in a rowboat. The way this is done is by lowering a rowboat into the water, then the guests climb down from the schooner to the rowboat with the help of a very small ladder that's simply rope and wooden cross bars.
Lastly, the rooms and space within each cabin are not big enough to accommodate wheelchairs or walkers.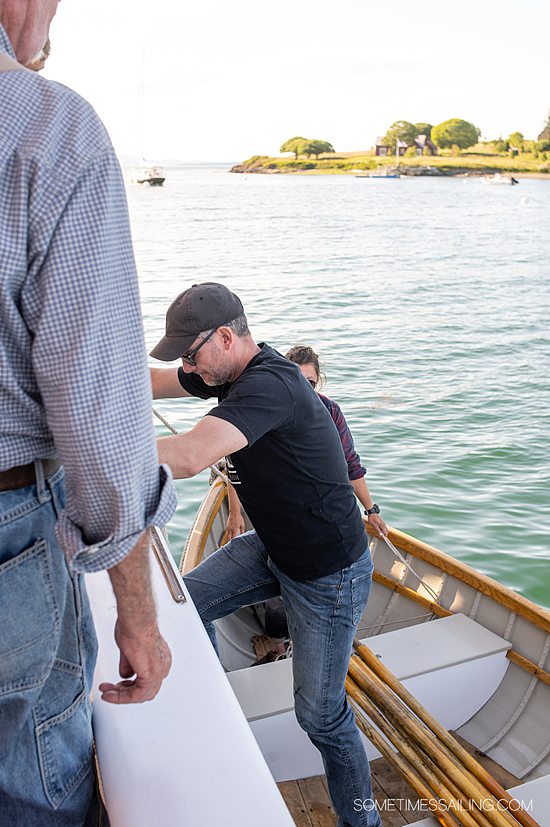 Special Events and Themed Cruises
There are special events cruises every year that may vary slightly, but the overall themes are there. This includes things like the arts and specialty nature cruises, where usually, a specific guide will be on board to educate the guests about the topic. Here are some cruises for you to keep an eye on if any of the activities interest you:
Lighthouse cruises
Photography cruises
Yoga and Wellness cruise
Knitting cruise
Fall foliage cruise
Wine-tasting or beer-tasting cruises
Acadia National Park and cruise
Meteor shower cruise
Some events are considered Gatherings of the Fleet. This includes things like Great Schooner Race, Camden Windjammer Festival and Schooner Gams, which are when the majority of the Maine Windjammer Association fleet gather in a harbor or right next to one another for a fun and casual gathering.
We experienced a Gam on the sailing we were on with American Eagle, when about seven of the ships were together in a harbor. It was amazing to see the ships sailing into the harbor to moor to spend some time together!
Our cruise also had the option to sign up for watercolor lessons with a watercolor artist and teacher onboard. Carol L. Douglas is a very talented artist. Though we didn't sign up for the workshop, it was amazing to see her students (and the guests) painting "en plein air" throughout our sailing.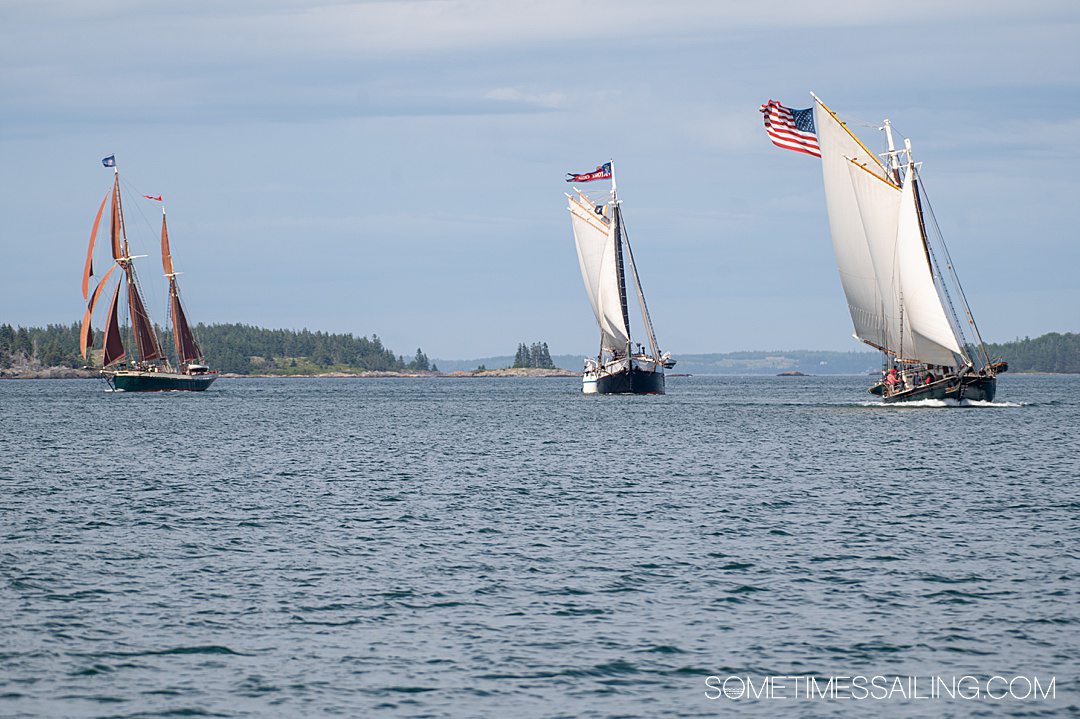 Participation in Ship Responsibilities
Participating in things like raising and lowering the sails is completely optional. You'll get FOMO (fear of missing out!) if you don't do it at least once, but it certainly isn't required.
By the end of the cruise, Dan was a pro, furling sails like he'd be doing it his whole life!
They also asked for volunteers to help dry dishes after each meal on our ship, and I helped do it twice to bond with the other guests who were helping, along with the crew. But again, it's not required. It is completely voluntary.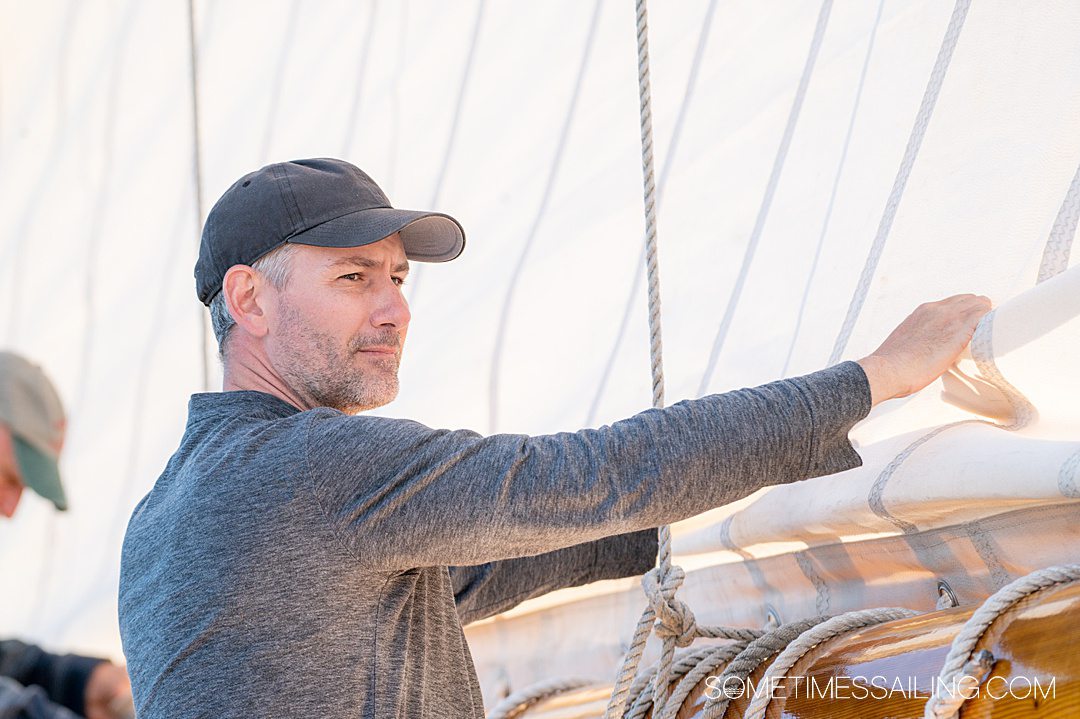 Cruise Ports: Where do the Ships Go?
Unlike a river cruise or ocean cruise with a set itinerary, which may change due to weather but you generally know where you're going (from Alaska's ports to European ports and beyond), a cruise with Maine Windjammer Association is open to the captain's desires of where he or she wants to sail that day.
The adventure is really being on the ship and knowing, overall, you'll stop in some small coastal Maine towns here or there to walk around for a while and then row back to your moored schooner in the harbor.
We stopped in the harbor of two towns during our trip. One was Stonington (a quaint and picturesque fishing village), and the other was North Haven. Another day, we had the option to go ashore on Russ Island, which was pretty much simply a beautiful, mostly untouched beach that Dan and I enjoyed exploring together for an hour and a half.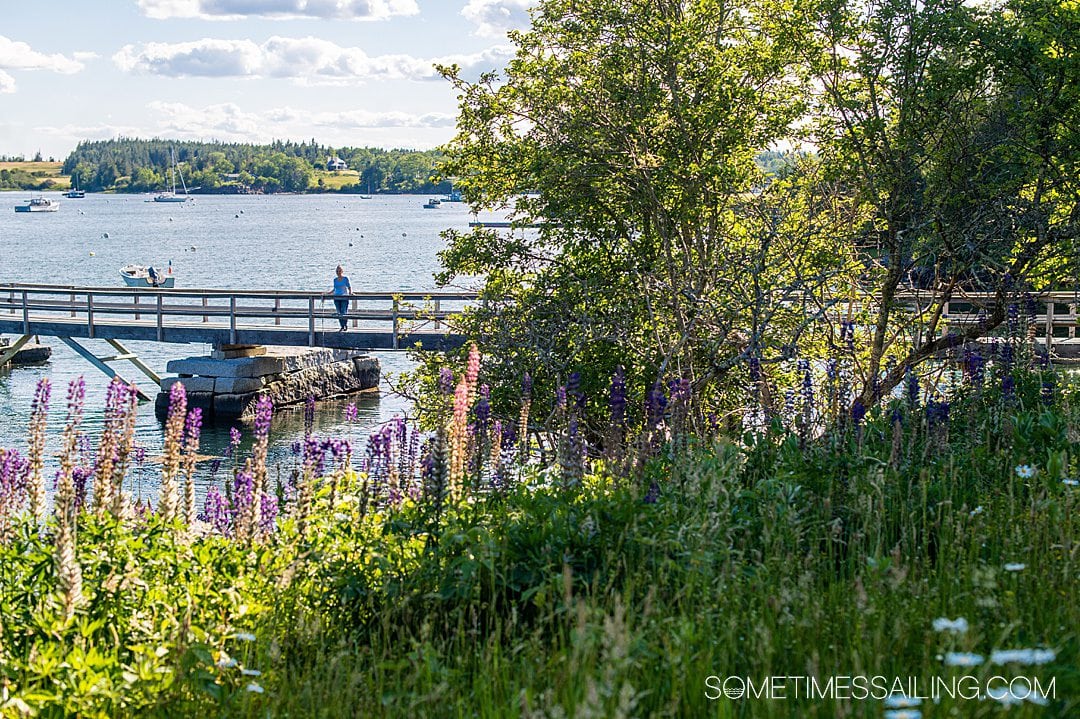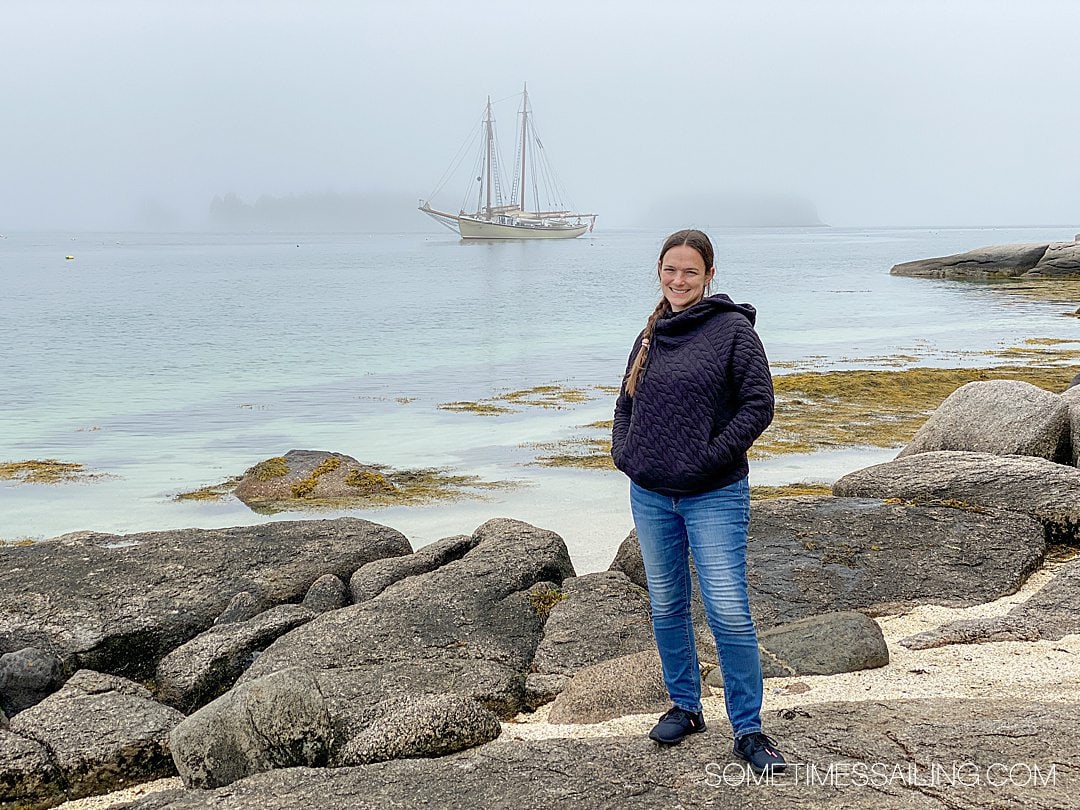 What is the Food Like on Maine Windjammer Association Cruises?
From our experience, it's excellent. We were truly in awe of how much food they pump out in such a small galley, how often they are creating meals (nearly constantly when the sun is up), and how GOOD it is.
In fact, the BEST lobster we have ever had (including during our 7-day road trip following our Maine Windjammer cruise) was on the American Eagle.
We haven't been on every ship, however, we hear from trusted friends, travel writers, and colleagues that the food on any of the ships is outstanding.
In addition to a lobster bake on every Maine Windjammer Association sailing, you can expect things like fresh baked bread, comforting soups (especially wonderful with how cold it can get as you sail, even during summer in Maine), coffee and tea with breakfast and lunch, savory breakfasts, sweet desserts, and filling dinners including dessert.
Read more about the Food Maine is Known For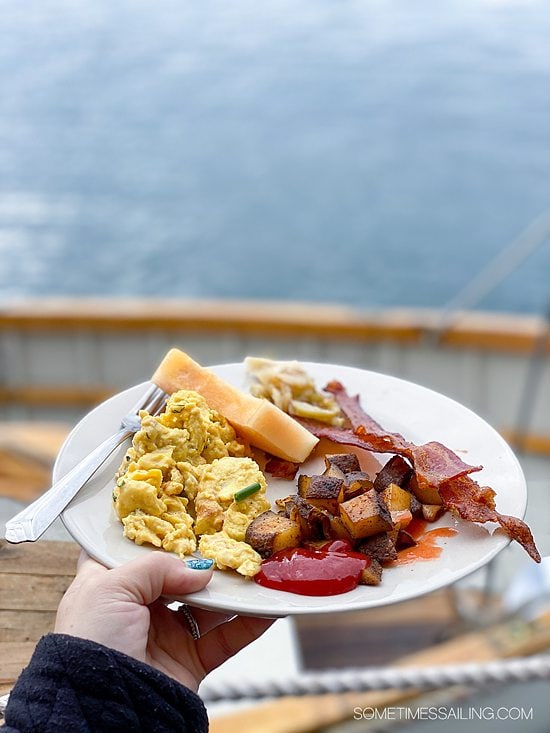 Maine Windjammer Association on Social Media
If you want to see even more photos from people's experiences with Maine Windjammer Association, simply look up the hashtag #thisiswindjamming on Instagram. There are loads of photos from the Maine Windjammer Association fleet that are marked with this, which will enable you to see many more aspects of sailing Maine's coast.
Disclosure: We thank Maine Windjammer Association for generously hosting us. We also may make a small commission from affiliate links in this post at no cost to you, but all opinions are ours and we bring you genuine content with real facts, photos, thoughts and recommendations. Always.


Going sailing? Also check out these posts: