Easy Guide to Canal Barge Cruises in Europe
Barge cruising is a lovely way to vacation and a unique experience. A canal barge cruise is complete with gourmet meals and fine wines, visits to small cities, and daily relaxing sailing experiences.
There are only a few passengers on a barge boat with few amenities. But like most small ship cruising, the sailing and destination are the exciting parts of the adventure.
Disclosure: This post may have affiliate links, meaning we may earn a small commission if you click the link and proceed with a purchase at no cost to you. We thank European Waterways for hosting us. We truly only recommend cruises, hotels, products, and services we personally use. As Amazon Associates, we earn from qualifying purchases.


What is a Canal Barge Cruise?
Let's break it down. The word "canal" is accurate as that's what these vessels sail on. "Cruise" is accurate too, because you're cruising on the canal. But the name "barge" is a little misleading.
You would think the boat is literally an old, dingy vessel that takes you to a few stops on a waterway. Historically, barges were used to move goods along a canal from the 16th through the 19th centuries.
But today, a barge cruise is a luxury experience.
As soon as you board your first barge cruise, you'll realize you'll be well taken care of. Expect your onboard host to serve drinks when you want them, a chef to create delicious cuisine that will wow you, and the excursions on your itinerary to offer a glimpse into the area's unique history.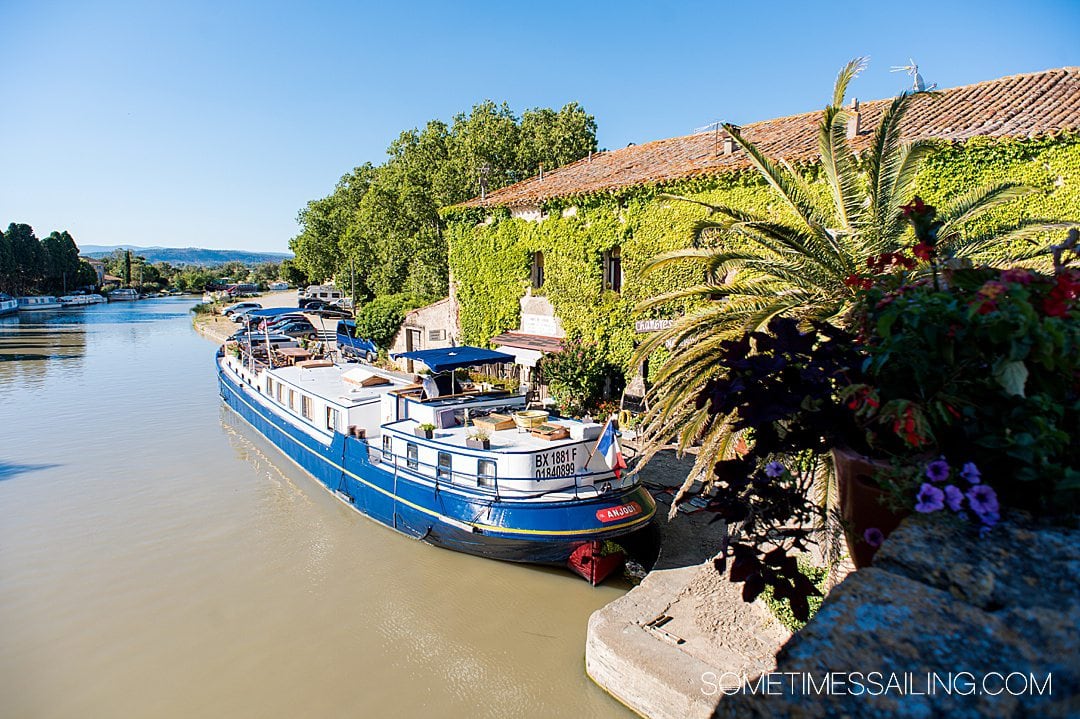 Barge Cruise Itineraries and Lifestyle
You'll get off the beaten track and away from larger cities. Perhaps chateau visits (depending on where you are) are on your cruise itinerary, or visiting local markets and wineries is on the agenda.
Or, maybe you'll have exclusive restaurant experiences on land for a change of scenery from the boat one evening as we did on our European Waterways experience. Or perhaps you'll be granted plenty of time to discover a town on your own once your crew tour guide delivers you and the other guests to an old town center for an afternoon of exploring.
The precise activities onboard a barge cruise vary depending on the company and location, but overall it's a relaxing, slow-travel adventure that will revive and rejuvenate you. If you truly want time for rest and relaxation during your vacation, a barge cruise could be your ticket to happiness.
How Big is a Barge Cruise?
When you board a barge cruise vessel, you'll get onto a boat approximately 100 feet (30.5m) in length. It has a very specific maximum length (as most ships do depending on where they sail, including river cruise ships), so it fits in the locks that move it up and down the differing heights of the canal along its journey.
Barge cruises usually accommodate 12 people or less and will sail with a minimum of four passengers. Often, the boats have a max capacity of just six or eight passengers. In some instances, like in Italy, the boat may accommodate 20 passengers.
There is not much to do on the boat when you embark on a barge cruise. That is, except enjoy the scenery and canals your captain navigates. You will surely enjoy a wonderful week filled with lovely scenery. Relaxation is definitely on order for a barge cruise experience.
You will also eat delicious food onboard, tour small cities and villages you may not otherwise visit in your lifetime, and enjoy connecting with other passengers. Perhaps taking a dip in the spa or hot tub onboard (if there is one) will be a highlight for you like it was for us.
There are often bicycles onboard these floating hotel barges for guest use while in port. Additionally, you may find a library of books you can read and board games you can play onboard. (You can always bring portable travel games with you as well.)


Who is Barge Cruising Good For?
Barge cruising is for some – but not for everyone. Here is who it is good for:
Barge Cruises are for People who Enjoy Slow Travel
Slow Travel in the Destination
Barge cruises go less than 4 mph (6 kph), so if you're looking to cover a lot of ground and countries in a small amount of time, perhaps like a cruise with Celebrity does, this is not the cruise for you. However, it's a great idea if you want to hone in on a small area of one country.
Someone who wants to cruise in France may think of visiting face(r)-paced Paris for a cruise on the Seine. This is, of course, France's largest and most popular city. On the other hand, if you want to visit slower-paced areas of France and explore villages and cities whose population may only be a few thousand people, you will enjoy a barge cruise.
We cruised the South of France on Canal du Midi with European Waterways. It's a lesser-known waterway than the Seine but has a fascinating history. This allowed us to visit less frequented cities of France, like Narbonne and Pézenas, and get to know the local culture more than we have in Paris.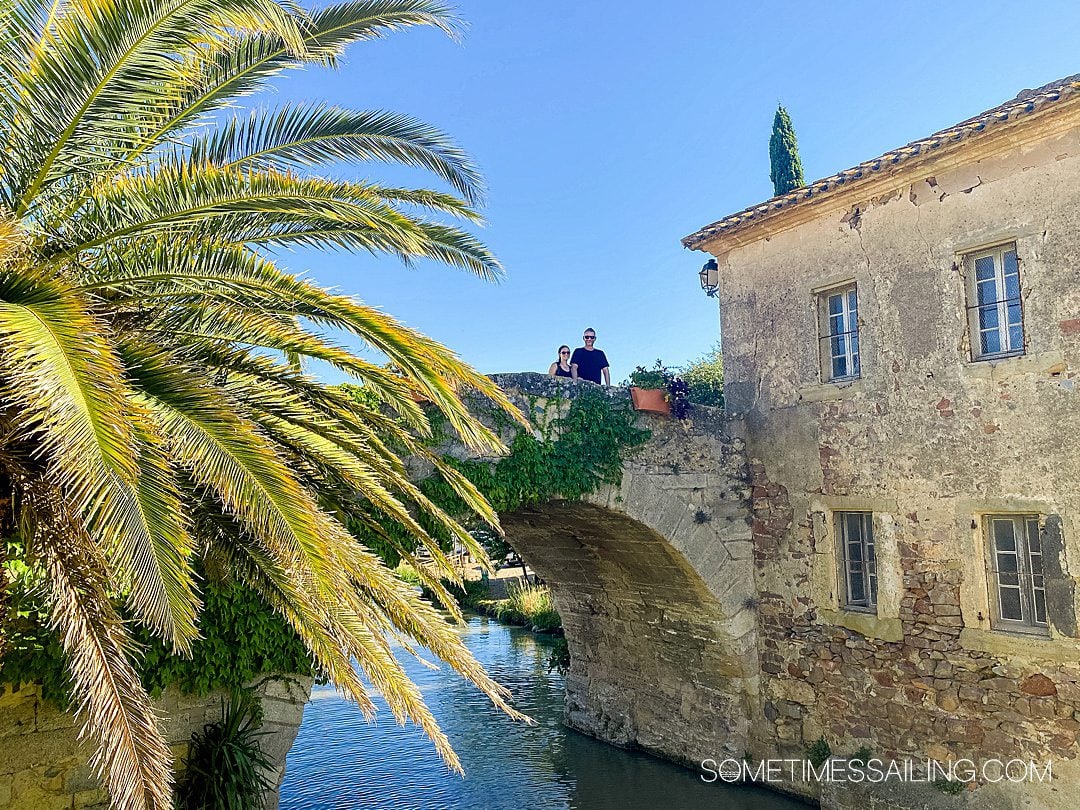 (Let's face it: Paris is filled with tons of tourists and transplants and has a bad reputation for rude people. On the other hand, we found every local and tourist in the South of France to be friendly and delightful.)
We sailed along the canal and docked at towns we have never heard of, which we thoroughly enjoyed. It was especially nice to feel like we were gaining a deeper understanding and appreciation for the country that piggybacked on our Bordeaux River Cruise with Viking two weeks earlier.
The more you sail in a country, whether on a river cruise or barge cruise and the more you get to reach these "hidden gem" cities, the more intimately you get to know and understand an area. It's a beautiful thing!
Slow Travel on the Boat
You will experience slow travel onboard. You'll have plenty of quality time to simply relax on the top deck, in your cabin, or in the lounge area. Be sure to add a book or your favorite music playlist to your barge cruise packing list, which you'll have plenty of time to dive into.
Canal Barge Cruises are for People Who Don't Want the Fuss of a Complex Cruise Embarkation or Debarkation
One of the things we love about barge cruises is that you step onto the ship, and voila, you're checked in.
You're welcomed onboard with champagne and a snack, like canapés. Your first onboard experience isn't waiting in a line to check into your cabin (even if it is a short line, like on river cruises).
With our European Waterways experience, we walked onboard, where the crew of four was awaiting our arrival. Within mere seconds, we were toasting to a great journey and eating tiny eggs Benedict canapés with poached quail eggs and caviar faster than you could say, "Bon journey!"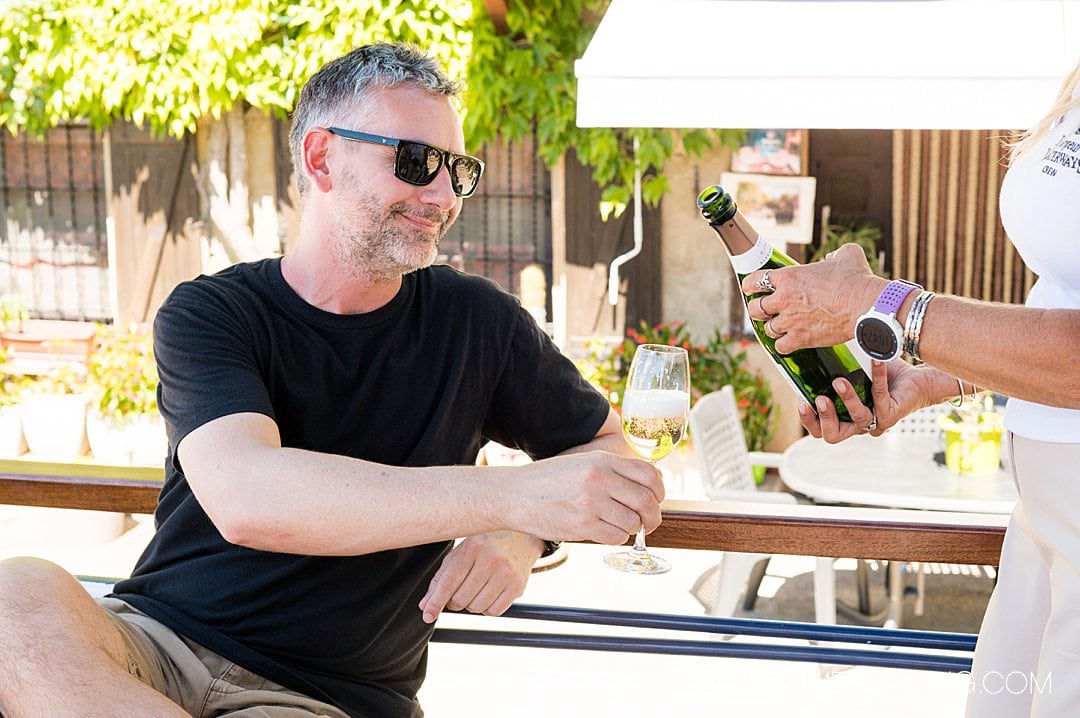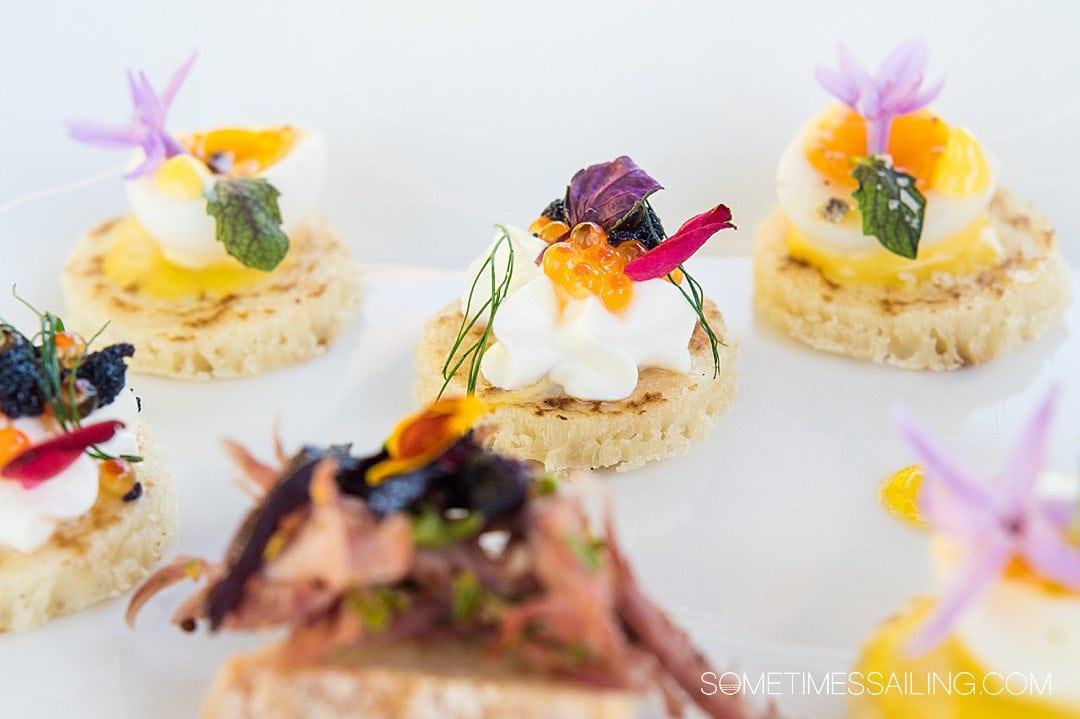 You don't need keys to get in and out of your room, and you don't need a key to check into or out of the boat. You simply step onboard and enjoy the experience…without any delays, red tape for paperwork, or lines.
There are few people on a barge cruise. As such, all you need to do to be accounted for is see the captain or a crew member before sailing away to the next port. In contrast, an ocean cruise or river cruise must digitally check in each guest.
One day on our barge cruise on the vessel Anjodi with European Waterways, the captain wasn't sure if we had returned from walking around town. He simply knocked on our cabin door, and we said, "We're here!" before he confidently sailed away. That was it! Easy peasy and fuss-free.
A Canal Barge Cruise is for People who Don't Like Tendering to Ports
If there is one thing we dislike in ports, it's wasting time waiting for a tender. Furthermore, getting from the boat to the land takes more time once you are on the tender. It sucks.
Barge cruises are like river cruises in this sense: there is no tendering involved. You simply step off the ship, and you're on land.
People who are Fascinated by Engineering will love Barge Cruising
This less obvious point is one of the things that most struck us about a canal cruise or barge cruise is the engineering feats we experienced.
You go through many locks during a barge cruise as you continue along the waterway. A cruise along the Canal du Midi (a historic man-made canal) even goes through a very famous series of 9 locks at one point.
It was amazing to sail the "9 Fonseranes Locks" in Beziers. We cruised through the locks like they were a set of orchestrated dominos, moving from one lock to the next. Nowhere else, even on river cruises where we've gone through various locks, have we experienced such an engineering marvel in this way.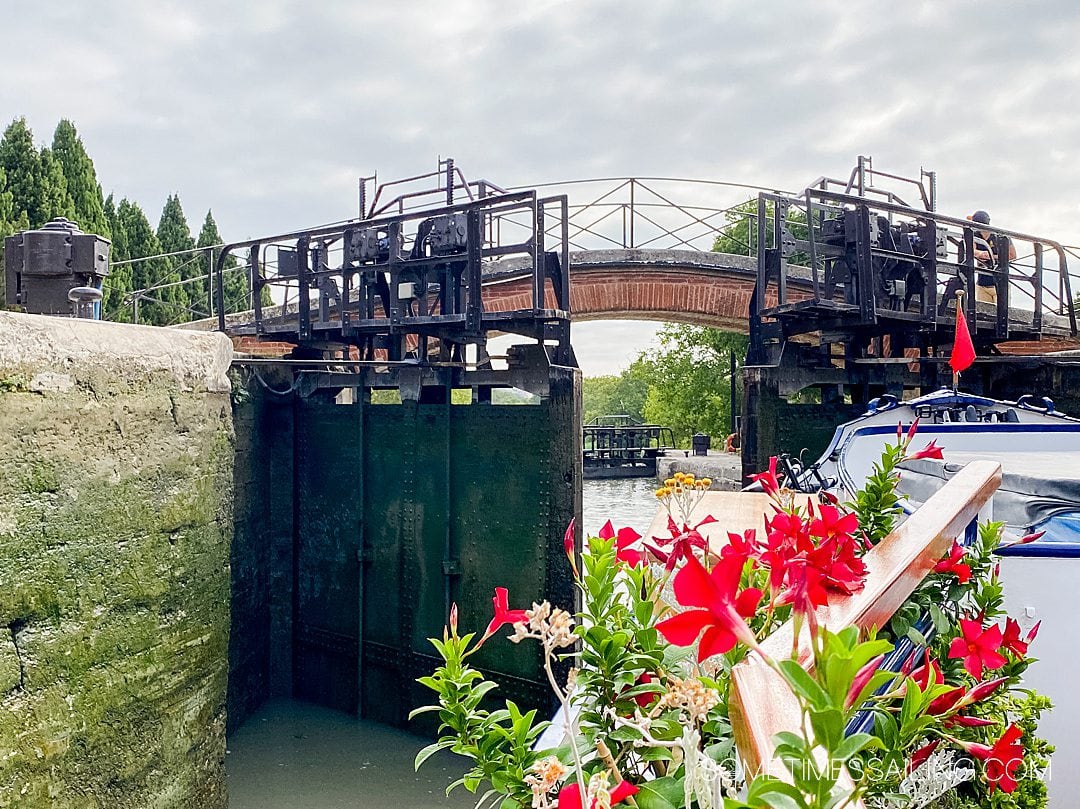 You're much, much closer to the locks on a small boat than you are on a bigger boat, like a river cruise ship. And that is super cool! You also go through the locks during the day on a canal barge cruise, not at night like many river cruise ships.
The Arzviller Boat Lift is another amazing engineering feat that a barge cruise may experience. For example, Panache, a European Waterways barge boat, travels this lift on a cruise in eastern France's Alsace and Lorraine regions.
This "boat elevator" allows the vessel to traverse over 350 feet; it's an engineering marvel that replaced 17 locks that took hours to complete.
If You're a Foodie, Barge Cruises are For You
One of the most impressive things about barge cruises is the caliber of food. The cuisine is truly outstanding.
Even after the first day of our barge cruise and having just one meal, Dan and I discussed how amazing the food was. After the cruise was over, we echoed that sentiment and confirmed it was the best food we've had on any cruise. (Bravo to our European Waterways chef, Toby!)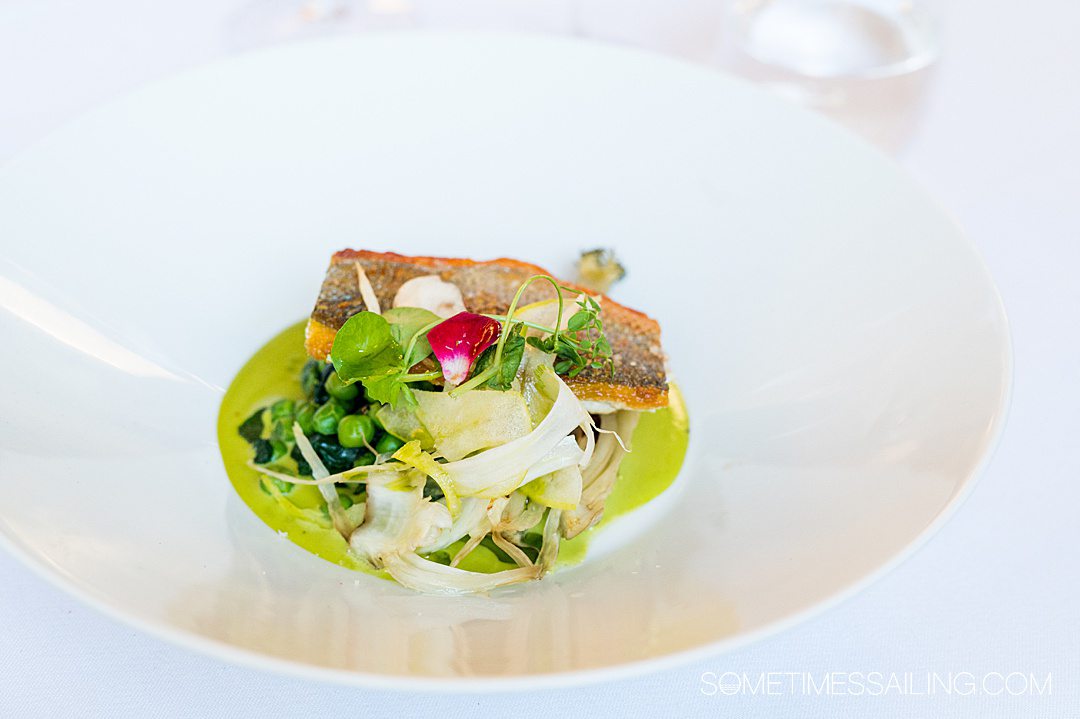 If you're curious, we agreed that our second best overall food experience on a cruise was on our Maine Windjammer cruise on American Eagle. (We have had a lot of food on many amazing cruise lines, so our vote counts for something!)
Though they were two incredibly different dining experiences, they both stood out. American Eagle's food on a Maine Windjammer schooner was buffet style for each meal (it's incredible food, even buffet style), and on our barge cruise, we had sit-down meals.
As foodies, we're tough food critics. And hands down, our canal barge cruise cuisine was the best.
Another thing you may enjoy as part of your canal barge cruise experience is wine tasting. Wine is served with lunch and dinner, so you'll inevitably try new wines in the dining room.
Some nights we had red and white wines to pair with each course. (A barge cruise has an open bar, so if you're not in the mood for wine you can always ask for a different drink.)
Those who Enjoy Being a Part of a Small Group will Appreciate Barge Cruises
There are pros and cons of being part of a small group on a small ship. You don't have autonomy as you may on a river cruise ship of 190 people, for example, but you can always retreat to your cabin if you wish, like on any cruise.
You'll enjoy a barge cruise if you like connecting with fellow passengers. This is because you're one of only a few guests, and you talk to each other repeatedly – for meals, excursions, drinks after dinner on the sun deck, and the like. Every day.
I found that I missed the variety of people on a river cruise ship and seeing more people than the same additional three guests that Dan and I sailed with. They were lovely, but sometimes we simply missed the option of connecting with more people.
That said, the barge cruise was only six days, so this wasn't a huge factor for us.
Barge Cruisers are for Travelers with a Substantial Budget
Because of the "exclusivity" of barge cruising, it costs a fair amount of money. (High demand with a small "supply" or space for guests onboard equals exclusivity. The crew-to-guest ratio is nearly 1:2.)
Granted, all things with costs and money are relative. That said, you can expect starting prices for a one-week barge cruise to begin at $7,000 or more for two people.
We should mention, though, that barge cruises are inclusive of costs. Like river cruises, which include a lot for the cost (mostly everything), canal barge cruise pricing includes tours, alcohol, and meals.
The only additional expenses are:
We had to fly to France and then take a train to get to Narbonne for our barge cruise, where the ship's captain picked us up to drive us to the ship. (Pick-up from the cruise company was included in the cost; the train and flights weren't.)
Additionally, we purchased travel insurance for our trip. Thankfully so, because we had to use it when our flight to France was canceled (which had nothing to do with the barge cruise company – it was the airlines' fault).
This is also a good time to note that you should fly to the country of embarkation early, not on the day of your cruise. This will ensure you don't miss anything if flights are delayed or canceled.
Couples, Singles, and Families (of Older Multi-Generational Cruisers) will Enjoy Barge Cruises
If you want to sail as a couple or cruise solo, you'll enjoy the intimacy of the small guest count on barge cruises. Additionally, if you want to sail with other couples and book four cabins onboard, you'll essentially have a cruise to yourselves!
In the same vein, we can envision a canal barge cruise scenario where a couple in their 50s signs up for a cruise, then bring along their parents in their 70s or 80s. A barge cruise may be the ideal vacation for a multi-generational family who wants to experience slow travel.
And again, if there are only four to six cabins onboard the barge and you take up three or four of them, you've essentially booked the ship. You'll know most of the people onboard!
People who Get Motion Sickness will Appreciate Canal Barge Cruises (because you Will NOT Experience Motion Sickness)
If one of your concerns about cruising is the motion of the ocean, fear not: you will not experience anything of the like on barge cruises.
In fact, the sailing is so smooth and relaxing that you hardly even notice the vessel's movement. Gone is the need for anti-nausea medication for sea sickness.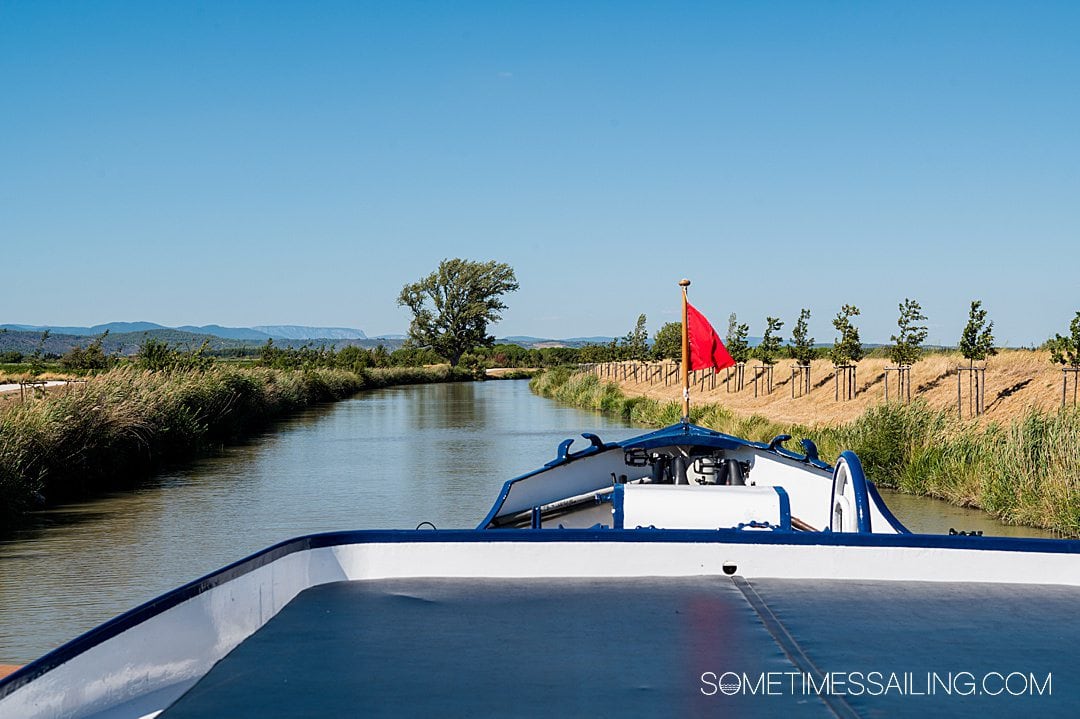 The only times we felt the boat moving was when it entered a lock and bumped the concrete wall. Our onboard host of Anjodi joked, "That's why they're barges: they barge into things, like this lock!"
She was being funny, of course. But barges are made for that sort of thing. Besides, the "bump" was a slight and quick tap more than it was a cause for concern.
Barge Cruises are Appropriate for People with a Passport Who are Not Afraid to Fly
You'll likely need a passport to get to the country the barge cruise sails from. You will also likely have to fly to that country. If you live in Europe, you may be able to take a train to the port of embarkation, depending on where you live.
For us Americans, we had to fly to France for our South of France trip. After a flight to Lyon, we boarded a train to reach the destination, where the barge cruise van picked us up to get to the port.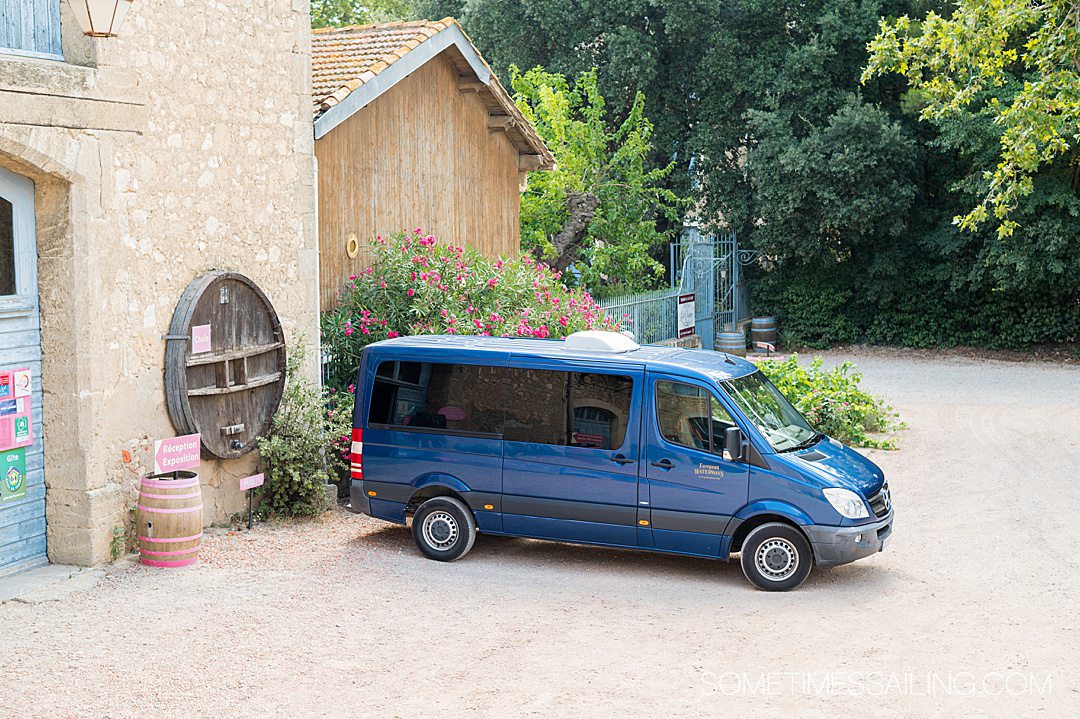 If you need a passport to reach your barge cruise, be sure that it has enough validity to clear the country's or region's requirements.
For example, traveling to Europe with a US passport requires at least three months of validity until your passport expiration date. Customs count this from the day your return flight leaves Europe.
People who Don't Need a Deep-Dive into a Single City in a Destination will Like a Canal Barge Cruise
Luxury barges participate in shore excursions. However, a tour guide on the ship is usually part of the crew, bringing you to a nearby destination and touring you around.
This is someone who has some prior knowledge of the area because he or she has been trained. However, it is not a local tour guide who has a deep understanding and extensive knowledge of a city or historical site you're visiting.
For example, our French barge cruise took us to Carcasonne as our first stop. This is a beautiful UNESCO World Heritage Site.
Our guide was two weeks into his job, and though he knew more than us and it was great to hear the information he shared about this famous, double-fortified city, it wasn't a substitute for a tour with a local operator who intimately knows about Carcassonne.
However, seeing as we were only there for two hours – one hour with our guide and an hour to freely walk around on our own – this was the perfect introduction to the historic medieval city.
Our guide's overview gave us the information we needed to know and could retain after the trip. (Who really remembers all the nuances and details anyway, unless you write them down, like us?)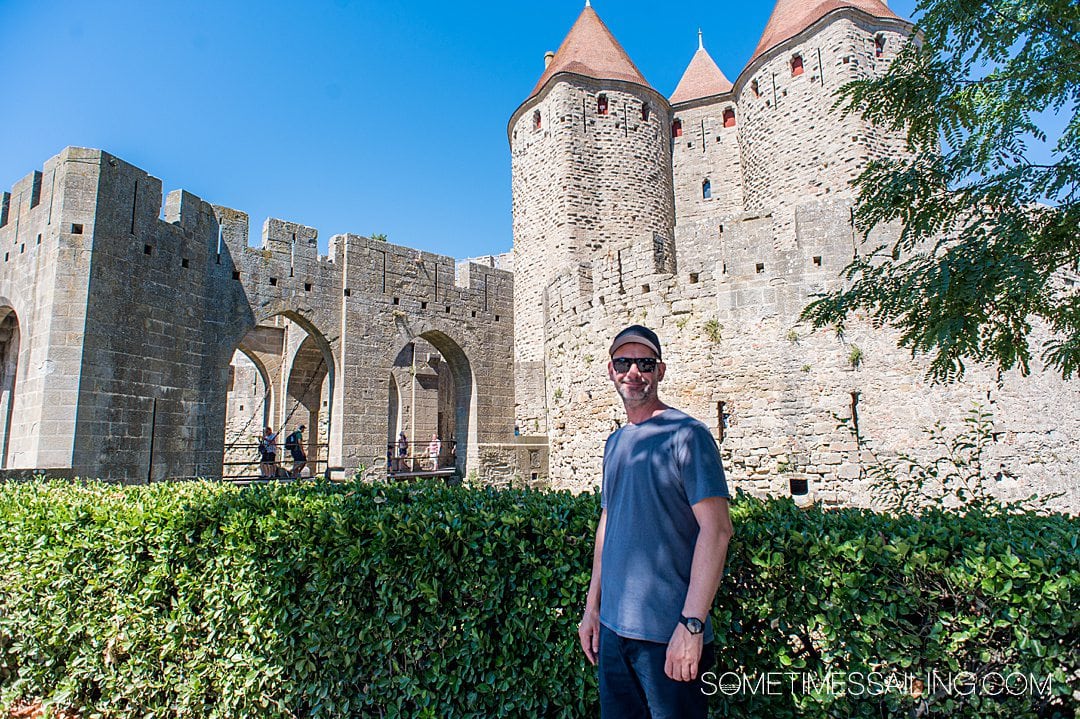 Guests who are Pleased with Small Cabins will be Comfy on a Canal Barge
Though a week-long barge cruise may be considered a luxury hotel barge, small boats call for small-size cabins. The square footage of the few cabins onboard is minimal because the ship has to be a certain size to pass through locks and travel on the canal.
As such, cabins are small. Yet, they have everything you need to enjoy cruising in the lap of "luxury." This means a full bathroom with a toilet, sink, and standing shower. It also means storage in your cabin and room to walk around, even if not much.
Our cabin also had an air conditioning unit, which was incredibly welcomed during a summer heatwave in August. European Waterways has 17 vessels, each with air conditioning, but not all barge cruises have it with other companies; inquire before you book if that's important to you (or simply book with European Waterways!).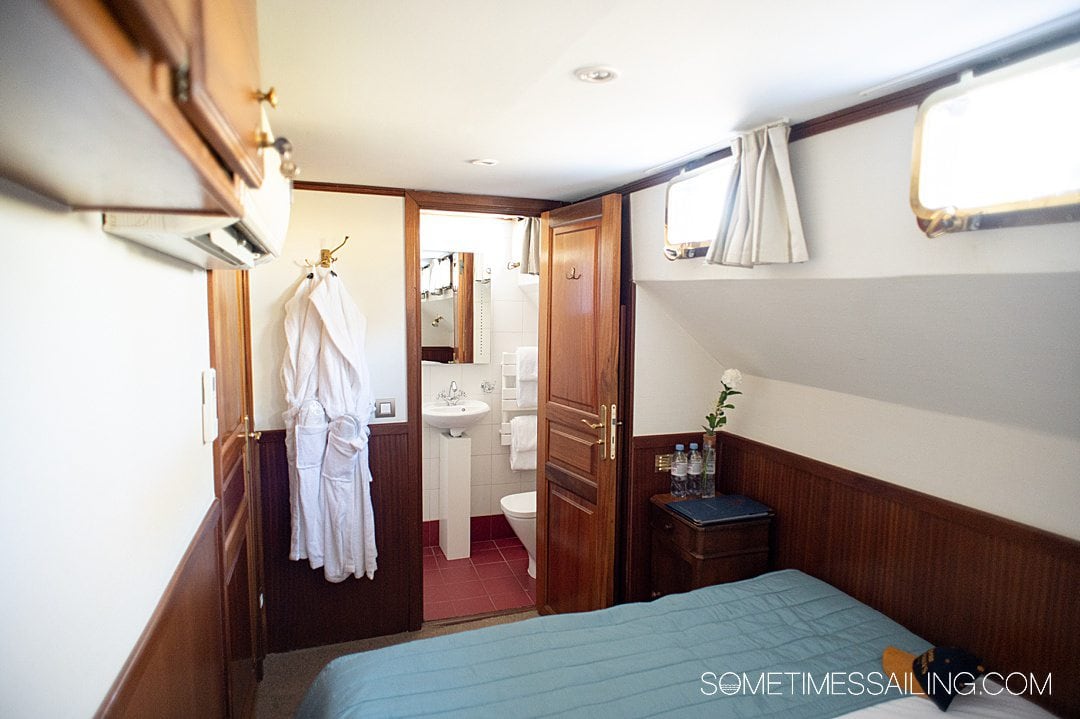 Barge Cruise Itineraries and Where they Sail
Barge cruises are typically one week or one day shy of a full week.
Expect to focus on Western Europe if you're interested in barge cruises. You'll likely be sailing on canals (like the historic Canal du Midi) and in areas with a cruise route that takes you to ports in charming small towns (perhaps even a wine region like Southern Burgundy or the Loire Valley).
For example, European Waterways has itineraries available in the following countries:
France
Scotland
Ireland
Italy


When do Barge Cruises Sail?
You can expect barge cruises (depending on the location of the itinerary) to be readily available between May and November. A high concentration of available itineraries peak in summer.


Tipping on a Luxury Barge Cruise
As we mentioned earlier, gratuities/tips are not included in the cost of your barge cruise. As a general rule, aim to tip the crew 5-10% of the total cost of your cruise in cash.


What Companies Offer Luxury Canal Barge Cruises?
Only a few companies offer luxury canal cruising on a barge. In other cases, a boat is owned by an individual (who is likely the captain) and has cruises to sign up for.
Here are a few reputable companies to consider:
French Country Waterways
Croisi Europe
Barge Cruise Travel Agents
There are also a few notable companies whose travel agents specialize in barge cruises. This includes:
Barge Lady Cruises
French Waterways
Abercrombie & Kent


Conclusion
If you want to enjoy less-touristy towns, eat superb food, and love slow travel, consider a canal barge cruise for your next vacation and experience an ultra-relaxing getaway.