Princess Spa: All About "The Enclave" at Lotus Spa on Majestic Princess
The Enclave is the exclusive area of The Lotus Spa aboard many Princess cruise ships. It's a wonderful thermal suite area of the spa that was built for guests who add it to their cruise to enjoy for hours and, most typically, for more than one day during their sailing.
If you're interested in booking The Enclave, be sure to book your Princess Cruises sailing first, then add it on after.
Disclosure: There are affiliate links in this post, which means we may earn a small commission if you click the link and proceed with a purchase, at no cost to you. We truly only recommend hotels, products, and services we personally use. As Amazon Associates, we earn from qualifying purchases. We were hosted by Princess Cruises. All opinions are our own, as always.
🕐 Short on time? No Problem!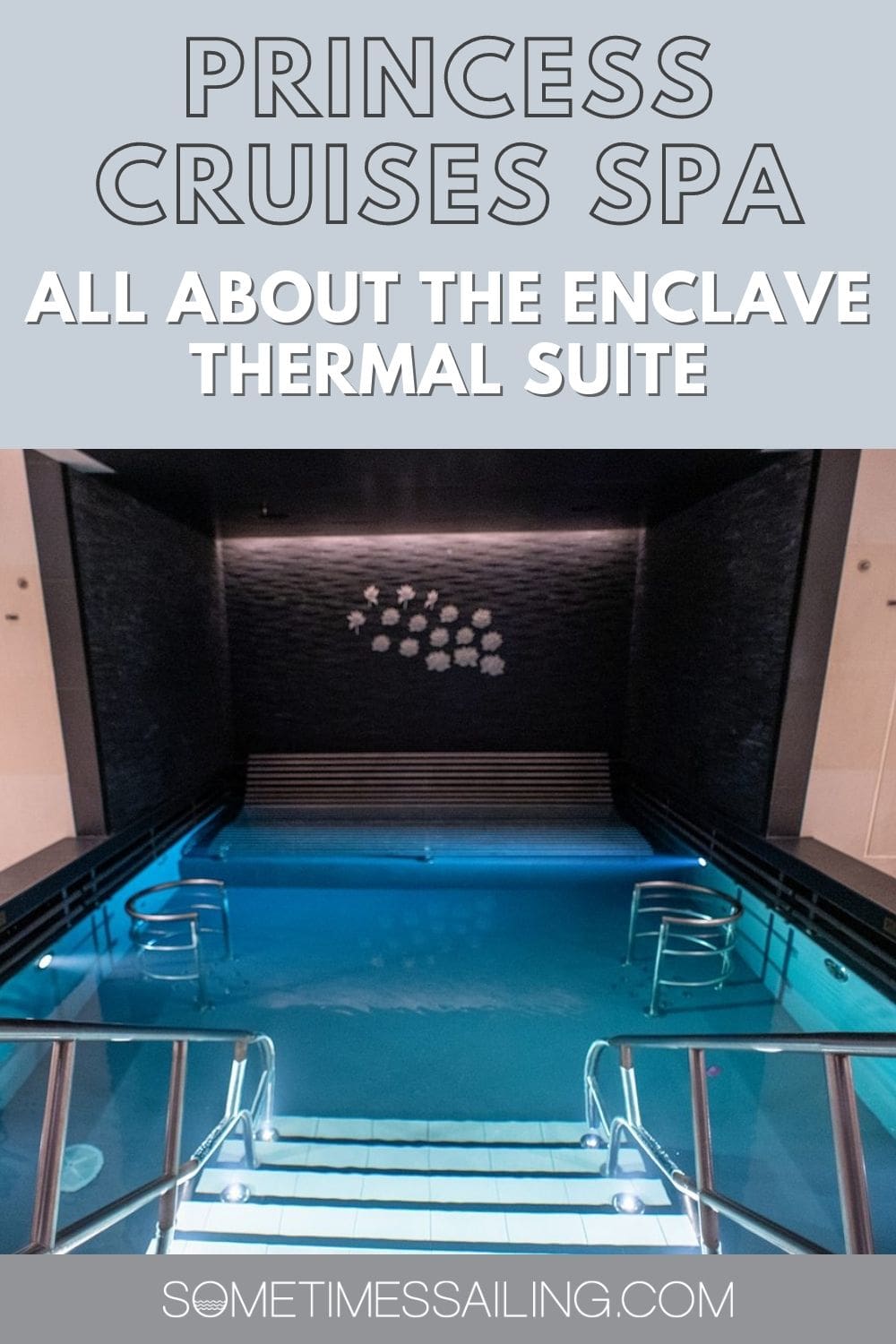 Location of The Enclave
We visited The Enclave when we sailed a wonderful California coast itinerary on Majestic Princess, where it is on Deck 5. It's past the entrance to The Lotus Spa. You need to either have a cruise pass to The Enclave or a day pass to access this area.
The thermal suite exists on many of the Princess Cruises ships but not all. Here's where you'll find one:
Royal Princess
Regal Princess
Majestic Princess
Sky Princess
Enchanted Princess
Discovery Princess
If you aren't convinced yet to sign up for a pass to The Enclave at your Princess spa when you embark on your cruise, be sure to take a tour of the space on embarkation day. You can easily see inside The Enclave then and decide if you want to sign up for the experience during your sailing if you haven't already done so.
Checking into The Enclave
Check-in is at the spa's front desk, where you would check in for a massage or any other treatment at Lotus Spa. Upon check-in, you are handed a magnetic key to access a locker and change into sandals provided by the spa. You're also given a plastic key (like a hotel room key) to access The Enclave, which is behind locked doors.
Amenities Inside Majestic Princess The Enclave
The Enclave is a haven for hydrotherapy and spa enthusiasts.
After you change into a robe and spa sandals in the locker room, you walk a few steps over to access The Enclave with the key they provided. You wear a bathing suit into The Enclave and can wear the robe they provide over it if you like.
When you walk inside the area where The Enclave is, a choice of self-service cold water (plain or cucumber/citrus-infused) and mini-refrigerators with small cold towels inside greet you. (These towels were very welcomed after a few hours at The Enclave, especially the saunas.)
You then walk down a pleasing corridor filled with silk flowers to the "The Enclave" space on Majestic Princess. The centerpiece of the thermal suite is its small pool. Surrounding the pool are heated tile lounge chairs. There are four lounge chairs on either side and four additional chairs in an elevated area.
The rest of The Enclave consists of three spa rooms and four standing spa showers.
There are also hooks on the walls, which were great for hanging up a robe or towel while enjoying the amenities.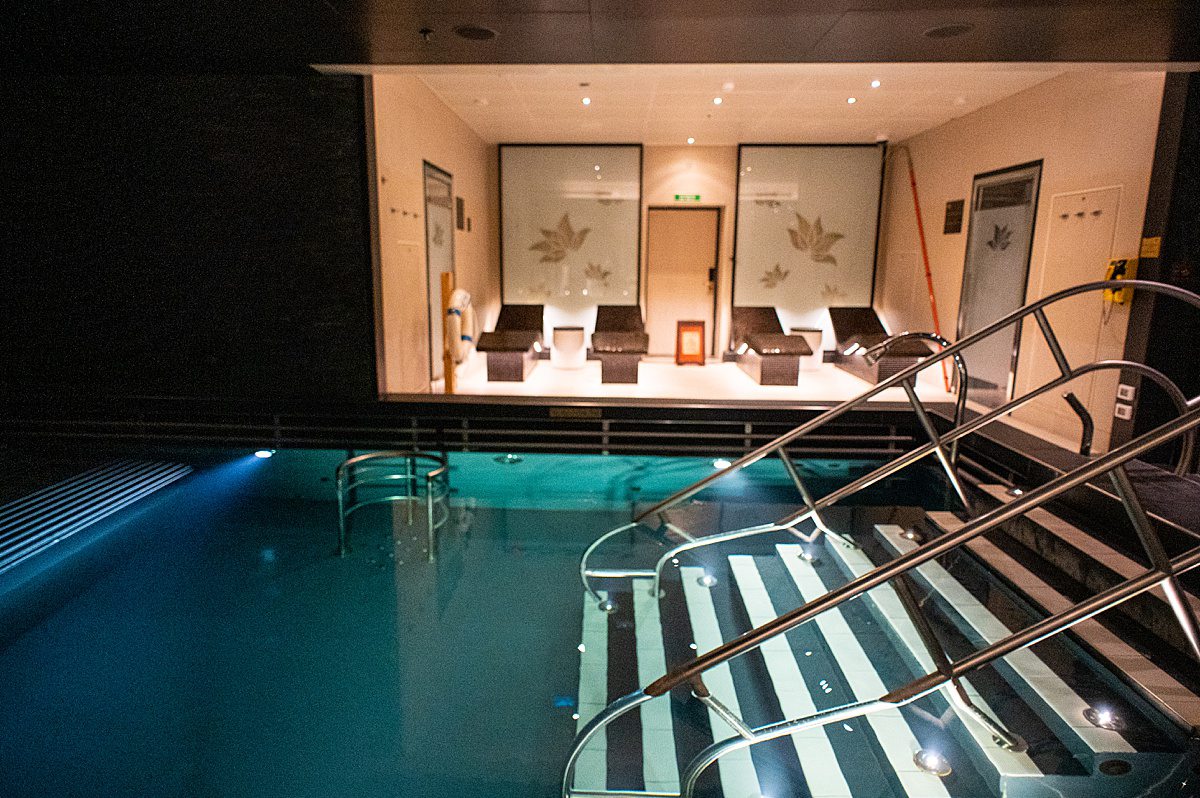 Hydrotherapy Pool Features
A small pool area inside fills most of the main space, with a tile floor surrounding it, with the tile chairs bordering that walkway.
The pool is only about three feet deep or so – I'm only 5'1″, and I could stand in it and walk through the water from the stairs over to the water bed bench without getting my hair wet (which was pulled up in a hair clip).
The main pool has:
One large, square European showerhead on top of the ceiling
Two massage "chairs" (the semi-circle seats in the photo below, on either side of the pool)
One long water bed bench that runs along the length of the back wall, with massaging bubbles underneath
Two showerheads by the entrance steps to the pool that shoot high-pressure water to massage your body
Four buttons around the pool control the massage bubbles and showerheads, which are all on a timer.
Though we're unsure what the exact pool temperature is, it was a nice warm temperature, not hot.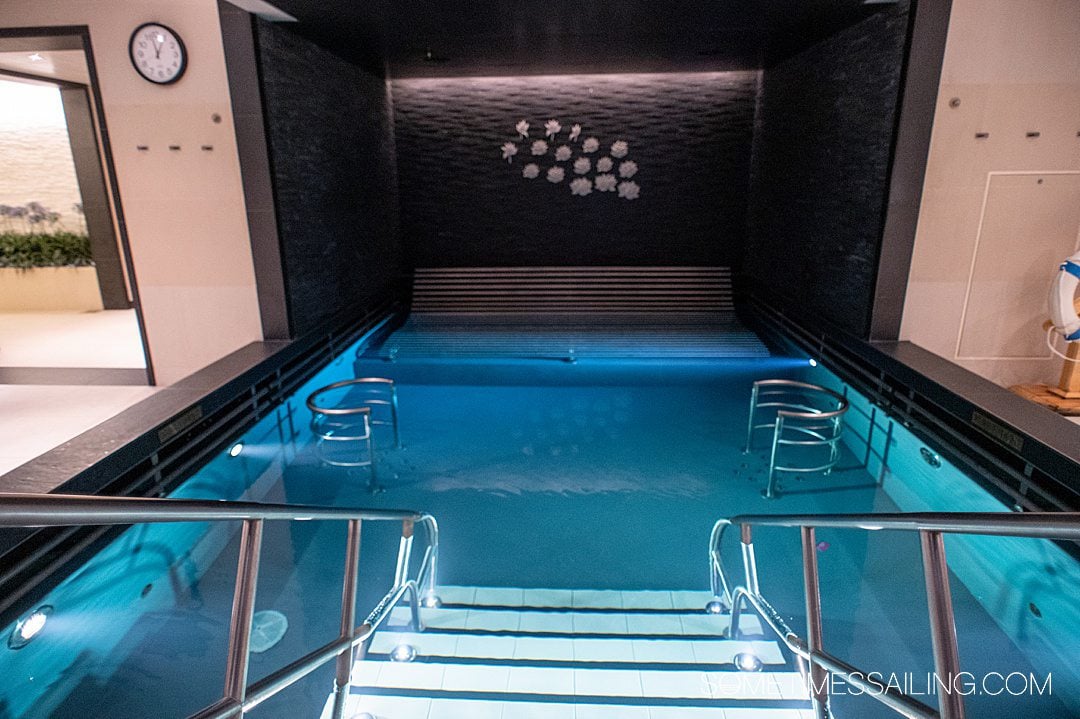 Spa Rooms in The Enclave Spa Area on Majestic Princess
Three heated rooms are a highlight of this area of Lotus Spa. There isn't a clock inside each spa room but there is a clock near The Enclave pool if you don't have a watch on. You won't be totally clueless as to the time you've been inside one of the steam rooms if you peek outside at the clock.
(It's not advised to wear any wristwatch in any of the treatment areas, including "waterproof" watches, because the heat can easily affect a waterproof watch seal.)
Hamman, a Turkish-Inspired Steam Bath Room
The Hamman has tiled seating inside with two sinks for cold water. The temperature is kept between 104 to 122ºF and the recommended time inside is ten minutes, max.
In addition to the row of white-tiled seating that creates a bench in the Hamman, there is a large rectangular black-tiled seating area (it reminded me of a tiled bed). Beside it is a showerhead that dispenses cold water. Hot rocks are on top of a square tiled column, and "stars" (which is lighting, not the actual sky) twinkle overhead.
Enjoying the tiled seating without placing a towel between you and the hot tiles is nearly impossible because of the heat. There are, of course, plenty of towels to use in The Enclave.
Caldarium, Roman Inspired Steam Room
This was a favorite feature of The Enclave. The room is filled with an aroma that smells like beautiful cedar, and the seven chairs inside with flat, round tiled tops were like oversized spa mushrooms in a steam room fantasy.
Two cistern-like tiled vessels were in the center of the room with hot rocks on top (that you dare not touch).
One of the best features was the three showerheads placed around the caldarium, all dispensing cold water. (This is incredibly welcome when you're in a room between 104-122ºF for up to 10 minutes.)
Laconia, Roman-Inspired Heated Dry Chamber
This spa room is closest to what you would consider a dry sauna. You can detox in here for 10 minutes, max, inside the 122-140ºF room. (We couldn't even tolerate one minute inside, it was so hot.)
Infused aromas inside are subtle yet help you relax. Hot rocks are guarded by glass walls along one row of seating opposite the entry door. There are three showerheads inside the hot chamber so guests can access cold water while enjoying the Laconia.
The seating inside can accommodate eight people, but we didn't see more than one additional person there during the nearly two hours we enjoyed The Enclave in the Princess spa.
Heated Tile Lounge Chairs
Twelve heated lounge chairs are around the Princess spa's Enclave. There is a table between every two chairs so you can place water or anything else you may have brought with you on them, like a book or waterproof Kindle.
It's best to take two towels over to a heated chair when you use it, not just one. You will need one towel to place underneath your body, between your skin/swimsuit and the tile, and another under your head/neck to use as a pillow. (The tiled lounge chairs are warm and inviting, yet not cushiony and comfy as a lounge chair by a pool may be.)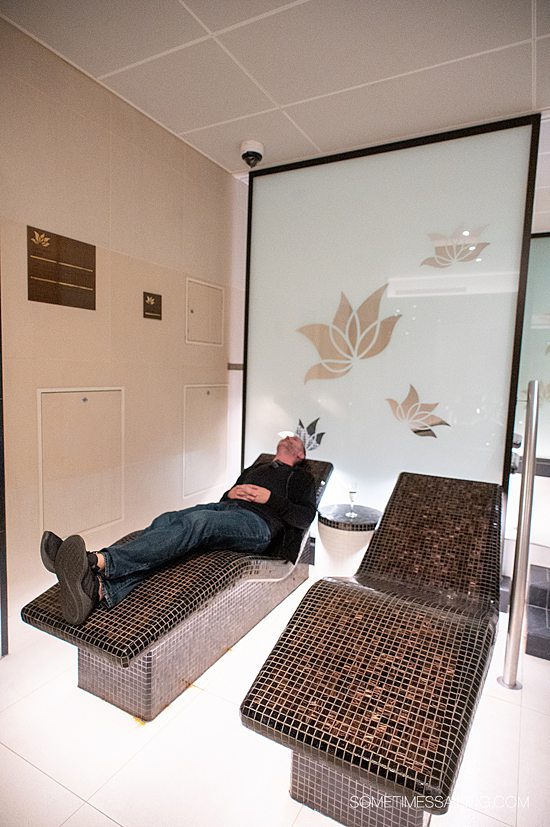 Spa Showers Inside The Enclave
Four standing showers provide rejuvenation after time in the hydrotherapy pool or any of the sauna or steam rooms in the Princess Spa.
The Enclave showers options are:
Tropical: hot at 100ºF with a pleasant aroma
Cool Mist: at 68ºF it provides a nice refresh
Rain: a subtle and energizing aroma fills the shower, whose water is kept at 90ºF
Siberian: a cloud of mist bursts then a 68ºF shower follows
What Does The Enclave Cost?
The price to access The Enclave is always less money if you book it pre-cruise. However, you can still book it during the cruise if you want to add it.
Pre-Cruise Prices at The Enclave on Majestic Princess Spa
A pass for one person, for a 7-day cruise, is $139 pre-cruise. Princess Cruises Lotus Spa charges $219 for a couple's pass to The Enclave before you embark.
This works out to be just under $20 per day for 7 days for a solo pass, or just around $31 per couple for 7 days.
The Enclave Price and Options During Your Princess Cruise
A 7-day pass for The Enclave that you book onboard the ship is $179 for one person. A couple's pass is $299. This works out to be just under $26 per person per day, or under $43 per couple for seven days.
Give The Enclave as a Gift
If you need a gift idea for someone going on your cruise with you or someone going on a cruise, covering the cost of some spa time will certainly be appreciated! Even if you can't give them a Princess Cruises gift card, you can give them a Visa or American Express gift card, for example, that will cover the cost of this amenity.
Booking Before or During Your Cruise
You save $40 if you book a solo pass before your cruise starts and $80 if you book a couple's pass pre-cruise.
When you book a day at The Enclave, you're either buying a day pass or pass for the length of the cruise. You have unlimited in and out privileges to The Enclave throughout the day, even if you have a day pass.
A day pass is possible to buy but their availability is often dependent on how many people have signed up for passes for the length of the cruise. If they are available for a 7-day cruise, day passes are $49/day during port days.
The Enclave can accommodate approximately 20 to 25 people. (When we were there, we only encountered a few other people who were using the spa. At the lowest point, it was just another person. During the "busiest" point it was five other people. We should also say, however, that our cruise was less than two-thirds full so that may have been why there were hardly any other people there as well. We're not sure!)
There is certainly room enough for everyone who wants to be at this Princess spa amenity as long as everyone is spread out and trying different things.
Who Will Enjoy The Enclave
Some guests may love this Princess spa amenity and some may not. It all depends on what you enjoy.
Who is The Enclave Ideal for?
The Enclave at Princess's Lotus Spa is a wonderful exclusive experience. It's for guests who want something beyond a massage and want to stay at Lotus Spa for hours.
It's also great for guests who may not want a massage or facial (or the treatments are beyond their budget) but still want a spa experience.
Guests who want to extend their spa experience beyond one day or one treatment may really enjoy a pass to The Enclave for the duration of their cruise.
If you've sailed with Princess before or have sailed multiple times on the same ship, you may find that adding a pass to The Enclave to your trip results in a fun new experience.
It's also a relaxing activity for guests who aren't getting off the ship in port.
Who is the Enclave Thermal Suite Not Ideal for?
The Enclave is not for people who don't like saunas, steam rooms, and hot tubs. Pregnant women are advised against visiting The Enclave because of its extreme heat.
It's also not great for big groups of people. The Enclave is best-enjoyed solo, as a couple, or perhaps with a group of three to four friends.
One of the four outdoor hot tubs in the pool area and the outdoor pools are better suited for big groups. You will find this area on Deck 16, or in the Hollywood Pool area on Deck 16.
Other Good to Know Info about The Enclave
The Enclave is a medium-sized thermal suite area. It can feel a little crowded when five to ten people start to use it. (You're looking for a relaxed, uncrowded, exclusive spa experience, after all.)
Because of this, we recommend going when most people are getting off the ship during port days. If you go during days at sea, try going early in the morning or late at night before the Princess spa closes. (Most days, Lotus Spa was open late, until 10:00pm.)
Beyond Princess Cruises "The Enclave" at Lotus Spa
We both indulged in massages and had the most amazing hot Bamboo massage for 75 minutes! If you are on Majestic Princess and love a massage with a lot of pressure, this is for you. Our massage therapist shared that the pressure of a bamboo massage is five times that of a hot stone massage. (Be sure to ask for Jajo. She was awesome!)