Disney Cruise Ships Ranked, According to DCL Experts
If you are interested in Disney Cruise Line, you have likely wondered: how are Disney cruise ships ranked by experts? What Disney cruise ship is the best? When you are interested in going on a Disney Cruise Line (DCL) trip, you want to book the best ship for your vacation, after all.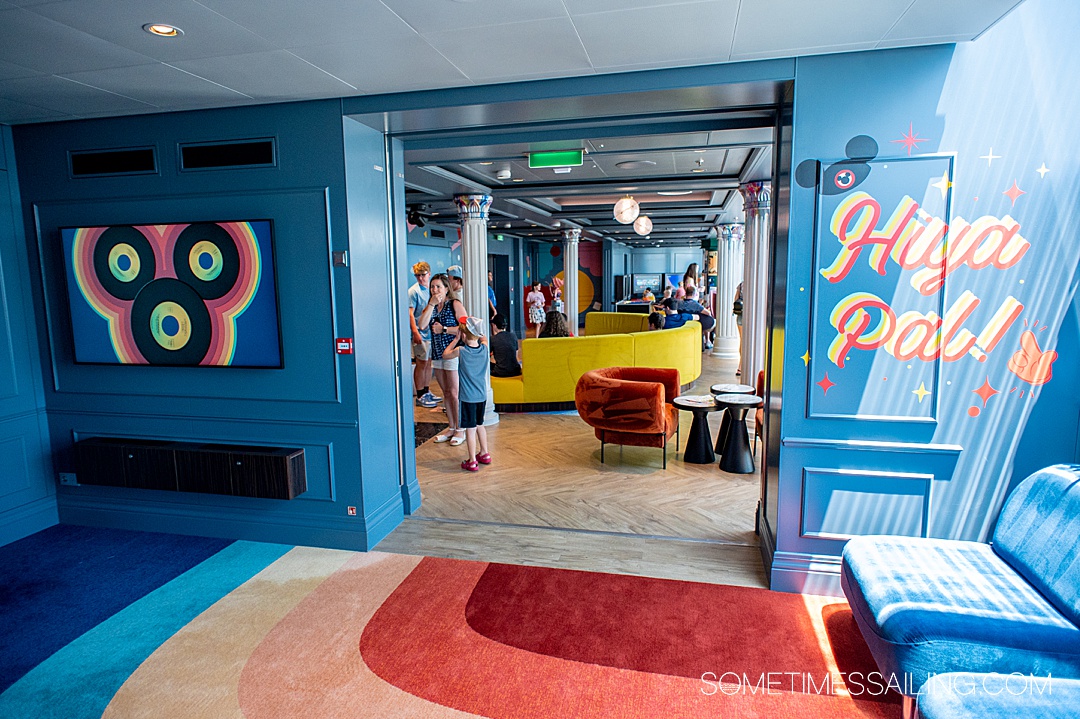 We spoke to six Disney Cruise Line experts to find out the answers. Our experts are all Platinum Castaway Club members who have been on 10+ Disney Cruises. (That is a lot!) They're also all in the DCL arena as either podcasters, bloggers, travel agents specializing in DCL, or a combination of those jobs.
Be sure to read to the end because we link to some fun Disney Cruise Line merchandise to gear up and get excited for your cruises!
Disclosure: There are affiliate links in this post, which means we may earn a small commission if you click the link and proceed with a purchase at no cost to you. We truly only recommend cruises, experiences, products, and services we personally use. As Amazon Associates, we earn from qualifying purchases.
Best Disney Cruise Ships Ranked Overview
"Best" Disney cruise ship and Disney cruise ships ranked are subjective, of course. Answers vary according to what you're most interested in during your cruises. For instance, what's the best Disney cruise ship for entertainment venues? How are Disney cruise ships ranked if you're traveling with little kids versus teenagers?
🕐 Short on time? No Problem!
Skip Ahead per category Disney cruise ships ranked Winners:
Best of Disney cruise Line in additional Categories:
Disney Cruise Line Experts weigh in on: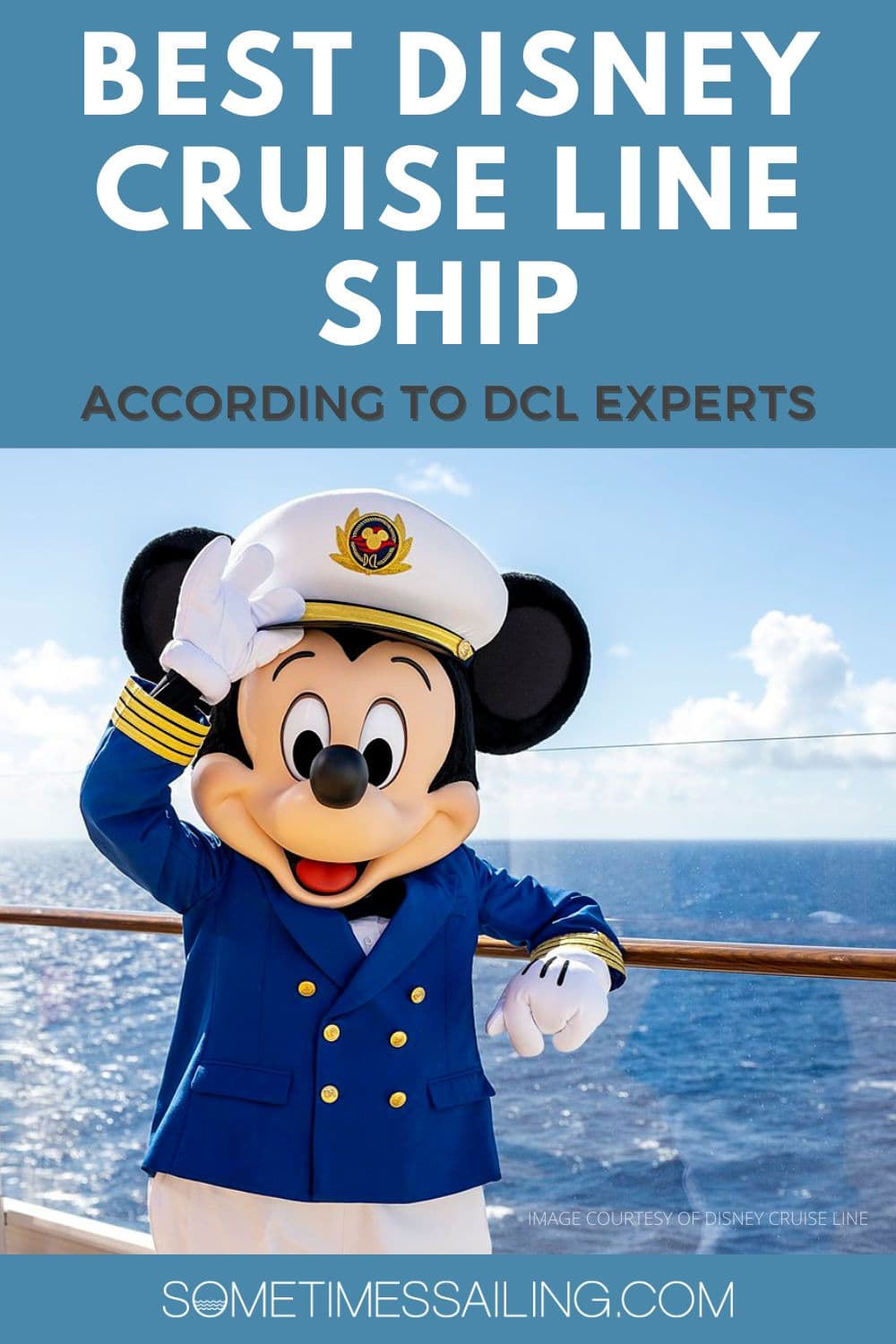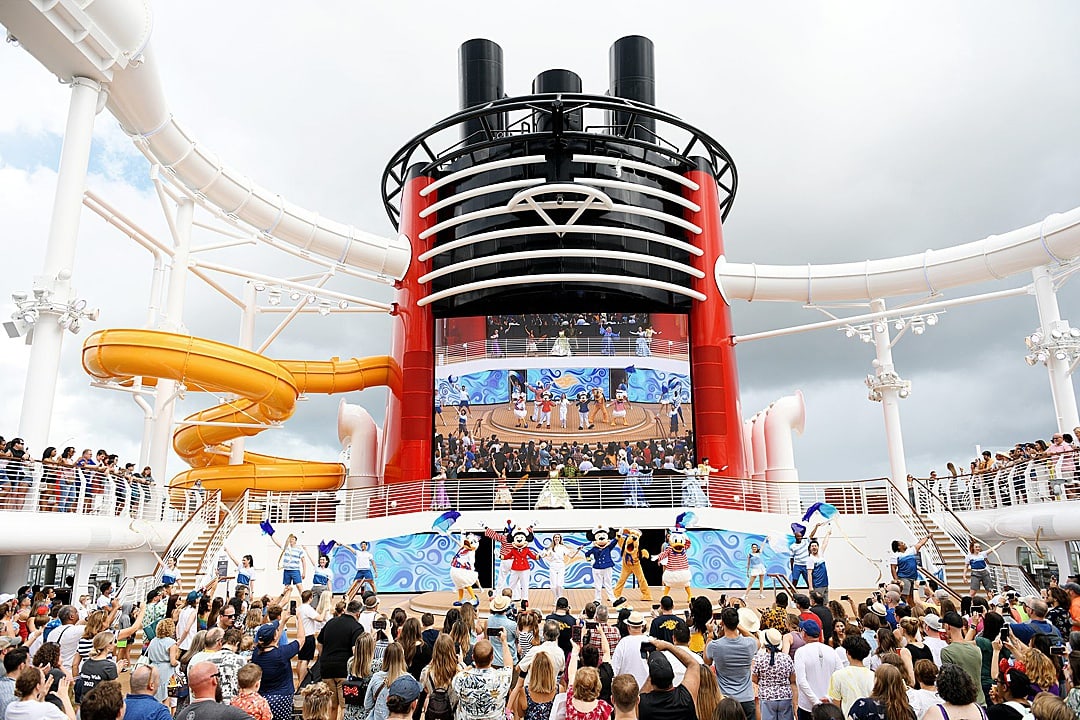 ⭐️ Best Disney Cruise Line Ship, Overall Winner ⭐️
The winner(s) may surprise you! We expected the clear winner to be Disney Wish, the fleet's newest, "shiniest" ship. However, it wasn't!
Disney Wish received 4 votes of 6, while Disney Magic and Fantasy received 1 vote each. Many of our DCL experts' selections for Best Disney Cruise Line Ship were tied to the onboard offerings and the itineraries.
✨ WINNERS: DISNEY WISH, MAGIC, & FANTASY ✨
Onboard offerings (like venues and restaurants) rarely change unless the ship is dry-docked and undergo interior redesigns. The itineraries often (but not always) change yearly depending on where the ship is based.
Scott (from DCL Blog) has been on all of Disney's cruise ships multiple times (including Disney Wish), but Disney Magic remains his favorite. The size of the ship is a winner for him, along with the memories he and his family have made on 11 sailings on Magic, encompassing wonderful destinations.
Brian and Sam (from DCL Duo) like Wish best. While they admit the adult areas need some work and currently itineraries are limited, they like the number of new experiences onboard, high quality of cuisine offerings, and overall quality of the ship.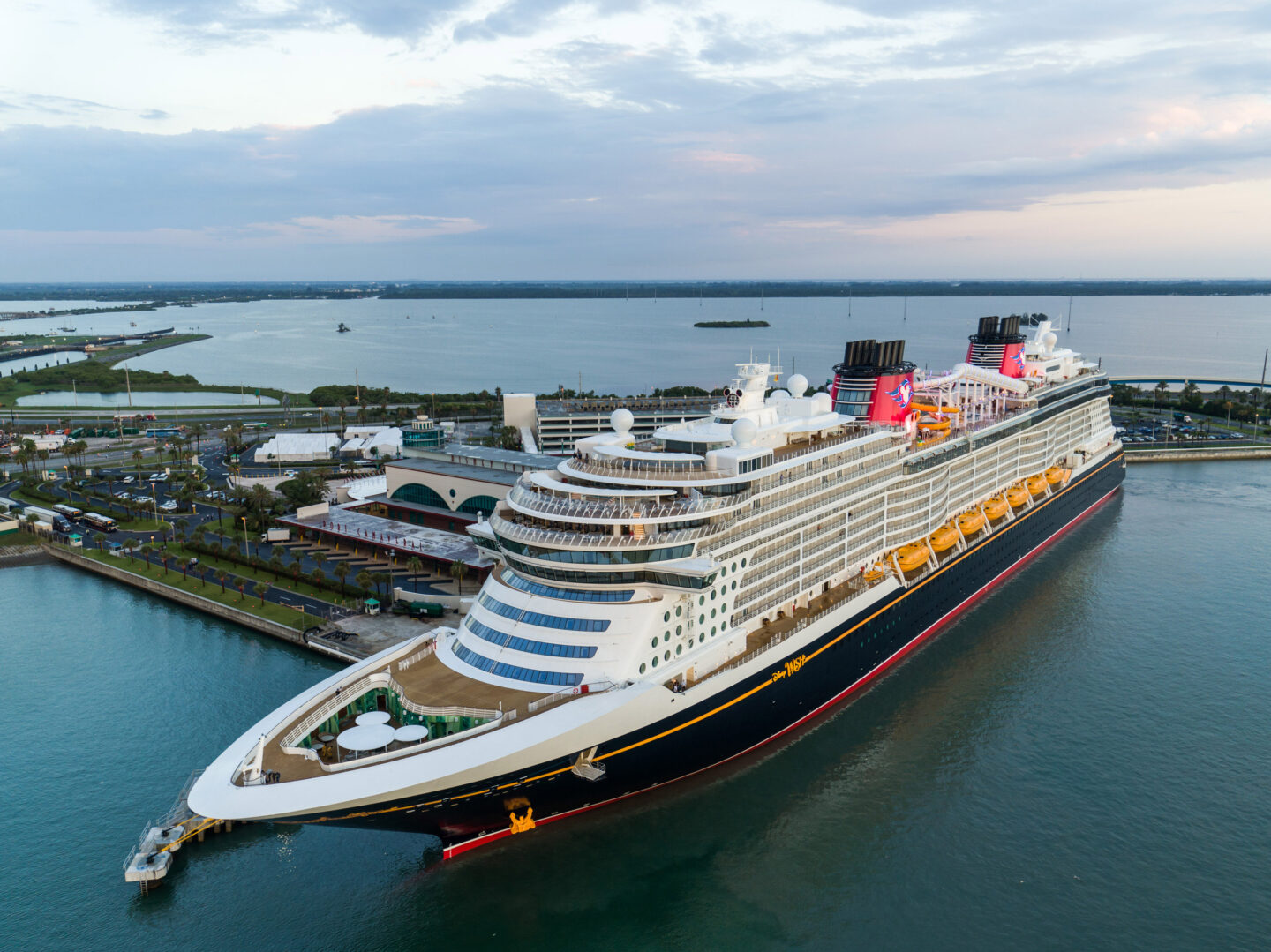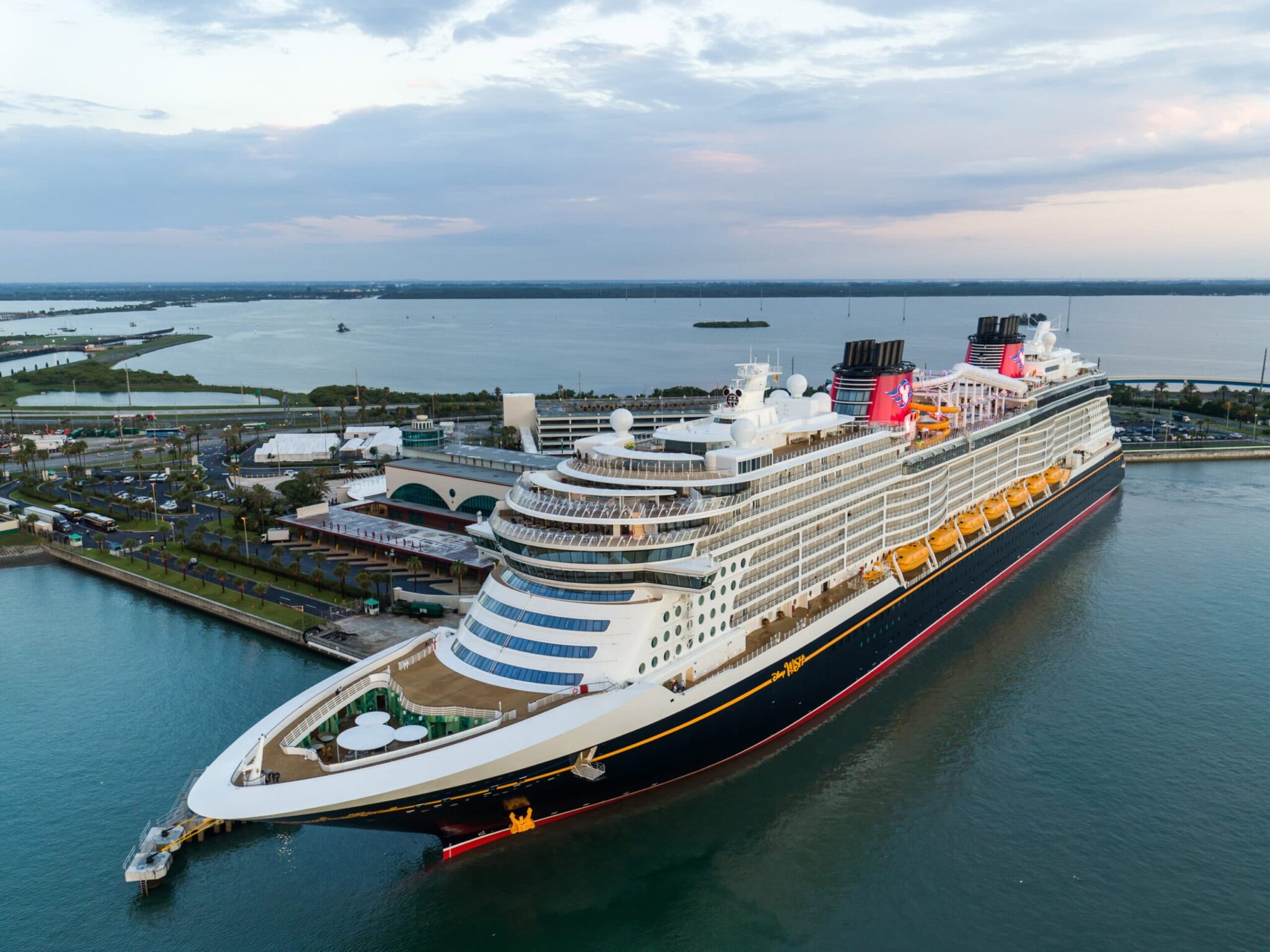 Josh and Brittany (Fairytale Wonders Blog and Wish Upon a Star With Us travel) agree with this notion. They like Disney Wish because of its experiences that you won't find on other ships in the fleet.
Karen (My Path Unwinding Travel) enjoys Disney Fantasy's AquaDuck waterslide. She also likes the longer itineraries offered, preferring longer cruises over short ones. She loves the ability to stay at Walt Disney World before or after the cruise. The Fantasy adult dining and lounge areas take the cake for her!
Please read to the end of the post for further bio information on all of our DCL experts!
⭐️ Best Food on a Disney Cruise Line Ship ⭐️
The choice is unanimous: Disney Wish wins!
Our DCL experts agree on the winner. They have all sailed on Disney Wish, some numerous times. Not only does the Wish have the best dining venues — including Enchanté — but also the best quality of cuisine.
✨ WINNER: DISNEY WISH ✨
Josh and Brittany (Fairytale Wonders blog and Wish Upon a Star With Us travel) add, "The quick service options at Mickey & Friends Festival of Foods on the pool deck really sets the Disney Wish apart. There are so many options. We especially love the barbecue and cantina, both things you can't find on any of the other ships!"
💫 DCL Experts Best Disney Cruise Line Food Experience
We also asked our DCL experts to reminisce about their favorite Disney Cruise Line dining experience to date. Here's what they had to say:
Brian and Sam (DCL Duo):
Remy dinner on our very first Disney cruise aboard the Fantasy was our most memorable meal. We were traveling with two other couples and were able to eat dinner in the Remy wine room. The food was excellent, the wine was plentiful, and the evening was all the more magical because we shared it with friends.
Scott (Disney Cruise Line Blog):
It's impossible to single out one aspect that made dining at Remy (Dream/Fantasy) outstanding. From service to the dishes, each aspect of our numerous Remy dinner experiences has been excellent.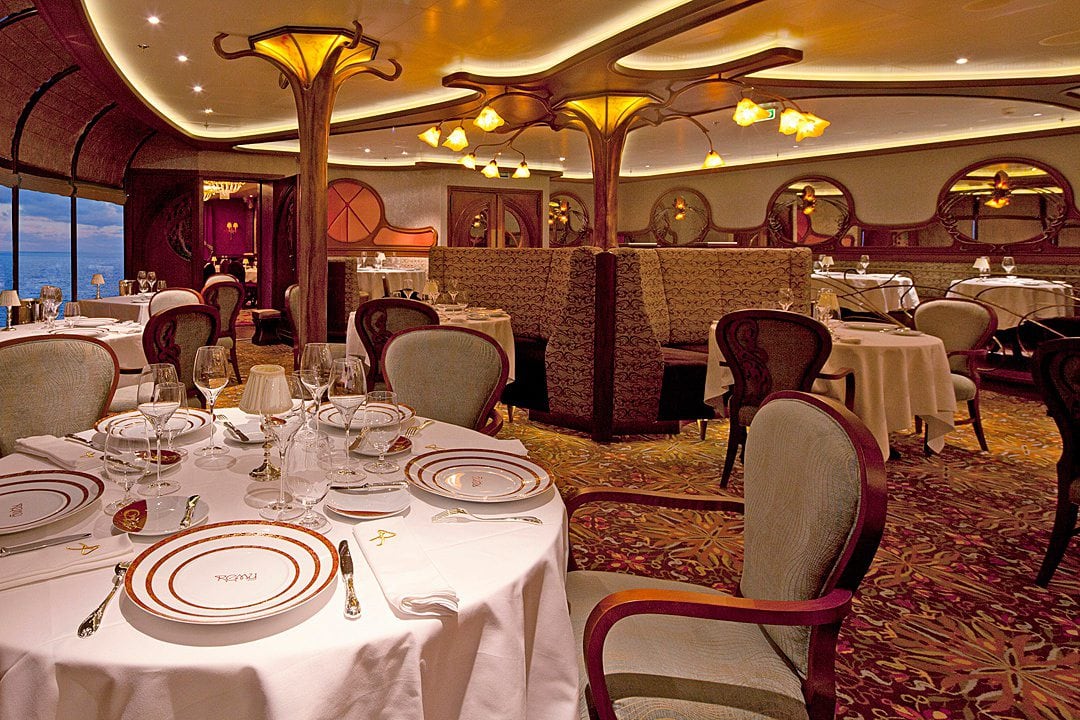 Karen (My Path Unwinding Travel):
Palo Steakhouse on the Disney Wish served course by course in our Wish Tower Suite!
Josh and Brittany (Fairytale Wonders blog and Wish Upon a Star With Us travel):
Arendelle on the Disney Wish became an immediate favorite for us! We were so impressed with the musical performances and the entertainment. The food was outstanding as well. This is a great meal the whole family will enjoy!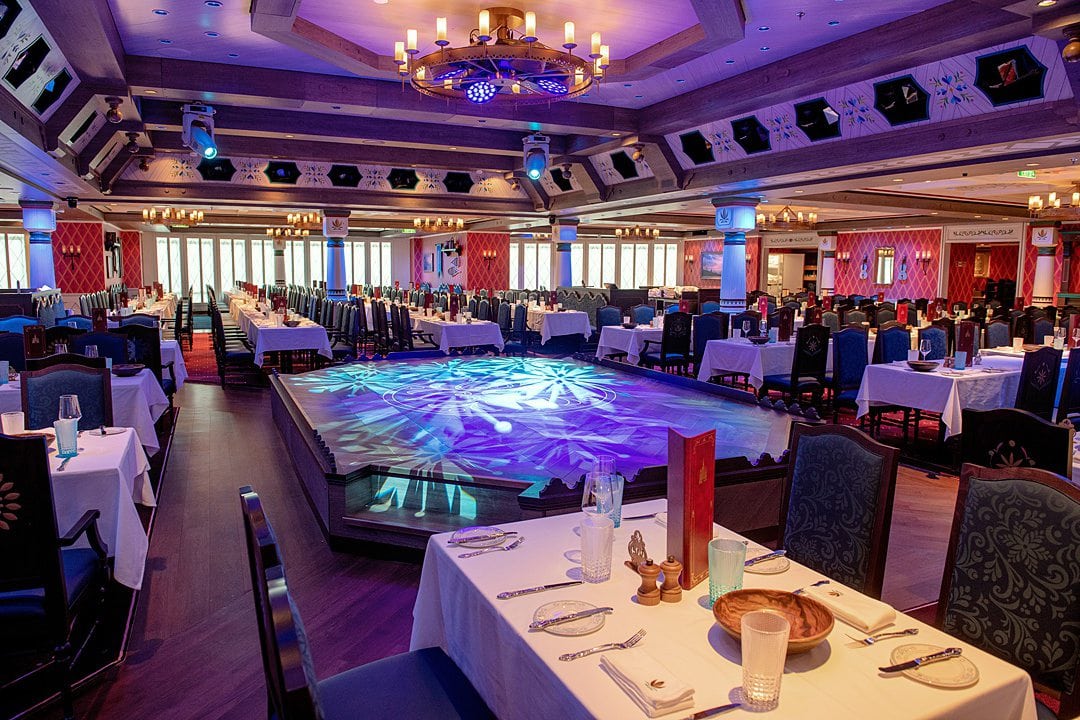 ⬇︎ Download our Freebie: A PDF to Help You Decide What Ship is Best for Your Disney Cruise Vacation!
⭐️ Best Disney Cruise Ship for the Ages: Adults to Kids ⭐️
Here are the blocks of ages for each category:
Adults: 18+
Teenagers: 14 to 17
Tweens: 11 to 14
Children: ages 3 to 12
Infants and toddlers: 6 months to 3 years
💫 Best DCL Ship for Adults
We know firsthand that you don't have to have kids (or travel with them) to enjoy Disney Cruise Line. In fact, we share why Disney Cruise Line is great for adults traveling without kids. As such, we asked our DCL experts which Disney cruise ship is the best for adults.
✨ WINNER: DISNEY FANTASY ✨
Three of our four experts agree that Disney Fantasy is the clear winner, whether you're traveling as adults-only for a "regular" vacation or your honeymoon.
The adult spaces are superb. And to make things extra convenient, the adult dining restaurants and adult district are located in the same general area of the ship. This includes its clubs, lounges, and bars.
The upper deck's adults-only areas on Disney Fantasy also come out on top, with the Quiet Cove's hot tubs nearby and a swim-up bar in the pool. (What adult craving a drink doesn't love that convenience?)
The longer itineraries offered on Disney Fantasy make it ideal for adults looking for a longer getaway. It's hard for traveling parents to take their kids out of school for an extended period of time if it's not a holiday.
If you're looking for a great Rainforest Room to hang out at the spa for a few hours, the Fantasy has one a cut above the classic ships but not as good as the Wish.
If you are cruising with kids and want a happy medium, consider Disney Wish, which offers the best of both worlds: there's a lot to keep kids occupied and checked into childcare while adults break off to have some fun. However, keep in mind that the adult areas on Disney Wish are more spread out, and the pool is smaller and with only one hot tub.
That being said, the Wish also has a great concierge sundeck and lounge if you're interested in booking Concierge-level stateroom, and these perks are an important consideration for you.
💫 DCL Winner for Teenagers
Teenagers love to hang out in groups, make new friends while cruising, and find teenager-centric spots on Disney ships. There wasn't a clear winner here from our Disney Cruise Line experts; they appreciate what Disney Wish, Fantasy, and Dream have to offer this age group.
✨ WINNERS: DISNEY WISH, FANTASY & DREAM ✨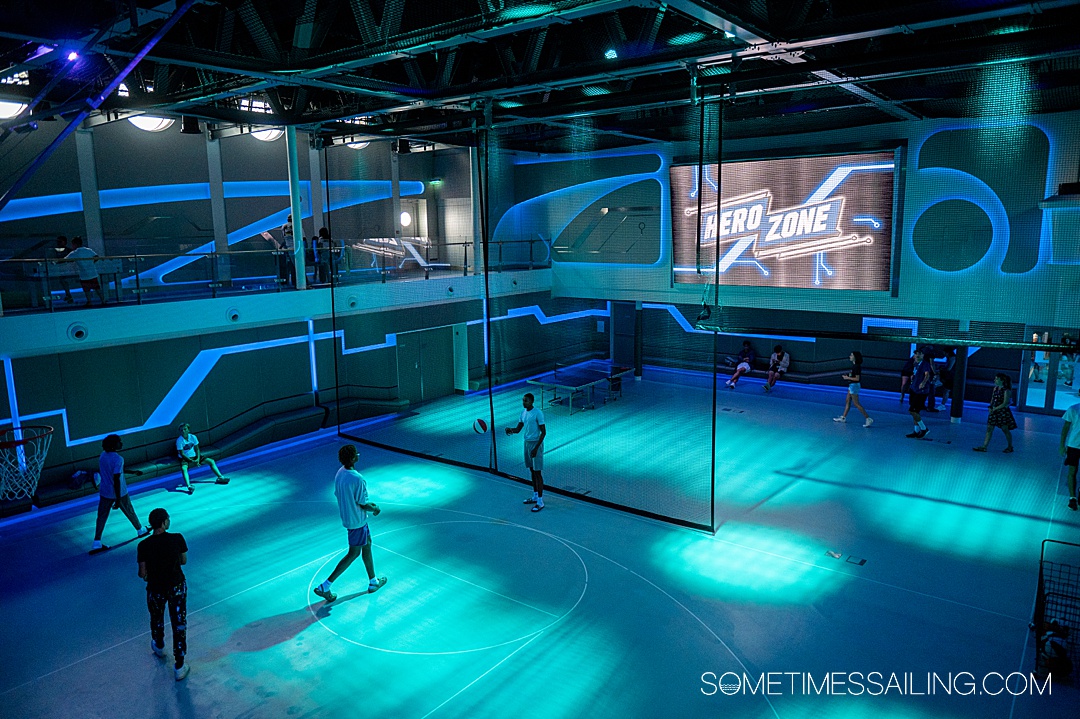 Disney Wish's air-conditioned "Hero Zone" is great for its indoor games. This includes basketball, ping pong, air hockey, shuffleboard, and foosball. Families can use this area too, but it's especially great for teens. It's not an accident that the Hero Zone is near Vibe on Disney Wish.
Vibe, a teen-exclusive youth club for ages 14 to 17, is on every Disney ship though its design differs across the fleet.
The Wish exclusively has "The Hideaway" for teens and tweens. Yet the other ships – Disney Dream, Fantasy, and Magic – all have Chill, a teens-only spa for ages 13 to 17.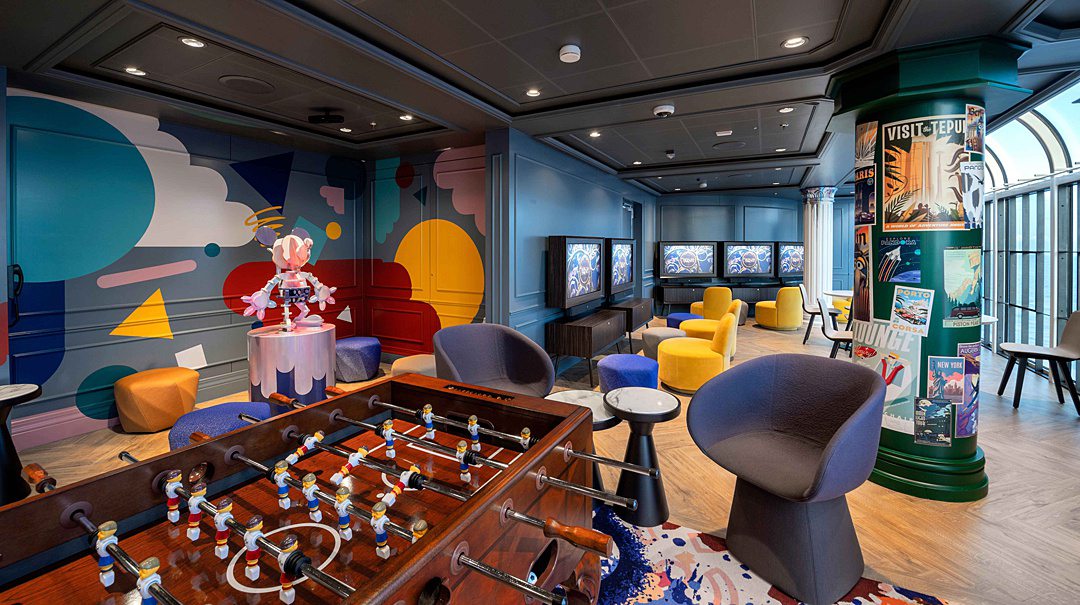 💫 Best DCL Ship for Children
If you're sailing with children ages 3 to 14, which is the best Disney ship? Two of our experts agree that Disney Wish is the winner, while two others agree that other ships have something to offer too.
✨ WINNERS: DISNEY WISH (BUT OTHER SHIPS HAVE GREAT PERKS) ✨
Scott (DCL Blog) shares that Disney's Oceaneer Club for ages 3 to 12 are similar across the fleet, though each ship has its own unique twist on a franchise theme: Princess/Fairytale, Marvel, and Star Wars. The Oceaneer Lab, for ages 3 to 12, is currently an option on every ship except Wish.
He shares that two ships have an added feature that's a bonus for children if you sail on Dream or Fantasy: Midship Detective Agency is a game that takes you around to various decks to solve mysteries.
The new Augmented Reality (AR) experience on Wish might change Scott's opinion once it is rolled out, but it's currently unavailable.
Josh and Brittany (Fairtyale Wonders and Wish Upon a Star With Us travel) take Scott's notion of The Oceaneer Club and raise it a level to Disney Wish's offering.
They share that the creators of Disney Wish took two decades of Disney Cruise Line experience and guest feedback to create the ultimate onboard Oceaneer Club on Deck 2. There's an entrance for kids to literally slide into the club from the Grand Hall. (So cool! Can adults use the slide too? The answer is yes!)
Brian and Sam (DCL Duo) confirm that they couldn't pry their son away from the new kids club on Disney Wish.
The Edge is available for kids aged 11 through 14. This tween-exclusive is available across the Disney fleet.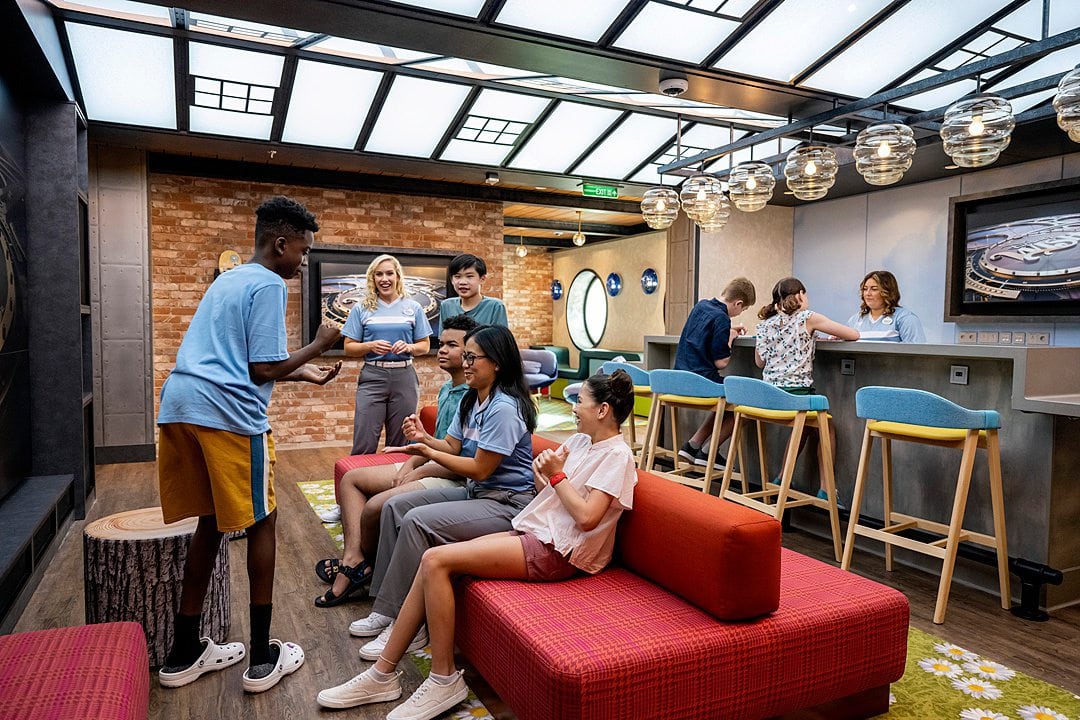 💫 Best Disney Cruise Line Ship for Infants and Toddlers
The nice thing about little ones from ages 6 months to 3 years is they're not too hard to please. Understandably, parents are likely harder to satisfy! (Infants need to be at least one year old to be checked into "it's a small world" nursery! on Transatlantic, Hawaii, and Panama Canal itineraries.)
✨ WINNERS: DISNEY WISH, WONDER & MAGIC ✨
As our DCL experts point out, there's a bit of yin and yang here, with smaller and bigger ships having their own advantages.
That is to say that the smaller ships' sizes (Wonder and Magic) make sailing with little ones a bit more manageable. Getting to and from "it's a small world" nursery! (available on all ships) and the adults-only areas after you drop them off at daycare take less time.
Yet a big ship like Wish has a bigger nursery space (the cruise arguably will have more kids needing daycare on it too). Wish also has a Mickey and Minnie Captain's Deck play area for kids ages 3 to 6, with a Pixar-themed bathroom with smaller toilets and hand driers designed specifically for them.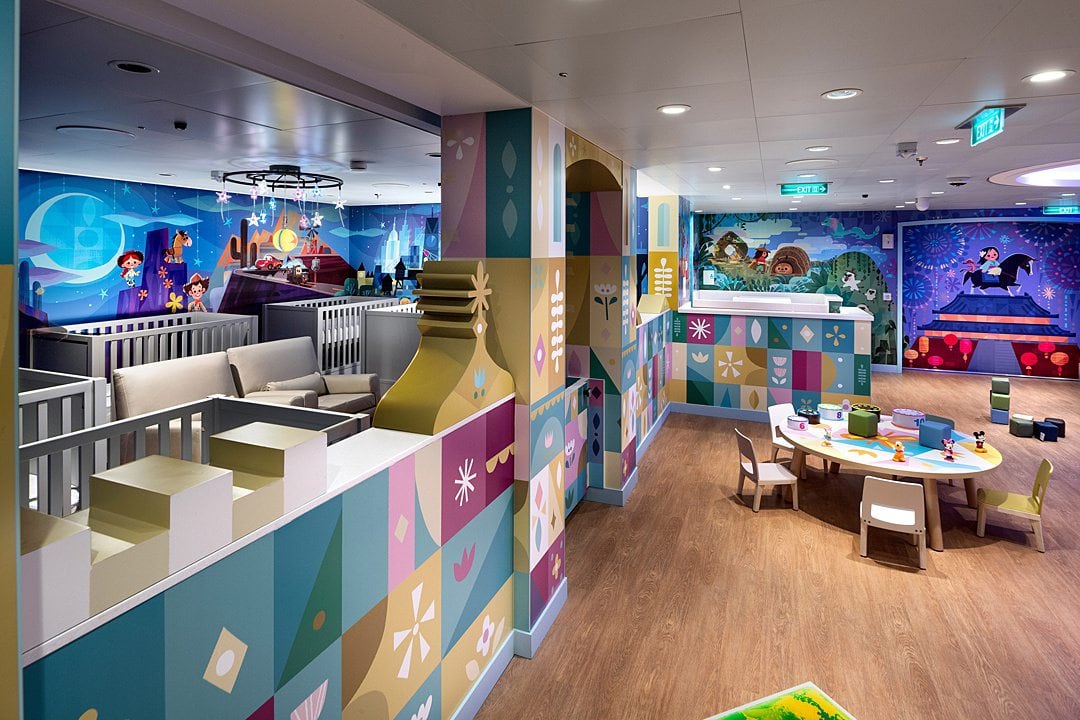 ⭐️ Best DCL Onboard Entertainment: Spas, Shops, Clubs ⭐️
💫 Best Disney Cruise Line Ship Entertainment Venues
We all know that Disney does entertainment best. But which DCL ships come out on top? According to our experts, Fantasy, Dream, and Wonder win.
✨ WINNERS: DISNEY FANTASY, DREAM & WONDER ✨
Fantasy and Dream group all of the lounge venues in one area on Deck 4 Aft, which is adults-only come night time. There's a good variety of lounges to boot.
They also have the best entertainment venues, with a balcony inside the Walt Disney Theater, adding to its feeling of grandeur. "The Buena Vista Theater has a classic art deco style and feels big compared to the movie theaters on the other ships," says Josh and Brittany.
Karen shares some of those sentiments, adding, "Europa or the District on the Fantasy or Dream are great adults-only areas in the evening. I love the atmosphere at Skyline. It feels like having a cocktail with my friends in my own living room."
Brian and Sam are partial to the Azure lounge, unique to Disney Wonder. They enjoy its great views and atmosphere, which they like better than The Tube (Disney Fantasy) and Evolution (Disney Wonder) lounges on Dream-Class ships.
💫 Best Shows and Recurring Special Events on Disney Cruise Line
The results vary here! To us, this is great news because it means that the huge team of creatives that come together to produce a live stage show are appreciated across the board.
✨ WINNERS: DISNEY WISH, MAGIC, DREAM & FANTASY ✨
Favorites shows from our DCL experts include:
Seas the Adventure (musical on Disney Wish)
Tangled: The Musical (Disney Magic)
Beauty and the Beast (Disney Dream)
Frozen (Disney Wonder and Fantasy)
Some of our experts also noted they particularly enjoy Marvel Day at Sea on Disney Magic and the Pirate Parlay Deck Party onboard Disney Wish.
💫 Best Disney Cruise Line Ship for Shops and Senses Spa
Five of our six DCL experts agree that Disney Wish has the best spa. (Senses Spa is for guests 18 and older.) It's also the only ship with an outdoor area of the rainforest space, while the Rainforest Room on other ships is indoors only.
✨ WINNER: DISNEY WISH (SPA) ✨
Additionally, Disney Wish's spa features an ice lounge for some cold treatment therapy (which reminds us of the unique rooms Celebrity Cruises has in its spa on their Edge class ships, like a Crystallarium) and has treatment rooms replete with personal whirlpools.
You can also sign up for any number of treatments, from a fire and ice manicure to a bamboo massage. (We had a bamboo massage in the Princess Cruises Lotus Spa and had never heard of it before then – they're awesome if you like a lot of pressure on your muscles!)
Brian and Sam (DCL Duo) note that shopping is best on the Dream Class ships (Dream and Fantasy) but admit that Disney Wish has the most high-end retail.
✨ WINNERS: DISNEY DREAM & FANTASY (SHOPPING) ✨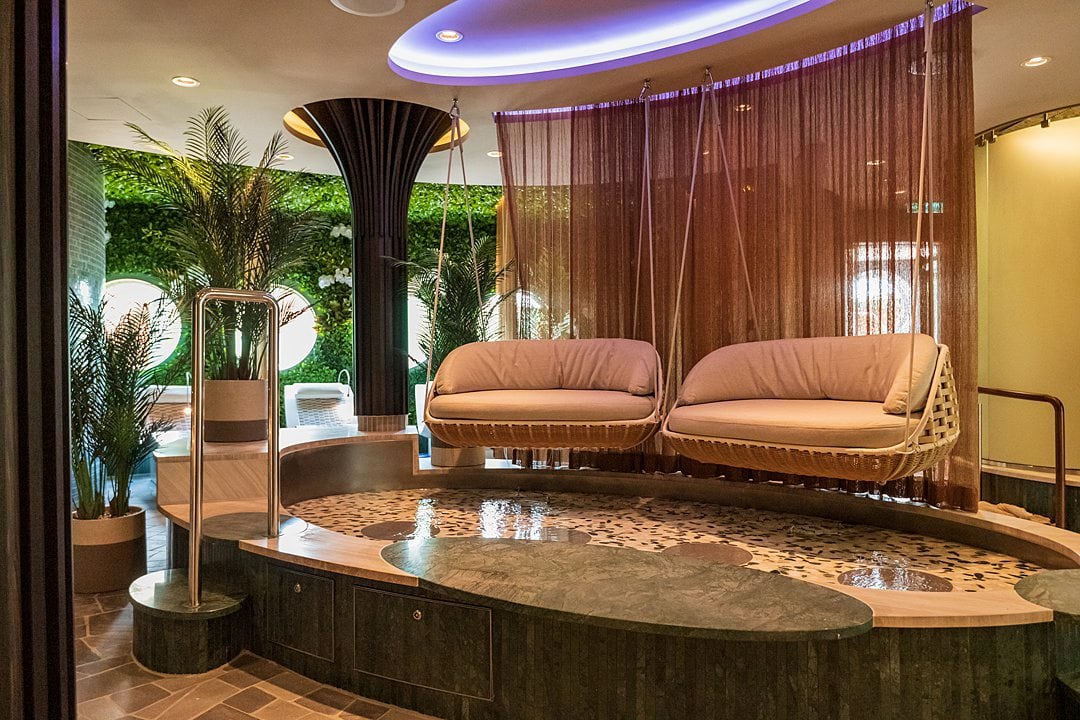 ⭐️ Best Disney Cruise Line Activities on Castaway Cay, Best Itineraries, and Best Excursions ⭐️
💫 Best Activities on Castaway Cay
Thousands of people sail on Disney Cruise Line each year, excited to experience Disney Cruise Line's private island, Castaway Cay.
There is plenty to do there, including sailing, laying out on the beach, some shopping, and recreating at the Pelican Plunge water-playground area. What do our DCL experts enjoy most about this fabulous little island?
✨ WINNERS: BBQ at COOKIE'S, CABANA RELAXATION, & SNORKELING ✨
Brittany and Josh love to have BBQ at Cookie's! The barbecue lunch is always a highlight of their Castaway Cay day.
Karen looks forward to relaxing in a cabana. Otherwise, she enjoys indulging in a Konk Kooler on Serenity Bay, an adult beverage made with rum and fruit juice. Cheers to that! (Don't forget to bring your reusable straw to the island to be an eco-conscious cruiser and leave no trace.)
Brian and Sam concur: they love hanging out in a Castaway Cay cabana!
Scott likes to snorkel in the Castaway Cay lagoon. From 20,000 Leagues Under the Sea memorabilia to Mickey and Minnie statuettes, you can find all sorts of Disney treasures underneath the water. You can either rent gear from Gil's Fins and Boats on Castaway Cay to snorkel or bring your own.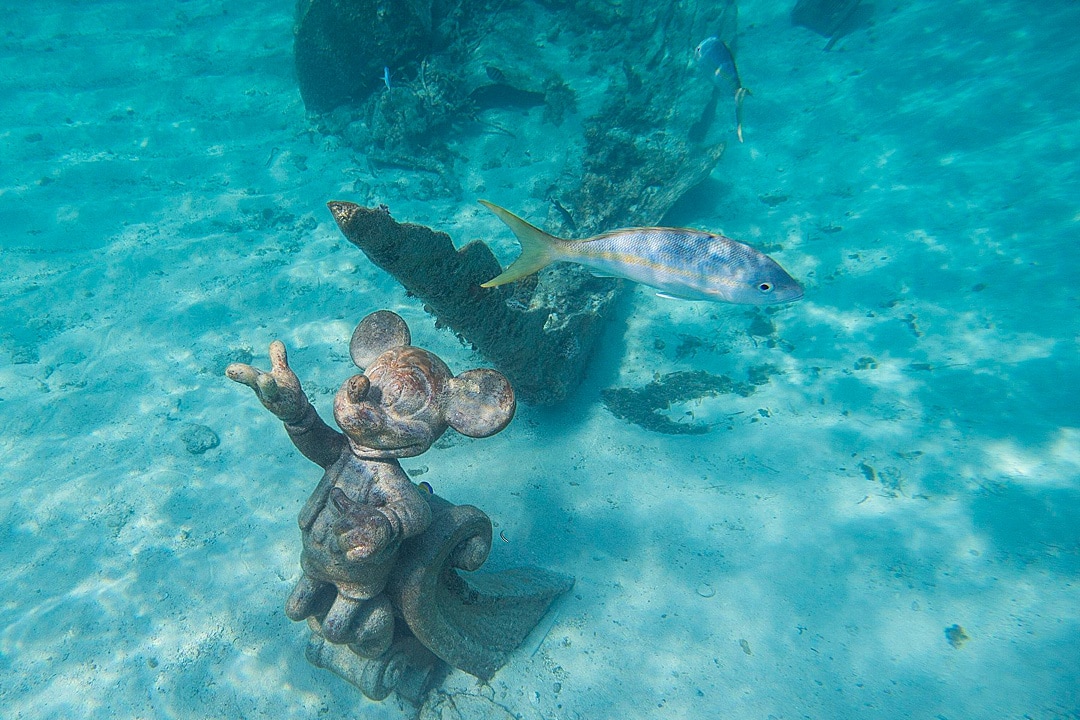 💫 Best Excursions Offered by Disney Cruise Line
Speaking of Castaway Cay and snorkeling, three of our DCL experts weighed in on the best excursions offered by Disney Cruise Line.
✨ STANDOUTS: CARIBBEAN ADVENTURES & ACTIVITIES ✨
Scott expanded on his favorite Castaway Cay activity, adding that snorkeling, biking, and tube rentals at Castaway Cay, though not really a port adventure, are great for exploring all aspects of the island in one trip.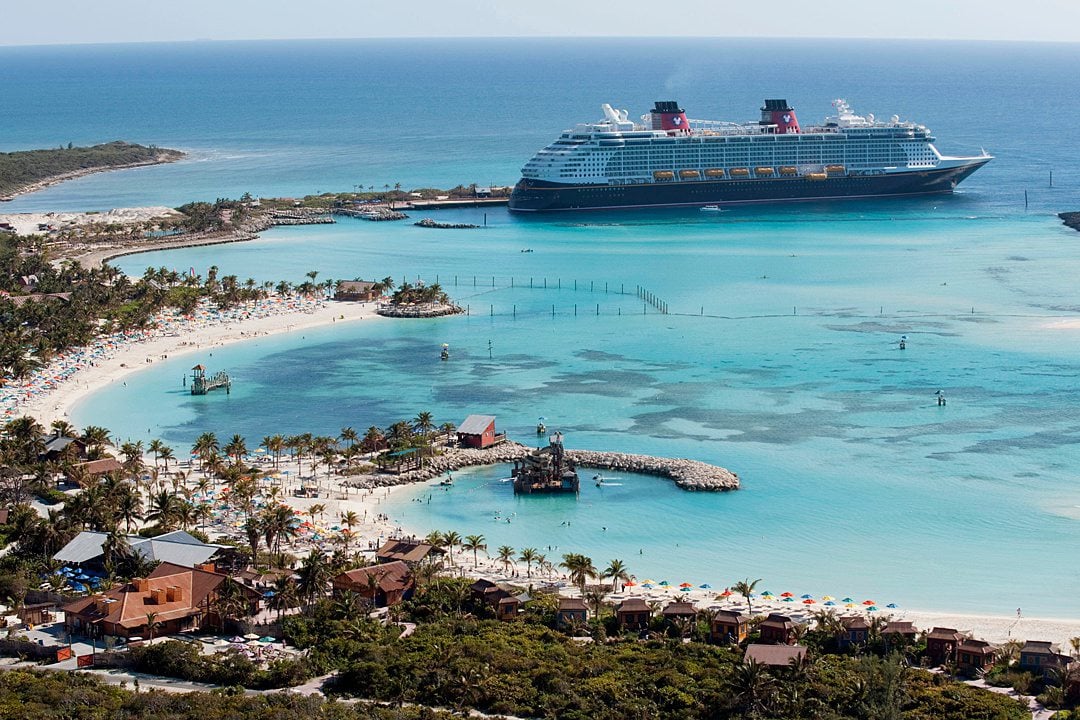 Renting a bicycle is a great way to get around the island and reach the observation tower (because otherwise, it's a long walk to get there) while still having time to relax.
Sam and Brian enjoy parasailing on Castaway Cay. Some of their other favorite excursions during their many DCL cruises include Magan's Bay Beach Break at St. Thomas and the dolphin encounter in Cabo San Lucas.
They are hoping a well-known favorite of other DCL cruisers, the hike to Pulpit Rock in Stavanger, Norway, lives up to the hype when they go this summer!
💫 Best Disney Cruise Line Itinerary
Largely influenced by the itineraries our DCL experts have experienced, we asked what their favorite DCL itinerary has been. Naturally, more time on the ship is better, so it's no surprise all our experts' answers included longer itineraries!
✨ WINNER: 11-DAY+ ITINERARIES, VARIOUS LOCATIONS ✨
Karen, Brian, and Sam loved the 11-night Southern Caribbean cruise on Disney Fantasy. Karen sailed in June 2017, while Brian and Sam went in 2019. Scott enjoyed his 11-Night Norwegian Fjords and Iceland Cruise on Disney Magic in June 2015.
Brittany and Josh love the Transatlantic sailings. They have done this itinerary several times and love stopping at the unique ports and spending much more time on the ship with plenty of Days at Sea!
The ports on a Transatlantic vary year to year, but most recently, the itinerary included ports in Portugal and Spain. Up until 2022, all of Disney's Transatlantic cruises were on Disney Magic, but the Disney Dream took over the European summer sailing, including Transatlantics, in 2023.
⭐️ Our DCL Experts Weigh in on Adventures by Disney River Cruises ⭐️
Here at Sometimes Sailing, we adore small ship adventures. River cruises are a favorite of Mikkel and Dan's. We couldn't resist asking our six DCL experts to give us their thoughts on Adventures by Disney River Cruises, a partnership between Disney and AmaWaterways.
➜ We discussed river cruise experiences on DCL Duo, episode 178, if you want to give it a listen.
Josh and Brittany took an Adventures by Disney river cruise on the Danube River this summer and were wowed.
They admit river cruises are very different from ocean cruises; while Disney Cruise Line is about the ships and the onboard experiences, a river cruise is about the destinations. The two experiences are completely different.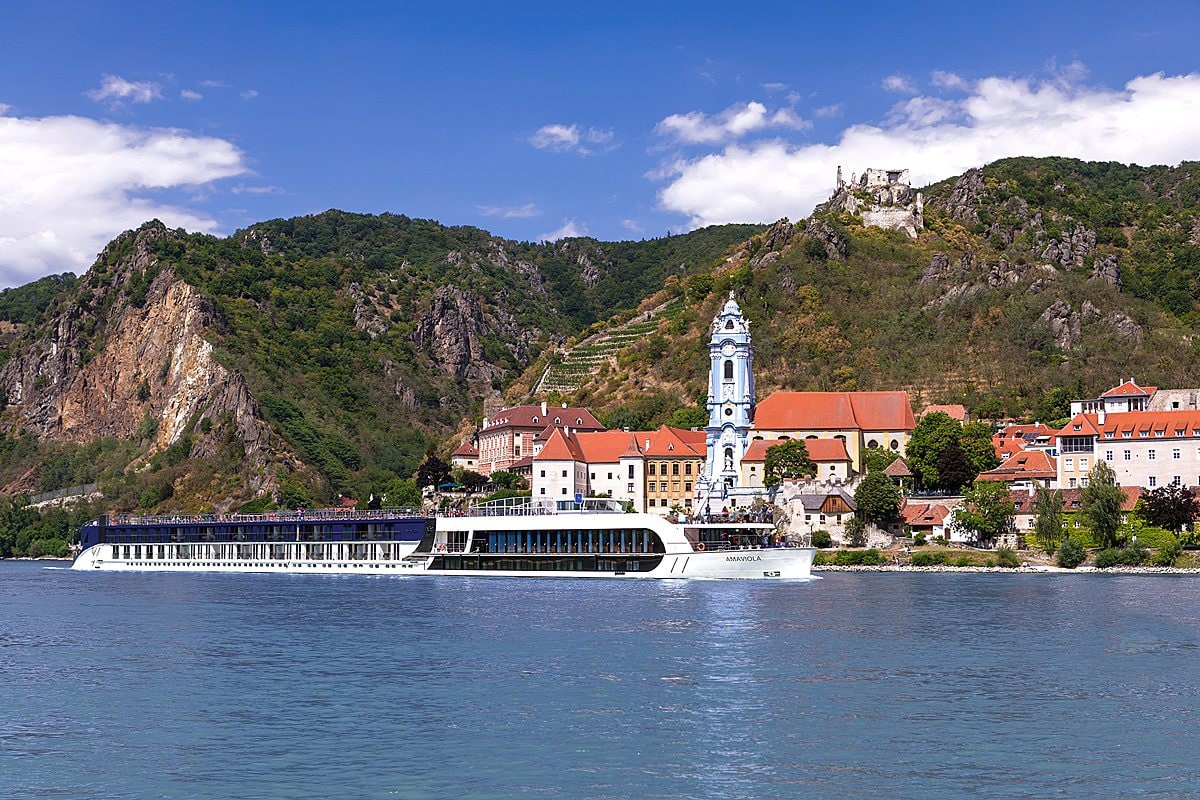 Karen admits she could write a whole essay on Adventures by Disney cruises. (Luckily, our website has a category for river cruises!) She agrees they are incredible yet very different than DCL. She says they are a fantastic way to see Europe up close.
Perhaps you're like Scott and have thought about booking a river cruise. He says they're very intriguing, and it's a vacation he'll eventually take!
Sam and Brian took the plunge and secured their first river cruise adventure; they go on their first river cruise with their son Nathan next Christmas. (We are SO excited for them to see the incredible Christmas markets in Europe on a river cruise!)
⭐️ Fun Questions for our DCL Experts ⭐️
Our last questions for our DCL experts were more playful in nature. We asked them about their most memorable DCL Special Event experience and their opinion about what would make Disney Cruise Line even better.
💫 Most Memorable Disney Cruise Line Special Event
Though the special events tend to be once-in-a-lifetime, we asked our DCL experts what their favorite special events have been with DCL. If you're like us, you'll surely have DCL envy reading their answers.
✨ DISNEY WISH PREVIEW, CHRISTENING, & MAIDEN VOYAGE PERFORMANCE FROM JODI BENSON (VOICE OF ARIEL), & DISNEY DREAM INAUGURAL CRUISE ✨
Josh and Brittany have attended some truly memorable Disney Cruise Line firsts. They were able to sail on the Disney Wish Enchanted Showcase Preview Cruise before the ship's Maiden Voyage. As two of the first people to sail on the ship, they said it was amazing to experience a decade of changes that Disney Cruise Line brought to their latest ship.
They toured all the different staterooms (including Wish's Tower Suite and one of its stunning Royal Suites) and were some of the first to preview everything Wish offers. Josh was also on the Disney Dream christening cruise in 2011.
Scott fondly looks back on the Disney Wish Christening in Port Canaveral. Captain Minnie was in attendance, of course!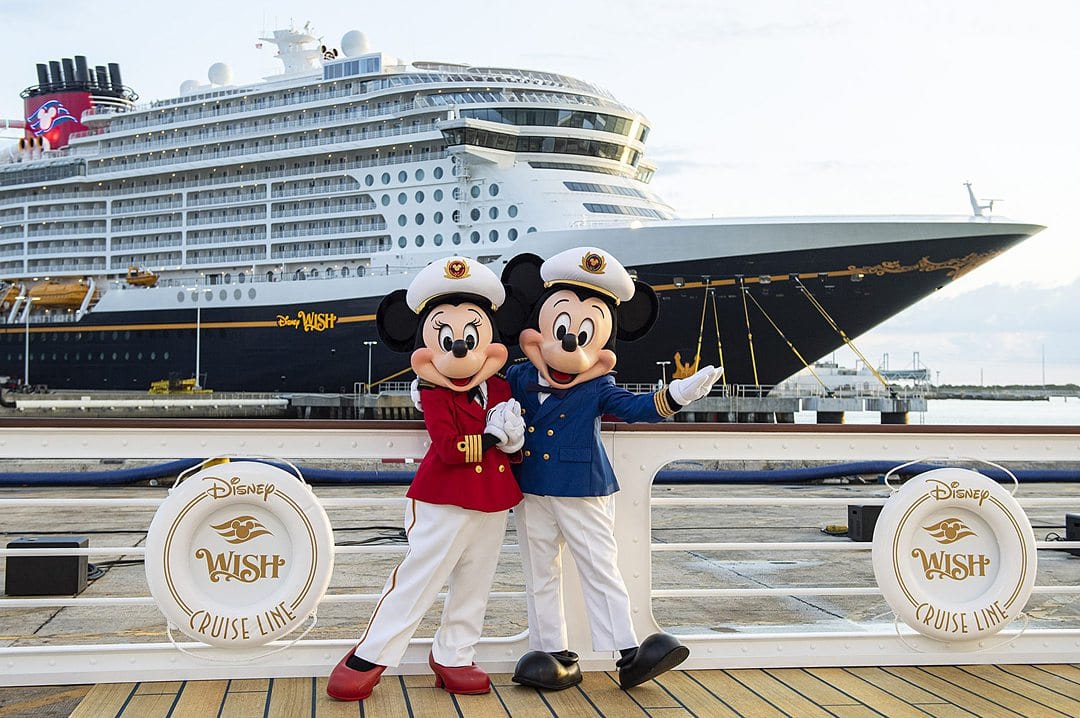 Brian and Sam loved seeing Jodi Benson perform in the main theater on the Wish Maiden Voyage. She's the voice of Ariel from The Little Mermaid.
Mikkel met Ms. Benson years ago on a DVC cruise (Roy E. Disney was on that cruise, too); she's a sweetheart!
💫 What Would Make Disney Cruise Line Even Better?
No matter how amazing we all think Disney Cruise Line is, there is always room for improvement. Who better to ask than those who know DCL ships best?
✨ BIGGER HOT TUBS, IMPROVED TECHNOLOGY/INTERNET, A SPECIALTY RESTAURANT FOR FAMILIES, ADDITIONAL SMALLER SHIPS (LIKE MAGIC & WONDER) ✨
Sentiments include simple things like accounting for larger hot tubs and improved technology implementation into the cruise experience.
(We couldn't agree more – we never understand why a major company, like Disney, is plagued with tech issues, from the DCL and Walt Disney World websites crashing to interruptions during the Disney Cruise Line Check-in process. It's not uncommon for cruise lines to have buggy apps (like Princess Cruises' MedallionClass app), and Disney's app is no exception; it doesn't always work onboard.)
Other dreams from our DCL experts to improve Disney Cruise Line are loftier yet not unachievable. A specialty restaurant for families would be wonderful. And another hope is for additional smaller ships, around the size of the Magic and Wonder, to be in DCL's future.
Meet the DCL Experts
We spoke to the best of the best when it comes to DCL cruising. We're so grateful for their expert opinions on our Best Disney Cruise Ship categories above.
Collectively, our DCL expert panelists have been on 100 Disney cruises. We'll repeat that: NINETY-NINE CRUISES! WHOA.
When you add Dan and me in the mix, the DCL number breaks 100+! (We're in the Gold Castaway Club category for 5+ cruises, not Platinum…yet!)
Our panel of experts mentioned above, includes:
Josh and Brittany Mitchell, Fairytale Wonders & Wish Upon a Star With Us travel
Brian Flock and Sam Kanner, DCL Duo
Karen Shelton, My Path Unwinding
Scott Sanders, Disney Cruise Line Blog
Find out what makes them Disney Cruises Line experts below.
🪄 Josh and Brittany Mitchell, Fairytale Wonders and Wish Upon a Star With Us
This Disney-loving couple is the blogger team behind the website Fairytale Wonders. They have incredible knowledge of Disney theme parks, resorts, and of course, Disney Cruise Line.
What's more, is that they don't just love DCL – they fell in love on a Disney Cruise too, where they met years ago while sailing with their families. They even got engaged at Disney's Aulani resort in Hawaii!
A personal gush here: I adore them, and we originally met after they contacted me to photograph their DCL wedding in 2019. I've often gone to them for my own Disney questions and advice. And, like the sweethearts they are, they always thoroughly answer and provide valuable insight into things we hadn't thought of.
Josh is also a Disney travel agent at Wish Upon a Star With Us, so be sure to reach out if you need to book a DCL vacation! Josh has been on 25 Disney Cruises (which puts him at the elite and newly created "Pearl" Castaway Club level, higher than Platinum), and Brittany has been on 19.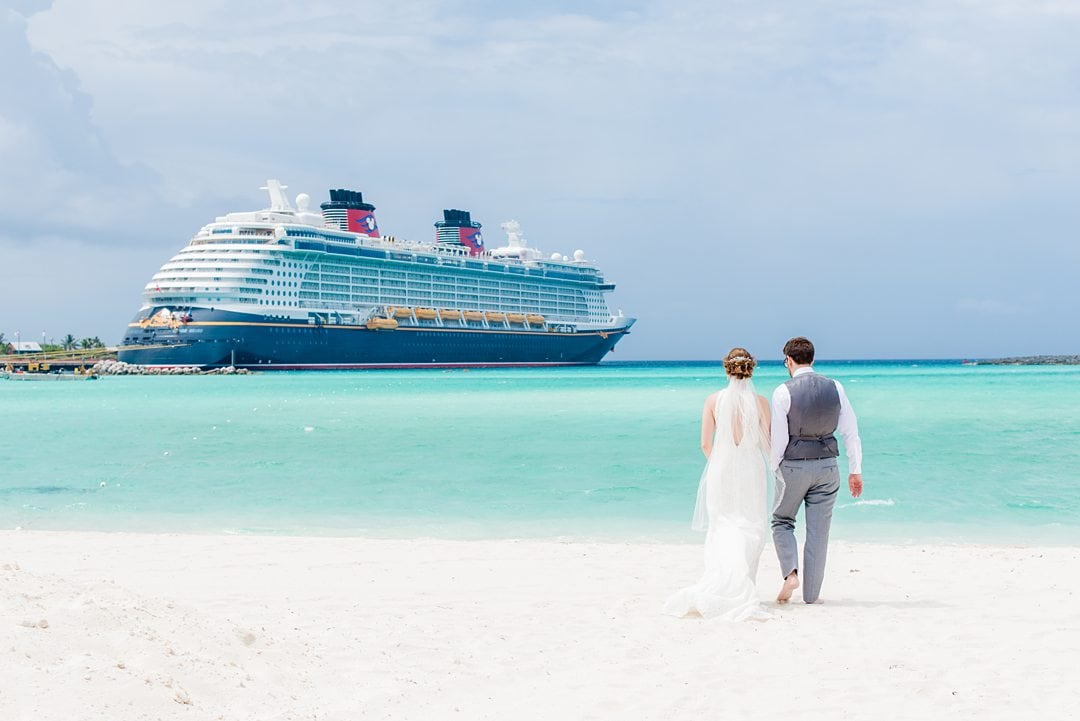 🪄 Brian Flock and Sam Kanner, DCL Duo
The "duo" behind the podcast is Brian and Sam, who have been podcasting about Disney Cruise Line for years.
We've been fortunate enough to be their podcast guests on several episodes, broadening the horizons of their Disney Cruise Line listeners to educate them on river cruises and even Mikkel's time at Imagineering.
Brian, Sam, and their son, Nathan, have been on 16 cruises, which will quickly reach 25 by next November. (As we write this…they're on a Disney Cruise!)
You'll find their Disney podcast episode archives on their website or your favorite podcast app, as well as links to their DCL vlog entries, blog posts, and even a link to their DCL Duo Etsy shop. They are also to thank for introducing us to Paul Thornton, who writes the Joy of Cruising books.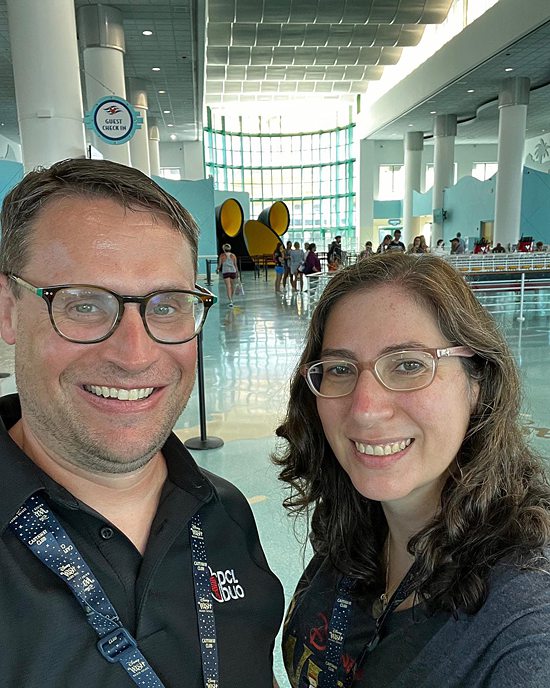 🪄 Karen Shelton, My Path Unwinding
Karen came into our lives in a wonderful Disney way: through Brian and Sam's DCL Duo podcast!
We loved listening to her Disney Wish review while on Wish's inaugural voyage with DCL Duo. We were in awe when we listened to episode 227, where she describes what it was like to be the first family to stay in the Tower Suite on Disney Wish after winning a travel agent lottery onboard. HOW COOL?!
From how Karen talked about Disney Cruise Line ships, we instantly knew she was an expert. This was confirmed when we reached out, and she shared she's been on 13 DCL cruises.
Karen is another great resource for booking your Disney Cruise Line vacation over at My Path Unwinding Travel; don't hesitate to reach out!
🪄 Scott Sanders, Disney Cruise Line Blog
This DCL expert has his own podcast, where he talks about his experience on over 31 cruises (that's a whopping 162 nights across DCL's five ships – wow) and interviews others who have Disney experiences of their own.
He also runs the well-known website Disney Cruise Line Blog. Scott was first mentioned on our site back when we put together a list of the best Cruise Podcasts. We've been following along ever since. He doesn't podcast as frequently as DCL Duo, however, his info is always valuable.
His blog is always up to date with the latest DCL news, including casting calls, DCL itinerary news, restaurant reviews, Castaway Cay info, and more. Scott has been interviewed as a DCL expert for countless newspapers and is in the Joy of Cruising as well.
Disney Cruise Line Blog puts together an annual DCL Blog Group Cruise, which is a fantastic vacation to consider if you want to travel with other passionate DCL cruisers.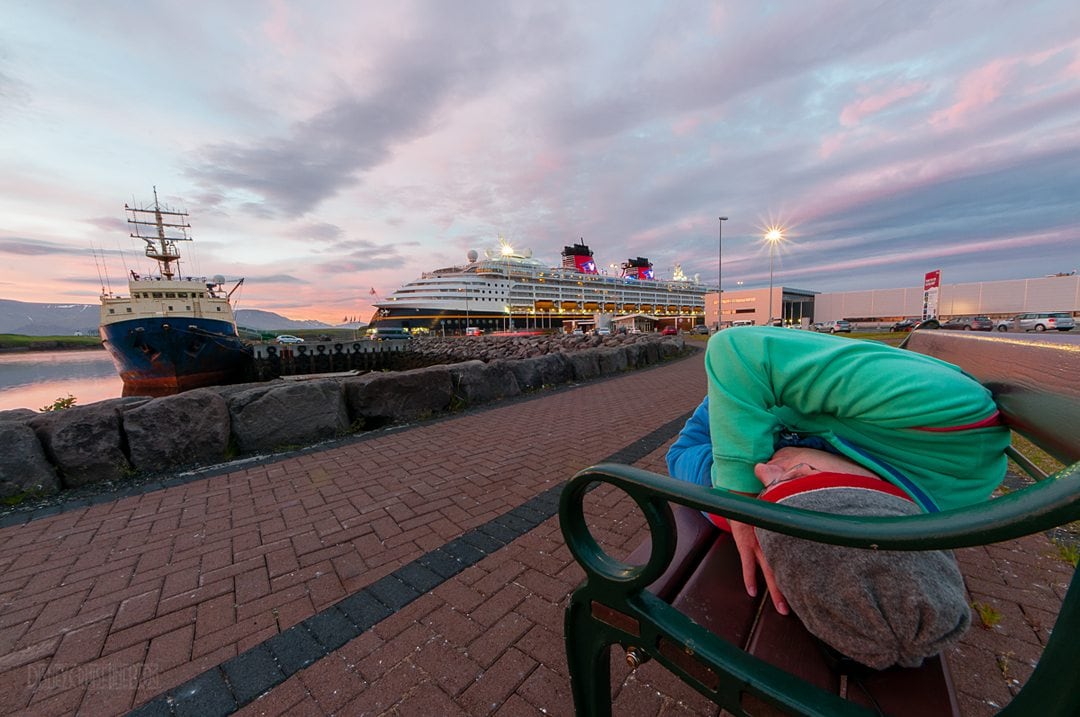 ⭐️ DCL Merchandise & Products for Your Cruise ⭐️
Sure, you can get merch on the ship…but did you know you can get Disney Cruise Line shirts, tumblers, Mickey ears, and such before you sail?
Here are a few places to shop:
If you're not already a member of Amazon Prime, we highly recommend it! Here's a link for a FREE 30-day Amazon Prime trial, where you can enjoy free two-day shipping, free Kindle books, special discounts on products, and more.
Also, just a note that we bring along a pocket hotspot when we cruise to connect in ports. It won't work if you're in the middle of the ocean, but it works in most major ports and costs way less than Disney Cruise Line's Wi-Fi packages.
We travel with a Solis hotspot we travel with, and this explains why we love it. Use code "SOMETIMESHOME" to save 10%!
⭐️ In Conclusion: Disney Cruise Ships Ranked and The Best DCL Has to Offer ⭐️
It was so much fun to ask experts who have made careers out of their passion for Disney Cruise Line these questions and get their input on what makes all aspects of Disney Cruise Line "the best."
Whether you're watching Disney's amazing Broadway-quality shows, riding the AquaDuck at night or relaxing in the spa Rainforest Room (some of their favorite things to do) there is no doubt you'll have a blast on your Disney Cruise Line vacation no matter what ship or itinerary you choose.
Do you have a favorite Disney Cruise Line ship or experience? We'd love to hear your thoughts in the comments below!
Don't forget to sign up for our free printable to help you choose what Disney Cruise Line ship is best for you based on the winners in this post.