Guide to Disney Castaway Club: Membership Levels & Benefits
Disney Cruise Line (DCL) has a loyalty program called "Castaway Club." Guests are automatically enrolled after their first cruise. Membership, which is free, gives guests certain benefits and perks at different levels. Those benefits end up turning into incentives to sail more often with DCL because the more you sail the more you get.
But what are the membership levels, how do you cash in on the perks or build up more "points"? Our guide includes everything you need to know about Disney Cruise Line's Castaway Club so you can be the most informed DCL guest possible!
Disclosure: This page has affiliate links, meaning we may earn a small commission if you click the link and proceed with a purchase at no cost to you. We recommend cruises, experiences, products, and services we personally use. As Amazon Associates, we earn from qualifying purchases.
🕐 Short on time? No Problem!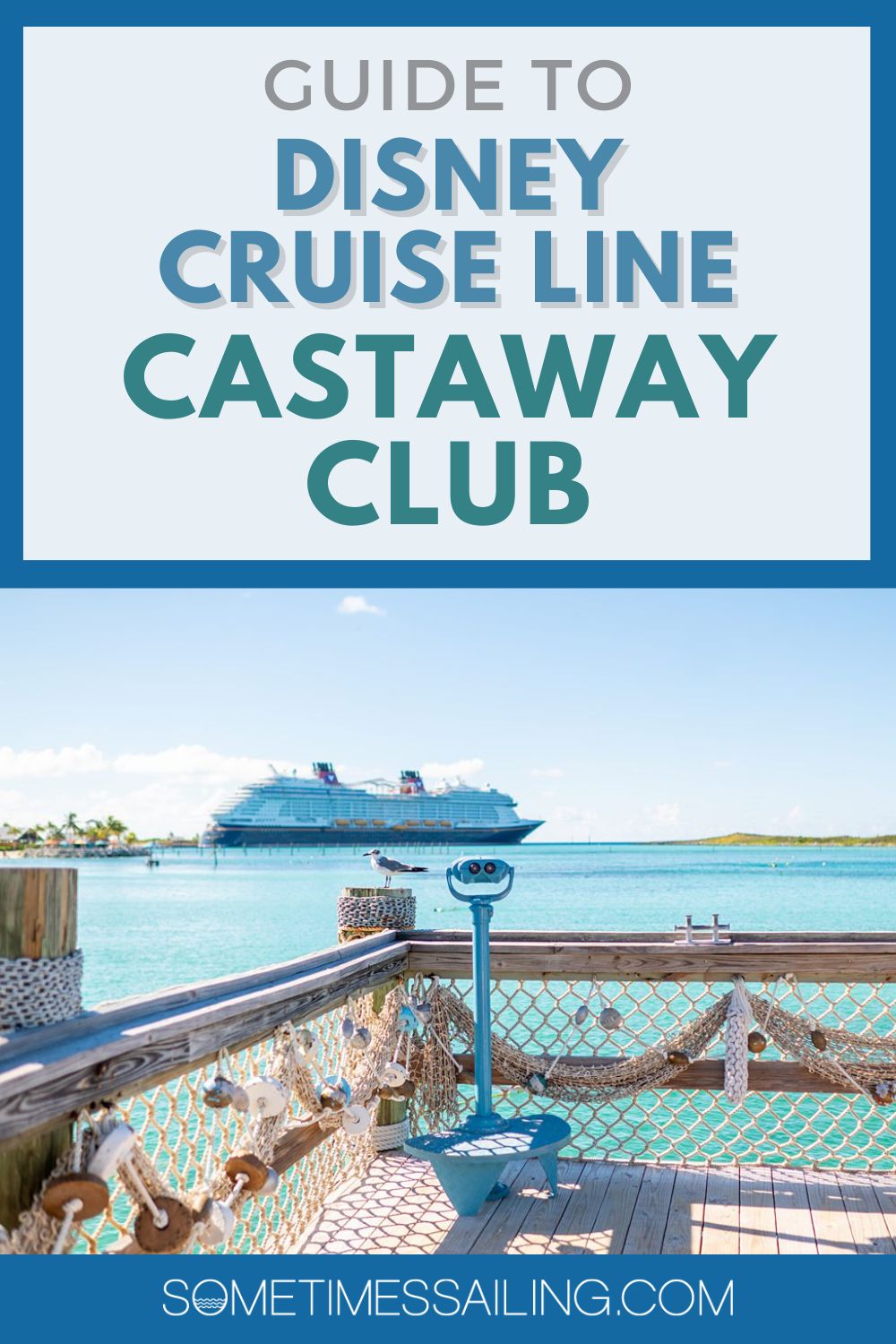 How to Become a Member of Disney Cruise Line's Castaway Club
Becoming a member is easy. All you have to do is sail on a DCL cruise once. Then you're automatically enrolled in the program for free.
Everyone on your cruise reservation will be enrolled in Castaway Club if it's their first cruise, no matter if it's an adult or child. Your membership numbers are sent to you after your first cruise.
Castaway Club Membership Levels
There are four membership levels with Castaway Club.
The number of cruises is for completed sailings and does not include upcoming booked sailings.
How to Move Up in Castaway Club Status
The only way to move up in Disney's loyalty program "status" is to sail on more cruises.
Castaway Club Status is Based on Completed Cruises, not Days at Sea
Unlike some other cruise line loyalty programs, status is based on the number of cruises you take, not the number of days at sea. Princess Cruises, for instance, is one such cruise line that rewards guests based on days at sea, not the number of sailings.
If you sail on a 3-night cruise with Disney Cruise Line or a 12-night cruise, both cruises count as one cruise toward your Castaway Club status.
One guest who sails on five 3-night cruises reaches Gold status

…
…in the same amount of time, a guest who sails on five 7-night cruises reaches Gold status.
➤ Interested in booking a Disney Cruise? Contact our favorite Disney Travel Advisor, Becca Magnusen, and mention Sometimes Sailing sent you! Her email is: beccaplansvacations (at) gmail (dot) com
Finding Your Castaway Club Membership Number
It's likely your Castaway Club number will automatically link to your reservation even if you don't have the number on hand when you book, whether through your preferred Travel Agent or directly through Disney Cruise Line.
Their website may crash, and the system may be slow at times. However, one thing that it does well is link your Castaway Club number to you. The system is smart like that!
It's still wise to have your Castaway Club member number handy and saved for ease of reference.
➜ How to Look Up Your Castaway Club Number on the Disney Cruise Line Website
The easiest way to look up your Castaway Club membership number is by logging into your Disney Cruise Line account. Once logged in, you'll see a top menu bar.
Navigate to: Already Booked ➡︎ Castaway Club under the "My Account" subheading. This is shown in the screenshot below that we marked with yellow arrows: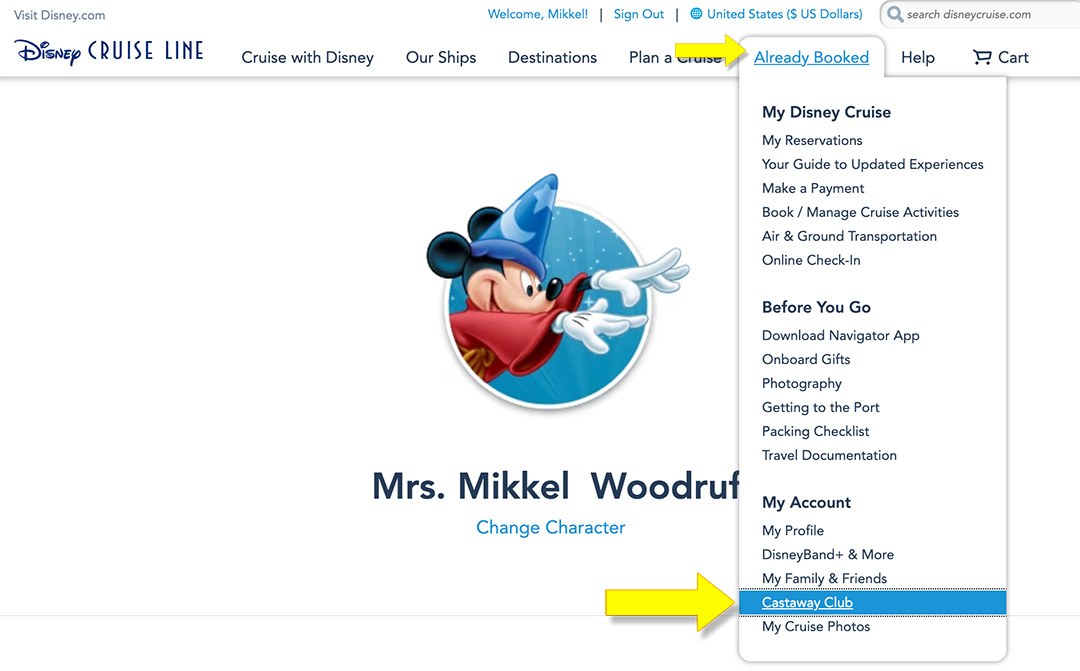 Another way to get to the same screen is to go to "Cruise with Disney" on the left of the top navigation bar when you are logged into your account. Then choose "Castaway Club."
What You See on Your Castaway Club Account on DCL's Website
When you log into your account and navigate to "Castaway Club," as shown above, you'll see some helpful information and infographics.
Under a nice "Welcome Back" message are three things:
The Membership level icon on the left and the right icon with Exclusive Benefits don't link anywhere, but if you scroll down on the page when you are logged in, you will see more information.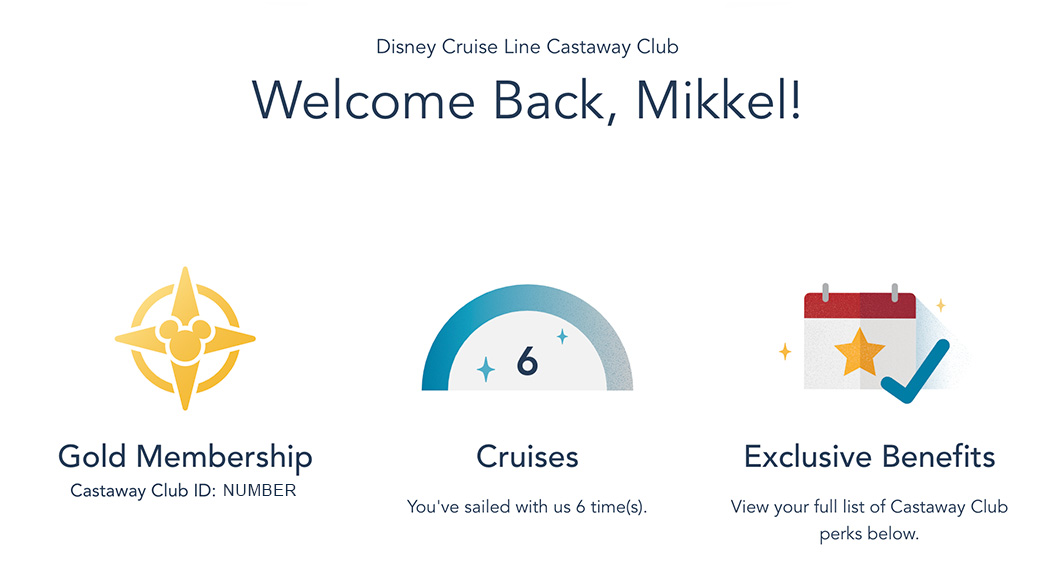 For instance, the "Gold Member Benefits" block on the page looks like the screenshot below. It explains two perks of Gold status, including that you can book new itineraries two days before the general public and that you can reserve cruise activities 105 days prior to sailing.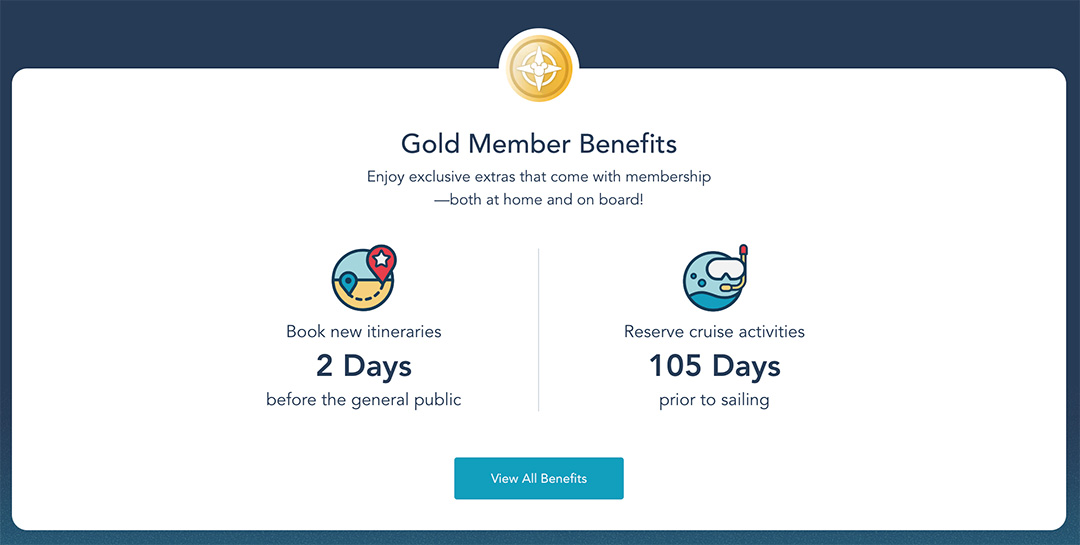 When you scroll down past the above screen, you'll see a section for "My Cruises," which lists all the cruises you have been on with Disney, the date of the sailing, the ship you were on, and even your stateroom number! As the Disney Cruise Line website states in this section, "Your Castaway Club dashboard reflects your cruise history for all completed sailings."
Also possible in the "My Cruises" section, when you're logged into your account and viewing your Castaway Club information, is the ability to see your cruise folio (or bill) if you sailed in the past 90 days. After 90 days, the folio hyperlink disappears.
Additional Perks in Your Online Castaway Club Account
Some additional fun perks of being logged into your Castaway Club account on the DCL website are Disney Cruise Line-themed computer wallpapers, some DCL recipes, and a section to download any photos from your recent cruise if you had Disney's photographers capture anything during your sailing. The photos feature is only available 45 days after sailing.
Major Castaway Club Benefits
Disney Cruise Line makes the benefits of each Castaway Club tier clear. Each subsequent tier after Silver adds new perks that include the tier before. That means that Gold perks include Silver's benefits plus some more. Platinum perks include everything that Gold and Silver Castaway Club members get, plus more, etc.
✦ Booking Itineraries Before the General Public
For many people, the perk of being able to book new itineraries even one day before the sailings open to the general public is an exciting perk. This is awarded to Silver members. That means if you have previously completed one sailing with Disney Cruise Line, and a new itinerary is released you want to book, you can do so one day before the general public.
With each level of Castaway Club membership, your ability to book a cruise early increases by one day. So Silver level can book one day before an itinerary is released to the general public. Gold can book two days before, Platinum three days before, and Pearl four days before.
✦ Early Check-In for a Cruise Reservation
Another huge perk of your Castaway Club level is how many days before your cruise you can check-in. For many people, the earliest DCL check-in possible means more time on the ship. Personally, we always aim to get the first boarding groups.
While the first boarding groups usually go to Concierge Level and Pearl or Platinum Castaway Club guests, we've secured a boarding group that gets us onto the ship within the first hour boarding opens, thanks to our Castaway Club Gold status.
✦ Onboard Gifts
Another fun perk of being part of Castaway Club is a gift awaiting your arrival in your stateroom. It's never guaranteed, and you never really know what you are going to get. But that's part of the fun.
This can be anything from a bag to a lanyard. We've been gifted water bottles, backpacks, tote bags, art, and lanyards for our Keys to the World.
All of the gifts below are gifts we received in our stateroom during Disney Cruises as Castaway Club members: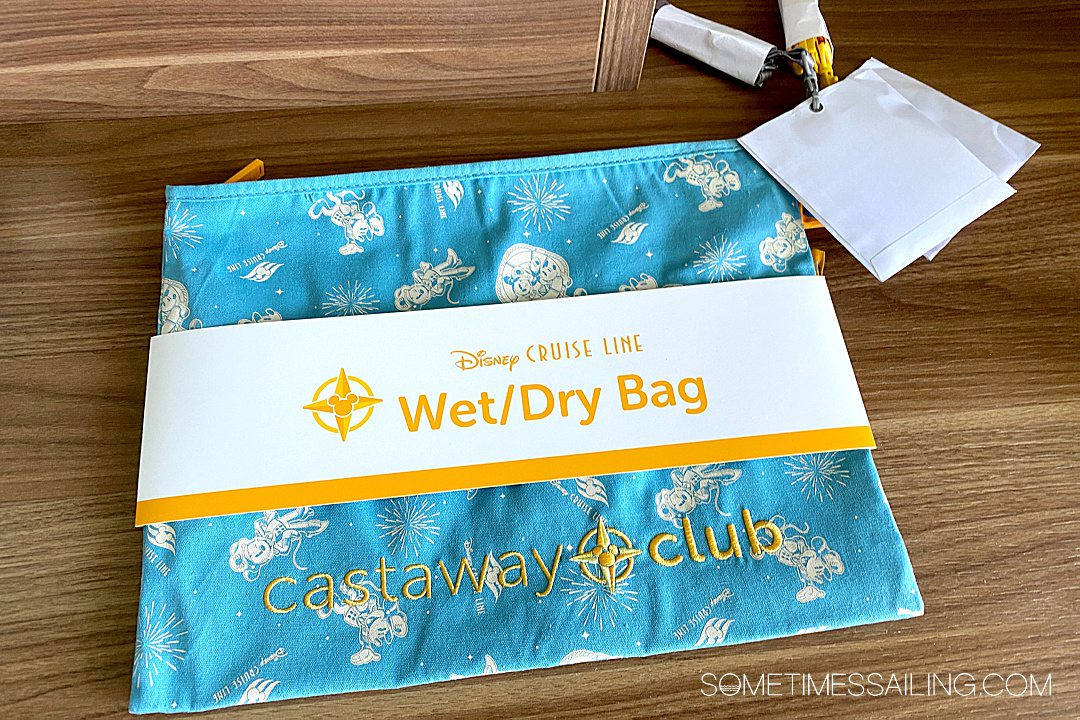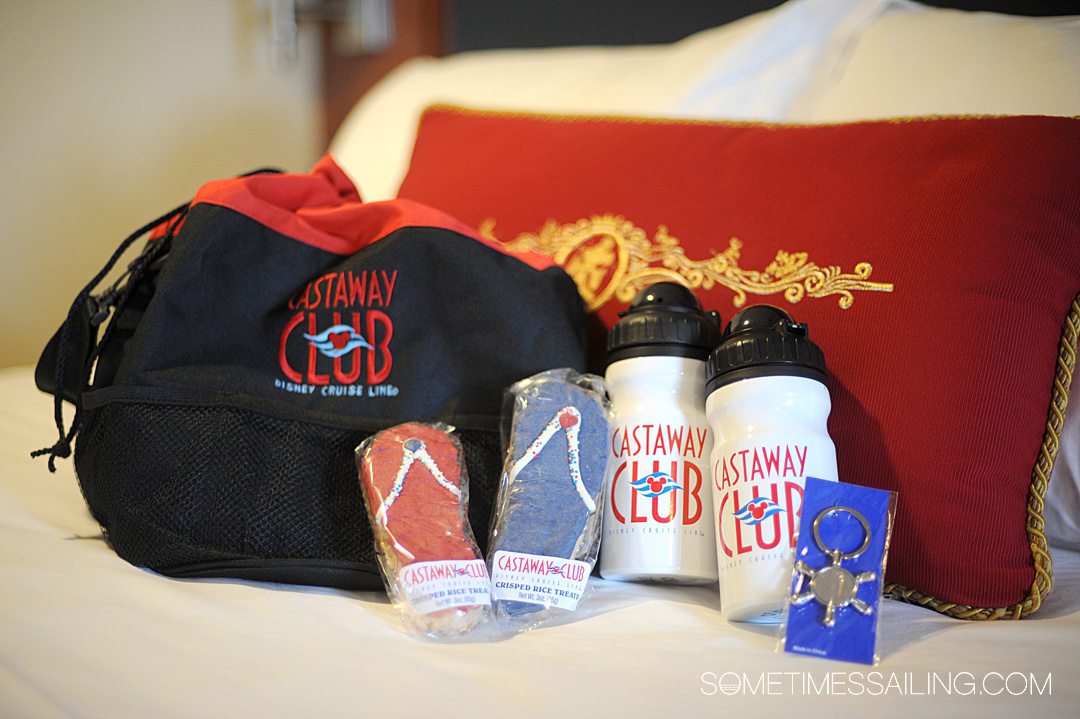 Detailed Castaway Club Perks at Every Level
Detailed information at every level is listed below, which is from the Disney Cruise Line Castaway Club benefits page. That page will only show you the Castaway Club benefits spreadsheet if you are logged out of your account. Regardless, the information is below:
Silver Castaway Club (1 Completed Sailing)
Gold Castaway Club (5 Completed Sailings)
Platinum Castaway Club (10 Completed Sailings)
Pearl Castaway Club (25+ Completed Sailings)
Pearl status was a new Castaway Club tier announced during Disney Cruise Line's 25th anniversary year (its Silver Anniversary), in 2023.
Castaway Club FAQs
If you have a question about Castaway Club that we have not answered here, please ask in the comments section at the bottom of this post. We love hearing from our readers!
➜ What does Castaway Club cost?
Nothing. The Castaway Club program is Disney Cruise Line's free cruise loyalty program.
➜ I have an upcoming cruise. Why doesn't it count toward the number of cruises in my Castaway Club account?
Disney Cruise Line only counts completed cruises in Castaway Club level totals.
➜ Can someone with a higher Castaway Club level/status reserve activities and dining for everyone on the reservation, even if the other guests on the reservation have a lower Castaway Club level?
Yes. I have Castaway Club level Gold, but Dan has Silver. (We met years after I started to cruise with Disney Cruise Line, so he has to catch up!) I was able to book activities for both of us when things like dining reservations opened to Gold Castaway Club members.
I was also able to check us in together for our Disney Wish cruise when Gold members were able to check in before Silver and first-time cruisers.
➜ How do I know what Castaway Club gift I'll receive on the ship before we sail?
You don't know. That's part of the fun!
Castaway Club gifts change to keep things new and fresh for members. However, if you really want to do some digging, there are several unofficial Disney Cruise Line forums where you can hunt around to see if anyone who has sailed close to your date posted photos of their goodies.
But still, nothing is guaranteed to be the same during your particular cruise.
Where Does the Name "Castaway Club" Come From?
Disney's private island in the Bahamas is called Castaway Cay. We imagine that when they needed a name for their cruise loyalty program, "Castaway Club" came to mind from the island's name.
Castaway Cay's "Cay" is pronounced "Key," as it is pronounced in the Caribbean.


Going on a Disney Cruise? Read this next: