Affordable All-Inclusive Yacht Cruise that lets you Vacation Like a Celebrity: Emerald Azzurra
You may think that you have to be a celebrity or incredibly wealthy to take an all-inclusive yacht charter. But you don't need to be either! You can plan for a trip aboard Emerald Azzurra and vacation like a celebrity no matter your circumstance.
Traditionally speaking, chartering a yacht has meant you rent out the entire boat for you and your friends (or family) to enjoy together. But yacht cruising allows you to book a cabin aboard a small yacht cruise ship instead of having to book the entire ship. So it's essentially the charter-yacht experience without the price. (And you just have to worry about yourself your sailing partner! Who has 75 friends, anyway?)
Meaning you don't have to come up with tens of thousands of dollars to cruise like a celebrity aboard Emerald Azzurra. And an exclusive dream holiday on a yacht becomes affordable and, in turn, makes your visions of vacationing like Beyonce and Jay-Z closer to your reality.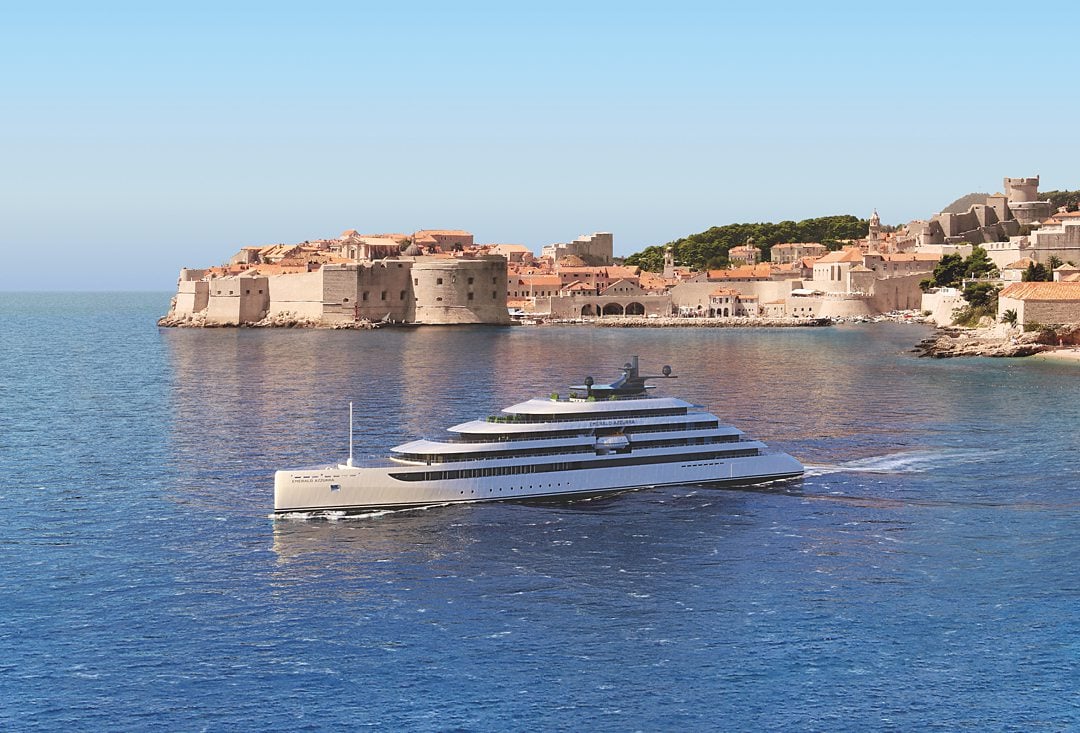 About Emerald Azzurra, Ocean Yacht Ship
The Azzurra is the first ship to debut as part of Emerald Cruises, under the parent brand Scenic Group.
Here are some facts about Emerald Azzurra:
88% of the suites and cabins onboard have terraces or balconies.
It has nearly double the dining space when compared to competitors in the yacht cruise space.
Its capacity is 100 guests.
The yacht is 360 feet (or 110 meters) long.
The interior design of the ship is modern.
A marina platform off the yacht gives guests direct access to the water when in port.
We have written incredibly detailed information about Emerald Azzurra, including info about its public spaces and cabins.
Check out this video of the Emerald Azzurra's float out in Ha Long City, Vietnam, where the ship is being built. It was the first time the yacht's hull hit the water and glided along the sea.
What Emerald Azzurra Includes in its All-Inclusive Yacht Experience
If you're chartering a yacht you aren't always sure of the bill upfront. You have to decide on a boat, then add in the crew, provisions, additional guests, fuel, etc. And it adds up.
But absent is a price tag that only a celebrity or multi-millionaire can afford with Emerald Azzurra. Instead, you'll find affordable luxury at your fingertips with no unwanted surprises on your bill. And forget about an abundance of variables that leave you price-guessing because just about everything is included on Emerald Cruises.
Enjoy a glass of wine with lunch and dinner everyday. Snap photos of yourself in the infinity pool with the Croatian coast behind you, and be the envy of all your friends. (Depending on your sailing's ports, of course.) As you're living like a celebrity on a yacht, your friends will be viewing your social media posts from home, wondering how you chartered a ship!
The best secret is Emerald Azzurra's all-inclusive yacht pricing allows you to enjoy exceptional service and rock star amenities for a fraction of what it costs actual rock stars.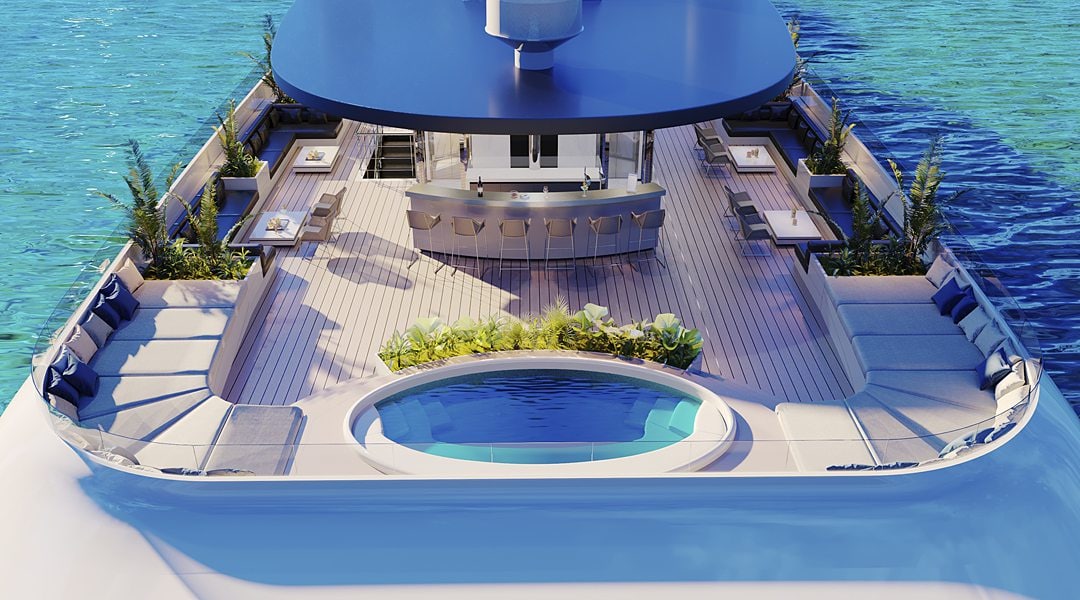 What is Included with an Emerald Azzurra Vacation
Here is what a sailing with Emerald Azzurra includes in its "all-inclusive" offering:
Transfers to/from the airport to the yacht.
Use of the marine platform off the yacht, to participate in water sports including paddle boarding and snorkeling. There's even a foam floatation island to enjoy in selected ports.
Enjoyment of the infinity pool on the yacht's top deck.
All meals (breakfast, lunch and dinner) at multiple dining venues. Lunch and dinner include soft drinks, beer and wine.
Excursions and knowledgable guides.
Wifi on the ship.
Port charges.
Gratuities onboard.
What is Not Included
Here is what is not included in your Emerald Azzurra sailing:
Flights to/from the port of embarkation and debarkation.
Drinks outside of lunch and dinner. If you wish to purchase additional drinks, you can pay for per drink or purchase a drinks package.
You can book with confidence, knowing the incredible value you get for your investment in Emerald Azzurra's all-inclusive yacht "charter" styling pricing.


Envision Yourself on these Emerald Azzurra Sailings, in Exclusive Ports (Partaking in Fabulous Excursions)
The Emerald Azzurra is a unique ocean yacht that will sail often less-toured areas of the world. It will explore the Red Sea during winter. Then it will head to the Mediterranean during summer months, including up and down the Croatian coast on the Adriatic.
The size of the ship allows the captain to sail into harbors and small ports many tourists never reach. Especially not via a sleek 360-foot mega yacht!
Adriatic
Travel from Venice, Italy, to Dubrovnik, Croatia over the span of eight days on the Adriatic sea. You'll explore six gorgeous coastal Croatian towns with guides who will share the area's history and the lay of the land, but also leave time for you to explore on your own.
This is less than $5,000 per person for spring 2022.
The Mediterranean
A Mediterranean adventure is perfect if you're dreaming of destinations like Greece, Italy and France. An eight day yacht cruise on the Ionian Sea aboard the Emerald Azzurra takes you from Rome to Sicily. You'll travel along the Corinth Canal – a 2,000 year-old navigational route – towards your final destination in Athens, Greece. All for less than $4,000 per person in fall 2022.
Red Sea
If the Red Sea is calling you, spend eight days exploring this unique part of the world on the Emerald Azzurra. You never have to change hotels as your yacht helps you travel from Aqada, Jordan (and have the opportunity to tour the world-famous Petra attraction), through Egypt to Israel. Can you imagine touring Eilat, Israel's underwater observatory or riding through the Negev desert in a Jeep? This Red Sea adventure aboard a stunning yacht is less than $11,000 per person in early 2022.
There are over 40 itineraries to choose from for 2021 and 2022.


Get a Free Cabin on an All-Inclusive Yacht Cruise
Would you believe there's an opportunity to get a free cabin aboard Emerald Azzurra?
If you book your vacation as a group and secure several cabins, the potential is there to get a free cabin. For example, we were looking at two cruise itineraries. When checked, there was availability to book 7 cabins and get the 8th free.
And the other was book 9 cabins and get the 10th free.
So if you want to celebrate a 40th or 50th birthday aboard a yacht, for instance, and have multiple couples join you, essentially your cabin could be free! And the ease of booking and enjoying your celebratory vacation would certainly be hassle-free.
Not only would you get that feeling you have your own private yacht, no matter who was onboard, but you may feel like you and your friends own the ship; you'd account for nearly 1/20th of the guests onboard, if the ship was booked to capacity.
If you book a group on the Emerald Azzurra, be sure to ask about booking an area of the ship one night for a private event.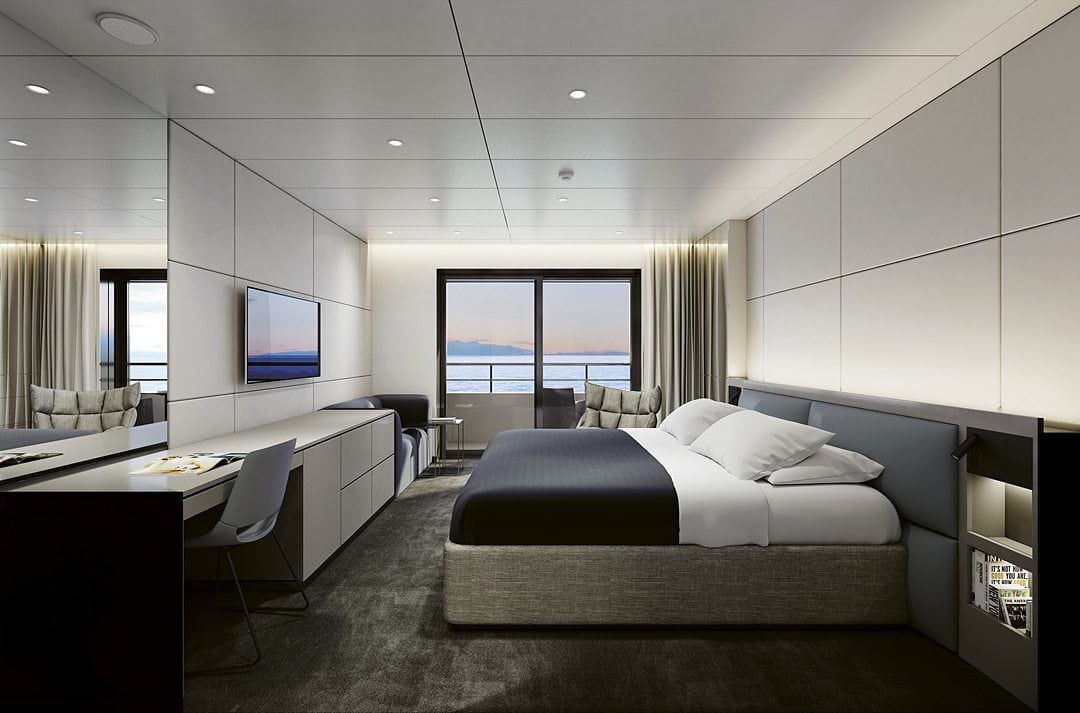 Accessibility on the Emerald Azzurra
It's important for us to realistically highlight accessibility on cruises so there are no surprises for people with mobility issues. Yacht cruises are not encouraged for people in wheelchairs due to the necessity to transfer to tenders or Zodiac boats during the cruise. The Emerald Azzurra doesn't have wheelchair accessible cabins.
Though it's possible to use a cane or walker on the tenders, it's ultimately a call that is subject to confirmation of the crew during the trip, with guest safety in mind.


Emerald Azzurra Policies, Health and Safety
What cruising looks like in a post-COVID world is on the mind of every traveler.
There are so many health precautions that have always been followed on cruise ships. And there are even more now.
Cruise companies are taking so many precautions it's more appealing than ever to sail, knowing they won't put their guests at risk. Surfaces are sanitized, air quality purified, and anti-viral agents added to the environment.
Emerald Cruises offers its guests a Platinum Protection Plan. (Their own "PPP.") If guests book this insurance through Emerald, they can get a full refund if the cruise has to be cancelled because of the pandemic, minus any third party charge, like your airfare.


Yacht Dreams Realized with the Emerald Azzurra
Have you ever seen the movie, "Overboard," with Goldie Hawn and Kurt Russell? I grew up with that movie, imagining what it would be like to be on a yacht like the movie's protagonist. (Minus Goldie Hawn going "overboard" and getting amnesia, of course. I mostly just wanted to be on a fabulous yacht, like her, then end up with the great guy and the boat!)
For Dan and me, chartering our own yacht hasn't happened yet. But being able to sail on the Emerald Azzurra brings that dream one step closer to reality! (And let's be honest – with ships like the Emerald Azzurra, who needs the added cost and hassle of actually owning their own?)