Best Cruise Deals for 2023 Wave Season
Black Friday cruise deals are as phenomenal as Target giving away free TVs. But seriously – some of these deals are so good it's worth booking to secure the rate or promotion…then you can figure out how to make the trip happen later! The first step is booking!
Providing you with valuable content remains our motive, so here we are, listing our favorite cruise promotions we've seen for 2022 that extend into 2023. Cheers to more value for your money with these savings and future travel!
Disclosure: This post has affiliate links, meaning we may earn a small commission if you click the link and proceed with a purchase at no cost to you. We truly only recommend cruises, experiences, products, and services we personally use. As Amazon Associates, we earn from qualifying purchases.


Cruise Deals Overview for Black Friday / Cyber Monday and Wave Season
The majority of these deals are available for multiple days until Cyber Monday. **But if you want to use our preferred travel advisor team, Bolds Travel, and use our form for us to connect you with them (so you don't have to do anything else but talk to them once they call you).**
This way, we inspire your next trip and help make booking a fuss-free reality! In fact, we're only aware of some of these deals thanks to Bolds Travel.
Below, we share deals for the following cruise lines:
Emerald
Scenic
Star Clippers
AmaWaterways
Cunard
Windstar
Princess Cruises
Celebrity Cruises
Holland America Line
Hurtigruten
Atlas Ocean Voyages
Swan Hellenic
Regent Seven Seas Cruises
Uncruise
To end the post, we share helpful links to our cruise essentials in our Amazon shop and share info about savings for a sustainable woman's bathing suit company. (Because it's likely you are, or know, a woman who needs a flattering bathing suit for a cruise in which she can feel confident!)
Is Black Friday a Good Time to Book a Cruise? What about Wave Season?
Absolutely! Black Friday (including Cyber Monday) is when we see great deals. Typically, they extend into what is called "Wave Season" in the months following. This is a wonderful time when cruise lines have promotional offerings until February, and sometimes into March.
You should snag your deal asap because the longer you wait the bigger the risk the cabin you prefer isn't available. So time is of the essence!


Black Friday / Cyber Monday / and Wave Season Cruise Deals
Bolds Travel, our preferred travel agent team, can book any of the cruises below. Simply inquire with us, Dan and Mikkel. We then pass along the inquiry after ensuring all the pertinent info they need to contact you is there.
Emerald Cruises
Arguably our favorite river cruise line. We love their excursion offerings, including moderate ones for easy walkers and more active ones for a little bit of a challenge. Emerald Cruises river boats are modern and sleek, and their crew is the best!
Up to $5,000 off river cruises and up to $6,800 off yacht cruises per couple.
Offer good on select 2023 sailings when booked by November 30, 2022.
Scenic
Airfare offers on select 2023 Europe river cruises and Scenic Eclipse ocean voyages. (Some sailings include free airfare, like 8 day river cruises on the Danube River and 11 day Normandy & Gems of the Seine.)
Up to 20% savings for the 9 day Ocean Voyage Sapporo to Seoul, June 2023.
Offers end December 15, 2022.
Star Clippers
15% off select sailings onboard two of their authentic tall sailing ships, Star Flyer and Star Clipper.
Destinations include Eastern and Western Mediterranean, Caribbean, Central America.
Bookings must be made between November 25 and December 15, 2022, to qualify for the Black Friday offer. Offer is good for guests residing in North, Central and South America only.
AmaWaterways
Sailing with AmaWaterways was a special experience in the South of France. They cruise all over the world. One of the things we love about AmaWaterways is the amazing excursions included in their cruises. They're all included! Talk about great value.
They have two promotions currently available. One is for a cruise only and the second is a cruise + land promo. Valid on select sailings, book by December 31, 2022.
2 for 1 "CRUISE ONLY" PROMOTION
Book one-person full fare Cruise Only, and the second person in the stateroom is free.
Single Supplement waived for solo travelers.
2 for 1 "CRUISE + LAND" PROMOTION
Buy a full-fare Cruise & Land Package and receive a Cruise & Land Package free.
Single Supplement waived on both Cruise & Land for solo travelers.
Cunard
A UK-Based cruise line whose highlight is its formal evening. Be sure to pack your gown and tuxedo, and look forward to dancing to a live band in photo-ready attire! Their Grill Suites are their ship-within-a-ship concept worth inquiring about.
Fares from $899 for Featured Itineraries.
Onboard Credit up to $600 per stateroom.
50% Reduced Deposit (offers apply to the first two guests per booking).
Includes Transatlantic cruises, Japan, Norway, and Australia.
Regent Seven Seas Cruises
Book between January 9 and March 31, 2023 for the "Upgrade Your Horizon" promotion, upgrading guests up two categories, complimentary.
This could mean you even get upgraded to Concierge level in a suite with a free 1-Night Pre-Cruise Hotel Package or enjoy personalized attention with a butler in a Penthouse Suite. Offers are limited, so book quickly!
Additionally, enjoy 20% off select 2023 Mediterranean & Northern Europe Sailings.
There is a 50% reduction for cruise deposits.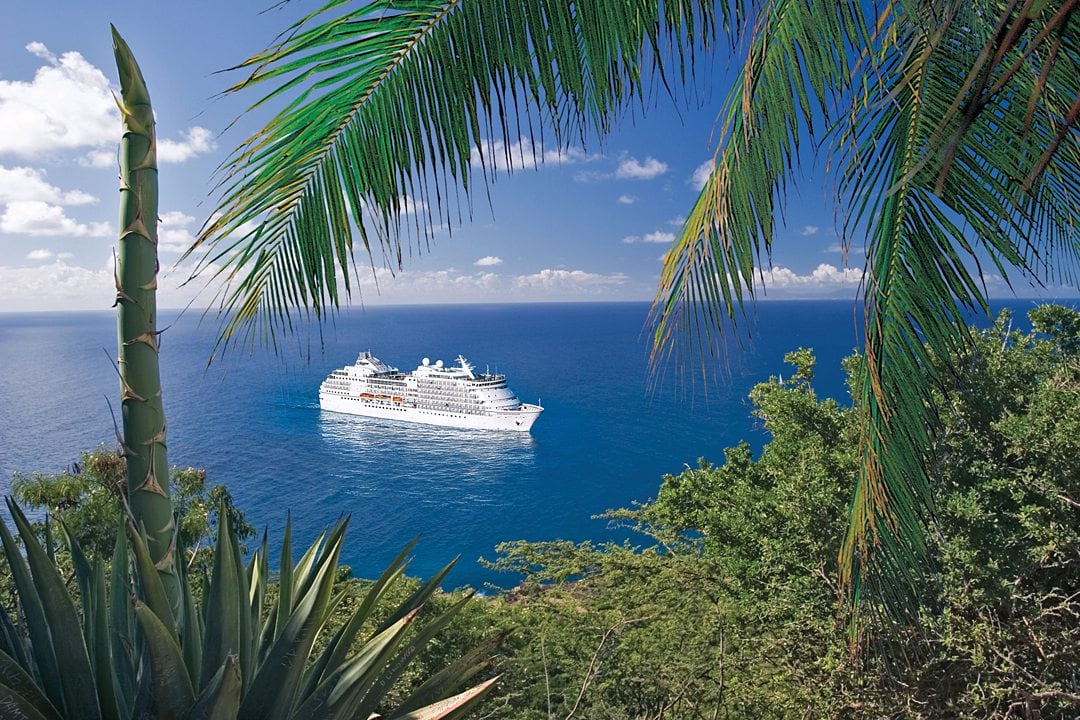 Windstar
"Thankful for Travel" until November 29. Includes Costa Rica & Panama Canal, Australia and New Zealand, Tahiti, Asia, and other wonderful Windstar destinations.
Pick your perk: up to one free pre or post-cruise Easy Stays hotel night featuring Wi-Fi, breakfast and transfers; up to $1,000 Onboard Credit; or a free upgrade to an All-Inclusive Fare for Premium Suite guests.
Plus, enjoy reduced deposits of 5% on all Staterooms and Suites.
Princess Cruises
One of our favorite things about Princess Cruises is The Enclave spa. Be sure to book spa services at some point if you want to sail with Princess, a classy cruise line that we thoroughly enjoy. (Bolds Travel can book your spa appointments too!)
$1 deposits – guests do not have to pay their remaining balance until 90 days before the trip.
Book through November 30. This does not apply to cruises sailing within 90 days of Nov. 28, 2022, and applies to full, standard deposits only.
CYBER MONDAY SPECIFIC: Book on November 28 for $1 deposit, in addition to 60 Sailings Under $60 per day and 100's More Under $100 per day per guest
Celebrity Cruises
This has quickly become our favorite ocean cruise line! We highly recommend booking The Retreat suite class if you sail with Celebrity Cruises. You won't regret it!
Take 75% Off the second guest.
Save up to $800 per stateroom.
Get up to $800 Onboard Credit.
Holland America Line
Prepaid stateroom gratuities access to up to 40% off cruise-only fares. (Crew appreciation applies to the first and second guests in a stateroom.)
Up to 40% off on various itineraries, including Alaska, the Caribbean, northern Europe, the Mediterranean, Canada/New England, Asia, Australia/New Zealand, South America, Hawaii and Tahiti, Mexico, the Pacific Coast, and Panama Canal. Alaska Cruisetours, which combine an Alaska cruise with an overland tour to Denali and the Yukon, also are included in the offer.
Available for travel through open 2024 cruises, excluding Grand Voyages and itineraries cruises less than five days.
Oceania Cruises
OLife Choice is offering guests 2-for-1 cruise fares + free economy air + choice of free shore excursions OR free beverage package OR shipboard credit + (the Black Friday kicker) free gratuities (a value of up to $500 per guest).
The deal is available across a huge swath of sailings for 2023 and 2024 and includes virtually all of the destinations Oceania Cruises sails to. It's also available across all the categories, including the new solo staterooms on all 650 guest R-class ships.
Available through November 30, 2022.
American Queen Voyages
Book your dream American Queen Voyages sailing with their Black Friday cruise deal, including:
Free roundtrip air and up to 20% off select voyages.
American Queen Voyages' Free Roundtrip Air Add-on is available on select 2023 voyages from 49 U.S. and Canadian gateways.
Offer is combinable with Early Booking Savings until December 2.
January 20 through February 28, 2023: receive up to $2,500 off with one-night pre-cruise hotel and free roundtrip air during American Queen Voyages' Winter Savings Event.
Hurtigruten
This Norwegian cruise line is one of our favorites in terms of leading the way to a more sustainable future.
Save up to 50% on destinations like Antarctica, Norway, Greenland, Iceland, NW Passage, Alaska and more.
Book by November 30, 2022.
Atlas Ocean Voyages
Atlas Ocean Voyages is relatively new but has established a name for itself in the luxury expedition cruise line arena. They sail in some of the most remote regions, including Antarctica.
Up to $1,000 air credit.
Second guest sails free.
50% reduction on deposits.
Book by November 29, 2022. Available on select April through November 2023 voyages.
Swan Hellenic
Save $2,000 on Oceanview Staterooms | Save $3,000 on Balcony Staterooms | No single supplement.
Book by December 4, 2022.
Uncruise
This small-ship cruise line presents a wonderful option to adults and families who desire the experience of a ship with less than 100 people, that can offer great prices on itineraries in places like Mexico, Alaska, and Central America.
Reserve a cabin on any 2023 – 2024 itinerary with availability for only $99 per person deposit. Valid through February 5th, 2023.
Book any Baja California's Whales & Sealife 2023 departure for a limited time and receive one complimentary pre-night hotel in San Jose del Cabo PLUS a $100 shopping credit in the UnCruise online gift shop.
Purchase 3 full fares, and the 4th guest sails free on the 84-guest Safari Endeavour in 2023. Great deal for families or couples traveling together.
Buy one cabin and get the second 50% off for all sailings in Baja from January 21 – May 6, 2023. Second cabin savings value $5900 – $10,700.
Save $1000 per cabin ($500 per person double occupancy) on select Alaska Awakening featured departures April 7 – May 13, 2023.
For a limited time, the single supplement fees are waived on select departures for individual travelers. These vary by ship and individual sailings to get you the best adventure.
🌎 Don't postpone your dream vacation: Fill out our simple inquiry form to start the conversation to book your next trip! 🌍


Cruise Essentials for Your Next Cruise Vacation
In case you're looking to shop for some tangible items this weekend, please check out our Cruise Essentials Amazon list in our Amazon shop. Some of the items are very much discounted for the holiday weekend!
We also have a Disney Cruise Line-specific list for all the Disney Cruise Line fans out there!


Ways to Surprise Someone with a Cruise
Giving a cruise to a family member, friend, partner or spouse as a gift? You're going to need a fantastic way to surprise them!
Check out our suggestions for the most memorable ways to surprise someone with a cruise!


You're Going to Need a New Bathing Suit!
Booking a cruise because you need a change of scenery? Get a Change of Scenery bathing suit to go with it!
It's a female-owned business that makes its swimwear from sustainable materials. (And we love a reason to help save the Earth and be a more sustainable cruiser in every way possible.)
Their signature swimsuit fabric is made from recycled plastic, and all of their easy-to-wear coverups are made from organic cotton. Worried about ordering a swimsuit online that you haven't tried on in person? They have free shipping and free returns, making your purchase risk-free!
Change of Scenery's Black Friday Sale runs through 11:59pm EST through Cyber Monday, November 28, 2022.
Here are the Change of Scenery discount codes to know for this weekend (codes cannot be combined):
CYBER40 for 40% off site-wide!
DOT50 for 50% off their Animal Dot print (what Mikkel's wearing in the image below)
If you are reading this and the sales have ended, use codes "SOMETIMESHOME" for 10% off your first order, any time of year, any day!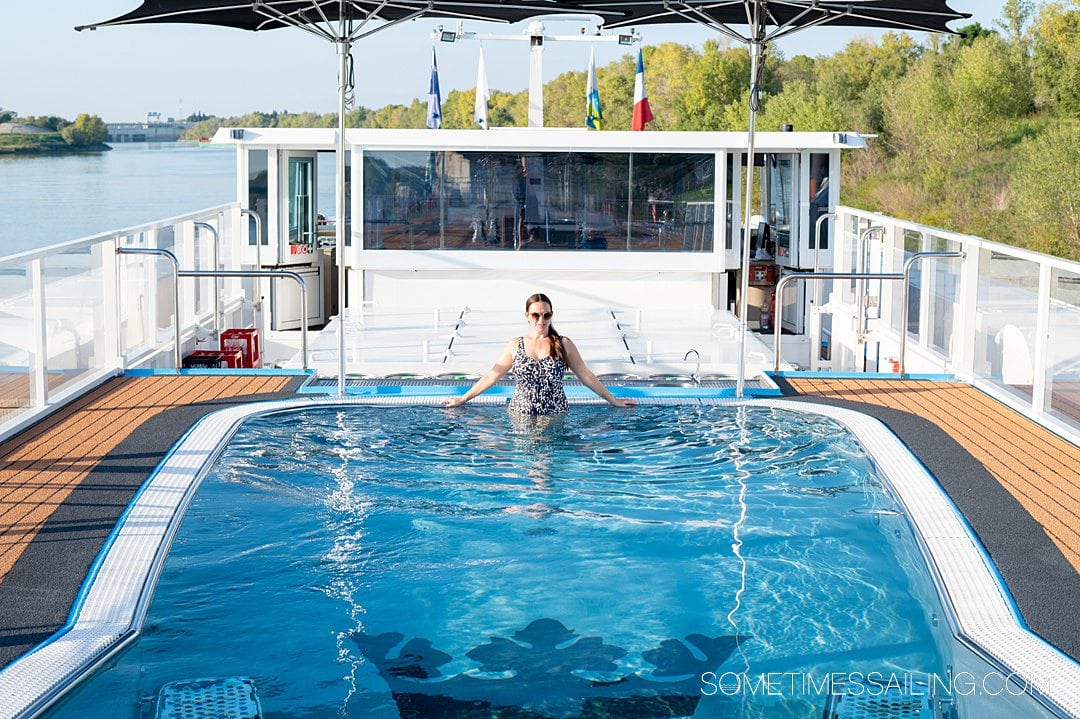 Let Us Know Your Favorite Wave Season & Black Friday Cruise Deals!
Know about a cruise deal we didn't mention? Let us know in the comments below. We'd love to hear about it!