Experiencing a Disney Cruise without Kids
We're living proof Disney Cruise Line is for adults too. All our experiences with DCL have been on a Disney cruise without kids.
I've often heard the same criticism time and again from people who have preconceived notions of Disney Cruise Line: it's full of kids. I've sailed with Disney Cruise Line five times, each Disney cruise without kids.
The first three were for pure pleasure and the fourth I was lucky enough to photograph a Disney Cruise Line wedding on Castaway Cay, Disney's private island. Each trip has been better than the last and leaves me wanting to sail with DCL again.
If you're searching for one of the best cruises for adults be sure to include DCL if you're a Disney fan because we're telling you – it's great for adults, not just kids.
Disclosure: There are affiliate links in this post, which means we may earn a small commission if you click the link and proceed with a purchase at no cost to you. We truly only recommend cruises, experiences, products, and services we personally use. As Amazon Associates, we earn from qualifying purchases.


Children…Are Not Everywhere
The best thing about Disney Cruise Line (DCL) in terms of children – for the sake of the adults and kids on the ship – is they are designed to accommodate children. This means they have specific areas for different age groups of kids where they can spend all day and night.
For instance, there's a group for toddlers, one for pre-teens and another for teens. Thus, unless you're dropping your child off at one of these areas or at a meal you never really encounter children.
Want to increase your odds of getting a private table for two for dinner each night? Contact our Disney travel agent, who can make even more magic happen for you on DCL. It's 100% free for you to use her services so don't even think twice about contacting her: Becca, at Becca Plans Vacations, beccaplansvacations (at) gmail.com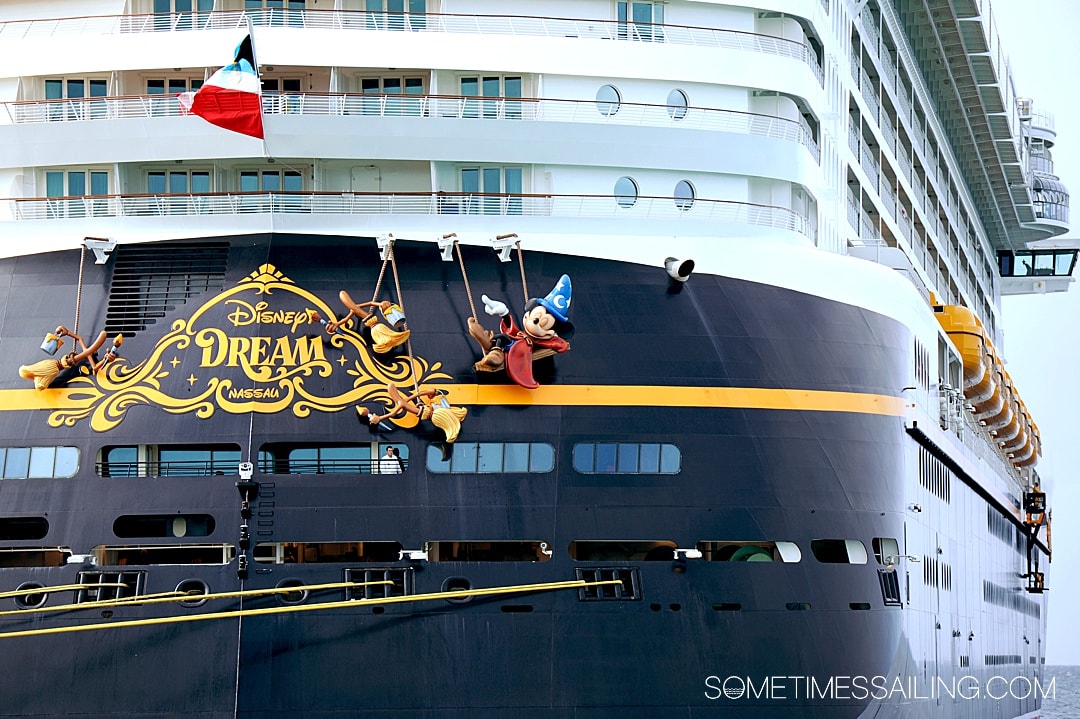 Aesthetics and Ship Plan
Though there aren't specifically "adult Disney cruises" there are many, many elements of the ships designs, especially, only adults would appreciate.
Adults are the main audience for who the splendor was designed for. They're the ones who can truly appreciate the ships' aesthetics and architectural plans. When was the last time you heard a child say, "This atrium chandelier is so stunning! I love that its Art Deco design!" Never. That's when.
(Psst: If the term "atrium" is unfamiliar to you, that's okay! Here are some essential cruise ship terms you should know.)
The ships are pristine and the crew is continuously concerned with their upkeep. I've stayed on a DCL ship when it's in port and most guests are ashore for day excursions; it's during this time I've seen workers repainting signs and doing extra hallway cleaning. It's really impressive.
The cabins are also very smartly designed and bigger than your average ship cabin on competing cruise lines. (If you need to use your space even more smartly though, here are great suggestions on what to pack for extra clever cabin hacks!)
The interior design of each stateroom is elegant and chic; Disney touches are subtle and tasteful.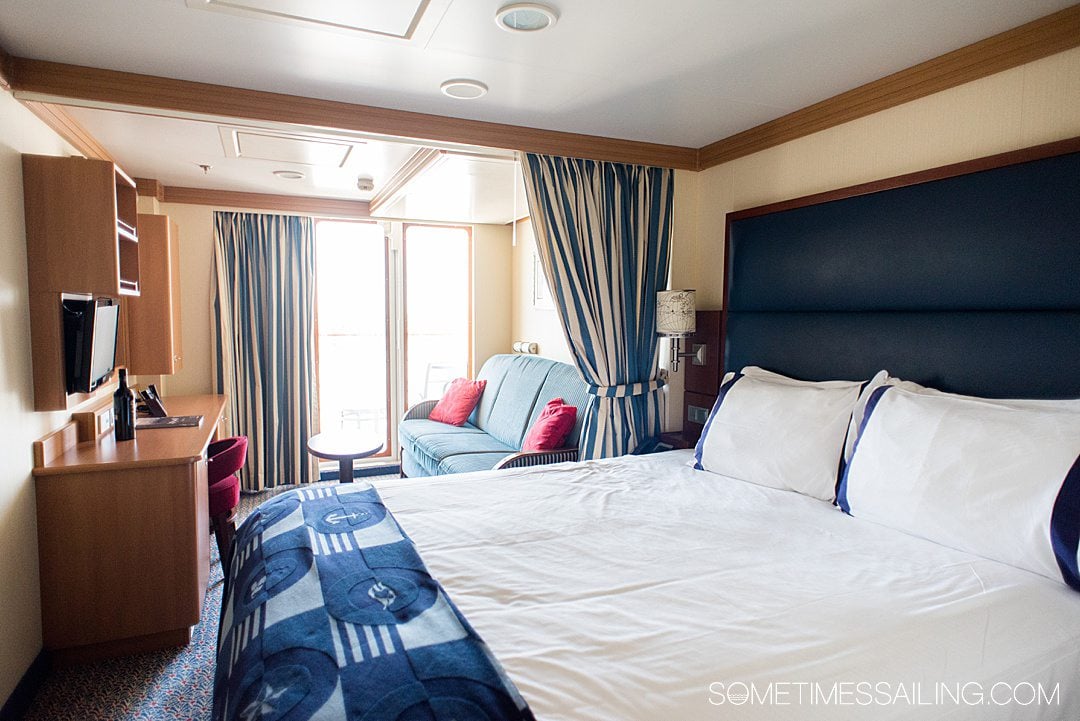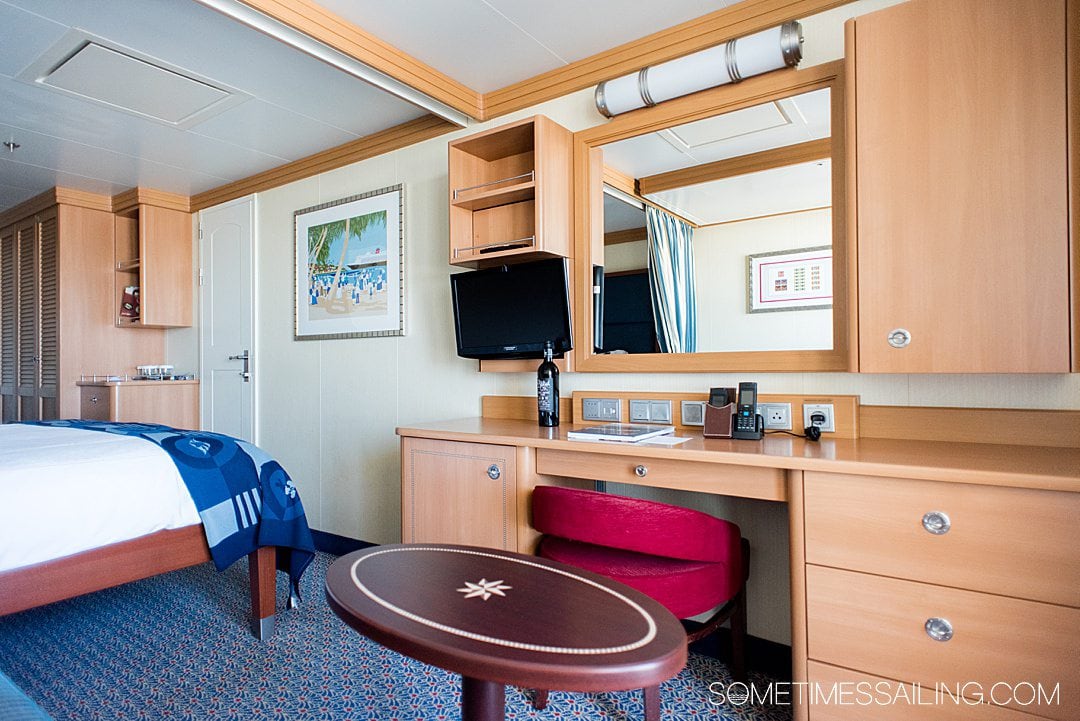 Disney Cruise Line has Superior Staff
The Cast Members on the ship are 100 times better than those at the parks.
I've noticed the quality of Disney Cast Members at the parks, as a whole, has declined over the years. (Sorry, sad but true even though there are plenty of incredible Cast Members.)
I suppose it's a sign of American culture overall and changing of generations. But smiles, friendliness, and politeness are at an all-time high on the ships. No request is too great, no matter too small. They're really phenomenal. And when you're an adult cruising with Disney you want to feel well taken care of on vacation by the staff and the brand.
From the moment you check-in at the port to every day you spend on the ship, you'll notice how friendly and extra caring the DCL crew is.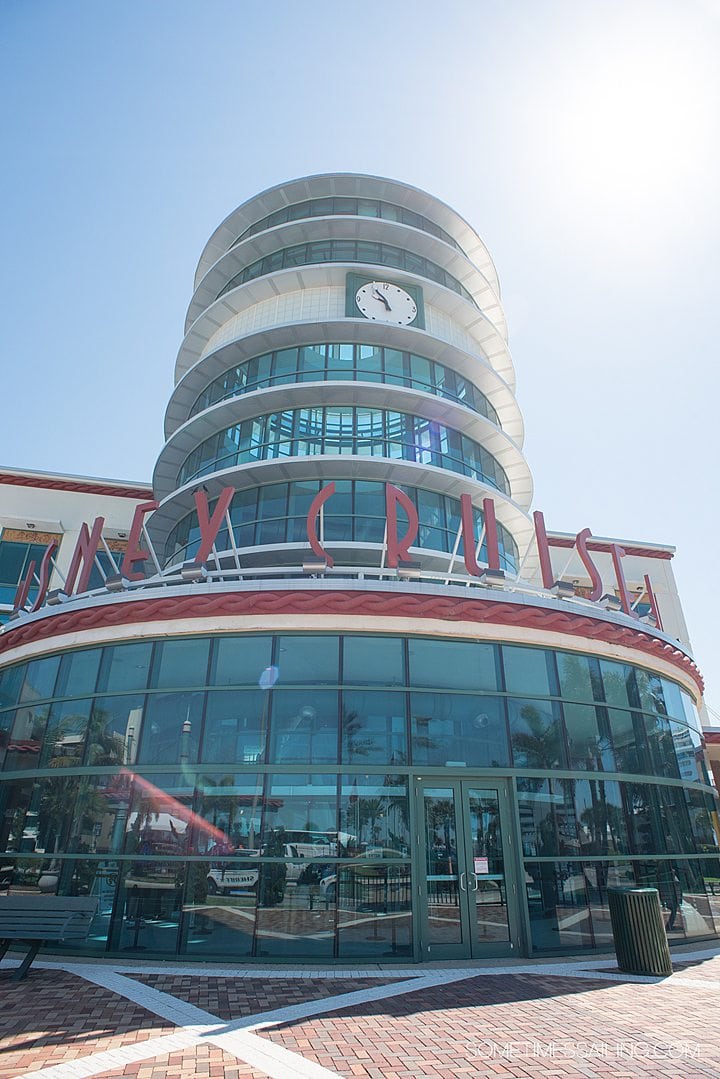 Adult Activities on Disney Cruise Line
There are plenty of adult-only activities to enjoy, proving that Disney Cruise Line is for adults too but also that the ships' creators cared enough about them to focus on adult-only activities.
There are trivia nights, nightclubs, and specialty tastings (yes, with alcohol) to name a few. DCL also offers adult-only excursions at some ports.
They've been especially focused on this as they add more ships to the DCL fleet. For example, Hook's Barbery on Disney Wish has bourbon and whiskey on the shelves inside, and they host tastings that guests can sign up for, for an additional charge.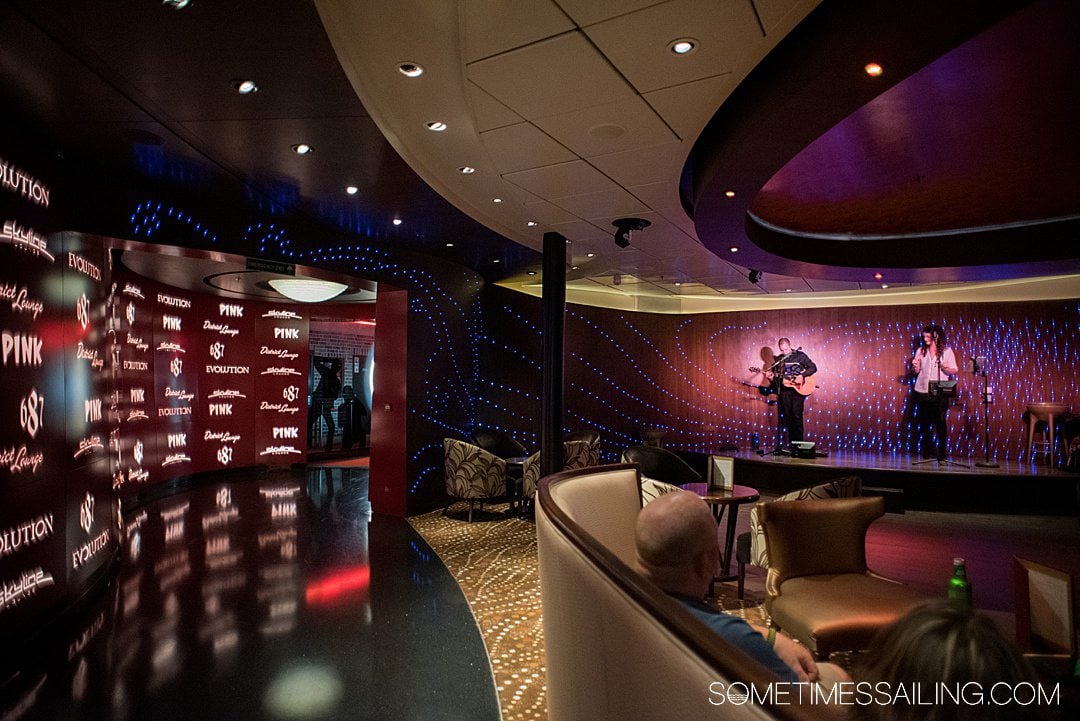 Food and Drink Areas for Adults, without Kids
Disney focuses on excellence in food, whether within their theme parks or around their Walt Disney World property.
Most dining areas aboard DCL ships are for every guest, regardless of age. But there are plenty of dining options for adults only.
They include:
Cocktail and Champagne Bars
Restaurants like Palo, Remy, or Enchanté where reservations are needed
Cove Cafe near the adult-only pool area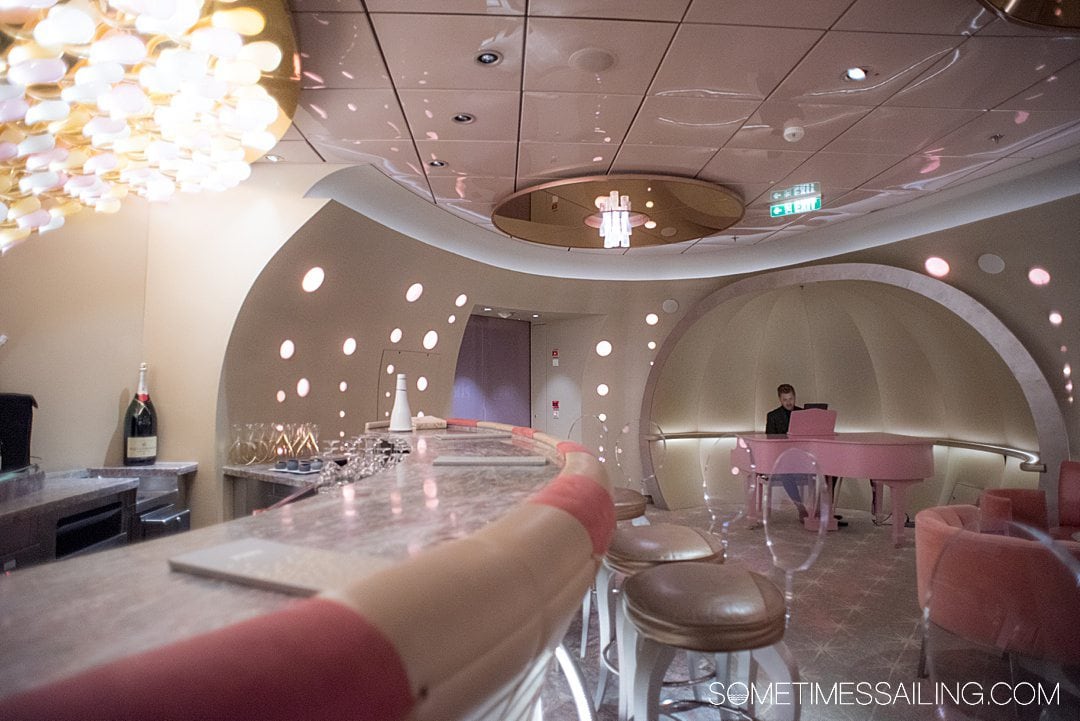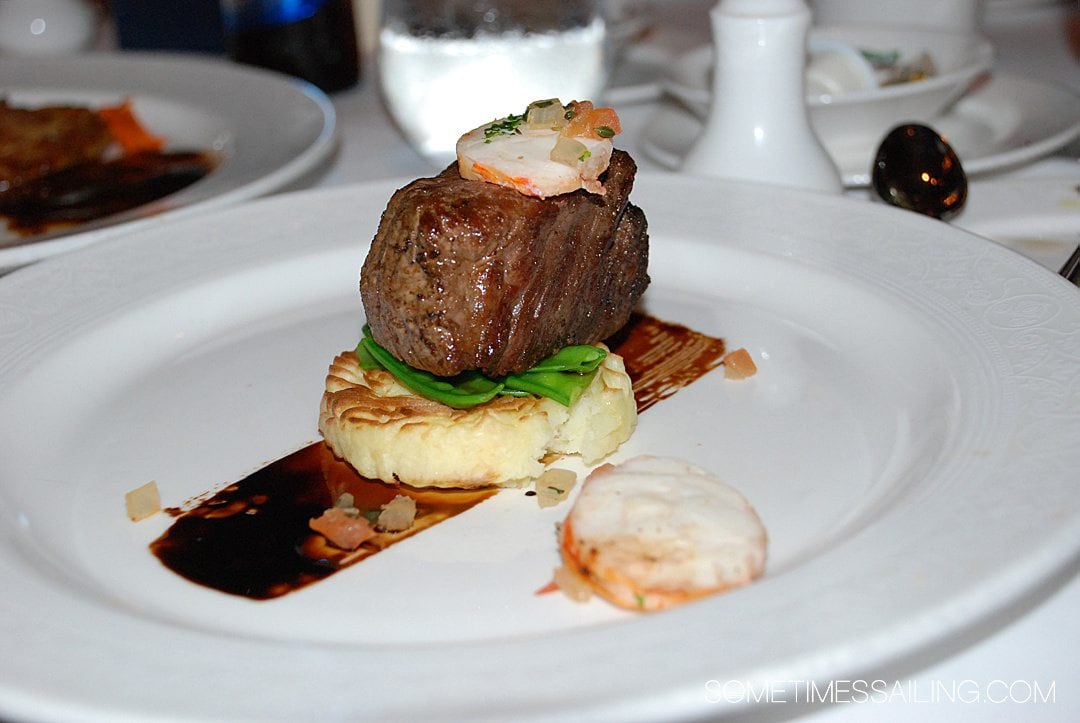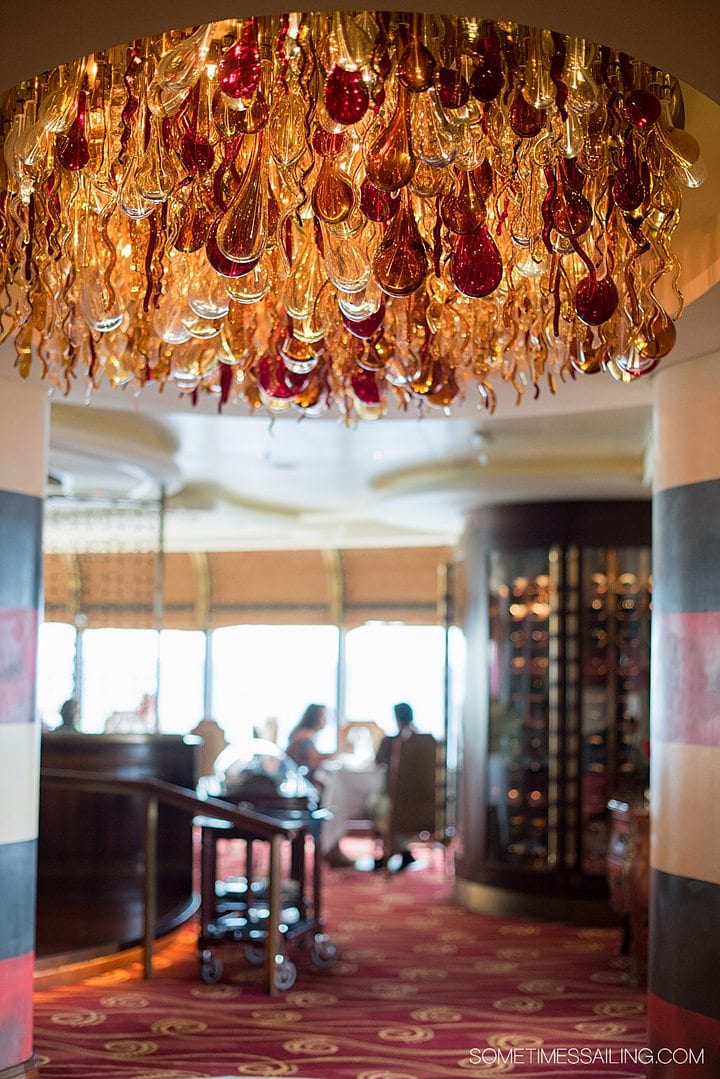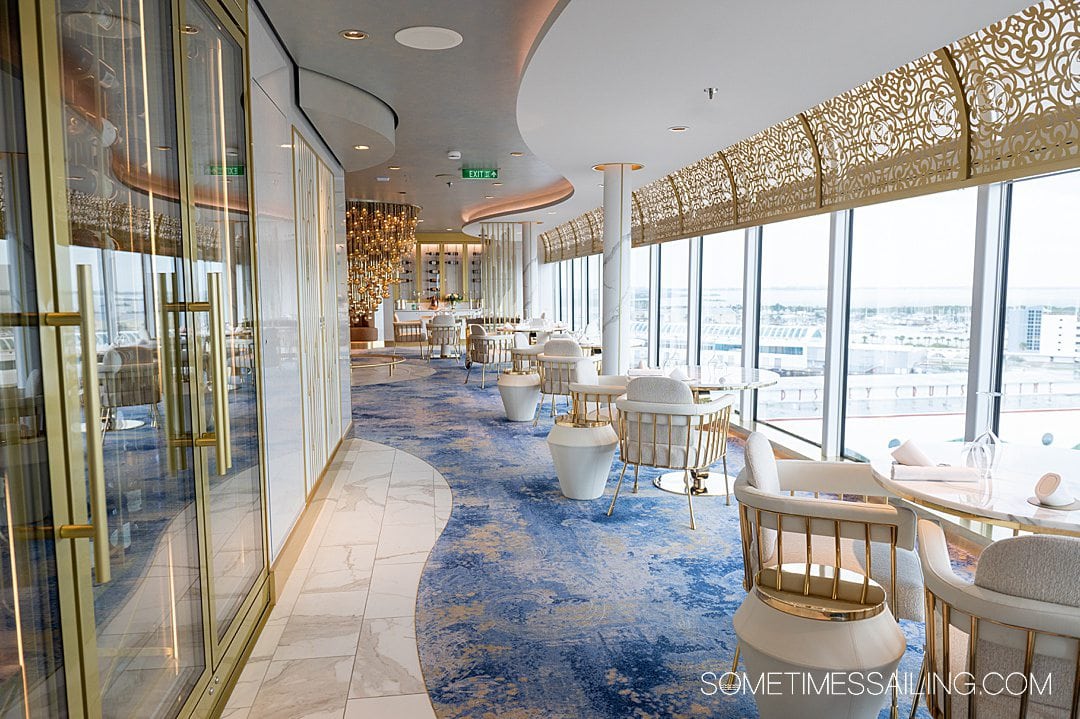 Spas and Pools Aboard Disney Cruise Line without Kids
There's a spa onboard every ship that's certainly just for adults, including a gym.
There's also a pool area on every ship strictly for 18 and older guests to enjoy. And you don't have to pay extra for it, as some cruise lines charge for.
I've seen Cast Members, first-hand, kindly ask guests in the hot tub their age after realizing they looked younger than 18. As an adult myself, wishing to be kid-free in adult-only areas, I really appreciated that.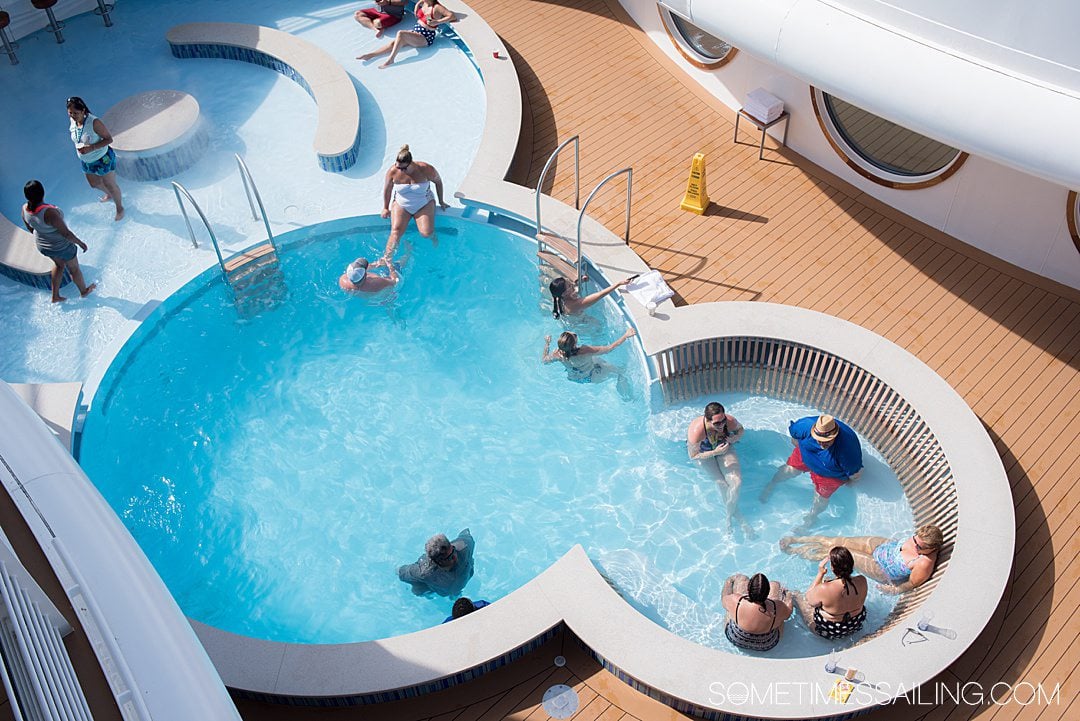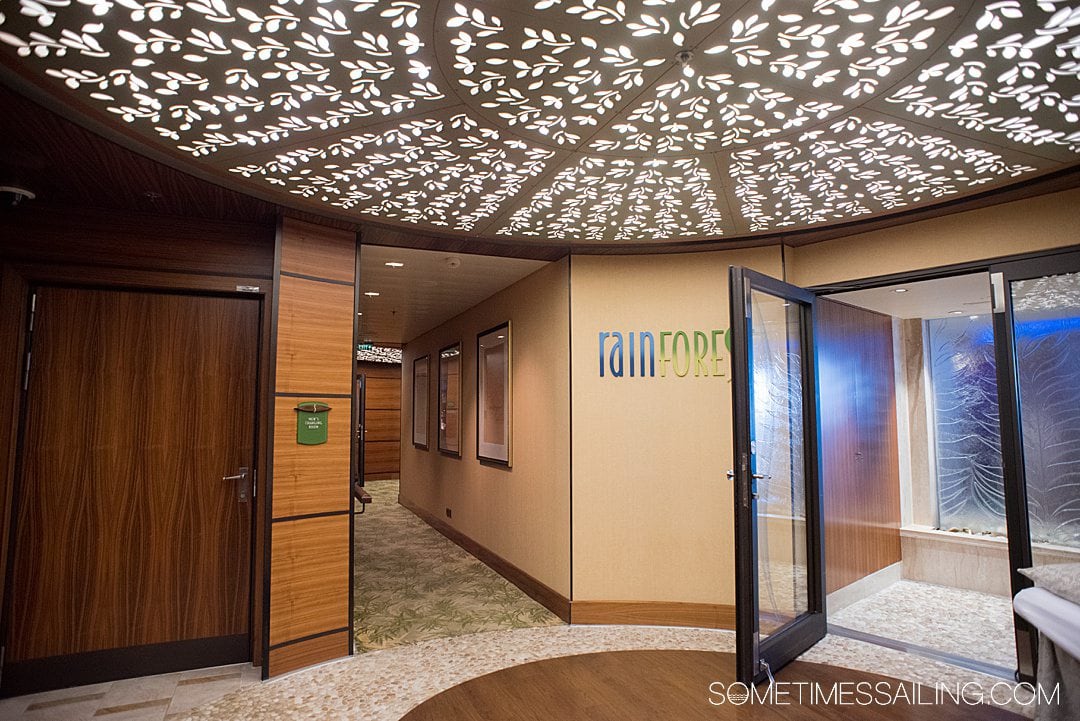 A Disney Cruise without Kids on Castaway Cay
Your Disney cruise, kids-free, continues on Castaway Cay.
This is Disney's private island where many of their itineraries stop. There's an adult-only beach area that's so private and quiet you'll forget there were any kids at all on your sailing let alone the island. For a real indulgence book a massage at the beach with their spa staff.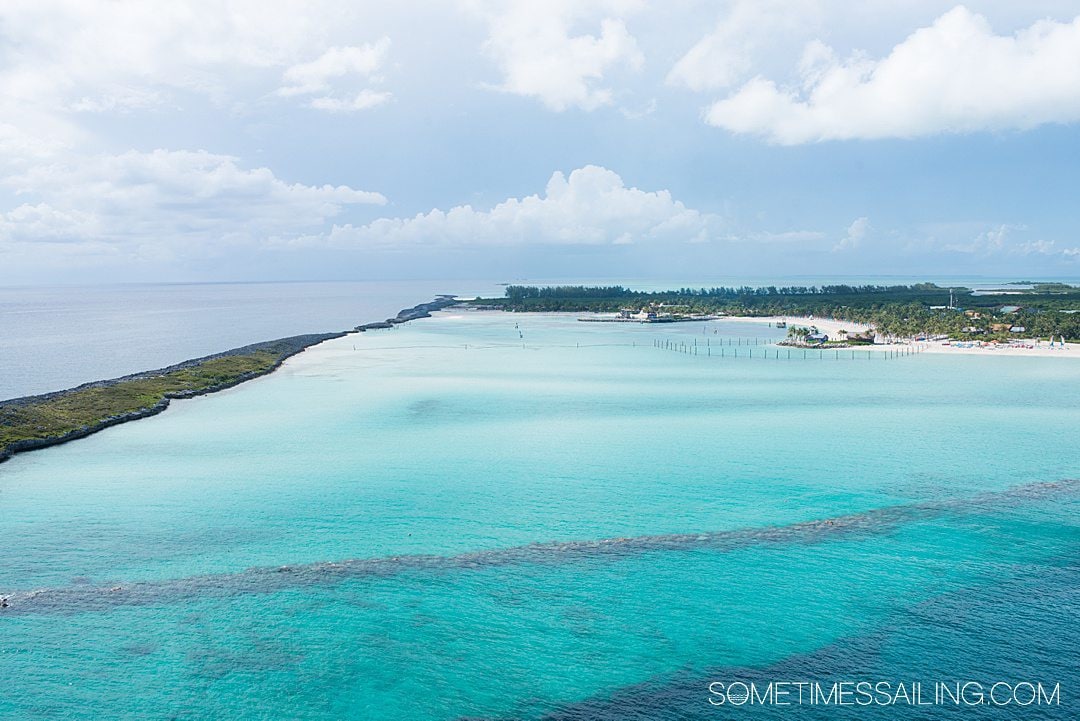 You Can Be a Kid…If You Want
There ARE opportunities to see characters – the most obvious is the "Sail Away" party. There's another opportunity to see characters when you get to Castaway Cay if it's on your itinerary. But otherwise, you have to look at the daily Navigator schedule to really find characters.
There have been cruises I hardly see any characters at all.
You don't see them unless you're specifically on the prowl and in the exact designated location at the exact time the Cruise Navigator says they'll be appearing. Which, if you think about it, is kind of the same way it is at the Disney theme parks.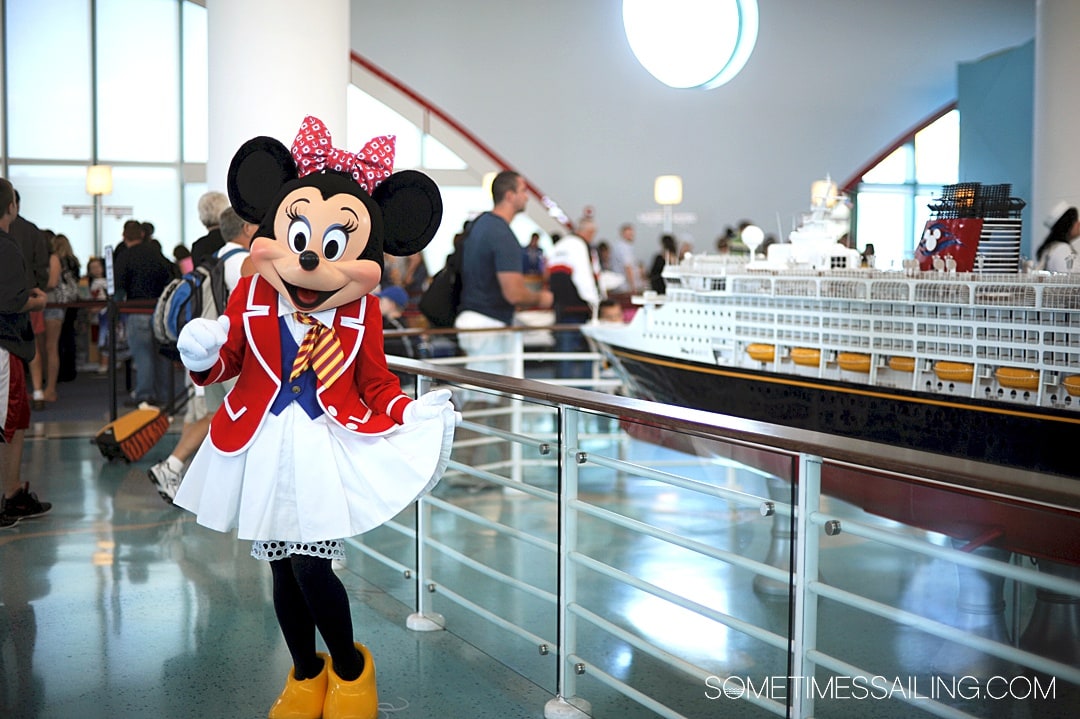 Many Disney Touches around the Ship Appeal to a Love of Disney and Design Only Adults Can Appreciate
There indeed are Disney touches around the ship. However, most of them are subtle. Let's face it though – if you weren't a Disney fan it's unlikely you'd be interested in a Disney cruise!
For argument's sake, however, let's say you're just going along with a trip your family designated for you, like a bigger family reunion or wedding sailing. Fret not.
Great art is great art. If you appreciate Disney animation prints on the walls, handpainted murals (that may not have to do with Disney at all), or incredible mosaics, you'll simply fall in love with the ship's attention to detail in its design.
Only adults can appreciate the Mickey mouse shapes in the ironwork of railings or the instrumental versions of Disney classics that play in the hallways. Or the beautiful tapestries created for some walls of Disney Wish.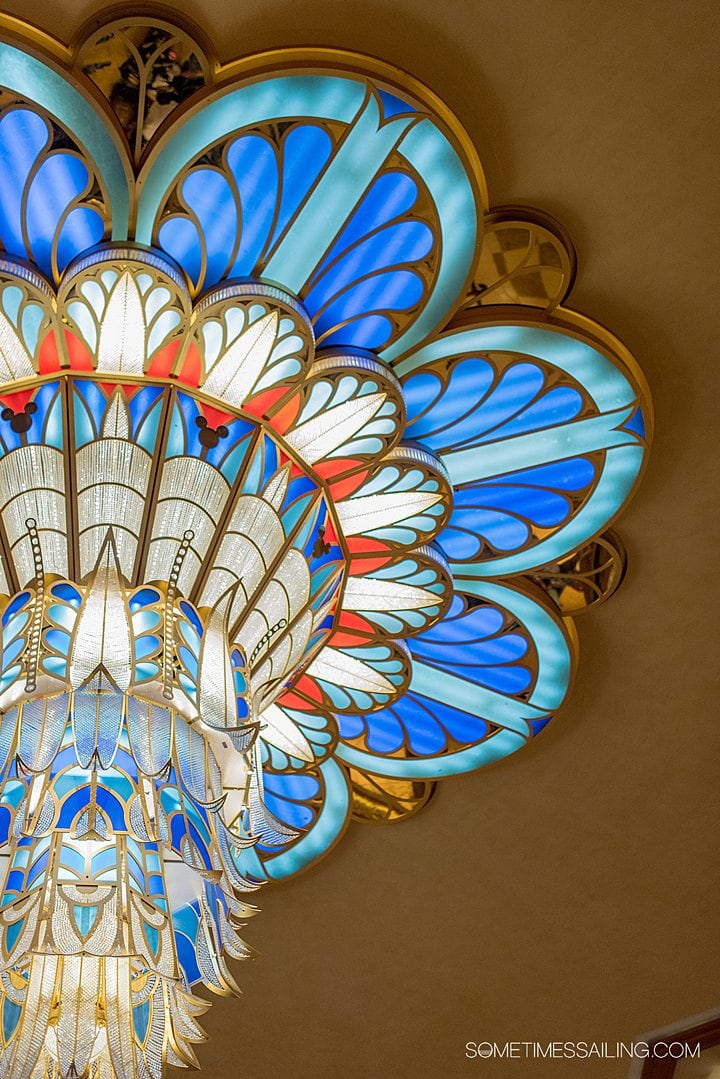 Get Ship Ready: Secure your Disney Cruise Line Gear!
You can plan your Disney Cruise Line outfits, tumblers, and more before you're even on the ship.
Check out Etsy's awesome DCL gear and also Amazon's cool Disney-themed attire and cruise essentials too!


Conclusion of Enjoying a Disney Cruise Without Kids
You'll be wowed by Disney Cruise Line's opportunities to enjoy the experience without kids.
So even if you're just an adult there to have a great time, with a love for the Disney brand, you'll enjoy the adult-only pools and cafe, the adult programming and nightclubs, and bars too. You'll even appreciate Castaway Cay from a different perspective!


Interested in a cruise with Disney or others? Also check out:
Getting married on DCL? Check out Mikkel Paige Photography!