Adventures by Disney River Cruises: Your Questions Answered
What do you do when you're a Disney fan who wants to sail on a small cruise ship? Adventures by Disney River Cruises are the ideal solution when you're preferring a couple of thousand people less than Disney Cruise Line offers, and you want the Disney touch on a river cruise in Europe.
Families can enjoy all the wonderful things river cruises offer over ocean cruises in this case, but with the Disney brand behind it. This includes things like access to small port cities and a more favorable guest-to-crew ratio – all with the added benefit of the famous name behind the ship's programming.
Disclosure: There are affiliate links in this post, which means we may earn a small commission if you click the link and proceed with a purchase at no cost to you. We truly only recommend cruises, experiences, products, and services we personally use. As Amazon Associates, we earn from qualifying purchases.


Adventures by Disney River cruises partnership with AmaWaterways
Disney Cruise Line (DCL) has their own line of cruise ships that thousands of passengers can enjoy, per sailing.
But unlike DCL, Adventures by Disney (ABD) River Cruises are on much smaller ships and they don't have their own fleet. Instead, they partner with AmaWaterways to offer Adventures by Disney on river cruises in Europe.
The ships accommodate just 140 passengers. (Though the ship has more space, it reserves additional cabins for the Adventures by Disney guides that come aboard for Disney-branded sailings.)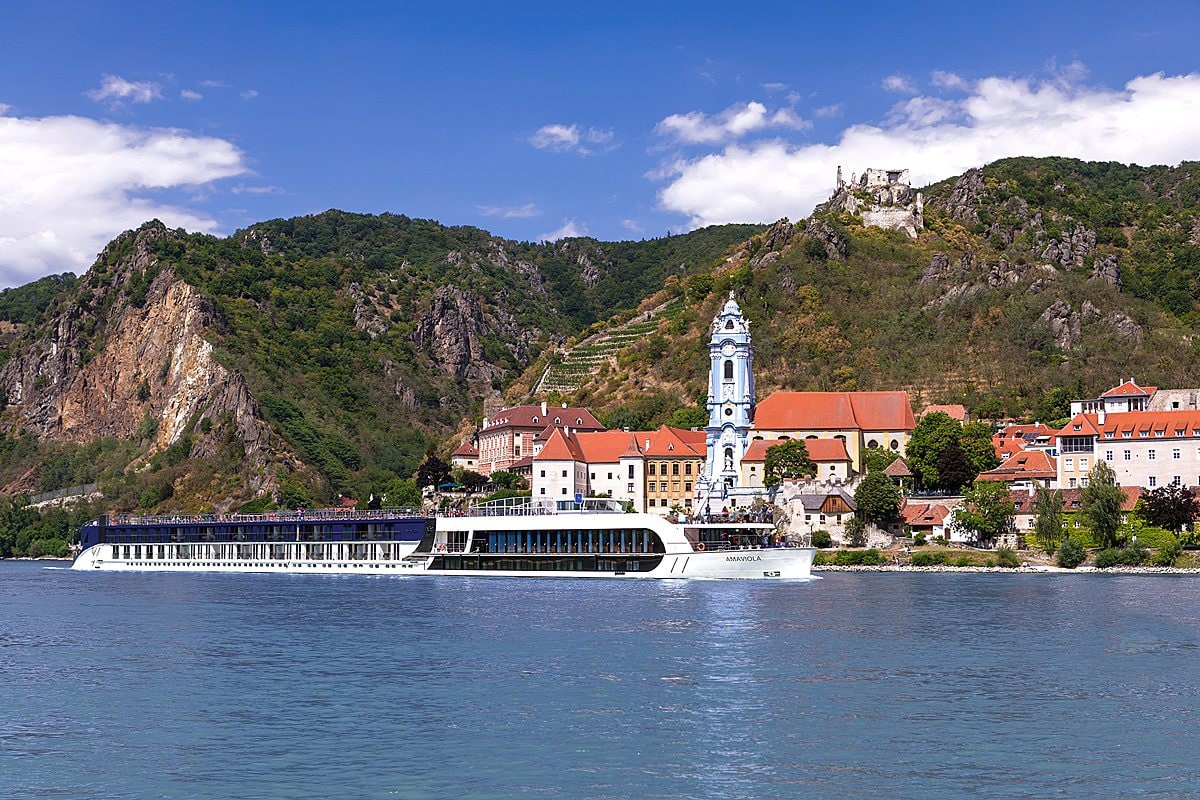 How do ABD river cruises differ from other river cruises?
There are several ways these cruises differ from what other cruise lines offer. A lot of their activities are geared towards family-friendly programming, whereas many cruise lines simply have to accommodate adults. Adventures by Disney river cruises cater to both.
For example, you may take a cooking class and bake pastries as a family in Vienna, Austria. Or zipline through the Black Forest in Germany together.
It's also not an accident that many of the itinerary dates coincide with school breaks, like spring break, summer break, or winter break over December's holidays.
They offer menu items for kids we've never seen on another river cruise, like hot dogs, burgers, and mashed potatoes. (We certainly didn't see a single hamburger or hot dog on a menu while enjoying Emerald Destiny RIver Cruise food, another cruise line that sails similar itineraries but is geared towards adults, only.)
Don't be surprised if your Adventure Guides have some great stories to tell about the places you visit; the Disney brand is synonymous with excellent story-telling, which isn't really a focus for other river cruise lines.
What makes AmaWaterways ships "Disney" for an ABD river cruise? What "Disneyfies" the ships?
The AmaWaterways ships don't magically change to the vibrant colors of Disney Cruise Line ships overnight (red, white, and black with a touch of blue and yellow) or grow an iconic stack overnight.
(Though with the magic of Disney we're kind of surprised that Tinkerbell or the Fairy Godmother don't come out to wave their magic wands to make this true.) However, there are small changes that take place to signify you're on a Disney sailing.
For instance, an Adventures by Disney mat welcomes guests onboard instead of an AmaWaterways mat.
Absent are hidden Mickeys (though surely you can find them in everyday design anyhow, right?) and themed restaurants like Animator's Palate, as the Disney Cruise Line ships have.
You will find that they accommodated multigenerational itineraries perhaps more than any other cruise line. And some of their cabins can connect with a door between the two like a lot of hotel rooms (or again, like Disney Cruise Line, offers) which is unusual for a river cruise ship.
Absent are characters autographing books, like Goofy or Mickey Mouse would at the Theme Parks. However, there is a themed night on ABD river cruises, where guests can dress up as their favorite Disney character. It's called "Disneybounding" night.
A small detail we found through our research, which made us smile, is the name tags the Adventure Guides wear. They are the same recognizable shape name tags the cast members wear at Disney Parks and Resorts!
How to book Adventures by Disney river cruises
Since we realize that their partnership with AmaWaterways may be confusing in terms of who you book with, the official word from Adventures by Disney is that you book with Disney or a travel agent.
You can book an Adventures by Disney vacation online at AdventuresbyDisney.com, or by calling 1-800-543-0865.
You can also contact a travel agent, which is what we do for all our Disney Vacations. (We highly recommend Becca, with Pixie and Pirate Destinations, who is a rock star with any type of Disney vacation planning.) This is at no extra cost to the guests, but with all the perks, not like having to sit on the phone with Adventures by Disney, and often getting an onboard credit.
What rivers does ABD River Cruises sail on?
Adventures by Disney river cruises currently offer sailings on three rivers in Europe: the Rhine, Seine, and Danube.
Each sailing is 8 days and 7 nights.
Generally speaking, these river cruises are heavily focused on their offerings in June and July. Some are offered in September and October. Because Christmas Markets in western Europe are so popular and such an attraction, there are also a few itineraries available in December.
Rhine River
This river cruise begins in Amsterdam, in the Netherlands, and ends in Basel, Switzerland, and is aboard AmaLucia or AmaSiena. Visit the Black Forest and a woodworking museum, enjoy learning about the medieval timber homes in the Alsace region of France (which is where the set design for the village in Beauty and the Beast came from), and tour Heidelberg Castle.
Sail to these wonderful cities:
Day 1: Basel, Switzerland
2: Strasbourg, France
3: Strasbourg, France
4: Mannheim, Germany
5: Rüdesheim, Germany
6: Cologne, Germany
7: Amsterdam, The Netherlands
8: Amsterdam, The Netherlands
An adults-only Rhine River Cruise: Food and Wine itinerary is offered for two sailings in 2022. This itinerary focuses on tours of breweries, wineries, local pubs and culinary experiences.
Adventures by Disney river cruises are offered during Christmas for the holiday markets along the Rhine River too.
Seine River
This trip starts and ends in Paris. You'll head north at the start of your trip towards the coast of Normandy, where you'll explore towns like Étretat and Honfleur. (Both towns in France are absolutely stunning – we speak from experience!) You'll also explore Vernon and Giverny, made famous by Monet's paintings.
Here is the full port itinerary, which travels on AmaLyra:
Day 1: Paris
2: Les Andelys
3: Le Havre
4: Étretat and Honfleur
5: Rouen
6: Vernon and Giverny
7: Conflans
8: Paris
In 2022, a Seine River Cruise: National Geographic Photography Sailing is available with this itinerary for three sailings in June and July. They are priced a few hundred dollars to over a thousand dollars more than a regular ABD river cruise per person, depending on the dates you choose.
Danube River Cruise
Travel through four countries as you set sail from Germany to Hungary on AmaLea. You'll enjoy the iconic Wachau Valley, with it's stunning vineyards set amidst hillside towns. You'll have the opportunity to explore castles and charming cities along the "Blue Danube" with this itinerary.
The Danube offers a west and an east itinerary, which travel to the same cities. (They simply start and end in opposite cities.)
Day 1: Budapest, Hungary
2: Budapest
3: Bratislava, Slovakia
4: Vienna, Austria
5: Melk, Austria
6: Linz, Austria
7: Passau, Germany
8: Vilshofen, Germany
Oktoberfest sailings are available for two cruises in 2022, for an adults-only itinerary. They're both in September, which is when the famed German Oktoberfest takes place.
They also have special Christmas Markets river cruises on the Danube River.
Adventures by Disney river cruise trip add-ons
If you wish to visit Paris for a few days before your trip, you're able to easily extend your vacation for a longer Adventures by Disney experience. This is what ABD calls their "Pre and Post Cruise Escapes."
The "Paris Escape" package adds three days in the City of Light. Experience things like dinner at the Eiffel Tower, a guided tour of the Louvre art museum, and a Parisian food tour in the St. Germain neighborhood. Prices start at just under $2,400 per person for this add-on.
Go to Disneyland Paris when you're in town for your ABD river cruise
Don't forget that Disneyland Paris isn't far from the city center. If you add on days in Paris, whether you do it through ABD or other means, and you're a Disney theme park fan, you'll want to add an additional day to go to the park.
To get to Disneyland Paris from the city center, travel 35 minutes by car or train. If you take the train, all you have to do is take it east from Paris's Gare de Lyon station to the Marne-la-Vallée/Chessy train station. Then you simply walk two minutes from the train station to reach the gate to the theme park. It's very simple, just like it is at Tokyo Disney too!
Minimum age to sail on ABD river cruises
Generally speaking, many river cruise lines have a minimum age requirement of 16 or 18 years old to sail with them. Often, these river cruises are considered "adults-only," whether officially or unofficially.
As a brand that caters to children of all ages, the minimum age requirement for Adventures by Disney river cruises is 4 years old. They do suggest, however, that a child is 8 years old for a river cruise sailing with ABD.
There are exceptions to this, however. One example is when there are adults-only itineraries and for certain times of year (like their Oktoberfest itinerary on the Danube River).
Even if you're on a child-friendly sailing, there are likely to be activities geared towards adults during your family river cruise, like wine tastings and daily cocktail hours.
Is there daycare or childcare onboard Adventures by Disney river cruises?
A lot of what parents love about Disney Cruise Line ocean cruises is that they have an exceptional child care program. That is not the case on Adventures by Disney River Cruises, even though the staff they specifically bring on board to be the Adventure Guides is great with kids.
While they don't have daycare for parents (and kids) to enjoy onboard, the ships are very different from Disney Cruise Line ocean ships. There is not an abundance of pools, multiple restaurants, and activities galore for kids to engage in the same way ocean cruise ships offer. (Though there is one pool onboard AmaWaterways ships for kids to enjoy with ABD river cruises.)
There are times, however, when parents get a break from their children, thanks to the Adventure Guides.
For instance, kids are taken to a different area for dinner so they can eat together with Adventure Guides, while teens eat in another area of the ship. Then the parents are left to enjoy adults-only dinners, just them and other 18+ aged cruisers.
Another example is on some excursions. In Vienna, for example, adults can tour the inside of Schonbrunn Palace, while their kids are outside with the Adventure Guides, navigating a garden maze.
You cannot hire an Adventure Guide to babysit your child outside of these designated times, however.
Kids programming aboard ABD river cruises
You won't find an Oceaneer Club for kids onboard ABD river cruises like you would on a DCL ocean ship. Yet there is some special programming geared towards kids, some of which we mentioned above. One example of both the Adventures by Disney River Cruises and Adventures by Disney Expedition Cruises is the Junior Adventurers night.
This is an evening specifically designed for younger "adventurers" onboard, hosted by the Adventure Guides. Adults can relax elsewhere on the river cruise ship while their children enjoy a separate themed evening.
Teen Programming on ABD River Cruises
Teens are unique cruise guests because they're not kids but not yet adults. They aren't old enough for things like wine tastings, for example.
Disney is sensitive to this! Thus, they created programming on Adventures by Disney river cruises specifically for teens.
For example, a special welcome party for teens helps them get acquainted with each other quickly. There's also a Chef's Table dinner event for them, as well as separate teen tour groups at various port destinations.
Adults-only Adventures by Disney river cruises
We love that Disney Cruise Line is great for kids, but we really appreciate that they've also considered what Disney Cruise Line is like for adults, sailing without kids, too.
They've considered this for their Adventures by Disney river cruises, just in a different way than their DCL sailings since the ship situation is drastically different.
Certain Adventures by Disney river cruises are adults-only, meaning that they are exclusive to guests 18 years or older.
These include the following itineraries:
Certain spring dates for their Seine River Cruise
Danube River: Oktoberfest sailings
Rhine River Cruise: Food and Wine sailings
During these cruises, tailored enhancements are designed just for adults. Disney has stated that "These dedicated sailings meet the increased demand among adult travelers for Adventures by Disney's unique blend of sophistication, variety, and adventure in a fun, comfortable setting."
ABD river cruise cost
On average, ABD river cruise rates are around $5,350, per adult (based on double occupancy), and children are priced at $4,800. These prices do fluctuate and differ depending on the exact itinerary you book, but overall that's the price we've seen most.
As per Adventures by Disney, "The child rate applies to Guests under 12 at the time of travel when accompanied by an adult in the same room."
If you're a family of two children and two adults, for example, an ABD river cruise can easily cost close to $20,000, before airfare. An ABD river cruise cost is all-inclusive of many things, but the price does not include airfare.
What is included are things like gratuities, beer/wine/soft drinks with lunch and dinner, and at a daily Sip & Sail Cocktail Hour, Wifi, and access to an Onboard Wellness Coach.
Who are Adventure by Disney river cruises for?
This is a unique vacation. In our opinion, it's great for guests who have:
A family…
Want to sail on a historic river to small towns and villages in Europe as well as some of the popular cities, but don't want to switch hotels every night and figure out logistics…
A sizable budget for a river cruise…
Children who are old enough to appreciate the destinations and sites you'll be visiting in Europe…
Appreciate the Disney brand beyond the characters and graphics. An appreciation for Disney's attention to detail in planning and storytelling is best in this case (this is especially true for the adults-only cruises)…
Don't mind a small ship with a good amount of children…
If you're adults without kids who want to experience an ABD river cruise and you don't enjoy the company of children, you may want to consider booking one of the adults-only itineraries, mentioned above.
Disclosure: There may be affiliate links in this post, which means we may earn a small commission if you click the link and proceed with a purchase, at no cost to you. We only recommend products and services we personally use.


Going on a river cruise? Also check out: