Palo Brunch vs. Dinner on Disney Wish: Which Wins?
Palo brunch vs. Palo dinner: which is better and why?
We ate at Palo Steakhouse, an adults-only restaurant on Disney Cruise Line's fifth ship in the fleet, Disney Wish. It offers brunch and dinner for adults only for an additional cost. Palo, a restaurant on the other Disney ships, is very similar, and the menus for both are practically the same, as are the prices.
We'll take you through which meal we would pick of the two, Palo brunch or dinner. Then we will deep dive into what is offered on the menu for each meal, discussing which is better and why. We also touch on if we would choose Palo dinner over dinner at Enchanté.
Disclosure: This page has affiliate links, meaning we may earn a small commission if you click the link and proceed with a purchase at no cost to you. We recommend cruises, experiences, products, and services we personally use. As Amazon Associates, we earn from qualifying purchases.
🕐 Short on time? No Problem!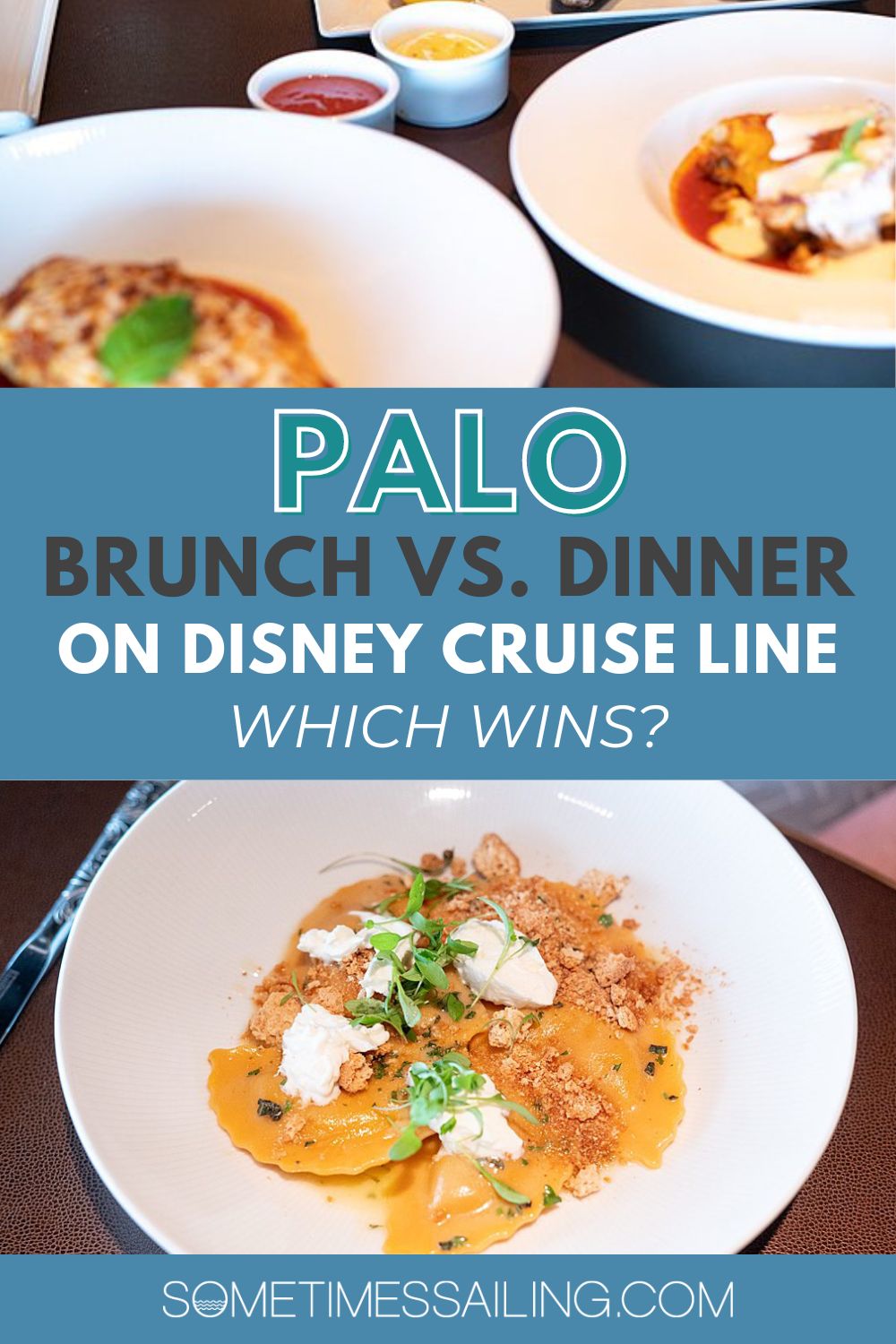 Palo Brunch vs. Palo Dinner: Which Wins?
It's hard to say which dining choice is the clear winner here because they're very different experiences. Of course, we say go for both if you have the money and time because you get to try many different dishes between the two meals.
Also, the food at Palo is so much better than the regular dining included in the cruise fare around the ship.
If you have the time and budget, make reservations for both, especially if you are on a cruise with four evenings or more. That means you can still eat at each of the ship's dining experiences that all guests enjoy, and you have a night to try Palo for dinner. Also, four-night cruises usually have a day at sea, which is the perfect day to try Palo brunch.
Right off the bat, it's important to note:
The food menu for Palo brunch is entirely different than the Palo dinner menu.
There is an upcharge to eat at Palo. It's $45 for brunch per person and does not include gratuity. Gratuity is additional as you wish to add it. For dinner, the cost varies depending on what you order. 18% gratuity is added to the dinner bill. You can add more gratuity if you like.
You can book brunch and dinner during one sailing; you don't have to choose between the two if you don't want to.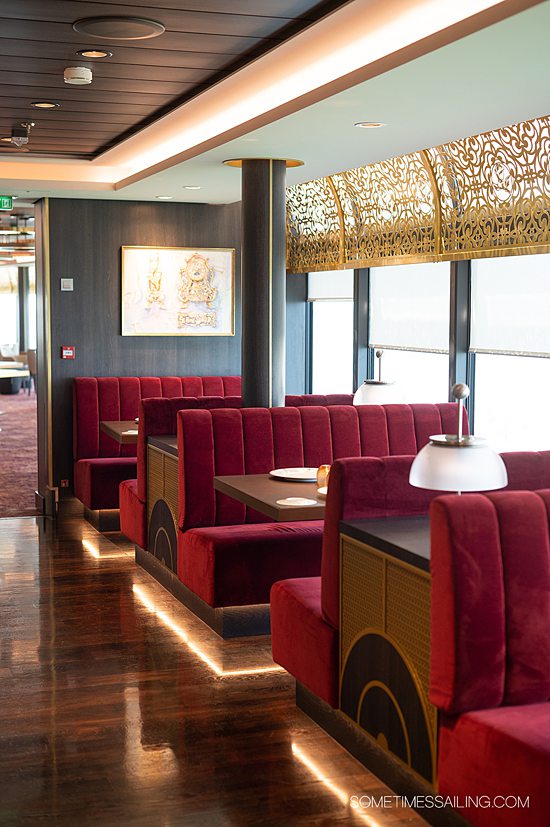 Similarities and Differences Between Palo Brunch and Dinner
What is the Same Between Palo Brunch and Palo Dinner
Though the meals are very different, some things remain the same no matter the meal you choose at Palo.
✧ Premium Ingredients are Used
The menu focuses on Italian cuisine for Palo brunch and Palo dinner, and the kitchen's raw ingredients are the same. A good example is the pizza dough. It is the same for brunch or dinner, but the pizza toppings are different per menu.
✧ Average Length of Palo Brunch vs. Dinner
The meal takes between one to two hours, on average, despite whether it's brunch or dinner. The length of your meal very much depends on how many courses you order.
✧ Dress Code
The dress code is the same for either meal, though people tend to get more dressed up for dinner. Disney Cruise Line officially states, "Guests are requested to dress in a manner consistent with the restaurant's atmosphere."
You can wear dress pants, dark jeans that are not ripped, button-down shirts, nice blouses, a dress, and the like. Do not wear informal sportswear or athleisure, bathing suits, or T-shirts. It is not required to wear a tie or formal jacket.
✧ Certain Drinks are Included (but Not All)
At both restaurants, soft drinks, coffee, and tea are included. Specialty coffee drinks, like lattes and espresso, cost extra.
✧ It's An Adults-Only Restaurant
Palo is 18+ only, and you must be 21+ to drink no matter where you are on any Disney Cruise Line ship. And, of course, the cruise line has all official documents on record per guest, including passport and/or birth certificate info that you give them upon booking and pre-cruise check-in. So don't try to cheat the system!
If you try to enter with someone under 18 years old, the computer alerts the team. If the guest is under 21, our waiter told us that a red mark shows in their account on the server's computer to indicate they are under 21 years of age.
✧ Reservations Are Required
Lastly, Palo is incredibly popular, and there is limited seating for brunch and dinner. Reservations are required no matter the meal.
That being said, if you cannot secure a reservation before you embark on your Disney cruise don't worry. You can try to get a reservation while onboard through the app, with Guest Services, or by talking to the host stand for Palo Steakhouse, which is located at The Rose bar.
What Is Different at Palo Brunch vs. Dinner on Disney Wish
There are differences between Palo brunch and dinner in menu, cost, and how it may affect your cruise schedule.
✧ The Menu
The menu for brunch is such that you pay one price, and you can order whatever you want from the menu. If you really wanted to, you could order the whole thing! For dinner, however, the menu is mostly a la carte though there is a prix fixed option if you choose it.
✧ The Cost, Gratuities, and Value
It's not that one meal is necessarily more money than the other. It depends on what you order at dinner and if it costs less or more than brunch. But brunch is easy to predict at $45 per person.
As we mentioned earlier, gratuities are not included with brunch — you add it to your final bill when you sign. Dinner includes an 18% gratuity, which you are welcome to add to.
The value of what you get for your money depends on what you order. If you want to order a ton of dishes during brunch, which are all included for $45, no many how much or little you want to eat or taste, you could argue that brunch is more bang for your buck.
Though there is a price-fixed "Prezzo Fisso" dinner menu for $45, you pick four options from it: one antipasti, one insalata, one il secondo, and one dolce. The alternative is to order from the extensive a la carte menu. If you order a la carte, the price varies depending on what you get.
✧ The Time You Dine (And How it Affects Your Cruise Day)
Of course, brunch is during breakfast/lunchtime, and dinner is hours later. However, we want to point out that the time you eat could affect your schedule during a cruise vacation when there are other things going on around the ship that you may want to attend.
The most important thing to note is that there is a stage show most nights at 6:15 pm and 8:30 pm. If you want to see one of those shows, be mindful of your dinner reservation time.
✧ Castaway Club Platinum and Pearl Perk
If you are Castaway Club Platinum or Pearl, Disney Cruise Line rewards you for taking so many cruises with them with a nice perk: complimentary dinner at Palo during your cruise. Brunch is not an option for this complimentary offer, just dinner.
Palo Steakhouse Restaurant Design on Disney Wish
Palo Decor Cogsworth Theme on Disney Wish
Palo Steakhouse is a very pretty restaurant. It's located just past The Rose bar on Deck 12 aft. The restaurant decor theme is Beauty and the Beast's clock character named Cogsworth. But the theme is elevated and subtle.
So subtle, in fact, we walked around the restaurant the day we boarded the ship, not realizing it had a decor theme. When we arrived for brunch the next day, the Maitre d' shared info about the interior design. 
Disney's beloved animated clock character is elevated at Palo. Though you won't find any evidence of Cogsworth in his true form, there are very tasteful touches, like circular motifs in the wall designs and light fixtures reminiscent of clock parts.
The browns and golds are colors taken from Cogsworth's color palette. There is even an elegant clock on display under a glass case in one area of the restaurant; you have to search to find it, especially if they seat you in the front of the restaurant. The clock is in the back. If you look closely, you'll see fallen rose petals at the base, just like the rose in Beauty and the Beast.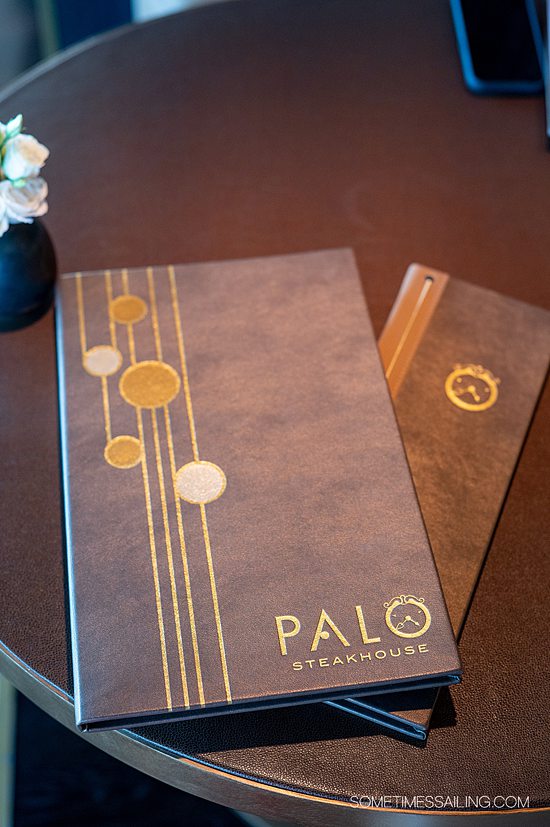 Like us, you may wonder, "What does Beauty and the Beast have to do with an Italian restaurant?" Nothing, really. But Beauty and the Beast is more so the overarching theme for the Disney Wish area where Palo Steakhouse is located. This adults-only DCL zone includes The Rose bar, Palo, and Enchanted, which is the high-end French-inspired restaurant adjacent to Palo.
Special Silverware at Palo Steakhouse by Degrenne
Notice the cutlery as you use your fork and butter knife because they are special. The design was created by a world-renowned French company, Degrenne.
The stamp design represents the canals of Venice because the first Disney Cruise Line ships were built there.
🇮🇹 Did You Know?
Palo is named after the colorful canal poles in Venice. "Palo" literally means "Pole" in Italian. There is a Palo on all five Disney Cruise Ships in the fleet.
About Degrenne France
The silverware is from Degrenne, a French tableware company founded in 1948 by Guy Degrenne. He was a pioneer in sustainability before most people even knew what the word meant. He created a line of stainless steel cutlery using reclaimed materials from tank armor plating found on the beaches of Normandy from WWII, and a new production method was born.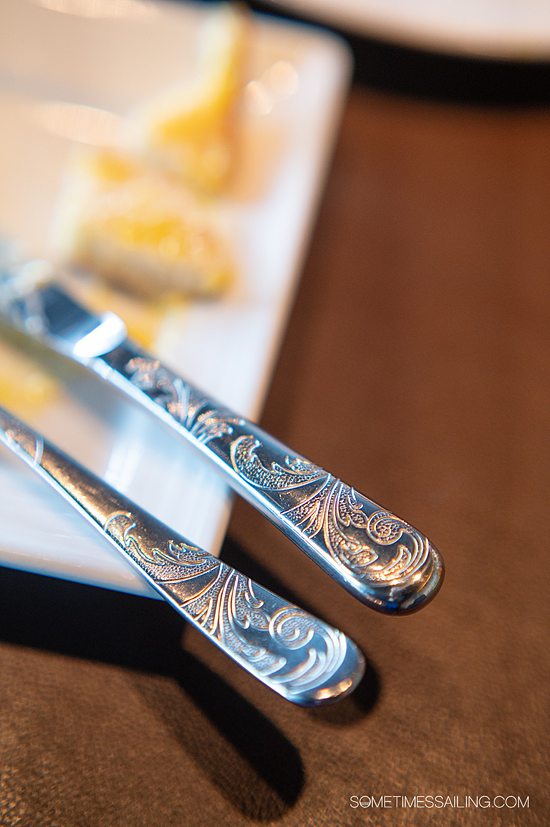 Reduce, reuse, and recycle were the founding principles of Degrenne. The company has won several awards for recycling and innovation and has been recognized by the French government as a Living Heritage Company, "Entreprise du Patrimoine Vivant (EPV)." It's a select group of companies acknowledged for French excellence.
If you are ever near Vire, Normandy, you should look into taking the 1.5-hour tour of Maison Degrenne, Degrenne's production facility.
That's who created the cutlery in Palo Steakhouse.
What's Unique About Palo Steakhouse on Disney Wish
Palo Italian restaurant exists on Disney Wish, Disney Magic, Disney Wonder, Disney Dream, and Disney Fantasy. However, Palo on Disney Wish is unique — technically, it's the only Palo Steakhouse.
Brandon, our waiter, shared that it's a test kitchen of sorts. That does not mean that they'll serve you an unfinished dish or something that is not yet refined enough to go out to guests. But it is to say that they get to try dishes before the same dish is offered at Palo on the other four ships, for example.
The finest ingredients are sourced for Palo. Because they are a test kitchen, we learned that Disney Wish has some leniency in ingredient ordering that the other Disney Cruise Line ships do not.
But, at the same time, we have looked at the menu for brunch and dinner on the other ships, and it's the same menu. So we're not sure where the testing comes into play, but it was still a cool tidbit of info worth sharing.
Palo Steakhouse Ingredients from Italy
There are ingredients to note that our server, Brandon, was sure to share with us. All the meat at the restaurant comes from the Neiman Ranch and is organic. The gelato is made nightly in-house and is different from the gelato in the Joyful Sweets shop on Disney Wish.
Caputo flour is used in Palo cooking. By law, pizza-making competitions in Italy have to use this finely milled flour. It is high in protein and low in gluten. Disney is one of the only companies outside of Europe that is allowed to use it.
The olive oil and balsamic vinegar they use are special as well and are straight from Italy. The balsamic vinegar, Fondo di Trebbiano, is aged in oak barrels for five years, which gives it a slight sweetness. The olive oil, called Villa Manodori, is created by three-Michelin-starred Chef Massimo Bottura, who has his own olive farms.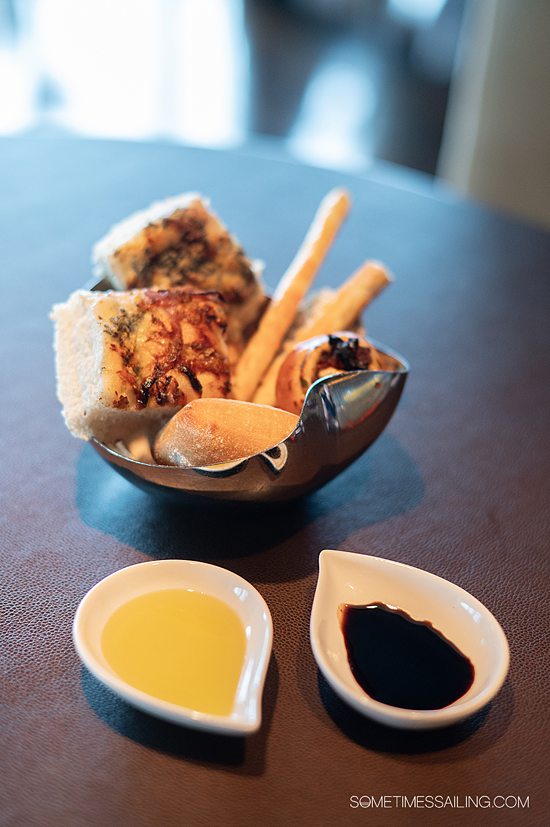 How Much Time to Set Aside for a Meal at Palo, Bruch or Dinner
Expect to spend between one and a half to three hours at Palo. The meal is unrushed and relaxing. All seats face the floor-to-ceiling windows, providing guests with a waterfront view so you get a great view of the ocean while you dine.
The exact amount of time that you're at Palo depends on two how much you order and how many people you are. We were two people who ordered a lot to try many dishes for the purpose of creating this post. We were there for a solid three hours.
But if you order less and perhaps don't talk to the waiter or waitress as much as we did (we loved making conversation with Brandon — he was awesome!), you'll likely be done with your meal in far less time.
Palo Brunch on Disney Wish, in Depth (Including Menus and What We Ate)
There are plenty of dishes to choose from on the Italian menu, including antipasti, starters, soups, entrees, and desserts.
There's even a water menu! Yes, you read that correctly: a menu labeled "H2O" on the front that reveals bottled water from all over the world inside. One side is still bottled water, and the other is sparkling.
If you have ever wanted to try water from Germany, Italy, and Norway in one sitting, you can try it at Palo.
✦ Palo Brunch Menus
Here are photos of the Palo brunch menus, including the water menu, main menu, and dessert menu: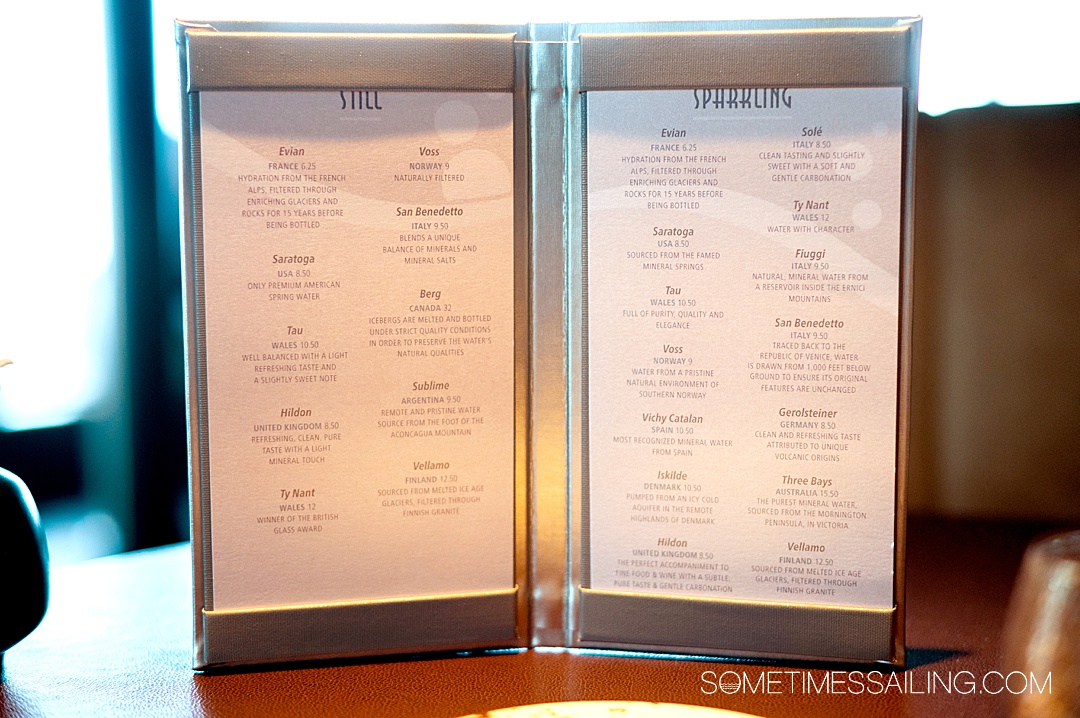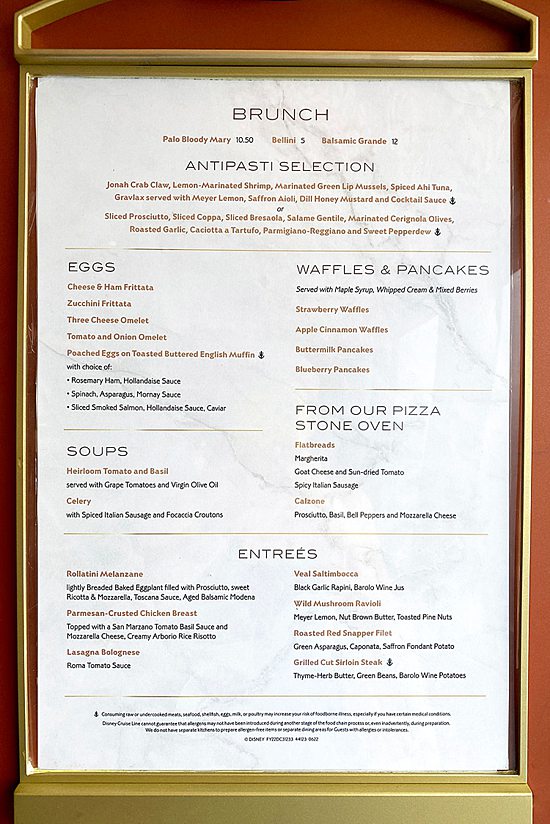 ✦ Palo Brunch Hours
Brunch is available from 10:00 am to 12:30 pm. The kitchen closes at 1:30 pm. Everything is ordered off a menu for brunch and served to your table; nothing is buffet-style.
You can order everything on the menu if you want, one item, five items — whatever you choose. It's all included in the set price of $45 per person plus the gratuity you add when you get the bill.
✦ What We Ate for Palo Brunch
We go into detail about each menu item we ordered below:
Prosecco to start, given to us with a bread basket – both are included with brunch
Seafood antipasto
Celery soup and Heirloom Tomato and Basil soup
Zucchini Frittata
Eggs Benedict
Blueberry pancakes
Goat Cheese and Sundried Tomato pizza
Lasagna Bolognese
Wild Mushroom Ravioli
Parmesan-Crusted Chicken Breast
Italian Zabaglione
Warm Apple Cinnamon Sticky Bun
✧ Prosecco and Mimosa to Start
When Brandon offered us a drink to start, we chose Prosecco. We figured we'd start brunch at 10:30 am with bubbles.
Drinks-wise, one complimentary mimosa, Prosecco, or non-alcoholic apple cider drink is included. Bloody Marys, additional bubbles, cocktails, etc., cost extra. Coffee and tea are included, but lattes, espressos, and other specialty coffee drinks are additional.
✧ Bread Basket, Olive Oil, and Balsamic Vinegar
A bread basket with breadsticks, focaccia bread, and various rolls was served with the olive oil and balsamic vinegar from Italy mentioned above. Nothing from the bread basket wowed us, but who doesn't like carbs to start for a nosh?
✧ Antipasto
For an antipasto, we had the seafood antipasto plate. It came with two pieces of shrimp cocktail, four slices of pepper-crusted ahi tuna, one crab claw, one mussel, and a piece of dill-crusted smoked salmon.
On the side were ramekins of cocktail sauce and saffron mayonnaise. It was good, far from great. We'd skip it next time and try a different antipasto.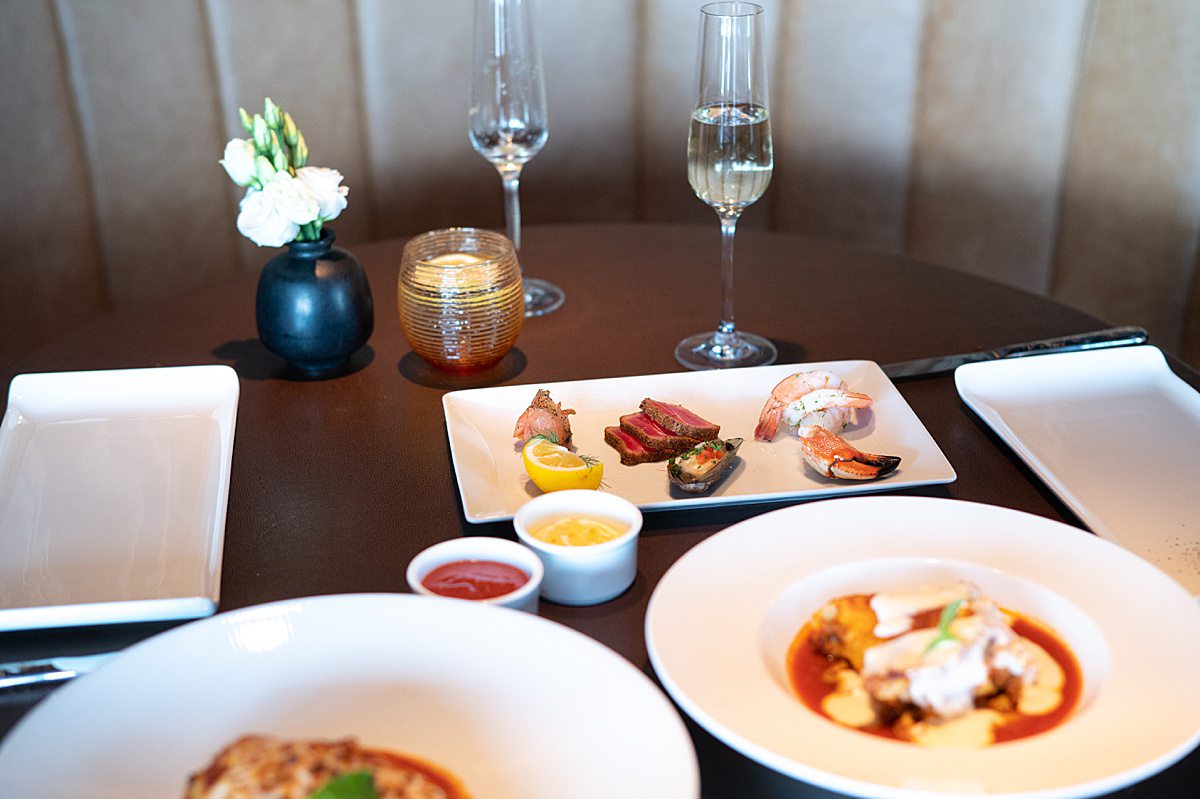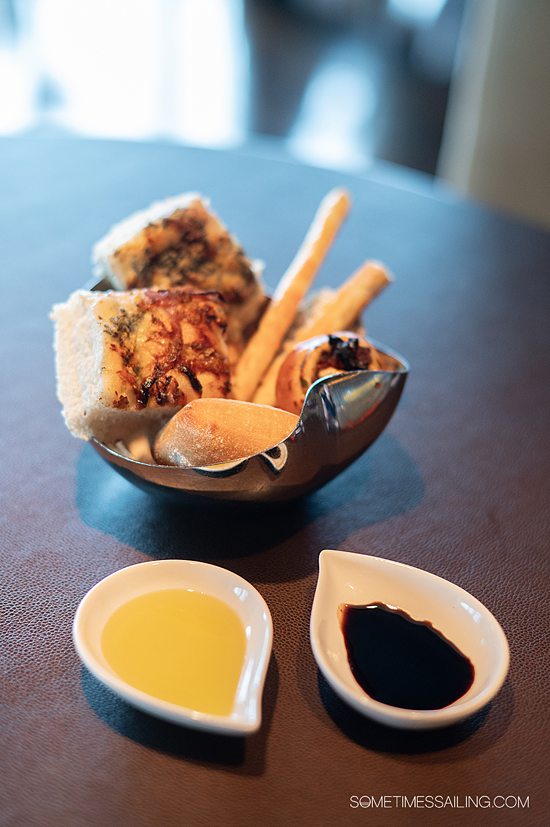 ✧ Soup
We ordered a half portion of the Celery Soup with spiced Italian sausage and focaccia croutons and a full bowl of the Heirloom Tomato and Basil soup. The tomato soup was good and very sweet, while the celery soup was excellent and savory. The celery soup didn't taste like pure celery if you don't really like that flavor. Try it anyway.
If you're someone who likes very hot soup, go in with the expectation the soup will be warm but not very hot.
✧ Eggs
We tried a few egg creations: 1) Zucchini Frittata, 2) Eggs Benedict.
We loved that they served us one-half of the English muffin with a poached egg and protein of our choice. Two of each kind would have been too much. The selections we made were one with Spinach, asparagus, and Mornay sauce (below, left) and smoked salmon with Hollandaise sauce and caviar (below, right). The salmon was the way to go.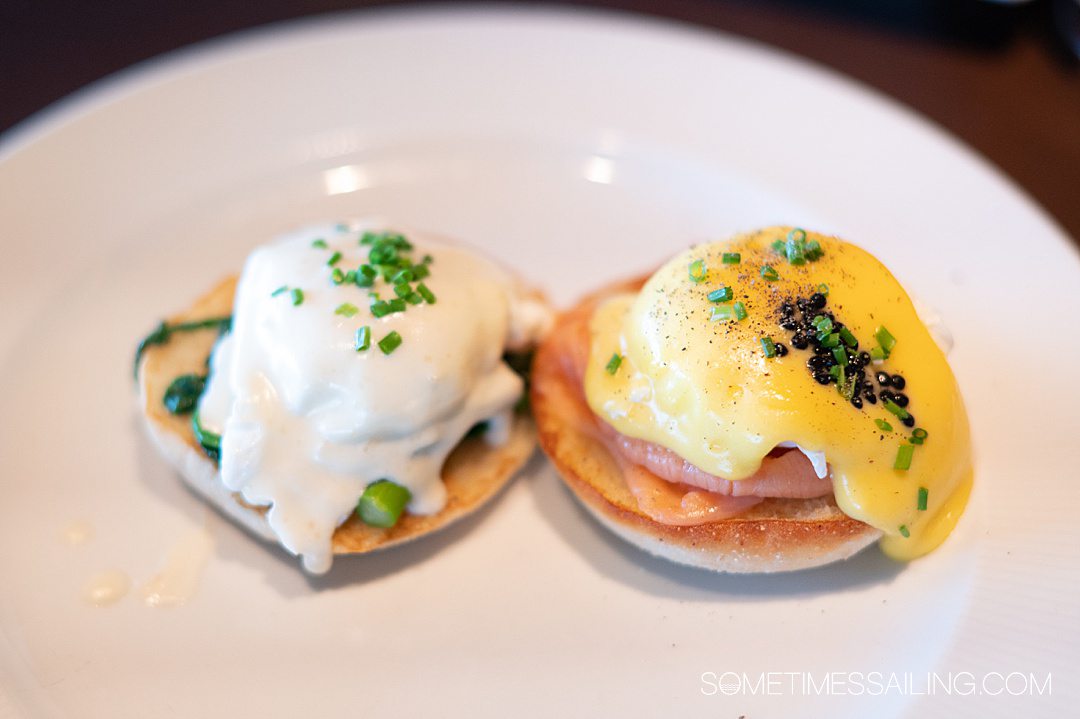 ✧ Blueberry Pancakes
They were divine. Order them! They were light on the blueberries but had the perfect crust. The whipped cream served with the pancakes had a subtle maple flavor. It was delicious and some of the best pancakes we've ever had.
In fact, the pancakes brought me back to Maine, where blueberries are everywhere.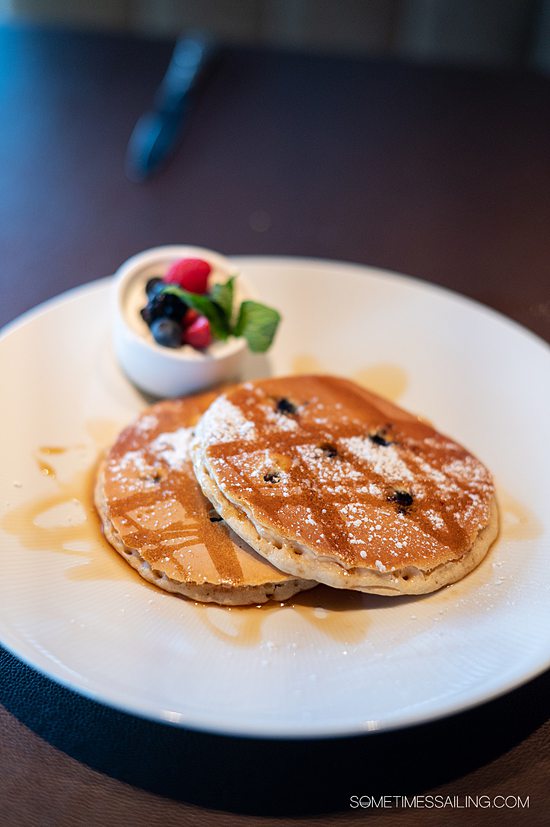 ✧ Pizza
As mentioned earlier, Palo uses Caputo flour in their pizza dough. It's an extra fine-milled flour produced in Naples since 1924 by the Caputo family. It's low in gluten and the flour that all pizza makers need to use in pizza competitions in Italy.
We ordered the Goat Cheese and Sundried Tomato pizza.
We've been to Naples and thought it would taste like pizza from Napoli (which is chewy), but it was more crisp than that. The pizza was good but not great. We'd skip it next time.
✧ Lasagna
We specifically ordered the Lasagna Bolognese because the chef at Palo Steakhouse is from Milan, near Bologna. It was good lasagna made with Roma tomato sauce, but it was not memorable.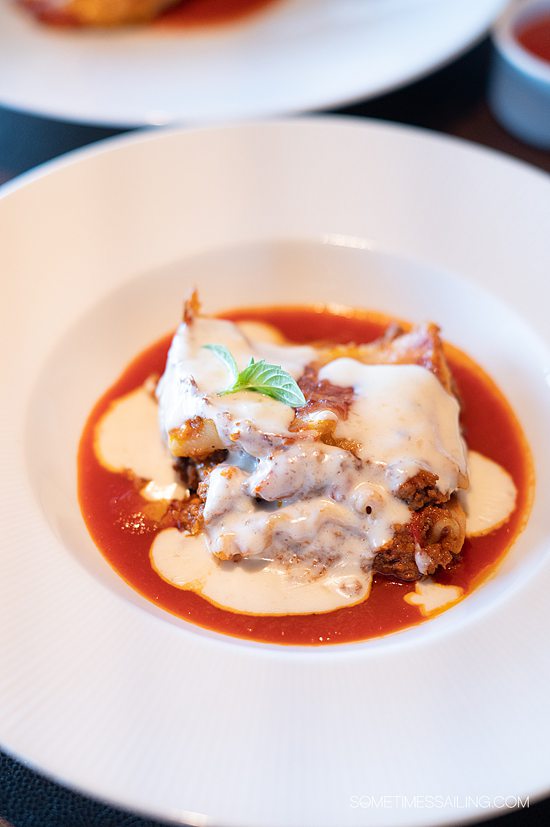 ✧ Wild Mushroom Ravioli
Homemade ravioli was created with Meyer lemon, nut brown butter, and toasted pine nuts. It was yummy! The Meyer lemons used in the recipe are from Sorrento, where they make Limoncello.
✧ Parmesan-Crusted Chicken Breast
One of the stars of brunch was their chicken Parmesan. We never knew chicken Parm could be that amazing. You MUST get this if you get Palo brunch! The chicken is created with San Marzano tomato basil sauce, mozzarella cheese, and creamy arborio rice risotto.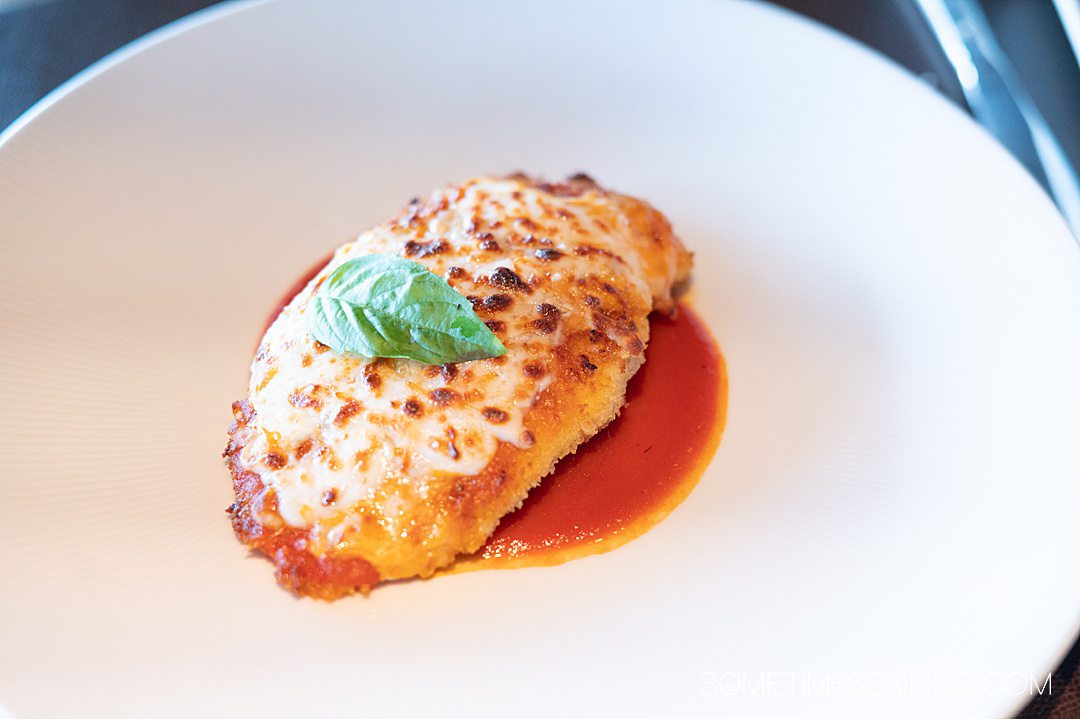 ✧ Dessert
At this point, who had room for dessert? But in the name of bringing you solid content, we powered through. We ordered a traditional Italian dessert (refined and elevated at Palo) and a could-not-resist temptation:
Italian Zabaglione, with fresh berries, Marsala wine, and biscotti.
Warm Apple Cinnamon Sticky Bun with maple butter frosting and caramelized pecan nuts.
The Italian Zabaglione was very good and very memorable, and I'm glad we ordered it. It was almost like a creamy marshmallow custard with fruit to lighten it up and two very delicate biscotti tuiles. The sticky bun was incredible and not-to-miss.
The two desserts were the perfect combo for two very different items. I enjoyed some mint tea while I finished whatever bites I could take of dessert.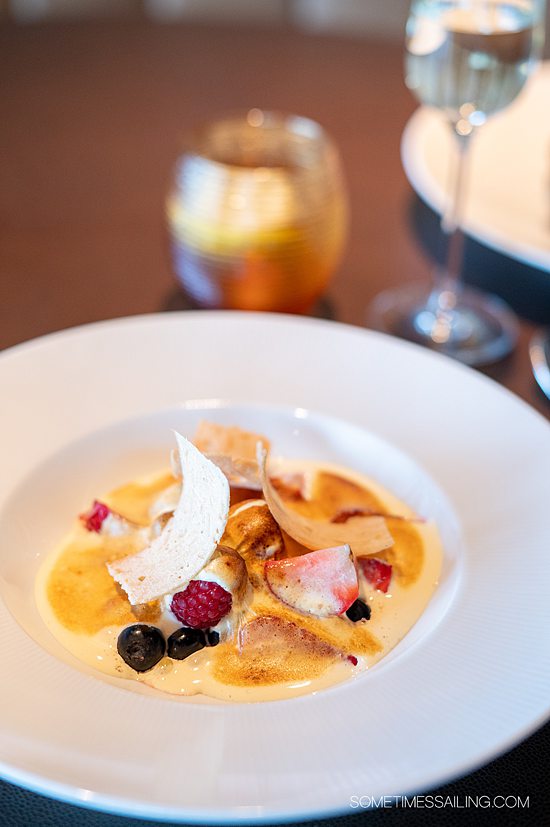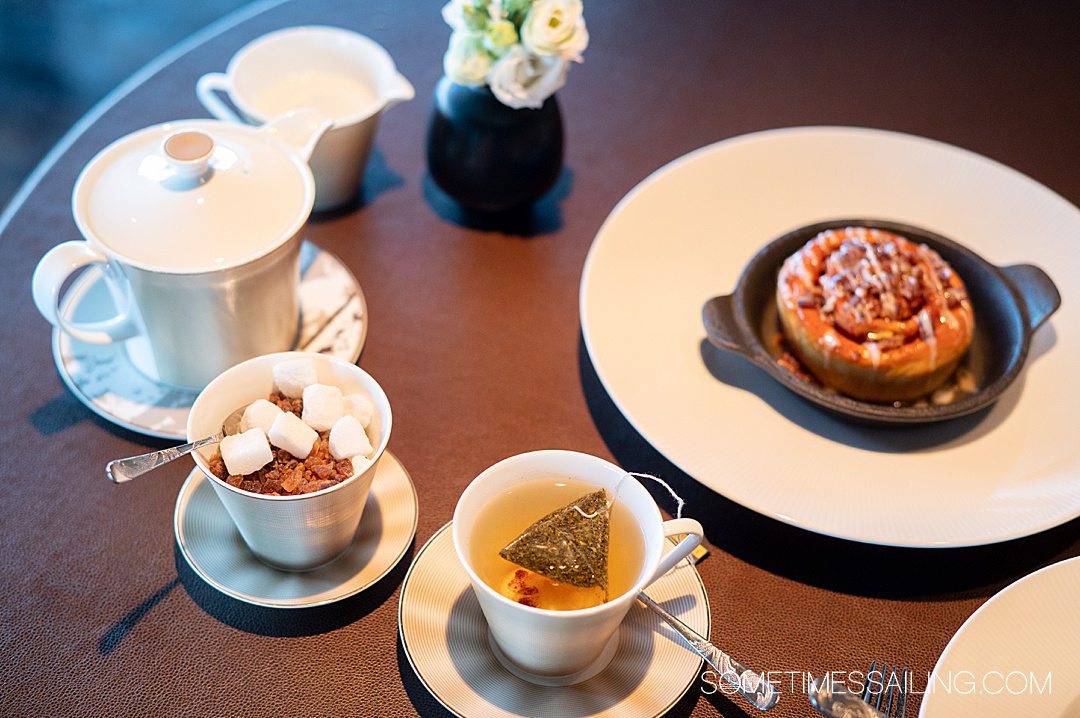 Palo Dinner on Disney Wish, in Depth
A day later, we arrived at Palo Steakhouse again but this time for a 6:30 pm dinner reservation.
Dinner was a similar experience to brunch because we sat in the same area and requested Brandon as our waiter again. Of course, the restaurant space was the same. But the menu's really different. We ate completely different things, aside from the ahi tuna I got that was similar to what was on brunch's seafood antipasti plate.
Dinner actually ended up costing less money than brunch. We decided to order a la carte instead of the price-fixed menu because the items we wanted to try were not options on the Prezzo Fisso $45 menu.
✦ Palo Dinner Menu:
Here is a photo of the Palo dinner menu: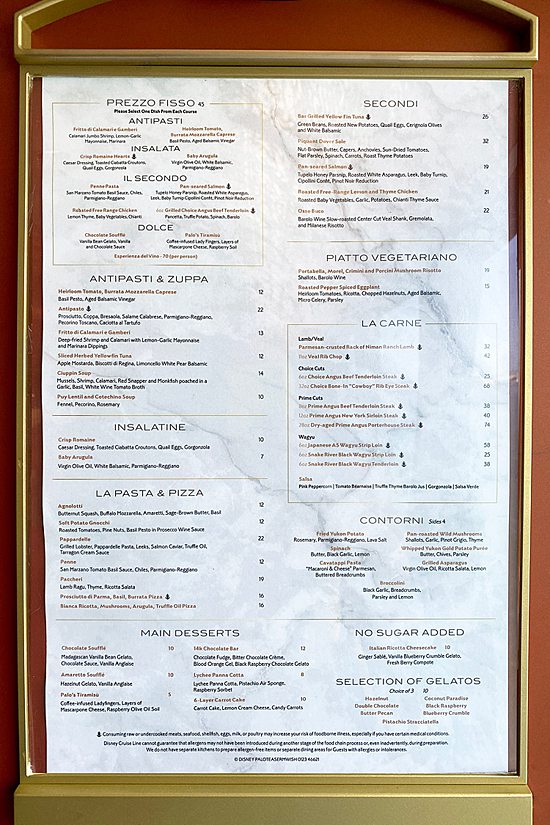 ✦ What We Ate for Palo Dinner
We go into detail about each menu item we ordered below:
Sliced Herbed Yellowfin Tuna
Agnolotti
Pappardelle
Osso Buco
Cavatappi Pasta macaroni and cheese
Chocolate Soufflé
✧ Gnocchi Amuse-Bouche
As a surprise, a gnocchi amuse-bouche was served to begin the meal along with a bread basket.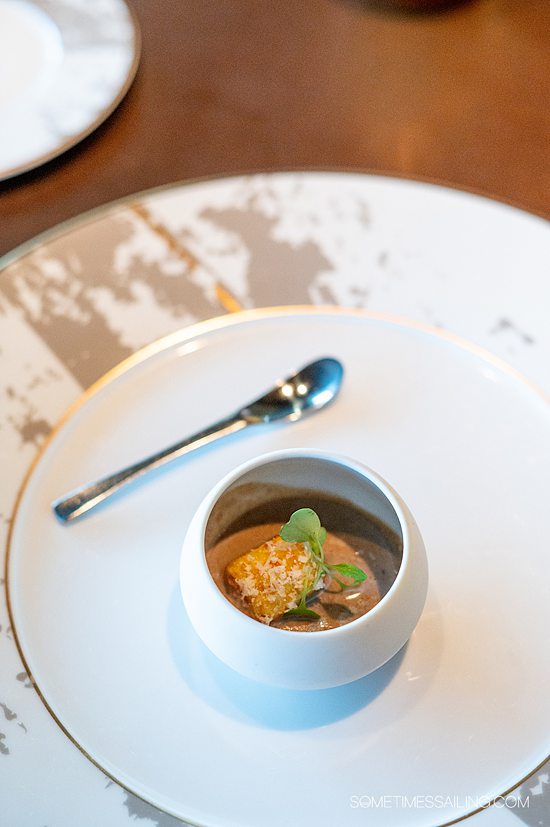 ✧ Sliced Herbed Yellowfin Tuna
The description on the menu read: Apple mostarda, Biscotti di Regina, Limoncello White Pear Balsamic. It was good, and I appreciated that it was a creative twist on an ahi tuna appetizer. But the flavors were mostly forgettable. I wished I had ordered something else as soon as I tasted it.
We know there are better things on the menu because we got the Agnolotti, and it was great.
✧ Agnolotti
This was a stand-out dish. It was very unique. Agnolotti is like ravioli and they did a great job. The description of the dish was butternut squash, Buffalo mozzarella, Amaretti, sage-brown butter, and basil. It was delicious.
The Amaretti is the crumbled cookie you see on top, which was sweet and added a nice flavor and texture.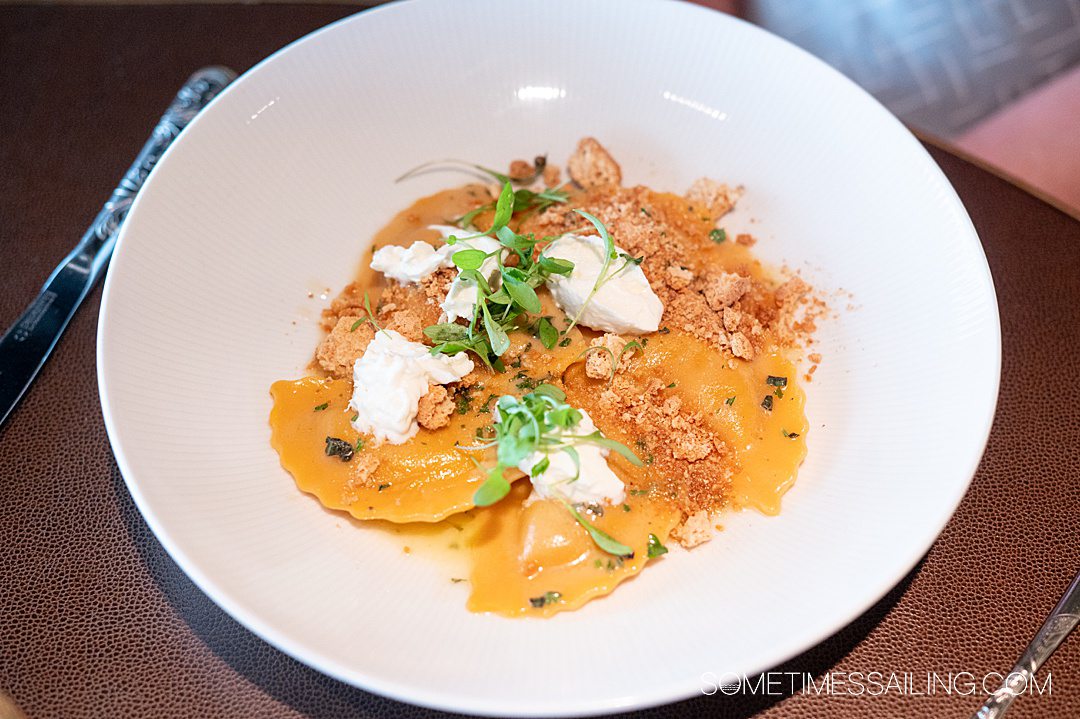 ✧ Pappardelle
I ordered this dish because I'm a sucker for pappardelle pasta, especially when they make the pasta in-house. It was served with lobster tail, but that's not why I got it. I'm not a huge lobster person, with the exception of the incredible lobster we had on our Maine Windjammer cruise. I digress.
The pasta part was what caught my eye.
It was made with leeks, salmon caviar, truffle oil, and tarragon cream sauce. The pasta sauce and caviar were great.
The lobster was a bit raw and undercooked, and I only ate a little bit of it. If I ever order it again (and I would) and the lobster came out that raw again, I would ask them to cook it more. I should have, but by the time I tasted the lobster, I was one-third of the way done with the pasta.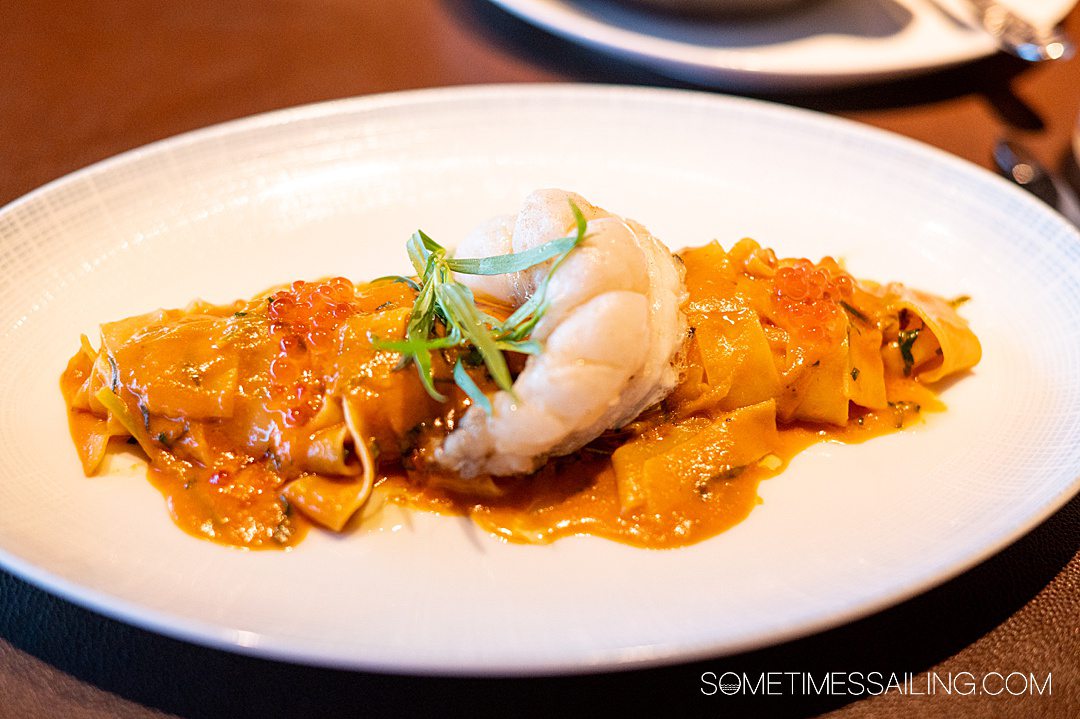 ✧ Osso Bucco
This Milanese dish did not disappoint. We went to Milan on the heels of our Emerald Azzurra Mediterranean yacht cruise, so we were able to try this classic dish in Italy. It was similar on Disney Wish. We can guess it has something to do with the chef being from Milan.
A center-cut veal shank is slow-roasted in Barolo wine. It's served with a gremolata green sauce on top and sits on a bed of Milanese risotto, which is made with saffron, giving it a vibrant yellow color.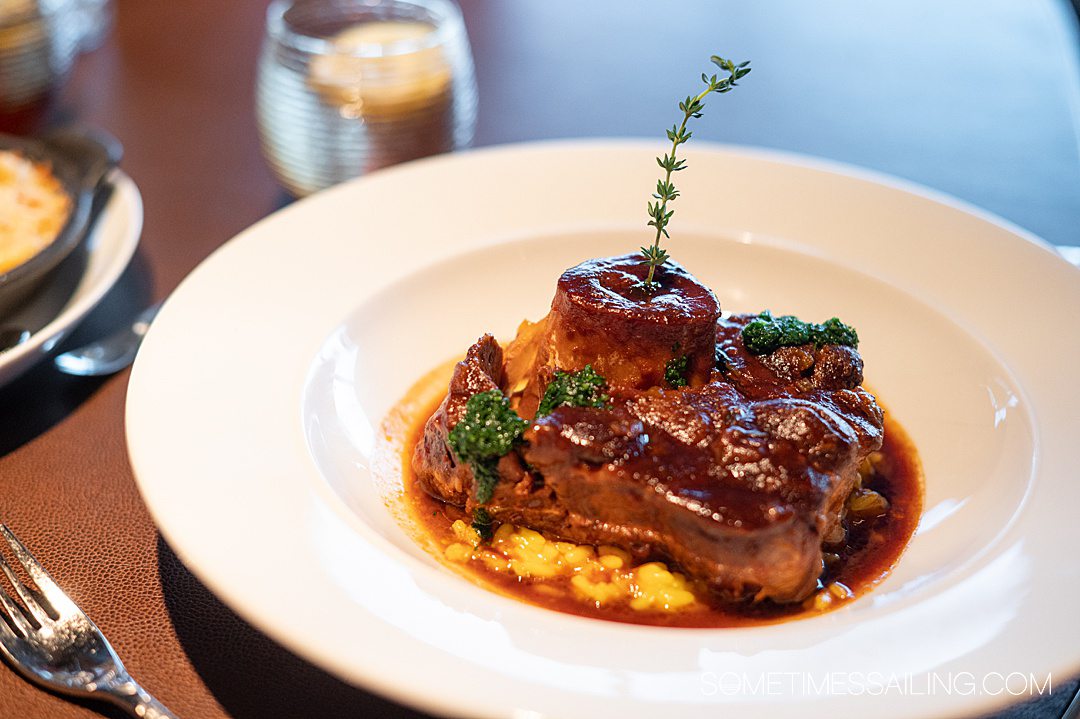 ✧ Cavatappi Pasta
This side dish is their macaroni and cheese. For $4, who can resist? It was a very yummy side dish with the main cheese being Parmesan though it consists of several cheeses. It's topped with buttered breadcrumbs, and when it was served to us, more cheese — in liquid form — was poured on top.
The portion was so much larger than expected; it could have been a small entree.
Did we mention how reasonable the prices at Palo Steakhouse are?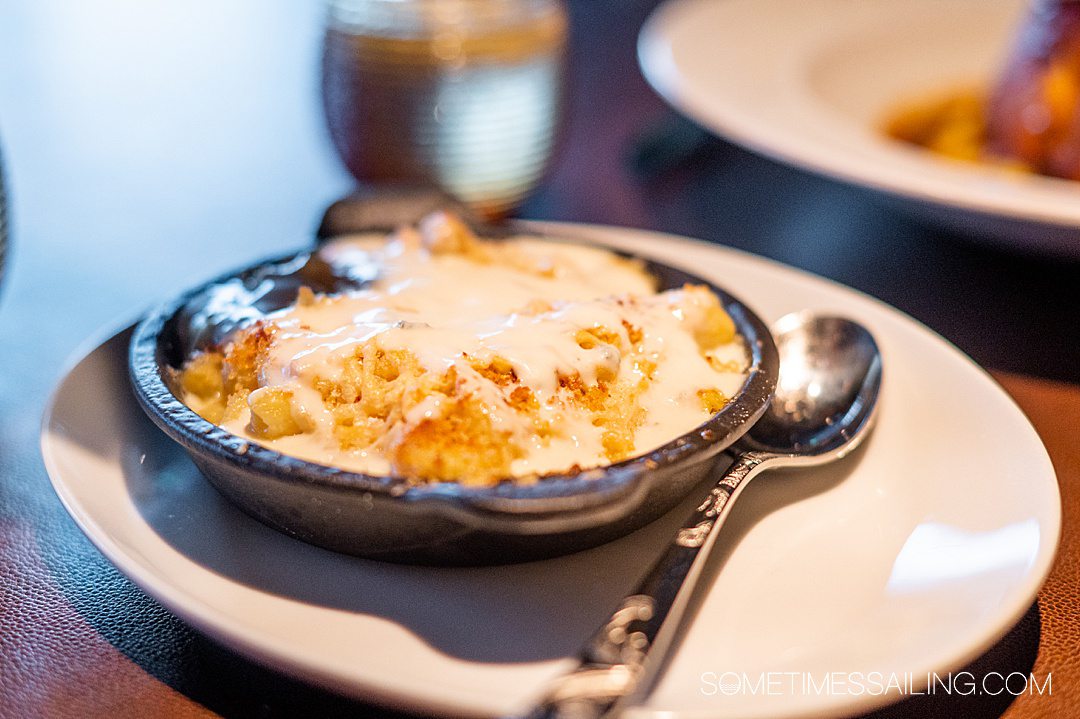 ✧ Dessert
Chocolate soufflé was our dessert of choice. It was hard to say no to the gelato, knowing it's made in the Palo Steakhouse kitchen, but we didn't have room for it.
We know that chocolate souffle takes about 15 minutes to cook, so we ordered it before we finished our entrees. Brandon finished the dish by pouring a vanilla sauce into the center of the soufflé.
The dish was good, but not great. I wish I ordered the Amaretto Soufflé, which is much more unique and harder to find in the world than Chocolate. But for some reason, I didn't see it on the digital menu when I looked earlier in the day on the Navigator App. I failed to really look at the printed dessert menu at dinner, and I missed it!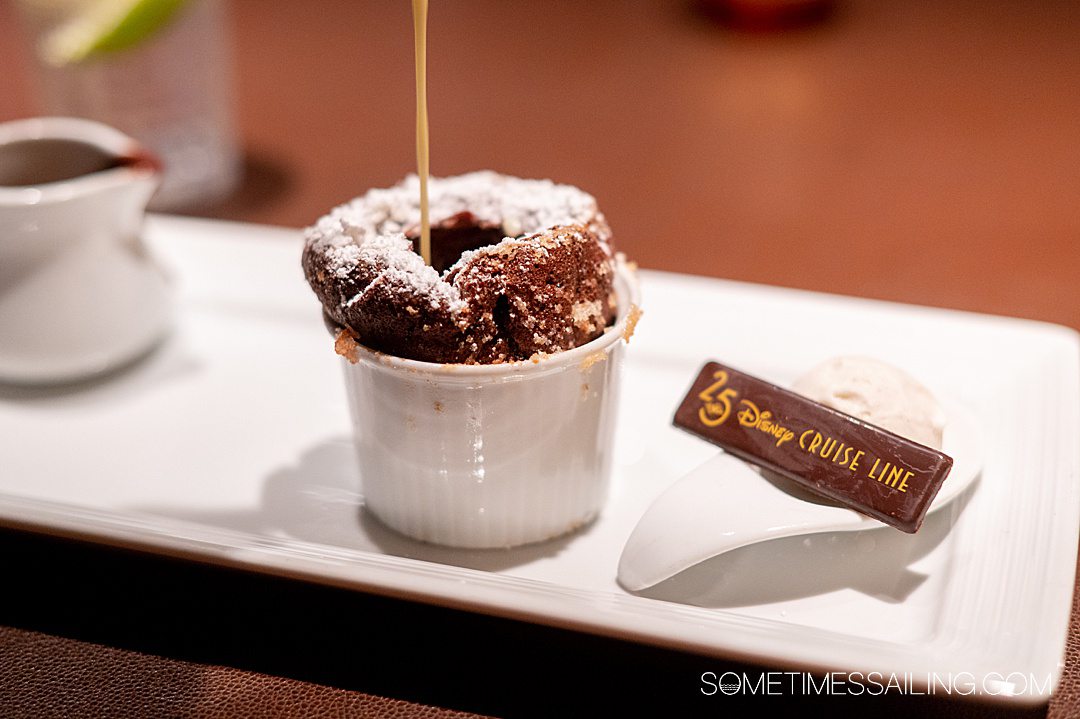 Final Bills for Palo Brunch vs. Palo Dinner
Palo Brunch: $90 ($45 per person, times two people) + $22 gratuity = $112.00
Palo Dinner: $82 for a la carte items and $14.76 auto-gratuity, + $5 additional gratuity we added = $101.76
Other Helpful Info for Dining at Palo
How to Book Palo Reservations
You can pre-book Palo before you sail or during your cruise while you're onboard.
To pre-book, open the Disney Cruise Line Navigator app from home and indicate you're home (as opposed to on the ship). Log in to your reservation after it's been added to the app and book dining as instructed by the app. You are not charged for the meal until you are onboard. You can also pre-book the meal from the desktop website while you're logged in.
If you wait to book reservations until you sail, you risk the restaurant being fully booked, though it's possible to secure reservations in most cases, even if not on your preferred times and days. Booking onboard means you must remain flexible with what's available.
If you're on board, open the DCL Navigator app, click on the "Home" button on the bottom left, and in the "Spotlight at Sea" area, scroll to "Culinary Experiences." As that section of the app indicates, the easiest thing to do is call 7-9734 from a cruise ship phone to make reservations.
Alternatively, you can go to The Rose on Deck 12 and see the hosts/hostesses at the restaurant stand there, located at the end of the bar close to the Palo Steakhouse and Enchanté doors. Someone should be at the hostess stand at 5:30 pm when reservations start each evening. On a day at sea, when there is Palo brunch, there will likely be someone at the hostess stand from 10:30 am to noon or a bit later.
Palo Dinner vs. Enchanté Dinner on Disney Wish
We really enjoyed Enchante, so that's another dining experience to consider. Between the two, Enchanté is a much more elevated dining experience, and the flavors of each course have a bit more depth.
Palo is truly Italian cuisine. While Enchanté is French-themed, we wouldn't particularly say that it's very French aside from its French bread and butter, French cooking techniques, and French wine and cheese offered.
If you're looking for a more affordable meal that's a bit more casual, go with Palo. If you want a really high-end dinner that's slightly more formal – and maybe more money though that varies based on what you order – go for Enchanté.
Palo Brunch vs. Dinner Conclusion
You have to decide what's best for you: brunch or dinner. You can't go wrong with either though. So if you can only get a reservation for one and not the other, you'll enjoy yourself no matter what.