Disney Cruise Line Embarkation Day: Vital Port Canaveral Info
There is nothing like Disney Cruise Line embarkation day. The excitement that fills you the moment you first see your ship come into view when arriving at Port Canaveral is almost unbearable!
It never gets old, no matter how many times we have driven over the water to get to the cruise port, from points south in Florida or west, in Orlando. The anticipation is palpable!
You've planned for months and have already checked into your cruise from the Disney Cruise Line (DCL) Navigator app, but what happens when you get to Port Canaveral? We share the details below.
Disclosure: This page has affiliate links, meaning we may earn a small commission if you click the link and proceed with a purchase at no cost to you. We truly only recommend cruises, experiences, products, and services we personally use. As Amazon Associates, we earn from qualifying purchases.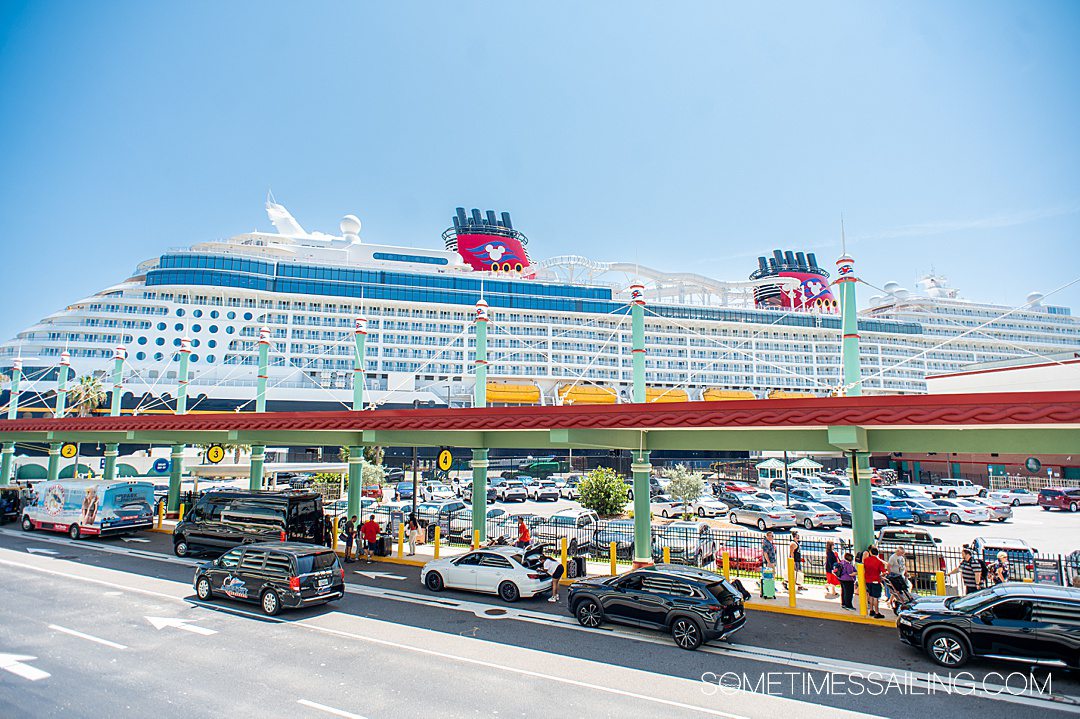 🕐 Short on time? No Problem!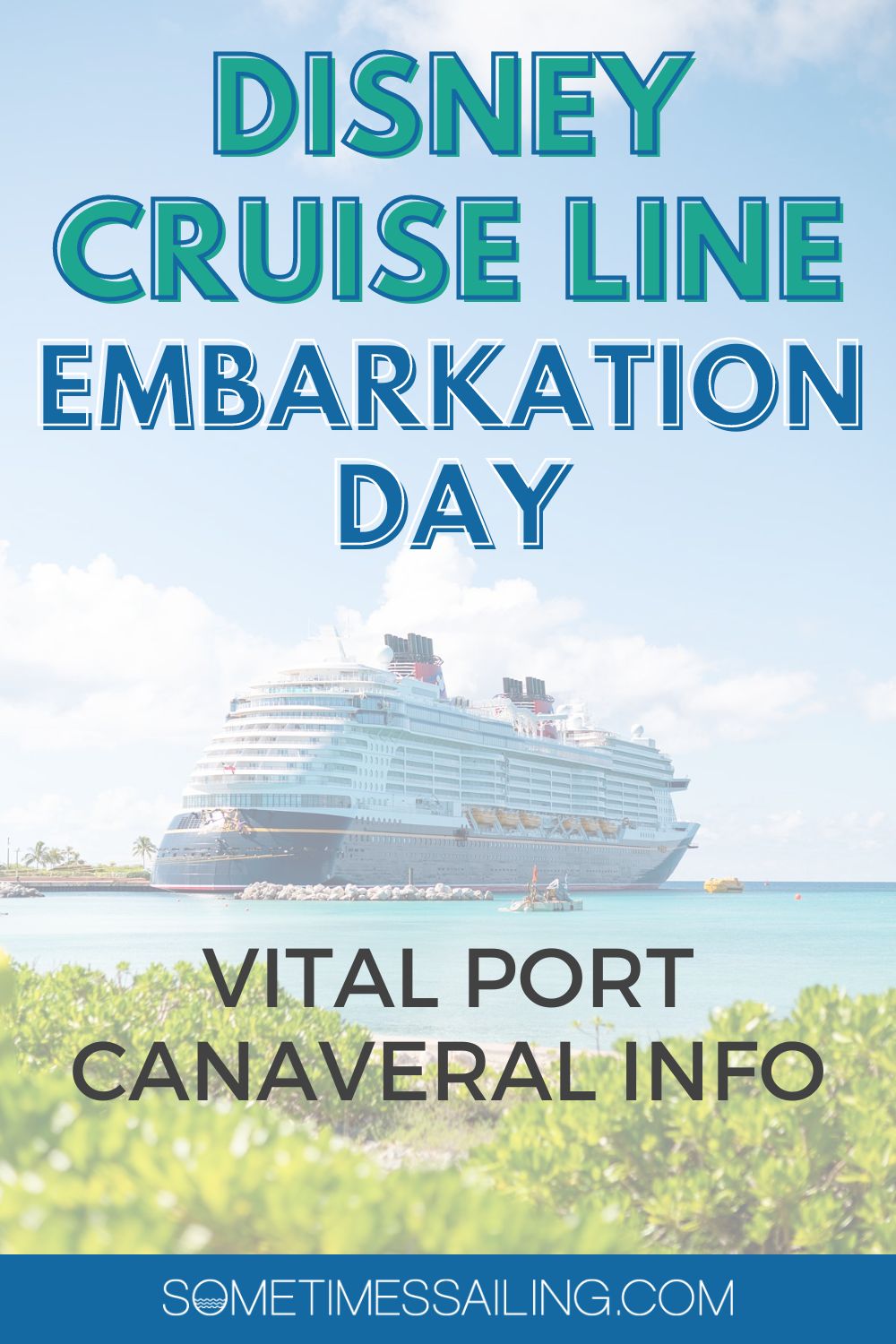 What Time You Can Arrive at Disney Cruise Line's Port Canaveral Terminal Your Day of Embarkation
You can either get to the port with your own car, Disney's shuttle or get dropped off at the port.
We'll focus mostly on what happens if you drive on your own and park at the terminal because that method has an added step of parking.
All of this information is for the day you embark on a Disney cruise from Port Canaveral after you have already checked in online. The next thing to do is board the ship.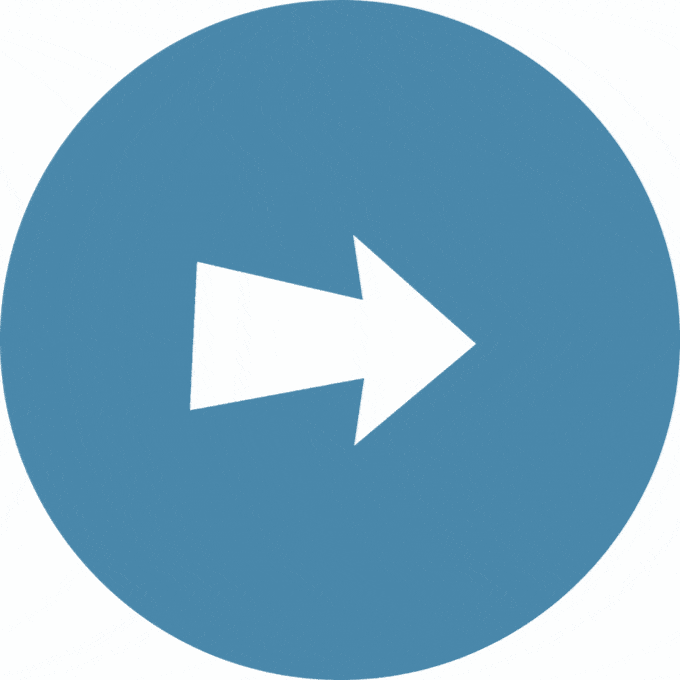 DISNEY CRUISE LINE CHECK-IN PROCESS: Read this post for thorough check-in information and a printable check-in checklist!
If you are driving to the port or being dropped off, you must arrive at the time you chose as your Port Arrival time when you checked in. If you arrive before or after this 15-minute window, they may tell you that you cannot yet enter or you need to return later.
Driving to the Terminal and Disney's Port Canaveral Parking Info
Port Canaveral has a few cruise line terminals that service many cruise lines, including Royal Caribbean, MSC, Norwegian, etc. DCL has its own cruise terminal at Port Canaveral, while some other cruise lines share a terminal building.
When you drive to Port Canaveral via SR 528, you must look for Disney Cruise Line signs, Terminals 8 through 10, in "A Terminals" on the north side. You take exit 54A from SR 528. Disney's terminal is number eight.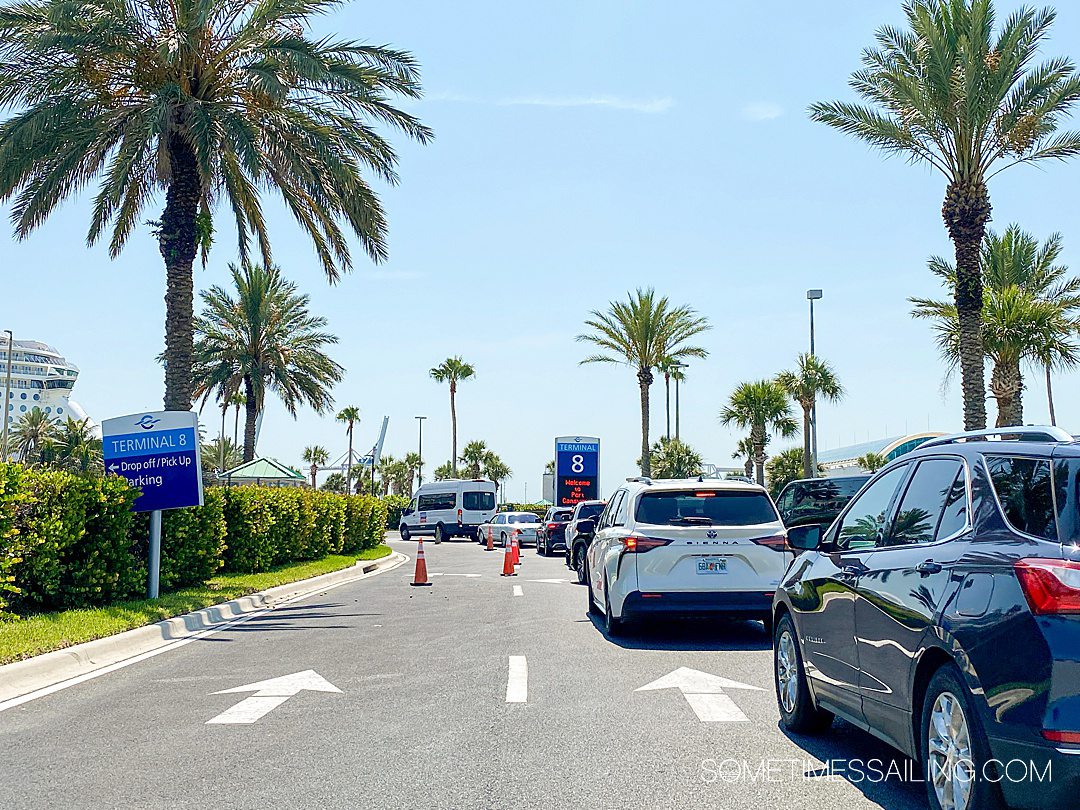 Items to Have Handy in Your Carry-On for Disney Cruise Line Embarkation Day
Be sure that the following items are in your carry-on bags to get onto the ship after you go through port security, not in the luggage you check curbside:
✦ Drop Off at Disney Cruise Line Terminal
Curbside at the DCL terminal is where a shuttle service to Disney Cruise Line that is not Disney operated – such as a blue van or Mears shuttle, or a Lyft or Uber – drops you off.
You have to get to the port within the arrival window you chose during online check in, before your cruise.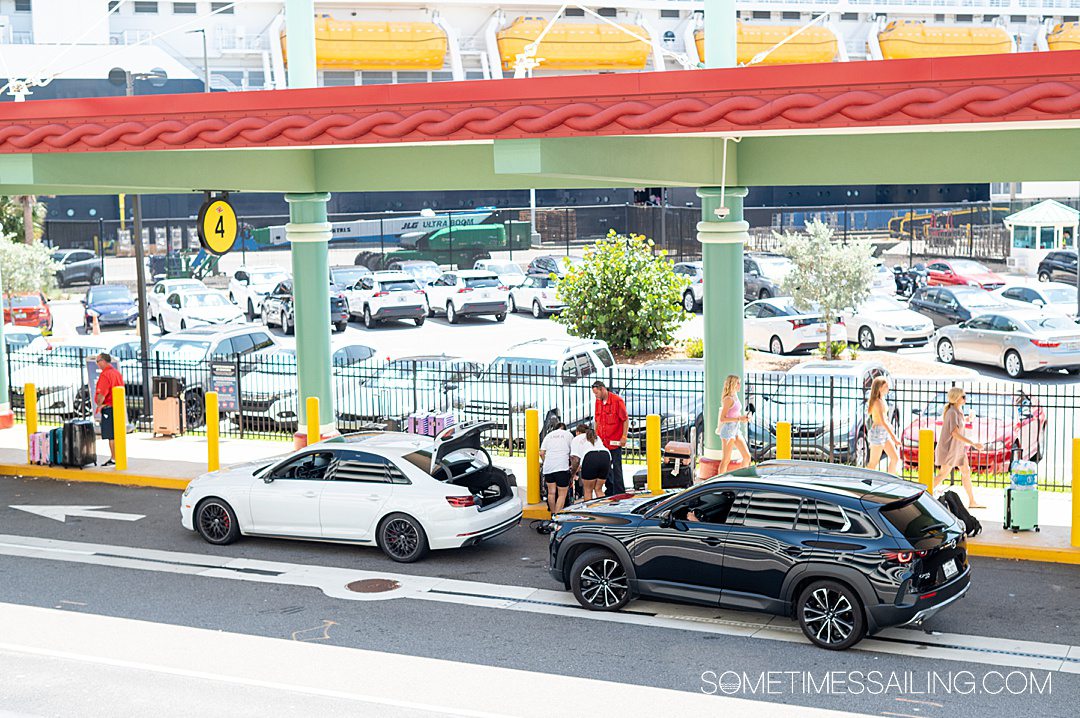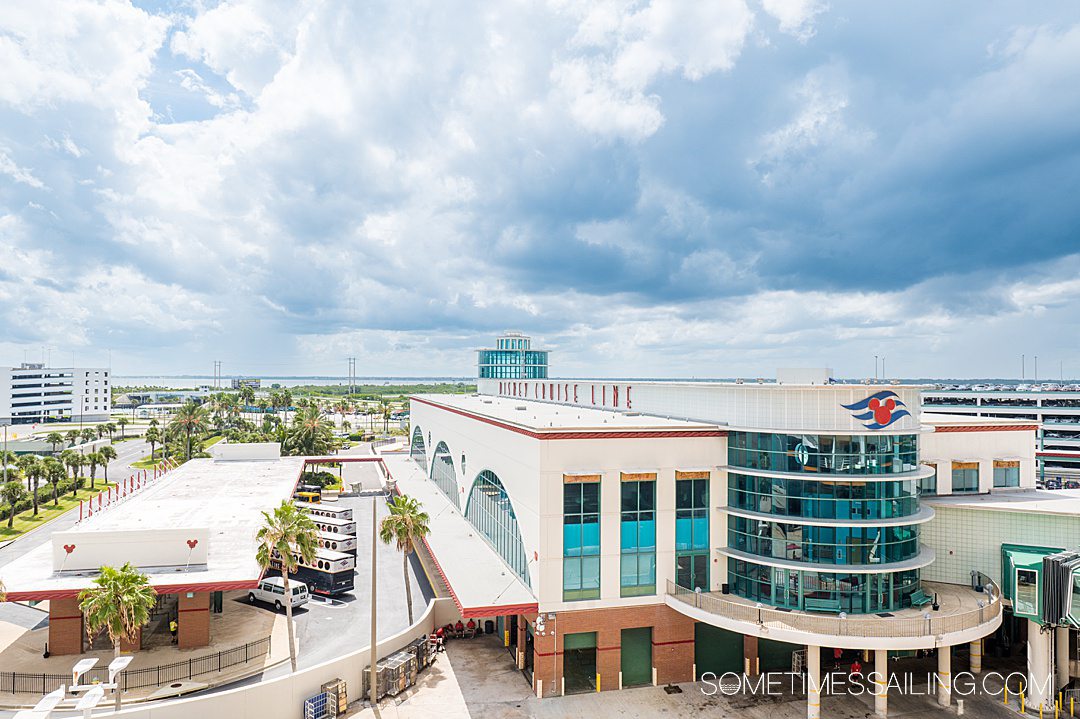 Book Private transfers
Want to pick your own time to go to the port and be in your own group but not drive there in your own vehicle? Book a private transfer to get you to the port from Walt Disney World or various other locations in Central Florida.
✦ Disney Cruise Line Operated Shuttle 
If you have arranged for a Disney Cruise Line-operated shuttle/transfer to take you to Port Canaveral from Walt Disney World or MCO airport, the time they arrive at Port Canaveral's DCL terminal is the time you will arrive, regardless of what your chosen check-in time says in the app.
Disney emailed us the message below regarding transfers through DCL in the days leading up to our Disney Cruise Line embarkation day at Port Canaveral:
Motorcoach Transportation:

For Guests with transfers included with their cruise vacation, motorcoach transportation from the Orlando International Airport to the terminal at Port Canaveral, Florida, will begin at approximately 9:20 a.m. on the day of embarkation.

Resort Guests will receive an email 48 hours prior to embarkation with instructions on when to have their luggage ready for collection and when to meet the Hospitality Representative on the morning their cruise begins. Hyatt Regency Orlando International Airport Hotel and Walt Disney World Resort Guests may also call 407-566-4040 beginning 48 hours prior to embarkation for automated information on motorcoach transfer times.
When You Get to the Terminal at PORT CANAVERAL
Someone will likely ask to see your cruise arrival time on your mobile device as soon as you arrive. We personally never printed our info – everything we had from our DCL check-in process was on our iPhone, with the exception of the luggage tags Disney Cruise Line mailed to us.
We've gone on a Disney cruise from Port Canaveral, where they ask to see your arrival time and one that they didn't.
We'll go through what to expect for the following:
✦ What to Do When you Arrive at the Port if You Drive Your Own Vehicle (or a Rental Car That You're Parking at the Terminal) 
The earliest time anyone can park in the parking garage is at 10:15 am, when the garage opens. It is right next to the Disney Cruise Line terminal. The Port Canaveral Port Authority operates it. But despite the garage's opening time, you have to arrive within your port arrival window.
Note that the terminal building opens at 11:00 am for most sailings.
📍Port Address: Port Canaveral, 9155 Charles M. Rowland Drive, Port Canaveral, FL 32920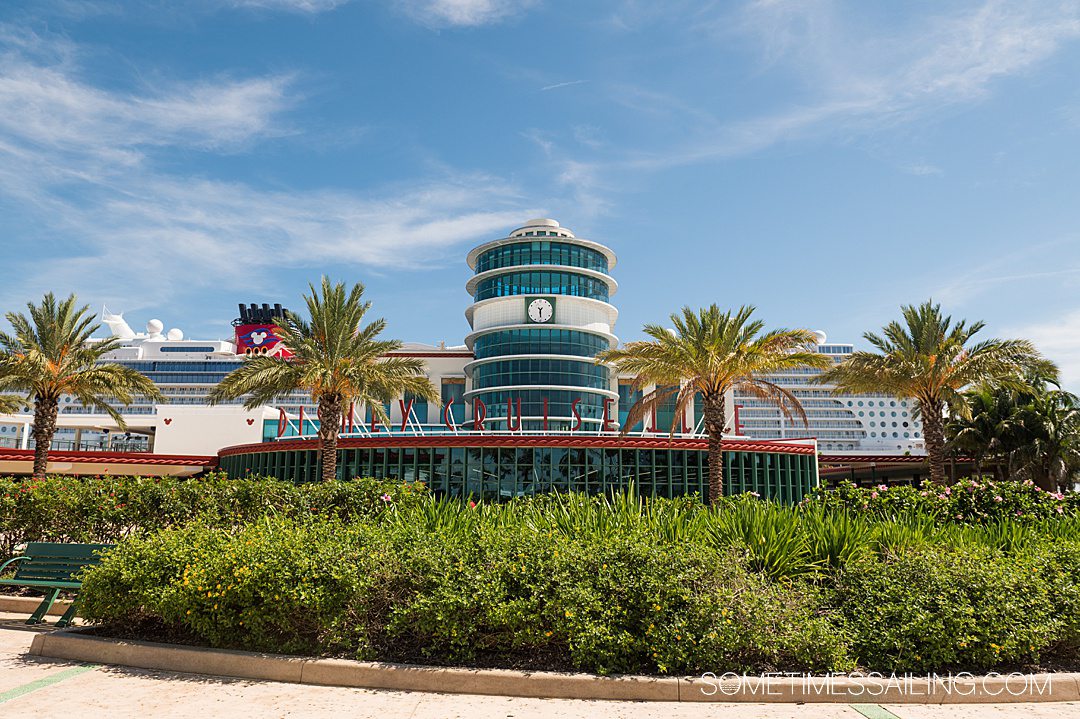 ✧ Paying for Parking at the Port Canaveral DCL Cruise Terminal Parking Garage
You pay for parking as soon as you enter the lot. This is great because there isn't a bottleneck of people that need to pay for parking when you return to Port Canaveral after you disembark your cruise. You can quickly pay by credit card, enter the lot, then find a spot of your choice.
Parking is $17.00 per day plus tax for vehicles and RVs. The day you arrive and the day you depart each count as one day. The machine does not accept cash, but all major credit cards are, including American Express, MasterCard, Visa, and Discover.
Port Canaveral runs parking, not Disney.
We paid $68 for our 3-night Disney Wish cruise, for example, and $90 and change for a 4-night cruise. If you're doing the math, you may be wondering why 3 x $18 does not equal $68. The cost difference is because it's three nights but four days plus tax.
You don't need parking reservations; there is ample parking at the terminal.
After you park your car, you'll walk to the terminal to go through security. It's fairly difficult to contain your excitement during this process, especially after parking your car and seeing the massive cruise ship rise above the dock in the nearby distance!
Don't Postone Renting a Car!
✦ Where You Check Your Luggage When You Arrive for Your Disney Cruise
You check any luggage you want to be brought to your stateroom curbside if you arrive at the port by car. If you're arriving on a Disney shuttle bus, you check it with Disney Cruise Line Cast Members when you board.
Your luggage should have the tags on it that Disney mailed pre-cruise, which you put onto your bags before boarding the shuttle bus or before the luggage leaves your car, curbside. (We hear that the snail-mailed luggage tags only arrive to guests 50% of the time. If you don't have the tags, no worries — just ask someone who works at the port who you see curbside what to do and how to mark your luggage.) 
We always have AirTags in our bags to track them because it gives us peace of mind not just for the port but when we're going through airports too. We have an Airtag in our carry-ons, our luggage, backpacks — all our bags.
You will not see checked luggage for a few hours. The crew brings your curbside checked luggage to your stateroom by mid-afternoon. So you need to have anything you will need before you get your checked bags, including for the first few hours on the ship, in your carry-on bags. 
✦ Going through Security on Your Disney Cruise Line Embarkation Day at Port Canaveral
Have your QR codes handy as soon as you get to security because three different Cast Members asked for our QR Codes as we went through the line.
QR codes for your cruise are easy to access. After I checked us into the cruise, I simply added the QR Codes to our Apple Wallet on our iPhones (or Google Wallet for Android users). You can also easily access them via your Port Arrival Form PDF (digital or printed). You can request the form be emailed to you in the Navigator app after you check in.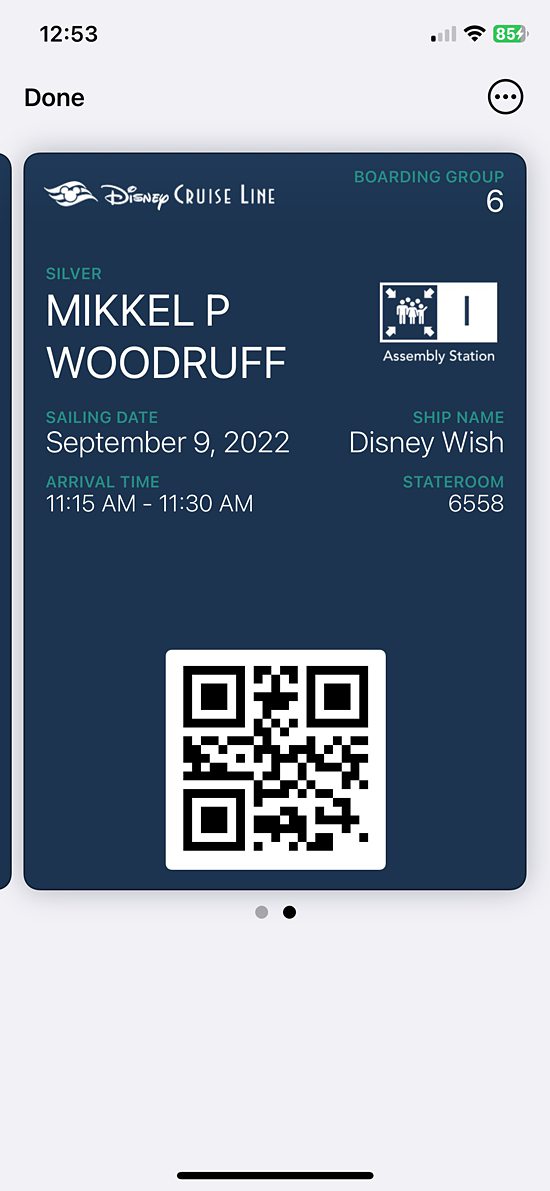 The last person we talked to before putting our belongings on the screening belt and walking through metal detectors to see our passports.
✦ What to Have Handy When You Go Through Security
Because we believe this is some of the most vital information you need to know for your Disney Cruise Line embarkation day, we listed it near the top of the post, including things like your passport, QR code, and medication.
Be sure to download our printable for your Disney Cruise Line embarkation checklist.
✦ Inside Disney Cruise Line's Port Canaveral Terminal: What is There to Do While You Wait to Board? 
Inside the terminal is seating, a viewing platform to see the ship, an area for photos with Disney Cruise Line backdrops, and a famous Mickey Mouse ears archway that leads to the gangway where you board the ship.
If you visited the terminal years ago, pre-pandemic, the old check-in area is now an area for Guest Services. You only go to the counter if you need to talk to someone beyond the normal check-in and for things like Concierge.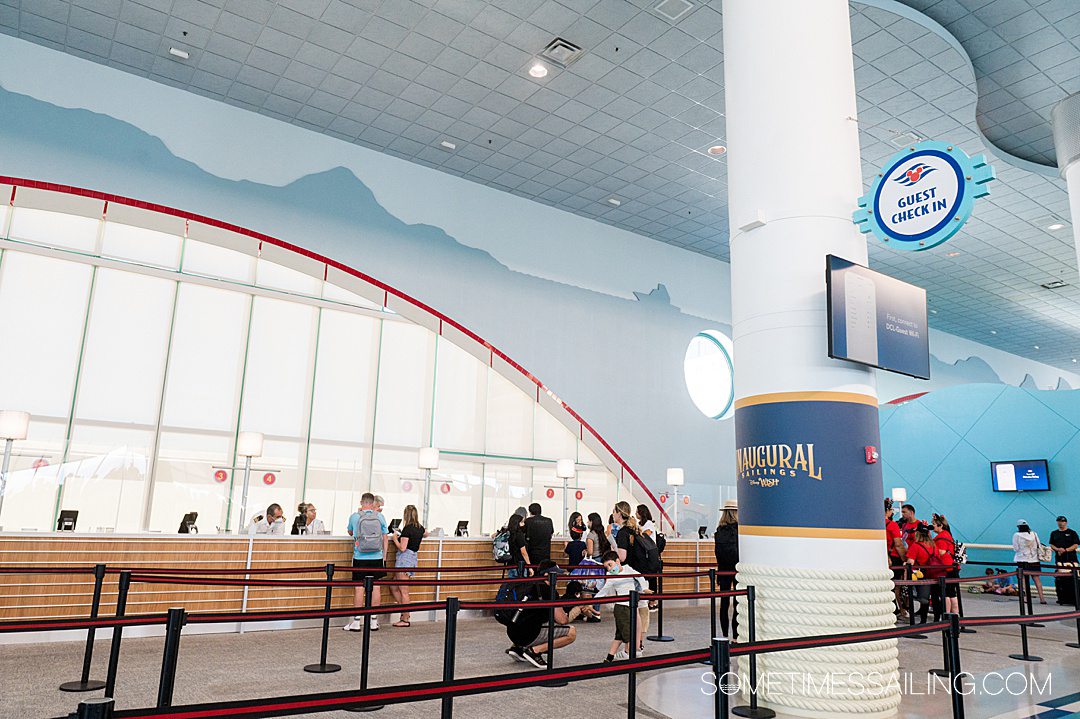 ✧ Immerse Yourself into the Disney Cruise Line Brand and Meet Disney Characters
There is a scale model of a Disney Cruise Line ship in the DCL terminal, which is really cool to look at. Its minute details are fascinating. Disney characters, like Mickey and Minnie, also appear in the terminal.
Additionally, there are restrooms and a television for kids that plays Disney cartoons.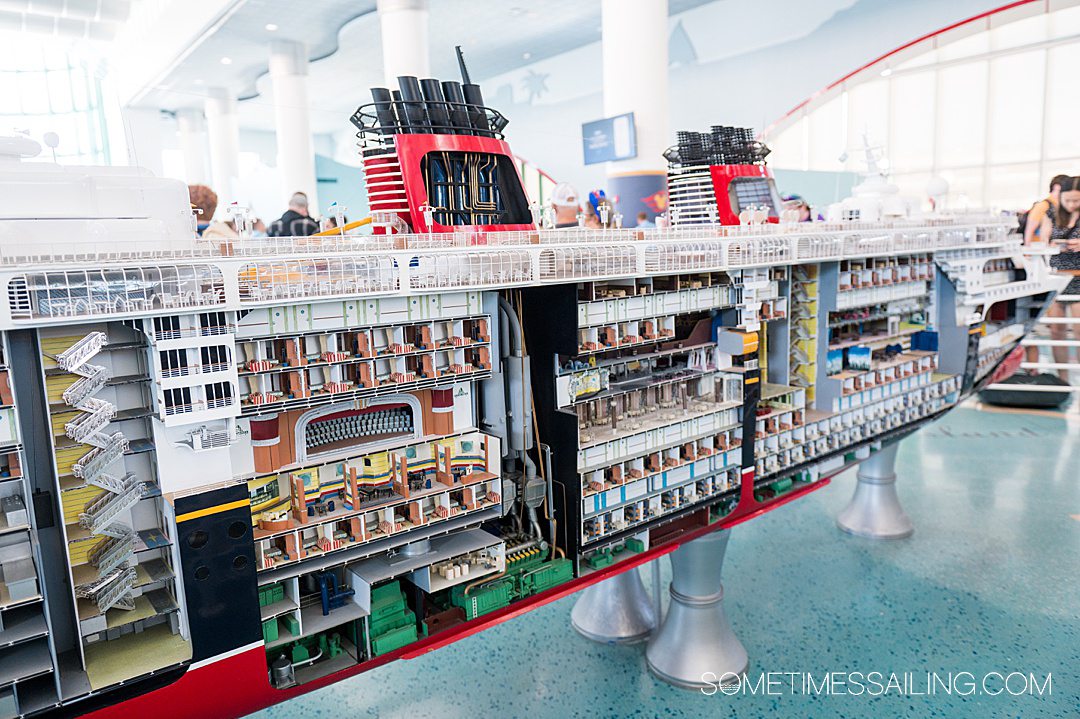 ✧ Hop on Wifi and Explore the Navigator App
There is Wi-Fi throughout the terminal waiting area. If you want to make good use of your wait time and you're traveling with other people, open the Navigator app to connect to other guests in your party while you wait. This way, you'll be prepared to text each other for free onboard through the app – and you can use cute Disney emojis!
It's also a good time to try to grab any reservations in the app you didn't have the chance to make. This includes things like dinner at Enchante, Palo, or Remy – restaurants, depending on the Disney Cruise Line ship you're sailing on.
✧ Food and Drinks at the Port Canaveral Disney Terminal
The only food inside the terminal is in vending machines. If you're incredibly hungry, it's a good option, with chips and snacks like Pop-Tarts inside. But if you can wait, you can have lunch as soon as you get on the ship.
✦ What Time Disney Cruise Line Begins Boarding Passengers at Port Canaveral Cruise Terminal
Disney Cruise Line begins boarding at 12:00 pm. This may confuse you if you have a port arrival time before noon. But your port arrival time and the time you board the ship are two different times.
After arriving at the port during your arrival time, you get a boarding group number when you go through security.
Once past security, all guests wait in the terminal until boarding begins and boarding group numbers are called.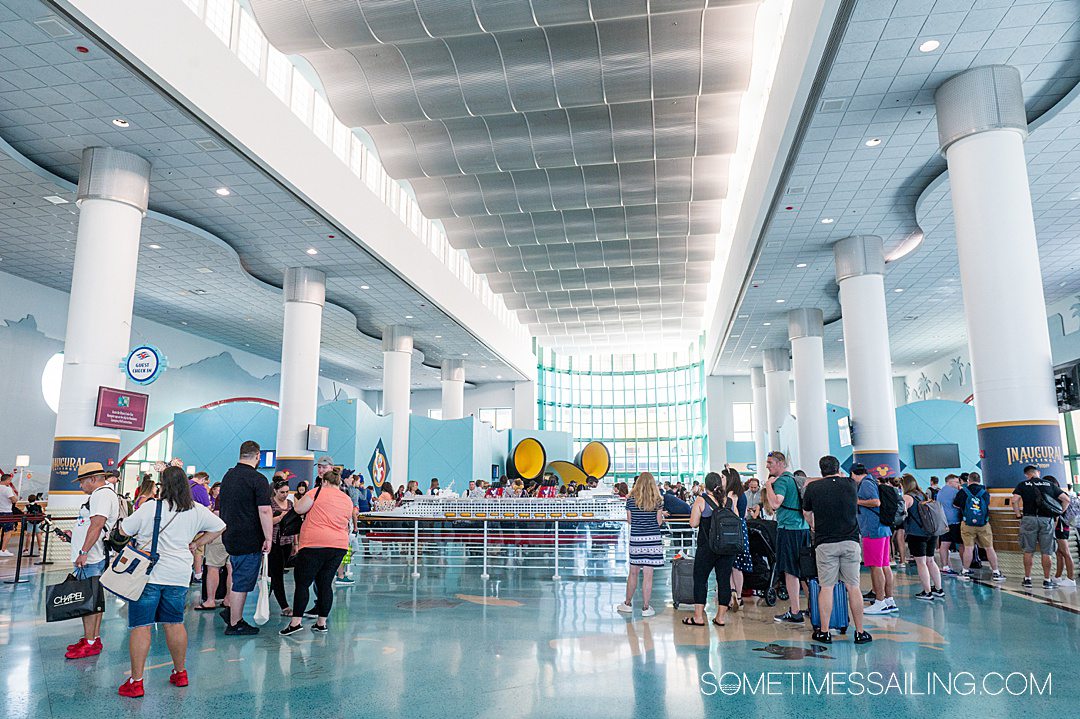 ✧ Disney Cruise Line Embarkation Day: Group Numbers and Boarding Your Disney Cruise Ship
Boarding promptly begins at noon with group 1, kicked off by the Family of the Day. Group 6 was our boarding group on our recent Disney Cruise on Disney Wish; Disney called our group by 12:20 pm. It goes by quickly!
You will need to show your boarding pass QR code to the Port Canaveral terminal Cast Members to board the cruise ship.
After we boarded, we didn't need our QR codes again. Though if you forget your Muster Station area/letter for the ship safety drill, it's easy to find on your Port Arrival Form and Apple Wallet pass (or Google Wallet, if you're an Android user).
What to Do When You Get Onboard Your Disney Cruise Ship
The world is your oyster when you board! Most people are hungry because it's around lunchtime or a little later. The buffet is open for lunch on embarkation day, and if you're a Concierge-level guest, it's likely there is food there too.
Some people head to the pool or hot tub. Others to various bars. Some like to start exploring the ship to find all its wonderful details and featured areas if they've never been on it.
You can explore the ship before the all-aboard time and before the muster drill starts, which is the mandatory safety drill before the ship sets sail.
We were onboard by 12:20 pm. We got drinks, explored to see all the Disney Wish design details (which continued the entire cruise, which we were on for a Disney Wish Atrium wedding), and headed to our room around 2:00 or 3:00 pm.
Some people say as soon as you board the ship, your vacation starts; others think it's when you arrive at Port Canaveral for embarkation. But no matter your thoughts, you should make the most of every wonderful moment of embarkation day.
Enjoy it, capture it so you'll have pictures to add to scrapbooks and photo books after your trip, and savor each moment.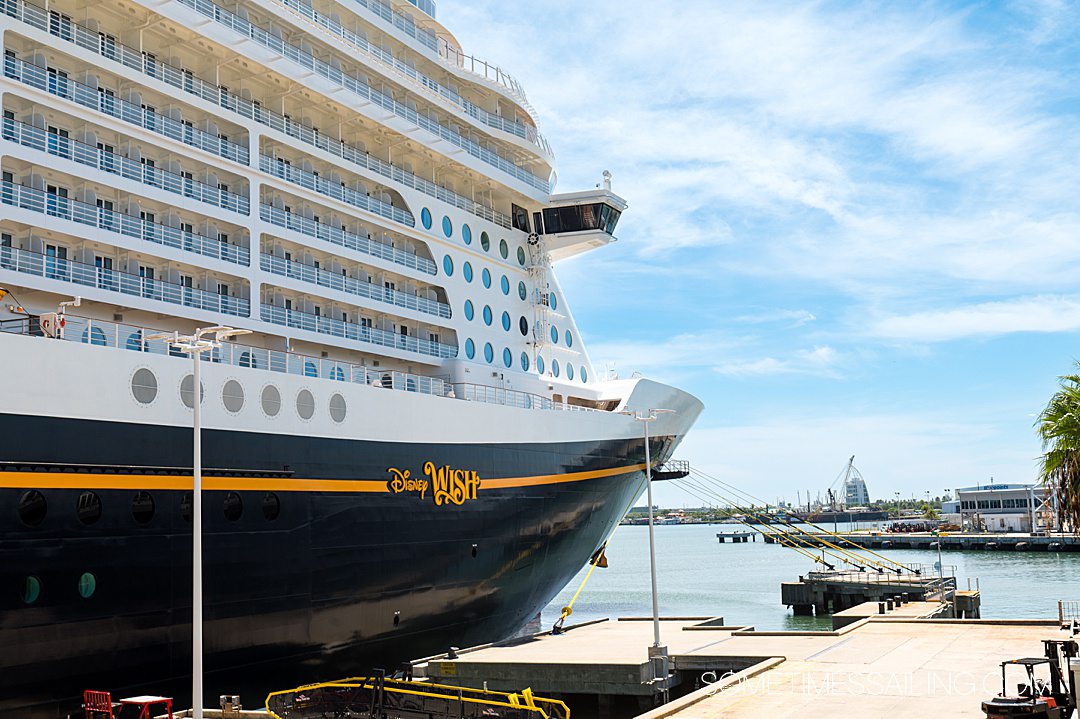 DCL'S Alcohol Policy and Where to Pick Up Alcohol Close to the Port Canaveral Disney Cruise Line Terminal
As per DCL's alcohol policy, guests 21 and older can bring either two bottles of unopened wine or champagne (no larger than 750mL) or a 6-pack of beer (no larger than 12 ounces) on board at the beginning of the cruise.
These beverages must be packed in carry-on bags or luggage (not checked). You are not permitted to buy additional alcohol in ports of call for consumption onboard.
So, for example, if your ship stops in Nassau during your Caribbean cruise, you cannot buy hard alcohol at a liquor store in town, bring it onboard, and drink it in your stateroom. You can bring it onboard, but it will be confiscated and stored during the cruise until the end of the trip, when it will be given back to you upon disembarking.
✦ Getting Beer, Wine, or Champagne to Bring On the Ship Near Port Canaveral
If you want to pick up alcohol near Port Canaveral, make sure you account for the additional time it will take to stop at a store and still arrive at the port within your arrival window.
Be mindful of a store's operating hours too. If your arrival time is at 11:15am and the liquor store doesn't open until noon, you won't be able to pick up alcohol before embarking, so make other arrangements. If you have an early port arrival time and want to stop for alcohol first, a gas station is a good place to stop for beer, though your wine or champagne options will be limited.
Stores that sell alcohol in Florida carry beer and wine (you can't bring liquor onboard anyway). Convenience stores like CVS, Walgreens, and 7-Eleven sell alcohol too. Wawa and Raceway gas stations and Publix grocery stores sell alcohol, which is where we recommend you go. ABC Stores sell alcohol as well and are popular in Florida.
There is obviously plenty of alcohol on all Disney Cruise Line ships, and you don't have to bring your own onboard; some people like to bring their favorite wine, beer, or champagne to have in their stateroom or to save some money since what you buy in the store is likely less money than what is onboard.
Disembarkation Day from A Disney Cruise Line Vacation
Parting is such sweet sorrow, especially when it's from an incredible cruise vacation, no matter the duration.
The ship docks fairly early in the morning, and you are able to leave as soon as guests have the green light to disembark. You can leave after an early breakfast or before.
There are fewer amenities and frills at the terminal as you leave the ship than when you arrived. Where you pick up your checked luggage is more like a warehouse than a nice terminal, but it serves its purpose.
The process is organized and efficient, as is clearing customs coming back into the United States. And if you're worried about where the bathrooms are, just in case, there are bathrooms in the luggage area near customs and more by the elevators in the parking garage.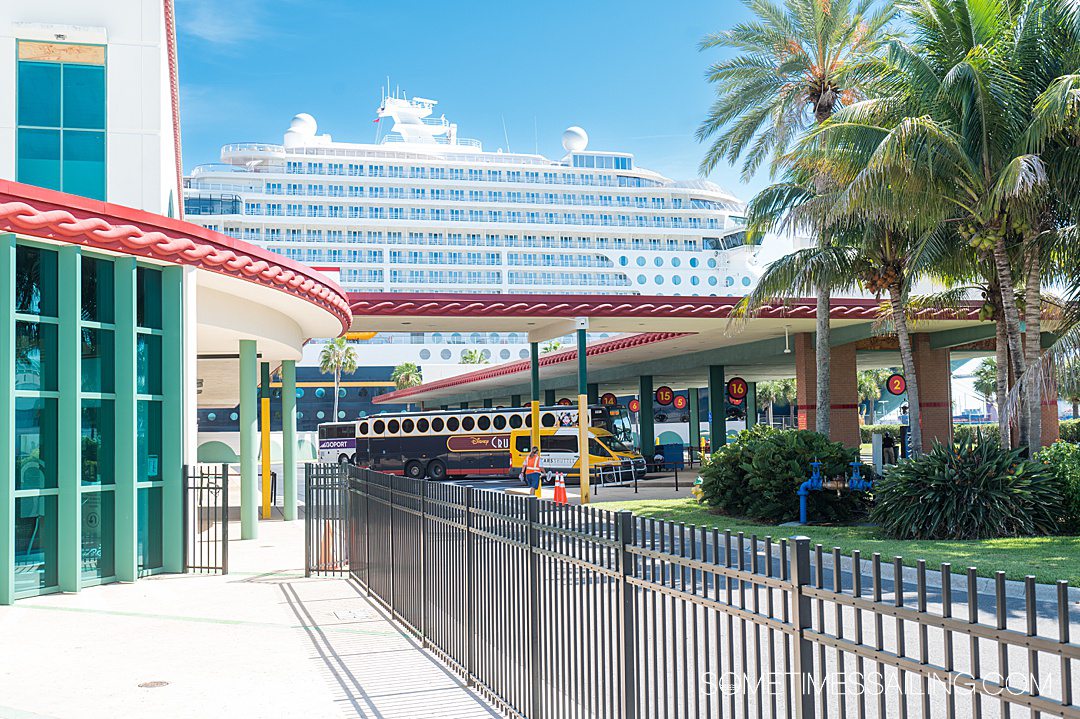 Disney Cruise Line Embarkation for Back-to-Back Cruise Guests
If you are boarding another Disney Cruise and doing back-to-back sailings, there is a special waiting area in the Port Canaveral DCL terminal where you will wait to re-board.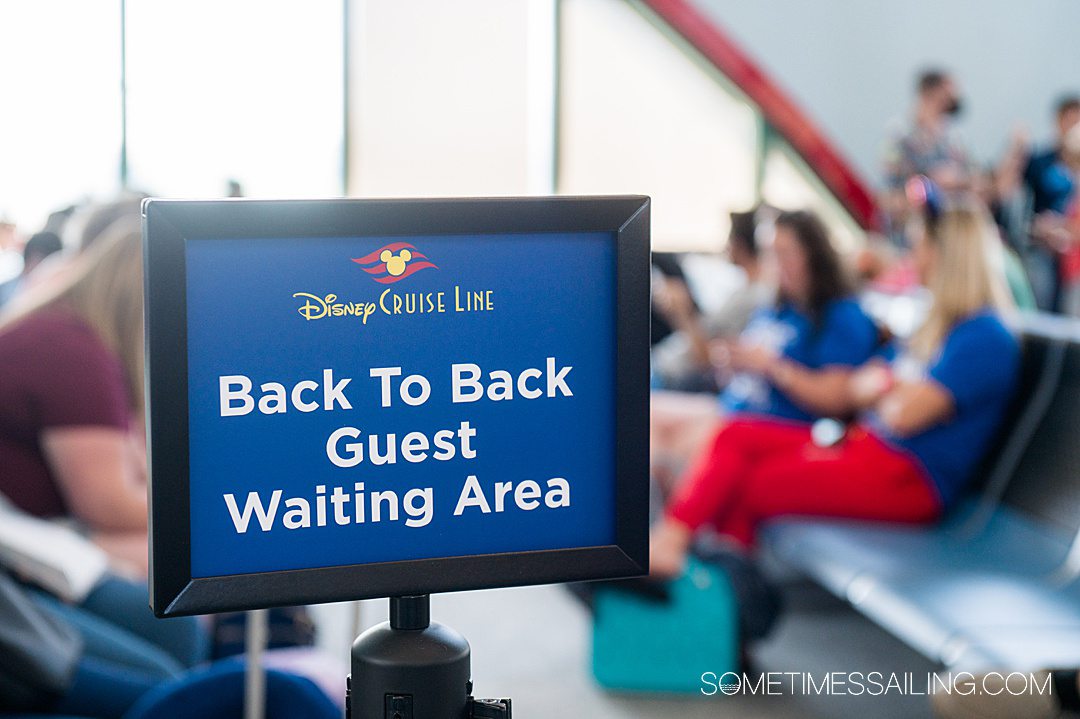 Things to do in the Port Canaveral Area
There are so many fun things to do near Port Canaveral, including touring Kennedy Space Center. If you can extend your trip before or after the cruise in the Port Canaveral area, which is called Florida's Space Coast, we highly recommend it.
Conclusion
Disney Cruise Line embarkation day is exhilarating. As your excitement builds, you'll be organized and ready to embark on your DCL ship from Port Canaveral with our tips and information.
Be sure to bookmark this post for future reference!