Enchante Review: Menu Course-by-Course (With Photos) on Disney Wish
The food at Disney Cruise Line's upscale restaurant, Enchanté by Chef Arnaud Lallement, is attractive and delectable. Our Enchante review of menu items there will give you a rare look at what it's like to dine at this exclusive adults-only restaurant.
If you eat with your eyes first, you're in the right place. We'll show you plenty of photos of the dishes they offer and the caliber of presentation to expect at Enchante on Disney Wish, the fifth ship in the Disney Cruise Line (DCL) fleet.
Disclosure: We thank Polar Adventures for generously hosting us. We also may make a small commission from affiliate links in this post (at no cost to you) but all opinions are ours and we bring you genuine content with real facts, photos, thoughts and recommendations. Always.
🕐 Short on time? No Problem!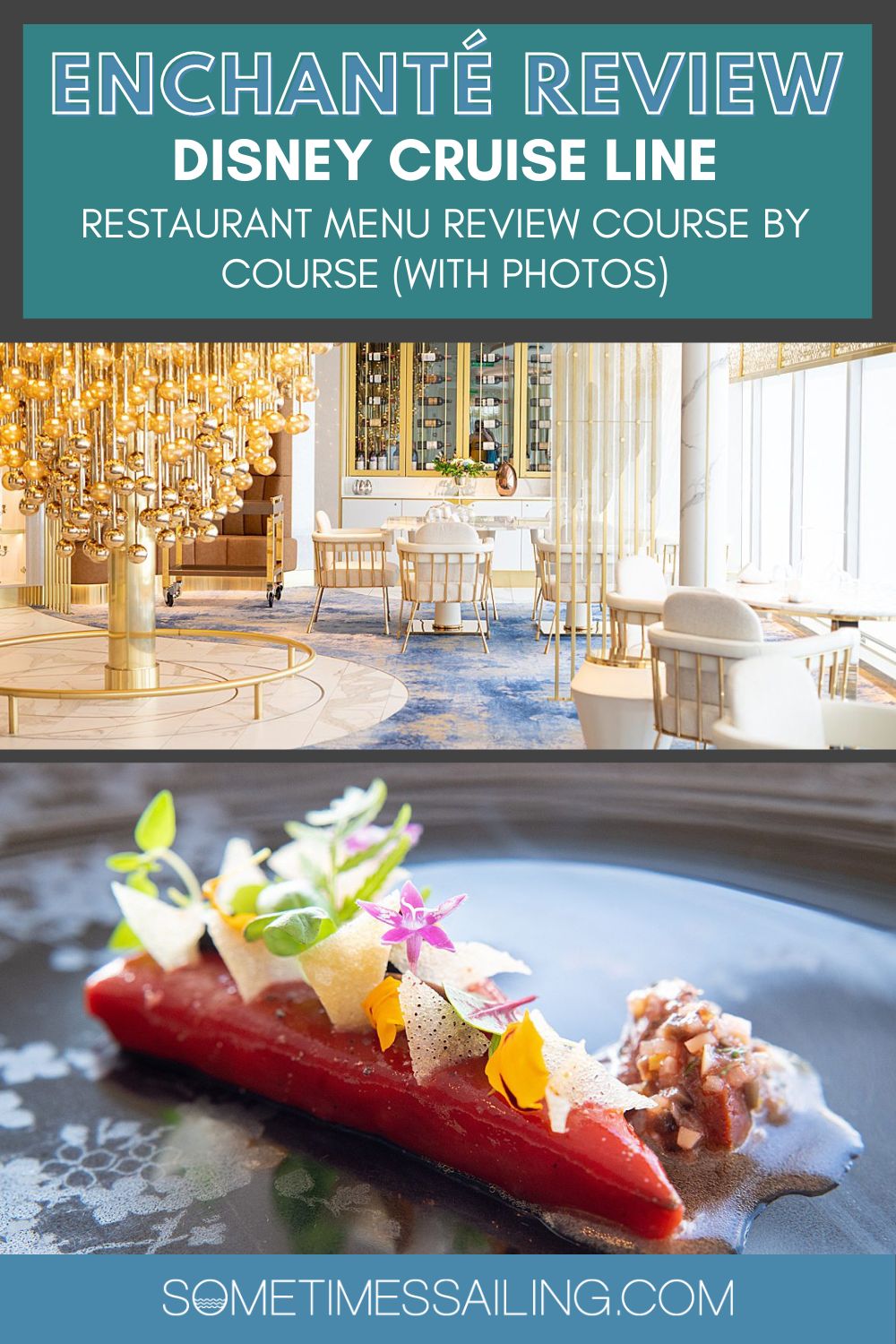 What to Expect During a Multi-Course Meal at Enchante
Let's review things at this Disney Wish Beauty and the Beast-themed restaurant, Enchanté, starting with what to expect there.
✧ Reservations for Enchante
The restaurant invites cruisers to be their guests and dine "…course by course…until you shout, 'Enough, I'm done!'" 🎶 (That one's for the Beauty and the Beast fans out there — I couldn't resist.) But you have to make a reservation in advance.
You can reserve Enchanté dining pre-cruise, during online check-in, or during your cruise.
✧ Dress Code
Expect to dress nicer than you would for the restaurants that are included in your cruise fare, which are Arendelle, Worlds of Marvel, and 1923. A button-down shirt, nice pants, a blouse, or a dress are all acceptable. A tie and jacket are not required though it's a good reason to make it a formal night on your Disney cruise if you wish.
✧ Minimum Age to Dine at Enchante
You can also expect a quiet, kids-free meal because you have to be 18 or older to dine at Enchanté.
✧ Upcharge for Enchante
Lastly, expect a bill at the end of the meal. There is an extra charge to dine at Enchante, but we think it's worth it.
✧ How to Pronounce "Enchanté"
A French word meaning "Nice to meet you," or, literally, "delighted," the restaurant name is pronounced on-shon-tay, if you are curious.
✦ What to Expect to See on the Enchanté Menu on Disney Wish
Enchanté impressed us with its service, ambiance, and cuisine. It's really the full package, and we're glad we had the chance to dine there multiple times on multiple cruises.
Your great expectations will be fulfilled with a dining experience here between the menu options, restaurant design, and service.
Let's dive into what options you can expect to see on the menu, no matter when you dine there.
✧ Menu Options
The menu is curated by three-Michelin-starred Chef Arnaud Lallement. He also had a hand in creating the restaurant menu at Remy on the Disney Dream and Disney Fantasy. (Coincidentally, "Remy," a very popular French name, was the name of our main server the second time we dined at Enchanté. He was from France.)
Though Chef Lallement is not on board Disney Wish running the restaurant, he comes on board to train the sous chef when the menu changes.
The physical menu is in the shape of a candle flame and is designed to be hands-free. A stand holds it up on the table, presenting DCL diners with three options:
Collection, cost 195: nine-course menu
Passion, 125: six-course menu
Carte: a la carte dishes and pricing
Not everyone needs to order the same option. For instance, one person can order the nine-course Collection menu, and another can order the six-course Passion menu.
✦ Enchante Restaurant Quality to Expect
✧ Quality of Food to Expect
The taste of the food at Enchanté restaurant lived up to the quality of food we've experienced dining at Michelin-starred restaurants around the world, from Marseille to Lyon, Dijon, Valencia, and beyond.
We ate there twice, and the first time the ingredients were of high quality, but the flavors weren't great. The ship was new back then, so we tried it a second time, hoping for better, and it was fantastic in both quality of ingredients and depth of flavors.
✧ Restaurant Design
Enchante is a beautiful restaurant with gold, white, and blue as its main color palette. All seats look out to the ocean. We go into more detail about Enchante's ambiance here.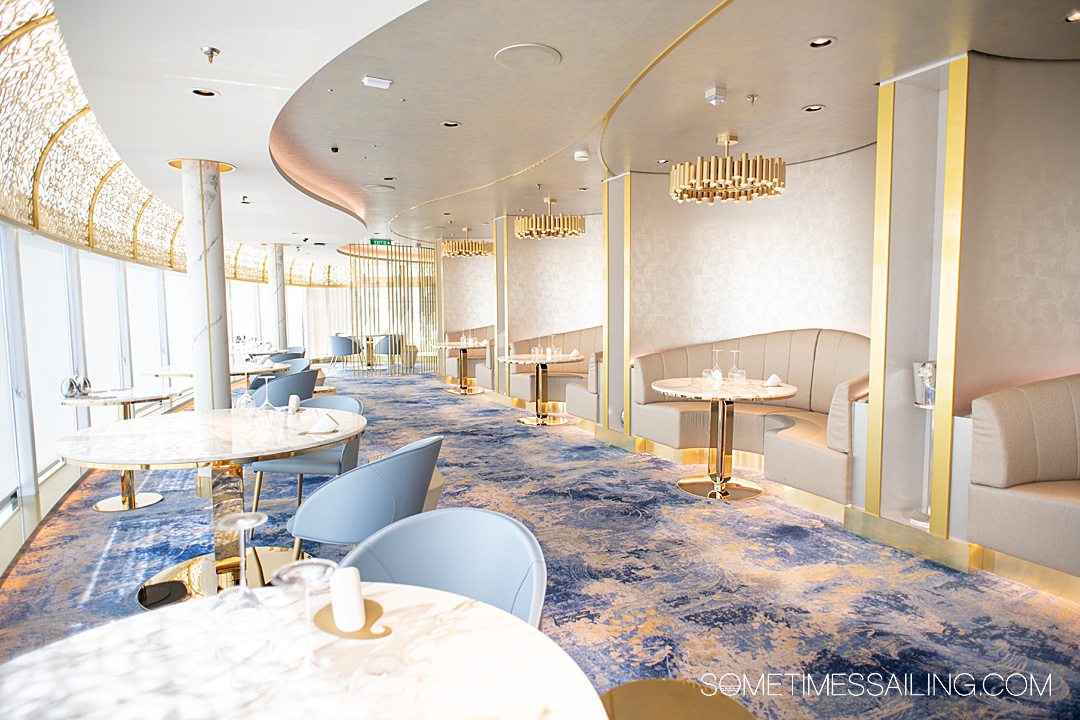 ✧ Service: Set Aside Ample Time to Enjoy Dinner at Enchante
The Passion menu takes one to two hours and the Collection menu takes approximately three hours. The timing of the Carte menu depends on how many items you order.
Plan your dinner reservation time accordingly if you want to see the Disney Wish evening shows the night you dine at Enchanté.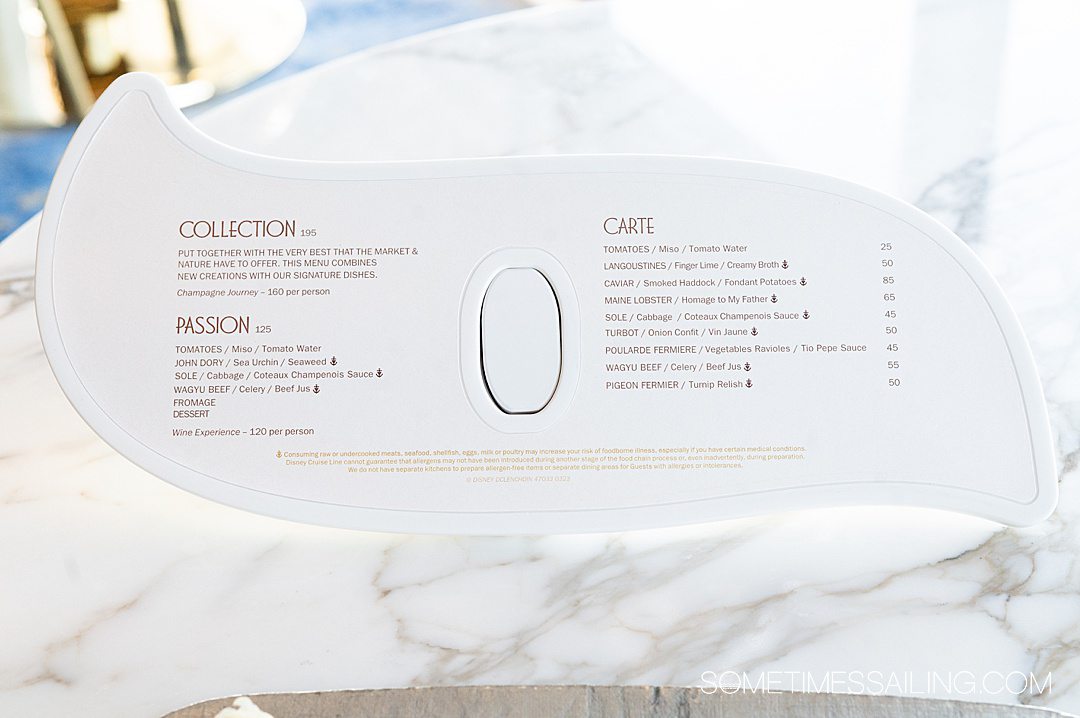 ✧ Amount of Food in the Enchante Multi-Course Menus
We must mention that you won't leave hungry in this Enchante review. (Just in case you're worried that "fancy" food isn't filling.) Dan and I were both stuffed before dessert was served when we had the Passion six-course Enchanté menu.
Unless you have a HUGE appetite, you'll find that your belly is satisfied by the end of your Enchanté dinner if you do the Passion or Collection menu option. You can also order a la carte.
You will be surprised by the in-between courses that aren't on the menu during the multi-course meals. For example, we had a surprise canapé to start and an unexpected amuse-bouche. This was before the surprise petit fours served, before the main dessert.
Our "six-course" meal quickly turned into nine courses. If you count the bread served, which could be a course in itself, it's ten. We imagine that the multi-course Collection menu is similar.
The only one that is likely to be as expected is the Carte menu, which is a la carte items you order one by one as you desire.
✧ Enchanté Menu We Chose: Passion
We chose the Passion menu with six courses both times. I don't like feeling grossly full, but before I knew it, I felt like I had to be rolled to Hyperspace Lounge from dinner, which was our post-dinner destination. It is possible to feel too full from dinner at Enchante.
We cannot imagine a nine-course meal at Enchante (which undoubtedly is more like 12 or 13 courses with all the surprises). That is, unless, the courses are smaller than the dishes from the Passion menu. But we've never had the Collection menu, so we're not sure what the portion sizes are.
✦ Drinks at Enchanté
There is a full menu of French wines to choose from. You can order bottles or single glasses of wine. You can also order a cocktail and drinks from The Rose bar, which is just outside the restaurant doors.
Additionally, the restaurant offers a variety of champagnes, including Krug and Dom Perignon.
✧ Wine and Champagne Pairings
There is an option to pair a "Champagne Journey" with the Collection dinner menu for $160 per person or the "Wine Experience" with the Passion menu for $125 per person.
Let's Eat: Enchante Review, Course by Course
For most of the courses below, we go into detail about what we had both times we dined there. The first time was in the fall of 2022, and the second time was in the summer of 2023.
Since the menu changes every six months, we've had two different six-course Passion menus. Our second dining experience was much better than the first in flavor; they were going through growing pains the first time we dined there, which was just a few months after Disney Wish's inaugural voyages.
Showing you photos of what we had both times, along with detailed descriptions, will give you a great idea of what to expect no matter what the menu is when you dine at Enchanté.
✦ French Sourdough Bread and Échiré Butter to Start
After our drink orders were taken, our meal began with:
Bread and butter: Don't let simple thoughts of these two items deceive you; this was a highlight of our first dinner at Enchanté.
Canapés: Small bites.
✧ Bread at Enchanté
The bread and butter were standouts. Our prior trips to France, mere weeks before embarking on Disney Wish for our first cruise on the new ship, left us spoiled; we had exceptional bread there. We loaded up on carbs every day, knowing the delicious bread wouldn't be in our lives after our river cruise ended.
Needless to say, our Enchante review of the bread is that it not only brought us back to France but was perhaps one of the best sourdoughs we've ever had. We were grateful for the extra thick slice served to each of us and the incredible butter and fleur de sal they served with it. And yes, they will give you more bread if you ask!
Our waiter shared that the bread is from a 100-year-old sourdough, which is to say that the starter used today is more than one century old.
✧ Enchante Butter
The butter was gorgeous. It was served under a little metal dome reminiscent of a beehive. Our server placed it on the table with a miniature metal bowl with the tiniest serving spoon we've seen outside a dollhouse. The small size of the spoon is partially so you don't go overboard with the salt.
The Échiré butter at Enchanté is made in wooden casks. Then it is molded into a flawless cube. Échiré butter is generally regarded as the best by chefs worldwide. It was served at the perfect temperature to immediately spread on a slice of bread.
We sprinkled a little bit of fleur de sel on top, which is also regarded as one of the best salts in the world. The French salt is hand-harvested, and its delicateness makes it extra delightful.
The bread plate design they chose for the restaurant was a bit odd. We felt like we were eating on the pastry boards you put between cake tiers. The lack of a plate edge or plate lip meant the crumbs scattered onto the marble table easily.
But details, details. As long as there was delicious bread on the plate, we dealt with the crust crumbs spilling onto the table.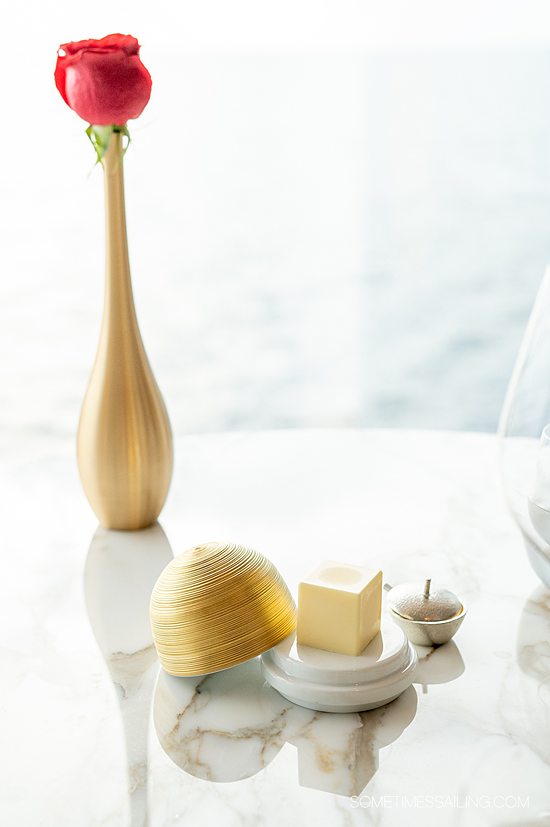 ✦ Canapés
Shortly after the bread and butter service, we were served a taste of what was to come.
A small plate was set down in front of us with a few bites per person. It was similar to what we had in 2022, but the canapé flavors our second experience were far better.
One was a canape of a marinated cauliflower puree topped with cheese. The second was falafel with a lemon gel drop on top. The third was a well-balanced beet and horseradish bite.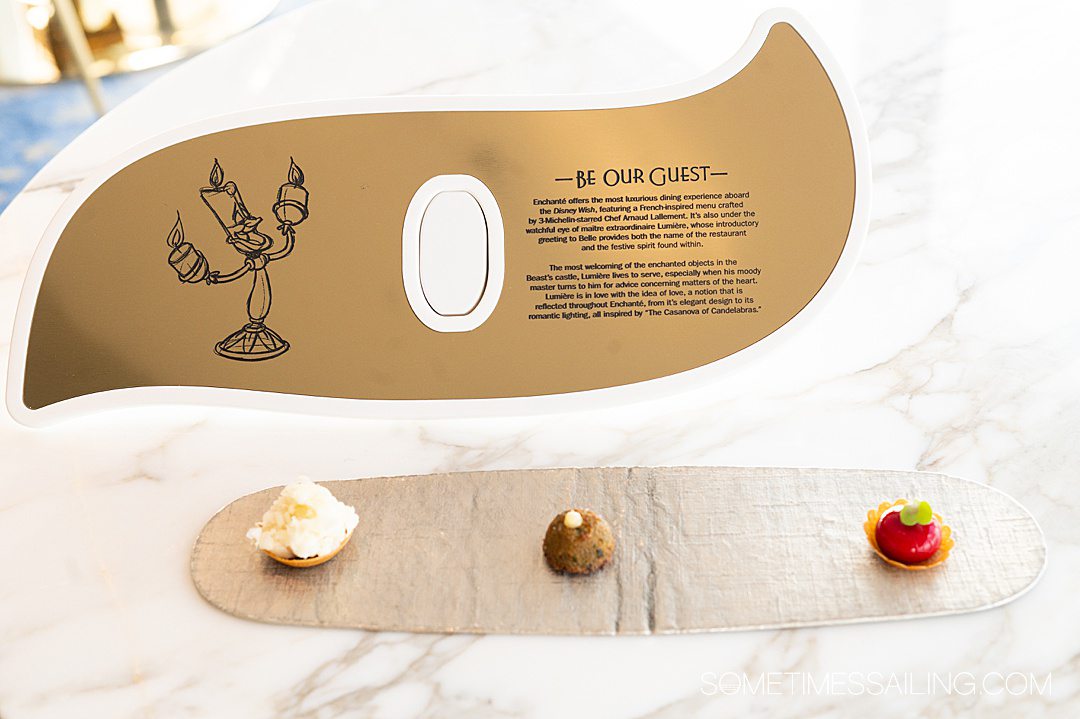 ✦ Amuse-Bouche
Both times we dined at Enchante, the amuse-bouche was a bit bigger than we're used to. We mention this simply to drive the point home in our Enchante review that you leave the restaurant full!
We appreciated the beauty of the amuse-bouches the restaurant served.
We'll start by explaining the amuse-bouche we had during our second dining experience because it was a home run. The presentation vessel was the same for the amuse-bouche both times we dined there. Though it was absent of toppings, the taste was phenomenal.
The bowl was layered with flavors and served slightly warm. Salted caramel was on the bottom of the bowl. The next layer was roasted macadamia nuts. The top was foie gras foam with Cognac and fresh black pepper. It was so delicate and balanced with a great depth of flavor.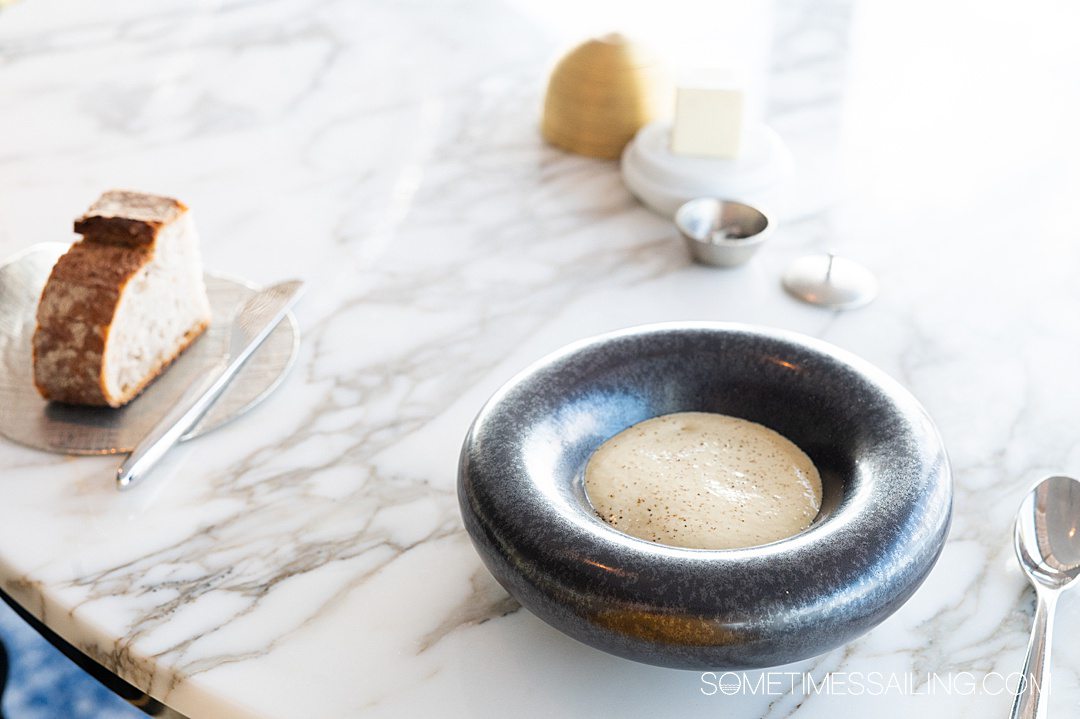 The first time we had an amuse-bouche there, it was kind of a weird dish, though, in appearance, it was top-notch. We can only guess that it was bee-inspired. Served slightly warmer than room temperature, it was topped with edible flowers and pollen.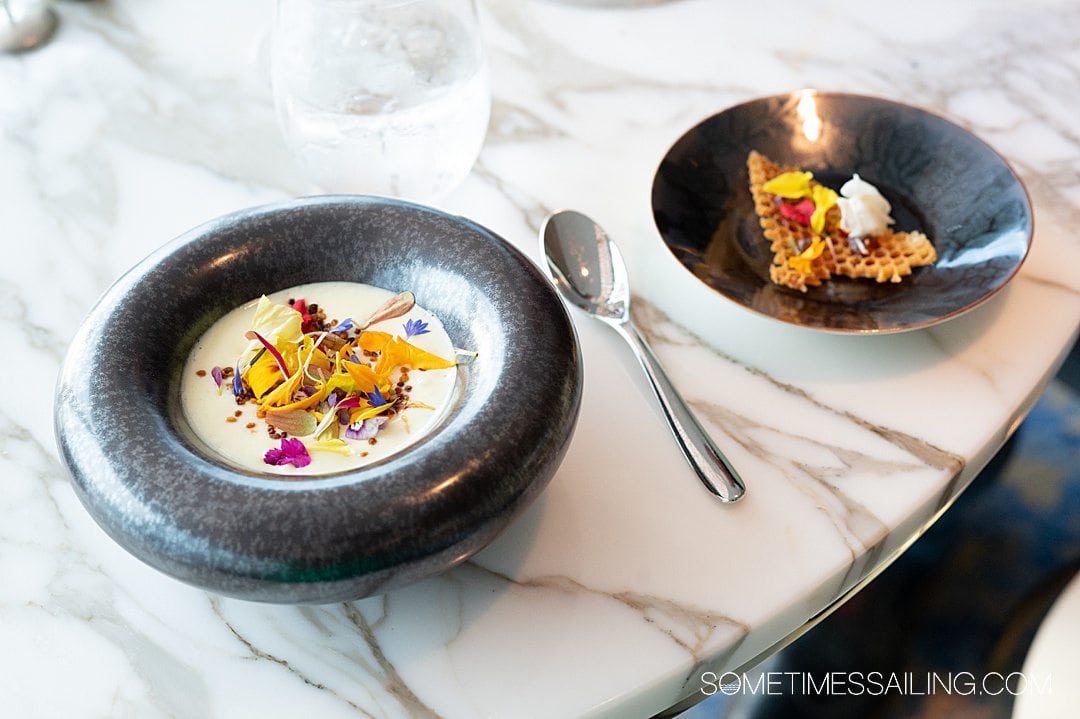 We were instructed to place the honeycomb cracker in the bowl, break it into the dish with the spoon, then eat it all together.
There was a lemony element inside the bottom of the bowl, but unfortunately, it wasn't distributed evenly. So instead of experiencing a nice balance of flavors with each bite, you got tastes that lacked flavor, followed by a few bites of a waxy bee soup with a burst of lemon gel. Dan had the same experience with his serving.
We're glad the restaurant switched up the dish, and the taste of the amuse-bouche on our most recent sailing was awesome.
Official Start to the Disney Wish Enchante Passion Dinner Menu
After our bread, canapés, and amuse-bouche, we "officially" started the menu.
Everything was perfectly paced until this point, and the pleasant pace continued throughout the evening both times we dined there.
✦ Enchante Review of the Tomato Course
I'm someone who ensures our home is always stocked with tomatoes, whether it's tomato season or not. I LOVE tomatoes. They're my jam: whole, diced, pureed, juiced – you name it. So I was incredibly enthusiastic about this course.
Our tomato course toppings were similar both times we ate there. However, the second time blew the first time out of the water.
Because we know that the restaurant redeemed itself with the new and improved main tomato plate, we are focusing on the second dining experience. They really turned things around for the best with this dish about a year after the ship debuted.
We've inserted a photo from 2022 below though, because many outdated posts reviewing Enchante mention the dish. You can see the difference between the new version and the old version below.
The course consisted of four elements: a main plate accompanied by a delicious fresh roll, a bowl of tomato broth, and a glass of tomato water. The tomato water is something you can get on the a la carte menu and we highly recommend it if you love the flavors of gazpacho. More on that below.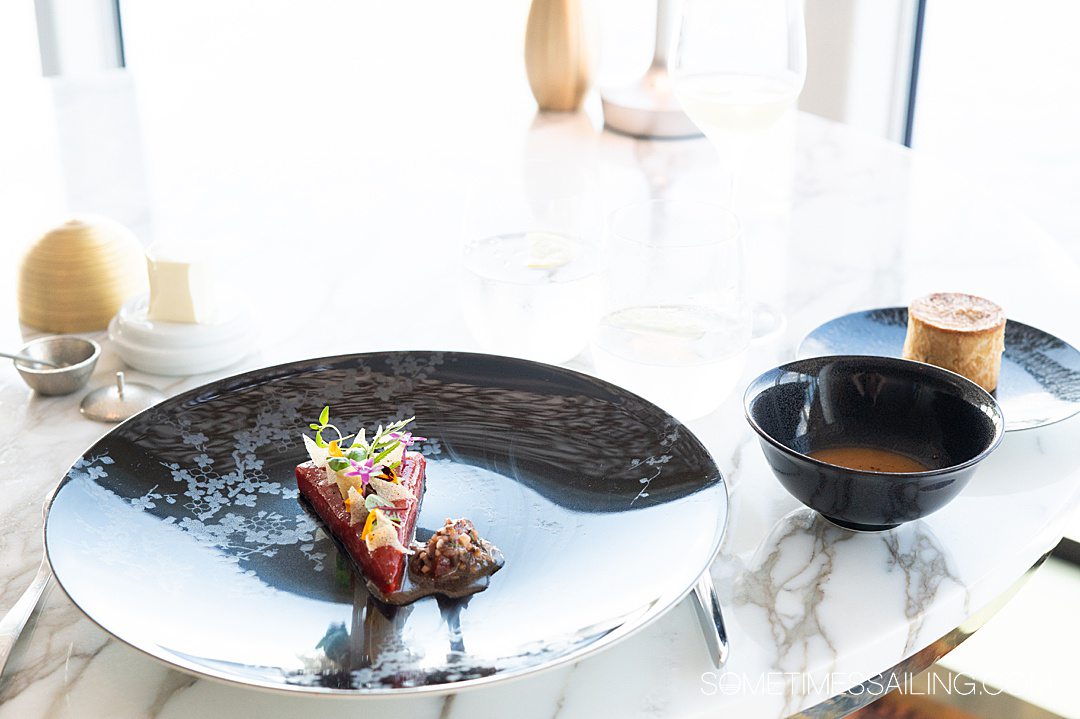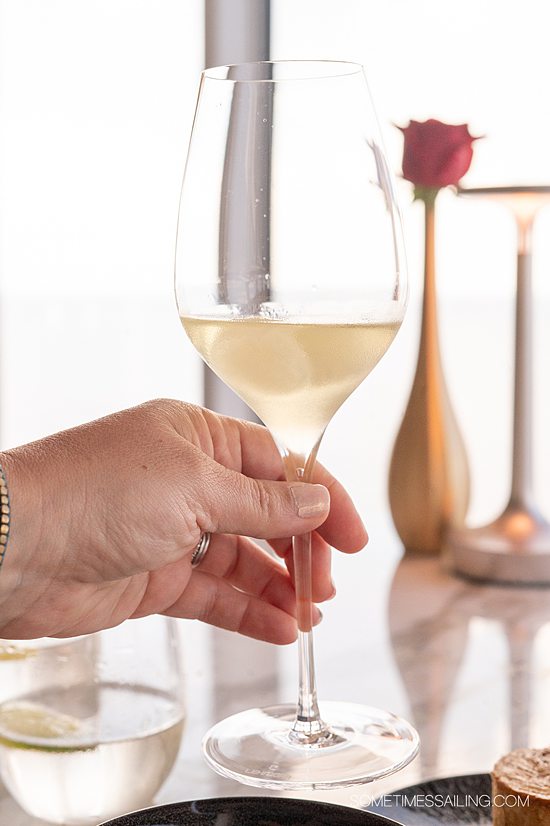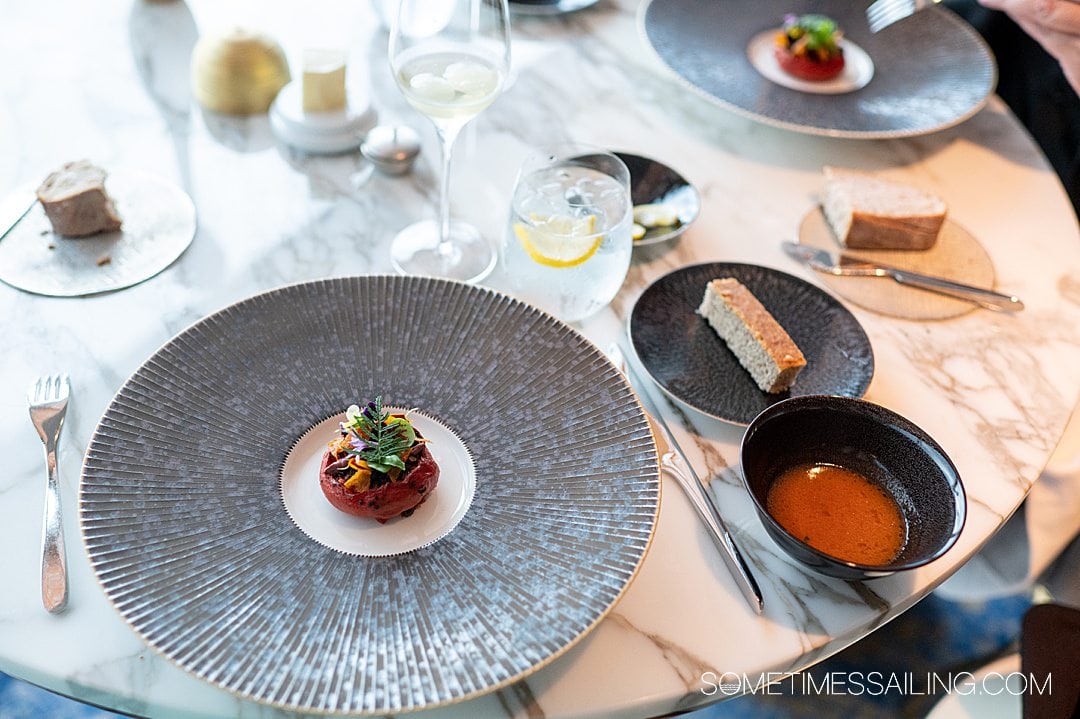 ✧ Main Tomato Plate
The main tomato dish is delicately constructed with tomato elements cooked in a garlic confit mixture for 12 hours. Topped with homemade crisps and edible flowers, it was almost too pretty to eat.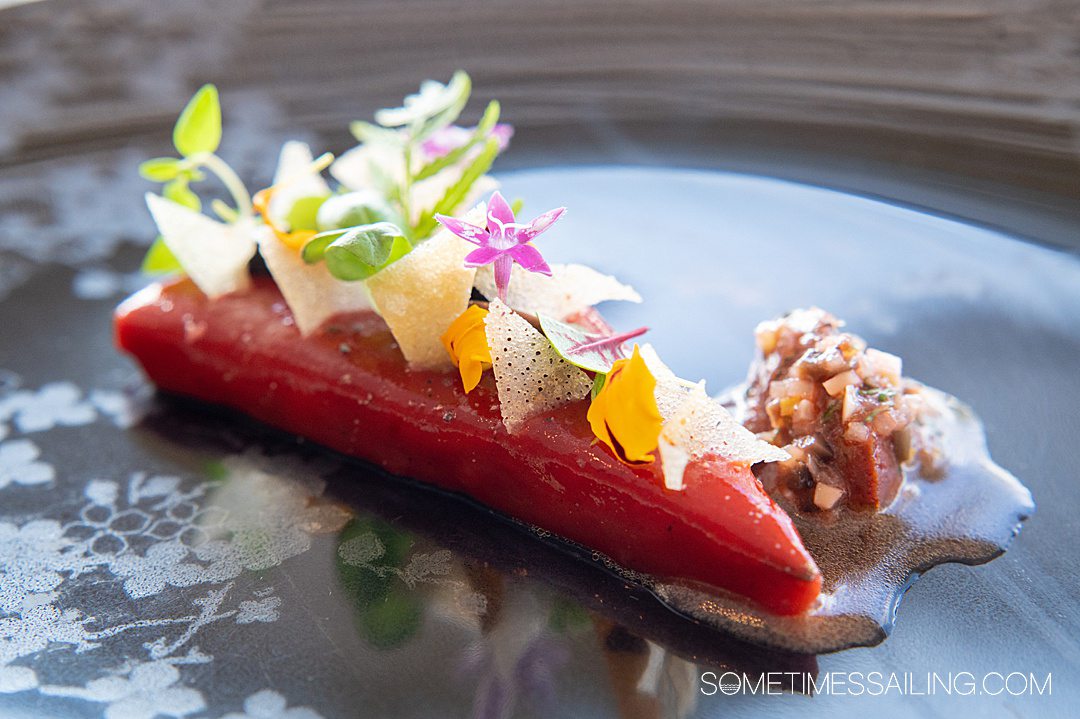 ✧ Side Tomato Dishes: Homemade Roll with a Bowl of Tomato Broth and Glass of Tomato Water
The bread was served on a plate next to a tomato broth dipping bowl; it was scrumptious. In fact, I drank the soup long after the dipping bread was gone.
The glass of transparent tomato water was sublime. If you have never had tomato water, it's the juice from tomatoes that has been run through a cheesecloth to make it extra clear and filtered. It takes a lot of tomatoes to get a glass. It also takes patience to create.
Enchante infused the tomato water with cucumber, bell pepper, and celery to emulate gazpacho flavors. The quarter glass of liquid served to us had subtle yet mouthwatering hints of these vegetables.
Two small one-inch round spheres of ice were placed in each glass. They were the icing on the cake and kept the tomato water nice and cold. It was so tasty I wish I had a pitcher of it!
First Fish Course
Each time we dined at Enchante the next dish was a small fish dish. The first time we had a caviar dish. The second time, we enjoyed a John Dory sashimi dish. This was one of our favorites both times.
We'll highlight both not because you get both but because if the menu changes, seeing both will help you understand the spirit of this course.
Note that the caviar dish, though not included with the Passion course, is currently on the a la carte menu. We recommend it — if you like caviar, you won't be disappointed.
✦ Caviar Dish
This caviar dish, which was finished tableside, drew on flavors from smoked haddock and fondant potatoes.
A round dish was set down in front of us. The bottom had an evenly spread layer of sour cream mixture with a generous scoop of caviar. It was finished with a few spinach-infused oil dots and three tiny circle-cut lemon tuiles. If we heard correctly, the caviar was from Belgium.
Our waiter completed the dish by pouring a liquid potato mousse on it (the fondant potato part), which we think was also where the haddock fish flavors came into play since caviar is typically from Sturgeon.
This dish was smoky and smooth. It was divine and the best course on the Disney Wish Enchanté Passion menu at the time in our opinion.
This dish was also the start of several tableside finishes — whether a pour of jus, foam, or mousse — that continued throughout the night. They're very into tableside pours at Enchanté.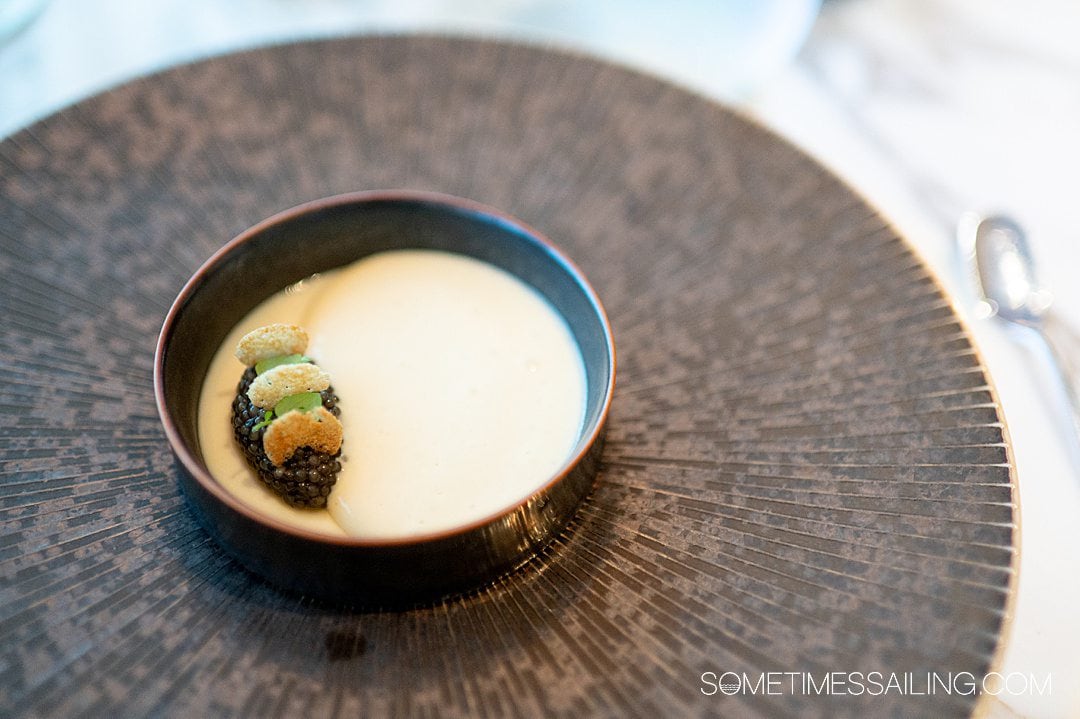 ✦ Sashimi Style John Dory
This dish was phenomenal. We give it two thumbs up in our Enchante review! John Dory fish — which is white and flaky, similar to bass, halibut, and grouper — was finished with lime juice and lime zest, Espelette pepper from the southwest of France, and some additional gentle spices on top.
Underneath each piece of fish was a bit of sea urchin, confit yuzu citrus, and sea asparagus. It was all in a bath of plankton mayonnaise with drops of olive oil. (Chef's kiss!)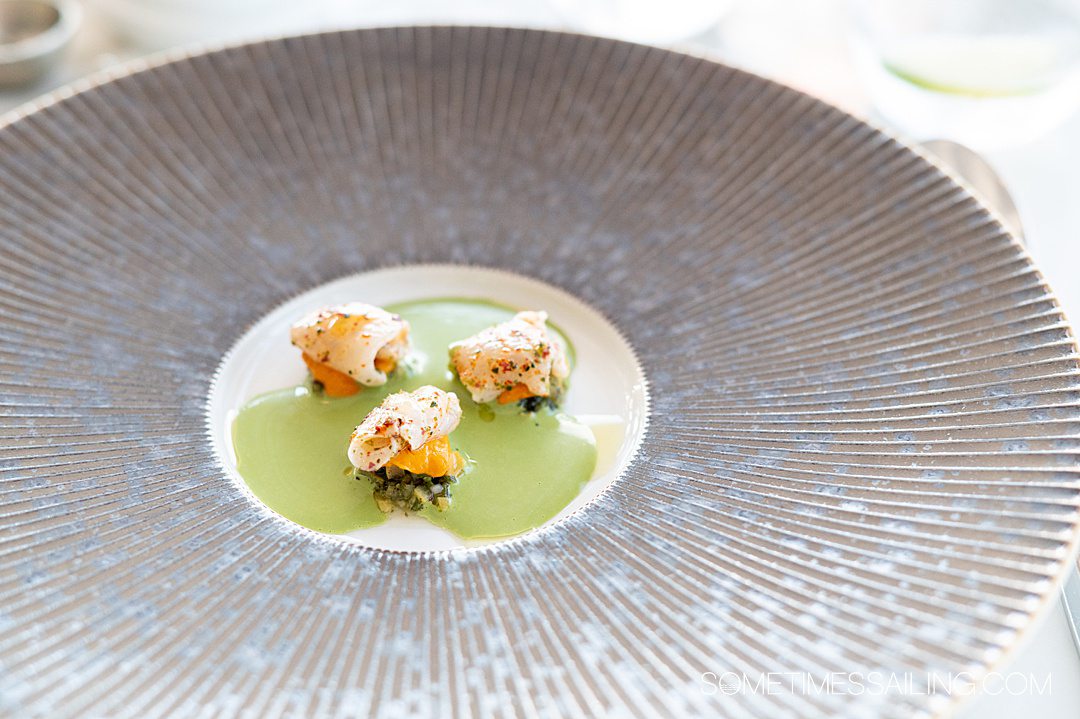 Second Fish Course
We're sharing both fish dishes we had during our two dining experiences with you in this Enchante review. Both times, this course was a bit too salty, but the second time around, it was much improved from the first time.
We'll start with the fish dish we had the second time because it was better than the first time.
✦ Sole Fish Dish
The dish of sole from Portugal was beautifully presented, as all the dishes at Enchante are. The sous-vide and slow-cooked fish had a glaze of caramelized fishbone sauce on top. It created a thin, syrupy finish.
Next to the fish was a cabbage leaf with scallop mousse inside, finished with kohlrabi shavings. The scallop mousse was cooked with a beef bourguignon reduction. Next to it were scallop chips with jelly citrus.
The tableside finish for the dish was a foam created with Coteaux Champenoise white wine. A small dish of the bubbly emulsion was left on the table. This was so the diner could add the foam to the dish to his or her liking.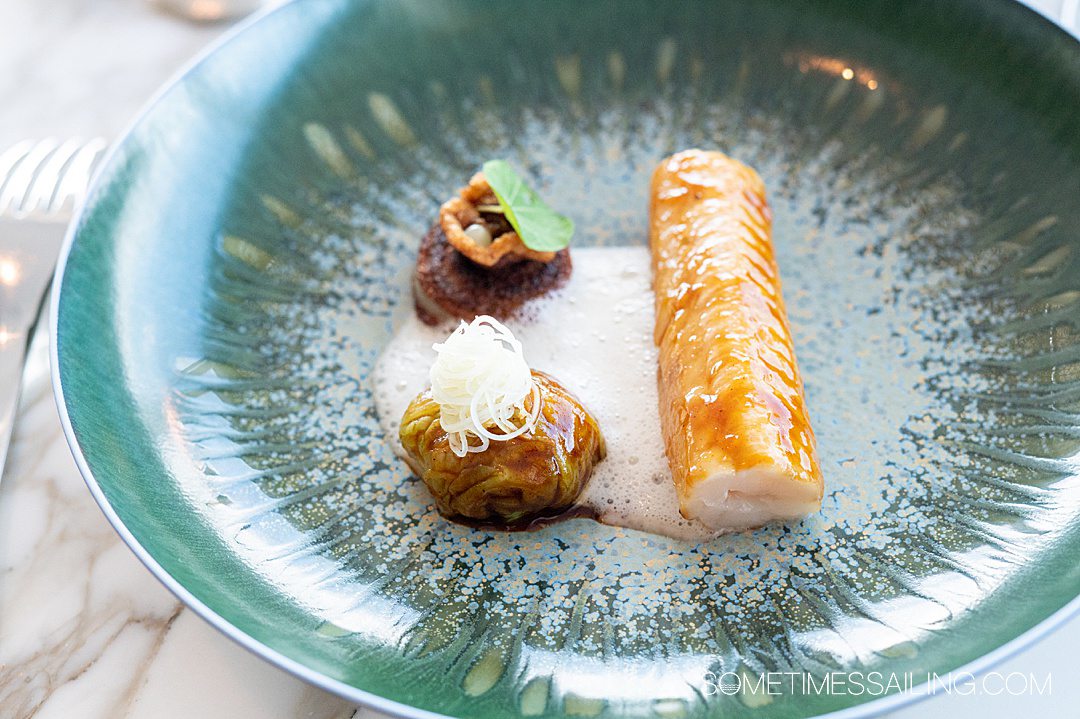 ✦ Wild Halibut
The fish dish during our first dining experience in 2022 was just okay. It was prettier than it tasted. Though the halibut was cooked perfectly and had a nice crisp outside and flaky white inside, the dish was so salty it overpowered any other flavors.
The cooked onion confit and potatoes served with it, with a tableside pour of a Vermouth cream sauce flavored with mussels and Chardonnay, were good, not great.
Regardless, the sole dish has since replaced the wild halibut.
Encante Review of the Beef Course
At this point, we guarantee your stomach will be filling up quite a bit. We could barely eat the beef and dessert courses that followed, but we powered through!
✦ Waygu Beef
Snake River American Waygu Beef was served as the final protein course of the Enchanté Passion menu. This type of Waygu beef has less fat marbling than Kobe beef.
The plate is served with a condensed beef jus already poured overtop the meat from the kitchen with a touch of finishing salt. The salt overpowered the meat if a granule was on top of a bite, but otherwise, it was tasty and cooked perfectly.
Celery is presented in two ways in this dish; we appreciated how they used celery in various ways. A dollop of condensed celery and pesto paste was served next to a ball of celery root cooked in butter then rolled in dried celery flakes.
A slim slice of potatoes au gratin was served with the Wagyu beef and celery.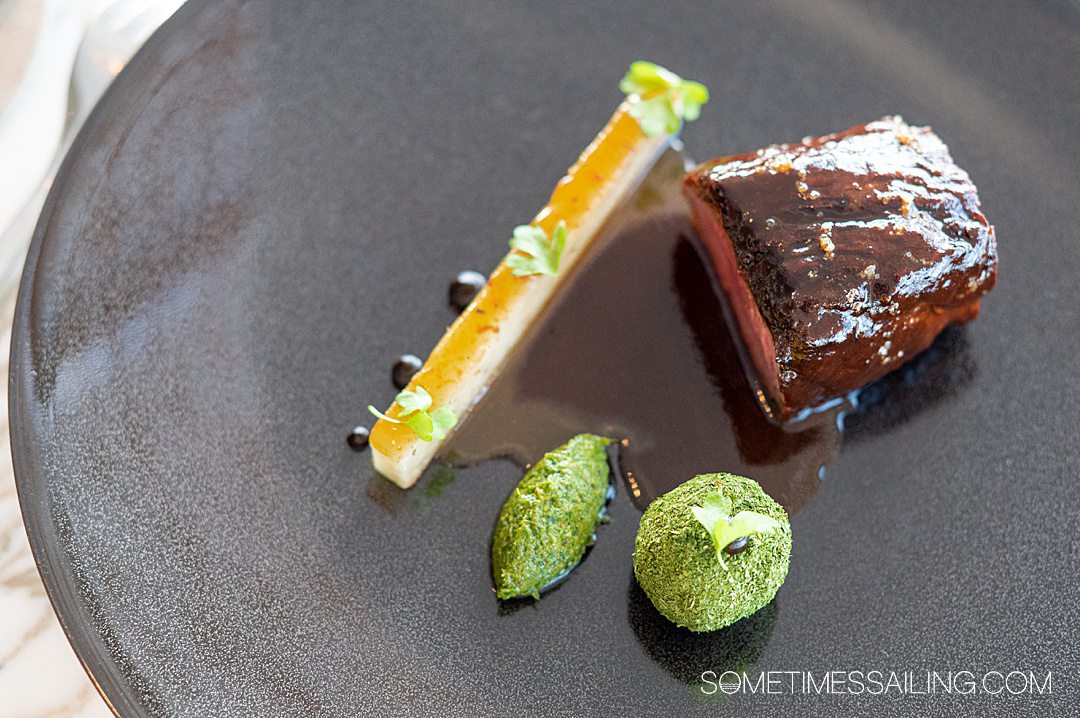 ✦ Grilled Beef Poivrade Artichoke
Previously served during our first dining experience on Disney Wish at Enchante was a grilled beef with poivrade artichoke and beef jus. The dish, which also used American Wagyu beef, was good but forgettable.
I love artichokes, and they weren't that impressive in flavor. Dan didn't eat all of his small helping of them even though he minimally likes artichokes. The artichoke yogurt that was served between the two pieces of artichoke was just okay. The tableside pour of jus lacked heat (in temperature, not spice), and the umami that you hope for in a beef jus wasn't there.
Luckily Enchante amped things up with its new and improved Wagyu beef and celery dish.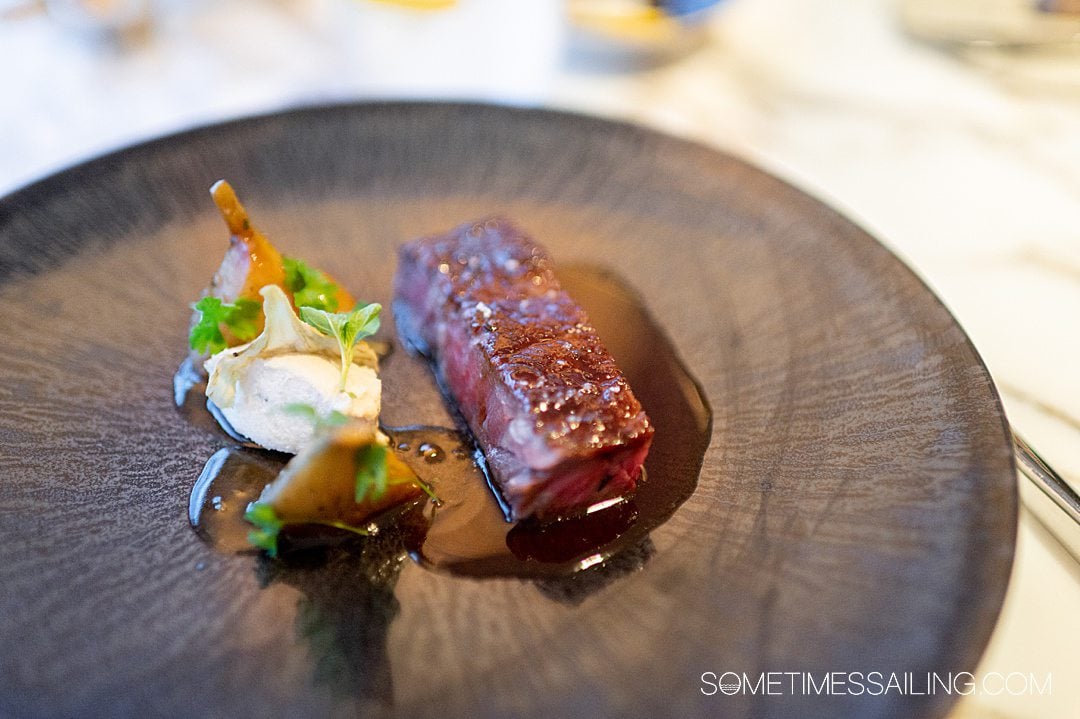 Disney Wish Enchanté Dessert Menu review
Dessert consisted of a cheese course and a dessert course. If you're not accustomed to cheese as a dessert, you should try it. Enchante is the perfect place to do so, with some of the world's finest French cheeses as options on the cheese cart.
The cheese plate was followed by three types of petits fours, then an "official" dessert plate to conclude the meal.
✦ French Cheese Course at Enchanté
A truly beautiful cheese cart was rolled out when we expressed interest in having cheese after our server asked if we would like it; it is included in the multi-course Passion and Collection menus. This is unlike in France, where there is sometimes an added charge on your bill for a cheese course. It was a pleasing inclusion at Enchante.
We never turn down French cheese! If you've never had it or you're intimidated by the multitude of options on the gorgeous cheese cart that is rolled to your table, don't worry. Your server will guide you through the options and make recommendations based on your preferences.
You are able to pick up to six kinds of cheese for your personal cheese plate from over a dozen options.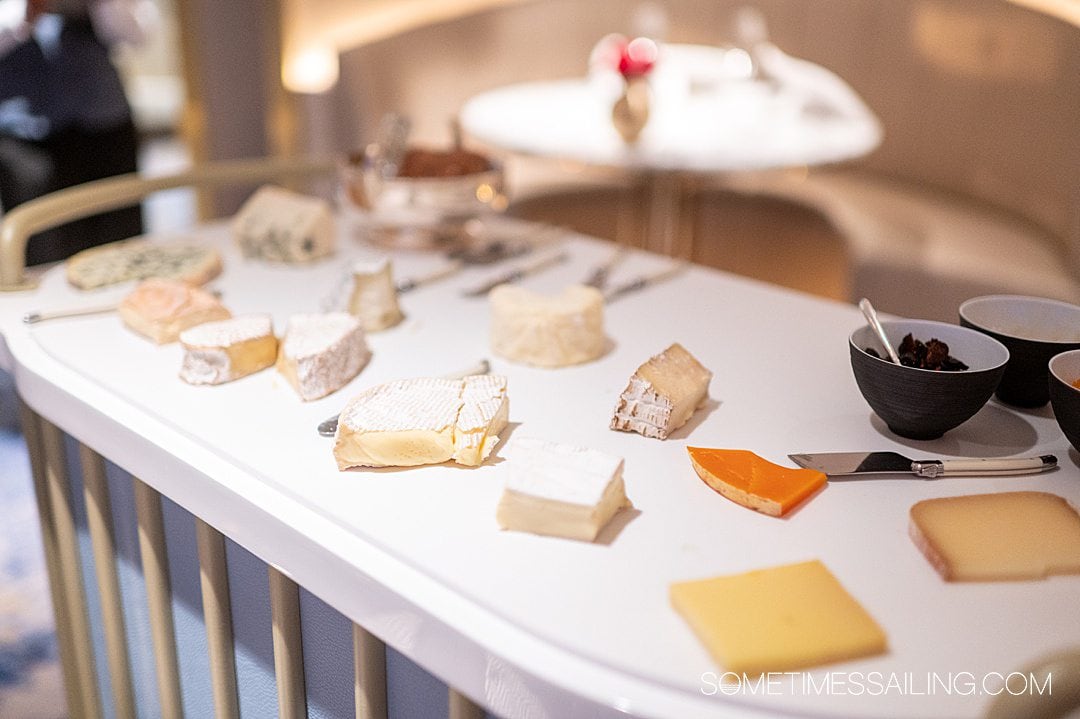 We were stuffed at this point, so six was a stretch. But Dan and I both chose a variety of cheeses and asked for a smaller-than-usual portion of each.
There was an option to have dried fruit and honey served alongside the cheese; we both said yes to dried figs and apricots, along with a spoonful of Florida honey. A slice of another awesome Enchanté bread — this time a seeded bread — is offered with your cheese plate.
Both times we dined there, our servers excelled at explaining the cheeses. We commend them for this because it's a lot of information to remember. Actually, all the information for each course is a lot to remember, and the staff at Enchante is exceptional at sharing the information for every course.
Some cheeses we tried included a Morbier cheese with a layer of vegetable ash, classic creamy Brie de Meaux cheese, a Valency mild goat cheese covered with ash that gave it a slight mineral flavor, and a Délice de Bourgogne classic triple cream cheese.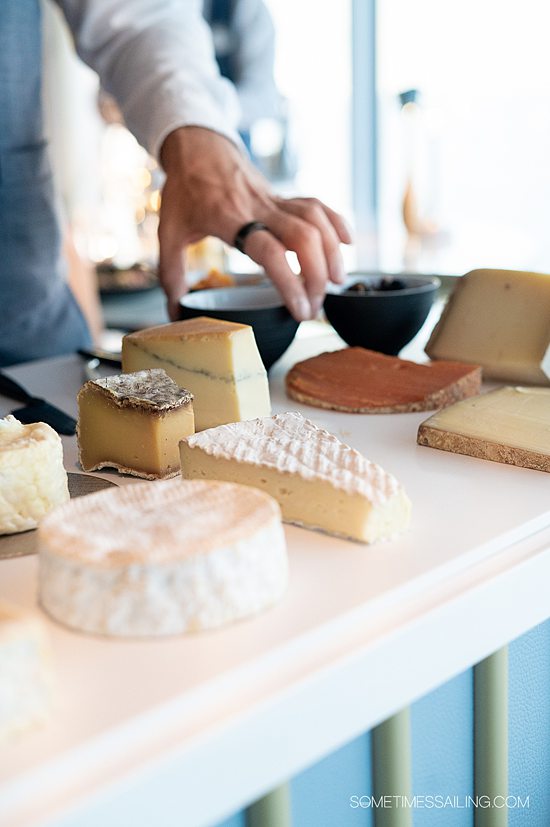 ✦ Petit Fours: Another Dessert Before Dessert
We were shocked when three wooden bowls were placed on our table, each with a different sweet. This was served in between the cheese course and the "official" dessert course that came next.
The bowl with true petit fours was the one with four painted white chocolate domes with 60% dark chocolate, dulce de leche, and coconut inside. The same bowl had lemon domes comprised of shortbread biscuits topped with lemon curd.
Another bowl had an exotic fruit tartlet cut into quarters.
The third wooden bowl had four apricot fruit roll-up gels. The texture of the roll-ups was really good and much softer than what you may be familiar with when you think of well-known boxed Fruit Roll-Ups from a grocery store. But they weren't trying to be those anyway.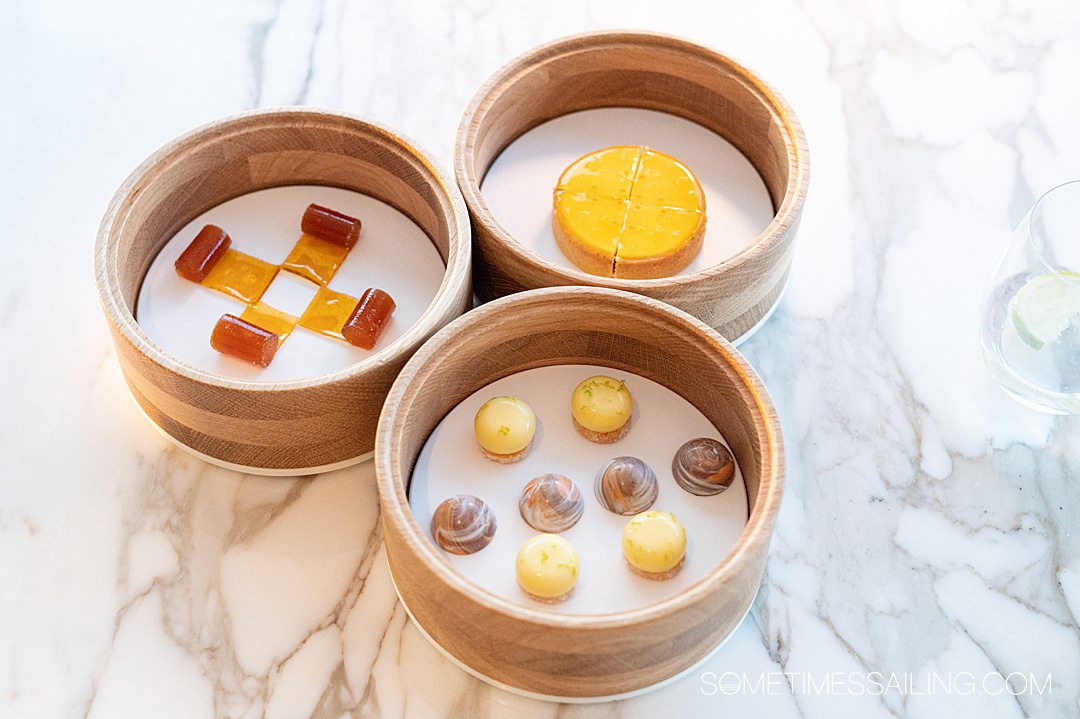 All of these sweets were great and indulgent; it was far too much for two people at the end of a filling meal. We wish they served us half the amount — if not less — of it all because they went to waste when we finished, and we hate wasting. Alas, we are well aware that cruises are notorious for excess. We imagine four people are served the same amount, which makes more sense.
It would have ended on a high note if the meal stopped there. But dessert continued with one final plate!
✦ Lemon Dessert
Our flatware was changed from silver to gold for dessert. It was a nice "attention to detail" swap. Then a spectacular dish was set before us: a lemon creation in the center of a pretty teal ceramic plate.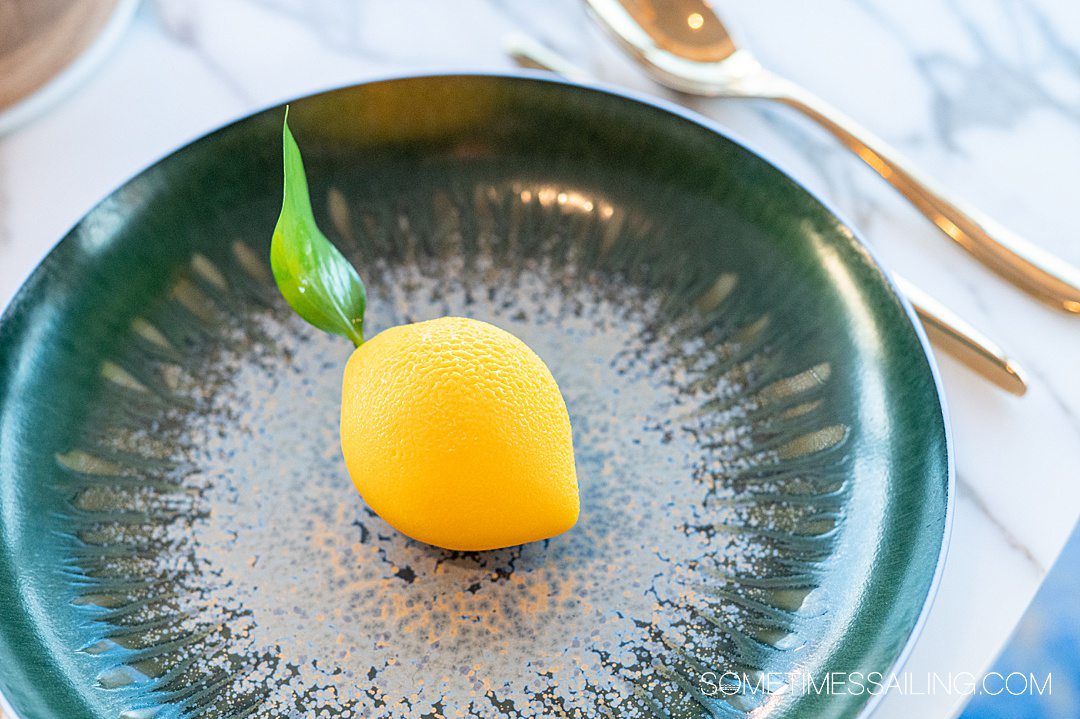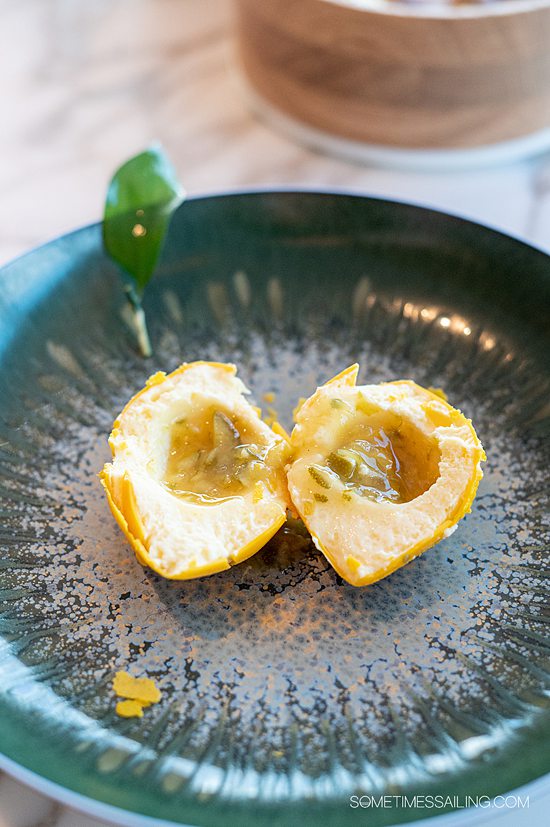 The lemon was a show-stopper. It takes three days to make this special three-layer dessert; one day per layer is dedicated to creating the dish with care and time.
The outside was a cocoa and white chocolate shell. A heat gun applied to the surface in the kitchen created bubbles that made the lemon skin look incredibly realistic. The green Italian ruscus leaf was real and not edible.
Our server, Remy, recommended cutting the lemon from the center of the top to the bottom to showcase the layers best. Cutting the "fruit" open revealed the rest of the creation inside.
A fluffy lemon mousse formed the second layer.
The innermost layer was a lemon and lime peel marmalade. Our server told us that the pastry chefs blanch and cool the fruit, moving it from boiling water to cold water, five times to get it just right.
✦ Chocolate Dessert
Dan had a chocolate dessert the first time we dined at Enchante that he enjoyed.
The somewhat traditional Louis XIV chocolate cake had a praline hazelnut base and chocolate mousse inside. It was served with a bowl of chocolate milk of sorts with chocolate shavings on top. Though we didn't quite understand the side dish, we gave them kudos for getting creative.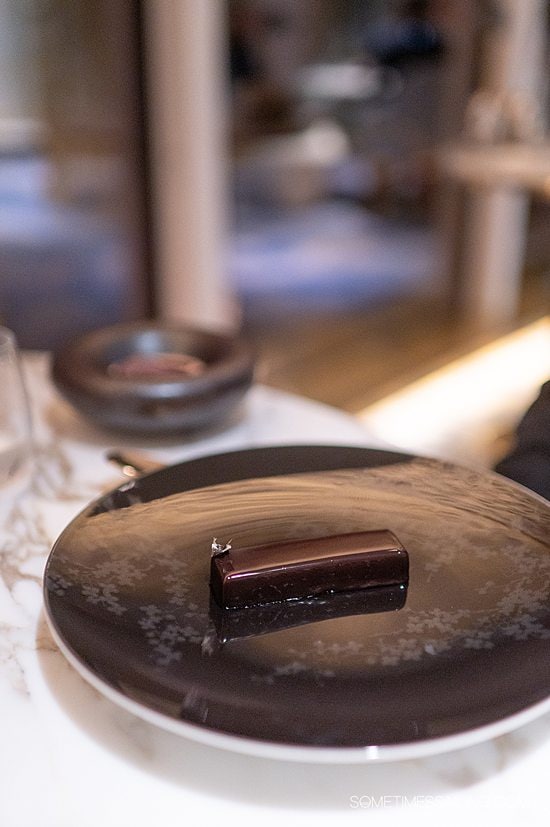 ✦ Coffee or Tea with Dessert
We were offered coffee or tea with dessert. If you get any specialty coffee drinks, there is an extra charge, like a cocktail or wine would incur.
I chose to have some tea because the tea served at Enchante is from one of the oldest teahouses in France, established in 1692, called Damman Freres. It is considered one of the best tea houses in the world.
The mint tea I chose did not disappoint. Even the tea box presented for the diner to select his or her flavor of tea was attractive.
A special timer with three hourglasses is turned over when your tea begins to steep. The color sand corresponds to the correct steeping time for the tea you choose. But you don't have to pay attention to that because your server will make sure it's right.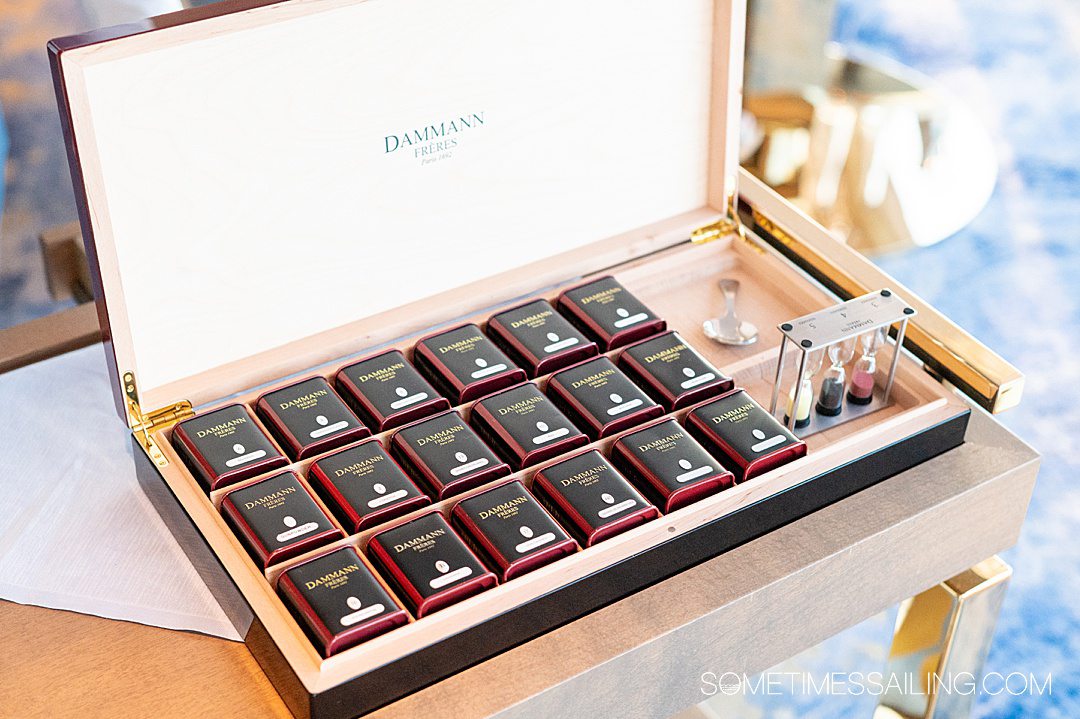 Closing Out a Meal at Enchanté with Disney Cruise Line
After you're done with your meal, which has likely lasted two to three hours at this point, you'll either receive the bill or have to request it.
Gratuity is added at 18%, but if you feel the team did a stand-out job, as we did, you can add more.
For more details about our final bill, including additional thoughts on if dining at Enchante is worth it, from the cost to the ambiance and overall experience, click here.