Bordeaux River Cruise Review: Viking Forseti
What comes to mind when you think of a Bordeaux river cruise? Is it the regional wine or the chateaux that abound in this southwestern region of France? The great news is you can expect both on a Bordeaux River cruise and much more.
We sailed with Viking on their river cruise longship, Viking Forseti. Our week-long journey was on the Garonne River and the Dordogne. We're sharing all the information you're craving in this Bordeaux River Cruise review!
We will take you through the scenery to expect, the itinerary, the best time to sail, and even what to expect for wine education. Don't miss our thoughts on who is best suited for a Bordeaux River Cruise with Viking too!
Disclosure: There are affiliate links in this post, which means we may earn a small commission if you click the link and proceed with a purchase, at no cost to you. We were hosted by Viking. We only recommend hotels, products, and services we personally use. As Amazon Associates, we earn from qualifying purchases.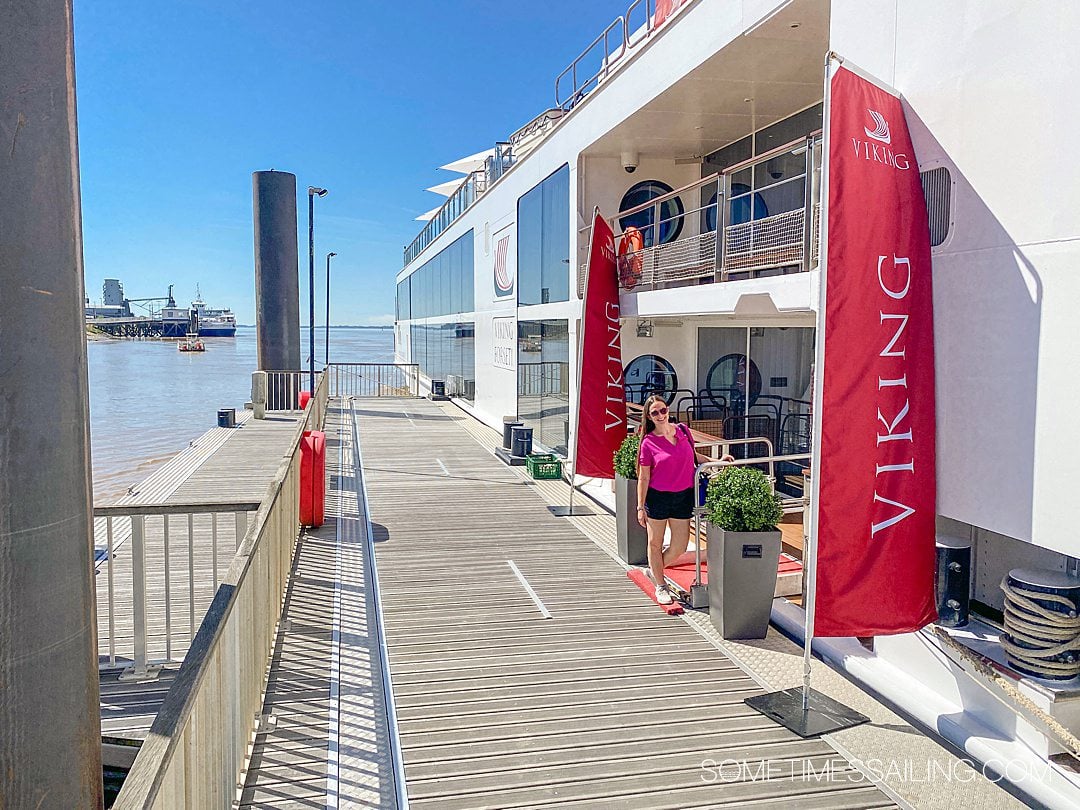 Scenery During a Bordeaux River Cruise
The Garonne and Dordogne were the two main rivers we sailed on during our time aboard Viking Forseti. We loved seeing chateaux dot the landscape and vineyards in the distance as we sailed.
The city of Bordeaux, where the cruise starts and ends, is urban. We saw beautiful old and new buildings that give the city its character, along with several bridges. There's a new modern area of Bordeaux and a historic city center.
Castles on a Bordeaux River Cruise
One of the things a lot of people dream about when they river cruise in France is the castle or "chateaux" (which means "Castles" in French) they will see.
Expect a fairy tale to come to life sailing in Bordeaux. It won't be continuously dreamy scenery all the time; however, the cruise certainly had plenty of picture-perfect moments!
Not only does the cruise have many castles as its destination during excursions, mostly because they're associated with wineries, but you'll see some while you sail too.
The castles or mansions we saw close to the water as we sailed were mostly private residences. Then there were chateaux we visited that were a part of the Viking excursions.
These castles are either associated with particular vineyards and wineries or are on the property. They are mostly owned by companies and corporations now, with some exceptions, like if one family still owns it.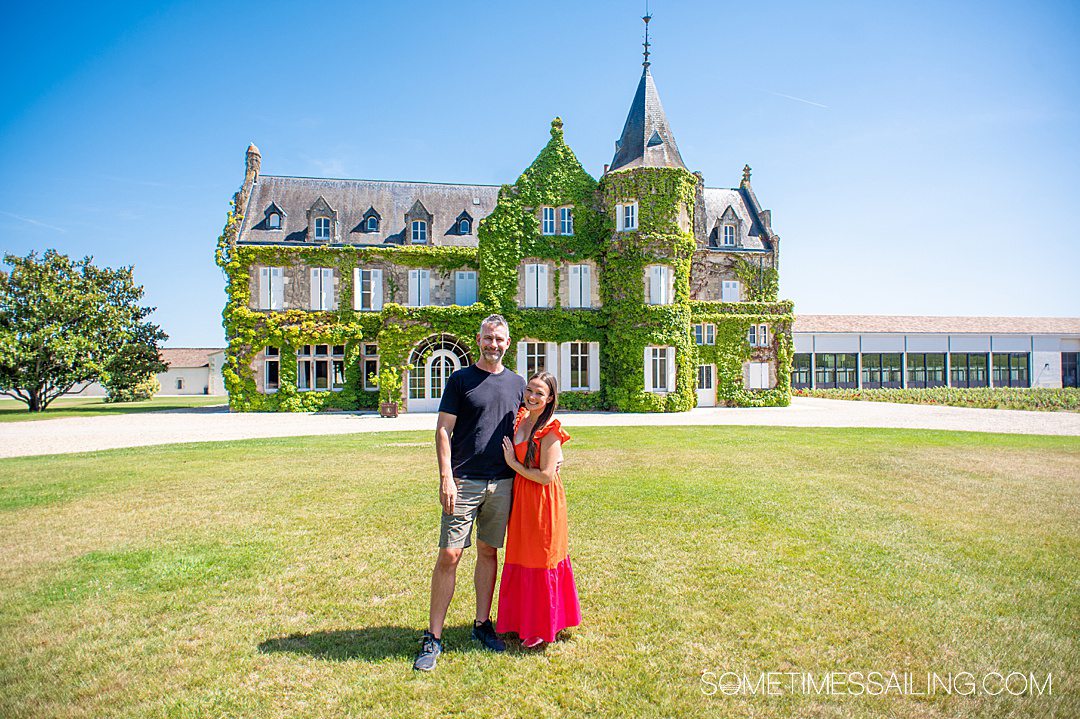 Bordeaux Vineyards
Bordeaux is a wine-producing region. As expected, there are a lot of vineyards and wineries in the area, which is a highlight of river cruising in southern France.
The time of year you take a river cruise in Bordeaux will dictate what you can expect regarding vineyard growth and the scenery. If you go during spring (particularly during April and early May), you'll see fewer leaves and grapes on the vine than during summer.
We sailed on Viking Forseti in mid-July. The plant growth was green and beautiful, with healthy bunches of grapes on the vines.
If you sail on a Bordeaux river cruise during fall, there will be fewer grapes on the vine after harvest, which is typically in late August or September. However, autumn brings beautiful fall colors. Grape leaves may turn yellow and orange, depending on the time of year.
For example, we saw such beauty in the colorful leaves during our November cruise on the Rhone River with AmaWaterways, in Southern France. However, the grapes had mostly all been harvested by then.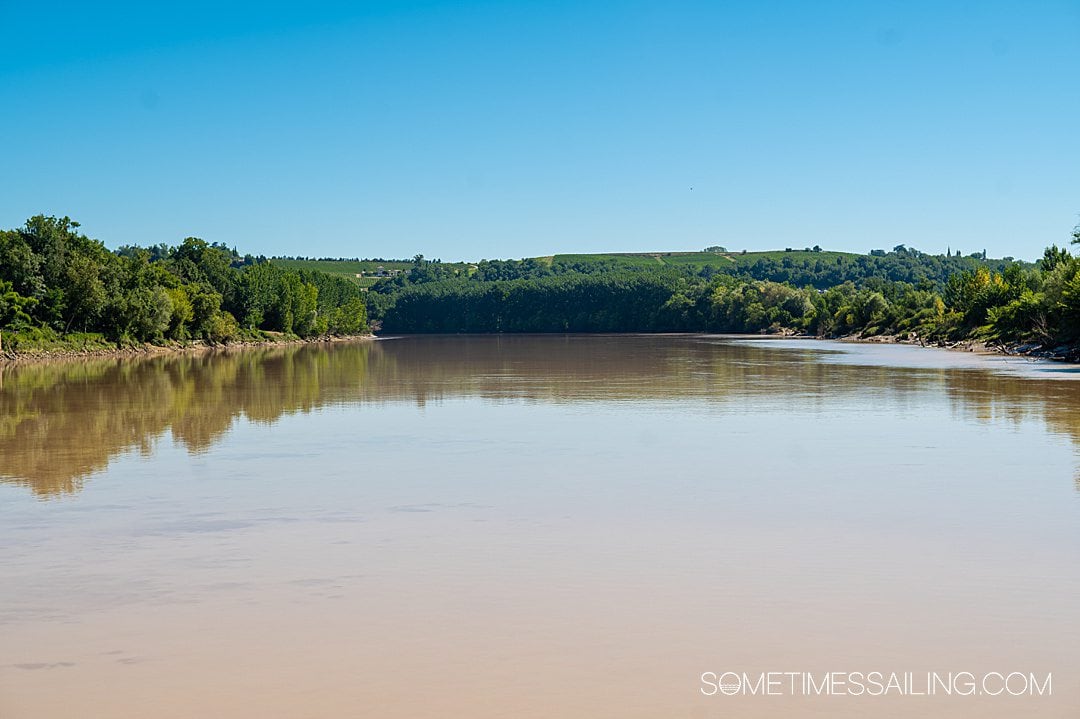 Bridges on the Garonne River
We passed under many bridges of different designs during our river cruise. In Bordeaux alone, we sailed under three bridges before leaving the area.
One was a modern bridge anchored by four cylindrical structures rising up from road level. The space between the pillars rises to let big ships pass underneath as opposed to bridges that split and lift in the middle for tall boats.
A historic bridge was close to the old town part of Bordeaux. It reminded us of some bridges in Paris. The third bridge, not particularly photo-worthy, reminded us of New York City bridges we have driven on, with dark red-painted metal.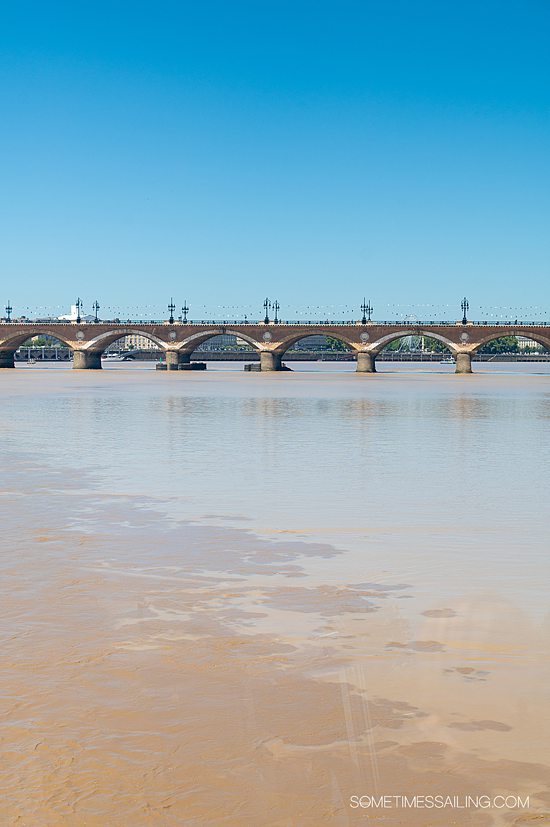 Along the river, we passed many areas with miles of trees and shrubs. We very often saw small fishing huts on stilts with nets in front of them, rising above the water. We learned that the nets are to catch lamprey eels.
Some of these huts have been turned into "man caves," which we've heard are quite modern. But the vast majority of them are small wooden structures that look like they could use a few repairs!
When you board the ship and see the light brown water, you'll quickly realize the Garonne River is quite muddy. We'd expect to see the river color on the Mekong River in Asia but not France, so we were quite surprised by this!
This muddiness is the opposite of the nearby, ever-so-popular river cruise route on the Danube River, which is a deep blue color.
Bordeaux River Cruise Itinerary
The cruise we went on with Viking was named "Chateaux, Rivers & Wine."
Sometimes, we were in two cities a day even though the river cruise didn't cover many geographic miles. But when you look at a map of where the river longship Viking Forseti traveled, it's easy to see that it wasn't far.
Despite this, you can expect Bordeaux river cruises to go to interesting small towns that you may not have heard of until your cruise. Yet you won't soon forget them after your amazing vacation experience!
Small French Cities You'll Visit During a Viking Bordeaux River Cruise
We explored small French towns along the Garrone River. This included places like Cadillac, Libourne, Bourg, St. Emilion, Blaye, and Cussac.
➤ If you sail on a Bordeaux River cruise competitor cruise line to Viking, it's very likely your itinerary will be very similar or even visit the same cities we did.
Our captain shared that all five river cruise companies operating on the Garonne River in Bordeaux pretty much make the same stops. The difference is the cruise line and the ship you sail on. For example, Viking vs. Emerald Cruises or Uniworld versus CroisiEurope.
Our Viking Forseti Day-by-Day Itinerary
We cover our full Viking longship itinerary below. Most days, at least one tour was included in our cruise cost, which guests were welcome to join or skip. Any "optional" tour was an additional charge.
You can choose to pre-book your additional tours in My Viking Journey in the months and weeks leading up to your cruise. Alternatively, you can book tours while you're on the ship, but you'll be subject to what's still available in that case. These are the "optional tours" listed below for an extra cost.
Saturday, Day 1: Bordeaux and included evening walking tour of the city
Sunday, Day 2: Sail to Cadillac, followed by an included Sauterne Wine Tasting tour in the afternoon
Monday, Day 3: Cadillac, including a walking tour
Tuesday, Day 4: Libourne, Bourg, and St. Emilion with included tours (and optional tour add-ons as well)
Wednesday, Day 5: Bourg and Blaye (included walking tours in each city)
Thursday, Day 6: Morning in Blaye and Cussac in the afternoon, with included tours to chateaux in Cussac and an additional tour option in the morning
Friday, Day 7: Bordeaux with optional tours
Saturday, Day 8: Disembark in Bordeaux
See this post for detailed information regarding what to expect in each port and where the ship overnights. 
Embarking and Disembark in Bordeaux: Capital City of New Aquitaine
Where Do River Cruises Dock in Bordeaux?
If you're wondering where river cruise ships dock in Bordeaux, they're all within the city in the same area on the Garonne River. As we previously mentioned, our captain shared that five river cruise ship companies sail in Bordeaux. And we're pretty sure we saw them all at the start or end of our trip, docked in the same area.
➤ We embarked on our cruise aboard Viking Forseti at the following address: Garonne rive gauche, Quai des Chartrons 141, Bordeaux, France
Taking Public Transportation to Bordeaux's Cruise Port
"Cours du Medoc" is the tram stop closest to the Bordeaux cruise port. The city trams are very easy to use and definitely help cut down on a ton of walking. The Bordeaux city pass if you buy one.
This is good to note if you arrive in Bordeaux early and do a pre-cruise trip for a few days or if you want to stay in the area longer post-cruise. Usually, that means you'll get your own transportation to/from the port as opposed to signing up for the option to get Viking transfers.
It's also good info to know if you want to explore Bordeaux on your own outside of the included river cruise tours when the ship is docked there.
The Bordeaux train station was less than 20 minutes from the port by car.
▶︎ Read all about the Bordeaux Cruise Port
Exploring Bordeaux
The city is wonderful, and there are things worth seeing and exploring here before, after, or during your river cruise, depending on your flights. We recommend adding more days before or after your cruise versus staying only for the time of your Viking river cruise if you can.
Viking Forseti overnighted in Bordeaux on our cruise's first and last nights. This allowed us to maximize our time there. We also added two nights to explore before our embarkation day.
One tour made possible thanks to the ship being docked during the evening was a nighttime walking tour to see Bordeaux's buildings and landmarks aglow. If you like night photography, this is an especially great tour.
Our cruise was during a heatwave in July, so the weather was much more comfortable in the evenings than during the daytime.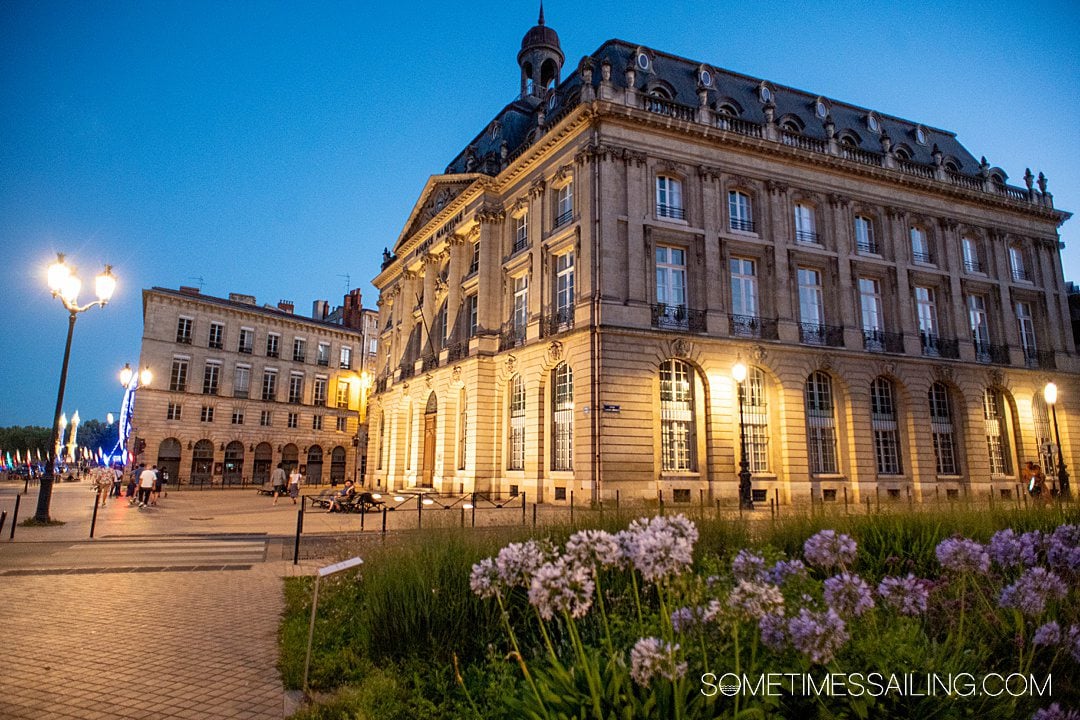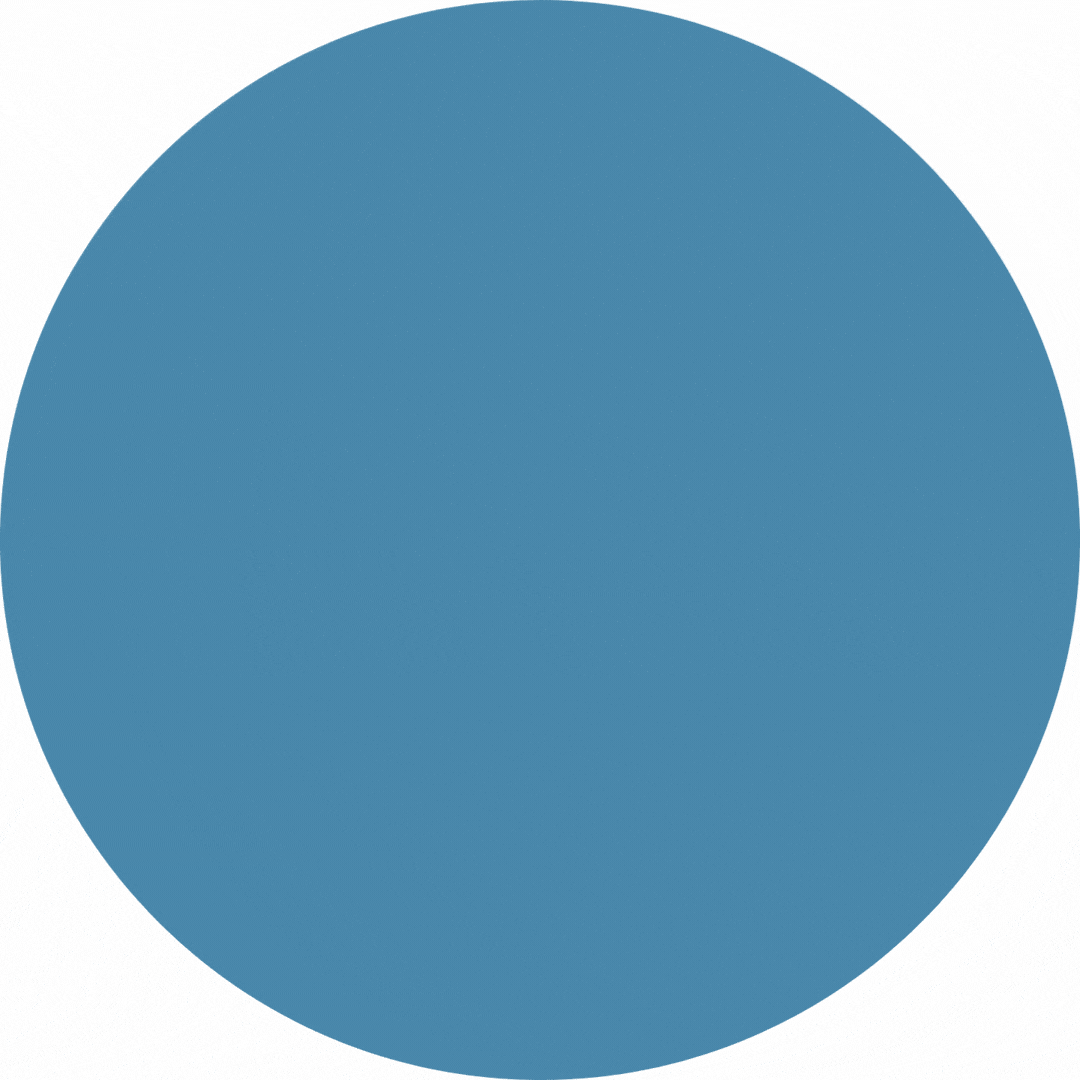 Ready to Book Your Cruise or INquire?
Use our preferred travel advisors, Bolds Travel, Because…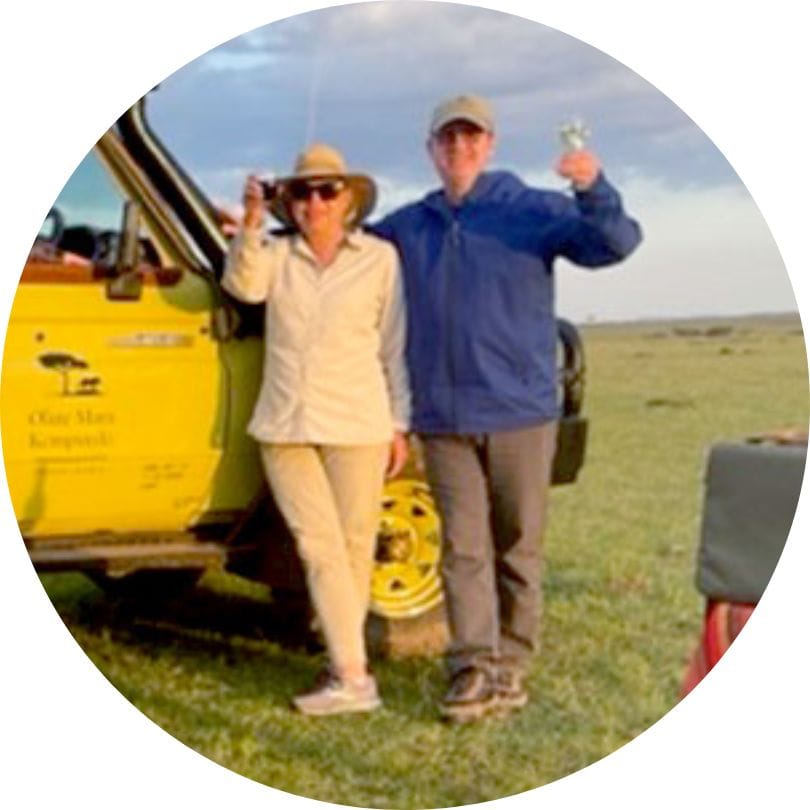 As we mentioned, Bordeaux is both an old and new city. It's experienced a lot of growth in the past few decades. As such, it has an old area and a new one.
Many walking tours take place in the old town because that's where the city's history is. It's also close to where the boat docks. The more trendy area is up north along the river, where new hotels are popping up, including trendy bars, restaurants, museums, and the like.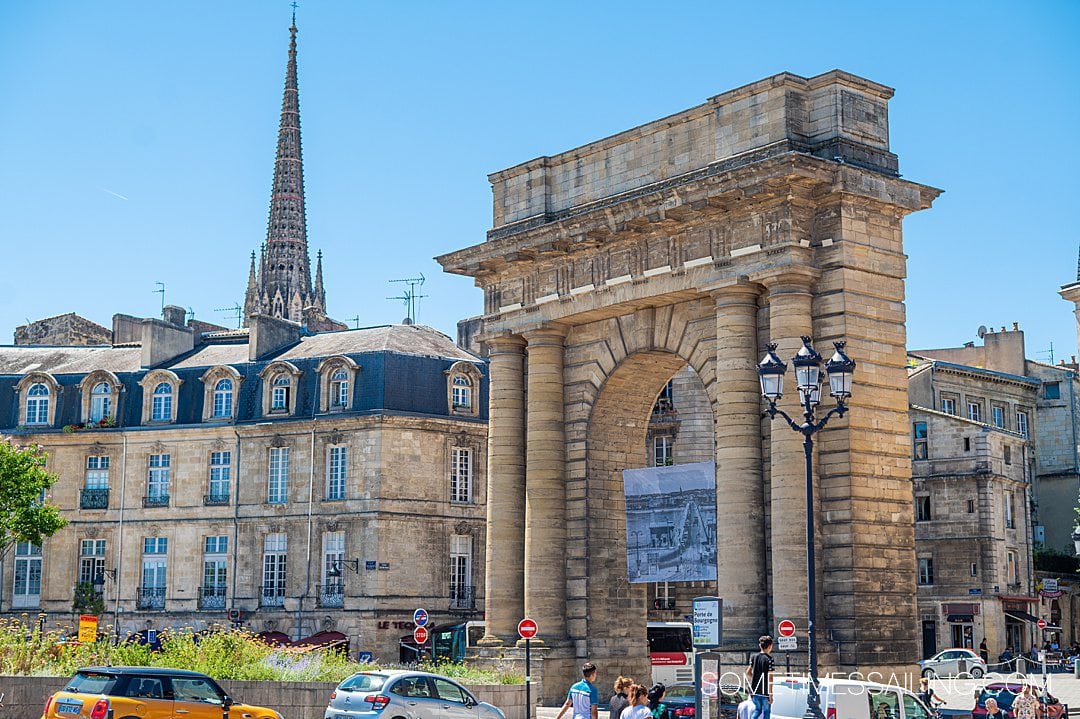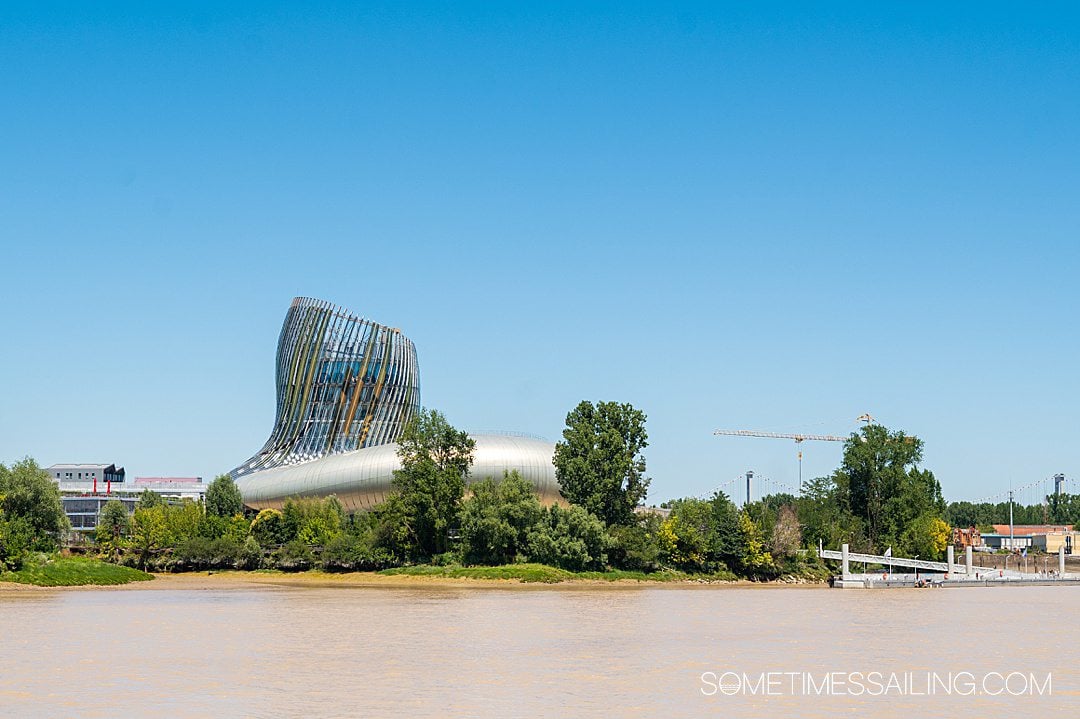 In contrast to some of the older and medieval architecture in the Old Town of Bordeaux, the north area is where you'll see modern architecture. If you have time during a trip extension or free time during the cruise, we recommend checking out Bordeaux's Cité du Vin museum.
We'll share more about this museum further down in this post but know that there is a wine bar included with the ticket at Cité du Vin that overlooks the Garonne River. Seeing our river cruise ship in the distance from that vantage point was fun!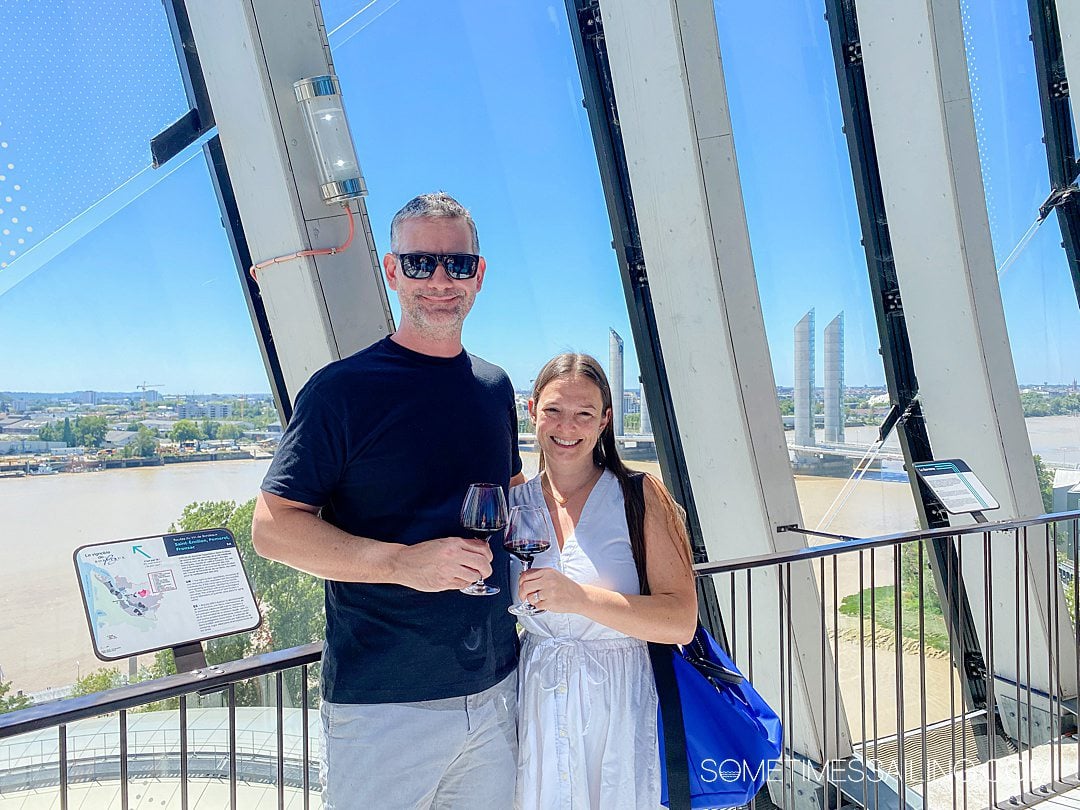 Seasons and Best Time for a Bordeaux River Cruise
River cruises in Bordeaux are available from March to November. It's too cold to sail in Bordeaux during winter when the wineries aren't growing vines. (A Christmas Markets cruise is best to book in Europe during winter!) The "best time" is really up to your preference and budget within the offered sailing dates.
The weather and seasons in Bordeaux really depend on the month you go on your river cruise. If you're used to visiting somewhere like Paris, be aware that Bordeaux is further south, close to the border of Spain on the west side of France.
The average temperatures there are always three or four degrees warmer than in Paris, year-round.
Because the Bordeaux area is largely dependent on wine (including wine tourism), river cruises do not sail past November. That is to say, you cannot go on a Bordeaux river cruise from winter to early spring or December through February.
Many businesses close after harvesting grapes, from wineries and chateaux to restaurants and souvenir shops. The vineyards in the countryside of Bordeaux (including Saint-Emilion and Margaux, for example) look very bare during this time.
Bordeaux River Cruise during Shoulder Season: Spring and Fall
Pricing is lower if you sail in the shoulder seasons when it's a bit chillier in Bordeaux, like in March or November, compared to peak times like June through September.
Though the vines won't be at their peak growth during these times, the weather could be perfect for you; the temperatures during this time of year are definitely cooler than in summer.
Spring and Fall (Shoulder Season) Pros & Cons At a Glance
River Cruises in the Bordeaux Region During Summer
We cruised during July when summer was at full blast! That is because France was experiencing a heat wave. Heatwave aside, going on a Bordeaux river cruise in July was great because we saw so many lush vineyards.
September could be an incredibly fun time to sail because it's when a lot of harvesting happens. You may have a chance to catch of glimpse of workers in the field gathering the grapes.
There are many pros/cons to consider if you want to sail the Garonne and Dordogne during summer…
Summer Pros & Cons At a Glance
Bordeaux River Cruise Seasonal Pros and Cons in Detail
Packing
You can pack lighter for a summer cruise in France. We didn't need any jackets (not even raincoats) and barely needed cardigans and long sleeves. If you go in the spring or fall, you'll need a light coat at the very least.
Sunflower Fields during Summer
Another really cool and unexpected thing about sailing during summer was that there were sunflowers everywhere in the vineyards and countryside. It reminded us of tulip fields we would pass on the Emerald Cruises buses during our Holland river cruise experience to see the tulips.
We learned that sunflowers are used to renew the vineyard soil. It was stunning to pass these bright yellow patches of happiness now and again!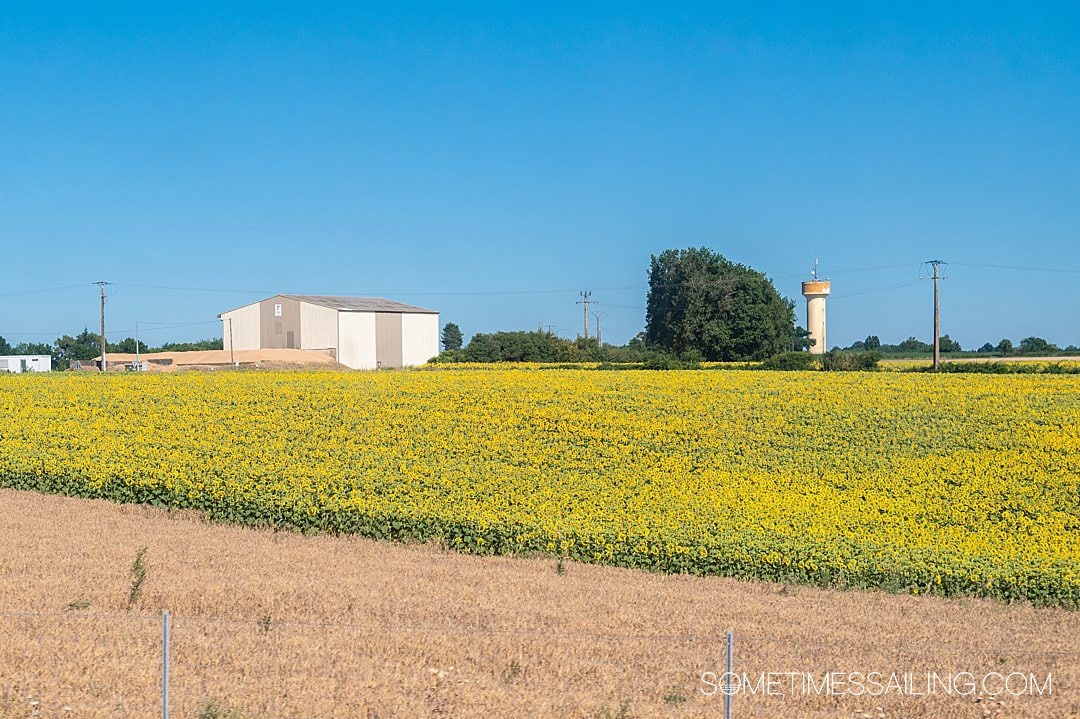 Vineyards in Full Bloom during Summer
Additionally, the vineyards were in full bloom. There were luscious bright green vines and leaves everywhere. We didn't realize how vast all the vineyards in the Bordeaux region of France are until we saw the greenery go on for MILES. Bunches of grapes were growing too.
Daylight Hours
Another bonus of sailing at the height of summer is that it gets darker later. During the shoulder season, the sun sets earlier in spring and fall.
Museums and shops in France are open a bit later during summer. Sunset was around 9:50pm, which meant that we could walk around town after dinner if we wanted to in the comfort of some natural daylight that was left.
During shoulder season, you have less daylight to enjoy after-dinner walks. There are shorter operating hours for businesses.
Weather Expectations
Summer is hot, of course, and there could be a risk of cruising during a heatwave, like when we sailed. This is never intentional, of course, but the weather is largely unpredictable. And most people book their river cruises months, if not years, in advance, long before heatwave predictions are made or reported.
It was incredibly hot some days. Thankfully, staying hydrated and staying in the shade as much as possible made it bearable. It was a small price to pay for so many hours a day of sunshine.
Also, I had a fan with me that Dan and I used to cool off. The other guests were envious.
Because it was so hot, the crew often drew the shades in public areas to keep the spaces cool. This was really unexpected. As people who appreciate natural light (I think most people like good 'ole Vitamin D), this was a downer.
You can open the curtains near you if you're in the dining room, for example, and you're sitting by the window and want to do so. However, the room got very hot very fast.
The crew admitted that the A/C just isn't strong enough to combat the sun's rays during the summer heat. We can attest to this from our experience being onboard during a heatwave.
Extreme temperatures, as we experienced during a heatwave, are unpredictable. But it was so hot we often couldn't even bear to sit outside on the top deck in the shade.
Flights and Hotels
Flights and hotels may be more expensive during summer when kids typically have off from school. You won't find kids on a Viking river cruise, of course. Yet prices for flights, for example, may be a bit higher than during the shoulder season.
Grape Leaf Colors and Grape Growth During Different Months in Bordeaux
When we sailed in mid-July, the green bunches of grapes on the vines everywhere were weeks away from ripening. Thanks to their newness when we saw them, they were a very bright green color.
The grapes may be harvested by the time you visit during fall. But you may get lucky and see the changing colors of the leaves on the vines if the grapes have already been harvested, from yellows to oranges and reds.
Different grape varieties are harvested at different times. Most of the grapes and wines produced in Bordeaux are red, yet some white varieties are grown there. Sauvignon Blanc, for example, is harvested in September and reds shortly after.
The changing of the seasons from late summer to early fall brings the changing of the green leaves on the vines to multi-color autumnal hues, along with lower air temperatures.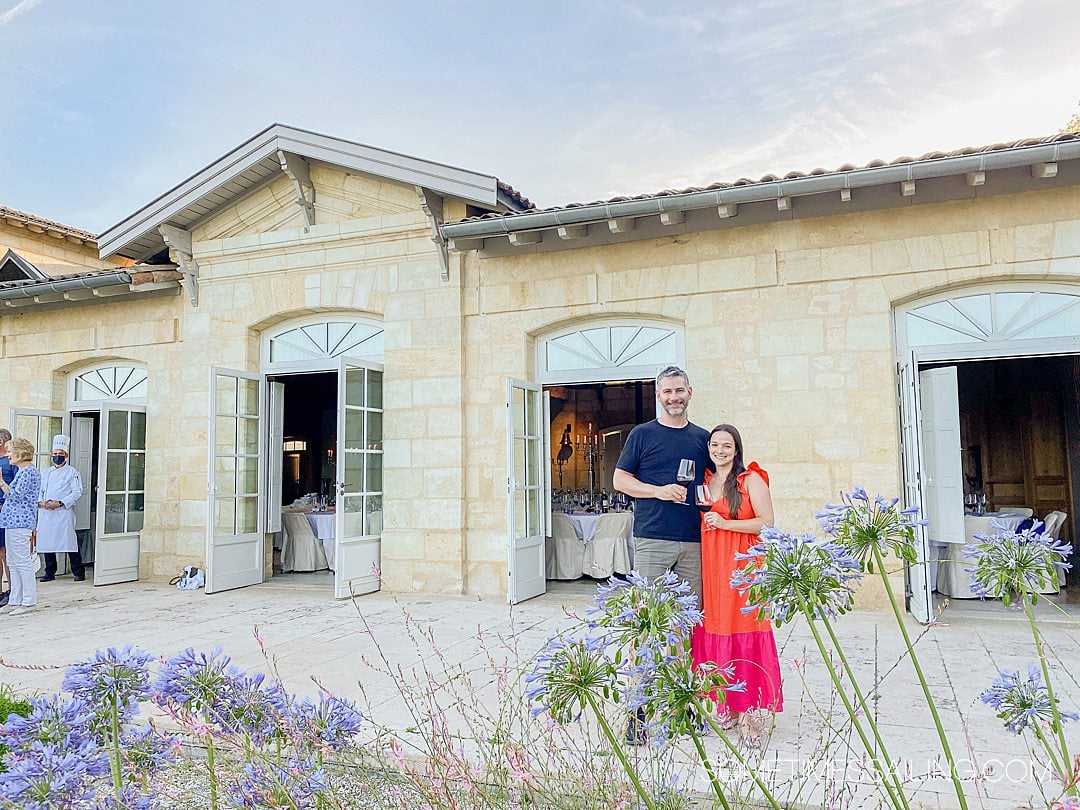 July 14 (Bastille Day) Cruise Bonus in Bordeaux, Every Year
It really depends on the year and when July 14th falls in terms of the day of the week on the calendar. However, starting and ending in Bordeaux from a Saturday afternoon to the following Saturday morning worked out for us.
This is because July 14th is France's Bastille Day. This major holiday commemorates the fall of the Bastille, which was a fortress turned prison. This event was considered to have been a catalyst for the French Revolution.
As such, there are holiday fireworks every July 14th to celebrate. It's often called "La Fête Nationale," which pretty much translates to "national party!"
We had front-row seats to the fireworks show from the top deck of Viking Forseti!
So while the weather may be hot in July, you could be rewarded with a fireworks show if your cruise dates are in mid-July.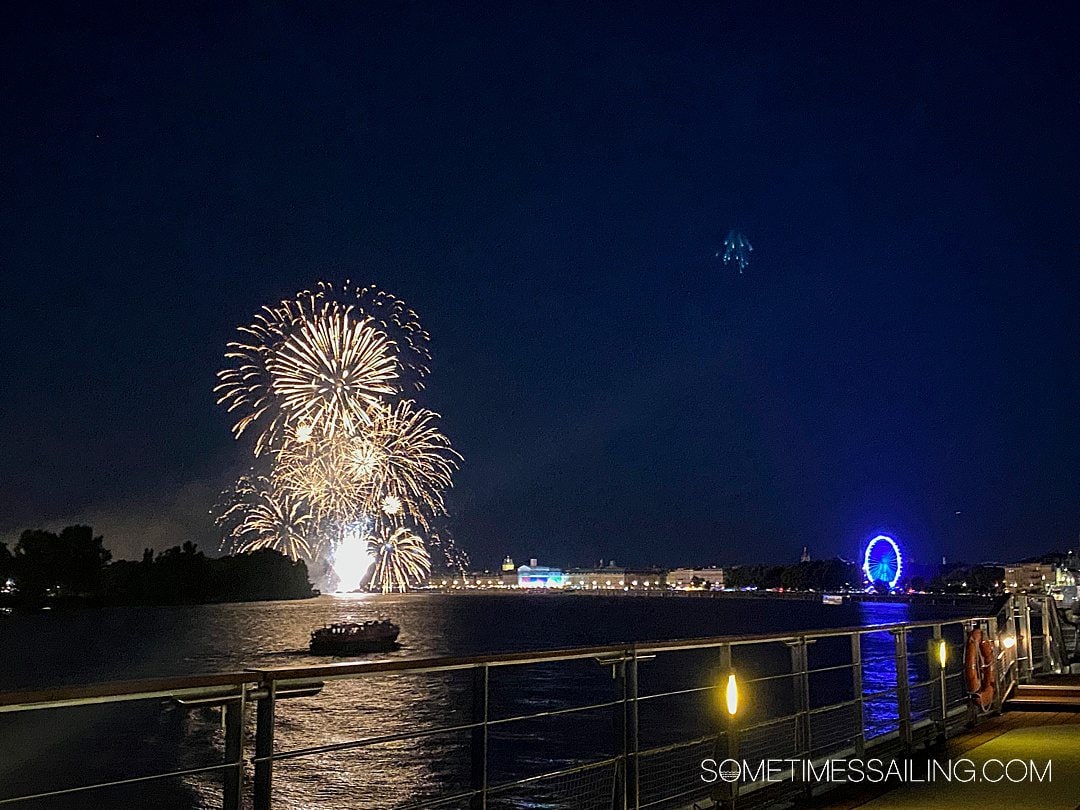 Learning about Wine during our Bordeaux River Cruise on Viking Forseti
What would a Bordeaux river cruise review be without wine?
The cruise is enjoyable whether you know nothing about wine (besides that you like to drink it) or a lot about wine. People with various levels of wine knowledge can learn a lot or a little. We found the variable to be how many questions you ask and your curiosity level.
All our Viking excursion guides were incredibly knowledgeable. They knew far more about Bordeaux wines and the region we could ever absorb during one trip.
One evening, a wine educator came on board to teach those who wished to attend about Bordeaux wines. This class was a treat! It was included in the cruise fare for any guests who wanted to attend. Coincidentally, she was an American from Alabama who had lived in Bordeaux for over a decade.
Her passion for wine was evident, and she was able to answer all the questions anyone asked her.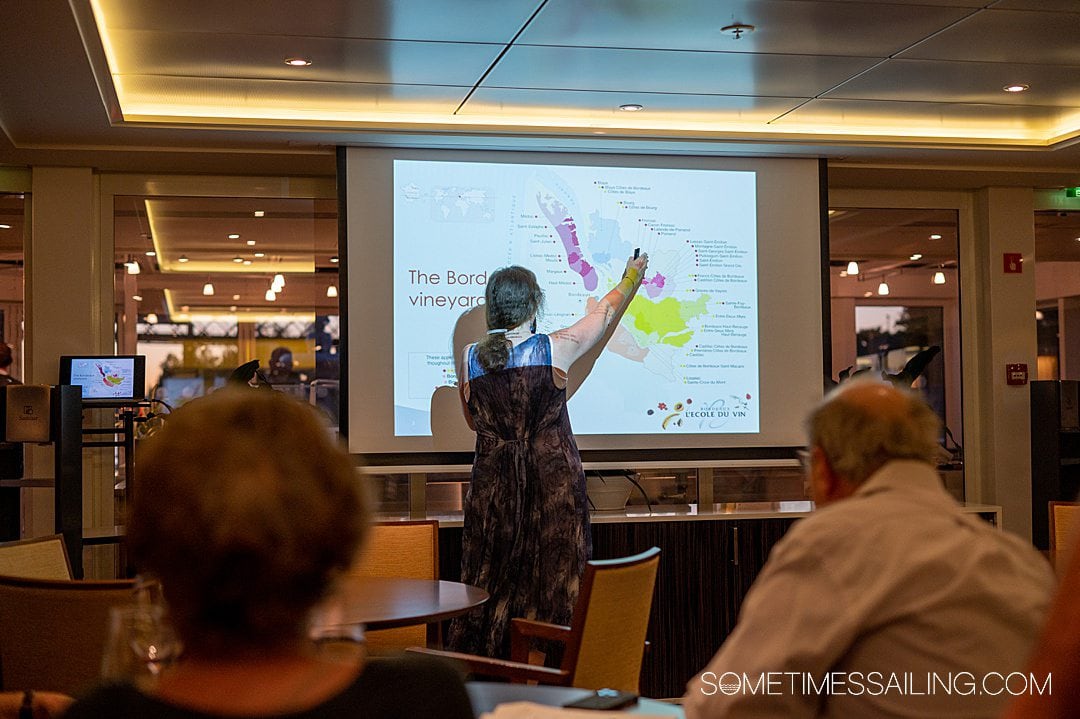 Viking Forseti Food
The food on Viking Forseti was good. Nothing particularly wowed us, but we appreciated the beautiful presentation of most of the dishes they presented to us. We found it to be on par with the food we had aboard AmaWaterways, for another river cruise in France.
We loved that Viking paired lunches and dinners with great Bordeaux wines. Sure, you'd expect this from a river cruise in the region, but we really appreciated their good quality. We tried some upgraded wines as well, which were equally delicious.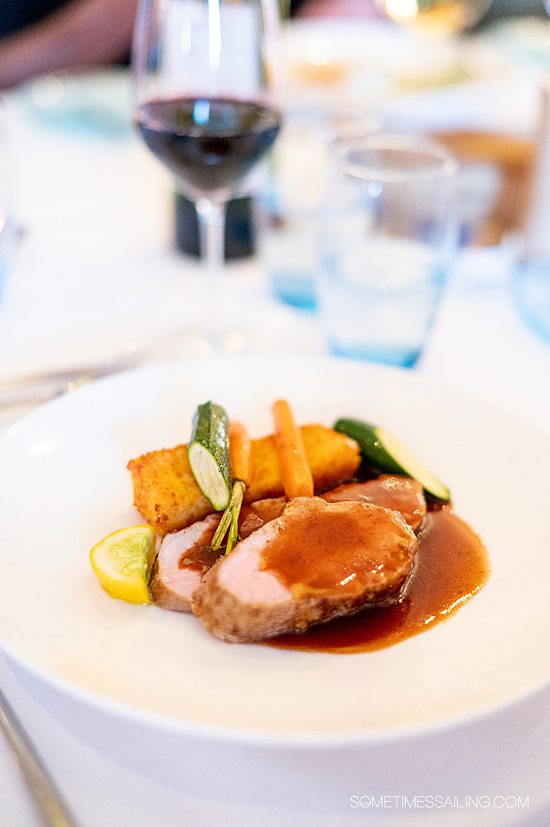 Rivers You Sail during a Bordeaux River Cruise
You sail on the Dordogne and Garonne rivers during your week-long cruise. The river, though clean, has muddy water that gives it a light brown appearance.
Experience a River Tide Instead of Locks
You won't go through locks on a Bordeaux River cruise as you do on a Danube River Cruise. However, you will learn about the Mascaret Tide.
River cruise ship captains need to be aware of the schedule of this unique tide.
Surprisingly, this river tide can be so powerful and large (think five feet, for example) that surfers can ride the wave. Additionally, due to the power of the Mascaret, the ship needs to untie from the dock to allow the vessel to move with the tide, as opposed to resisting the movement and risking having the rope lines snap.
There were about five Mascarets during our cruise. Most of them occurred between 2:00 am to 4:00 am, so we didn't feel them, nor did they interrupt our cruising. There was one during the day that we were looking forward to experiencing. However, we ended up being off the ship on a tour during this time.
Fun fact: "Mascaret" is a brewing company in the Bordeaux region, named after the tide. You can find their beer on the shelves of the local grocery stores, Carrefour, which are all around the city. The logo is, of course, a wave.
A Bordeaux River Cruise Does Minimal Sailing
One of the things we realized when we booked this itinerary is that it overnighted in a port three times during the week-long river cruise in Bordeaux. This is rare for a river cruise.
Our itinerary overnight the first evening in Bordeaux, again mid-cruise in Bourg, and again in Bordeaux our last evening on the ship. That is to say, the ship didn't sail because it was docked there overnight. On other evenings, we sailed. However, not for long.
Geographically speaking, you're not covering that many miles on a Bordeaux river cruise. Perhaps this is part of what accounts for the minimal sailing time. And though we imagine the ships could potentially sail more, a lot of people like to be out and about in the port to maximize their time.
And let's face it: fuel costs money for the ship to sail. It's much more eco-conscious not to move, of course.
However, we enjoyed the time we sailed for short lengths between ports. We especially loved the one day that we sailed for the most time. Enjoying the sunshine, blue skies, greenery, and general scenery from the bow of Viking Forseti was heavenly.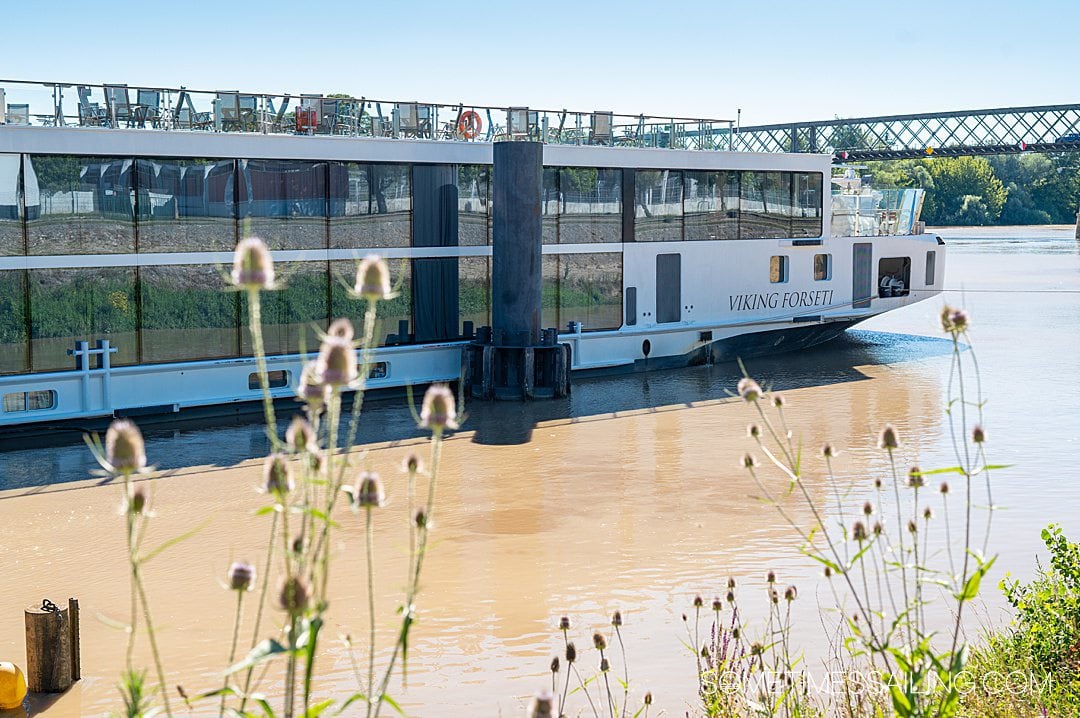 Price of a Bordeaux River Cruise
The starting price of a Bordeaux River Cruise with Viking during March and November is $2,499 per person. That will increase the closer you get to summer. For example, expect prices to start at $3,000 or $3,599 for a July sailing.
Who is a Bordeaux River Cruise Good for?
A Bordeaux River cruise is right for you if you want to explore a fantastic region of France that is incredibly interesting.
A Bordeaux river cruise is for you if…
You are curious about a unique area of France.
You don't necessarily want or need much sailing time on the ship.
You like wine. (Loving wine isn't a must, but we recommend at least liking wine if you sail on a Bordeaux river cruise.)
You don't need the experience of going through river locks.
You are interested in charming, small towns along the Garonne and Dordogne Rivers.
You are okay with a river being a light brown color (as opposed to the deep blue color of the Danube River).
You look forward to seeing things like castles and vineyards dotting the landscape as you sail in some areas and drive through the countryside on the Viking buses in other areas.
Viking's "Chateaux, Rivers and Wine" cruise isn't necessarily for someone who wants a sommelier's education on wines. So if you think that your affinity for wine doesn't measure up, don't worry about it.
While you might enjoy it more if you like wine (not love, but like) and are curious about it, being a wine-o is unnecessary. If you want to expand your knowledge of viticulture on even a small scale, you'll enjoy the cruise; wine is a huge part of the region's culture.
We think it's also a good first cruise for people who aren't sure about the sailing part or for people who have been on a river cruise in the past and don't need a lot of sailing.
It's important to note that this itinerary does not go that far, distance-wise. As such, it doesn't sail a lot. We were grateful for the one or two ample blocks of time during the week-long cruise when we moved on the river for a little while. But if you're someone looking for a lot of sailing, this is not the cruise for you.
Viking Forseti docked in a port overnight three times. This is contrary to many other European river cruises that sail more. You cover more miles, and you get to experience river locks on other itineraries. This is not the case in Bordeaux.
That being said, we delighted in the French towns we visited. If not for the cruise, we never would have gone to them, much like our barge cruise experience in the South of France).
French people in Bordeaux are lovely! There are a lot of ex-pats living there, too, mostly British and American.
Conclusion of our Bordeaux River Cruise Review
Our one-week river cruise in Bordeaux aboard Viking Forseti was a lovely trip during which we saw a beautiful part of France.
Summer allowed the region's vineyards to show off in full splendor. While July's sun was hot, we were grateful for a wonderful vacation spent learning about Bordeaux wines and the history of the beautiful French cities we visited.


Interested in river cruises? Read this next: