Best Boutique Hotel in Ecuador: ILLA Experience Review in Quito
A gorgeous boutique hotel is hiding behind an unassuming, rather plain building facade in Quito, Ecuador. Behind the facade is the best boutique hotel in Ecuador, in its capital city Quito.
We were lucky to stay here when we visited the city and are sharing the luxurious details behind ILLA Experience Hotel, from its awesome restaurant to the rooms, its little flower-filled terrace, and the cultural activities onsite. It is, in fact, the World Traveler Awards winner of Ecuador's Leading Boutique Hotel.
A stay here is a fantastic welcome or farewell to Ecuador before or after a cruise, whether you're heading to the Galapagos or on a cruise of coastal Ecuador.
Disclosure: We may make a small commission from affiliate links in this post (at no cost to you). All opinions are ours, and we bring you genuine content with real facts, photos, thoughts, and recommendations. We thank ILLA Experience Hotel for hosting us. As Amazon associates we earn from qualifying purchases.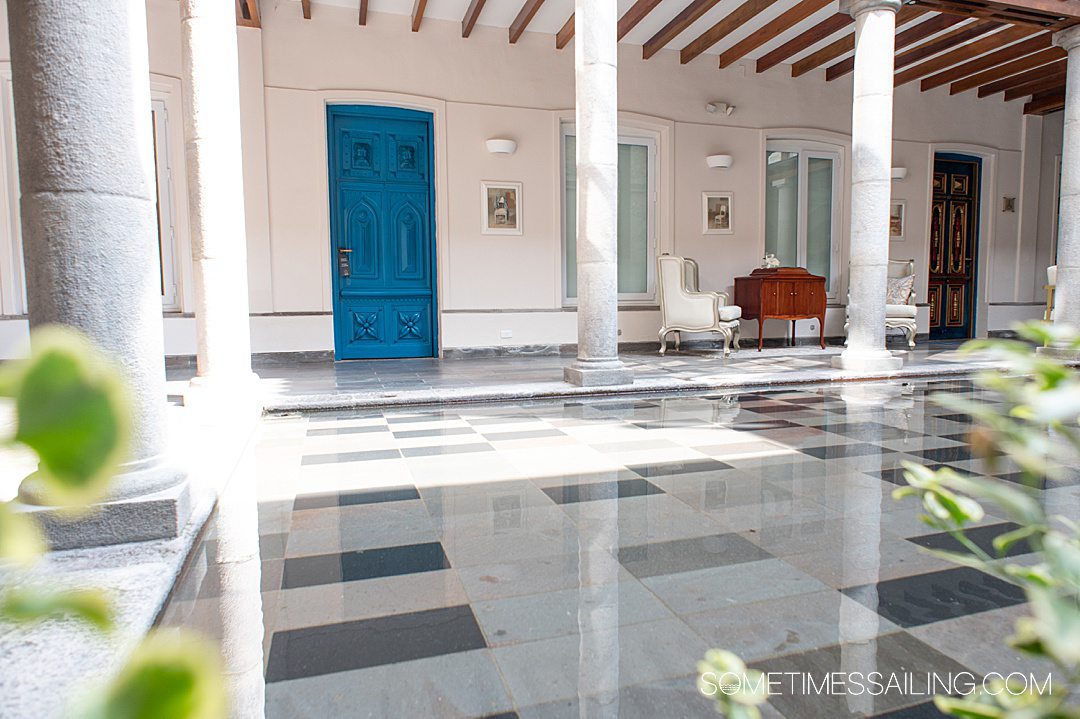 🕐 Short on time? No Problem!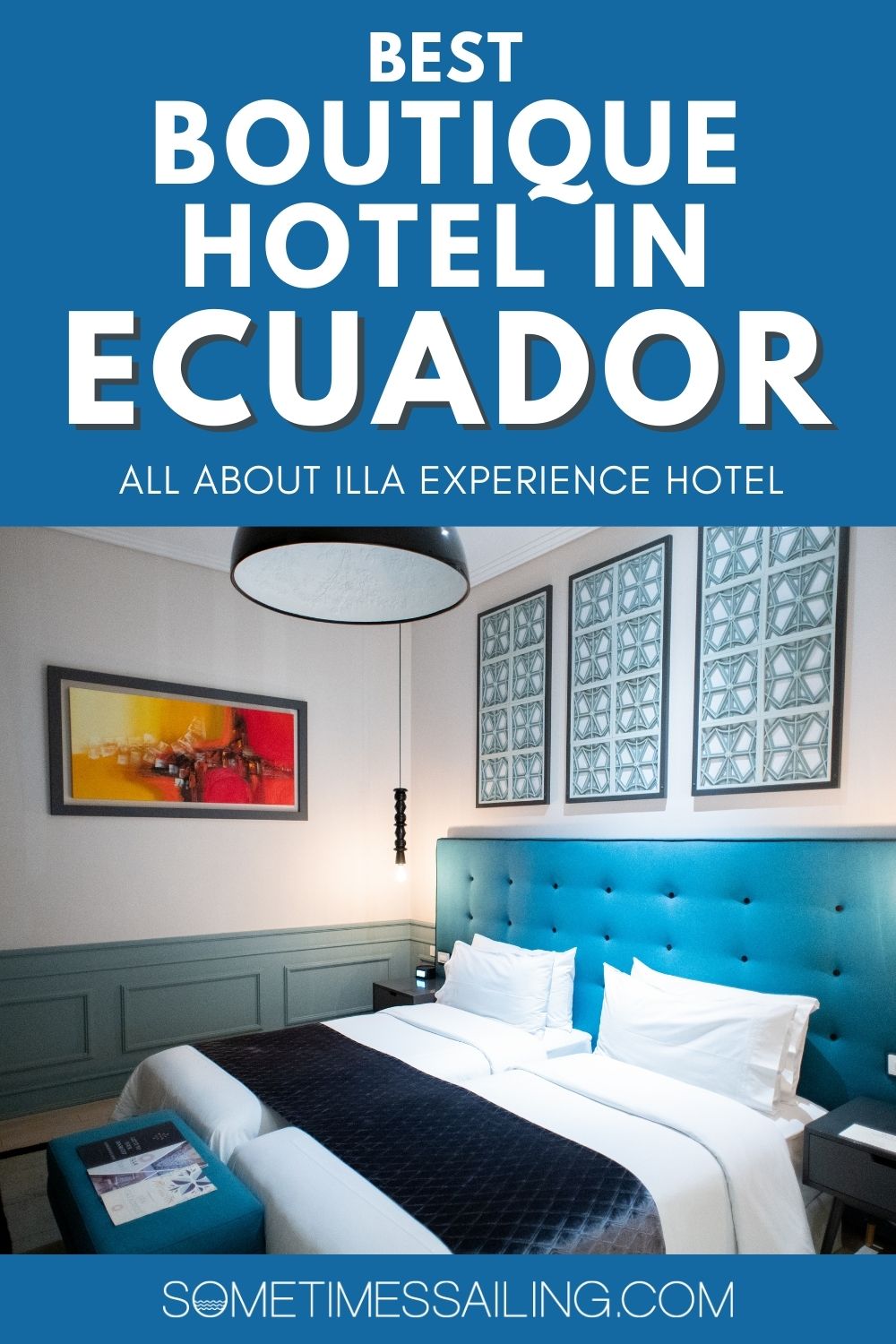 Common/Public Areas of ILLA Experience Hotel
We knocked on the door to enter when we arrived at the hotel. We were let into another world.
Once we walked through the front door and down the steps behind it, a small rectangular courtyard and the hotel's beauty were quickly revealed. A walkway surrounded a shallow pool filled with water on three sides.
A feeling of tranquility swept over us, and we were transported within seconds of arriving; we traversed the outside street-level world to enter a magical boutique hotel in Ecuador.
A few seats were scattered around the courtyard and, beyond that, a front desk. Yet the ILLA Experience Hotel staff was more likely to come around to help us than us having to walk up to the desk for service.
Just past the courtyard was their wonderful hotel restaurant.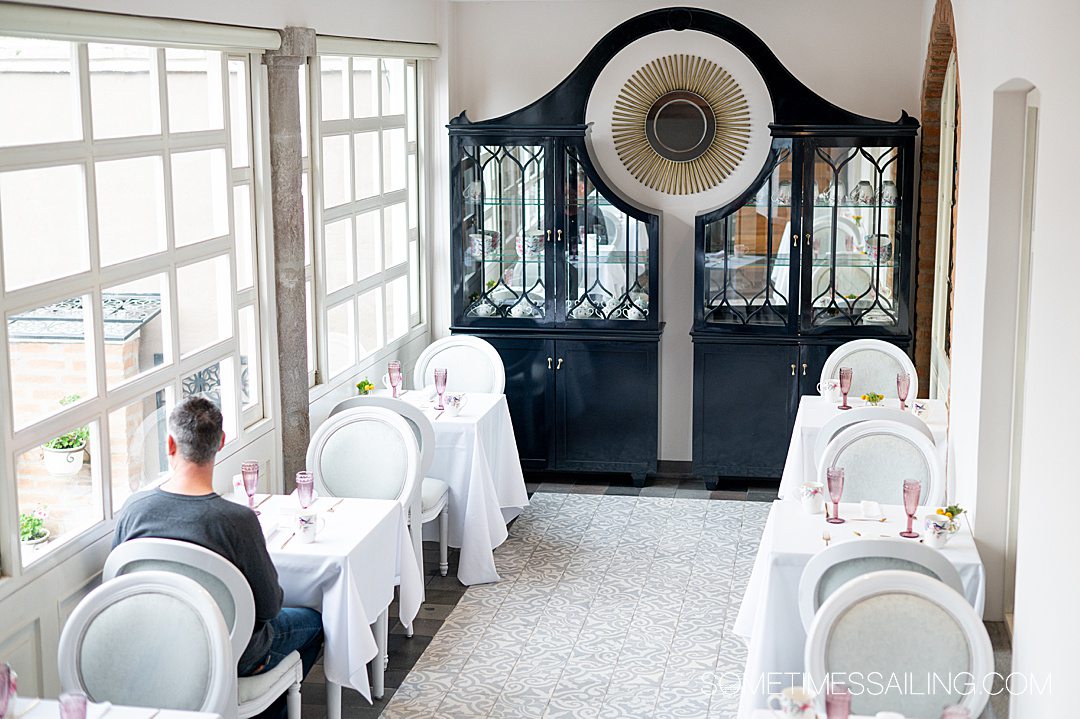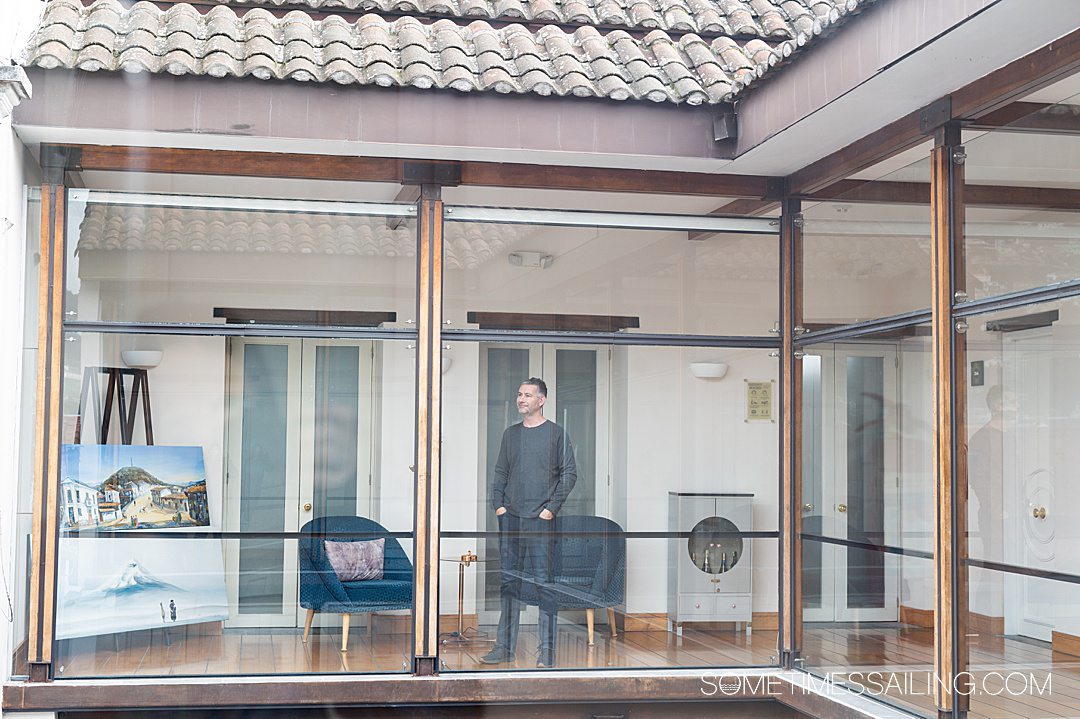 Downstairs was the entrance to a small terrace with a table and chairs and a wall of brightly colored potted flowers. It was a lovely place to read a book or enjoy a glass of wine or tea. Next door was a small wine room and tasting table, where the hotel can host very small events or tastings.
Each floor above the hotel's ground level had art local artists and craftsmen adorning the walls; we admired a chess board near our room every time we entered or exited. There were floor-to-ceiling glass walls in the hallways facing the courtyard, allowing us to look across the building and outside without obstruction.
There was also a small terrace accessible from the second floor; it was another spot for us to enjoy the picturesque view from the boutique hotel.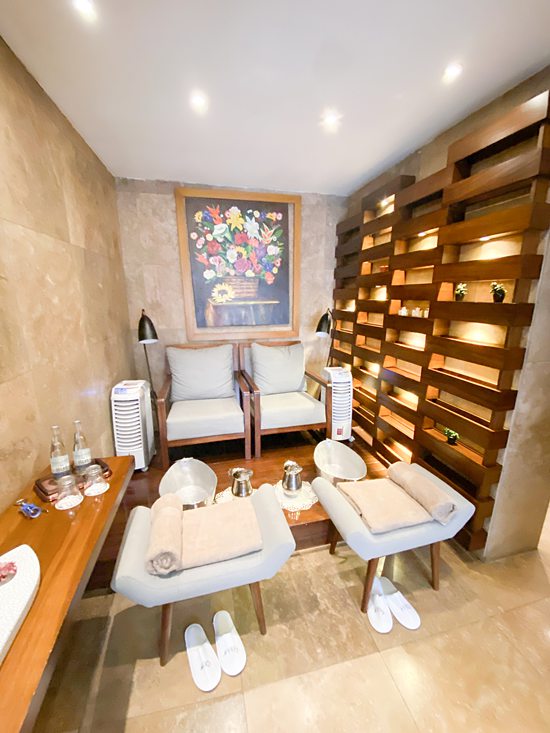 Future ILLA Experience Hotel Pool and Additional Terrace
The hotel opened in 2017. Since then, it's attracted travelers from around the globe looking for a luxury boutique hotel experience. As such, they're continuously looking for ways to improve the hotel.
An additional terrace and pool are being added to the boutique hotel in Ecuador; it will be open for guests in 2024 or 2025.
Know you want to book? Time is of the essence! Secure one of the few rooms at this boutique hotel in Ecuador now.
Unique Ecuadorian Experiences at ILLA Boutique Hotel
There is an artisan at the hotel every day, whose purpose is to showcase a different Ecuadorian experience from 5:00 to 7:00 pm. Enjoying the local artisan experience, viewing the person expertly build his or her craft, is included in your hotel stay and part of the ILLA Experience.
The hotel tries to connect neighborhood artists and visitors so non-citizens can better understand the local crafts. We saw one artist woodworking in what Ecuadorians call "pyrographing," or what we call woodburning.
We also met Gladys, who makes local sweets. She was raised in the Amazon region of Morona Santiago in southeast Ecuador. Her specialty is a Quiteño treat called "helado de paila." We saw her combine straw, ice from Chimborazo Mountain, and grain salt to make sorbet from scratch, without any help from, or need for, electricity.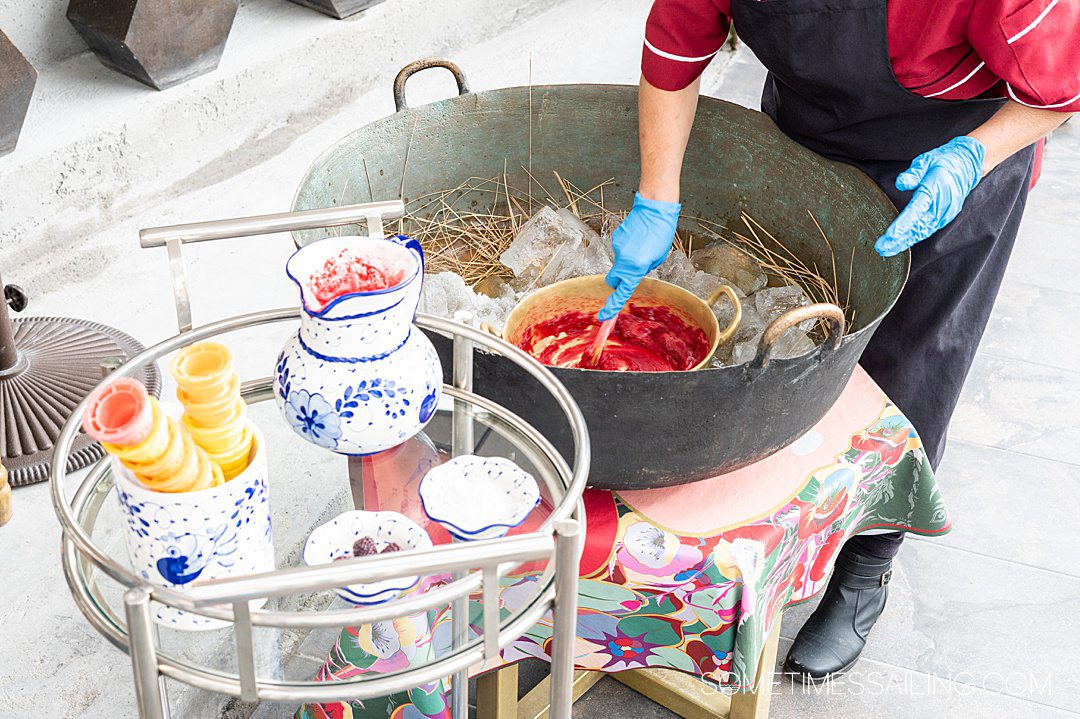 The straw she used insulated the ice, and the salt lowered the temperature of the large metal bowl, which got progressively colder. Once the copper bowl froze, we saw her add juice and work the mixture for 15 to 20 minutes. The liquid froze before our eyes and became a delicious, fresh fruit sorbet.
Seeing these artists at work at this fantastic boutique hotel in Ecuador enhanced our overall experience there. It gave us a better understanding of the coastal South American country.
Location of Quito's ILLA Hotel
This boutique hotel in Ecuador is in a great location in Quito, within walking distance of various sites in the city's historic center. For example, it's a 5-minute walk from Plaza de Santo Domingo. And it's just a 10-minute walk from the hotel to ​​San Francisco Catholic Church, one of the most popular landmarks in Quito.
The hotel is secure, and you must ring a bell outside the main door to gain entry.
Shuttle Service Between the Airport and ILLA Experience Hotel
You can opt to book a shuttle between the Quito airport and ILLA Experience Hotel. It costs $80, including taxes; the airport is approximately 45 minutes outside of Quito.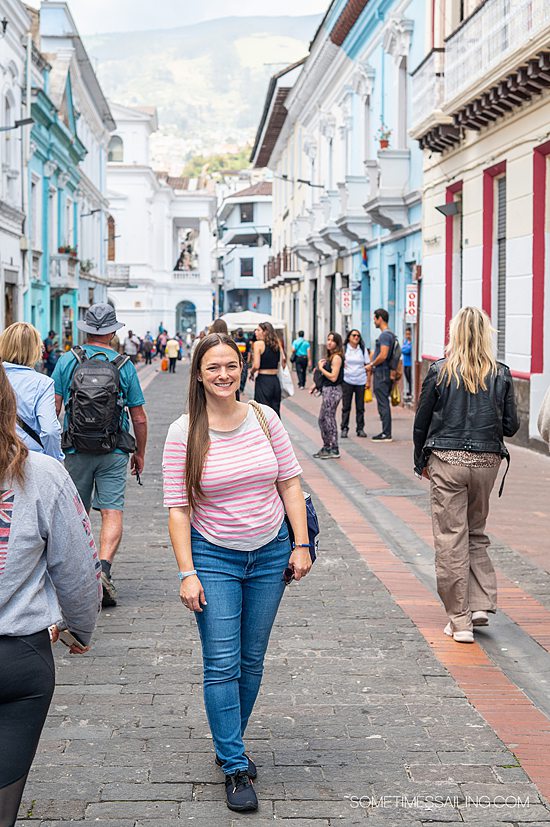 Review of Our ILLA Experience Hotel Room
There are only ten rooms and suites at this boutique hotel: three on the first floor (Colonial floor), three on the second floor (Republic floor), and three on the third floor (Contemporary floor).
Our room was the spectacular Contemporary Panecillo suite on the third floor. Two large windows near the bed overlooked the famous Quito monument, the Panecillo, a hill with a 147-foot statue of the Virgin Mary on top. We were welcomed to Quito with an illuminated nighttime view of the statue. It made quite an impact!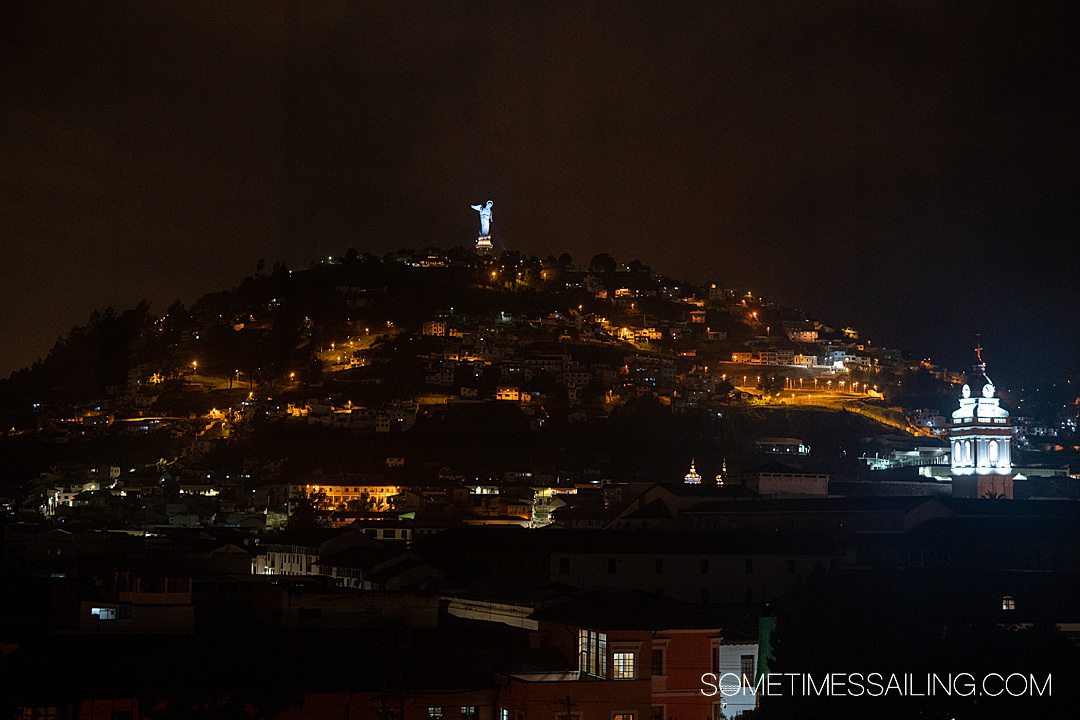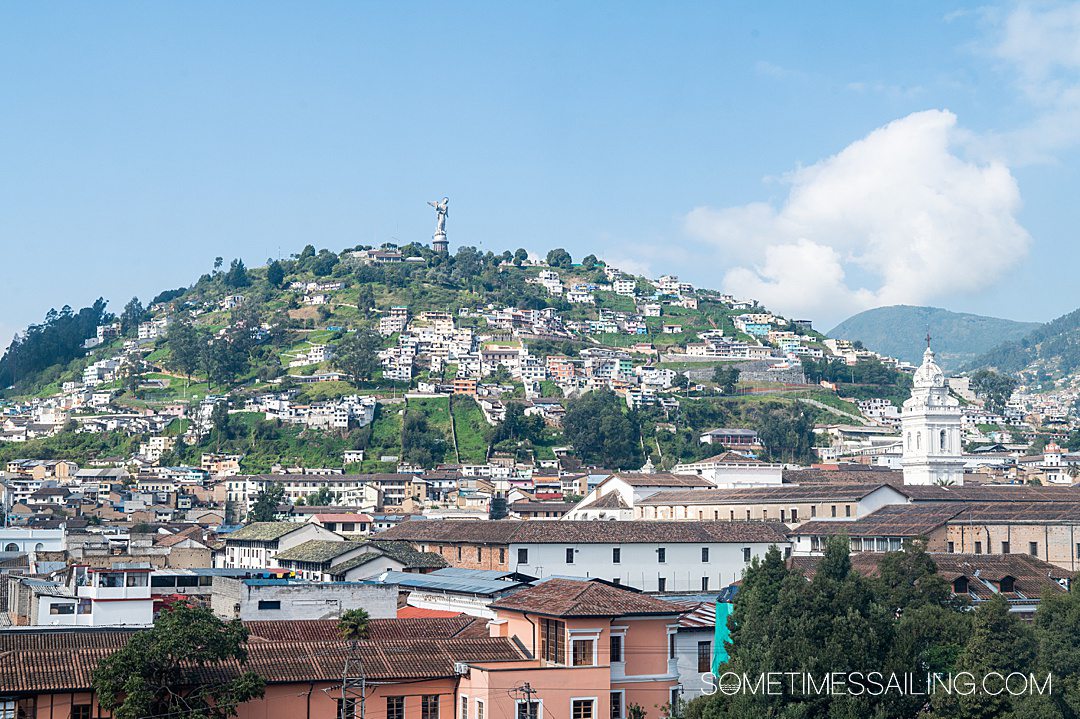 Suite Bedroom
The room had two double beds that were pushed together for our stay. They can also be separated to provide separate double beds. Perpendicular to that was a desk and desk chair, with bottled, filtered water set upon the desk. 
There was an outlet on either side of the bed with two USB plug outlets. Cookies and hot tea were awaiting our arrival in the bedroom. The hotel staff informed us that the tea was to help with digestion before bedtime; it was a thoughtful touch from ILLA Experience Hotel.
There is also an ottoman in the bedroom, two bedside nightstands, and a closet with a safe.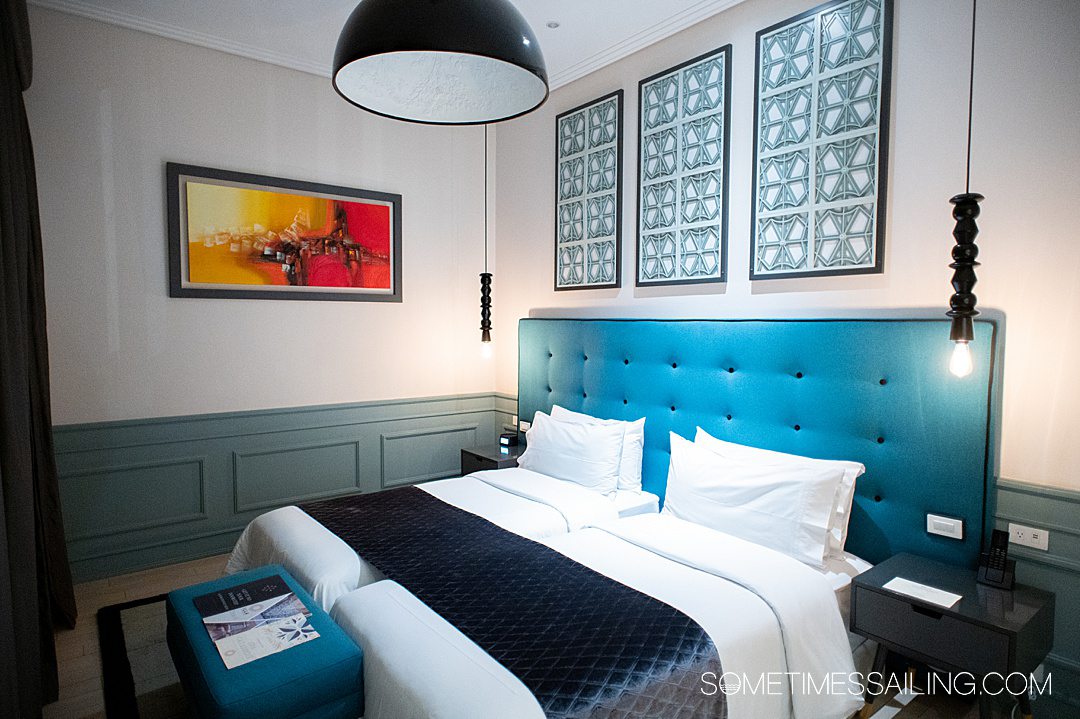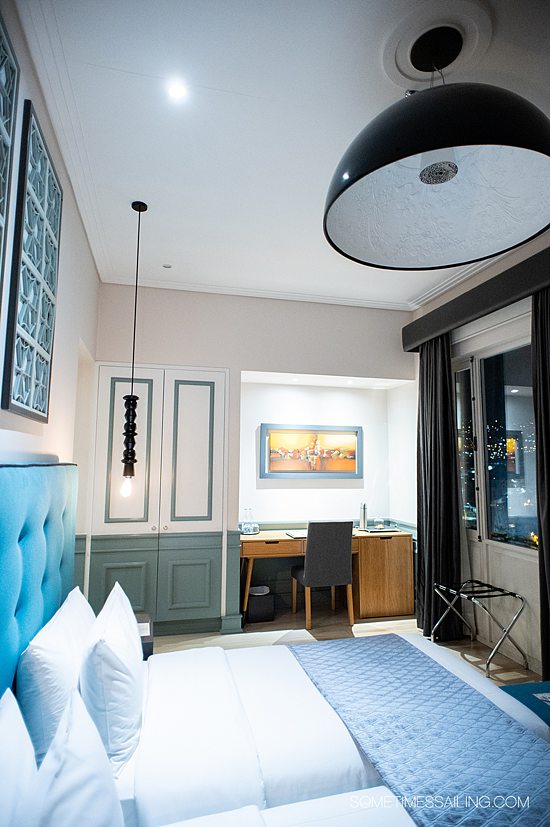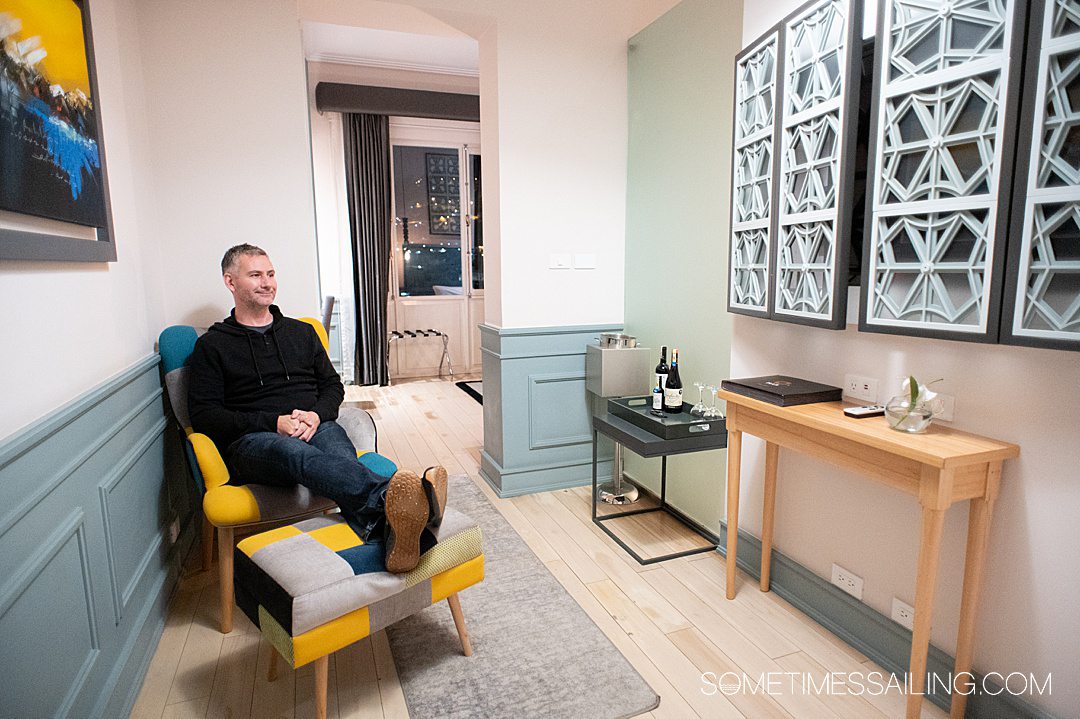 Suite Sitting Area
A sitting room that connected the bathroom and bedroom had two chairs and footstools in it. A TV was hidden behind a decorative cabinet. Wine, for purchase, sat on a table in this sitting room with a Black Book next to it. The book shared the hotel's history and mission, as well as practical information about the hotel and the area.
Suite Bathroom
The large area that was our bathroom was absent of a door. Here, we found two sinks and a large bathtub with a faucet and shower head. The toilet was in an enclosed space with a door, as was the shower in an adjacent space.
Motion-detected automatic lights controlled the shower light and toilet light. There were also motion-activated lights underneath each sink and an outlet by each sink, along with two USB ports. 
The hotel provided a disposable razor, comb, shower cap, cotton swabs, and cotton pads on a mosaic tray by one sink. L'Occitane brand bath products are in each room, including shower gel, shampoo, and conditioner.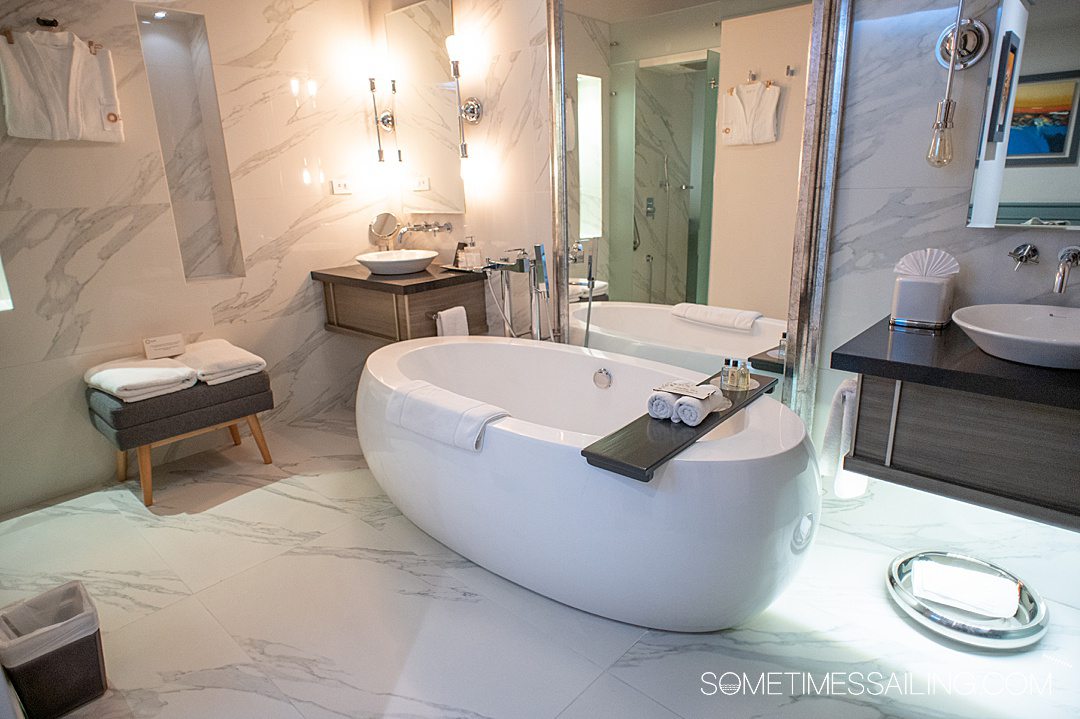 Spa and Gym at the ILLA Experience Hotel
The hotel has a small spa that can accommodate one to two guests. All hotel guests are welcome to delight in their Jacuzzi. You can sign up for a treatment, like a massage or reflexology, for an additional cost.
The gym is small but has a treadmill and some weights for an everyday workout.
ILLA Boutique Hotel: InÉs Restaurant Review
Experiencing the food and presentation of the courses at the hotel restaurant was one of our favorite things we did in Ecuador. The experience really impressed us.
It was by far the best meal we had in Ecuador during our vacation. Though we were only in Quito for a few days and Ecuador for approximately eight days during a longer trip, including a yacht cruise, we found nice restaurants serving Ecuadorian cuisine were very hard to find. 
However, ILLA Experience Hotel has a fantastic restaurant. Breakfast was great and filled with local fruits and savory breakfast dishes, but dinner was the real standout out of our two meals.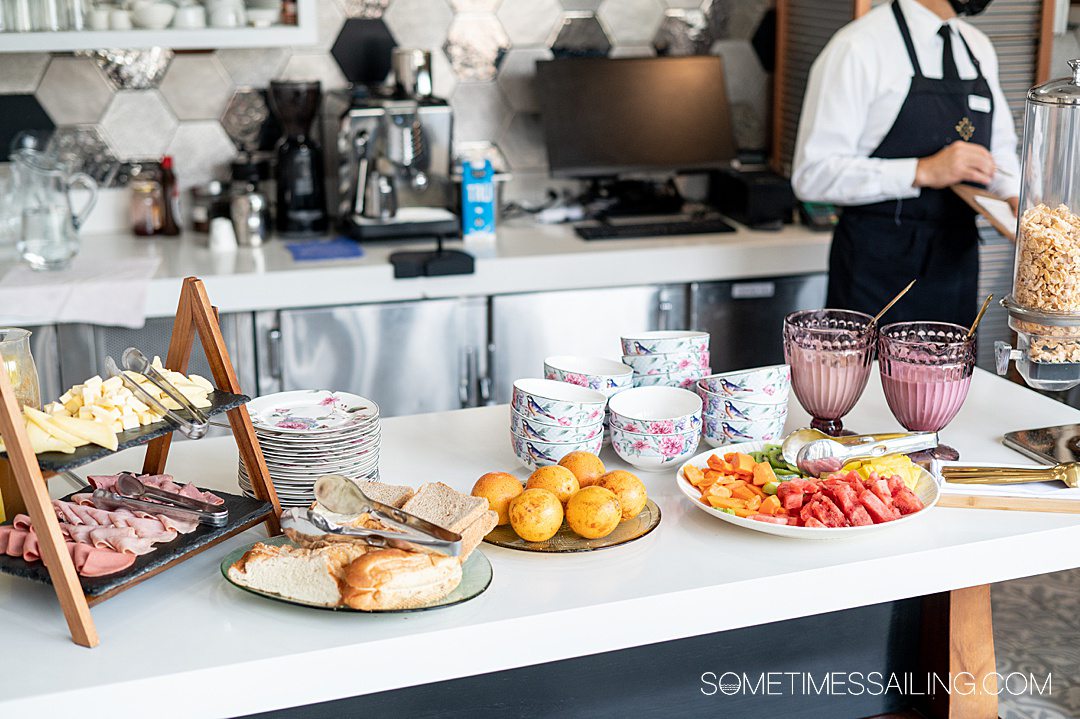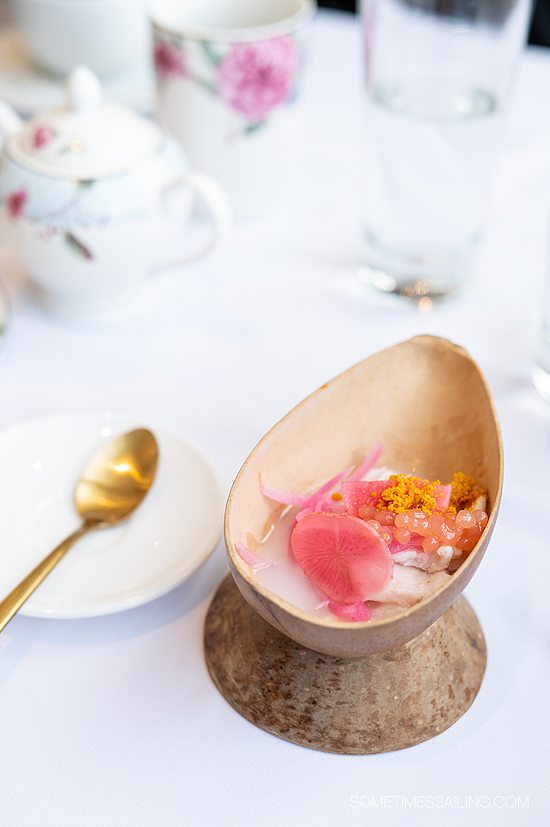 Dinner was filled with Ecuadorian recipes, including some from head Chef Juan-Carolos' grandmother. The restaurant name, INÉS, is in her honor.
Course after course wowed us in taste and presentation. The 9-course menu changes every six months, and all the cutlery and plates are carefully selected per course. They were beautiful; we appreciated the attention to detail immensely.
No matter when you visit, the menu will always have a story. For example, the fall 2022 menu focused on mothers and grandmothers and their connection to nature.
Whether or not you're able to stay at this boutique hotel in Ecuador, we encourage you to book a dining reservation at Inés. It was an Ecuador vacation standout.
Exactly What We Ate at Inés Restuarant at ILLA Hotel
Though the menu changes every six months, we're sharing some of what we ate during our course-by-course dinner so you know what types of flavors you can look forward to.
Alajuela: Peanuts, Pork, and Plaintains with a Special Ecuadorian Spoon
Our first course was an absolutely beautiful dish called "Alajuela." Ala for "wing." With this dish, we quickly learned that peanuts are a common part of the Ecuadorian diet in the country's lowlands. 
Thin homemade plantain chips served as the dish's "wings." They held a mixture of pulled pork and peanut sauce. A side of chili sauce was made from a tree tomato, a fruit unique to countries in South America, including Ecuador and Columbia. A sauce made from peas and pieces of dehydrated carrots accompanied the wings.
The dish was served with a spoon from Ecuador's lowlands, which sat on a bed of maize, or corn. These unique spoons are crafted from the fruit of a plant similar to a calabash squash, like a gourd. Though locals use the fruit to make spoons, they don't eat it. They only use it to make this utensil.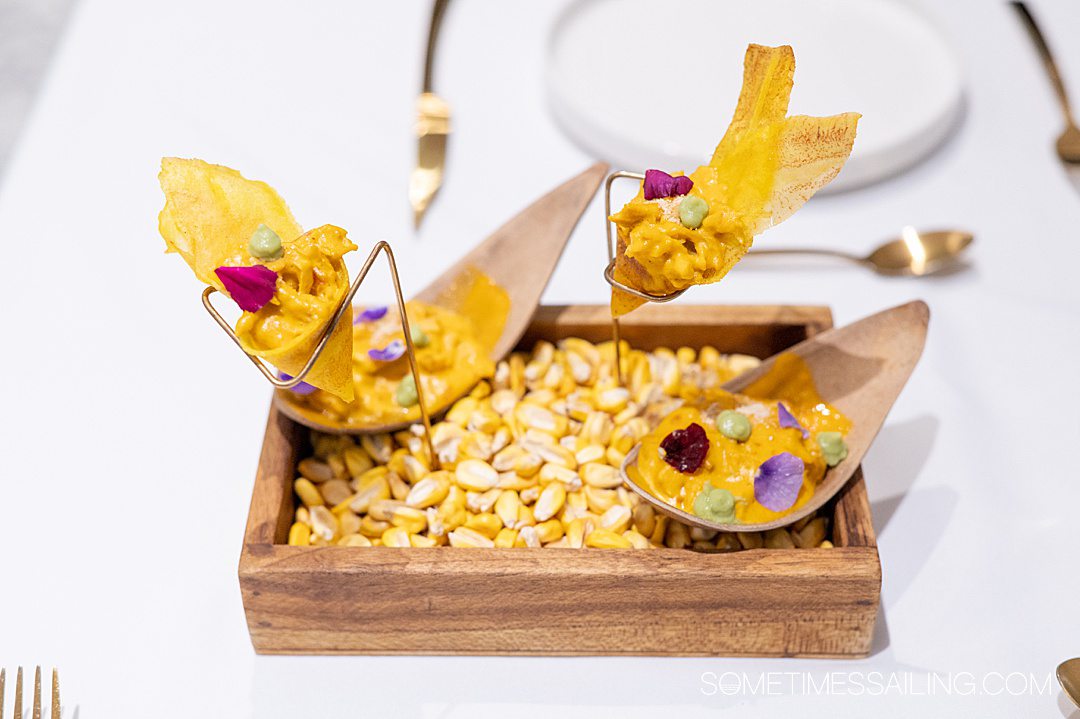 Alpaca Croquettes with Cherry Wood Smoke
Our next dish was an ode to lowland Ecuadorian homes. Residents invite others inside to share their lives, including to share a meal. Often, kitchens and houses smell of cherry wood. This Ines restaurant dish used cherry wood smoke to flavor what was inside: Alpaca croquettes.
Alpacas are native to Ecuador. The smoke was representative of the homes but also the clouds and fog that often covers the lowlands in the evenings.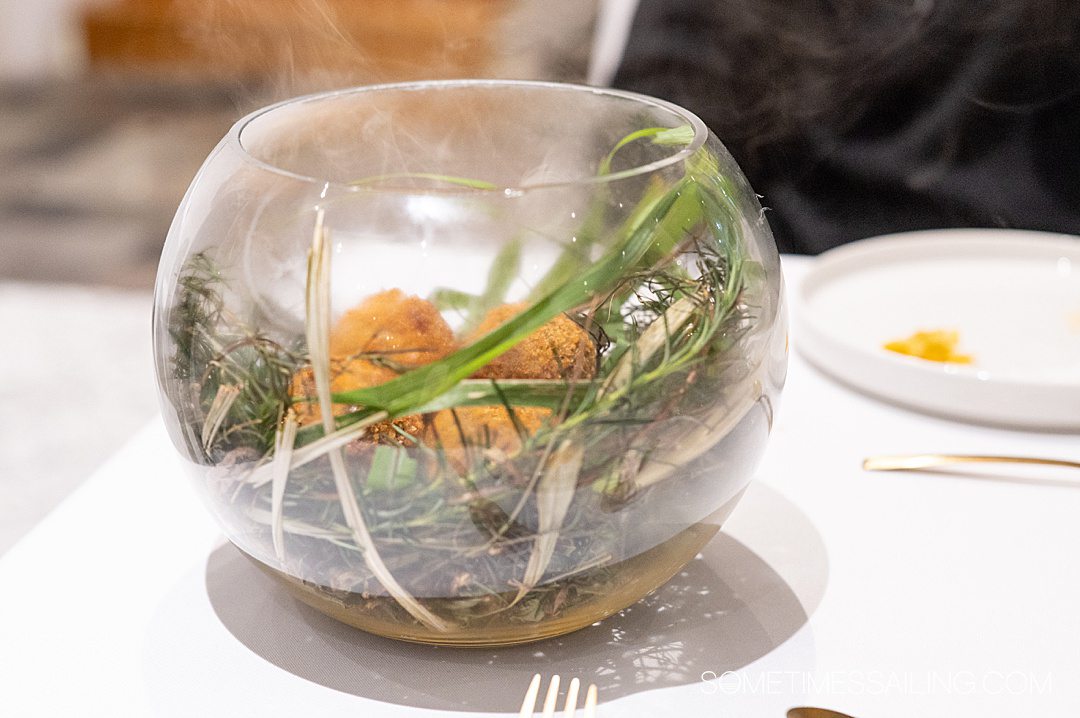 Duck with Peanut Foam
This course contained leaf-wrapped, steamed duck with peanut foam, served with local Ecuadorian rice.
During this course, we learned about the climate of South American countries. For instance, Peru and Chile are dry. But countries north of the equator are green, like Ecuador. This allows the country to be self-sufficient with rice farming, like in the Guayaquil Pacific lowlands, hence the rice served with the dish.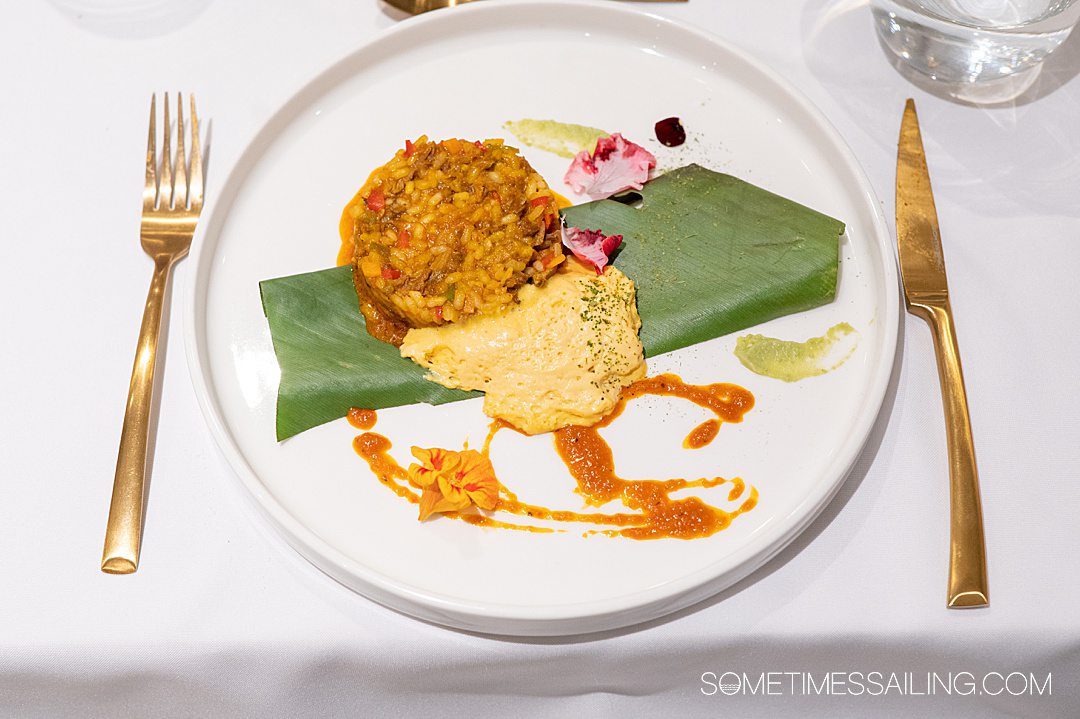 Fish from the Pacific
Our following course was a fish course made with white fish and served with rice in coconut milk. In Ecuador, they call it Corvina, but we more readily know it as Sea Bass. The protein was from the Pacific coast, where Ecuador's famed Galapagos Islands are located.
A granulated mixture was served with it. It's something everyone in Ecuador has on their tables to eat with fish. It was made from roasted, granulated peanuts and salt.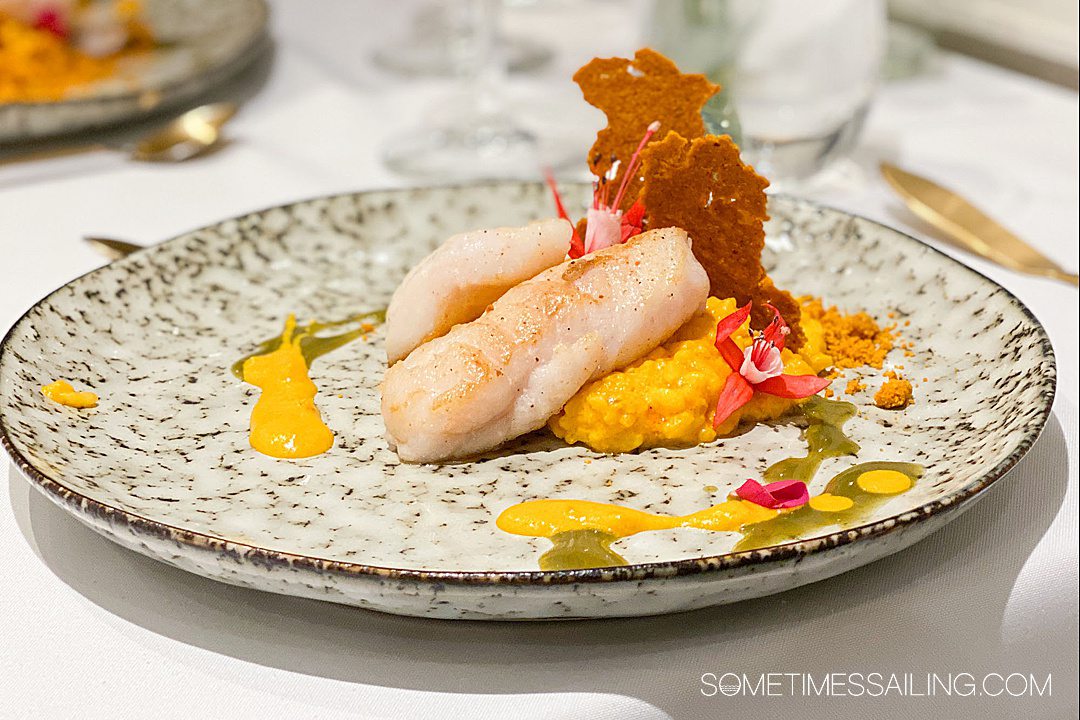 Flavorful Ecuador-Inspired Dessert Finish
We had two desserts that were each rich in taste yet not heavy.
The first of two desserts was a ginger and lemongrass sorbet with coconut dust and vanilla meringue. It was delightful!
Secondly, we had a "Vielha (journey) de Cacao" or Cocoa Journey. The pastry chef was inspired to create this dish after seeing three plants together in the small farms of the Pacific: cocoa trees, maize plants, and banana trees.
The dish consisted of cocoa nibs on a chocolate wafer with a hint of banana, a chocolate biscuit with banana vinegar, chocolate mousse, corn cream, and caramelized corn from the Pacific lowlands.
It was a wonderful finish to a delectable Ecuadorian meal.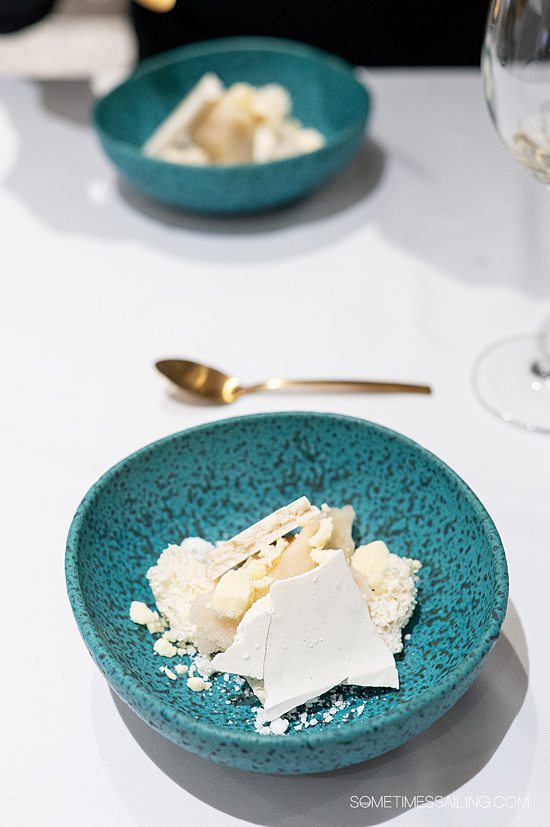 History and Architecture of ILLA Experience Boutique Hotel in Ecuador
An ILLA Experience hotel review must include information about its history and architectural details, which are highlights of the hotel. They contribute to so much of its character.
The house turned boutique hotel was built between the 16th and 17th centuries. Though the home's layout is mostly unchanged, each room is different, allowing guests to choose from various options from the boutique hotel's exclusive rooms.
In fact, you can see photos from this Ecuador boutique hotel's previous life as a family home. The pictures are hanging in the staircases between the first and second floors.
The first floor of ILLA Experience Hotel was designed in a Colonial style. One of the interesting things about it is that all the doors leading to each room are different. Several were donated from churches. Our favorite was a teal blue door with intricate carvings. One of the more ornate doors on the first floor leads to a handicapped-accessible room.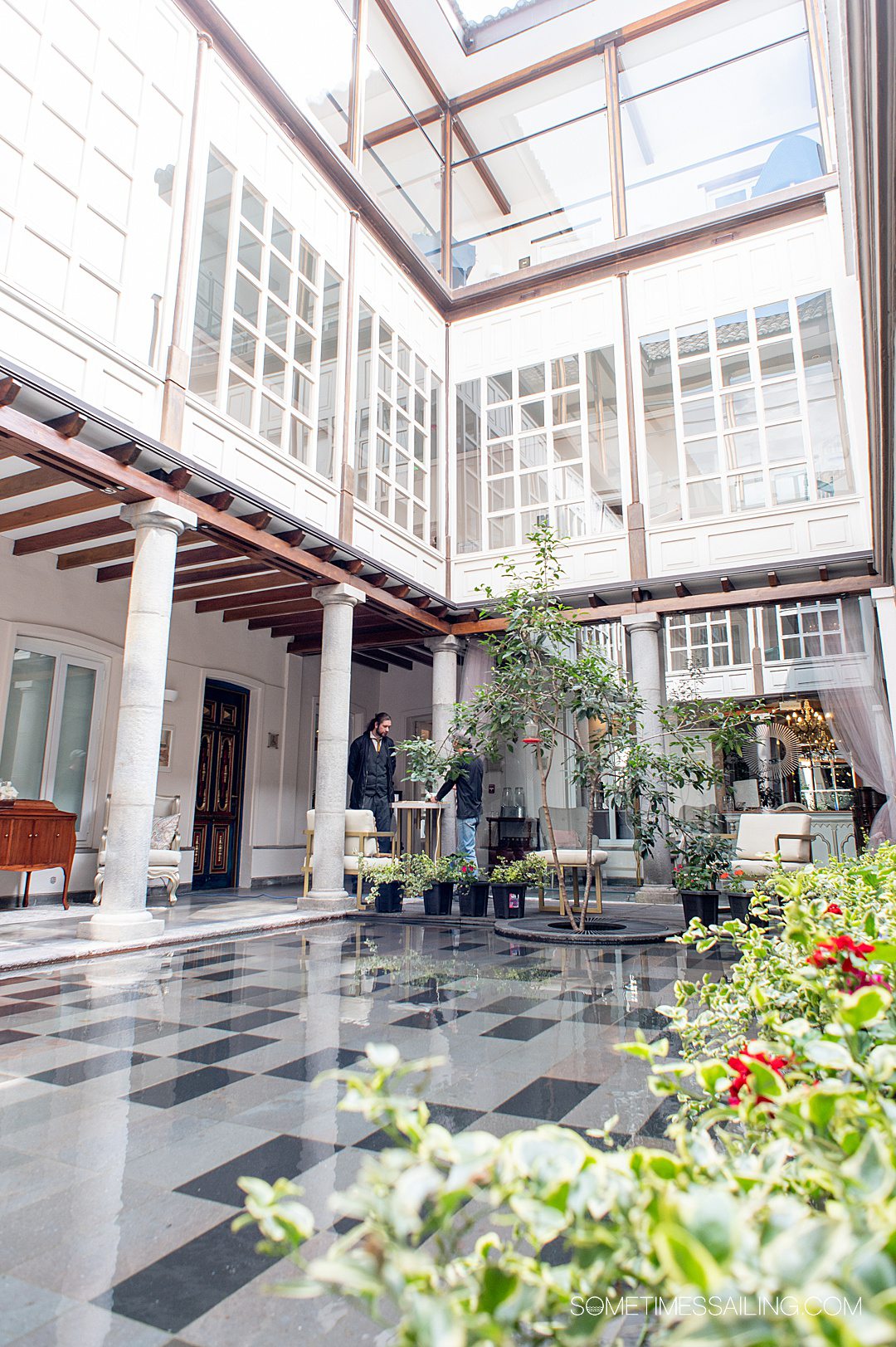 The style of the second floor, we were told, is that of the Republic. During this time, trains ran through Ecuador for the first time. Columns on the second floor are from a train station to honor this time period.
The third floor reflects a contemporary, more modern style. This was the floor where we stayed in our contemporary suite.
Wifi Throughout the Hotel
There is free WiFi throughout the hotel. It's not as strong as our WiFi pocket hotspots we always travel with, though, so we deferred to that while we were at the hotel.
We Always Travel with Our Solis Hotspot
▶︎ Use code "SOMETIMESSAILING" for 15% off your purchase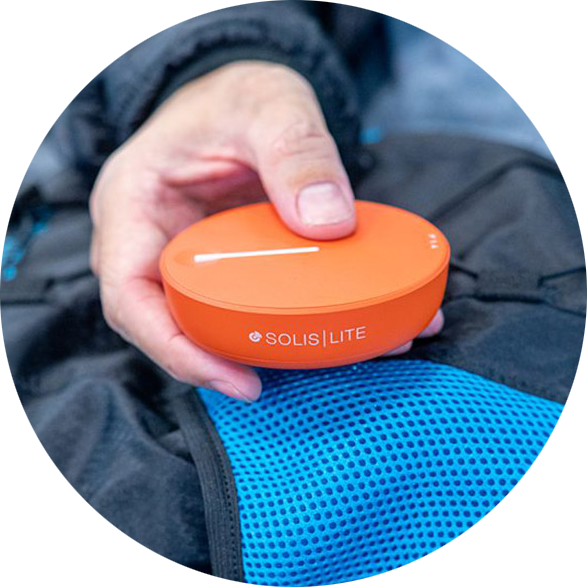 Book Early to Secure a Room at the ILLA Experience Boutique Hotel in Ecuador
Since this boutique hotel has so few rooms, you need to book as soon as you know you're traveling to Ecuador.
Though every room is gorgeous, and you can book a non-suite, you won't regret springing for a suite if you're considering it! Especially if you're going to spend time at the hotel outside of sightseeing in Quito and the surrounding areas.
⭐️ Rating: 9.2 on Booking.com with over 35 reviews
🗝 Known For: Award-winning best boutique hotel in Ecuador
💲Rates start at $361 per night, depending on dates and room type
additional Hotels in Ecuador
We genuinely believe that ILLA Experience Hotel is a unique hotel in Quito. Though there is nothing like it, we know that it has limited capacity as a boutique hotel. Thus, we are recommending two other hotels below.
ADamas House Boutique Hotel
⭐️ Rating: 9.3 out of 10 on Booking.com on over 139 reviews
🗝 Known For: Great staff, located next to the historic district
💲Rates rates at $94 per night, depending on dates and room type
⭐️ Rating: 4.7 out of 5 on Marriott.com on over 430 reviews
🗝 Known For: Upscale hotel with great staff
💲Rates start at $229 per night, depending on dates and room type
Conclusion

ILLA Experience is the best boutique hotel in Ecuador's capital city, Quito.
Of course, we've never stayed in every boutique hotel in the country, but we'd venture to guess it's a contender for the best boutique hotel in the entire country. It continues to win various hospitality awards from guest reviews and travel publications with reason!