Rhone River Cruise Review: AmaWaterways Colors of Provence
Our Colors of Provence cruise with AmaWaterways was a vacation for the books! We saw incredible French towns and cities we may not have otherwise visited, sailed a wonderful route on a beautiful ship, and have everlasting memories from the excursions and time spent with fellow guests during our Rhone River cruise. 
If you're considering this route, our review shares essential info you need to know, including overall information about where the cruise sails and what it's like to sail the Rhone, French ports on the itinerary with some excursions information, about AmaKristina river cruise ship, a general idea of the French food and wine you'll taste, engineering highlights like river locks, and answer FAQs about a river cruise in Provence. 
Disclosure: There are affiliate links in this post, which means we may earn a small commission if you click the link and proceed with a purchase at no cost to you. We thank AmaWaterways for hosting us. We truly only recommend cruises, experiences, products, and services we personally use. As Amazon Associates, we earn from qualifying purchases.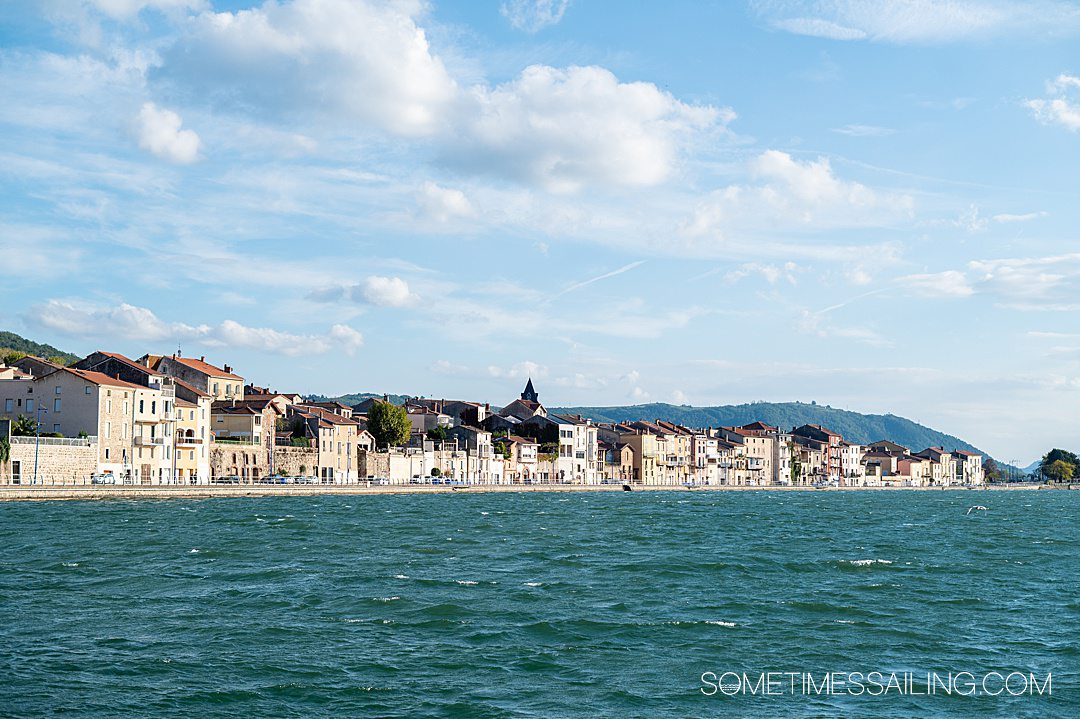 Overall Region Where You Sail During a Colors of Provence River Cruise
When you sail the Colors of Provence itinerary with AmaWaterways, you travel on the Rhône River in the South of France. 
You can sign up for a cruise sailing from Lyon to Avignon, north to south, or select the opposite direction from Avignon to Lyon, south to north. The only difference between them is the river cruise ship's direction and the order of the towns you visit; the itinerary and towns you stop at are the same.
The Rhone River is around 500 miles, but you only sail a portion of it during this AmaWaterways 7-night river cruise. Mile marker "0" (zero) on the Rhone River is at the Confluences in Lyon, which you sail past during the cruise. The Confluence is the point where the Rhone and Saone rivers converge.
Tip: During your free time in Lyon, you can visit the Museum of the Confluences and its adjacent modern neighborhood where the Rhone and Saone Rivers converge.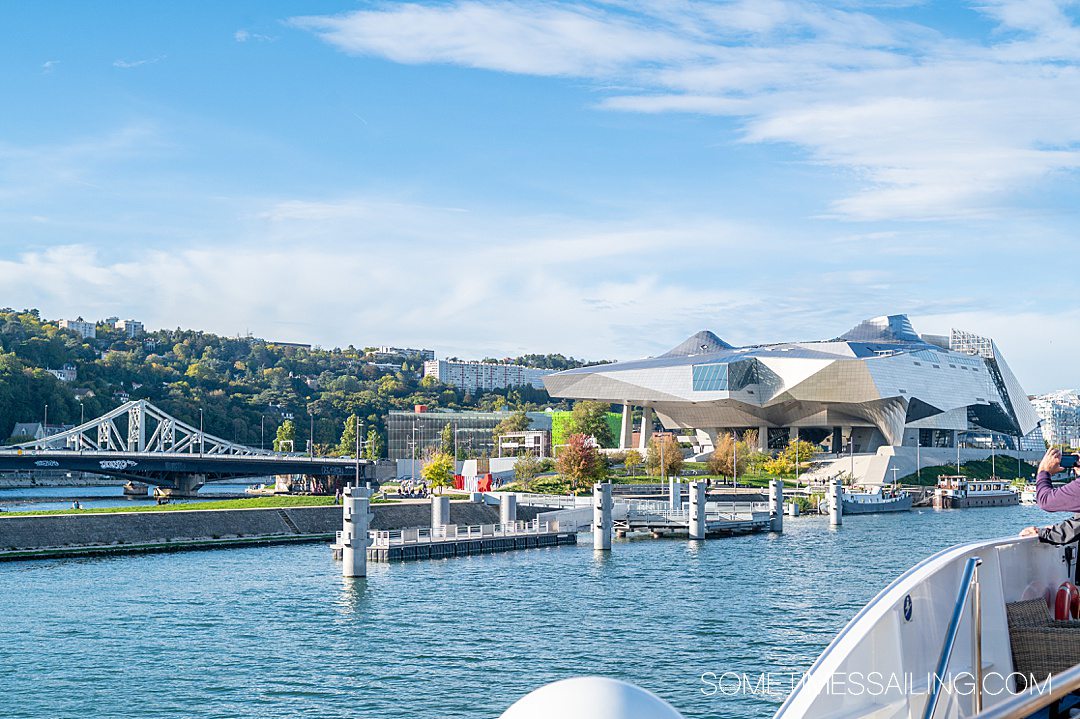 French Port Cities during a Colors of Provence River Cruise with AmaWaterways
You'll sail to and visit lovely French cities and villages on this itinerary, including Lyon, Beaujolais, Vienne, Tournon and Hermitage, Avignon, and Arles.
Excursion options range from food market tours to city walking tours, moderate hikes, wine tastings, and bike tours.
France Tourism and the River Cruise Guests
France is the most visited country in the world. 90M people visit a year, so if you go on a river cruise on the Rhone with AmaWaterways, you'll be one of them!
While 180M tourists in France are French people discovering their own culture (because the different areas of France vastly vary from one another), most of the fellow cruisers onboard AmaKristina were American and British. But don't be surprised if you encounter a lot of French tourists while you're in ports during a Provence river cruise.
The official language in France is French, though most people speak English in the country, particularly if they're in a tourism-related industry.
French people are very friendly, especially in Provence. Actually, we have found that most French people outside of Paris (which is most of the population of France), no matter where we have traveled, from Normandy to Bordeaux, to the South of France, and Provence, make fun of Parisians as if they're their own French breed.
While we have always had positive experiences with French people, including Parisians, you may have heard "rumors" that French people are rude. If so, don't believe them. They are lovely people.
About AmaKristina River cruise vessel
The ship is lovely and the staterooms are beautiful. One of the most impactful visions of the ship is when you enter and see the circular elevator flanked by two winding staircases.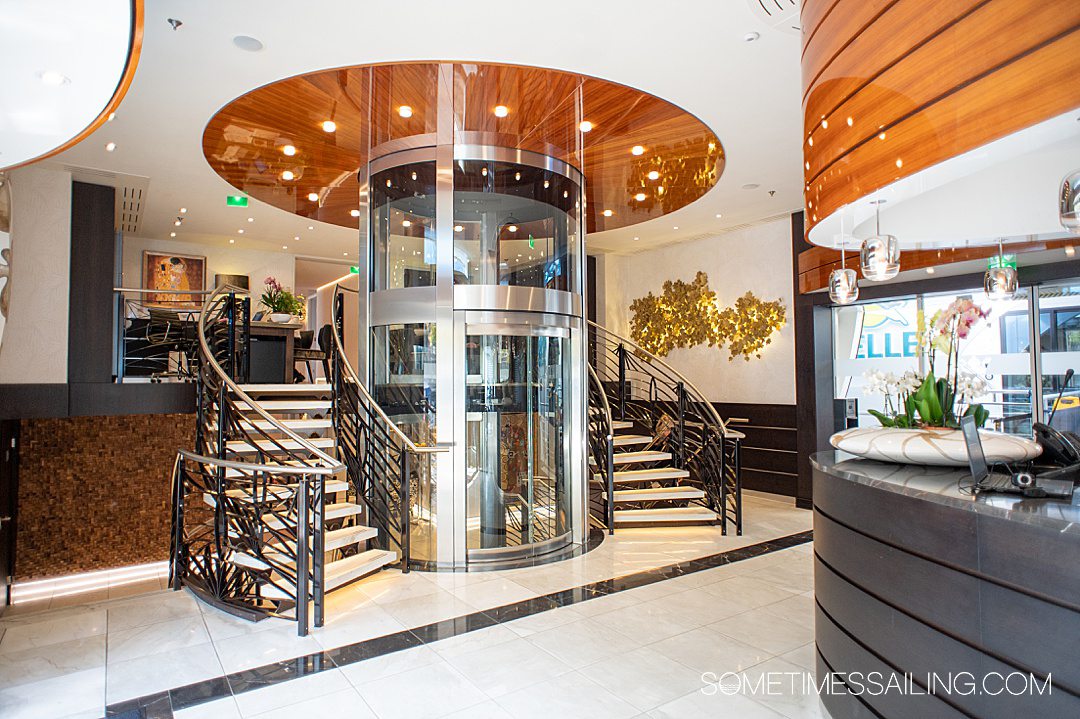 The dining room on the ship is very nice, with booth seating and tables. There are semi-private rooms as well for groups. The common spaces, including the lounge areas and a small library and bar, are great places to relax after a day in port or to enjoy entertainment like listening to the piano player.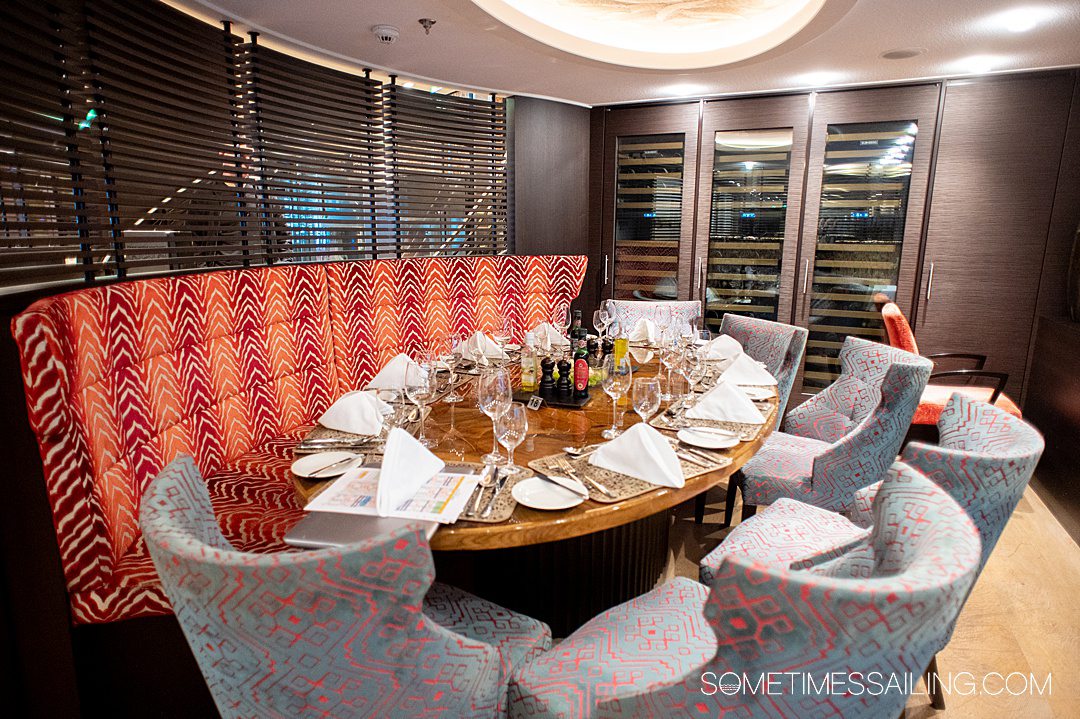 Another favorite area of AmaKrisitna is the Sundeck, which has an outdoor pool and pool bar for when the weather is nice. The ship also has a fitness room with assorted workout equipment, including weights, and a track around part of the Sundeck.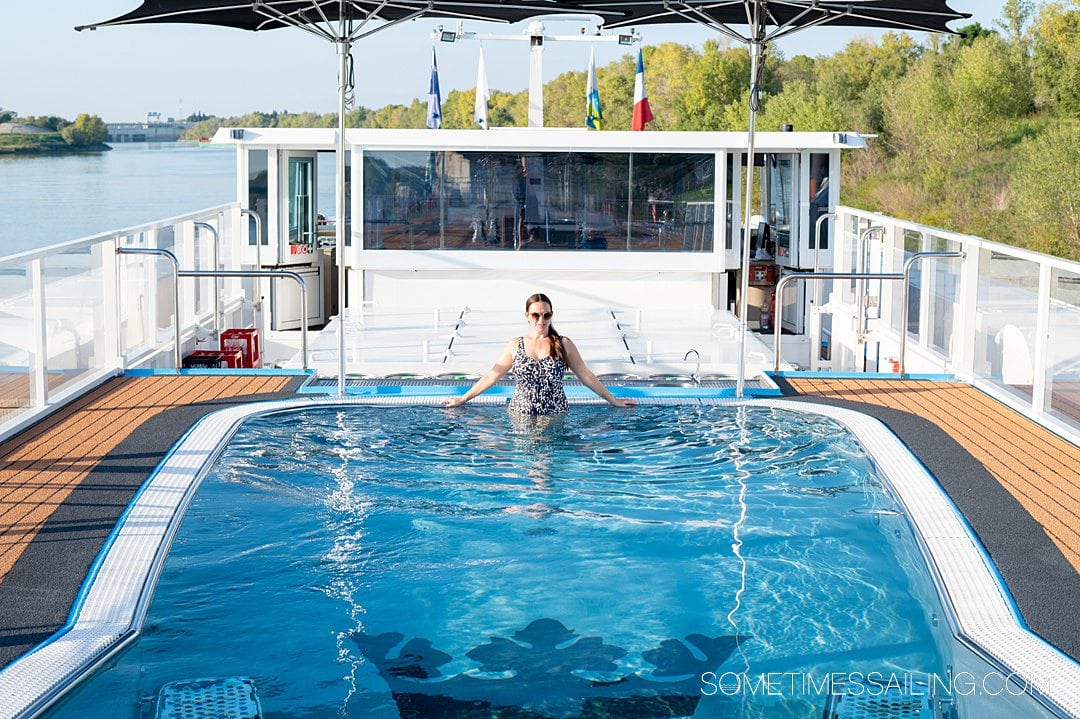 ➤ Read about Amakristina in More depth
Sailing on the Rhone River Aboard AmaKristina
An AmaKristina Provence river cruise review is incomplete without a mention of what it's like to sail on the Rhône River.
We were excited to sail once the time came to leave Lyon. It was worth the wait because it was a gorgeous afternoon to sail. The sun was shining, and the skies were blue as we pulled away from the port, turned away from the attractive Pont d'Universite bridge, and sailed south.
The next afternoon, we enjoyed a beautiful sail through the Rhone River valley after our morning in Vienne. During our October cruise, we sailed past hillside vineyards, castles, and gorgeous foliage turning from green to yellow.
We also passed pretty towns, like the town of Saint Vallier.
France's Rhone River proved pretty to sail, just like the Danube River, which runs through various European countries. 

Scenery During a Rhone River Cruise
We mostly sailed during the evening and overnight on the ship, but there was an afternoon or two we cruised. The scenery is beautiful on the Rhone River. You see some houses along the waterfront, and it's so pretty to see the landscape as you pull into the next port.
French Wine and Food on a River Cruise in France on the Rhone River
During an AmaWaterways Colors of Provence river cruise, you may crave French wine and food. After all, depending on the direction you sail, it starts or ends in France's culinary capital: Lyon!
There is a nice variety of cruise excursions you can choose from that focus on French food and wine. Onboard, you'll find French wine and some French-inspired food options here and there.
You will not feel immersed in French cuisine when you sail on this cruise, like during a land trip to Provence. That's generally true of most cruises, whose cuisine needs to cater to a broad audience.
For us, the cruise is what brought us to the region. But for a truly French experience in the culinary sense, we recommend booking some restaurant experiences on your own in addition to the excursions offered.
The best thing to do is extend your river cruise for time on land with a pre or post-cruise extension. Dan and I did this, and it's when we really immersed ourselves in French cuisine.
In addition, as we explain in more depth below, be sure to go on the Paul Bocuse Les Halles Market Food Tour in Lyon if you're an epicurean or even the slightest bit interested in French food and drinks. It's an included tour option on the AmaWaterways Colors of Provence cruise.
➤ Read Our Extensive AmaWaterways Dining Review 🍽️
Wine Production in the Rhône Region
France is the only country in Europe that is self-sufficient in basic food production. While only 4% of the country's residents work in agriculture, France is the third largest wine producer in the world. In recent years, Spain and Italy have taken the top spots.
The third largest wine region of the 14 in France is the Rhône area, which has 175K acres of vineyards. These vineyards yield 7% of French wines. Bordeaux is one of the largest regions, with 300K acres of vineyards.
French Cheese
During our cruise, we learned that the French consume over 50 pounds of cheese per person per year. They eat a lot of bread and pastries too, but they remain a "slim" nation with a relatively low obesity rate.
While AmaWaterways offers some cheese onboard, we found it wasn't as authentic as the cheese you can get on land. If you want to taste French cheeses, sign up for a food tour before or after the cruise in Lyon, or make sure you take the Les Halles Food Market tour excursion in Lyon or stop at a local market in any French town while the cruise ship is docked to purchase some.
The best is if you can find a French cheesemonger and ask about the cheeses, then decide what you want to purchase. You are allowed to bring the cheese onboard, and there is a refrigerator in each cabin.
We recommend getting a baguette from town if you bring cheese onboard. Baguettes are less than €1 per piece at any market or supermarket you visit in France. Our favorite grocery shop in France is Carrefour; most any sizable French city has one.
Dan and I enjoyed our own little happy hour on the ship once or twice during the cruise, complete with French groceries we bought while in port – cheese and bread included.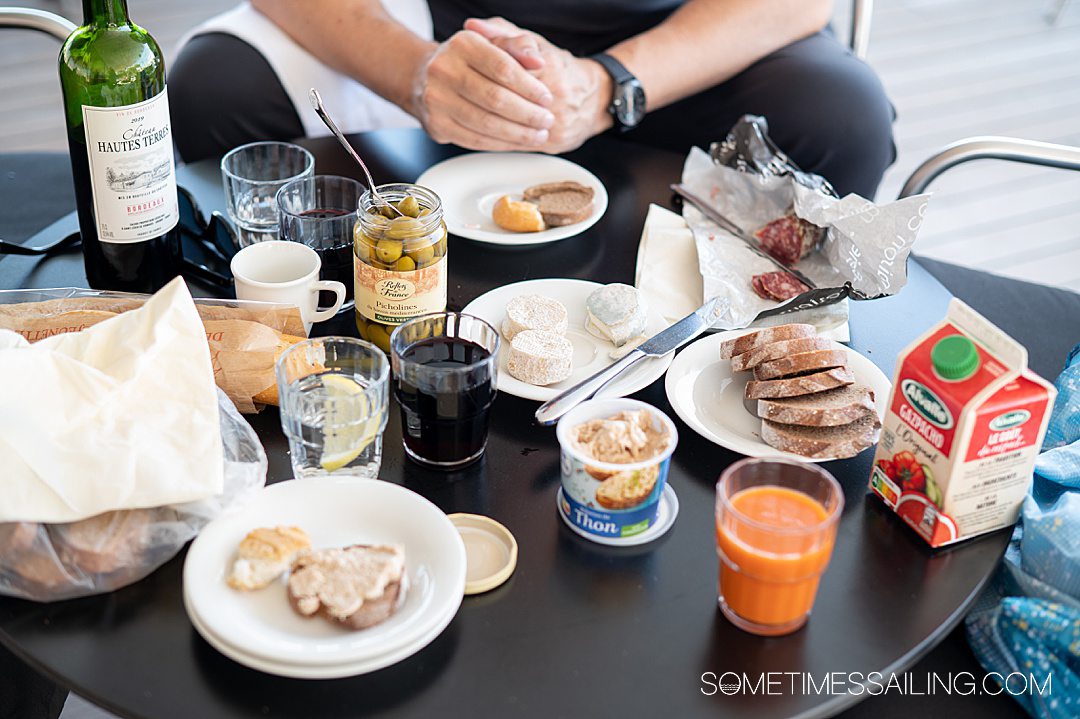 Engineering Highlights via Locks and Power Plants During a Rhone River Cruise
The Rhone River became navigable for modern ships in 1981. The Colors of Provence river cruise traveled 600 feet during the journey, including 12 locks.
The rate of ascent or descent (depending on the direction your cruise is traveling) is approximately one foot per minute. It takes around 30 minutes to travel through one lock. The biggest lock we experienced during the Colors of Provence river cruise dropped us 75 feet (12m).
If you love science, you'll be intrigued to know that the cruise passes three nuclear power plants. Nuclear power is the primary way most of the towns in Provence get power.
Water Levels During Our AmaWaterways Rhone River Cruise in France
One of the things to know about river cruising is that the river's water levels affect whether or not you can sail. Sometimes the water can be too high, making sailing impossible because the ship cannot pass under the low-clearance bridges along the route. Other times, the river's water levels may be too low to sail because there is insufficient water beneath the boat and the riverbed.
If there is a challenge regarding the river levels, AmaWaterways will do everything possible to maintain the schedule and all the excursions guests expect to go on.
Schedule Adjustment to Avoid the Lock Workers Strike
Another unexpected Rhone River challenge had nothing to do with water levels; it had to do with the locks being affected by a strike! During the cruise, the captain smartly adjusted our day's schedule in Tournon to avoid the lock workers' strike.
If you've been to Europe, you probably know strikes are common. During previous trips in recent years, we were affected by a Lufthansa airline strike before our barge cruise with European Waterways and again for our Bordeaux summer river cruise with Viking.
Luckily, AmaWaterways knew a lock workers strike would affect the fifth day of our cruise. Because they knew this beforehand, the captain, Cruise Director, and crew planned accordingly.
They changed our sailing time to work around the lock strike, and none of our tours were affected! The only difference was our all-aboard time one day and where we got back on the ship in Tournon. AmaWaterways handled it beautifully!
Pivoting in Tournon Because of the Strike
As soon as the guests disembarked AmaKristina in Tournon, the ship sailed away to make it to the next location. This smart move was the captain's solution to deal with the strike and stay on course for our Colors of Provence itinerary.
As such, the guests boarded buses to reach the boat from Tournon after our morning tours; the ship was further along the Rhone River after our excursions than where we disembarked that morning.
We took a 45-minute bus ride to reach the ship, which was nothing compared to what could have happened had the ship been unable to navigate two locks before the strike.
The crew and our Cruise Director were outstanding at pivoting and adjusting the cruise schedule accordingly to minimize the strike's impact. The change included more logistics and coordination than most guests probably realized.
While the AmaWaterways crew and officers couldn't control the strike, they managed how they handled it. They were true professionals in keeping us informed and planning for a forthcoming strike.
Because of this, the guests hardly noticed an impending strike that could have very much affected the cruise.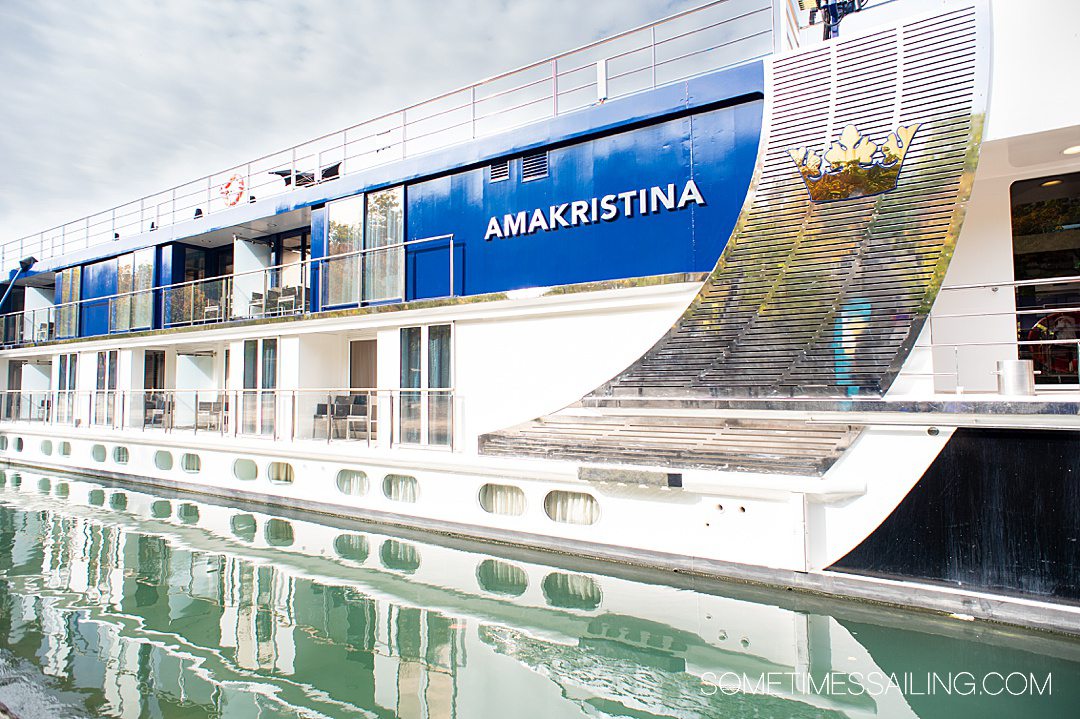 AmaWaterways Colors of Provence Cruise FAQs
Do you see lavender fields on this cruise?
Provence is well known for its colorful lavender fields. We did not sail during the time when the flowers bloom. Thus, we did not see lavender fields at all. We did see plenty of souvenirs available with lavender motifs and scents, though! Lavender appeared on hand towels, as soap scents, and in sachets.
While our minds immediately went to purple lavender fields coating the area when we first considered a Colors of Provence cruise (in fact, "purple" was the color that came to mind), AmaWaterways does not — to our knowledge — offer tours that take guests to lavender fields, even if they're in bloom.
The highlight is the small towns and cities you visit in Provence, not far from the Rhone River, not necessarily the countryside. 
Though you may see lavender fields in the distance if you sign up for this cruise during the summer season, which would be similar to our experience passing some tulip fields during our river cruises in The Netherlands during spring or sunflower fields during our summer river cruise in Bordeaux, do not count on it. 
If you want to be sure you'll see lavender fields during a summer vacation in Provence, extend your cruise with a land trip before or after the journey to venture into the countryside.
Can you buy Herbs de Provence during the cruise and then travel home with the spices?
We love cooking. That's why we had to get this herb blend during our Colors of Provence river cruise! Finding Herbs de Provence blend in most of the towns we visited was easy. The spice blend includes rosemary, thyme, basil, marjoram, parsley, tarragon, and other spices.
It was most affordable at grocery shops in the bigger cities where we could find them and packaged in nice bottles, good enough gift. We loved going to the Carrefour grocery store whenever we could, like in Lyon. The alternative is finding the herbs at specialty upscale spice towns in old town centers or in souvenir shops that sell a variety of keepsakes and trinkets.
And yes, we could pack the herbs in our carry-on luggage or checked bags without a problem and bring them back to the United States.
Is the Colors of Provence cruise itinerary worth it in the fall?
YES! We loved our AmaWaterways Colors of Provence cruise on the Rhône River. Our experience on AmaKristina during this time of year was incredibly memorable. The temperatures were perfect, and we lucked out with sunshine almost daily.
Another fun perk of a fall river cruise in the South of France was the breathtaking autumn colors in the vineyards. We didn't see grapes on the vines because the workers harvested them by October. But we saw how beautiful the fall colors can be when you look out on the expanse of vineyards that this cruise brings you to in beautiful French port cities.
Colors of Provence Rhone River Cruise Conclusion
The cities we visited during this tour and AmaWaterways's service — especially in guided tours and their ability to pivot during a strike — were standouts. In a year that happened to have taken us to the South of France multiple times, this was a phenomenal conclusion to our three cruise vacations in a charming country.
The region's colors were beautiful, from the river to the buildings and shops. The Colors of Provence itinerary is an unforgettable river cruise that everyone should sign up for if they have the chance!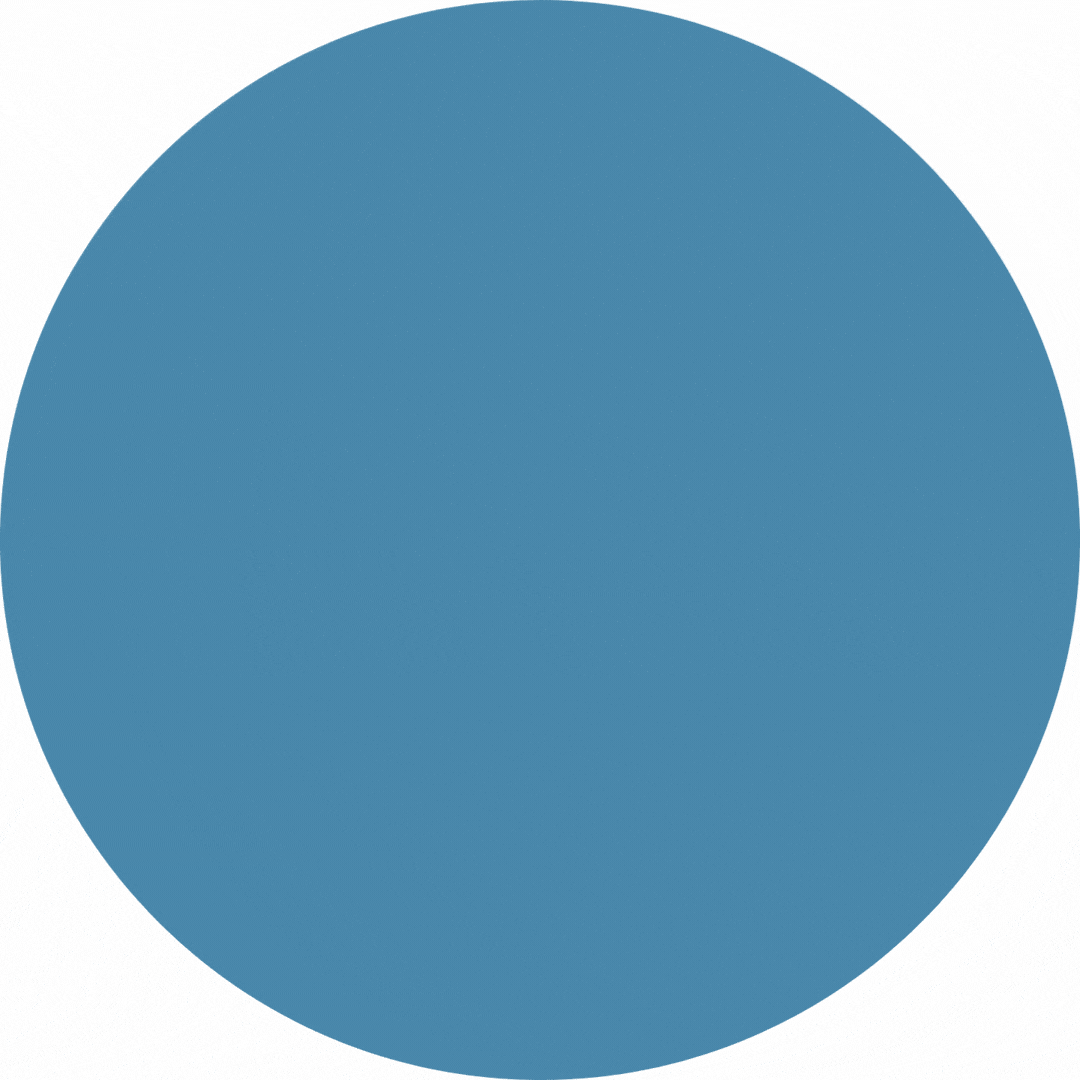 Ready to Book Your Cruise or INquire?
Use our preferred travel advisors, Bolds Travel, Because…