Best Nautical Bracelets, made in the USA by Small Businesses
We love supporting small businesses and products made in the United States, even something as small as jewelry items, including nautical bracelets. As the daughter of small business owners, myself, and because Dan and I both own businesses as well, we staunchly support them.
The need to support small business has, and will always, remain important to us. Additionally, we'll forever appreciate anything that helps us remember our tie to the Earth's environment. This includes oceans, seas, rivers and lakes, no matter if we're sailing on a ship or on land. And yes, jewelry that is themed or connected to the ocean!
The best nautical bracelets we have listed here will help you do all these things as well:
Support small businesses
Support our local economy, in the United States
Remind us of the sea, even as we work at home
We will keep this post updated with the latest and greatest bracelets we discover. So be sure to periodically check back for inspiration and great shopping ideas. We're starting with the best though, with Wildwood Oyster Co, a wonderful female-owned and operated small business based in Maine.


Wildwood Oyster Co. Seaweed Bracelet
Have you walked along a beach looking for natural things the ocean washed up? As you walk along the sandy shore, perhaps you see a bit of seaweed at your feet that you shuffle away from as you try to find the most interesting shells, in shape and colors. Or maybe you dash between loads of seaweed on the beaches of San Diego or Sarasota, Florida, like an obstacle course the ocean's waves set up for you.
Seaweed inspired the creation of this brass nautical bracelet. It was created by the owner of Wildwood Oyster Co, Becky McKinnell. She recalls popping Rockweed seaweed bubbles as a kid. The smoothness of the bracelet takes her back to these seaweed memories, made on the beaches of New England.
Its $138 price point of this brass seaweed bracelet makes it an amazing gift for someone special, or a "reward-yourself" kind of present for yourself. The nautical bracelet has a beautiful shine, and its brass color pairs perfectly with yellow gold.
The metal is a bit flexible, which allows you to tighten it on your wrist so it doesn't fall off. We don't recommend bending the bracelet back and forth too much, however. Brass is pliable but it can break if you bend it too much, like any flexible metal.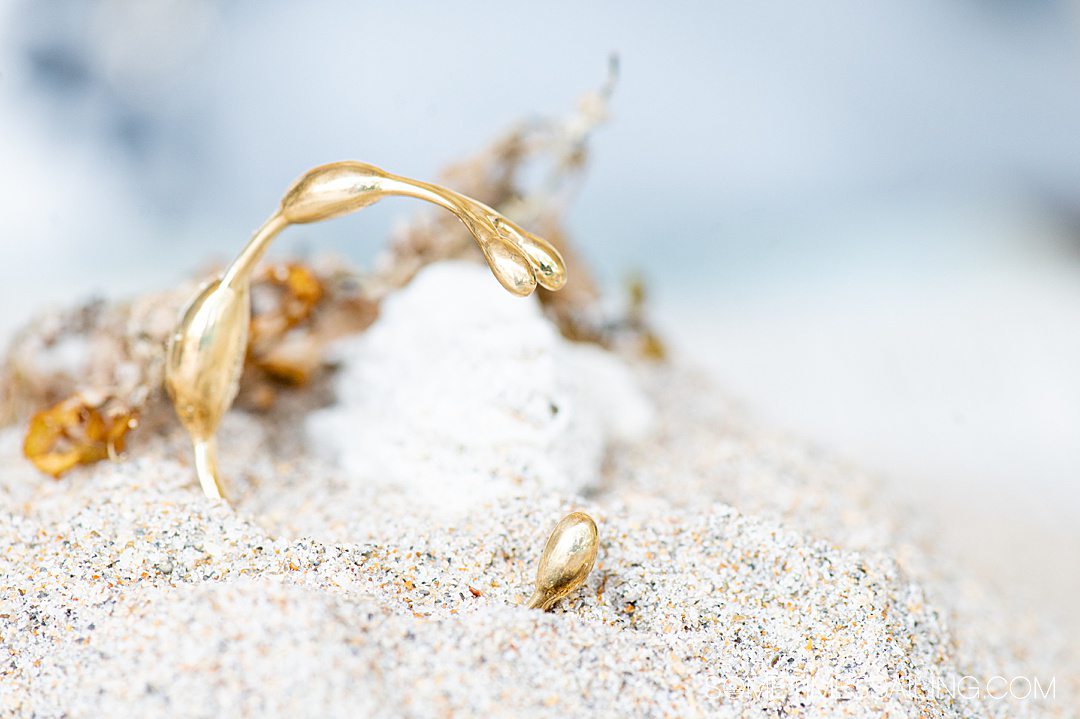 Details we love about the seaweed bracelet include:
You can wear it two ways, with the bubbles on top or the ends on top for two different looks.
It has "inspired by salt air" engraved in the metal on the underside of the bracelet.
It comes with a polishing cloth.
The bracelet is incredibly stack-worthy. Pair it with additional bracelets, whether multiple seaweed bracelets or other nautical bracelets. Stack it in multiple colors, like Stirling Silver, Summer Night Black, or Seaside Teal Patina.
About the Brand behind This Nautical Bracelet: Wildwood Oyster Co.
Wildwood Oyster Co. is based in the USA and is female owned. Their products are handmade in Maine, with some help for final production in Rhode Island. The company supports great causes and philanthropies, like Breast Cancer Awareness, Ronald McDonald House Charities of Maine, and Girls on the Run non-profit.
Q&A with Wildwood Oyster Co. Founder and Owner, Becky McKinnell
Can you share a little bit about your process for creating the seaweed nautical bracelet and your background as an artist?
I have loved art my whole life.
Originally, I went to college at the University of Vermont as a business major. Even though I was taking art on the side there, I realized it needed to have a bigger presence in my life. I was really happy to discover that the University of Southern Maine had a program that combined art and business; that's where I went next.
At USM, I learned the fundamentals of traditional art like drawing, clay, and painting. It wasn't until I was in my late 20s and early 30s that I started thinking about how I could use my artistic skills to be more of a designer, especially for fashion, jewelry, and accessories. At that time I was also designing primarily on the computer for my agency, iBec Creative, and I got the itch to design things using my hands – with salt air as my inspiration.
For these nautical bracelets, I wanted to capture the feeling of the beach, especially the beautiful shape of seaweed. I threw myself into the art of sculpting these seaweed bubbles to capture their magic!
It looks like you first mold the bracelet from clay and then get it made once you're happy with the clay model. Is that accurate?
Yes, it all began with clay! I loved the process of using my tools and clay to make these initial molds. I had so much fun! Although, due to the tremendous detail of my intricate seaweed bubbles, we had to move back over to CAD computer programs to get them exactly right.
I work with a talented partner in Rhode Island for the final phase of production. Since local production is so important to Wildwood Oyster Co., I'm really happy to have fostered such a great collaboration so close to Maine!
Do you have a physical shop anywhere, or sell at any in-person boutiques in New England or elsewhere in the US? If so, where?
We're always excited to meet people that share our same salt air inspiration and have our products in their shops! We keep a list of retailers who carry our products up-to-date online.
For more information and a fun interview with Becky…
Check out an interview with Becky McKinnell on the Makers of Maine podcast, with host Kristan Vermeulen, for even more insight to the company and to find out what Becky and her husband farm! (Which is super cool.)
Additional Products from Wildwood Oyster Co.
We're in love with all of Wildwood Oyster Co's nautical chic products, especially additional things like their leather bags. We have the leather clutch with wristlet and we are so impressed by its incredible quality – both in its construction and materials used. There is texture differentiation on the back side of the clutch, with smooth leather on one side and suede on the other. It's a favorite detail of ours.
You can also swap out the wristlet straps on the bag. We have teal, but we could swap it for another color (like their strawberry pink), or put the leather pull on it that comes with the bag.
This is the perfect bag to grab if you're on a cruise ship and heading to dinner, or you're in port and just need a small purse for your phone, mints and lipgloss for a day trip. (It doesn't fit much but it fits the essentials – which is all you need on a ship!)
Wildwood Oyster Co. also creates additional leather goods, like purses and credit card holders, dock line and leather keychains, and chunky rope necklaces. Be sure to check out their online sets, which helps you save when you buy more.
We also recommend signing up for their newsletter. They send out a lot of deals and special offers, exclusive to their newsletter subscribers.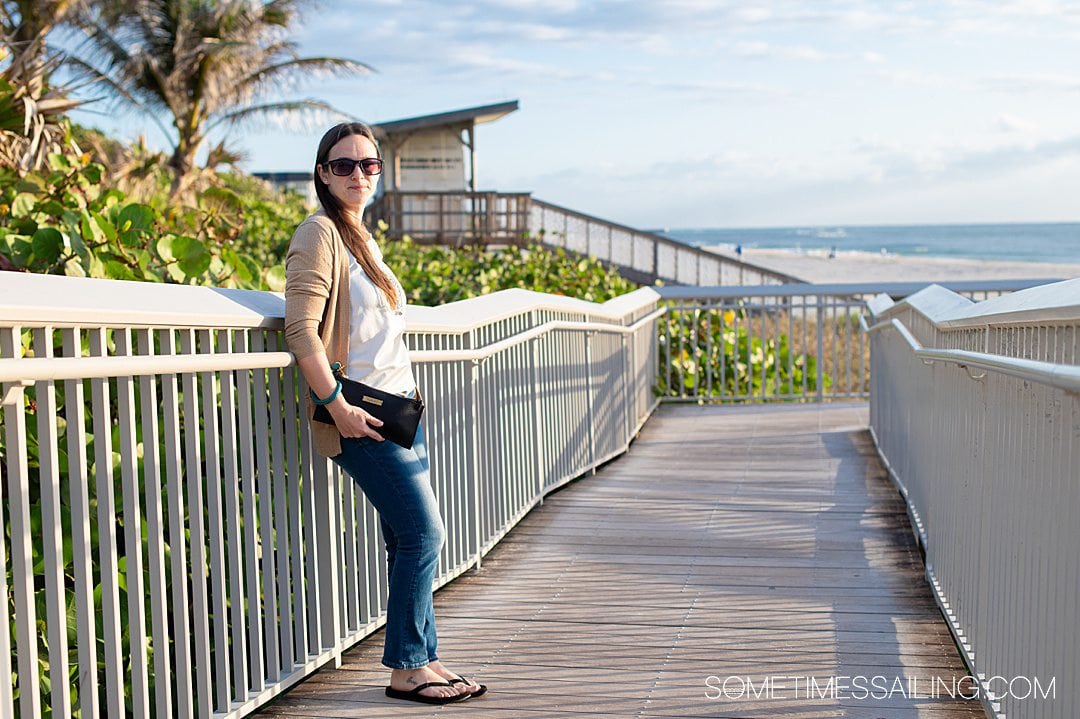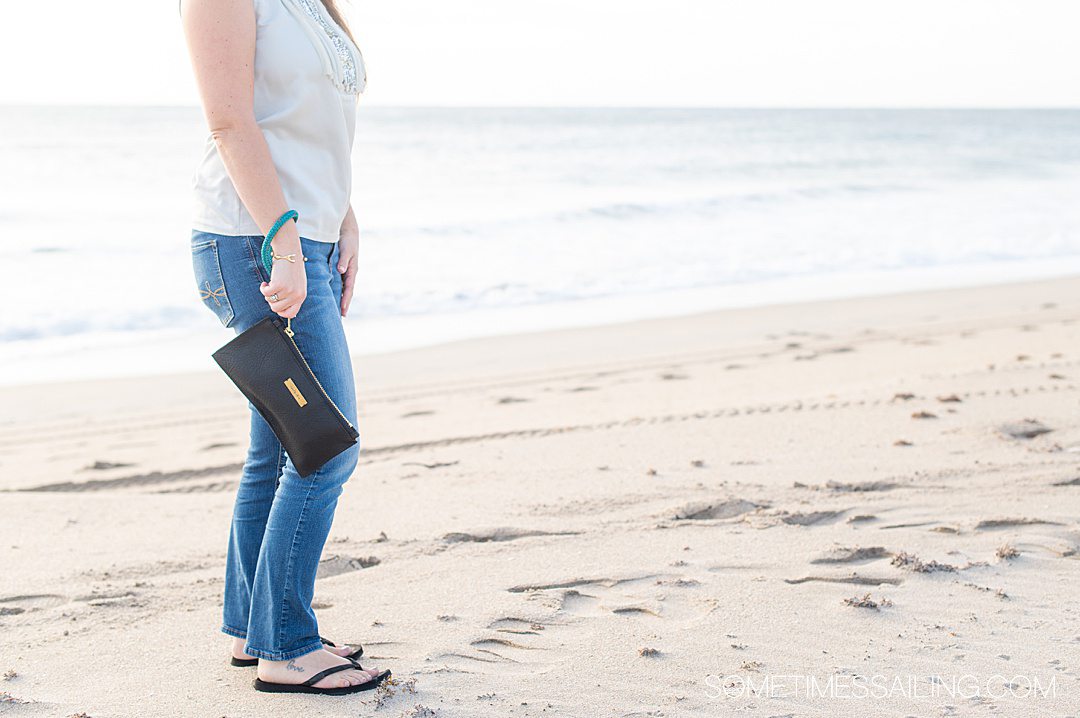 Wildwood Oyster Co. Donations to Maine Cancer Foundation
Inline with the company's belief in giving back to the local community, they support the Maine Cancer Foundation.
50% of each sale from their brown leather and strawberry hot pink collection of products goes to supporting the foundation. This means it goes directly back into the fight against cancer. And the color combo is pretty fabulous!


Know someone in need of some cruise gifts? Also check out: