Podcast Interviews


Online Articles
Thrillist
Be One of the First Couples to Get Married in Antarctica
Just picture it: You've just landed at the southern tip of South America, feeling like a boss at the edge of the world as you look at a giant ocean ahead of you. You and your fiancé board a luxurious ship headed for Antarctica, where, surrounded by glaciers and penguins, you'll be amongst the first to get legally married on the seventh continent of this here planet.
It's a dream that's now a reality for couples of all orientations who are searching for a truly unforgettable way to tie that sailor's knot. Before this year, marriages in Antarctica were symbolic ceremonies only, but not legally binding—you'd have to obtain and sign the marriage license elsewhere.
Starting unironically on February 14, 2022, the Happily Ever Atlas program from Atlas Ocean Voyages allows guests to take advantage of a rare trifecta: a once-in-a-lifetime destination, Covid-safe circumstances, and a marriage license that says "Antarctica."It's a destination wedding and bucket list trip all in one.
Continue reading on Thrillist…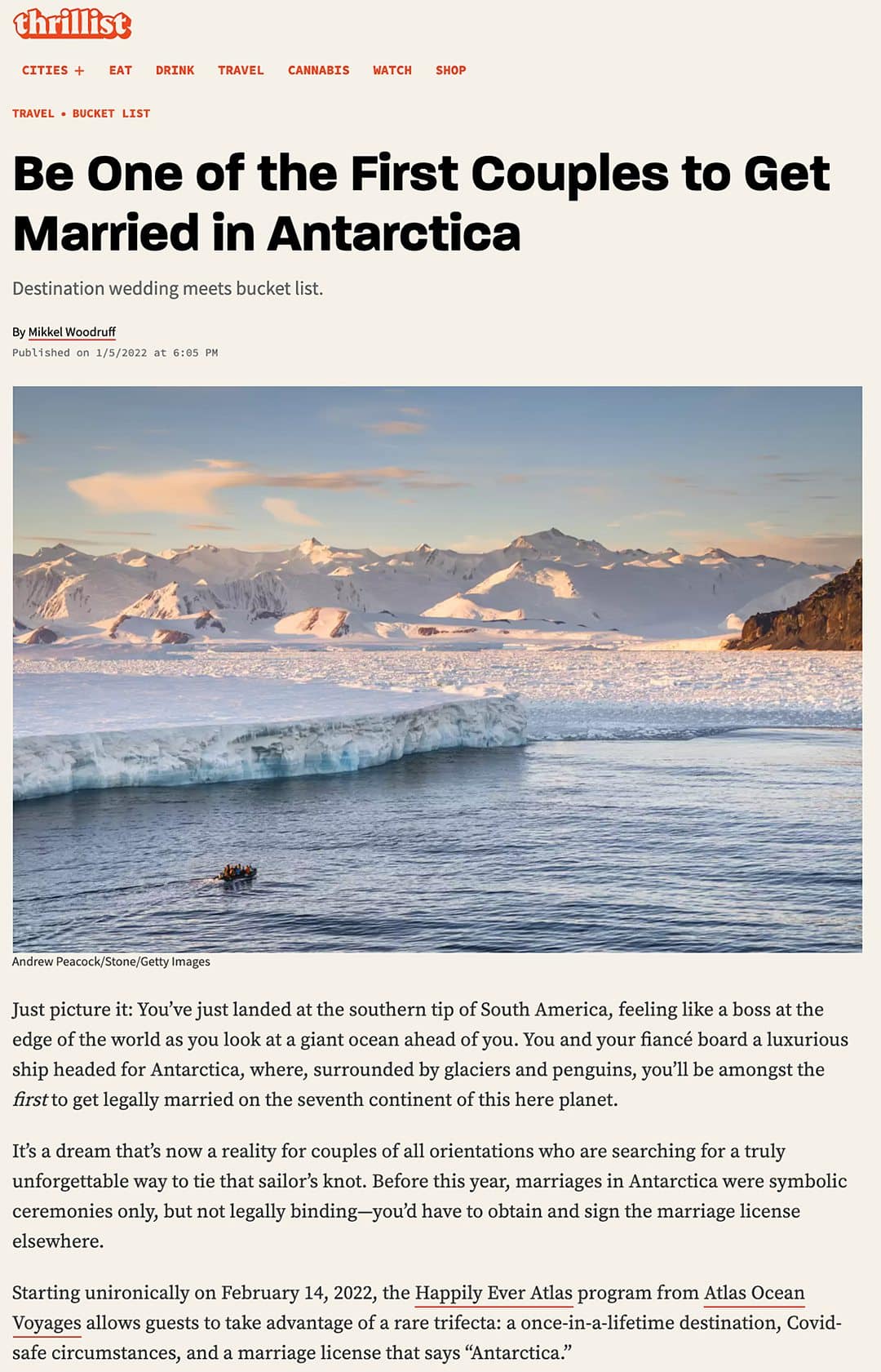 The Most Romantic Weekend Getaway in Every State; Contribution: Blowing Rock, North Carolina
What's more enchanting than a weekend in the Blue Ridge Mountains of western North Carolina? Head to Blowing Rock where you are sure to find yourselves in a trance as you reconnect at cozy Chetola Resort; here, you'll feel like you're "getting away from it all" while still having access to the local restaurants and museums that lie just down the road. In winter and fall, snuggle by the warmth of an in-room fireplace; during spring and summer, hike to 5,946 feet as you enjoy the views from the highest peak in the Blue Ridge Mountains at nearby Grandfather Mountain; and year-round, visit the resort's spa and wellness center as a relaxing cherry on top of your weekend escape.
Read the piece on Thrillist…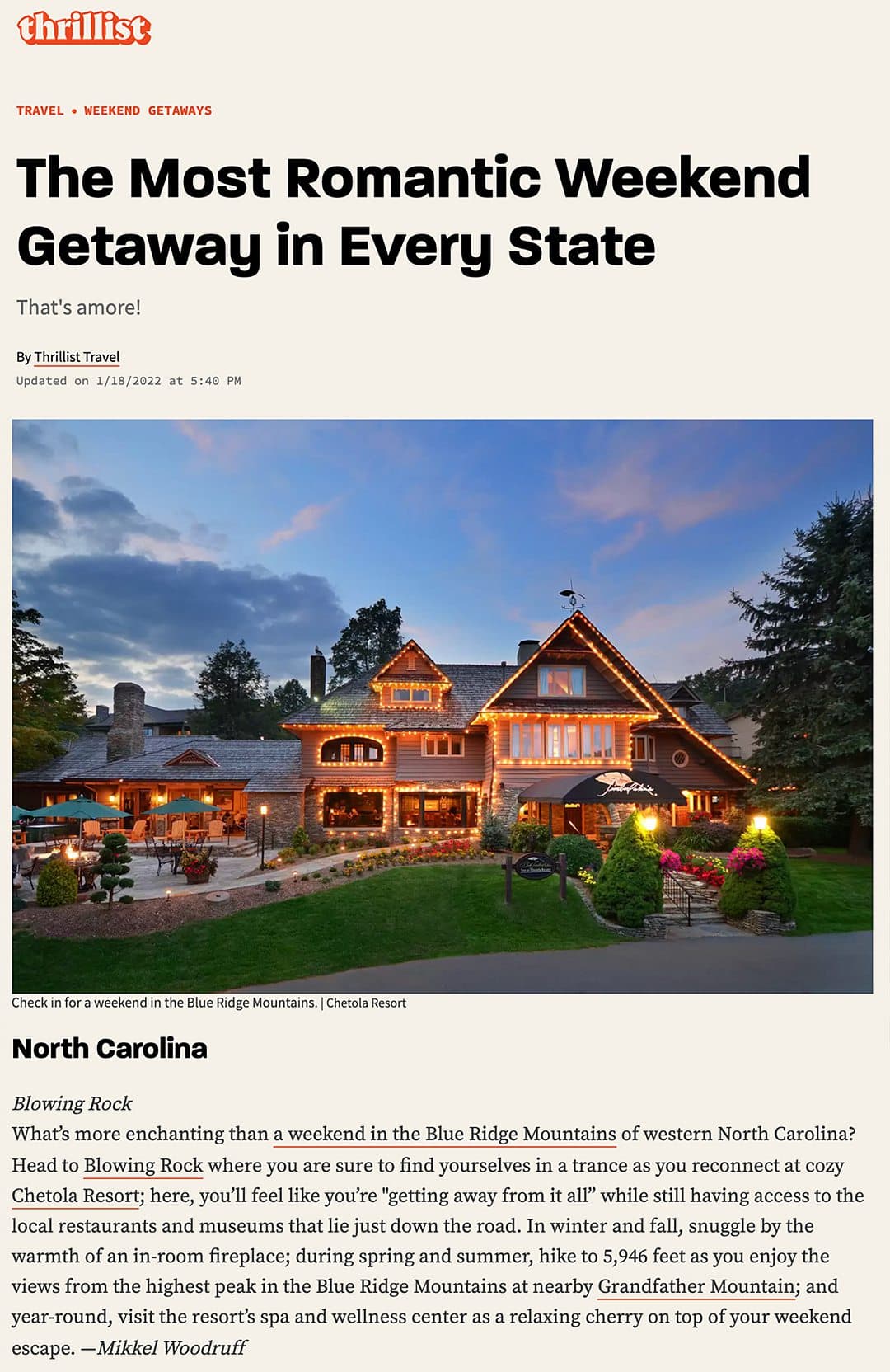 Great American Cities for Creatives; Contribution: Raleigh, North Carolina
So much more than a nice halfway point during a drive from New York to Florida, the welcoming, liberal capital of North Carolina will let you be a big fish in a small pond of creatives and still afford rent, a parking spot, dinner, and drinks. Raleigh is often dubbed the "Smithsonian of the South," since visitors can enjoy free entry to historic attractions and museums including the North Carolina Museum of History. Just a few minutes drive from NC State University, scattered throughout downtown you'll find coffee shops, galleries, co-working spaces, and independently owned restaurants, including a few by philanthropist and James Beard Award Winner, Ashley Christensen. First Friday each month results in open doors and complimentary beverages as local businesses like CAM, Artspace, and Raleigh Denim Workshop invite residents and visitors inside to check out new art and apparel.
Continue reading on Thrillist…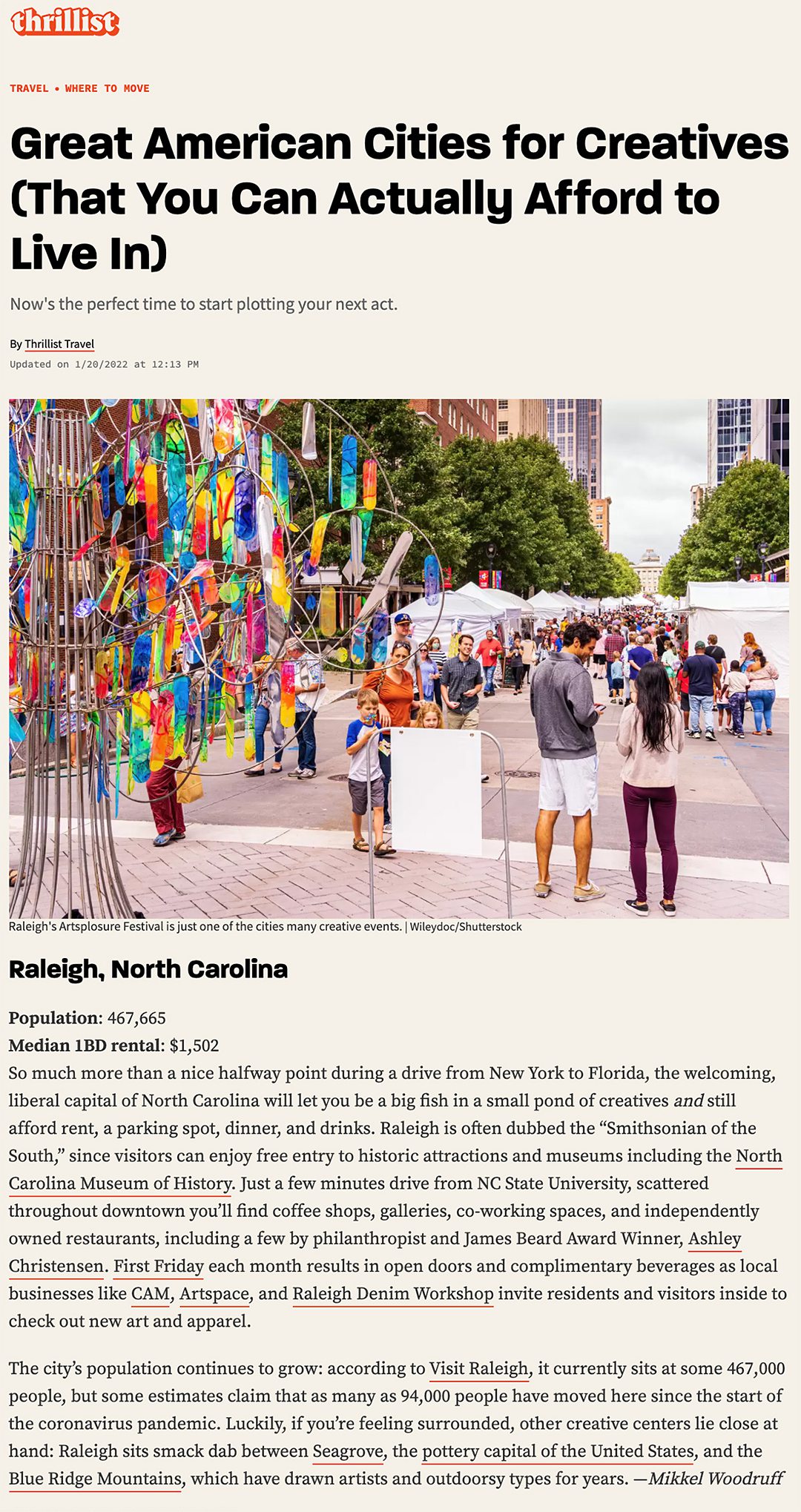 Porthole
An Ideal Princess Cruise Along the California Coast
Board Princess Cruises for an ideal itinerary that hits on California highlights within seven days. Majestic Princess offers a roundtrip cruise from Los Angeles along the California Coast for an affordable price.
Cruise on Majestic Princess from Los Angeles to San Francisco, Santa Barbara, San Diego, and Ensenada, Mexico, then back to Los Angeles and you'll also enjoy two days at sea as you discover California and Baja California from the comfort of your stateroom and Princess Cruise's excursion offerings.
Princess Cruises built Majestic Princess with the Chinese market in mind. As such, passengers will see both English and Asian characters on most signage. However, the onboard focus on excellent food, pampering travelers in the Lotus Spa and The Enclave, and onboard entertainment are universal.
Princess's MedallionClass, available on all their ships including Majestic Princess, makes it easier than ever to access your room key, contactless ship boarding, and locate your party onboard.
Continue reading on Porthole…